| Centrip Editorial Board
Enjoy Japanese Beer at the Nagoya Asahi Brewery
If you've been to Nagoya before you've probably seen a lot of what the city has to offer. Why not step off the beaten path and visit the Asahi brewery here in Nagoya and enjoy a sample or two? When people think of Japanese beer, the four famous names of Asahi, Kirin, Suntory, and Sapporo, spring to mind. Among them, Asahi currently reigns supreme with the largest share in Japan's beer market. Entry at the brewery is free, and believe it or not, so are the drink samples! You'd be stupid to miss this great opportunity.
A Brief Introduction to Asahi Beer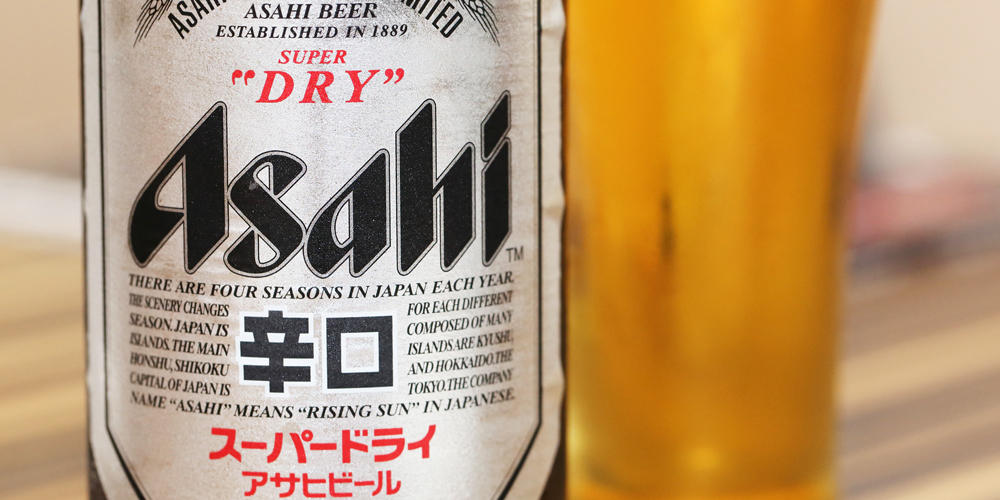 Asahi Breweries, Ltd. was originally known as the Osaka Beer Company, founded in 1889, and Asahi beer was created later in 1891. The name Asahi (朝日) means morning sun. Asahi Breweries, Ltd. developed its flagship product, Asahi Super Dry in 1983, becoming become one of the most popular brands in the domestic beer market.
Asahi Beer's Nagoya Brewery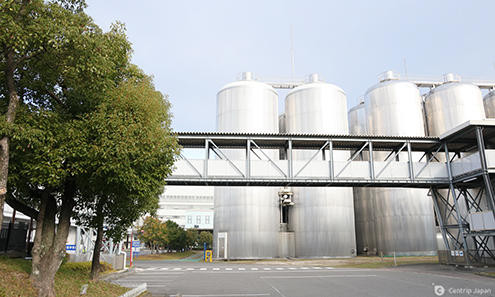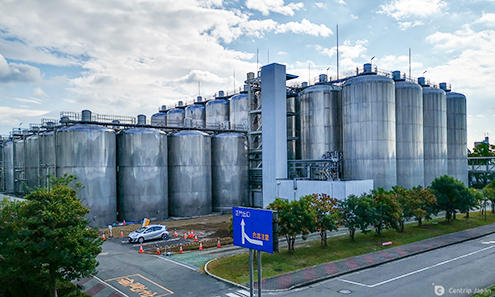 Asahi Breweries has eight factories in Japan, but most are difficult to reach. Fortunately, the Nagoya factory, is just a short 15-minutes train ride from Nagoya Station, to Shinmoriyama Station. From there it's about an 18-minute walk or short taxi ride. It makes for a perfect day-trip for beer lovers or anyone who wants to enjoy a short tour in Nagoya!
The Tour
Preparation
You'll first need to make a reservation. (Details will be listed further below) When you arrive at the factory entrance, let them know you have a reservation, and a staff member will take you to the tour area. English is ok, but using a few Japanese words like yoyaku (reservation) and kengaku (tour), can go a long way.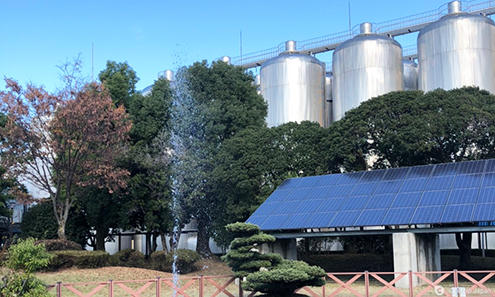 Take some time to enjoy the beautiful scenery to be found on the grounds. The large lawn gives the appearance of taking a walk in a park, and gigantic tanks, ready to produce beer for your consumption will get your blood pumping!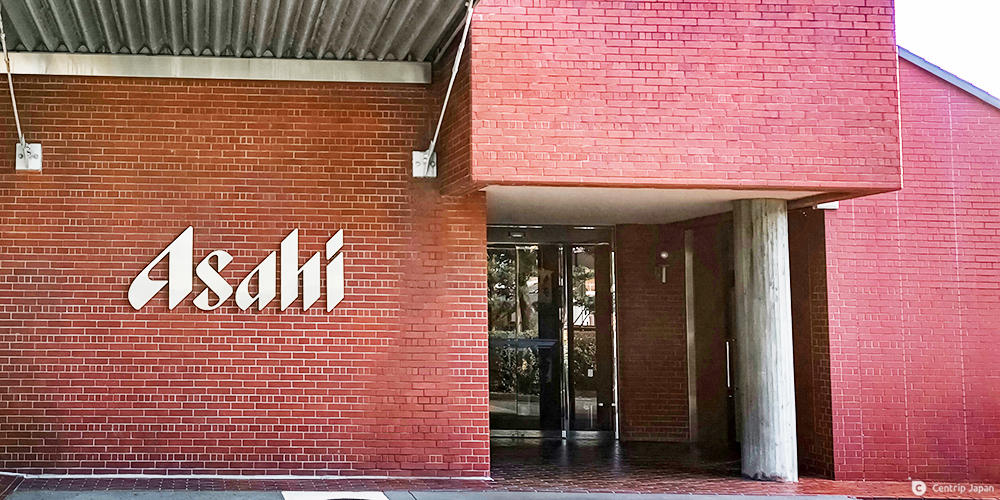 Tours are available in Japanese, with audio guides available in English and Chinese. It's best to grab an audio guide to get the full tour experience.
Tour Course and Sights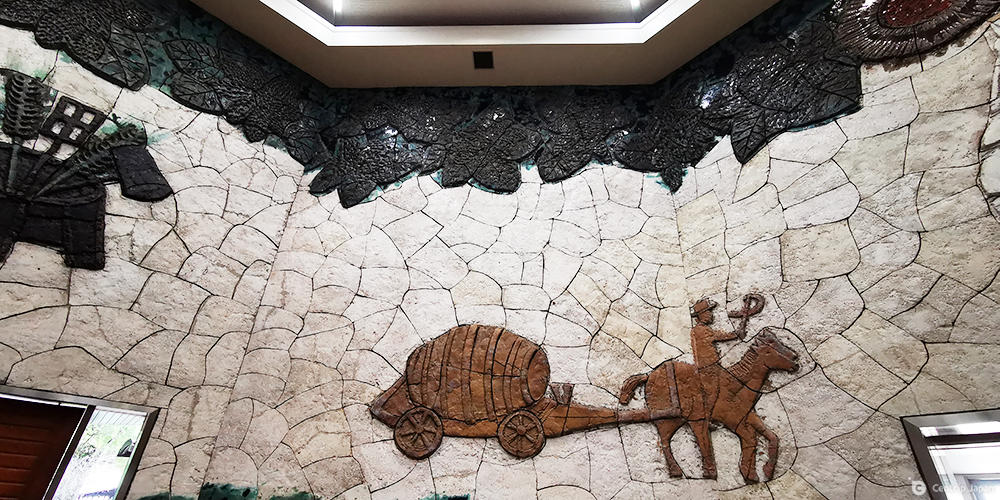 Once you enter the factory lobby, the tour begins. Displayed on the wall are 1000 tiles depicting the brewing of beer in medieval Europe.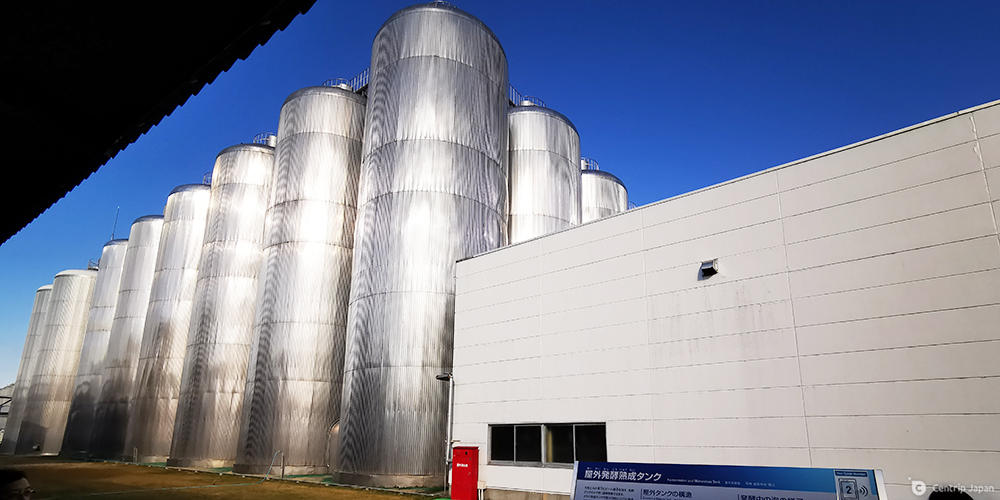 If you leave the lobby and step out the corridor, you'll see the gigantic tanks you saw at the entrance. These tanks are used for outdoor fermentation and aging. Wort is added to the brewer's yeast and fermented for about a week, then left to ripen for 10 days. The tanks are each 20 meters tall, and hold the equivalent of 1.43 million cans of beer. At one beer a day it would take around 4,000 years to finish a tank by yourself.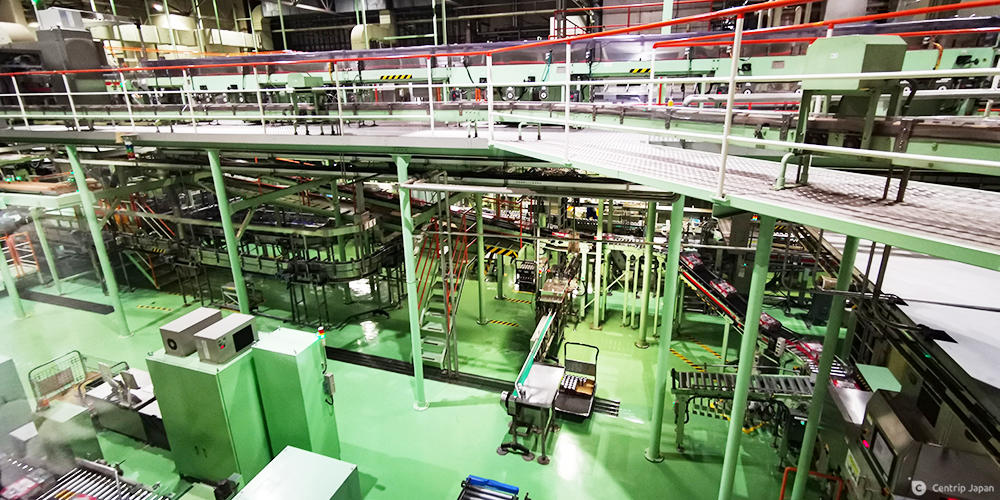 After fermentation, the tour moves on to production. At the automated production lines, you can observe a variety of processes like malting, brewing, fermentation, filtration, filling, and packaging.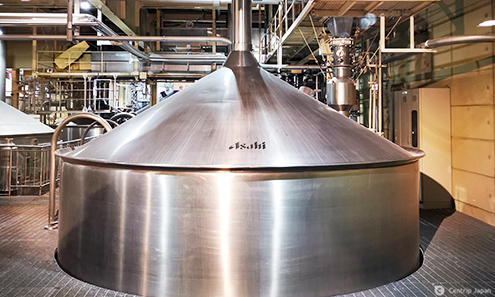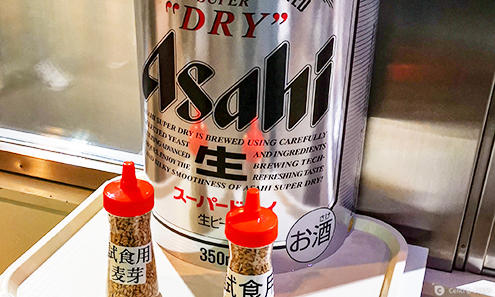 Moving on the tour takes you to a preparation room where malt is turned into the wort. Raw ingredients are boiled in large pots one after the other to make wort for beer. At this point, you will have a hands-on experience with the premium malts and hops used in the process. Pop some premium malts into your mouth and enjoy the aromatic scent of wheat as it drifts through the air at the first bite. Japanese wheat alone cannot meet the needs, so Asahi Breweries impose strict standards on the import of raw ingredients, as they require a significant proportion of malt every year to maintain quality.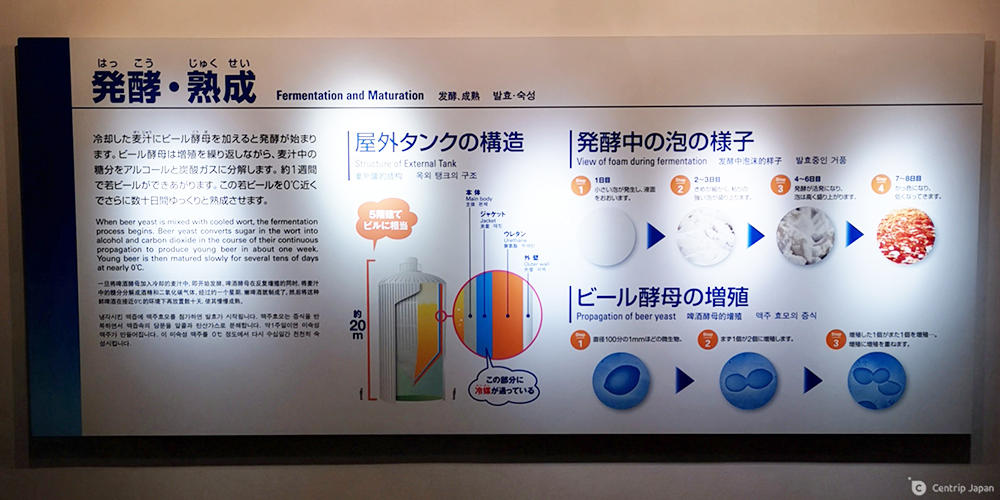 You can also see Asahi's workplace principles on display. A lot of information is on display for both adults and children. But what about quality control? Taste, scent, foam, and color are all rigorously supervised. Tasters, in addition to making assurance checks on the machines, have to taste the beer, a dream job for any beer lover! But it's not all about drinking beer, the position demands a high level of ability to discern both smell and taste. Only experts who have passed the rigorous selection process are chosen for this job. Taste tests must be performed on an empty stomach, to assure a clean palate when tasting. The uncompromising standards for tasting act as a further assurance of the high quality of Asahi beer.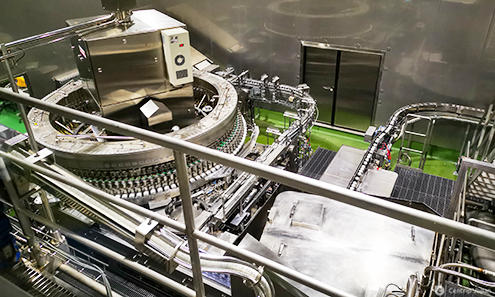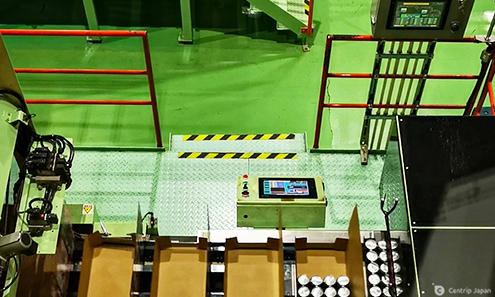 Once the process is complete the beer is canned and packaged. The line moves fast and efficiently packing away beer after beer.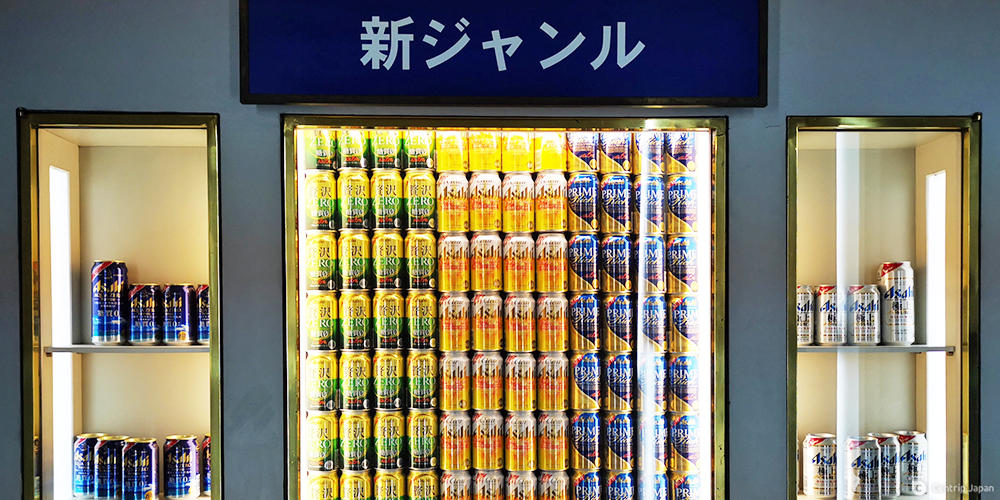 Walking along the path, the posters on the wall take you back through the history of Asahi Breweries. This exhibition shows Asahi's first Suita factory, its glory, decline, and its return as Japan's number 1 beer. Cans and bottles of each series and production cycle are also on display here.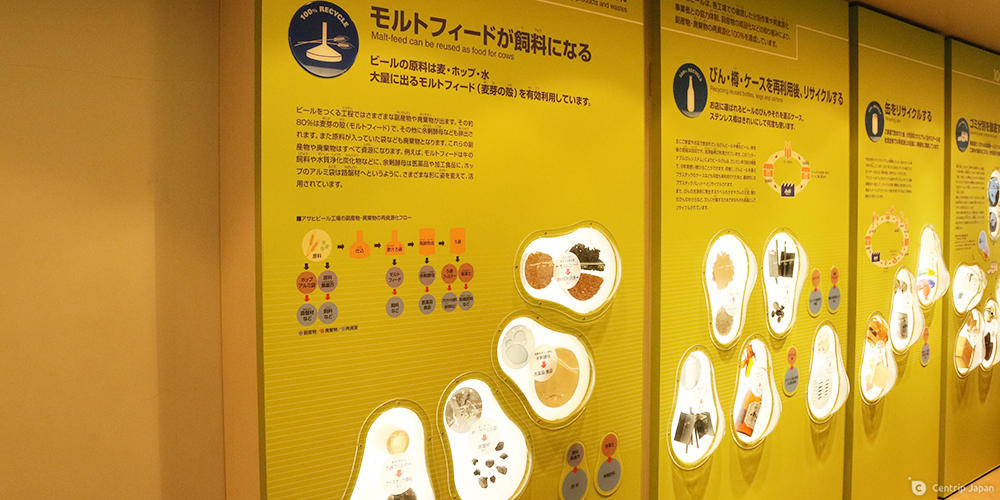 Finally, you'll reach the area detailing Asahi's environmental activities. Asahi Breweries has achieved 100% recycling in its domestic factories. Excess malt is used for livestock feed, glass waste is used to make sake bottles and building materials, aluminum waste is used in cans and electrical products, and the remaining yeast is used in the production of foodstuffs and medicine. There is zero waste.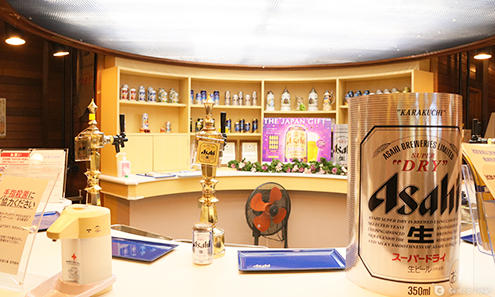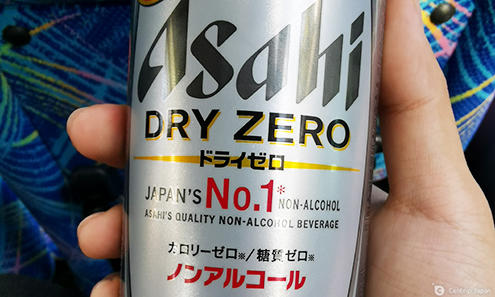 And now the moment you've been waiting for, the tasting! 3 cups of Asahi's popular Super Dry and Super Dry Black Label are available, and non-alcoholic drinks are also served. If you want a beer without the alcohol, non-alcohol beer and beer-flavored soft drinks are available for people with allergies or children to try.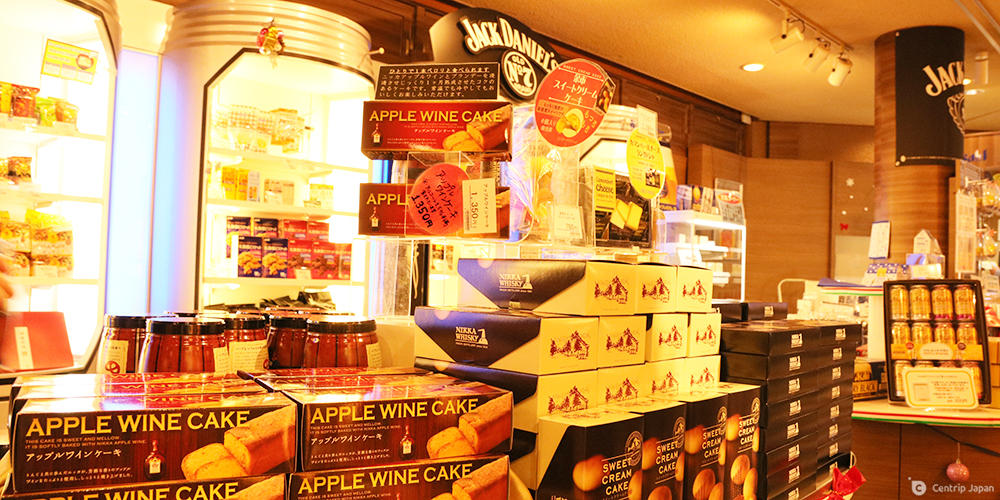 When you've drunk your fill swing by the souvenir shop and have a look at what they have on offer. You can pick up products such as cakes and chocolates sold in beer casks.
Reservations
By Phone
Phone: +81-52-792-8966
Business Hours: 9am–5pm
*English guides must be reserved in advance by phone.
Online
Making a reservation online (You'll need to cut and paste in Google translate)
1. Pick your desired tour date and time.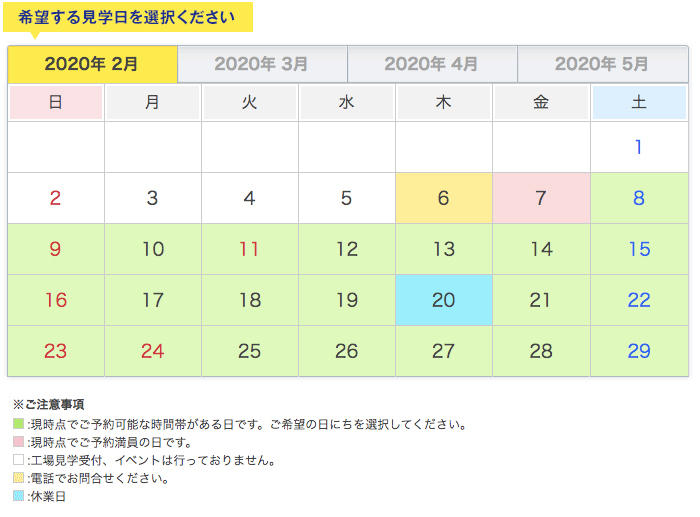 Open the above page and scroll down to the calendar. Choose the month (by number, ie: January = 1, April = 4, etc.) you want to take your tour, green days are available for reservation.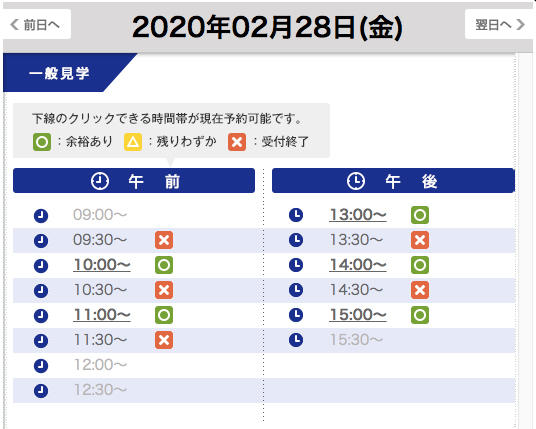 Click your desired day and a window will pop-up with the available times. Times marked in green with a circle, may have openings, and times marked in yellow with a triangle have few remaining openings.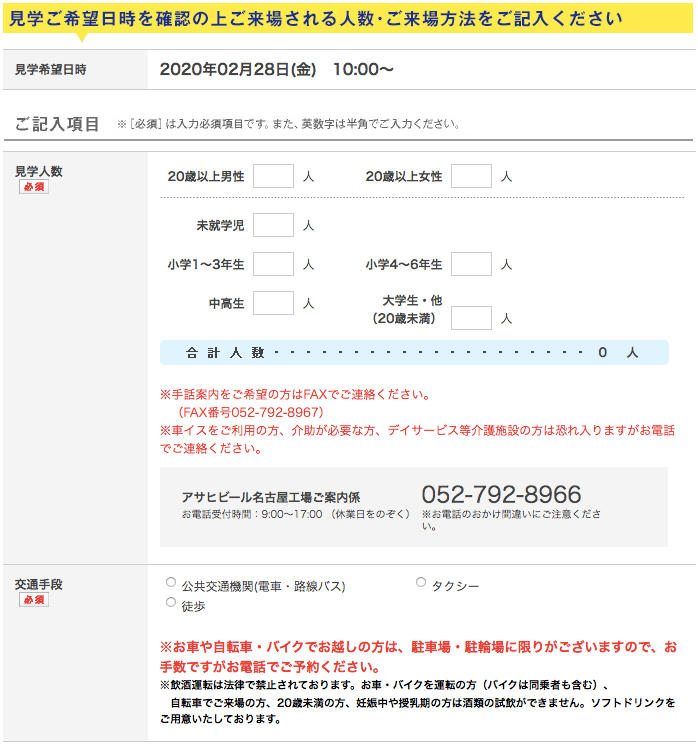 2. Enter required information.
Input the number of visitors attending by age/gender, as well as your mode of transportation for coming to the brewery, and push the yellow button to continue. On the next page input your name (first in English and underneath in Japanese, hiragana), location, phone number, and e-mail address.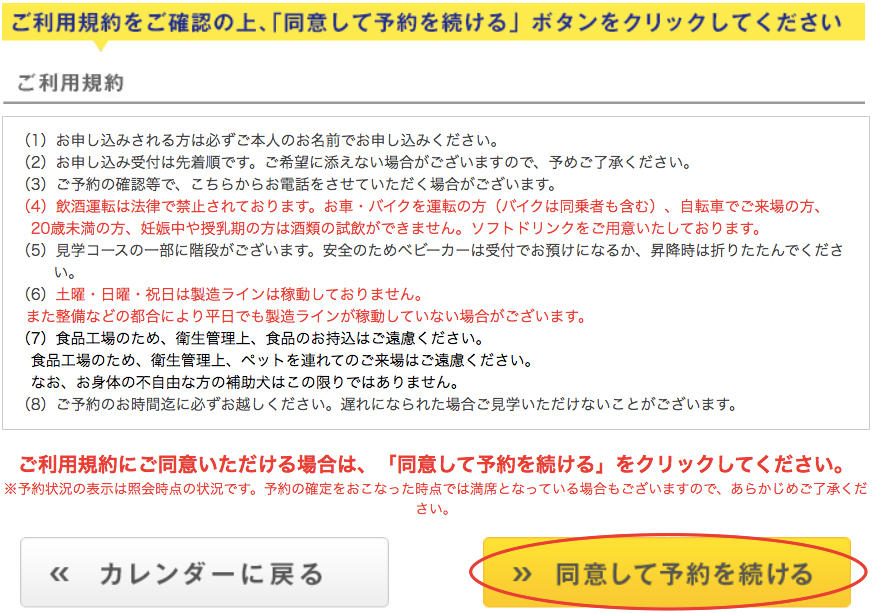 3. Confirm your details and push the yellow "Confirm Reservation" button under the red text, and your reservation should be complete.
Wrap-Up
If you are looking for a relaxing and educational tour, look no further. If you just want to enjoy some delicous Japanese beer, that's okay too. The Asahi Beer Nagoya Brewery is a great stop off the beaten path. Learn how beer is made and how Asahi has maintained a high level of quality for over a century. The Asahi Beer Nagoya Brewery lets you enjoy the best beer in Japan while watching it produced right before your eyes. It's a unique detour from the usual travel itinerary and gives you a new way to enjoy your next trip to Nagoya and Japan!