| Centrip Editorial Board
Nagoya's Kitchen: Yanagibashi Market
Do you want to try delicious sashimi but don't want to go out of your way to some distant local? How does a lively morning market sound? If you like the sounds of it get down to Yanagibashi Market!
Yanagibashi Market: First impressions
In Japan, the most famous morning fish markets are Tsukiji in Tokyo and Omicho in Kanazawa. The Yanagibashi market in Nagoya is very similar, selling seafood in the early morning. However it differs in one significant way, it's not a standard tourist spot. The stalls are filled with so many locals buying and selling the morning catch, you'll forget you're on vacation and feel like another part of the daily portrait of Japanese life.
A Vibrant and Historical Kitchen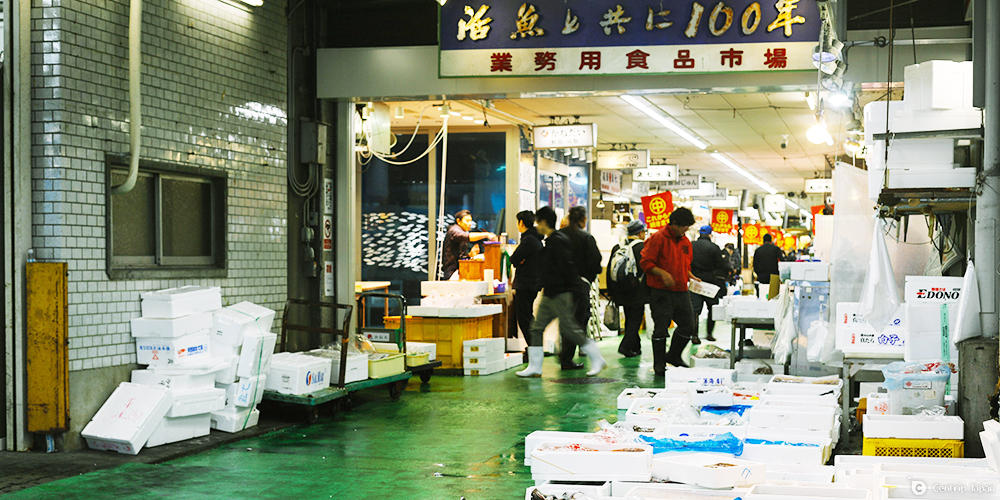 Yanagibashi Market left me with the impression of a place where history and vibrancy exist together.
The market opens with a signboard attesting to 100 years of fishing history. Yanagibashi's history goes back longer than even Nagoya station. In 1886 a small fish market was established here and it expanded over the years, alongside the development of Nagoya station. In 1910 the market was established by the governor of Aichi, the Mayor of Nagoya, and members of the business community, becoming the morning market we are used to today. All together the history of the area covers over 100 years.
Yanagibashi Market has grown, becoming a large market with around a hundred stores, covering an area of over 13,200 meters. Wherever you look staff can be seen carrying fish, workers processing fish, and fishmongers and locals picking their fish while engaged in conversation. A vibrant market steeped in history.
A Treasure Trove of Hidden Gems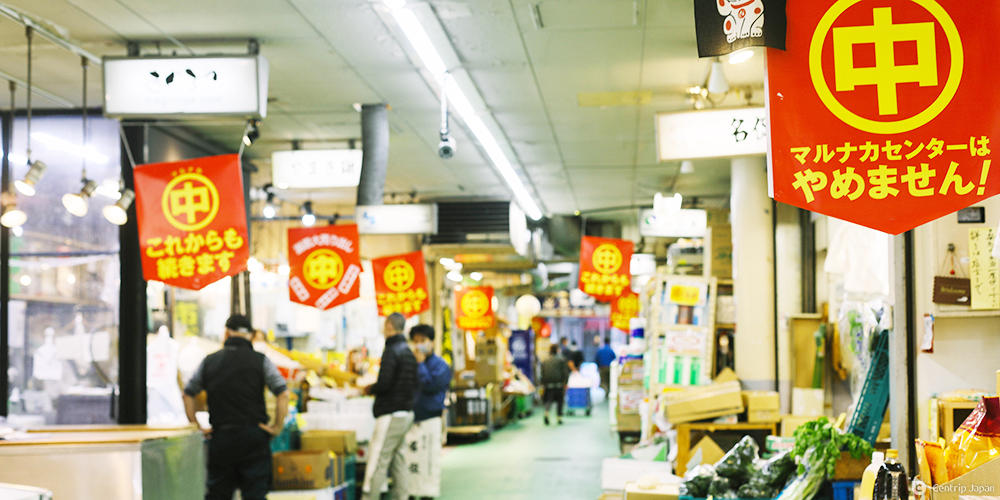 The Yanagibashi Market is centered around the Marunaka Food Center Building (Chuo Market General Food Center) and the Nagoya General Market Building (Nagoya General Market), with shops all around it. Shops sell a multitude of wares such as flowers, vegetables, pickles, and miscellaneous goods, and of course seafood. And around every corner, you might find that perfect restaurant...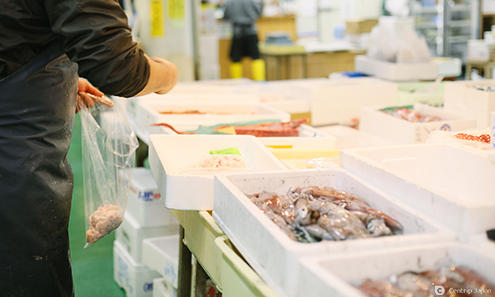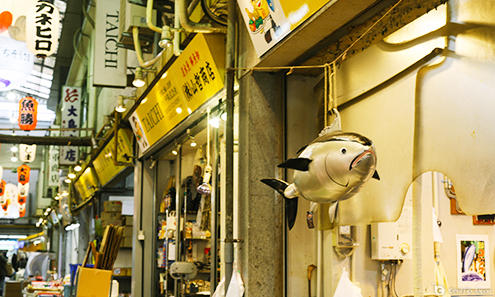 Many tourist areas have up signs saying "No Photography!". But Yanagibashi is more personal and you'll feel a lot of passion and goodwill. Shopkeepers greet each other, as well as customers and shops, have fish posed for cameras with some shops kindly chiding each other over who's fish is better. The area is chocked full of small-town feels.
Hidden Treasures Downtown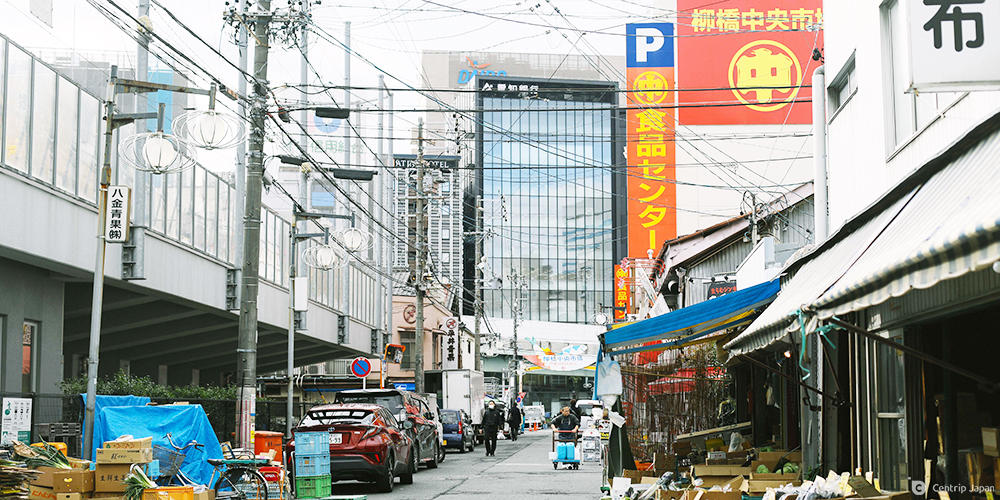 Yanagibashi Market is easy to find, just a 5 to 10-minute walk from Nagoya Station. As you walk past high-rise after high-rise space before you transform, like walking through the wardrobe and past the lamp-post, into tightknit alleys and old shops lining both sides of the streets.
The area has a very short operating time, from 4 am to 9 am, afterward many stores close down having sold the day's wares. Be sure to arrive early if you want to check this place out.
Go for a Market Stroll
With its relaxed mood and plentiful stores, a walk through Yanagibashi is wonderful.
Fresh fish, shellfish, meat, vegetables, fruits, flowers, pickles, kitchen supplies, and food packaging are among the many items to be found.
Fisheries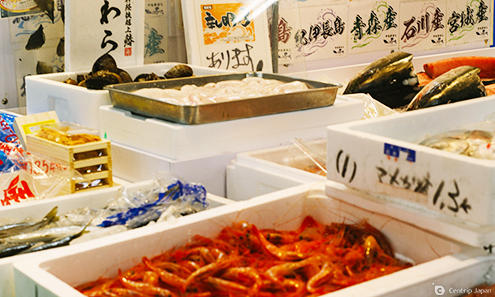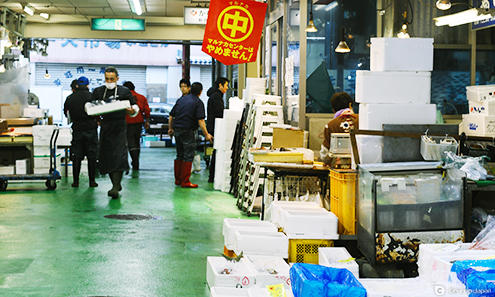 The pièce de résistance of the area is, of course, the fish. Fresh seafood, sea bream, sea bass, tuna, crabs, oysters, and countless other seafood caught off the Chita Peninsula, and in Mikawa Bay and Ise Bay are available.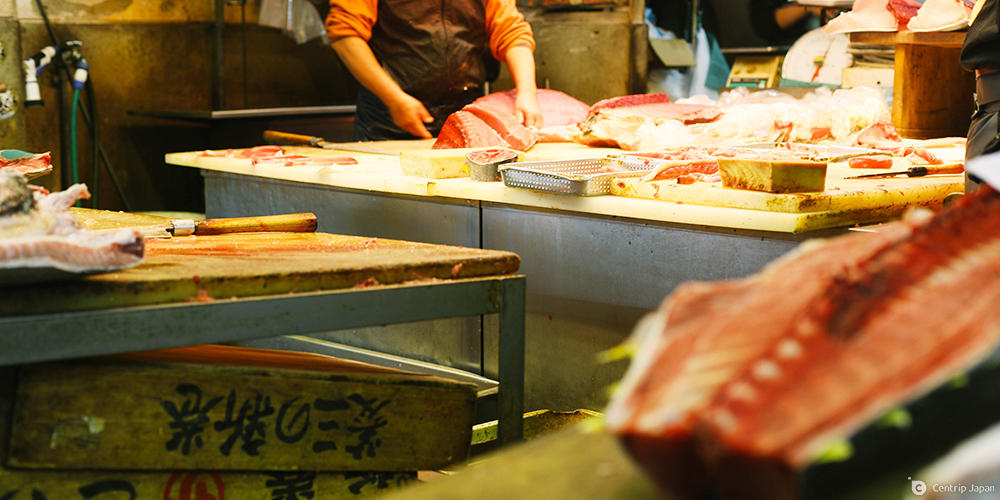 The market doesn't cater solely to restauranteers but also the general public. So you can pick up fish in bulk or more manageable sizes. If you are lucky you might even catch them filleting tuna.
Fresh Flowers & Fruit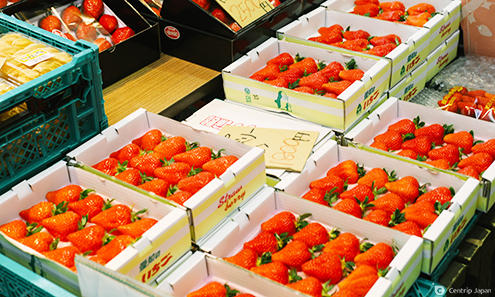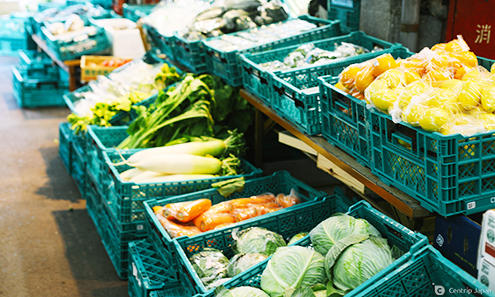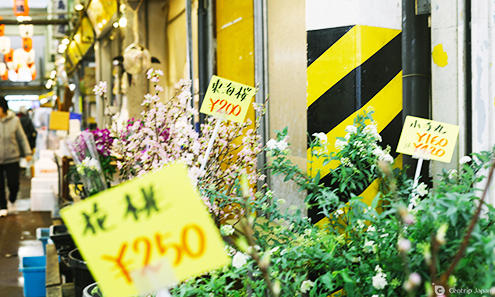 If you get tired of fish feel free to visit the fresh flower and vegetable shops for a more aromatic experience. There are several shops with a ton of variety so be sure to check them out if you have time.
There are a couple of florists in the market and while they aren't large shops their prices are reasonable as they only carry seasonal flowers and potted plants.
Pickled and Dried Foodstuffs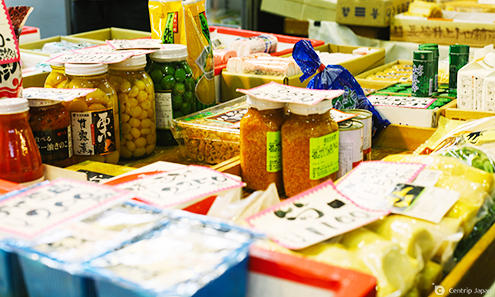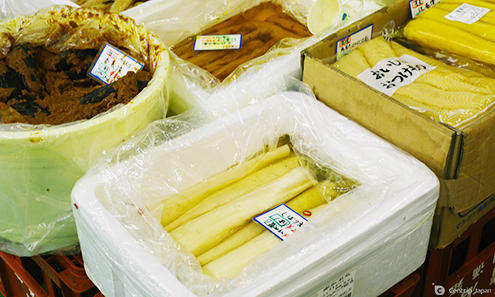 Several shops in the area carry pickled vegetables, roses, and freshly prepared foods. Chinese cabbage, daikon radish are among some of the pickled vegetables, and you may even find some pickled foods you never knew existed.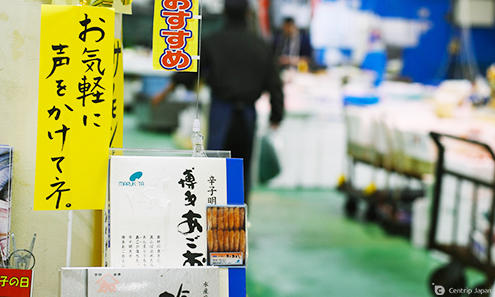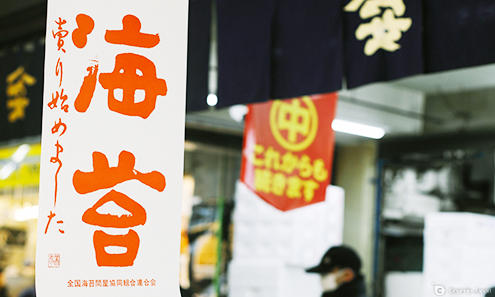 There are lots of other foodstuffs as well, like canned chestnuts, wasabi, dried mushrooms, seaweed kelp, and canned matcha (green tea). Not only can you buy a variety of foods but they also have a class for teaching about how to use foodstuffs particular to Japan.
General Goods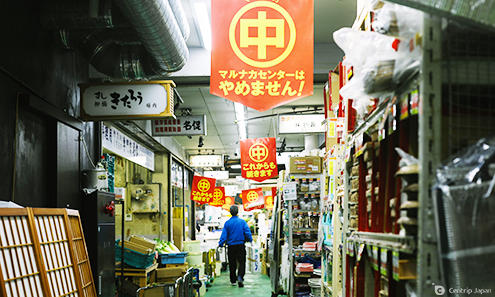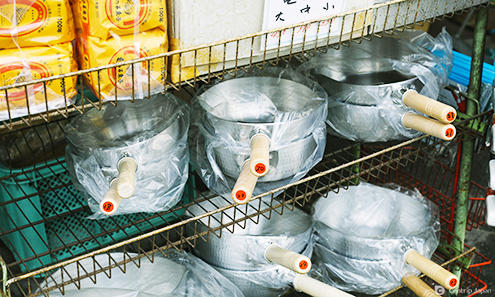 The market also carries kitchen supplies, like tableware, cooking utensils, ingredient packs, knives, stir-fry pans, and cooking paper are on sale. There is so much on the shelves: don't get crippled by choice paralysis.
Yanagibashi Market: Recommended Seafood Stores
Of course, when you visit Yanagibashi you should try out fresh & delicious sashimi! Check out Centrip's recommendations below!
Maguroya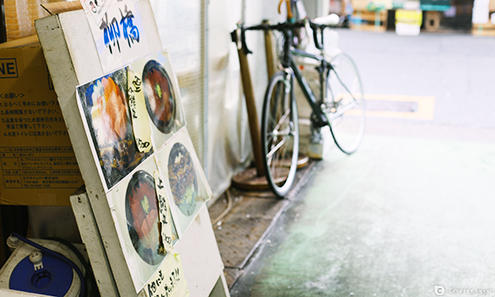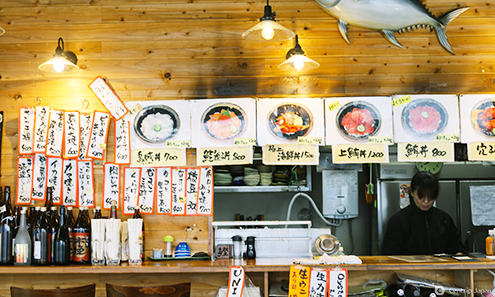 Inside the main building of the Marunaka Food Center is a popular seafood wholesaler. The decor is simple but the atmosphere is brimming with charm. The kitchen can be clearly seen from the tables and counters so you can watch as the chefs prepare your food. There are no doors (plastic curtains are used in case of rain or on cold winter days), so on a sunny day, you can see the cityscape and feel the bustle of the busy fish market as you enjoy your meal.
Try the rice bowls topped with freshly caught tuna. On the menu, you can find Maguro-Don (Tuna on rice), High-grade Maguro-Don, and Tuna with Tuna Roe. Other rice bowls you can try are the 3 Color-Don and the Splendiferous-Don!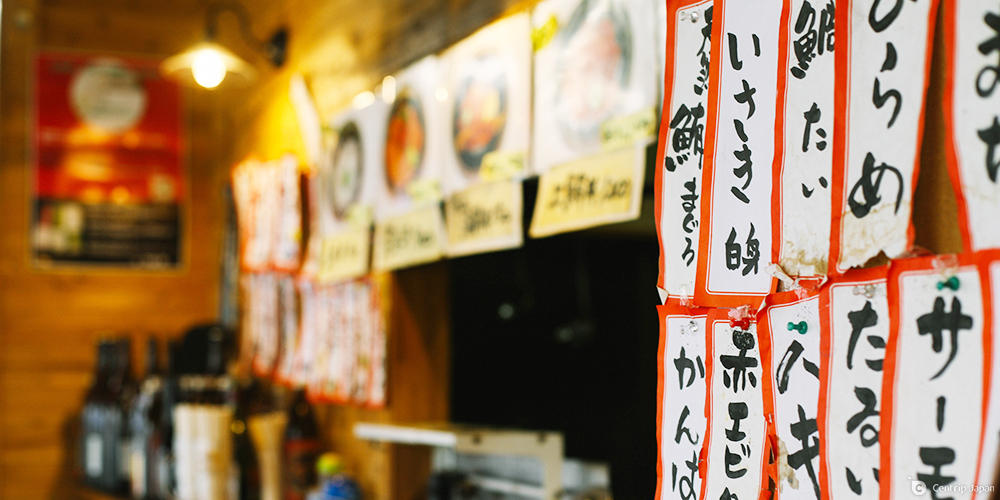 The 3 Color-Don gives you the choice of 3 different kinds of daily catch. When I ate there, I had a choice of tuna, salmon, sea bream, slimy tuna, and grilled red shrimp. Nothing is better than having your favorite fish in one bowl!
For those who want choice, try the 3 Color-Don, and for those who want EVERYTHING, get the Splendiferous-Don!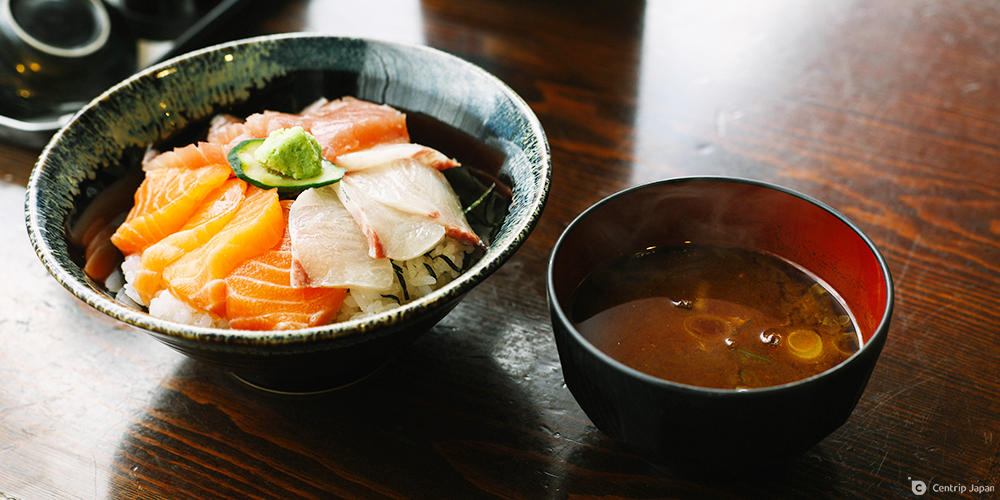 Maguroya is a great place to stuff your face with the red meat of tuna!
They serve a wide variety of side dishes and sake, such as stir-fried vegetables and grilled squid. For simple and large-sized meals, Centrip recommends Maguroya!
Maruhachi Sushi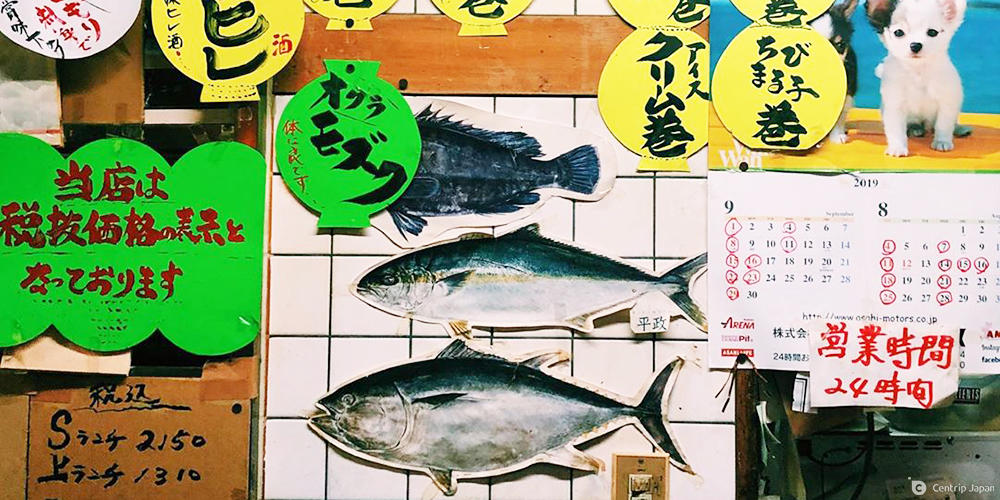 Credit:@kimura0828
Inside the Yanagibashi Central Market, you'll find the 24-hour Maruhachi Sushi, well-known for its vast menu of unique dishes. Old pros and sushi novices alike need to check out this place for delicious sushi.
Wadasen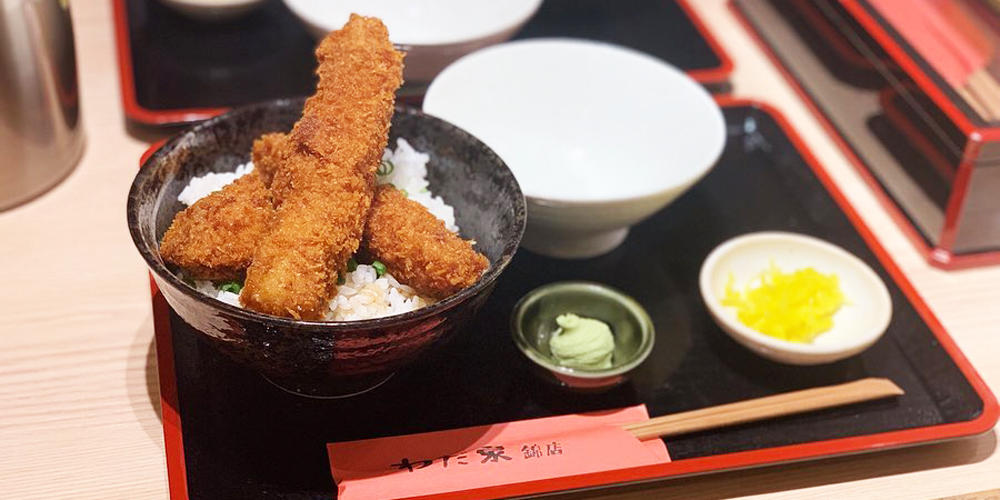 Credit:@miyuuuvu
Wadasen is also a very popular restaurant. Wadasen has four locations, one of which is located at Yanagibashi Market. Their signature dishes are soy sauce-don and seafood grilled skewers.
Tempura and Wine Kojima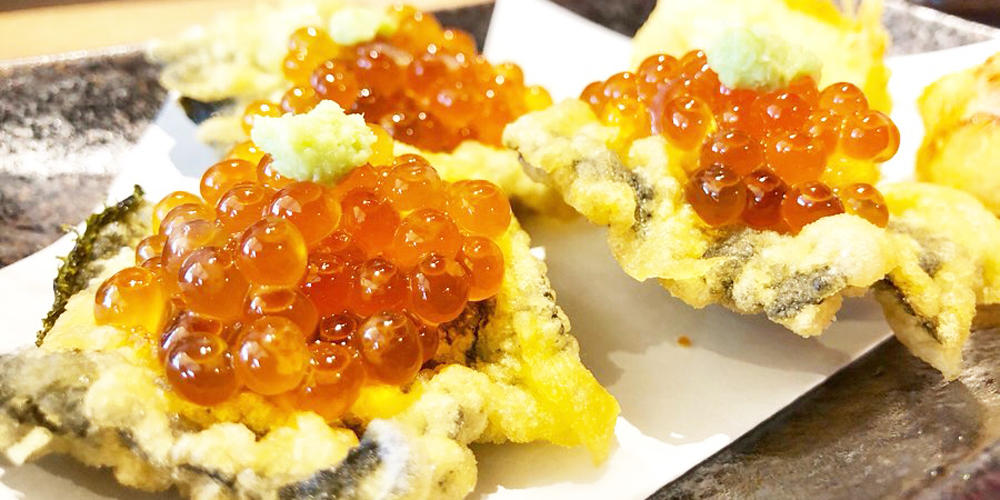 Credit:@kyontam214
The owner of Kojima trained in Italy and specializes in Tempura and wine. If you are a fan of either I can't recommend this restaurant enough.
Ready for a cuppa joe? Come on down to IMARI a restaurant with no menus!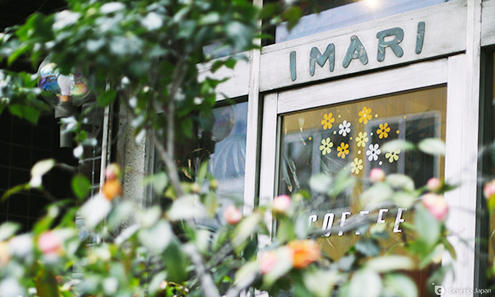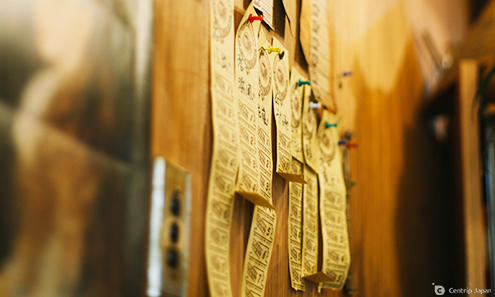 After finishing a meal of seasonal fish, I found myself wandering around Yanagibashi feeling like something was missing, and then when I least expect it, I came across a glass door with one simple word written on it, coffee. This, is, IMARI! Two cats beckoning at the entrance, blooming flowers in front of the gate, a shop with an air of mystery.
The restaurant has a cozy warm feeling of being in a living room. The staff are two elderly women who hand make everything with care. The majority of customers are regulars so the shop has no menu, they just order coffee and sit down to watch TV. The customers greet the staff and even say excuse me to the cats outside the door, how pleasant and quaint.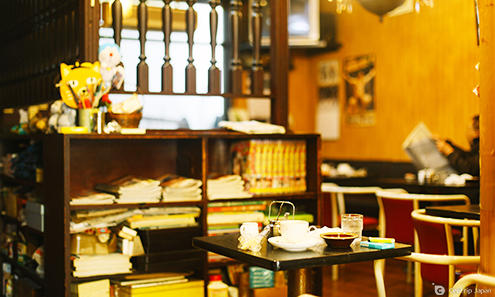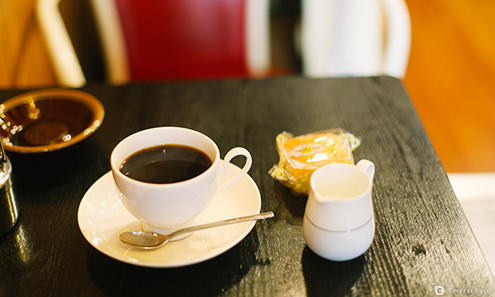 When I ordered a coffee immediately got it, with condensed milk and a lemon cake. Be forewarned the coffee is pretty strong!
For a good morning coffee and some retro feels check out IMARI.
Guided Tours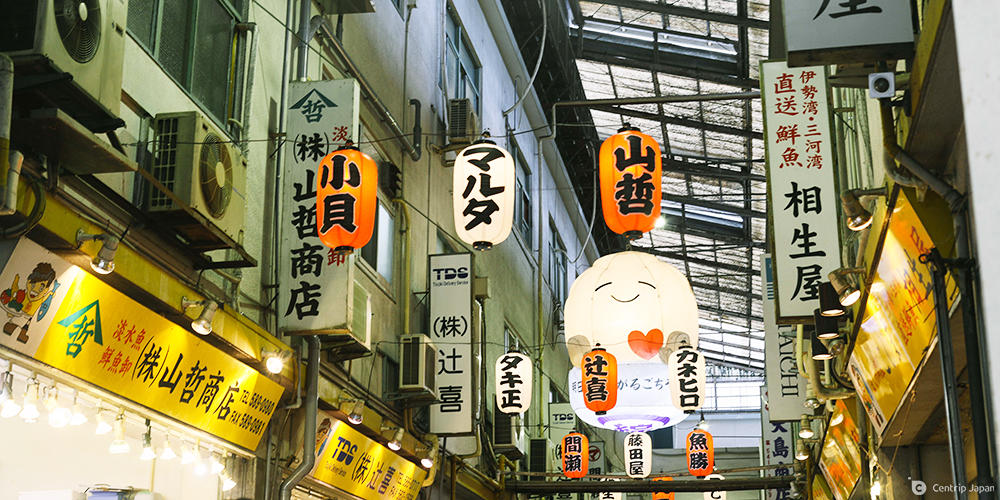 Guided tours are conducted regularly at Yanagibashi Market, and the president himself is the guide. He introduces the shops in the market one after another, giving you tips on cooking and on preserving fish. At the moment, only Japanese tours are offered. If you are interested, they also accept reservations over the phone!
Wrap-up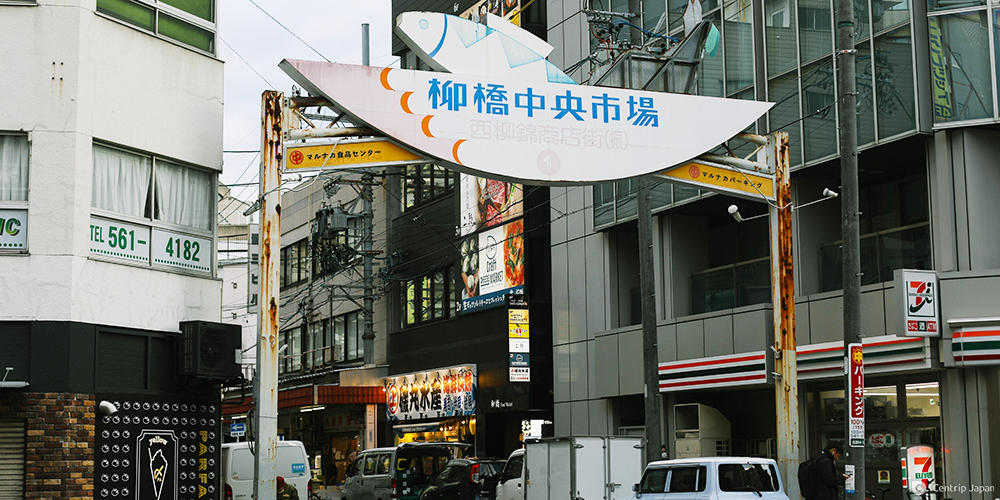 Yanagibashi Market, is convenient to reach, is full of products, has a lively and bustling atmosphere, and the morning market is irresistible for lovers of fresh fish!
So get up early and come on down to Nagoya's Kitchen: Yanagibashi Market.
Click here to get the latest information on Central Japan.Centrip Japan - Nagoya and Chubu Information