| Centrip Editorial Board
Gifu Yoro Park, a great spot for maple and cherry blossom viewing
You've heard of Korankei for viewing autumn leaves but do you know Yoro Park? Yoro Park, located in Gifu Prefecture, is only an hour away from Nagoya by train, and a little-known but great place to enjoy viewing the autumn leaves and cherry blossoms. So take a walk with Centrip Japan to Yoro Park, known as the 5th best spot for viewing autumn leaves in Central Japan.
Yoro Park: a natural space for autumn leaf viewing and art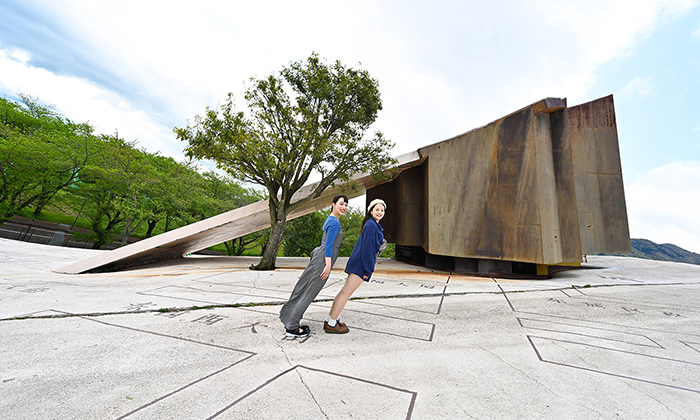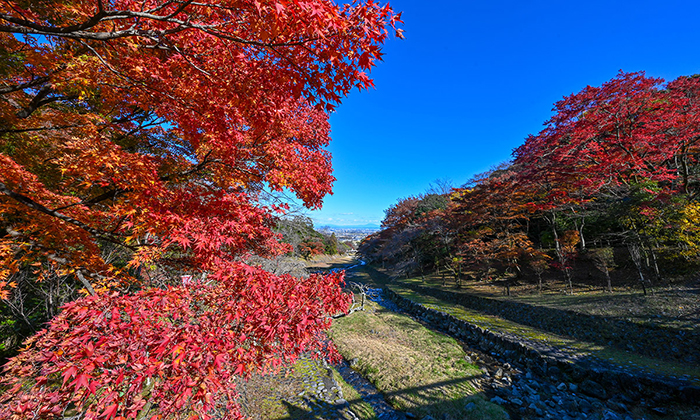 Yoro Park covers a very large area, about the size of 78 soccer fields, that is divided into several areas, including Yoro Falls, one of the 100 largest waterfalls in Japan, the Yoro Fate Reversal Zone, an art experience facility great for pictures, Children's Land, a children's play facility, and a golf course, all of which are popular outdoor facilities for both men, women, and children.
In particular, the walk along Yoro Falls is filled with Japanese maple and cherry trees and is so stunningly beautiful in spring and autumn that it is ranked as the 5th most beautiful autumn leaf viewing spot in central Japan.
Interestingly, the area is home to an ancient legend of a filial son; many things you'll see during your trip are related to this story.
The legend of the filial son
More than 1300 years ago, there was a poor boy who lived with his sick father. The boy took care of the family and collected firewood to make a living.
One day when he was collecting firewood, he passed by a waterfall and thought, "How wonderful it would be if wine came out of the waterfall? My father would be very happy." While imagining this, he accidentally fell into the valley and passed out. Upon waking, he found that the waterfall had turned into wine! The young man was so happy that he brought the wine home in a gourd for his father to drink, and as his father drank it his poor vision and bad legs, began to recover, and his gray hair returned to its youthful black. When this story reached the ears of the empress, she thought that the young man's filial piety had moved heaven, and named the land Yoro (meaning the filial piety of raising the elderly) and let the young man rule the land.
Access to Yoro Park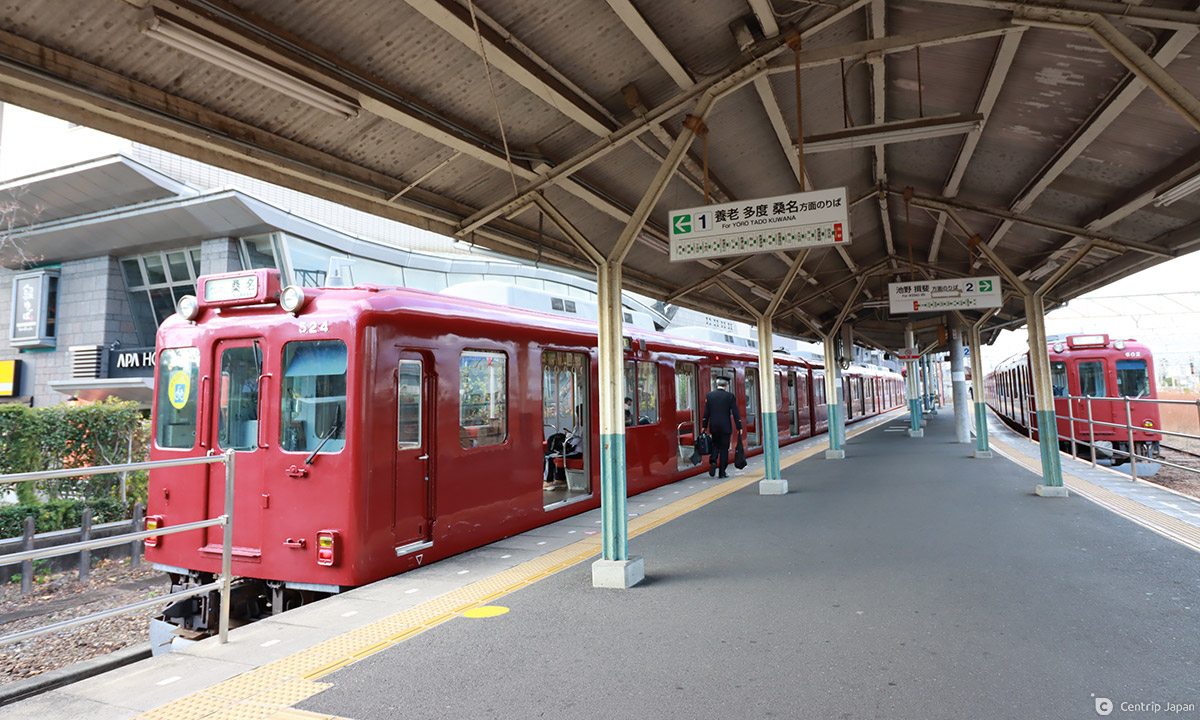 From Nagoya Station, take the JR train to Ogaki Station, and then transfer to the Yoro Railway to Yoro Station. Many photographers are fond of capturing the retro red trains of the Yoro Railway as they traverse through the countryside.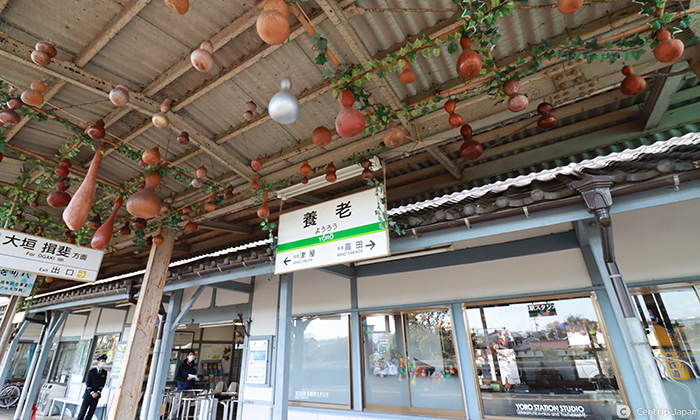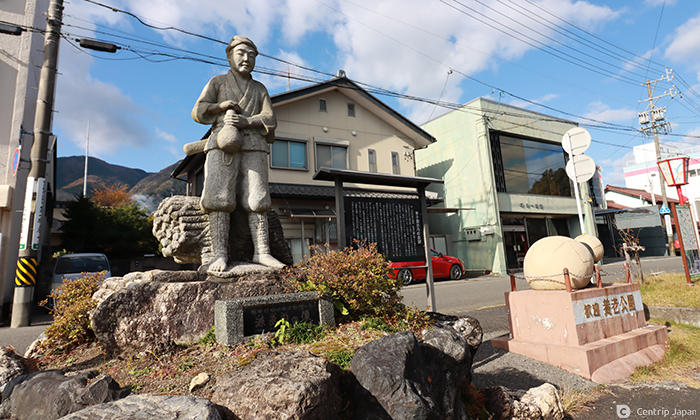 Many gourds hanging in the station, echoing the story of the filial son. There is also a statue of the filial son in front of the station.
The route to the Yoro waterfall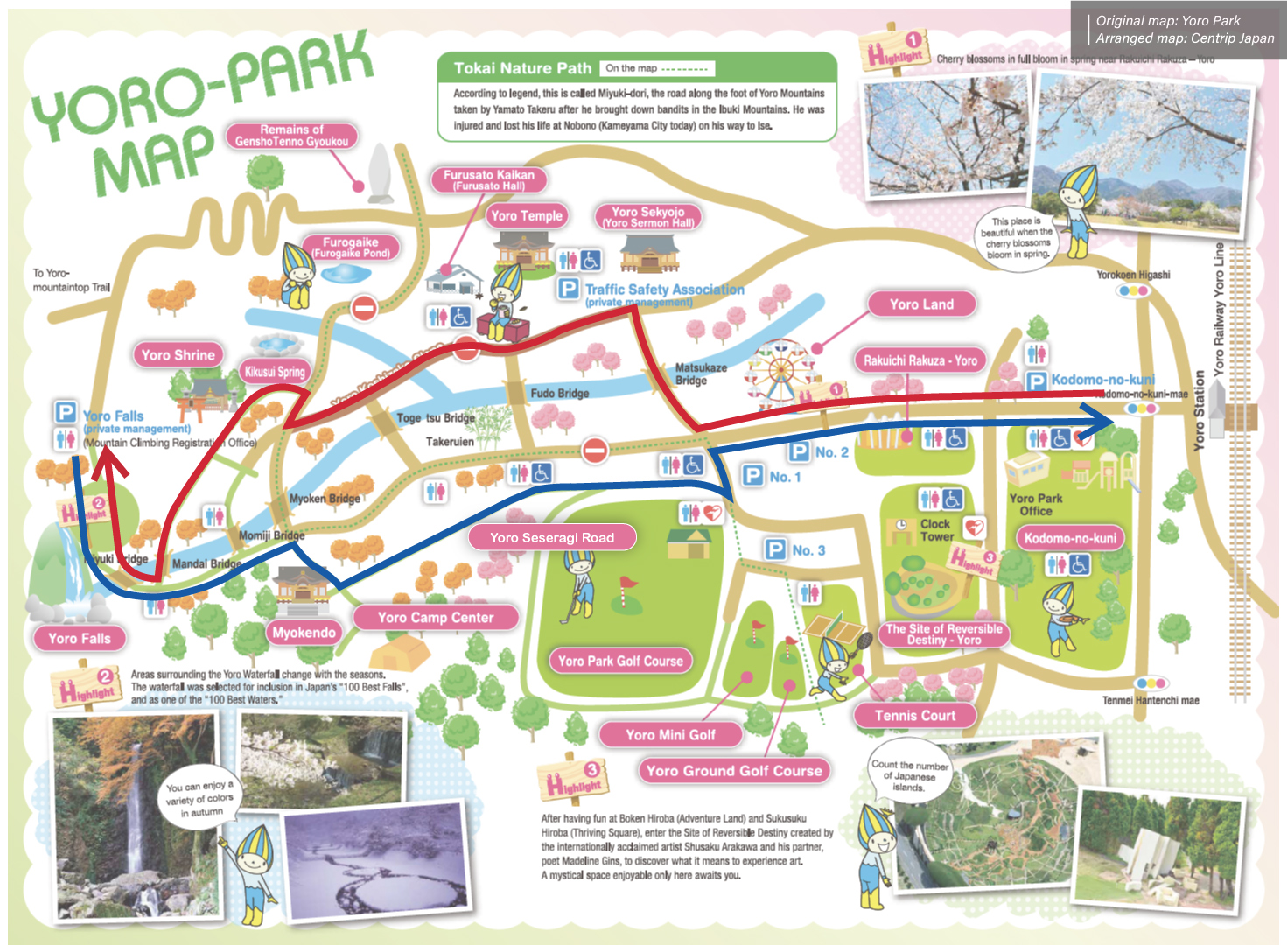 Map courtesy of Yoro Park
It is a bit difficult to wander around every path, we have created a recommended walking route. It takes about 2.5 hours to complete. If you follow the walking route you won't miss the autumn leaves. Next, we'll introduce you to the must-see spots along the route.
The 7 famous bridges in Yoro: picturesque bridges and flowing maple leaves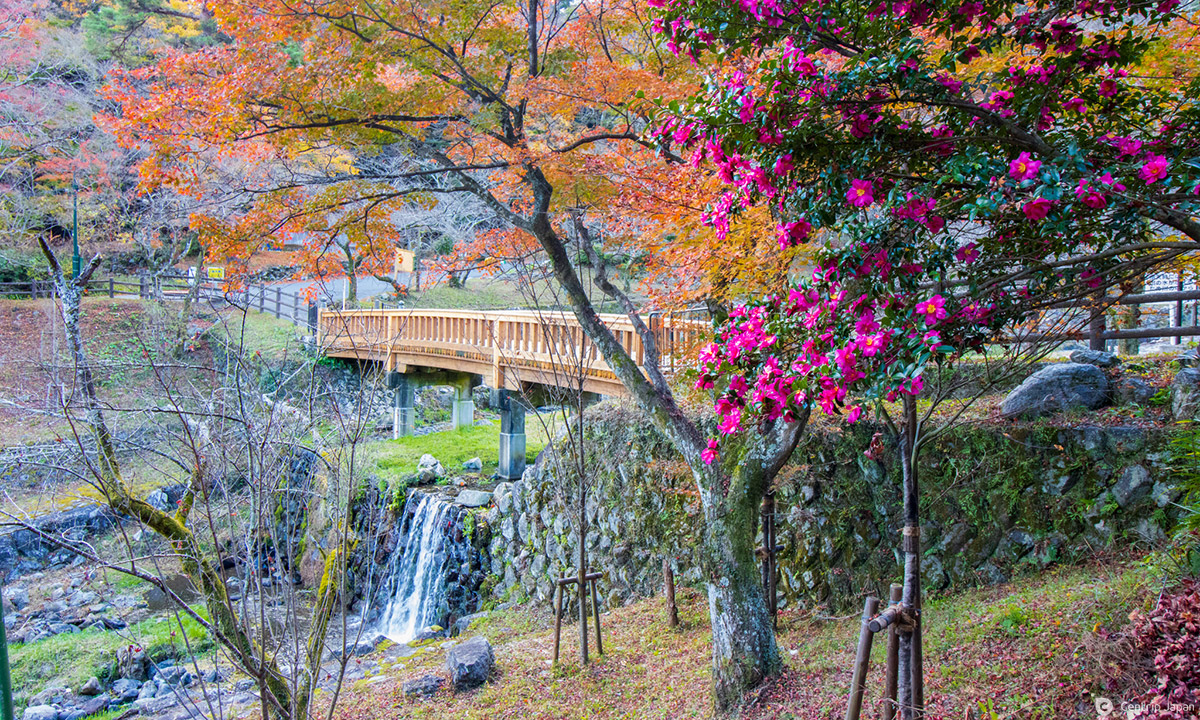 Each bridge has a different style, either tall or short, and there are both stone and wooden bridges.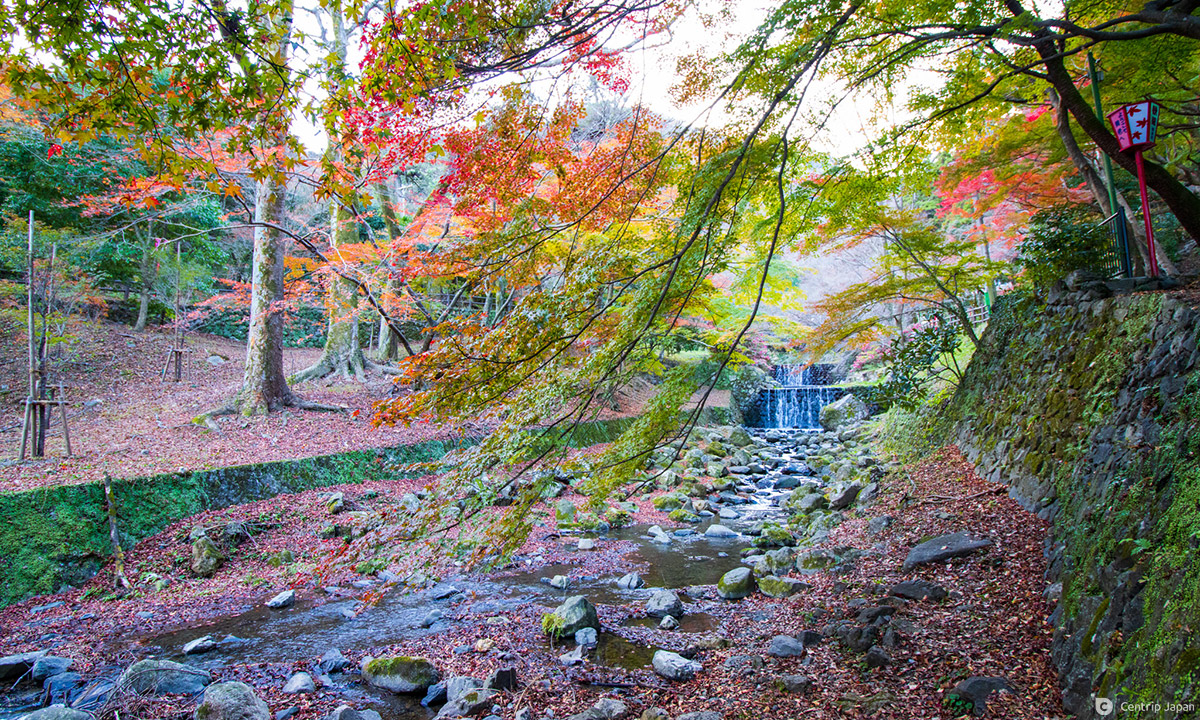 From time to time, there are paths to the river for a closer water experience.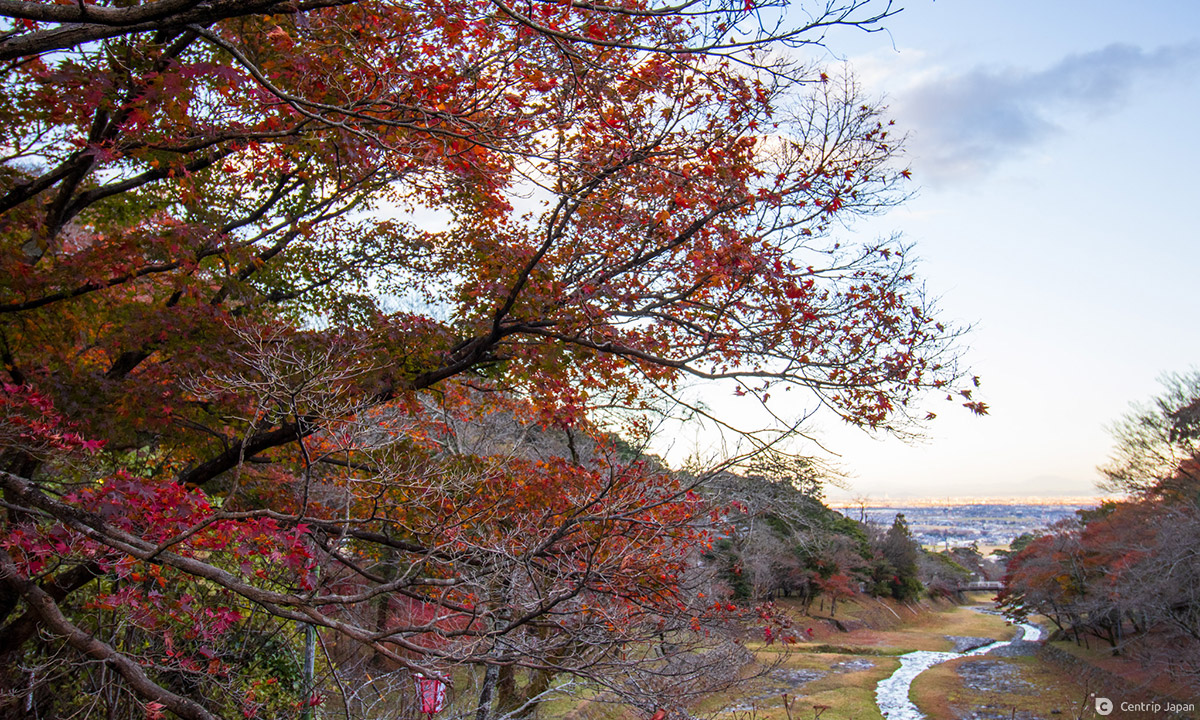 There are no steep slopes on the trail, making for a nice walk. If you look behind you'll see the picturesque scenery of the small town in Gifu under the green sky.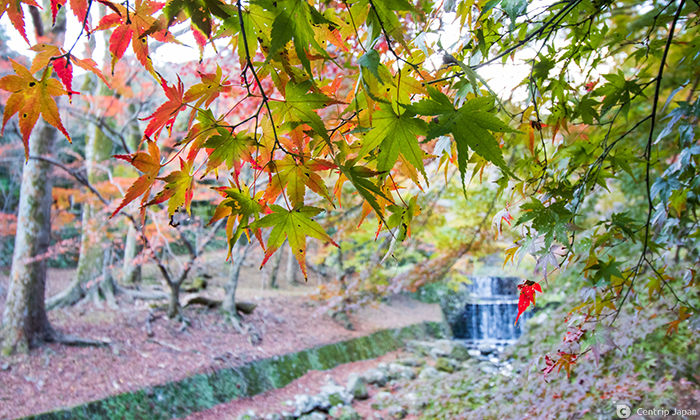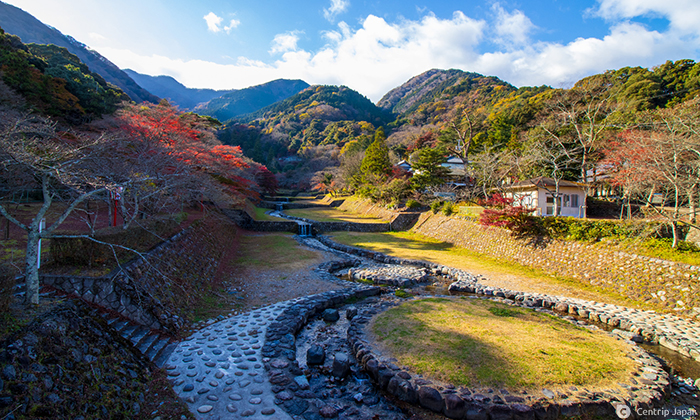 On weekdays, there are few people, so you can listen to the sounds of nature in peace. The sound of the waterfall and the chirping of the birds will cleanse your heart and soul.
Yoro Koshizaka-slope: Resting at souvenir stores and restaurants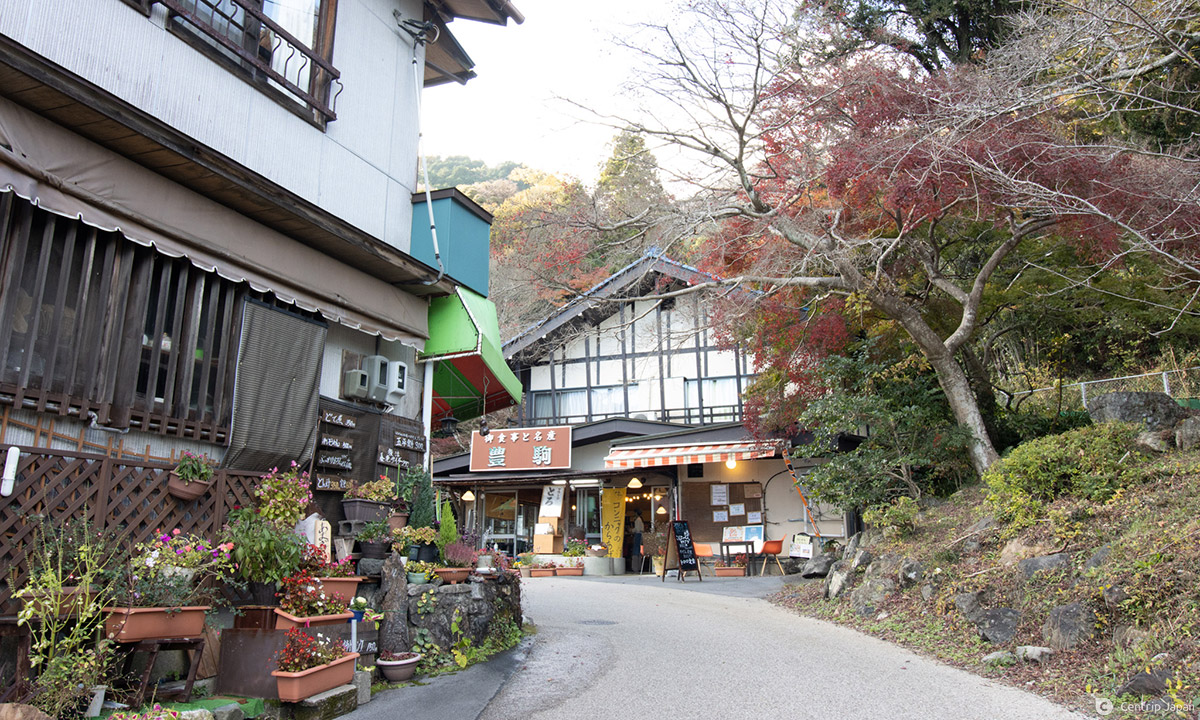 If you are tired of walking, you can go to Yoro Koshizaka-slope where you will find a collection of restaurants and souvenir stores selling local cuisine and coffee. The stores are a bit retro and simple, less commercial, and more like a warm like visiting a Japanese home.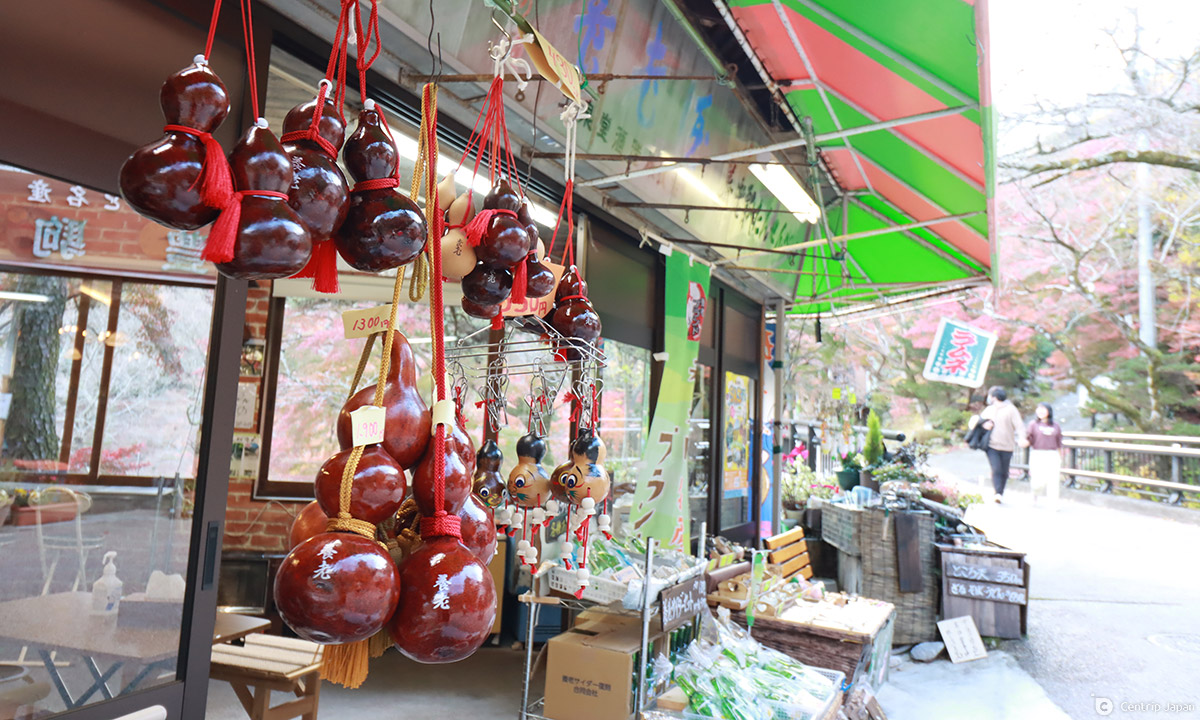 What kind of gourd is this store selling? According to the legend of the filial son, he filled a gourd with wine for his father. Here you'll find all kinds of gourds and children's toys in the souvenir stores, treasures just waiting to be found!
Yoro Shrine & Kikusui Spring: Healing and rejuvenation in one of Japan's top 100 waters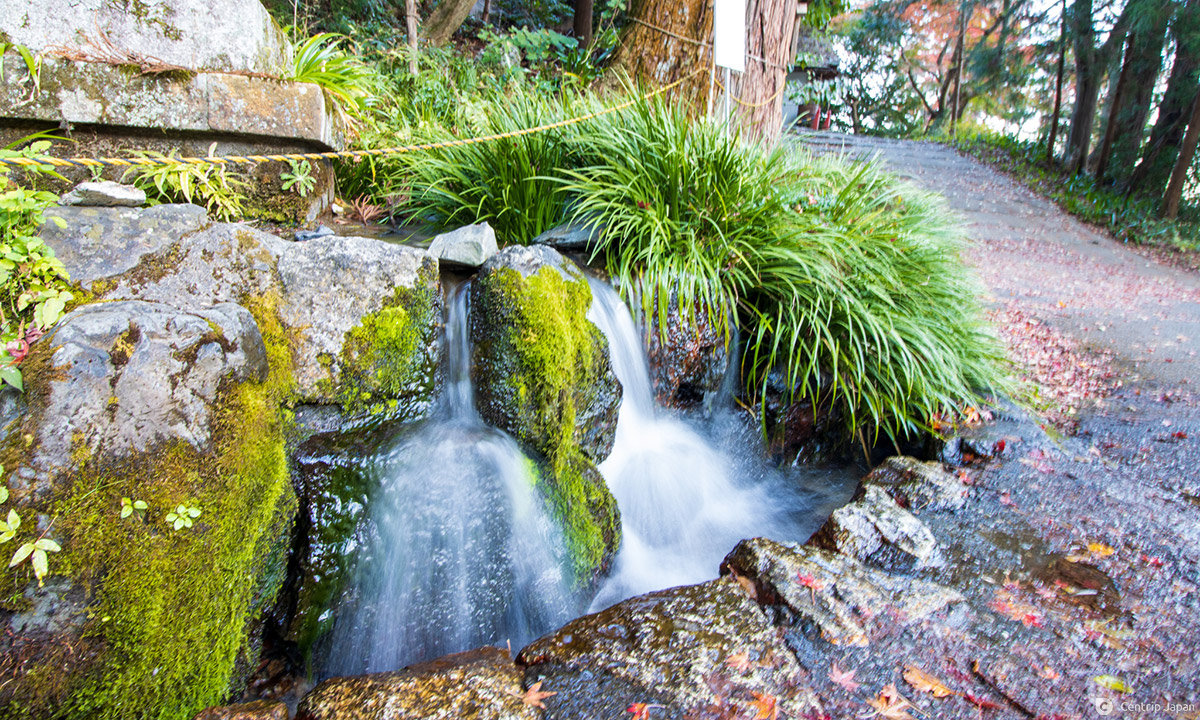 The water here is said to have a healing and rejuvenating effect. Many people come from afar for the waters. Although I can't guarantee that the water is that amazing, the water of Kikusui Spring is really clear, rich in minerals, delicious and sweet, so it's no wonder it was chosen as one of the 100 most famous waters in Japan. There is a water collection point at the bottom right of the shrine stairs, so why not bring a water bottle to taste it?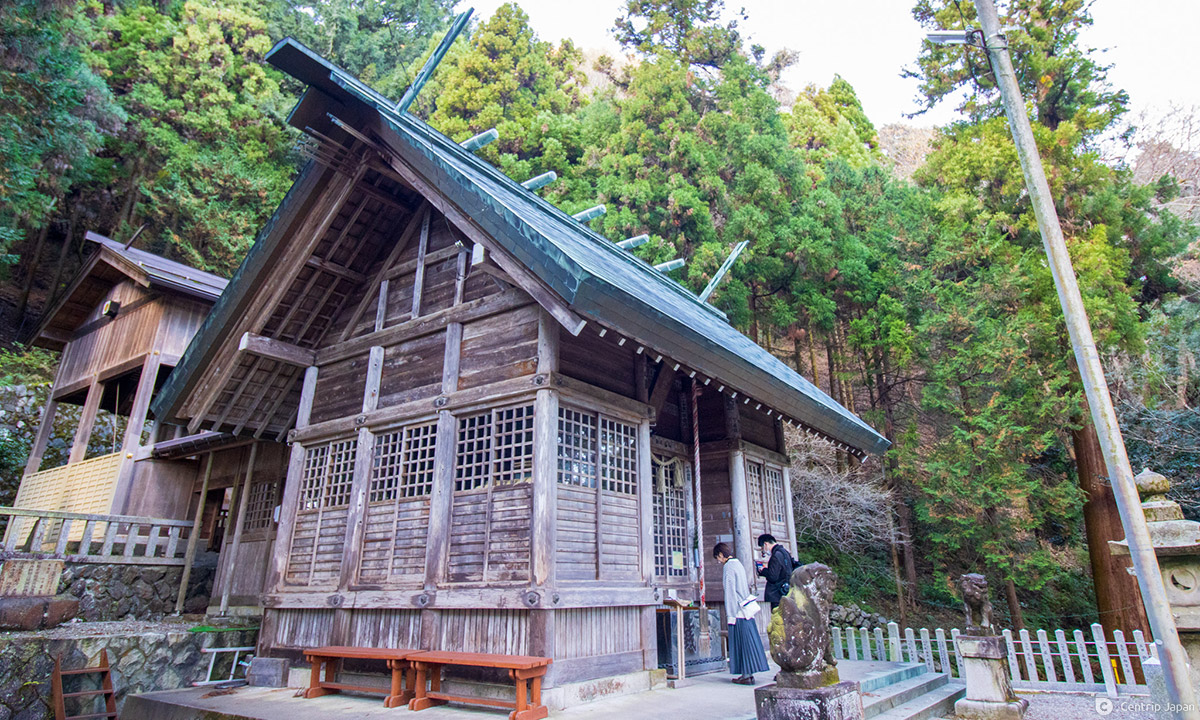 The shrine is located next to the Kikusui spring and is said to be a sacred place full of energy. The main purpose of visits is to pray for health, longevity, and beauty.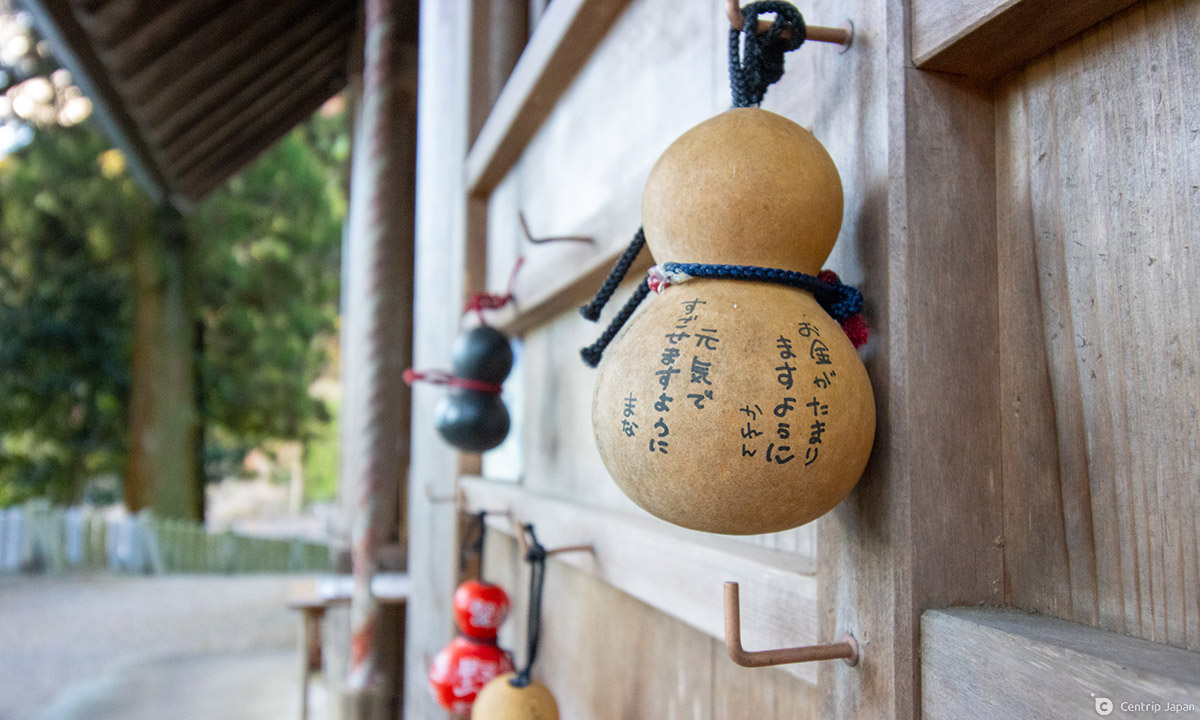 The placards at the shrine are shaped like cute gourds.
Yoro Falls: Japan's Top 100 Waterfalls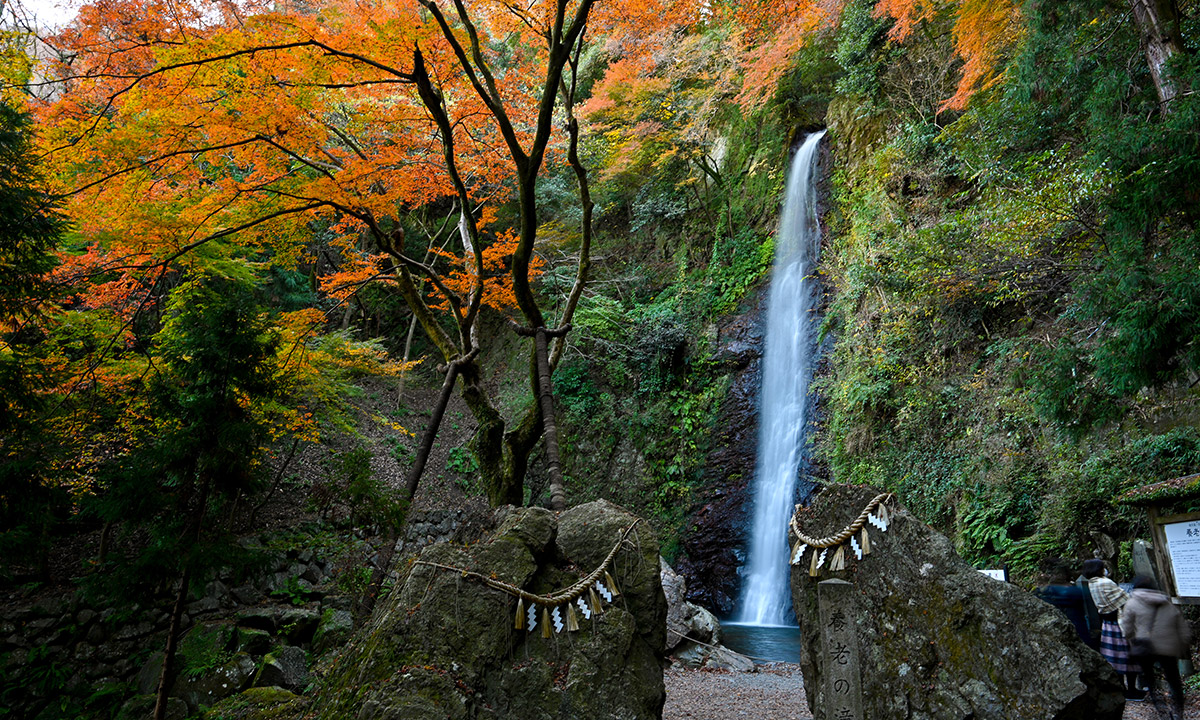 Credit: Yoro Park
After climbing a small slope for about an hour, you'll finally arrive at Yoro Falls! The 30-meter-high, 4-meter-wide waterfall, surrounded by red leaves, feels like it is giving off constant waves of energy.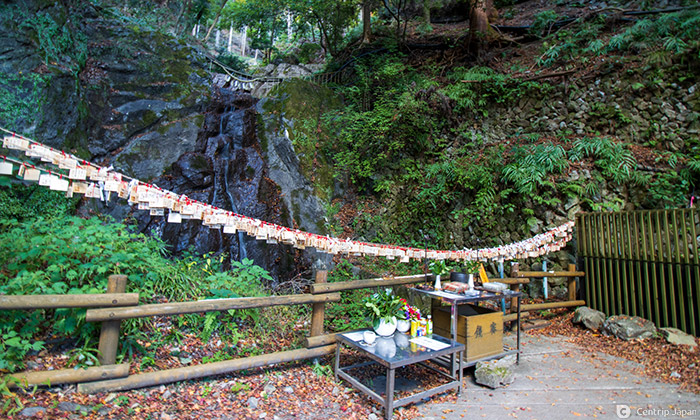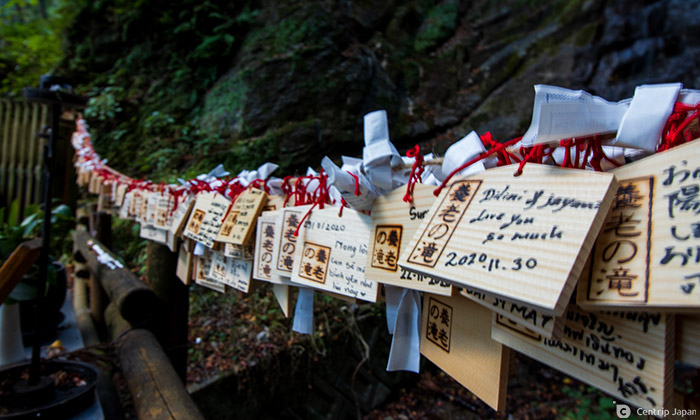 This murmuring waterfall is an object of worship, in line with the Japanese Shinto belief that everything has a spirit. You too will feel the spiritual energy from the waterfall which has absorbed the energy of the sun and the moon.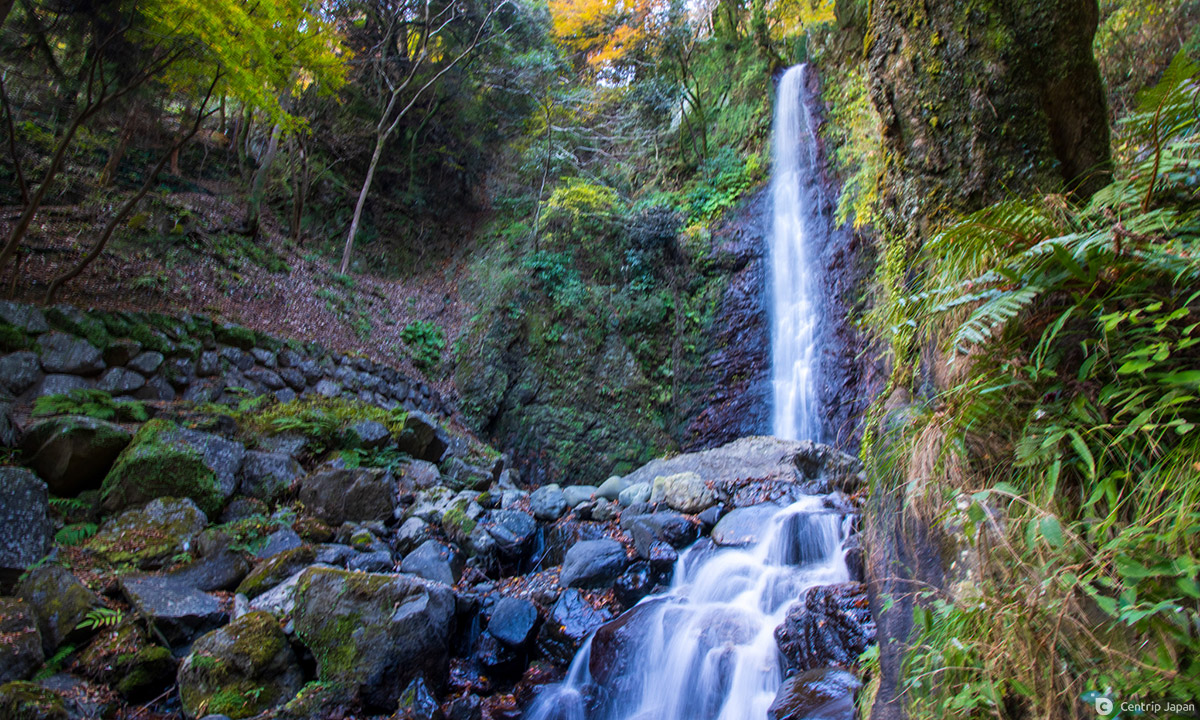 If you have watched the Japanese animated movie "A Silent Voice", you will be interested to know that this is the place where the main characters of the movie meet!
Myokendo: A beautiful red carpet of leaves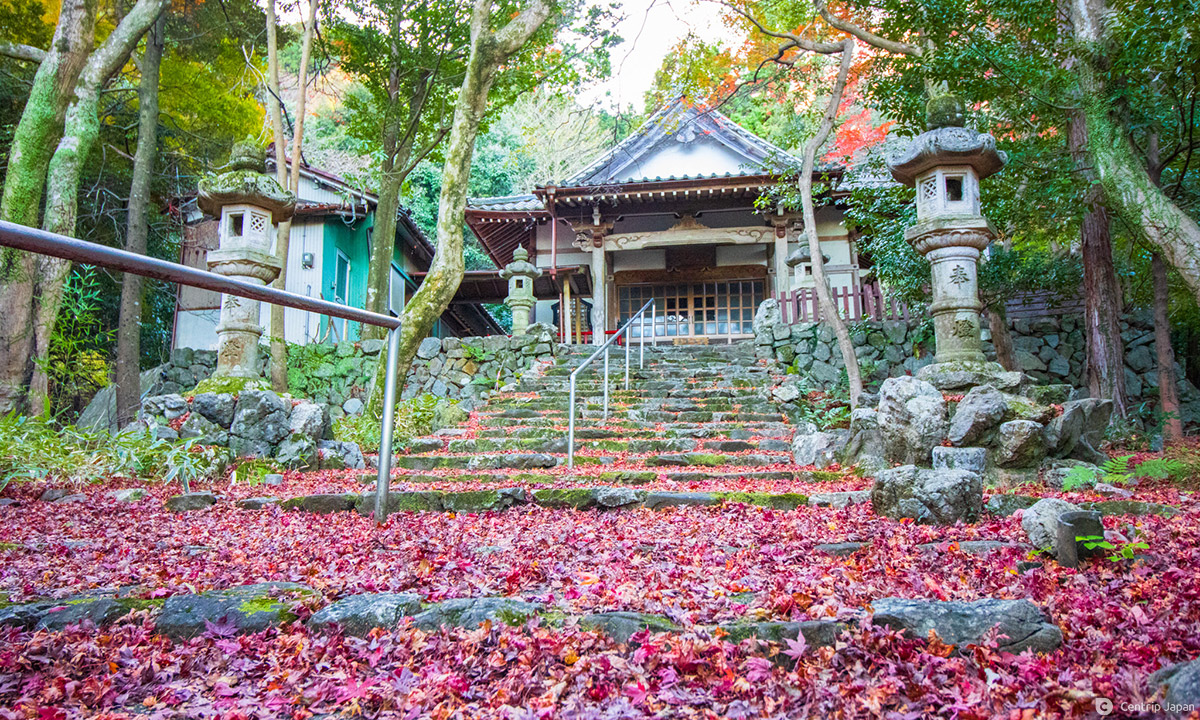 On your way back, you'll pass by Myokendo, a temple built 136 years ago to pray for rain. The temple has a 3.55-meter tall wooden statue of Buddha Shakyamuni, designated as an important cultural property and a magnificent sight.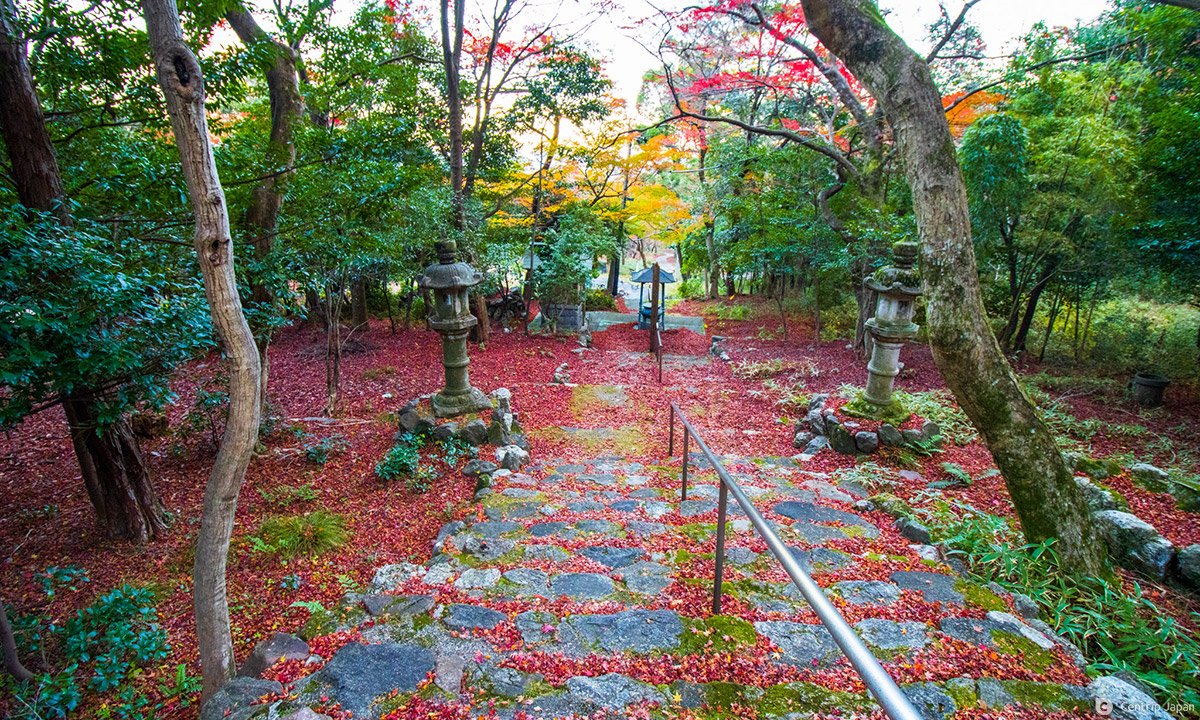 In autumn, Myokendo is a little-known-yet-famous maple viewing spot. The fallen leaves create a thick, soft carpet of red Japanese-maple leaves, also known as momiji. Similar to Kyoto's Bishamon-do Temple, famous for its momiji carpet.
Yonago Seseragi Road: A colorful tunnel of maple leaves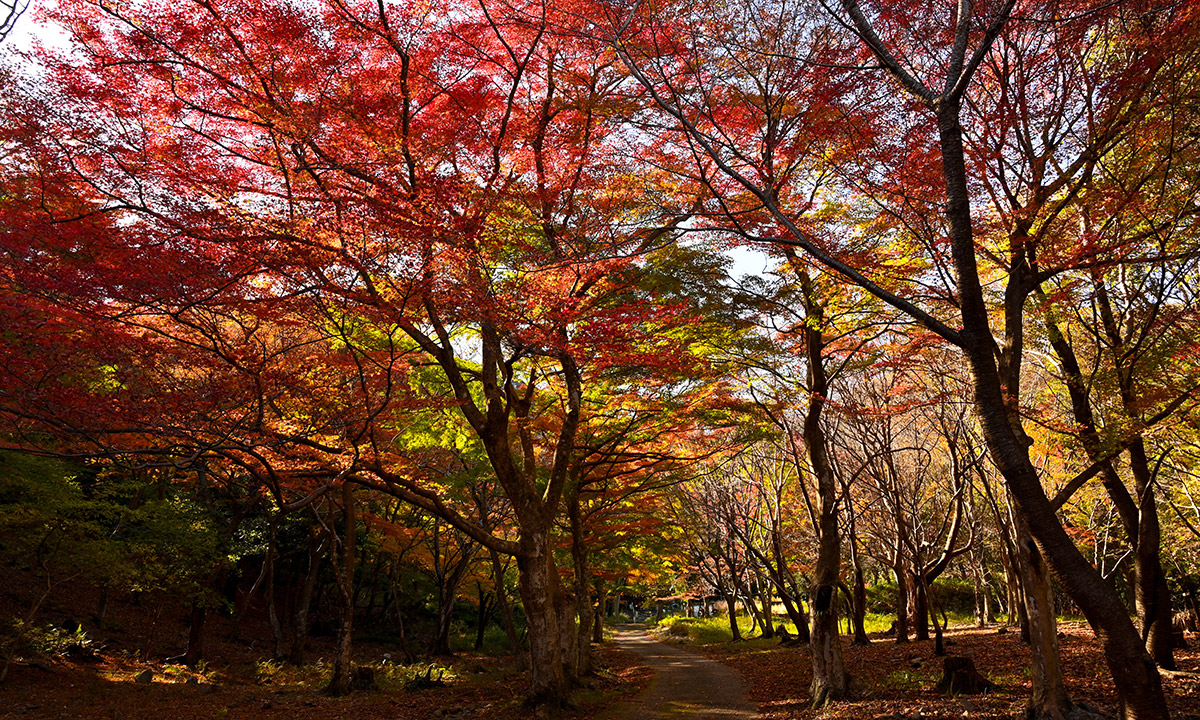 Credit: Yoro Park
Next, you will pass through a forest of maple leaves called Yoro Seseragi Road. It is not on the main route to Yoro Falls, so many people overlook this attraction, but Yoro Seseragi Road is an amazing Japanese-maple viewing spot treasured by those in the know. The autumn colored tunnel of the maple leaves combined with the red carpet on the ground create an immersive world of red leaves.
Reminders for walking in Yoro Park
Although no professional hiking equipment is required for the trip, the 2.5-hour walk can still be a bit tiring, so don't forget your good shoes.
It is also recommended you bring some snacks and water to refresh and recharge on your journey.
Wrap-up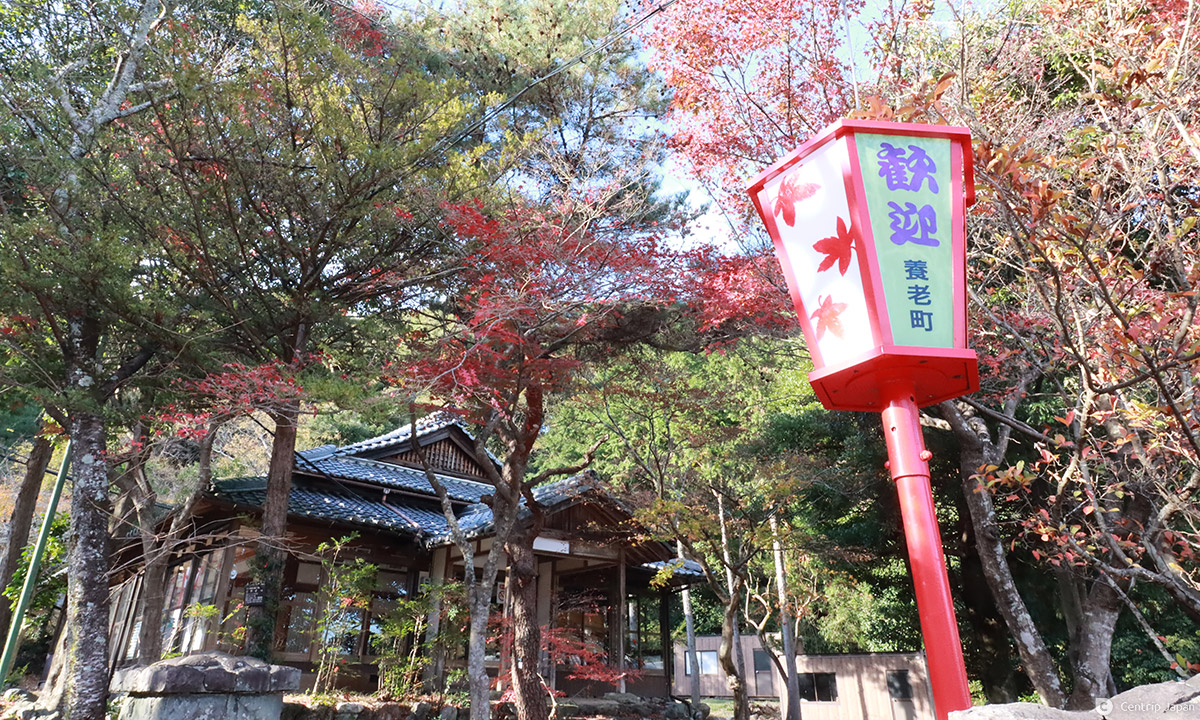 Yoro Park is a popular spot for maple viewing and trekking in Japan because it is easily accessible, covers a large area, and has beautiful foliage without big crowds. Nowadays, with the push for social distance, Yoro Park is the perfect place to visit.
If you like nature and art, don't forget to put it on your must-visit list!
Click here to get the latest information on Central Japan.Centrip Japan - Nagoya and Chubu Information