| Centrip Editorial Board
Top 7 Central Japan Areas to See Autumn Leaves
November marks the beginning of the Koyo Season (紅葉 - Autumnal Leaves) in Japan. Compared to Tokyo or Kyoto, the Chubu region is characterized by less by tourists and more by locals. You can experience the local atmosphere while taking in Japanese nature and culture.
2021's Best Times to View Autumn Leaves
The best time to see the autumn leaves is about the average yearly time in 2021. In the Chubu area, they are expected to have fully changed color by Nov. 18th. Mountain areas are the best places to view the leaves, such as Kamikochi, around Oct. 17th at the earliest.(See Weather News for the latest information on Autumn Leaves (Japanese only)).
In Japan, a short trip to see autumn leaves is called a Momijigari (紅葉狩り) Be sure to work in Momijigari on your autumn travels to Japan.
Aichi
Korankei (Aichi)
- Impressive Valley Vistas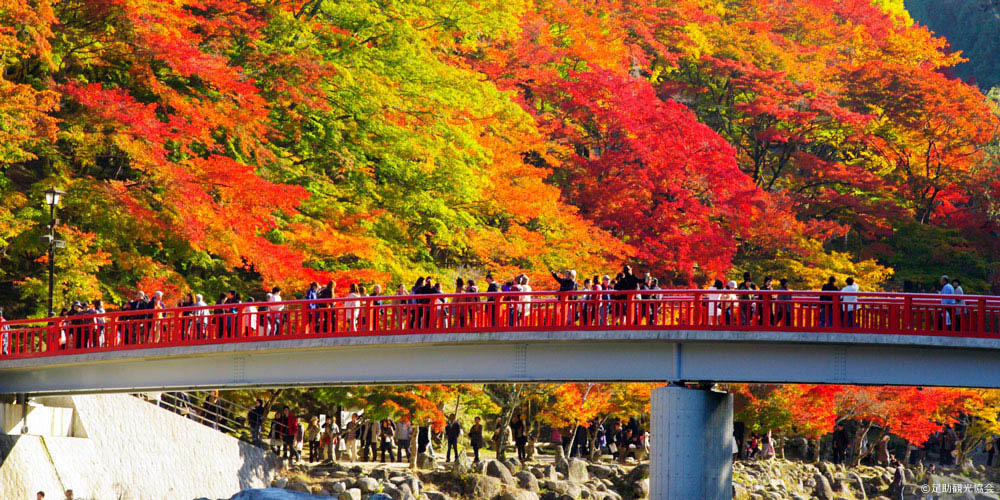 Korankei (香嵐渓) is one of the best-known spots in the Chubu area. There are 11 kinds of trees and over 4,000 leaves, that create a dynamic and wonderful tapestry of red, yellow, and orange with beautiful rivers acting in contrast to the scene. The Kourankei Momiji Matsuri (香嵐渓もみじまつり - Kourankei Momiji Festival) is held from Nov. 1st to 30th. The leaves are lit until 9pm for visitors to enjoy the scene until late in the evening. Tea parties, Jazz & Japanese drum performances and more events are held during this time. (For a charge)
Korankei Autumn Leaves Recent News
Nagoya Higashiyama Zoo (Aichi) - Recommended for Families with Small Children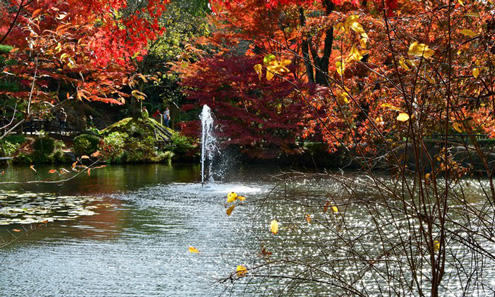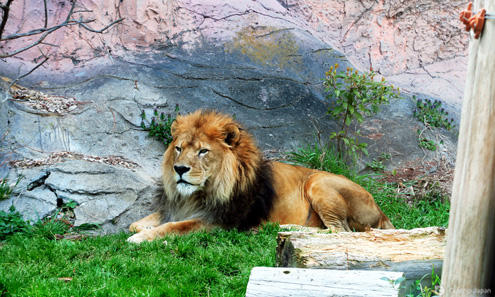 If you are looking for a fun time head to the Higashiyama Zoo and Botanical Gardens (東山動植物園/Higashiyama doubutsuen) conveniently access by taking the Nagoya subway. The botanical gardens are host to more than 500 Japanese Maple trees. You can enjoy Gassho-style houses, Japanese gardens, and more in various Autumn scenes. During the Higashiyama Zoo and Botanical Gardens Momijigari, a kitchen car is available as well as night time light shows and concerts. The Higashiyama Sky Tower is also available for views overlooking Nagoya.
Higashiyama Zoo and Botanical Gardens Recent News
Mount Horai (Aichi)
- Autumn Leaves on the Holy Mountain to Cleanse your Soul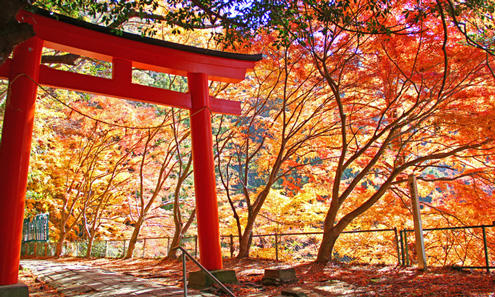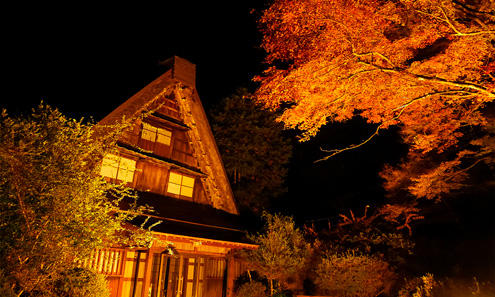 Credit: 愛知県の公式観光ガイドAichiNow
Mt. Horai (鳳来寺山/hourai san) location relatively unknown by tourists, here you can experience the rich nature of the area at a relaxing pace. Mt. Horai has about 1,300 years of history. Take some time off and disconnect from the hubbub of your busy life and relax with a stay at the nearby Yuya hot spring (湯谷温泉/Yuya onsen) and warm your body. Recharge your batteries with the power of nature.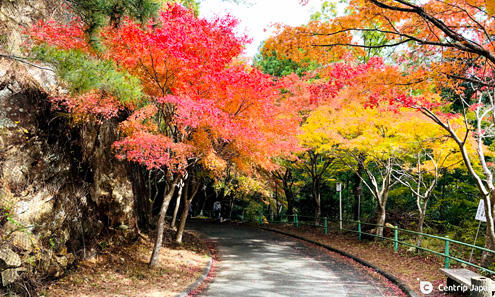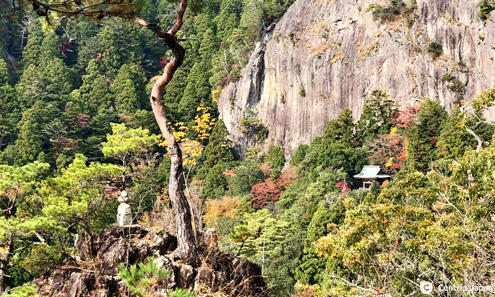 Mout Horai Autumn Leaves Recent News
Tokugawa Garden (Aichi) A Nagoya City Tour. Enjoy Autumn Leaves from a Restaurant or Cafe.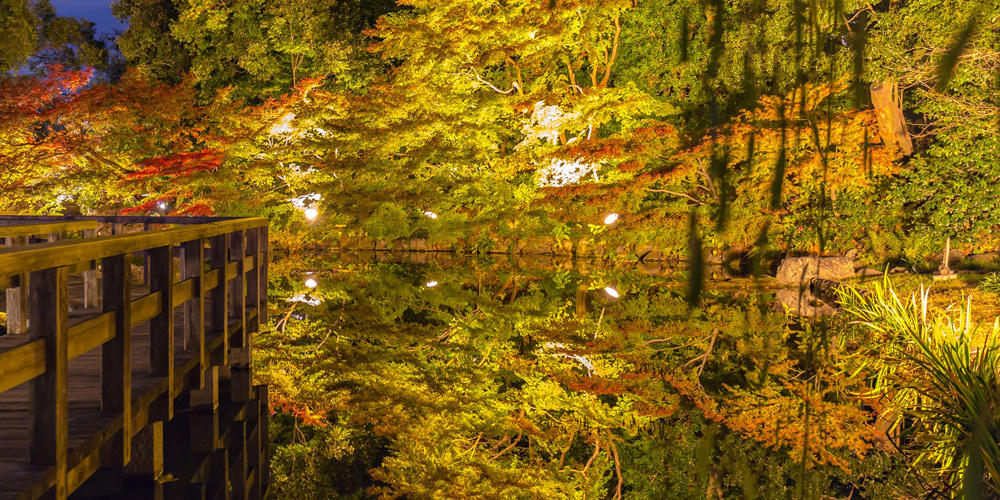 The Me-guru bus provides easy access to Tokugawa Garden (徳川園/Tokugawaen) from the Sakae district of Nagoya. In the garden, you can see the traditional Japanese architecture of Sozansou (蘇山荘), which operates as a cafe in the afternoon and a bar at night. Enjoy French cuisine at the Garden Restaurant Tokugawaen. Enjoy the elegance of tea alongside views of beautiful Autumn leaves.
Sobue (Aichi)
- A Carpet of Golden Leaves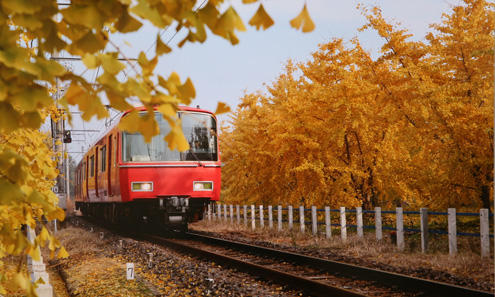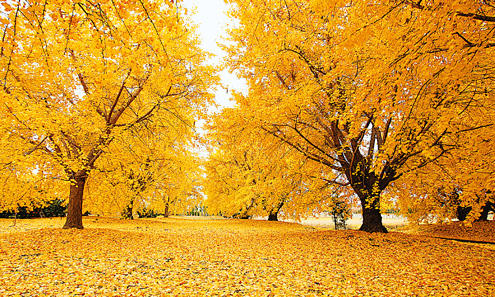 Sobue (祖父江) in Inazawa, Aichi is the top spot for producing gingko nuts. Over 10,000 gingko trees carpet the city in their yellow leaves. The Sobue Icho Koyo Matsuri (そぶえイチョウ黄葉まつり - Sobue's Yellow Leaf Festival) event and night light-ups are also held. The Sobue Icho Koyo Matsuri Yamazaki Venue sells special goods and a flea market is also held (Sat. & Sun.).
Gifu, Mie
Gero Onsen in Gifu
–Relax at a footbath with a superb view of autumn leaves!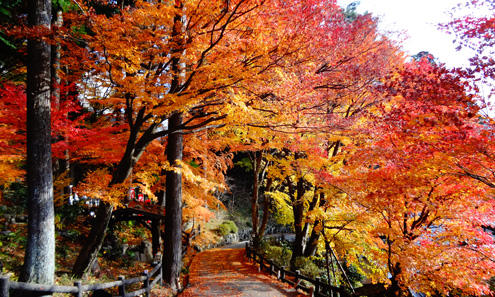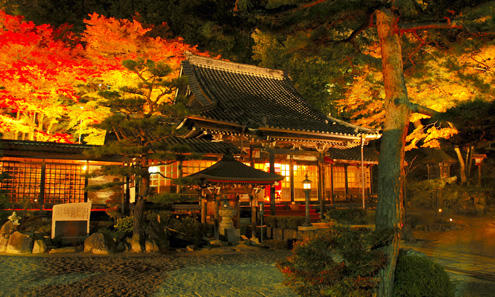 Gero Onsen (下呂温泉-Gero hot spring), was chosen as one of the three most famous springs in Japan. Legend has it in a time long past, a god called Yakushi Nyorai (薬師如来) changed himself into a wounded heron, and healed his wounds in the Hida River (飛騨川). The heron told villagers the location of the hot springs. The autumn leaves are illuminated every year at Onsen-Ji Temple (温泉寺) where the legendary Yakushi Nyorai is enshrined. During the illumination period, footbaths are available. Check out the village of Koubozan (弘法山) on the east side of the hot spring resort that has about 10 Gassho-style houses which were relocated from the world heritage site, Hida-Shirakawa-go (飛騨白川郷)
Akameshijuhachi Waterfalls in Mie
– autumn leaves and more! A must visit if you are a mountain climber and ninja lover!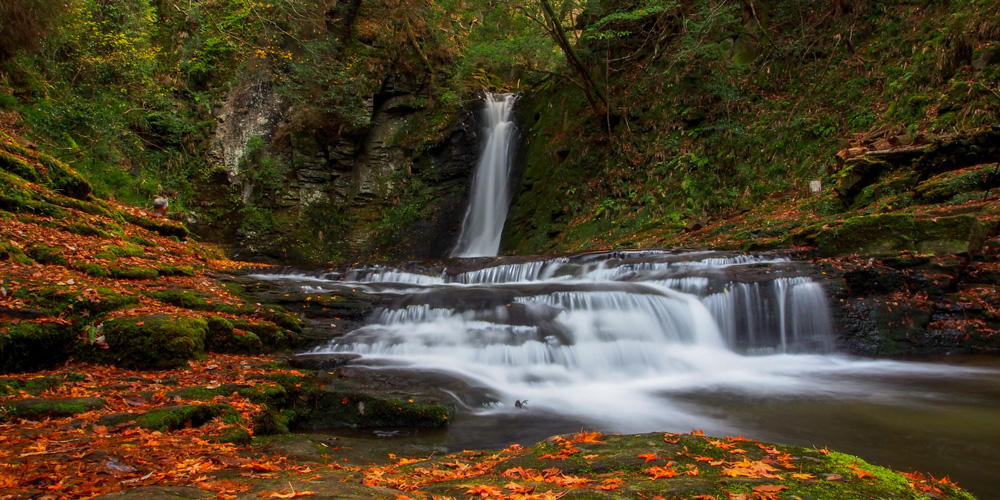 Akameshijuhachi Waterfalls (赤目四十八滝) is said to have been the home of training for Iga ninja (伊賀流忍者-Iga school ninja). The 4-kilometer long Akame Keikoku Valley (赤目渓谷) has various waterfalls in many sizes including Fudotaki Waterfalls (不動滝), Senjudaki Waterfalls(千手滝), and Biwadaki Waterfalls ( 琵琶滝). The hiking course to Mount Nagasaka (長坂山) offers a panoramic view of the valley and the red-tinged mountain range in autumn. Also, try out the ninja training experience in Ninja no Mori (忍者の森). Don't miss it if you have ever been interested in being the greatest ninja ever!
Wrap-up
Did you find any places that you want to visit in this article? I hope my article helps you plan your trip. Have many amazing & healing moments during your trip to Central Japan!