| Centrip Editorial Board
Miidera: Famous autumn leaves with a view of Lake Biwa
When most Japanese people hear Shiga Prefecture, they think of Lake Biwa. Lake Biwa, the largest lake in Japan, has a presence so large that it gives the illusion that Lake Biwa occupies most of Shiga Prefecture's area but it only takes up about 1/6 of the prefecture's area.
Miidera Temple is located in Otsu City, the capital of Shiga Prefecture. Although it straddles the border between two prefectures, Kyoto and Otsu is only about 10 kilometers apart, and a 10-minute train ride will get you there.
If you visit Miidera from Nagoya by public transportation, take the Shinkansen to Kyoto Station and then transfer to Miidera Station. To get to Miidera Station from Kyoto Station, start by taking the JR Kosei Line for about 10 minutes to Otsukyo Station. Then take the atmospheric Keihan Electric Railway Ishiyamasaka Line for about three minutes.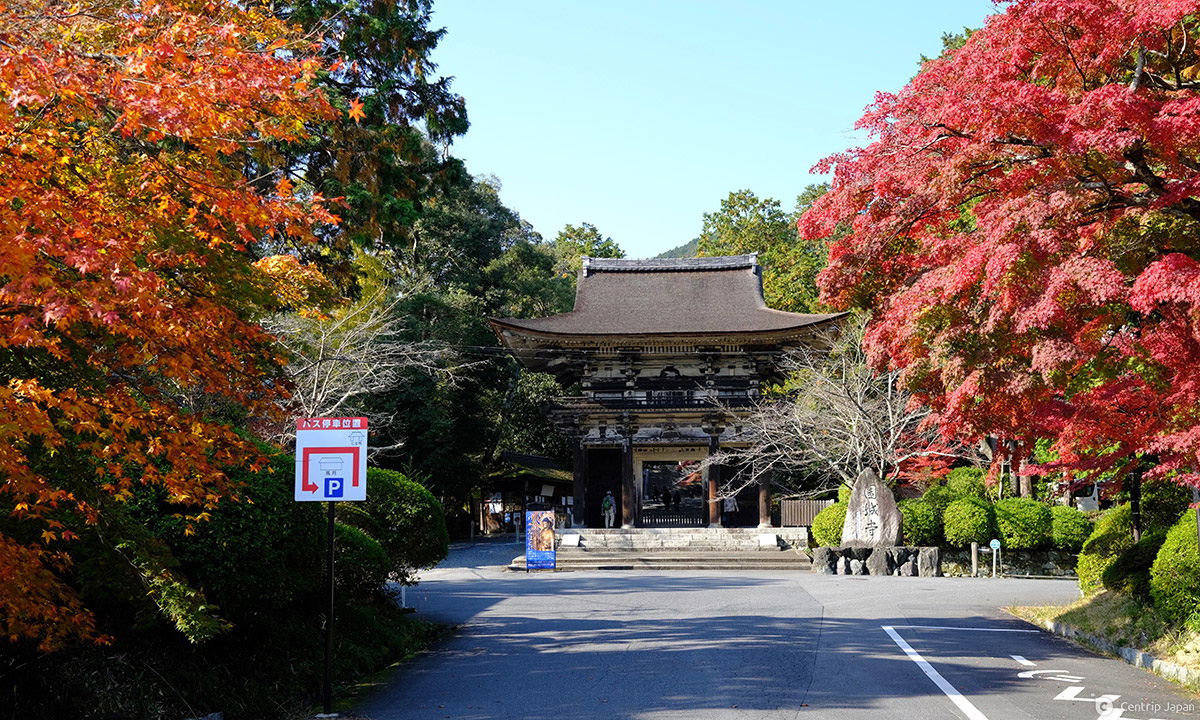 Miidera Temple is the official head temple of the Tendai sect of Buddhism, officially known as Onjoji Temple. In the 7th century, it was called the Temple of the Well because of the sacred spring used in the birth of three emperors of the Asuka period, Tenchi, Temmu, and Jito. Eventually, the kanji character for three, which has the same sound as "O," was applied. Becoming known as Miidera. It and Lake Biwa Canal are also known as some of the best places for viewing autumn leaves in Shiga Prefecture.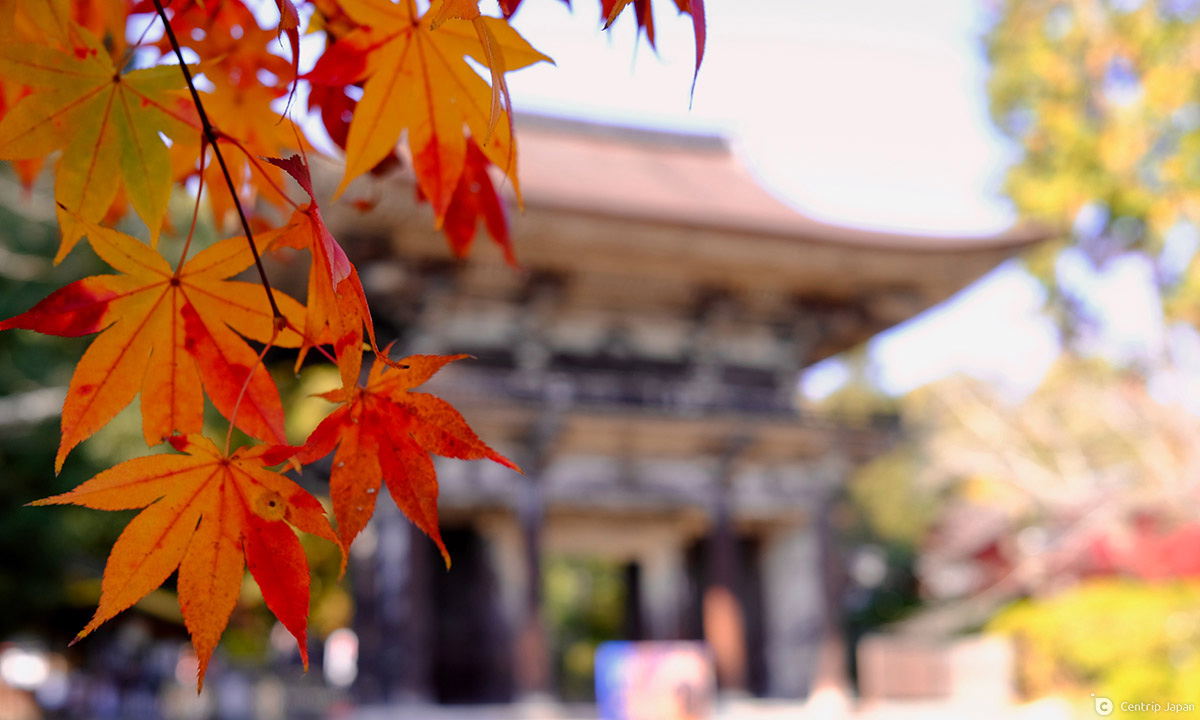 I visited Miidera Temple in mid-November when the leaves were at their best.
After a 10-minute walk from Miidera Station, you will first see the large Niomon Gate. This gate was from Jorakuji Temple in Shiga Prefecture but moved to Fushimi Castle in Kyoto by Toyotomi Hideyoshi, and then moved to Miidera Temple by Tokugawa Ieyasu.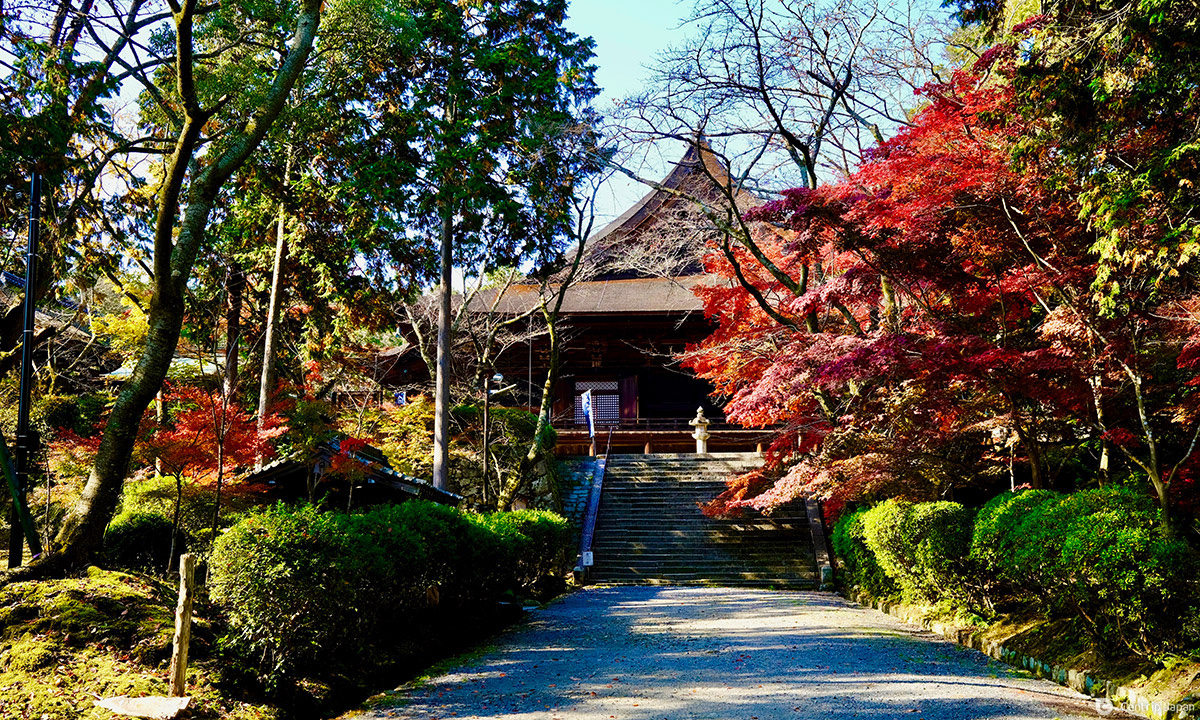 After passing through the Daimon Gate, you will see the Golden Hall in front of you.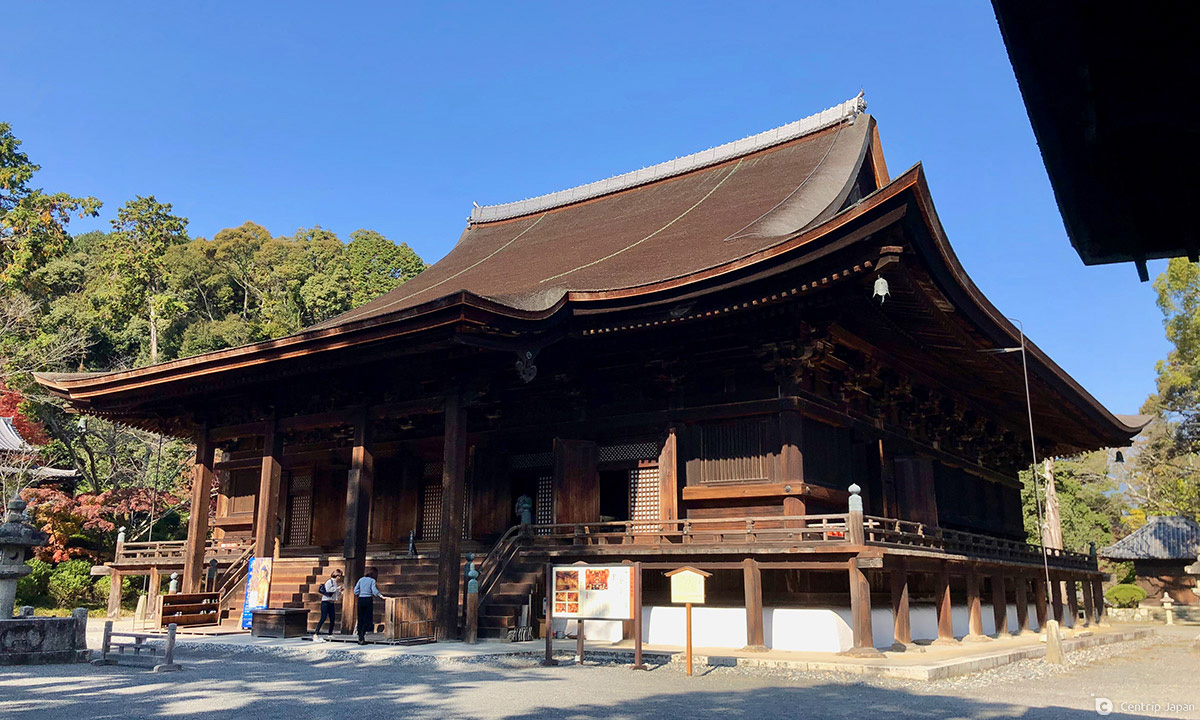 The Kondo (main hall) of Miidera Temple was rebuilt in 1599 by Kitanomandokoro, the influential wife of Toyotomi Hideyoshi. The beautifully sloped roof with cypress bark roofing is considered one of the most famous buildings of the Momoyama period. The Maitreya Buddha is enshrined in the center of the Kondo. It is a secret Buddha and has not been seen by people for over 1300 years.
A beautiful bell near the Kondo.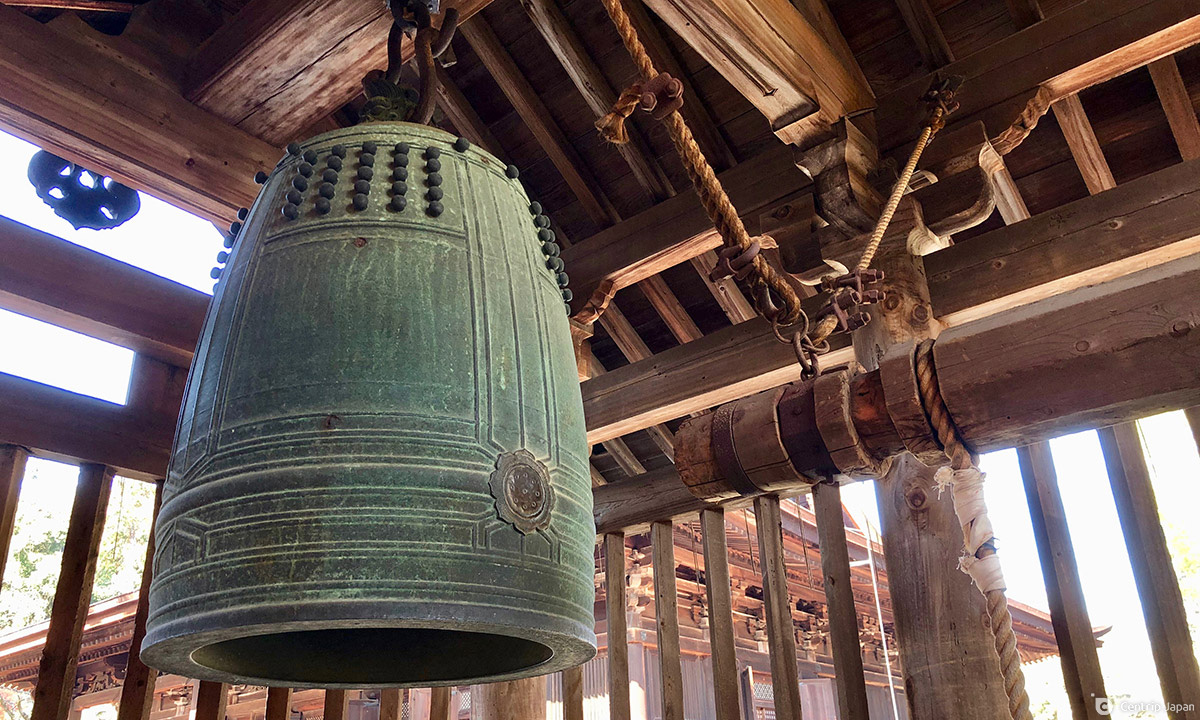 The Eight Views of Xiaoxiang, selected in China in the 10th century, served as a model for numerous other "Eight Views". Many outstanding landscapes in each region have been chosen in various parts of East Asia. There are more than 400 Hakkei (Views) in Japan. In the Chubu area, the Eight Views of Kiso and Eight Views of Omi are particularly famous. One of these Eight Views of Omi is the Miidera temple bell, Miidera's Evening Bell.
The bell of Miidera Temple is one of the "Three famous bells under heaven", and its' solemn sound has been selected as one of the 100 best acoustic sounds in Japan. Tourists can also ring the bell for a fee of ¥300.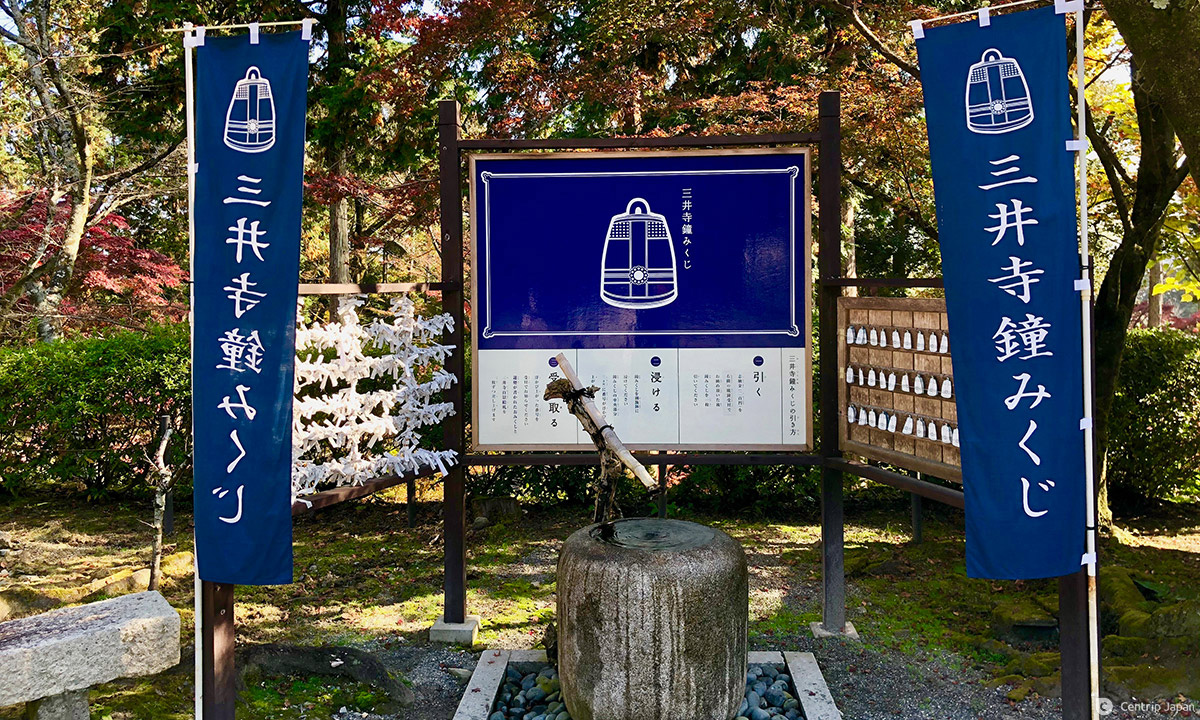 In honor of this bell, Miidera temple has a unique fortune-telling system called Kanemikuji.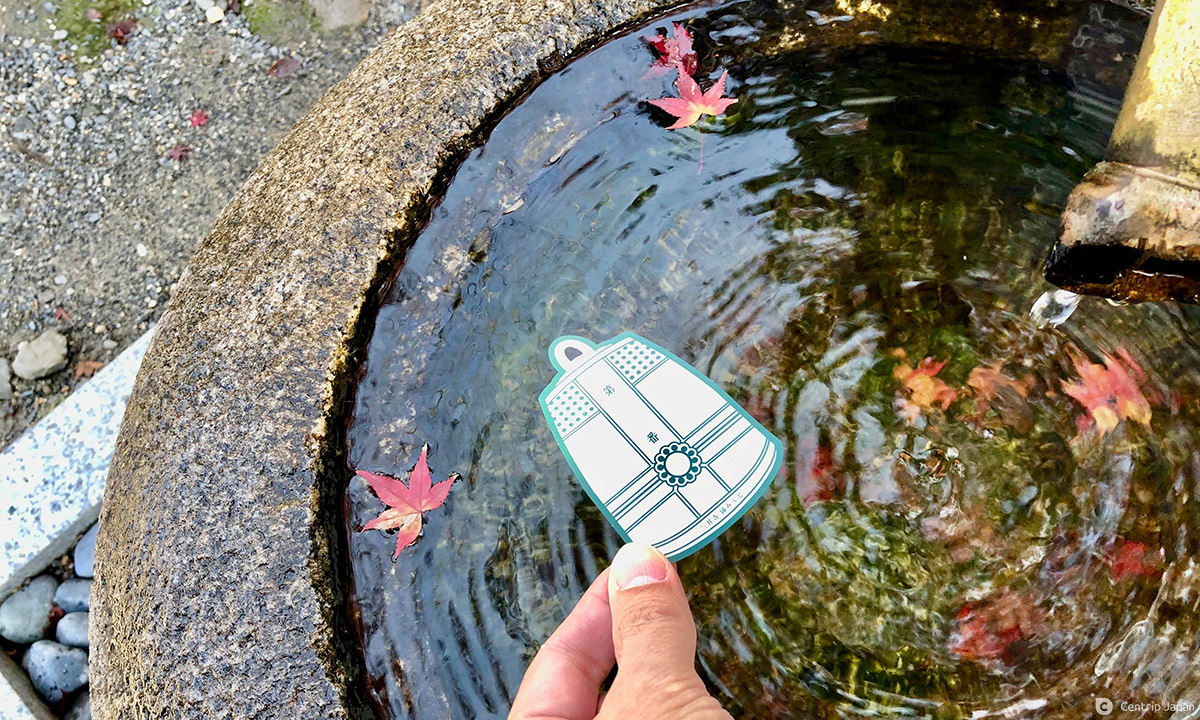 You can buy clear bell-shaped tags ¥200, and when you dip it in water, a number will faintly appear. If you tell them the number, they will give you an omikuji (fortune) and a picture card with that number. My fortune for the day was Sue-kichi.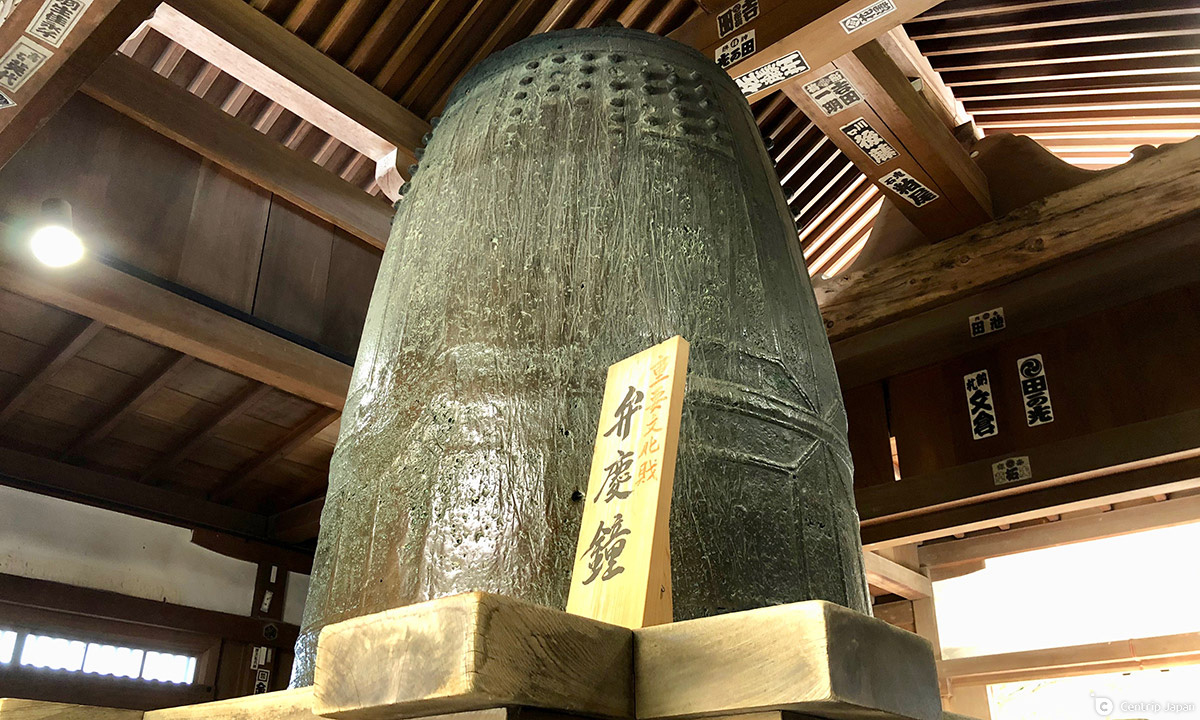 Behind the Kondo is a small hall. Inside, there is a huge bell with scratches on it. This bell is called the "Bell that Benkei Dragged".
In the Middle Ages, during the disputes between the temples of Enryakuji and Miidera on Mt. Hieizan, Musashibo Benkei, a monk of Hieizan known for his great strength, took the bell from Miidera and brought it to Enryakuji. When Benkei dragged the bell up to Hieizan and tolled it, the bell rang out "Ino ino" ("I want to go home" in the Kansai dialect). It angered Benkei and he threw the bell to the bottom of the valley, saying, "Do want to go back to Miidera Temple so badly?" Legend has it that the scars on the bell come from that time.
After passing through the hall with the legendary bell, you will come to a building called Issai Kyozo, which houses the sutras.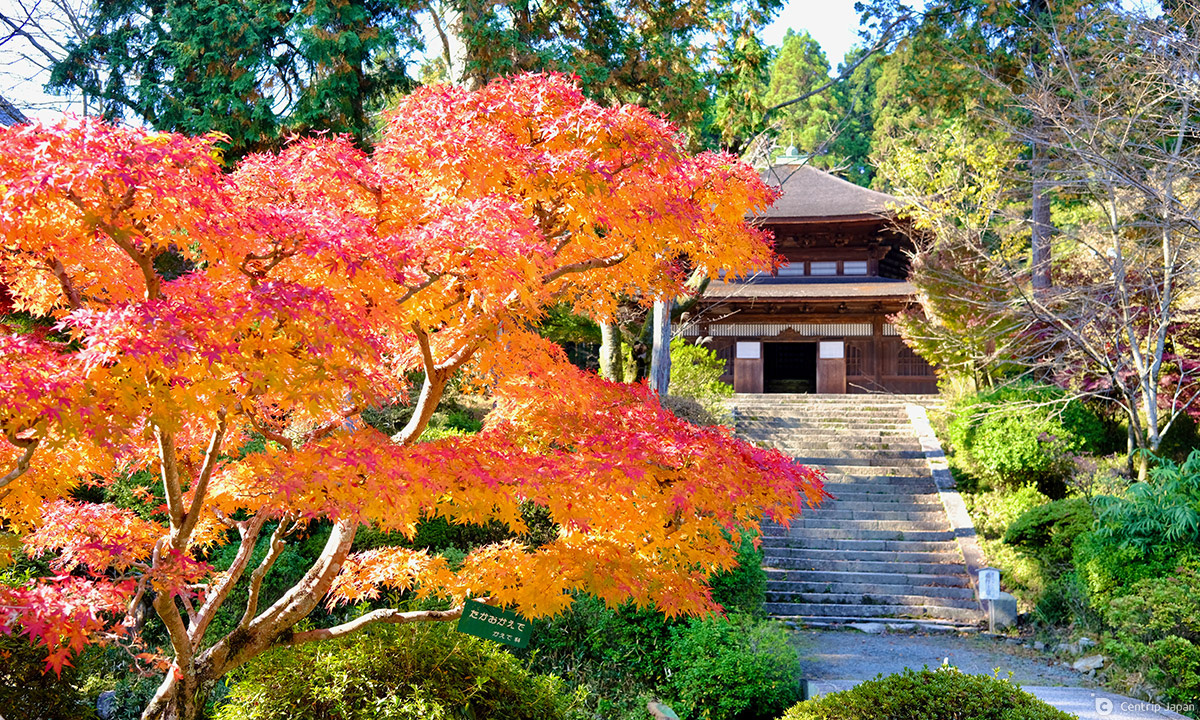 It was moved from a temple in Yamaguchi Prefecture in 1602 by the warlord Mori Terumoto. The Buddhist sutras are stored inside a rotating octagonal storehouse.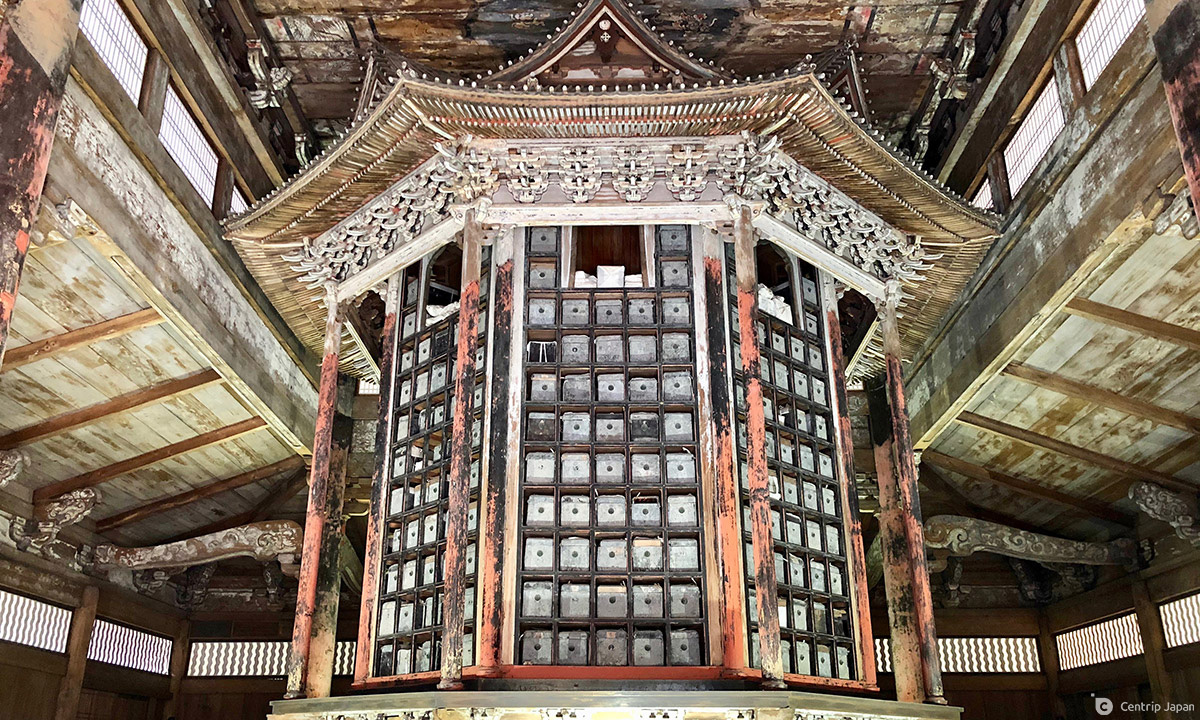 The contrast of architectural style, a zen style called Zenshu, and the autumn leaves is lovely. Especially when looking up from the bottom of the stairs.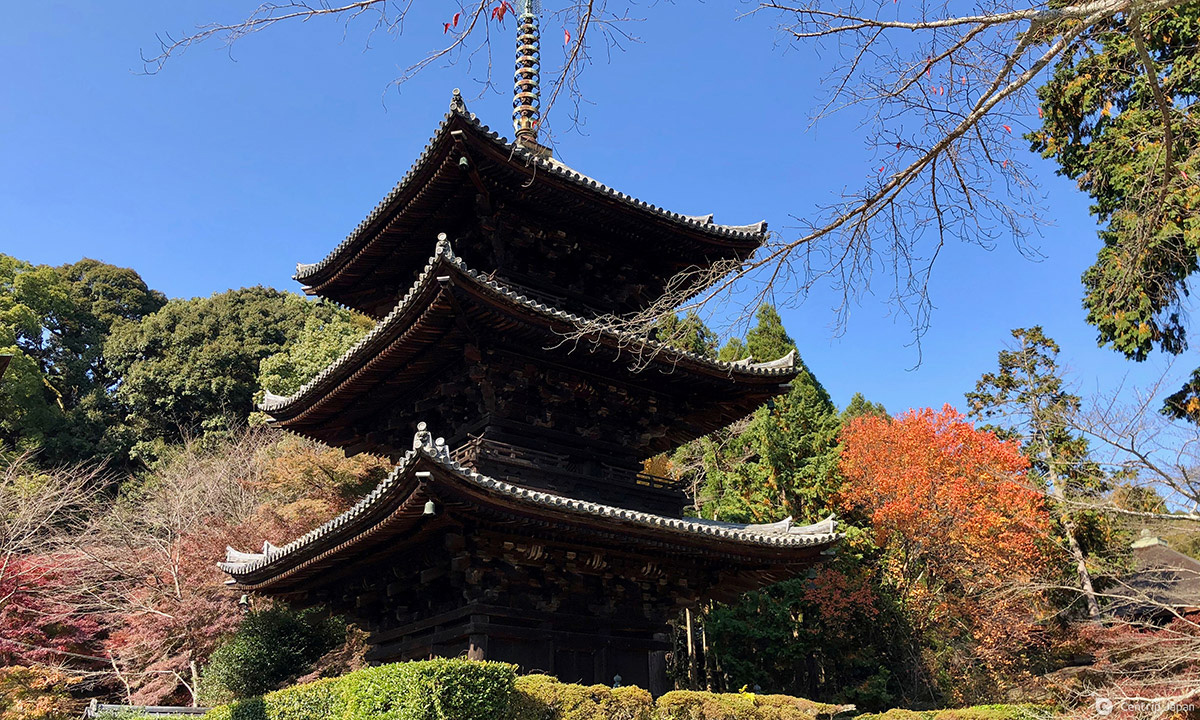 In front of the sutra Repository and crossing a small bridge, you will find a 24.7-meter high three-story pagoda.
This three-storied pagoda originally was located in a temple in Yamato (present-day Nara Prefecture). Toyotomi Hideyoshi moved it to Fushimi Castle in Kyoto, then Tokugawa Ieyasu moved it to Miidera Temple in 1601. Like the Daimon, it is a three-storied pagoda it has had a complex history.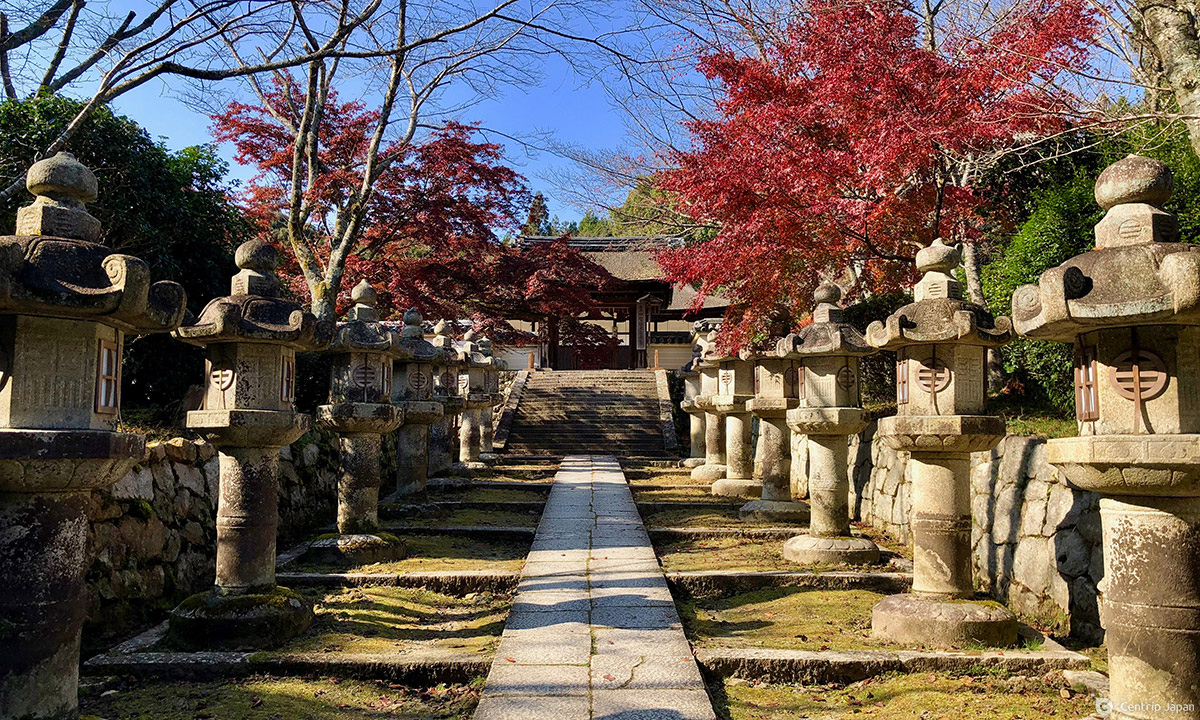 Next to the three-storied pagoda, there is a gate called Shikyakumon in front of the Toin, which is considered the most sacred area of Miidera Temple. The passage leading to Shikyakumon is lined with lanterns, indicating that it is a special space.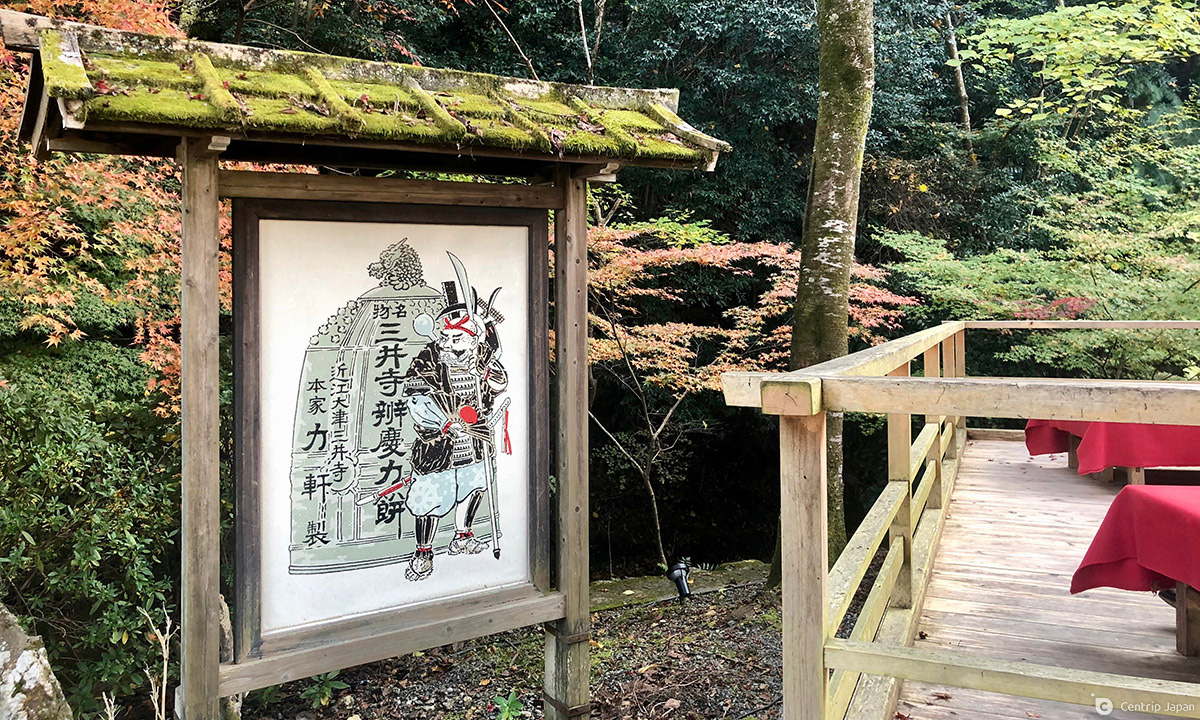 Passing through the Shikyakumon gate with Toin as your back, you will see a small teahouse called Honke Chikaraken with a history of over 200 years.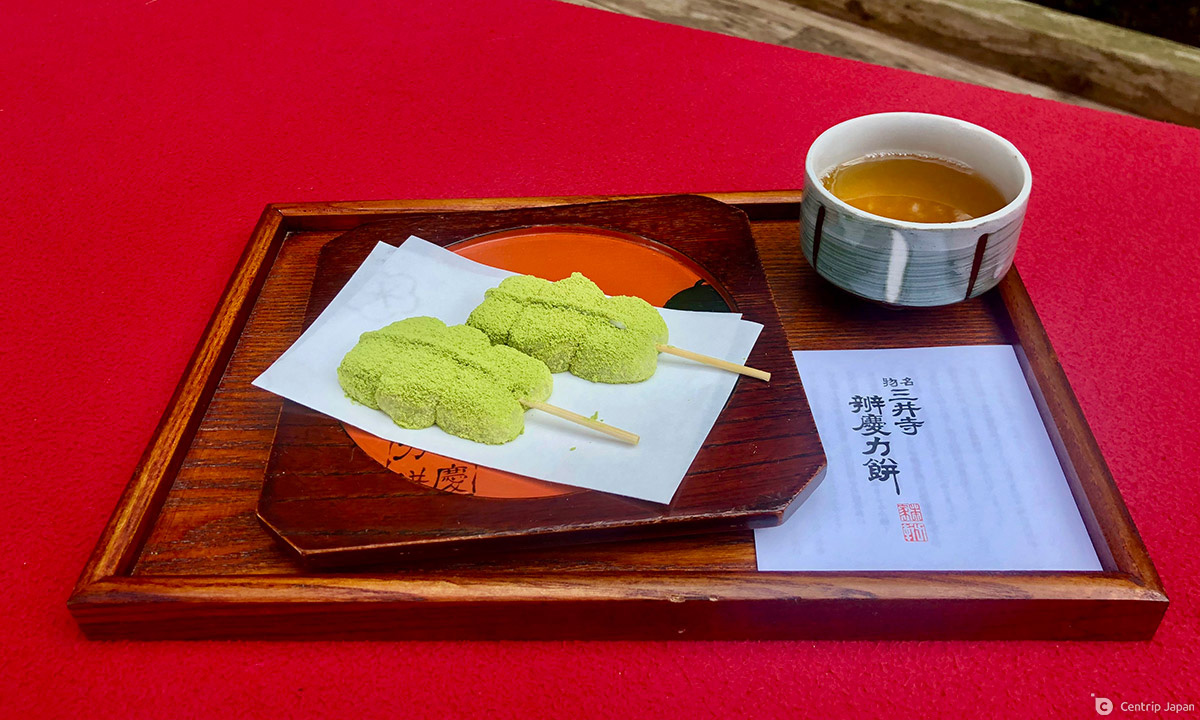 Benkei Rikimochi is a soft rice cake covered with soybean flour, powdered green tea, and kinako (soybean flour). It is ¥300 for a set of two with a cup of hojicha tea. The ground of the seating area is covered in red leaves, creating a carpet of red leaves. Combined with the atmosphere of Miidera Temple, it makes for a pleasant place to enjoy some tea.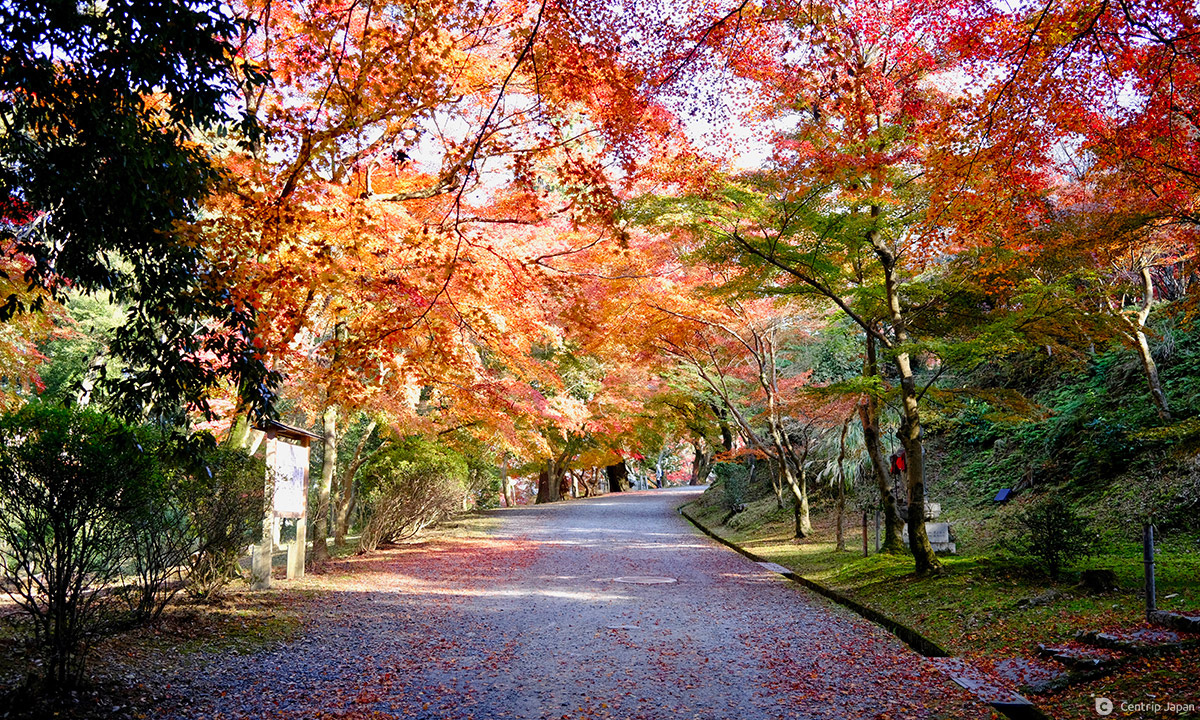 Beyond the teahouse, there is a tunnel covered with maple trees. The autumn leaves here are magnificent.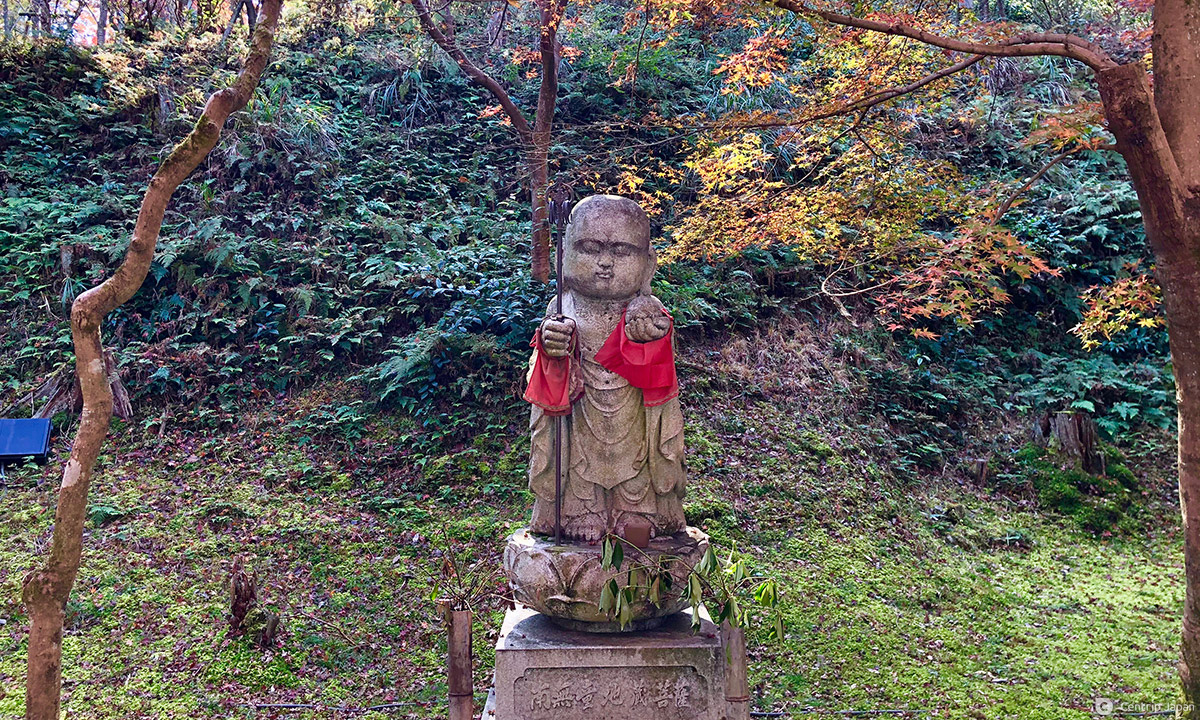 Several Jizo statues line both sides of the small path of autumn leaves.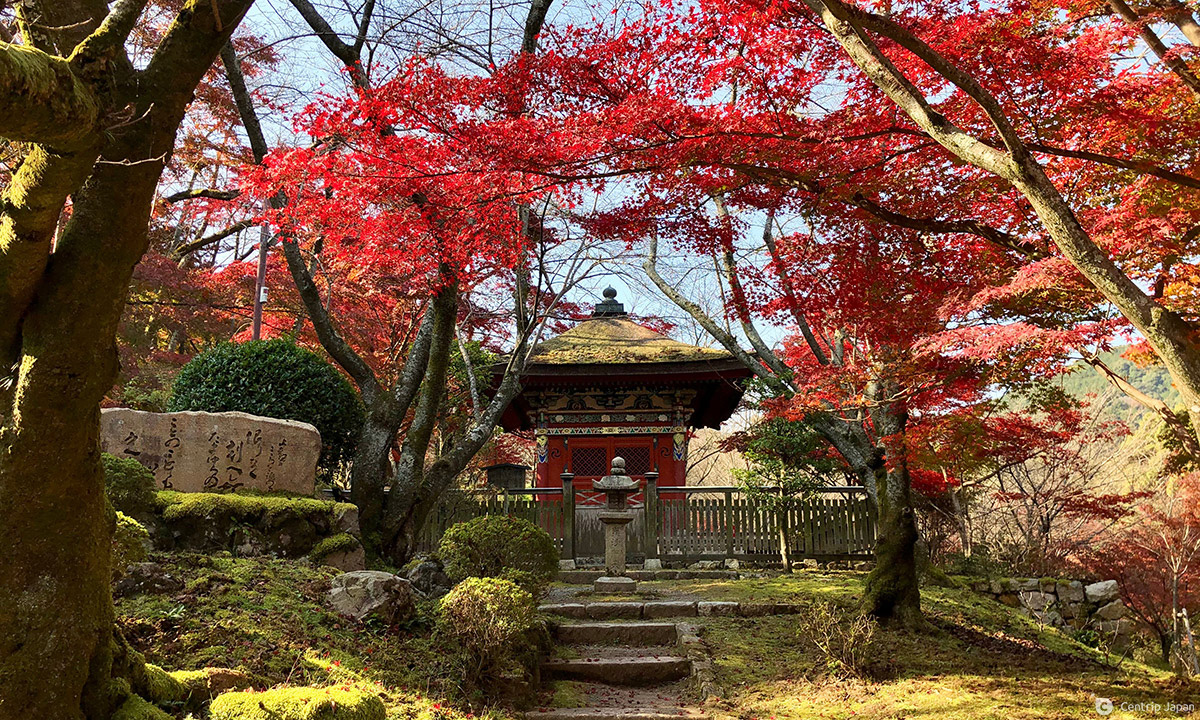 At the end of the tunnel of red leaves, there is a small hall called Bishamondo. The red hall is surrounded by leaves, adding to its charm.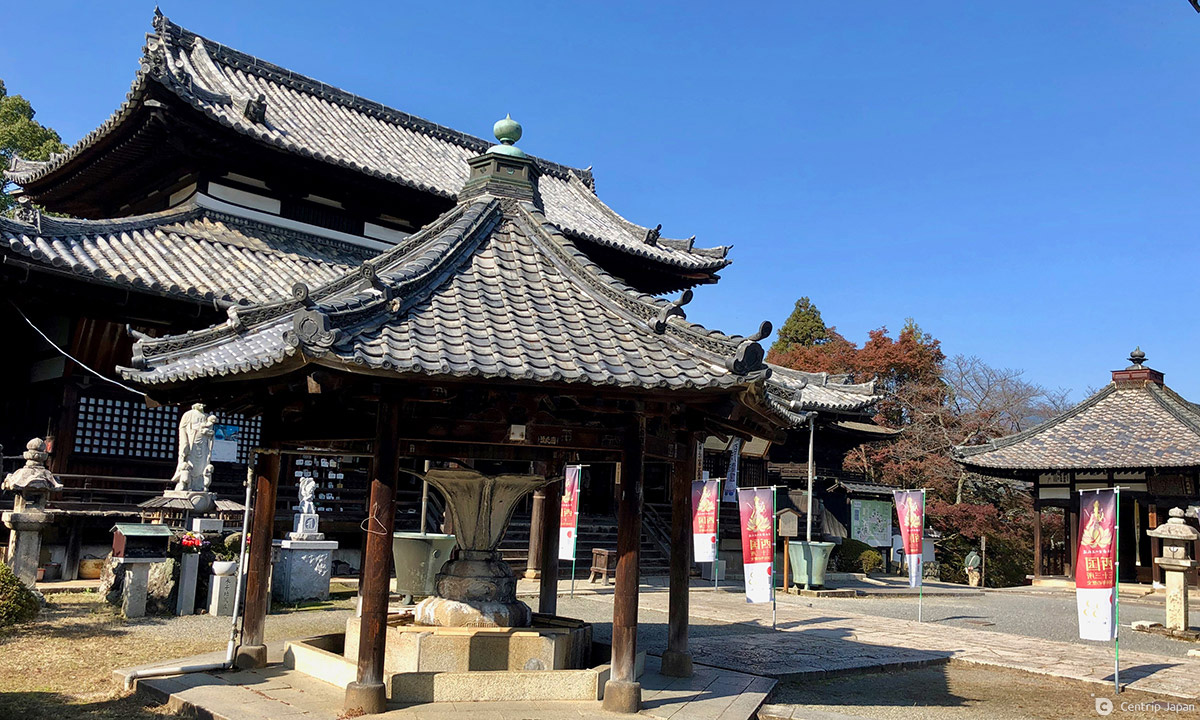 Beyond the small red hall and up a rather steep flight of stairs is the Kannon Hall, where the main-statue of Kannon, the Nyoirin Kannon, is kept hidden from view. The statue is also considered a hidden Buddha. The doors are only opened every 33 years to allow visitors to see it, but only at that time. It has been worshipped as a Buddha who gives wealth and defeats frustrations.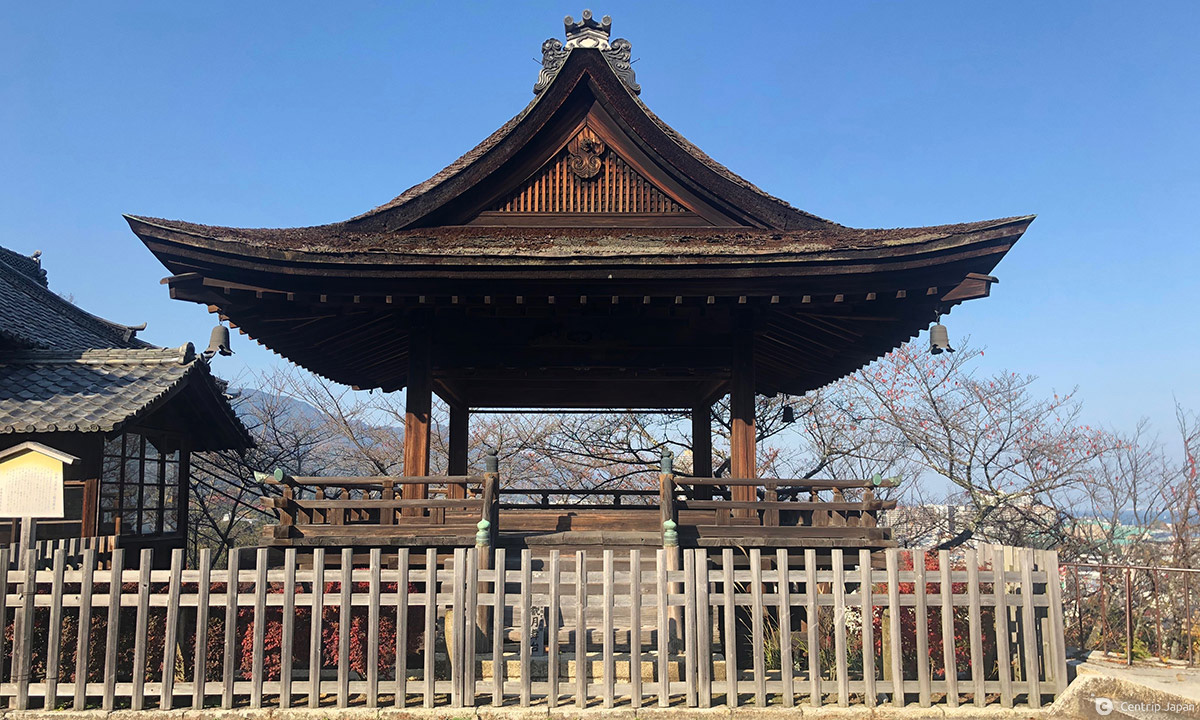 Miidera Temple is known as a famous place for beautiful views of the moon. A stage (kangetsu-butai) is around the Kannon-do Hall for watching the moon.
Further up the stairs is an observatory that offers amazing views of Otsu City, Lake Biwa, and beyond.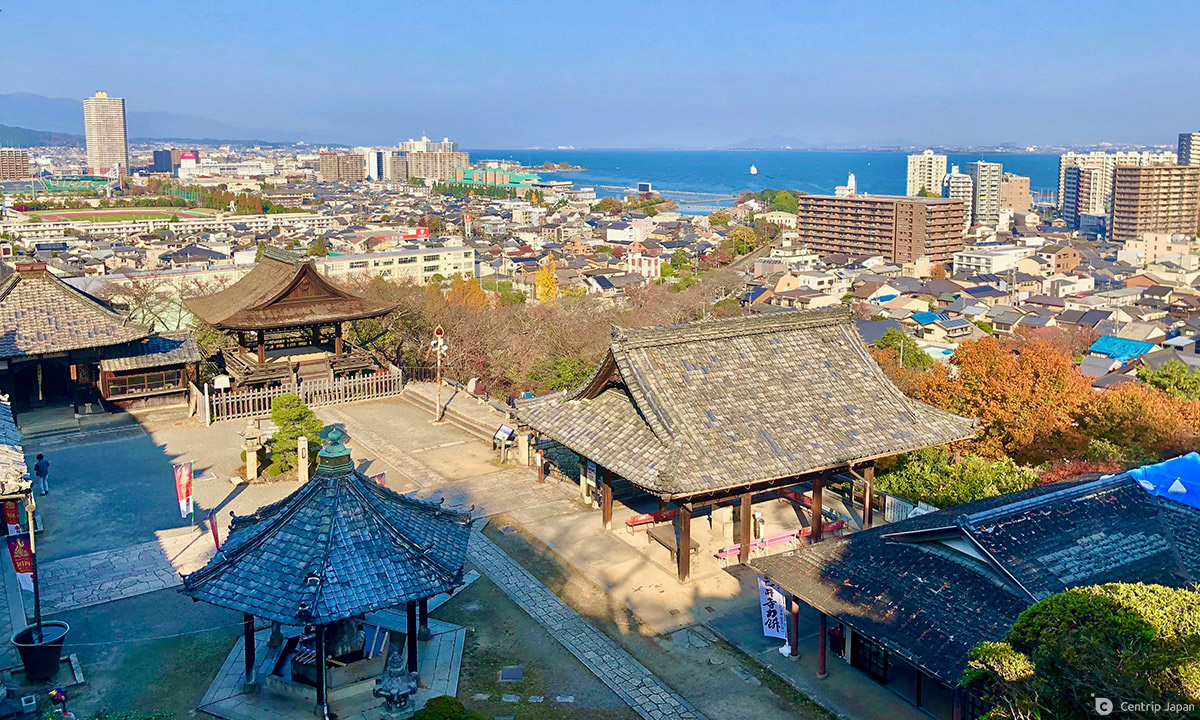 Miidera Temple has a lot to see and do be sure to devote an hour or two to its exploration.
Nagoya and Kyoto are close together and only takes 30 minutes to reach by the Nozomi bullet train. Shiga Prefecture is between these two cities and often gets passed over. But Shiga is home to Hikone City, with Hikone Castle, a national treasure, Omi Hachiman, with its old streets, and Otsu, with Miidera Temple, our focus this time. All are found around Lake Biwa, an area dotted with unique tourist spots. In this area, you can truly feel the history of Japan. It is easily accessible from the central part of Japan, we hope you visit and feel its charm.
Click here to get the latest information on Central Japan.Centrip Japan - Nagoya and Chubu Information