| Centrip Editorial Board
Central Japan's Top 7 Cherry Blossoms Spots in 2023
Sakura, cherry blossoms, the image of spring in Japan! Imagine the natural beauty of Japan, accented with delicate pink petals of cherry blossoms dancing on a gentle breeze. Everyone in Japan imagines this as they plan Ohanami parties (flower viewing) every spring. You too can enjoy this magnificent scene here, in Central Japan! Before planning your trip, don't forget to check the weather forecasts as cherry blossoms are delicate.
Come to Tsuruma Park and feast while viewing the sakura (Nagoya City, Aichi Prefecture)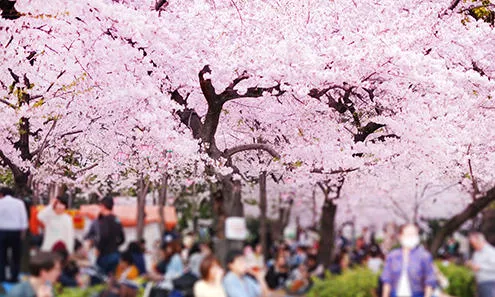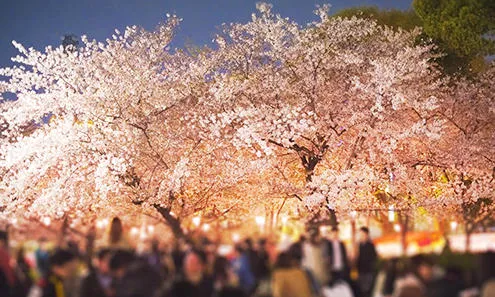 Tsuruma Park is the premier place to see sakura (cherry blossoms) in Nagoya. The park has over 110 years of history and is a great place to escape the hubbub of the city. If you come during the sakura season, you can see thousands of people hosting their own Ohanami. From college students, groups of co-workers, and families, the park is bustling with a festive feel! Bring some drinks (alcohol is ok) and snacks, and you can enjoy it too. Try talking with the people around you, the atmosphere is very friendly and open. However, if you want something quieter, go to Tatsugaike in the park. It is a secret place with very few people.
From 6–9:30 pm, lights are turned on, immersing the park in a pinkish hue. The atmosphere is fantastic, and many stalls are set up during the cherry blossom season so you can try out some authentic Japanese street food in the park!
The #1 night-viewing sakura spot in Tokai: Okazaki Park (Aichi)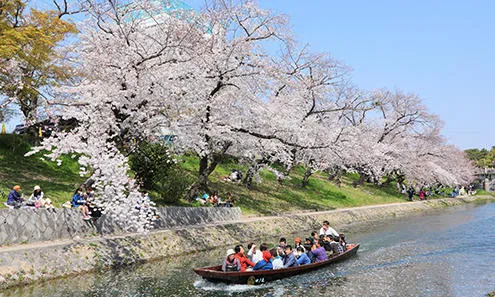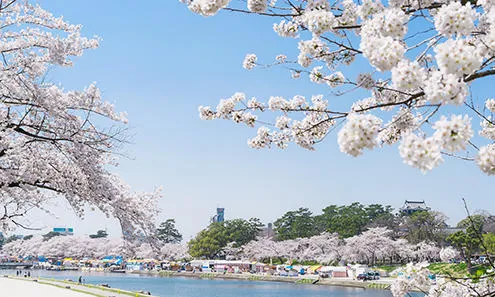 In the spring, Okazaki Park and its surroundings, the Oto river and Iga river, have 800 sakura and Someiyoshino sakura.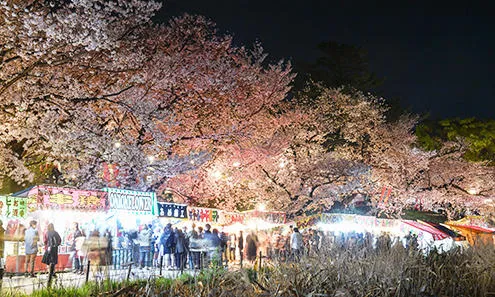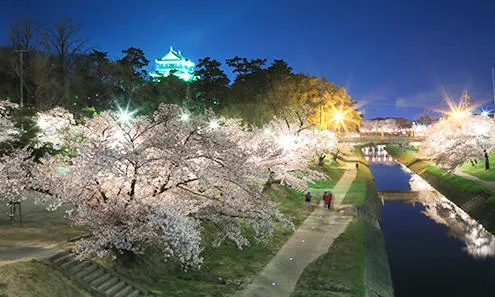 Okazaki Park is a popular spot for viewing yozakura (cherry blossoms at night) and is great for visitors to Japan! The park is home to Okazaki Castle, the birthplace of the Japanese warlord Tokugawa Ieyasu. Much like Tsuruma park, many stalls are open selling street food for your enjoyment. Try classic dishes such as yakisoba (fried noodles) and takoyaki (octopus balls), and Tamasen (egg-rice crackers), a popular treat in the Nagoya area.
Festivals, culture, and sakura: perfect for photos, Iwakura Gojo River (Aichi Prefecture)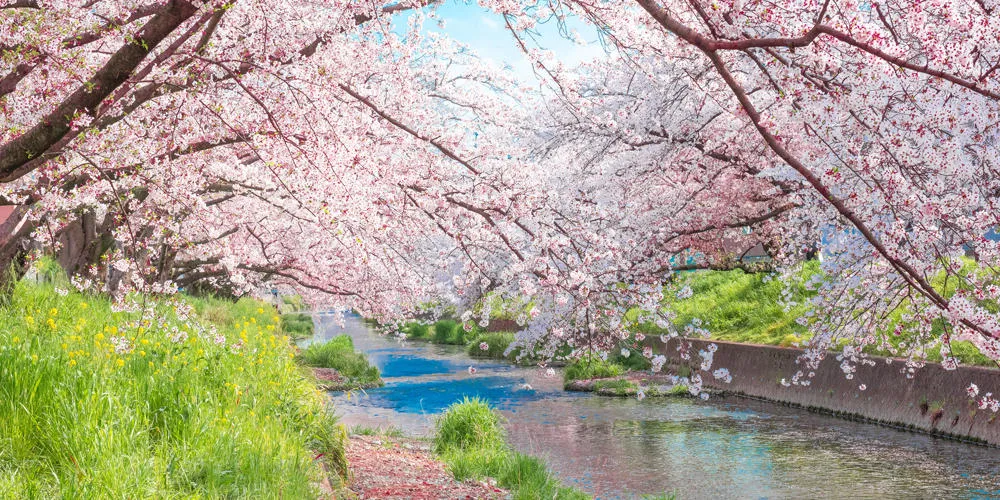 The Gojo River in Iwakura City, Aichi Prefecture, has about 1,400 cherry blossom trees that line the river for about 7.5 km. The Iwakura Sakura Festival is held every year during the cherry blossom season.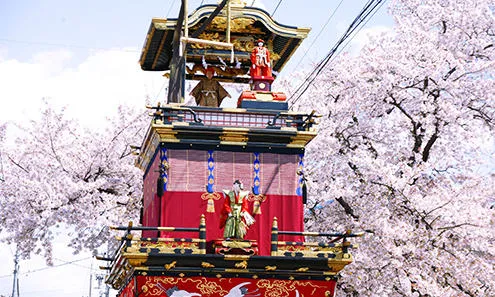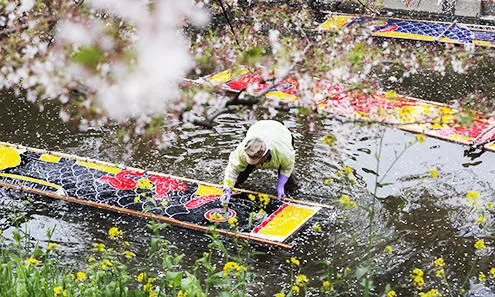 Dashi floats are on display during the festival, and Nonbori Arai is performed in the rivers. During Nonbori Arai, carp streamers are placed in the river to wash off the glue used in making Koi Nobori (carp streamers). Many people raise a carp streamer at their home for their sons, on May 5th in Japan. These streamers represent courage and the ability to attain goals. In Iwakura, there is an old shop that makes carp streamers. The Gojo river is a photogenic spot where you can enjoy Japanese traditional culture and cherry blossoms at the same time.
1,200 sakura trees in bloom: Shinsakai river cherry blossom trees (Gifu Prefecture)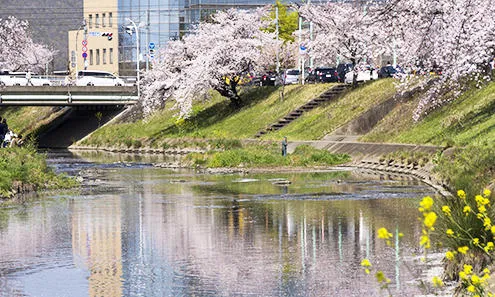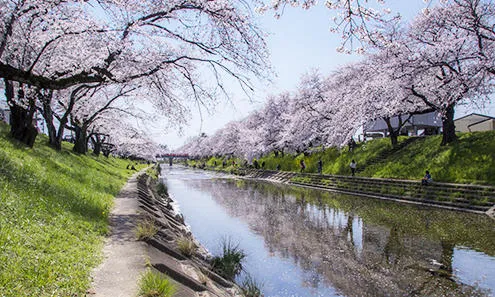 Shinsakai Tsuzumi, in Kakamigahara City, Gifu, is a famous sakura location. Take a stroll along the river or sit under the cherry blossoms and relax. Don't forget to bring some food and drink and have a picnic. There are many cafes around Shimin Koen Mae station, such as Kakamigahara Stand and Blue Cafe.
A famous Japanese garden with sakura trees: Kenrokuen (Kanazawa, Ishikawa)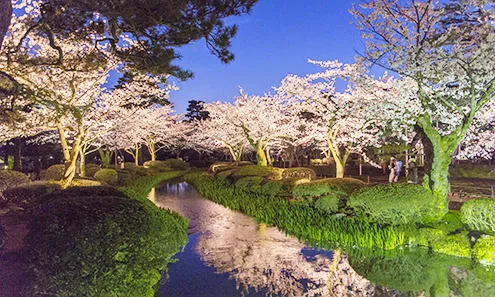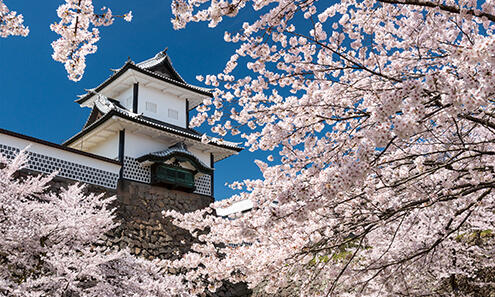 Kenrokuen, in Kanazawa, is one of the three great gardens of Japan. About 420 sakura are in the park, and they are very diverse. About 40 kinds of cherry trees are here, including Yoshino sakura, Kenrokuen Kikuzakura, which changes color three times, Kenrokuen Kumagaizakura, which is 300 years old, and Asahi sakura, which has a trunk circumference of about 670cm. These trees are unique to Kenrokuen. Viewing the sakura at Hanamibashi, the observatory, and the tea shop near Katsurakaguti is recommended. The cherry blossoms around Kanazawa castle and Ishikawamon are also popular.
Sakura among the terraced rice fields: A view of old Japan, Mitake Sakura (Mie)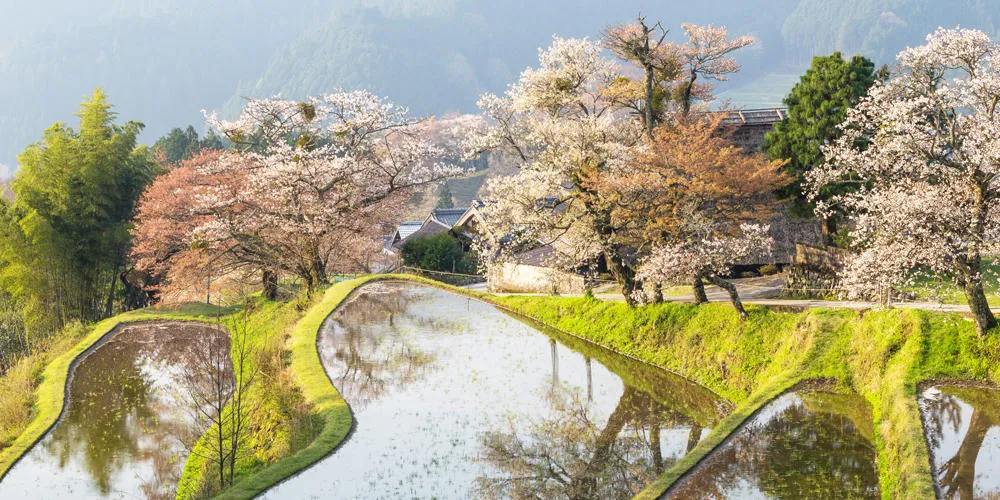 Mitake Sakura in Mitake, Mie, create beautiful scenes when in bloom with their images reflected among the rows of terraced rice fields. 1.5km of cherry blossoms line the approach to the temple of Shinpukuin. In addition to the terraced rice fields, many houses have old thatched roofs, giving the impression that you have slipped through time to an older period of Japanese history. Be warned! During the cherry blossom season, there are many visitors and the area is extremely crowded. Many photography enthusiasts use tripods in the pursuit of the perfect shot and might get in the way.
Tulips and cherry blossoms: Hamamatsu Flower Park (Shizuoka)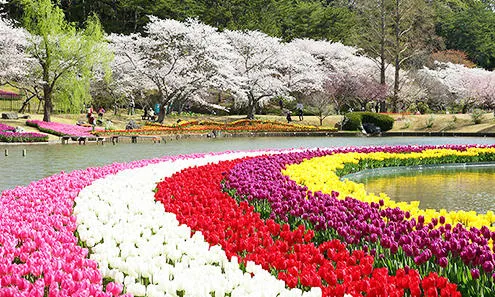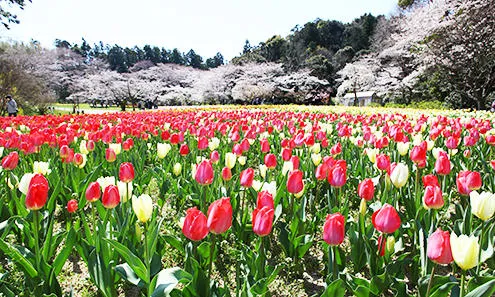 Hamamatsu Flower Park, in Hamamatsu, Shizuoka, is a theme park with over 100,000 flowers of 3000 different types from around the world. In the spring, the sakura and tulip garden has over 1,300 cherry trees and 500,000 tulips for your viewing pleasure. Together they create a colorful and gorgeous scene.
Wrap-up
There are many things you can bring to improve your Ohanami experience. Snacks, drinks, and lawn chairs are among the most popular. Sometimes the ground will be muddy due to rain or morning dew, making lawn chairs or tarps a necessity. Cherry blossoms can bloom on unexpectedly cold days, so bring a jacket or get Kairo (hand-warmers), available at any convenience or drug store. We recommend the sticky type, as you can attach them anywhere on your under-clothing without having to hold them. It feels great to slip a pair into your shoes to keep your toes nice and toasty. Take these tips and have the best Ohanami on your next trip to Japan.