| Bonnie Chow 
Cherry Blossom Spots in Takayama
Are you tired of crowded places like Tokyo or Kyoto during the cherry blossom season? Takayama is recommended for tourists to enjoy viewing Sakura in relaxation, and most cherry blossom spots are within walking distance of Takayama city.
Locals in Takayama always look forward to spring. The winter lasts from late November to March, longer than other places in Japan. The Takayama Festival is held in April to celebrate the coming of spring. When cherry blossoms are in full bloom around Japan, tourists in Takayama will only see cherry buds. The start of the season in Takayama varies from year to year, but it usually starts on April 20. Sometimes it starts a week earlier, April 14 or 15, coinciding with the Takayama Spring Festival. If it does, you can see pretty pink cherry blossoms as the backdrop of the gorgeous festive floats.
Riding a bicycle is a great way to appreciate cherry blossoms. Check the Takayama walking map to find bicycle rental shops easily. So pick up a map and bike your way to all the cherry blossom spots on your next trip. If you want to take a cherry blossom trip from mid-April, Takayama is an excellent place to explore.
Prepare for the weather
The temperature ranges between 1 to 21ºC during April. Be sure you bring a jacket to deal with the cold mornings and nights. The weather tends to be unstable, and it often rains during spring, so pack an umbrella in your bag just in case. Since cherry blossoms last only a week, it is better to check the forecast on the website below:
Weather news forecast (Japanese, English, and Chinese available)
Tenki.jp(Japanese only)
Recommended Sakura viewing spots in Takayama
Takayama Jinya
It takes 10 mins to walk to Takayama Jinya from JR Takayama station. Takayama Jinya was a prefectural office from 1692 until 1969, where the provisional governor also lived and worked. Sitting on the porch (engawa) is the best way to admire the cherry blossoms in the garden in a historical building like Takayama Jinya.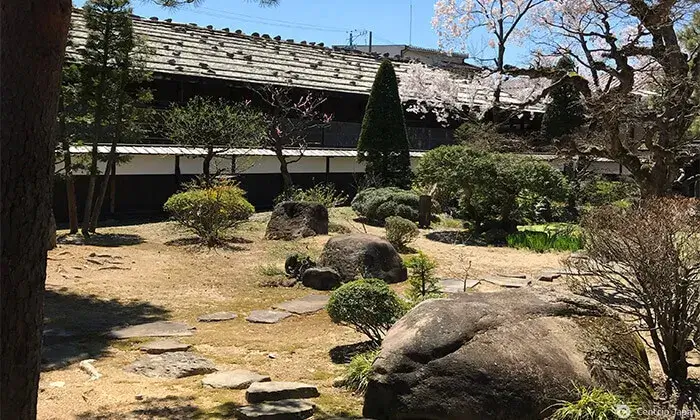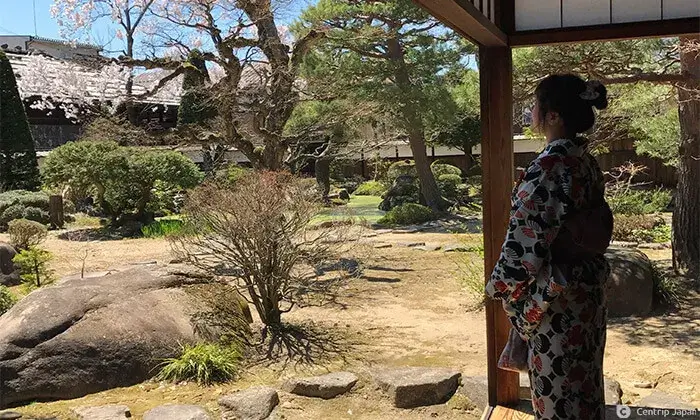 Nakabashi Bridge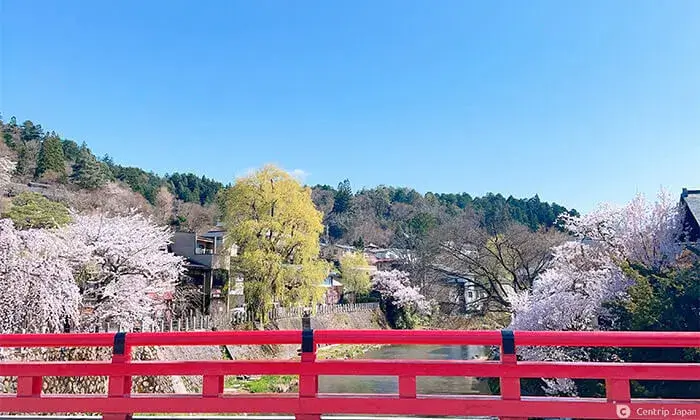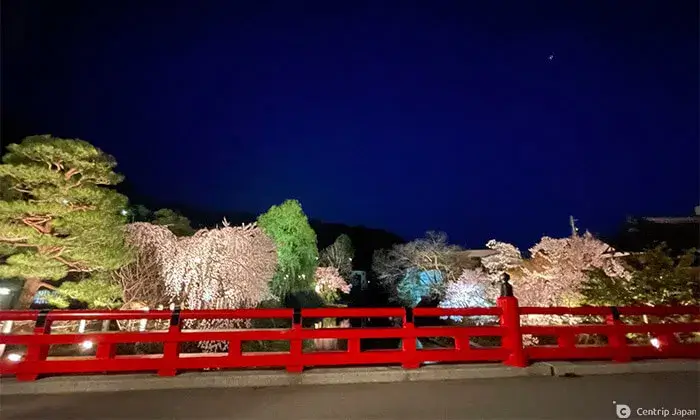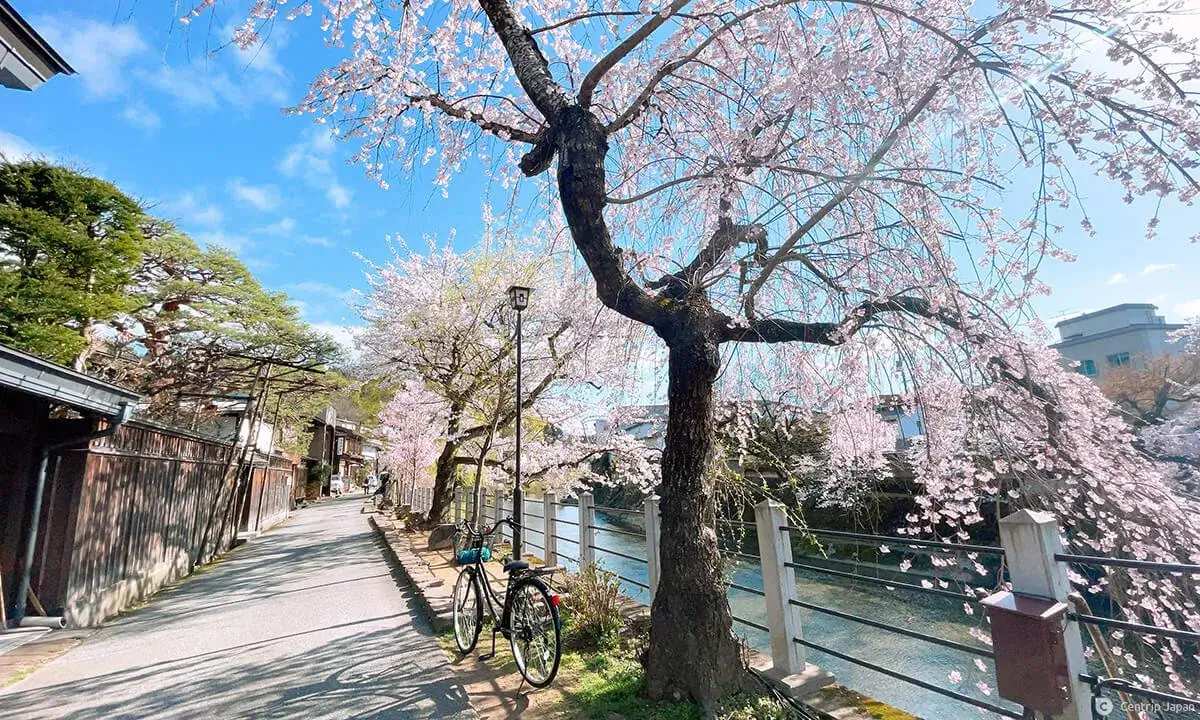 Cycling along the river near the bridge
Have you seen illuminated cherry blossoms before? There are many near Nakabashi Bridge, so check for this event the next time you are here.
Nakabashi Bridge Light-up
Date: April 1 - May 5, 2022*
Hours: 7 PM – 10 PM
Location: Nakabashi Bridge
*Events are subject to cancellation due to coronavirus concerns.
Hida Gokoku Shrine
This shrine is in a quiet area near Shioyama Park (Takayama castle ruins) and pays tribute to war victims of Takayama. It is a 9-minute walk from Takayama Jinya to the Gokoku shrine. It is also a calming place, unknown to most tourists, where you can enjoy some impressive cherry blossoms scenery.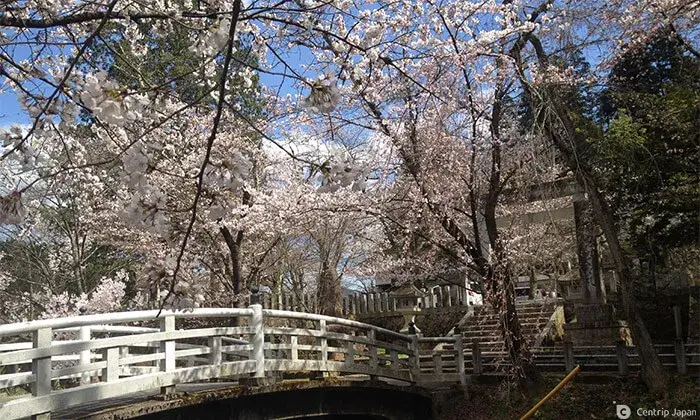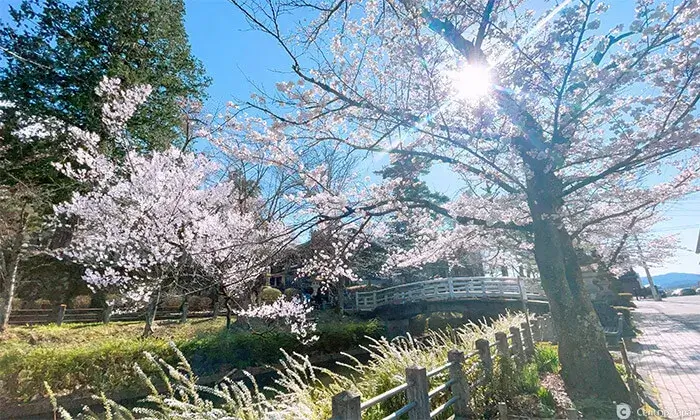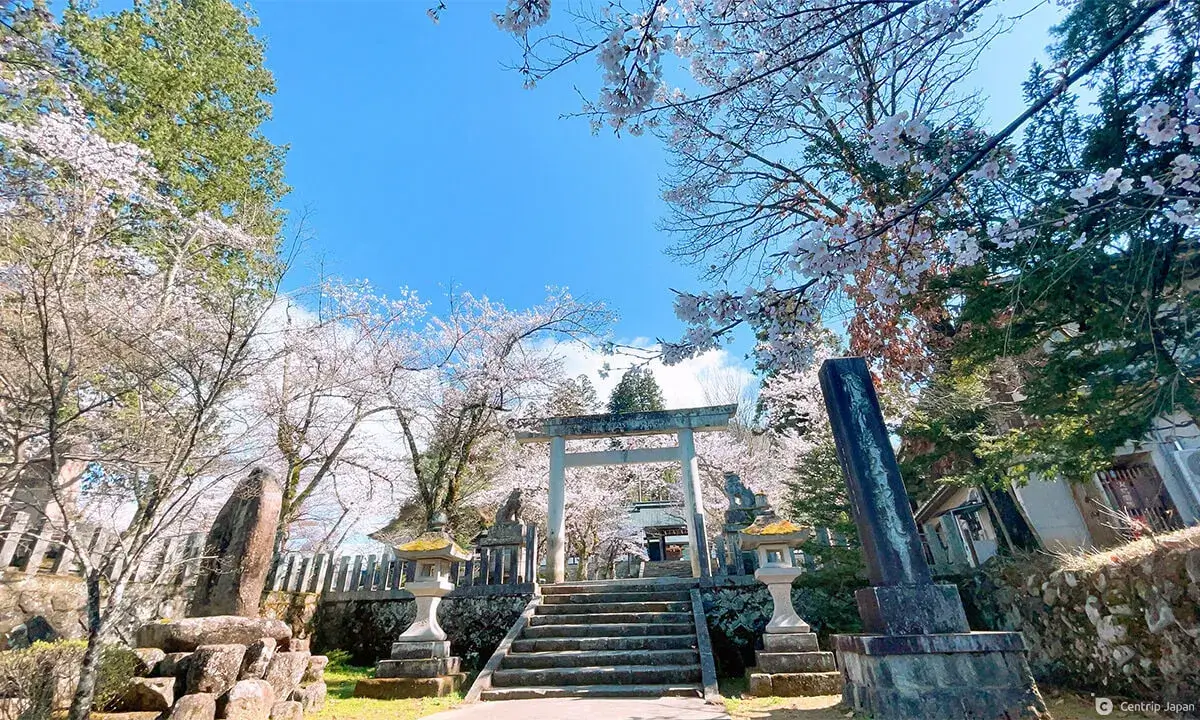 The scenery during cherry blossom season
The Enako River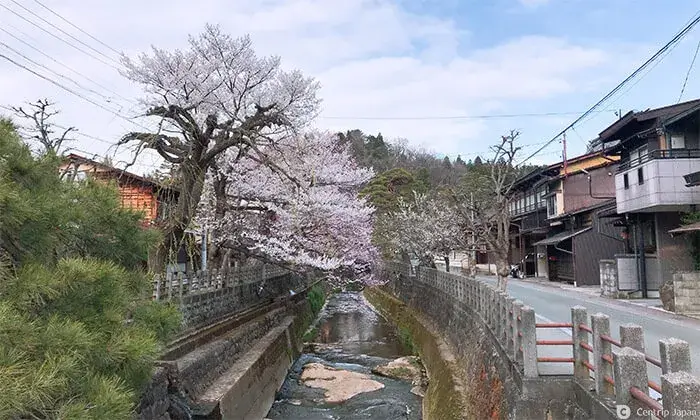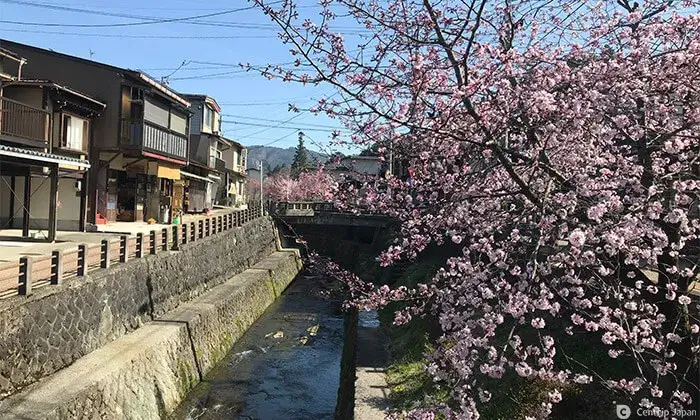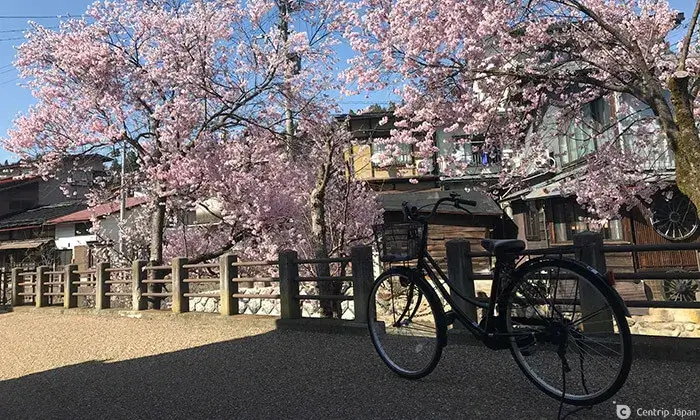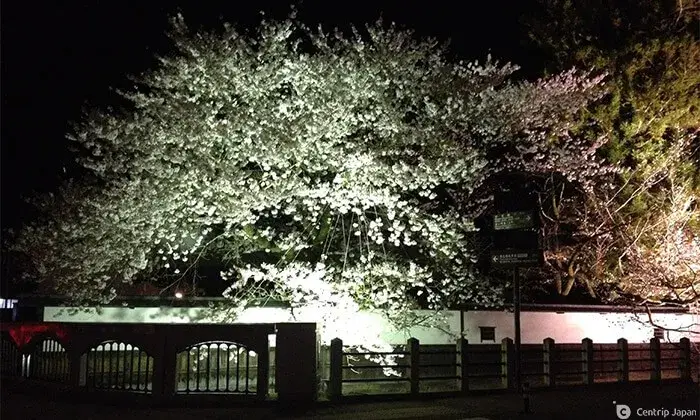 If you like walking or cycling, the Enako river is another gem recommended by locals. Following the river, stunning pink cherry blossoms come into view as you reach the Miyagawa river. It takes 15 minutes on foot or seven minutes by bike. Day or night, the scenery is excellent. Events this year:
Enako River Light-up
Date: April 1 – May 5, 2022*
Hours: 7 PM – 10 PM
Location: The Enako River
*Events are subject to cancellation due to coronavirus concerns.
Miyagawa River
Many trees along the Miyagawa river are cherry trees, and bright pink cherry blossoms color the riverside. Miyagawa morning market is held every day from 8:00 AM to noon, perfect for a morning walk. Sit and chill on the riverside benches. You won't regret it.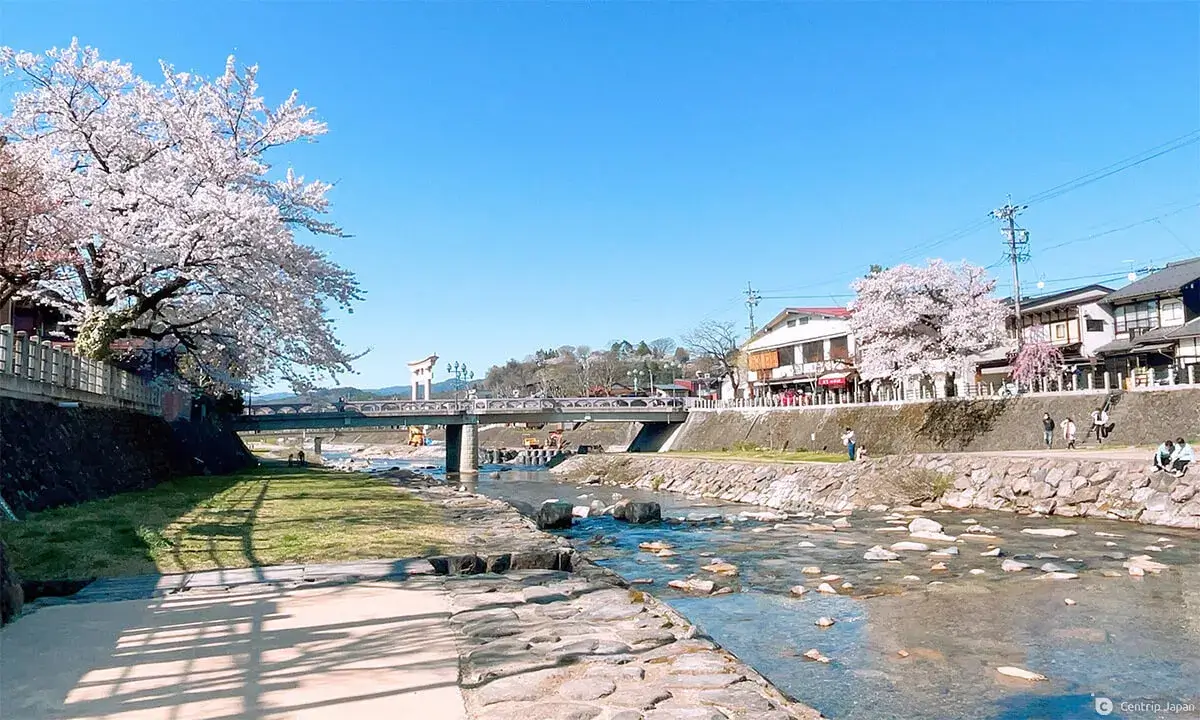 Sit or stroll along the Miyagawa river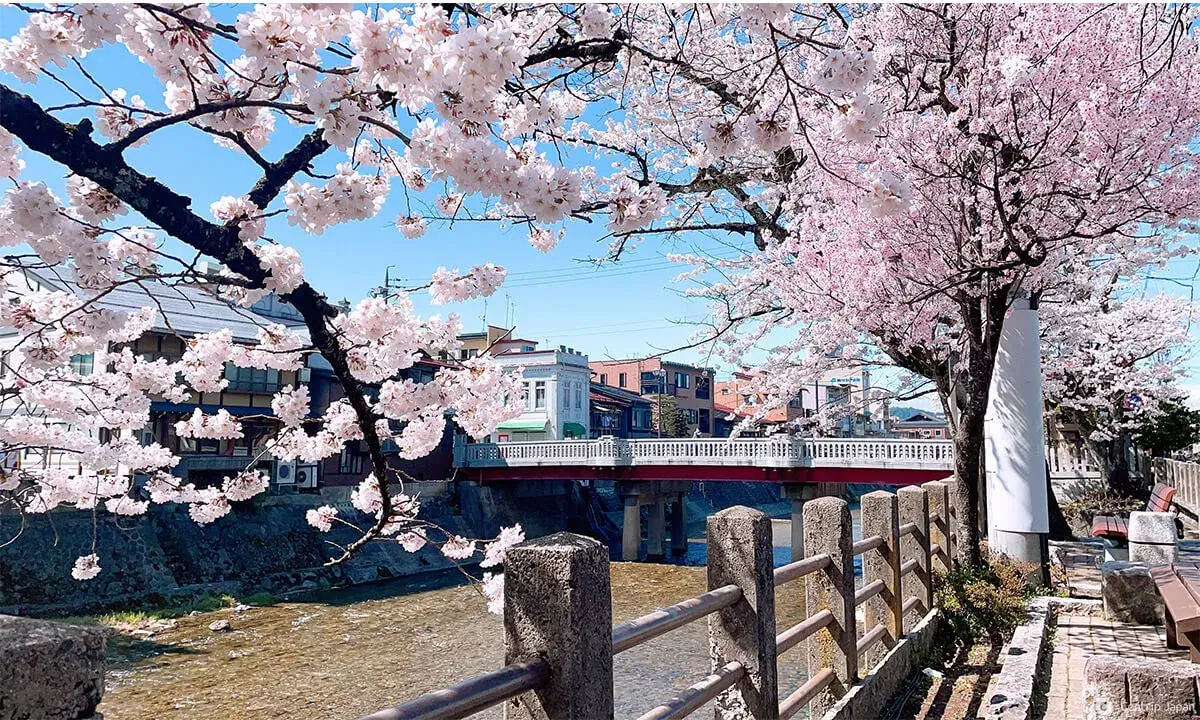 Sakura Rain
Miyagawa Ryokuchi Park
Have you tried cherry-blossom viewing? Ohanami (cherry-blossom viewing) is a seasonal tradition in Japan when friends or family gather under the cherry trees to eat, drink or sing. Walk along the west bank of the Miyagawa river for 10 mins to get to Miyagawa Ryokuchi Park, the perfect cherry-blossom viewing spot.
Ryokuchi Park is the place to be for cherry-blossom viewing in Takayama. Lay down a picnic sheet and sit down to ponder, relax and admire the beauty of the cherry blossoms. The park is not crowded so check it out if you want to do some Ohanami!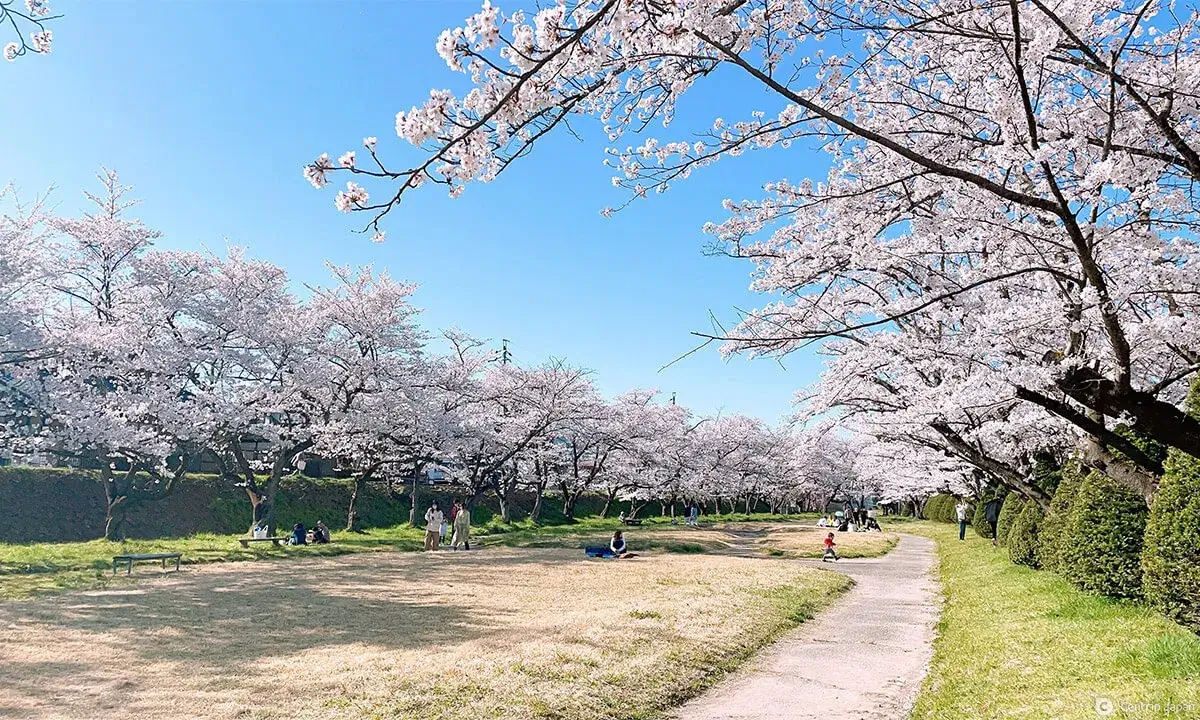 Ryokuchi Park is the best place for Ohanami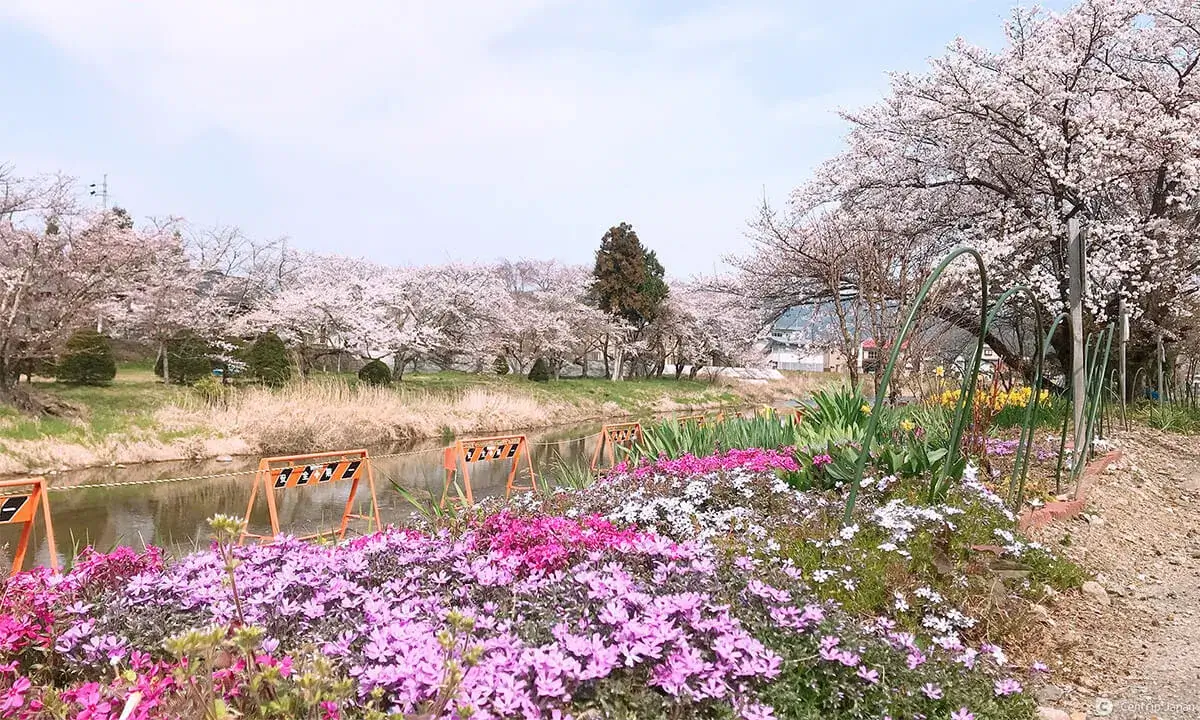 Picturesque scenery
Sakurano Park
If you want more cherry blossoms, hop on the train or bus for a short ride to Hida Kokufu Station and head to Sakurano Park. The riverside park has close to three hundred Sakura trees. The cherry blossom festival and illumination are perfect for your travel bucket list.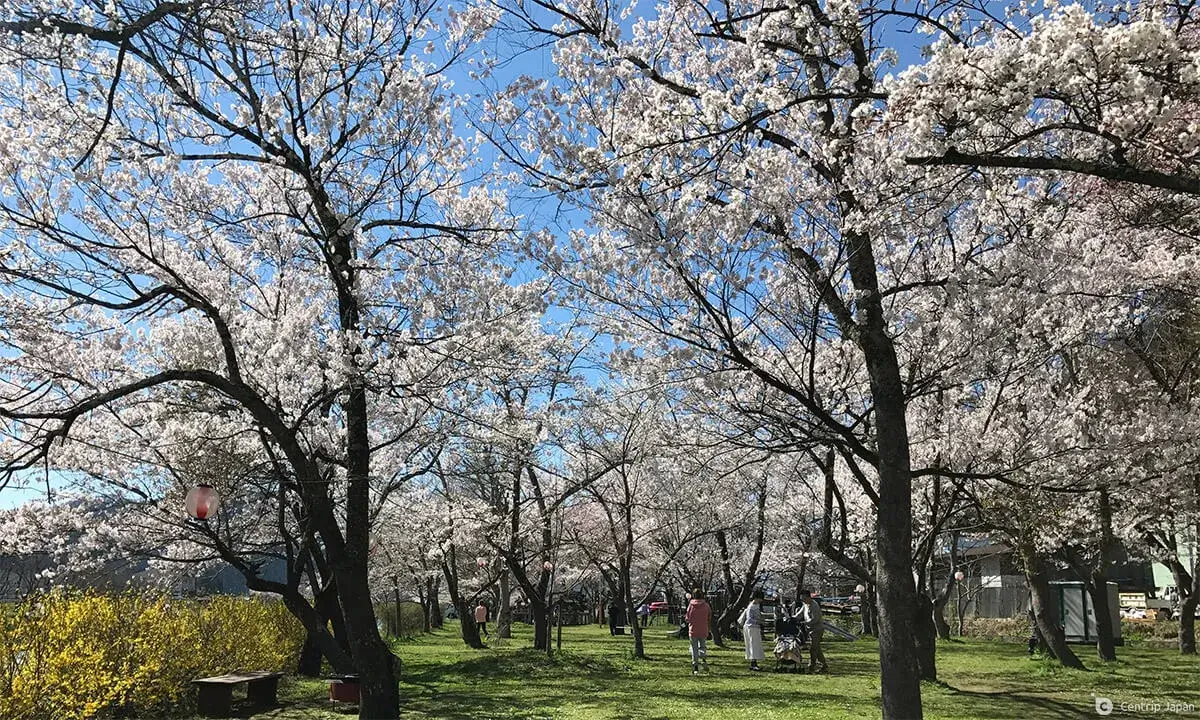 Sakurano Park Ohanami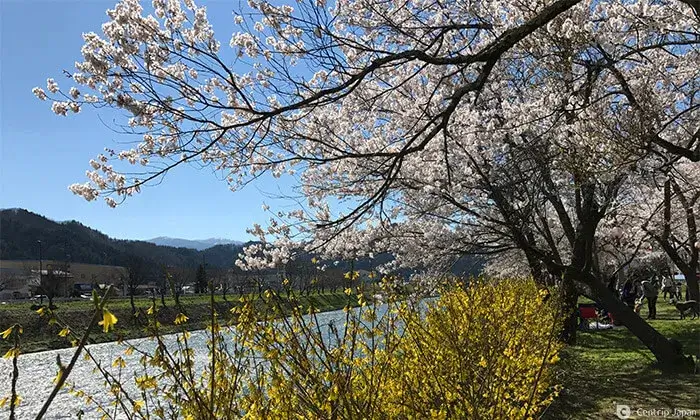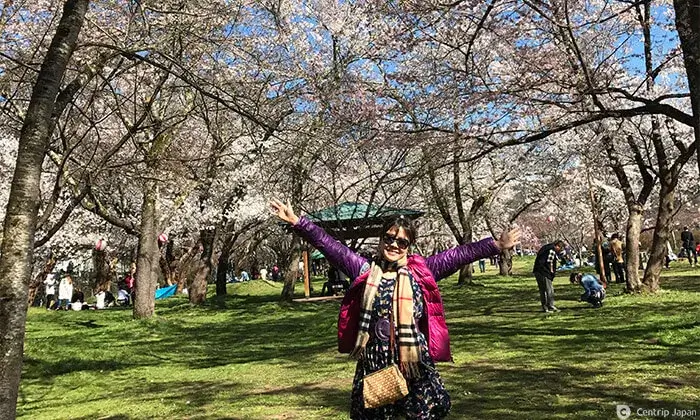 Take part in Japanese Ohanami culture
Kimono Walk
Renting a kimono in spring and autumn is a great way to pass the time in Takayama. The first time my mum and sister visited in spring, we rented kimono for two hours, and it was an enjoyable cultural experience, especially during the cherry blossom in Takayama.
Takayama is known as little Kyoto because of its traditional buildings. They create an ideal place to walk while wearing a kimono and plenty of opportunities for pictures. It is also possible to rent a kimono in the following shops for ¥5,000 and up. Reservations are required.
Nakada Textiles (English and Mandarin-speaking staff available)
Kimono rental Icca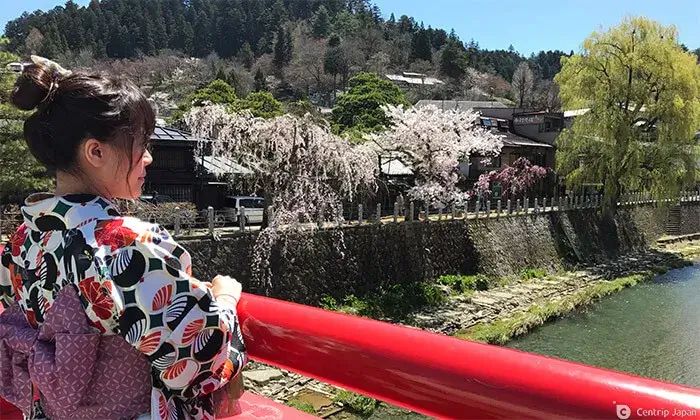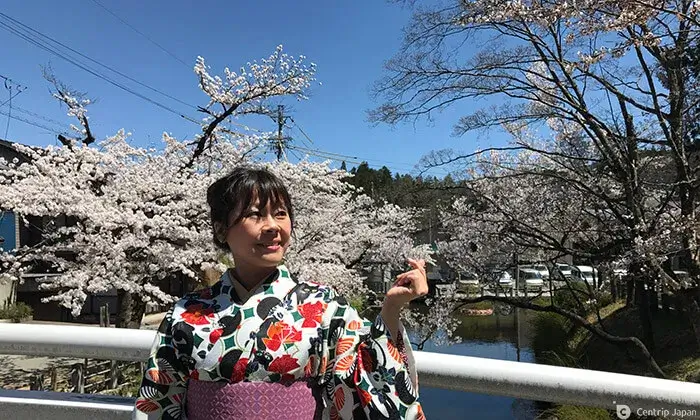 Takayama Festival (14-15 April)
It is one of the three beautiful festivals in Japan and is held twice a year, spring and autumn. Takayama festival is famous for its luxurious festival floats. The festival is held every year on the 14 and 15 of April and has marionette performances, a float procession, and a festive parade at night. Around 9 AM, four floats are lined up on the Nakabashi bridge, a spectacular scene in the cherry-blossom season. Takayama festival attracts numerous tourists every year, so make your reservation at least six months in advance to secure the accommodation.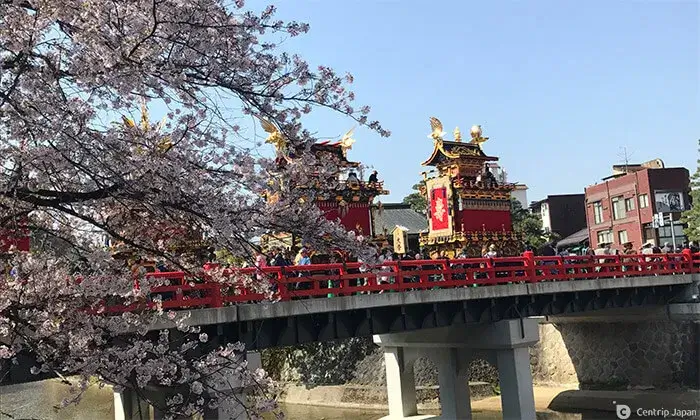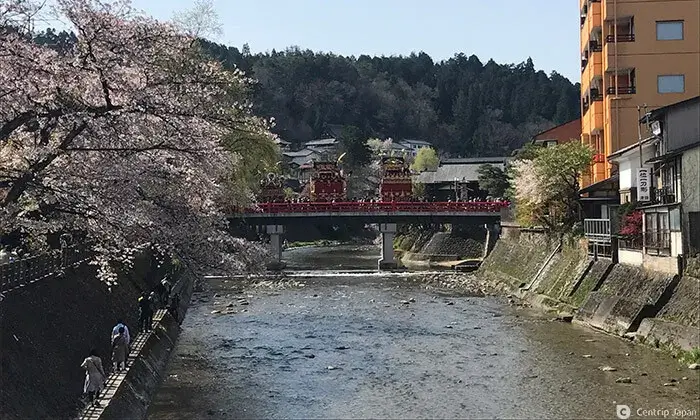 How to get to Takayama
The fastest way from Nagoya to Takayama is by the JR Wide View Hida train. It takes about 2 hours 40 minutes. Alternatively, you can also take the bus to Takayama. The one-way train ticket is ¥5,610, whereas the bus is cheaper at ¥3,100.。
Wrap Up
If you are looking for a relaxing trip to enjoy cherry blossoms in Japan, Takayama is a fantastic destination. Whether you want to watch the night light-ups on the riverside, enjoy the cherry blossoms and history, or wear a kimono, there are many ways you can enjoy the city. I hope the above information can help you plan your next Ohanami trip to Japan!
Click here to get the latest information on Central Japan.Centrip Japan - Nagoya and Chubu Information