| Bonnie Chow 
Ultimate Guide to Takayama in Autumn
Ever heard of Momijigari?
When searching online for fall photos of Japan, you may have come across the hashtag #Momijigari. In English, it is known as "leaf-peeping." Momiji translates as "red leaves," while gari means "hunting". It dates back to the Heian period (794-1185) when royals visited different areas to admire the beauty of the autumn colors. The proud royal family could not suffer the public to know they went out to enjoy the foliage so they used the word gari to conceal their purpose so that they could go out unmolested.
What makes Takayama special in Autumn?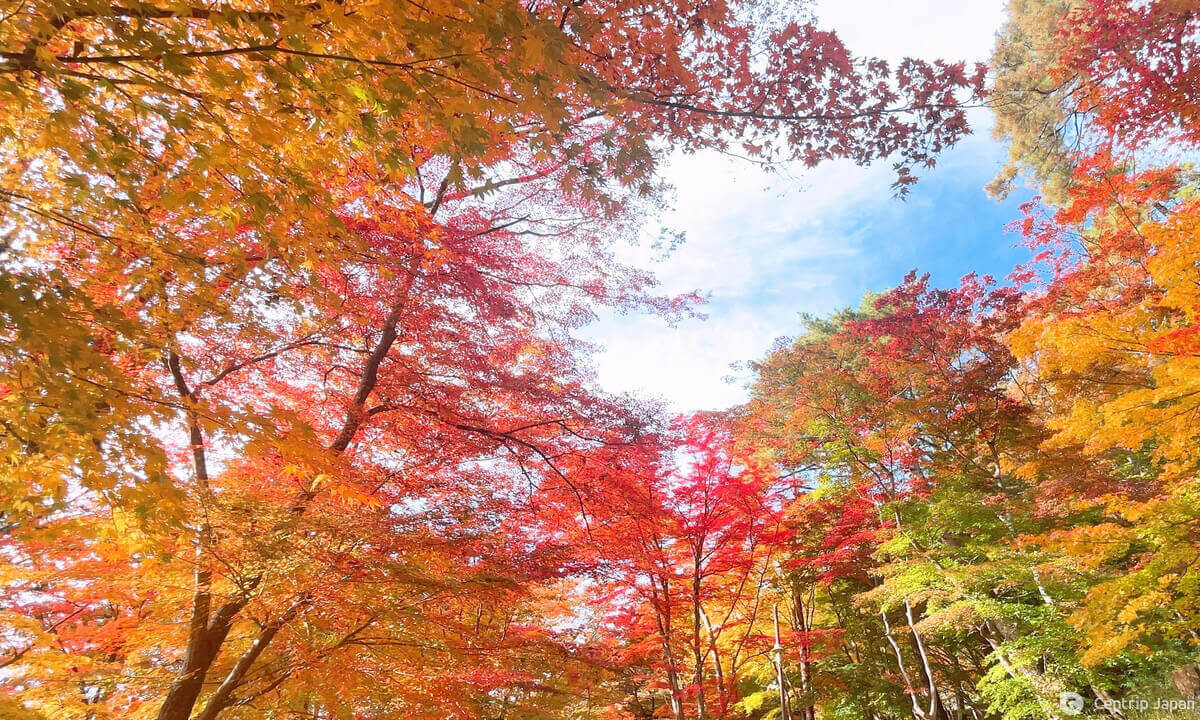 Takayama's peak tourist season begins in October, when tourists can take a day trip to hike among the various mountains of the Japanese Alps, such as Kamikochi and Mt. Norikura. It's also a fine time to stroll through Takayama and admire the changing of the leaves. The best time to see autumn leaves in Takayama is between the end of October and the beginning of November, weather willing. When juxtaposed with evergreen leaves, the stunning colors of the autumn leaves look magnificent.A combination of warm days and cool nights helps increase the intensity of the colors as the shortening hours of daylight changes the leaves from the greens of the growing season to the yellows, oranges, reds, and browns of fall.
Bundle up
The temperature in Takayama varies wildly from a low of 2ºC to a high of 26ºC from October to November. Make sure you bundle up with an appropriate jacket that can deal with the morning/evening chill. It doesn't rain much in Takayama in the autumn so expect clear blue skies and plenty of sunshine (perfect for the changing of the leaves) so bring along a pair of sunglasses too.
Things to do
Takayama's urban landscape is fairly flat and easy to explore on foot or by bike. If you are walking don't forget to wear comfortable shoes because you'll do a lot of it. Numerous spots offer bicycle rentals charged by the hours. If you want to get the most out of your time renting a bike for a day is the best option.
Where to get the best pics?
From Takayama station go to Gokubunji temple then head over to Takayama Jinya. After that stroll over to Nakabashi Bridge and then move on to Hie Jinya shrine, Tenshoji Temple, Kitayama Park, and finally Hida Folk Village (reachable by public bus) before finally ending at Takayama station.
A common trend these days is to find the most instagrammable spot and post those pics to your account. In Takayama instagrammable locations are abound, so you'll have no trouble setting up the right angle and getting the best lighting possible. There are so many it will be difficult for you to choose the best one. The above route is recommended for taking the best photos.
Hida Kokubunji Temple and Saurbobo Dolls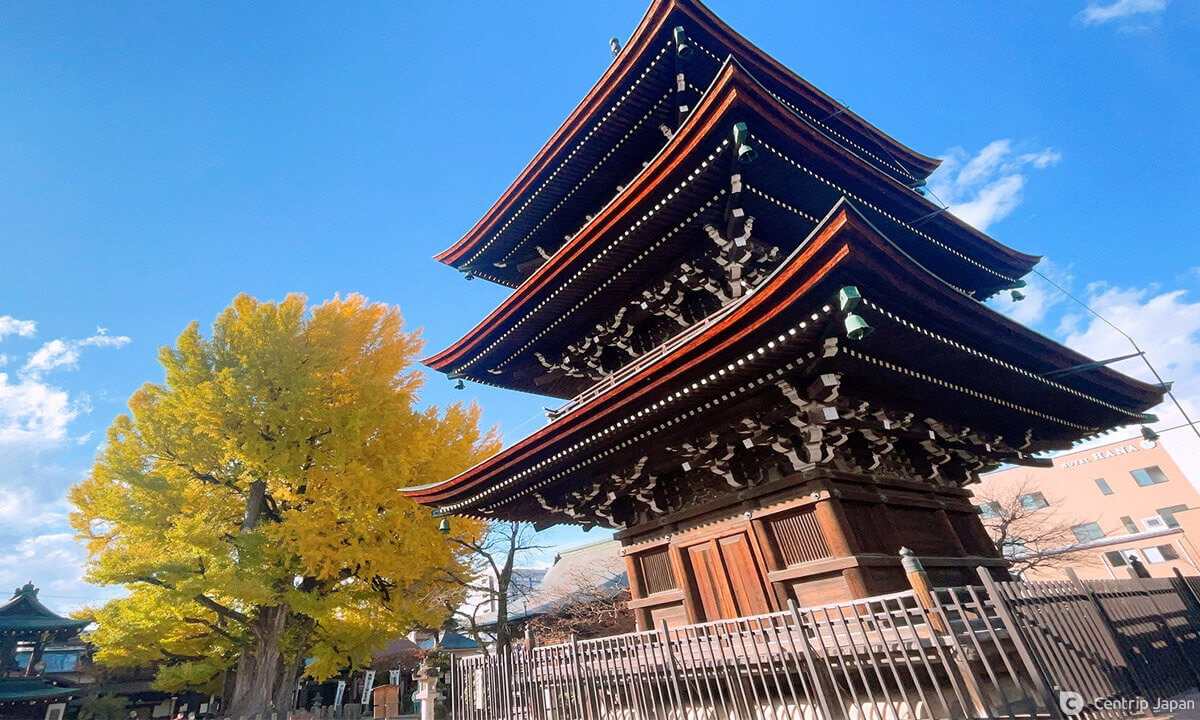 This 1200-year-old ginko tree is the symbol of Kokubunji Temple
The temple is a 5-minute walk from JR Takayama Station and is the best place to start your photo journey. Many handmade Sarubobo dolls are on display. They are good luck charms in the Hida region. The word Sarubobo can be broken up into Saru, "monkey" and bobo, "baby. In olden times the people in Hida would hang the dolls at the entrance of their home when someone in the family was pregnant to protect the expecting mother and ensure safe delivery. Nowadays it acts as a lucky charm for family happiness and good luck. These make for great souvenirs too.
The huge Ginko tree at the temple is the real highlight of this location. In fall the golden-yellow leaves are gorgeous to behold. The tree is over 1,250 years old and designated as a national treasure, a testament to its age. It is 28m high and has a trunk circumference of 10m. The folk belief about the tree states that when the leaves of the Ginko fall snow would soon follow. The tree is still cherished by residents and heralded as a marker for the changing of the seasons.
Takayama Jinya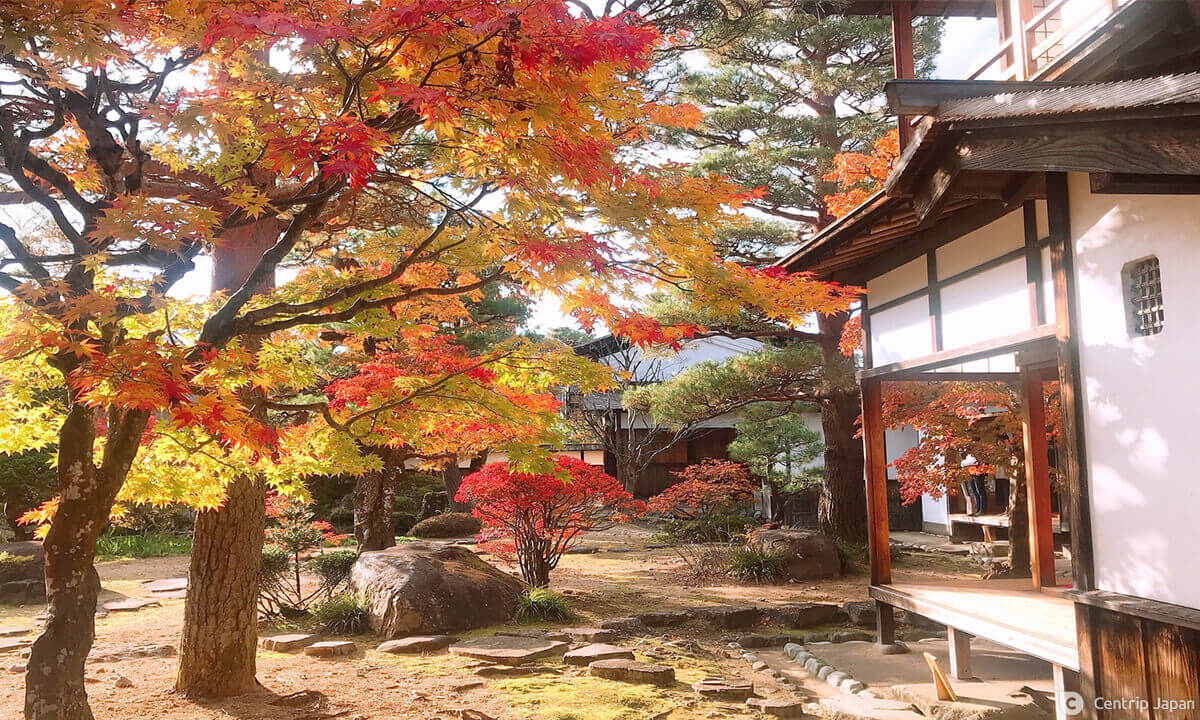 Autumn colors in the Japanese garden
It is a 10-minute-walk from Kokubunji Temple to Takayama Jinya. In the area, a morning market runs from 8 am to noon daily, offering seasonal fruit, vegetables, pickles, and handmade Sarubobo dolls. Between October and November, local farmers sell Hida apples, famous for their juiciness and sweetness. The cold weather arrests the ripening process so the apples in the Hida area store much of their sugar. Definitely give them a try.
Between 1692-1969 Takayama Jinya was a provisional governors office for the Tokugawa Shogunate. Along with the old building, the Momiji in the garden is the highlight here. Take a seat on the engawa (an old-style Japanese porch) and take in the traditional Japanese surroundings.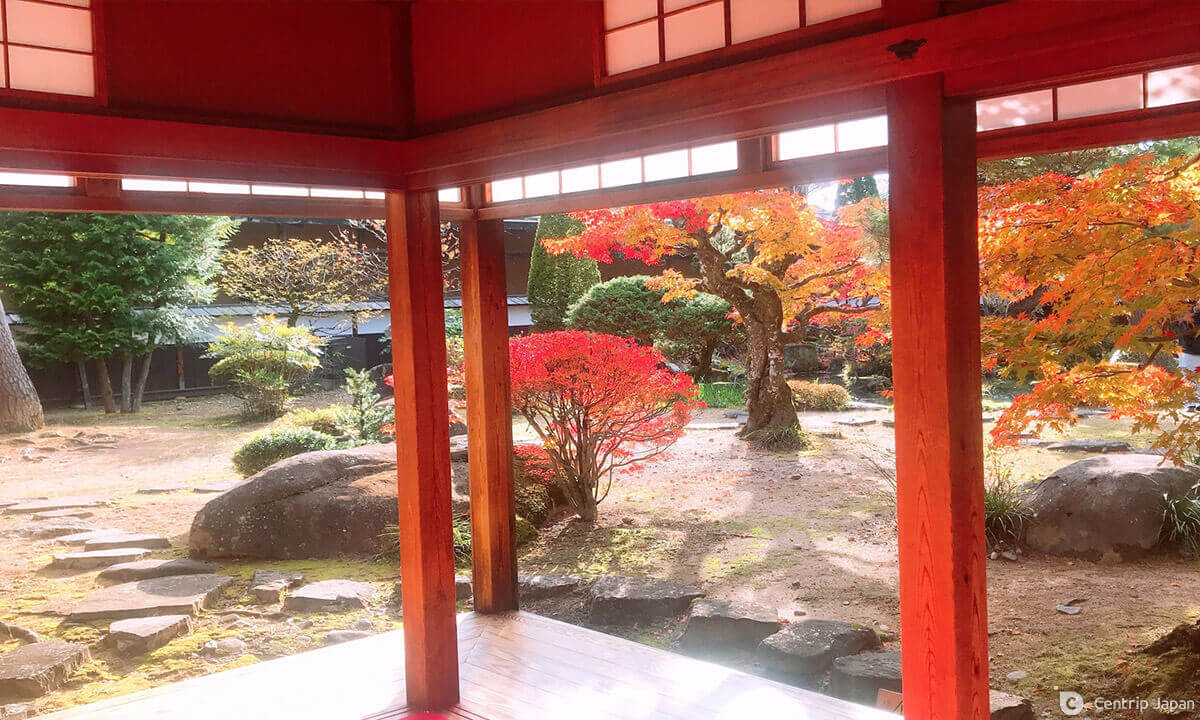 Sitting on the engawa and admiring the scenery
Nakabashi Bridge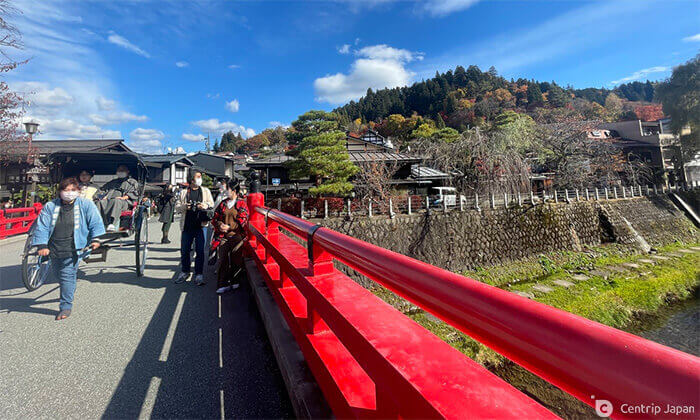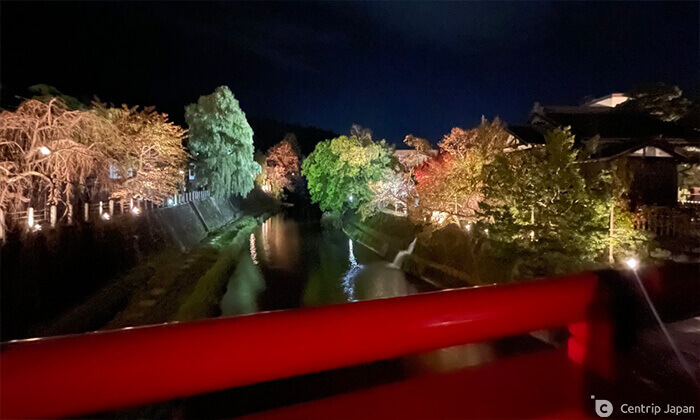 Next jump on over to Nakabashi Bridge, a mere minute away from Takayama Jinya. From the bridge enjoy the views of the Miyagawa River and Shiroyama Park. A night the bridge is lit up between 6 and 9 pm from October 1st to November 30th. As you take in the sights you'll notice rickshaws passing over the bridge. If you are up for it why not take a ride from here to Hie Shrine?
Hie Shrine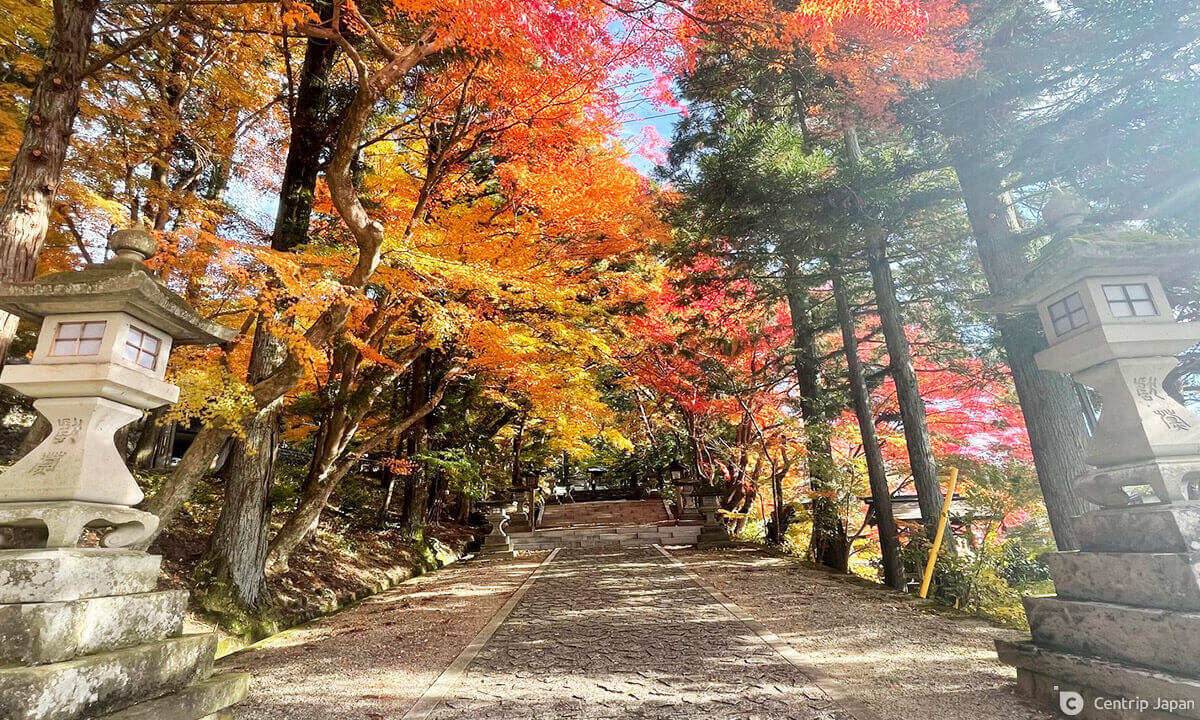 Beautiful paths at Hie Shrine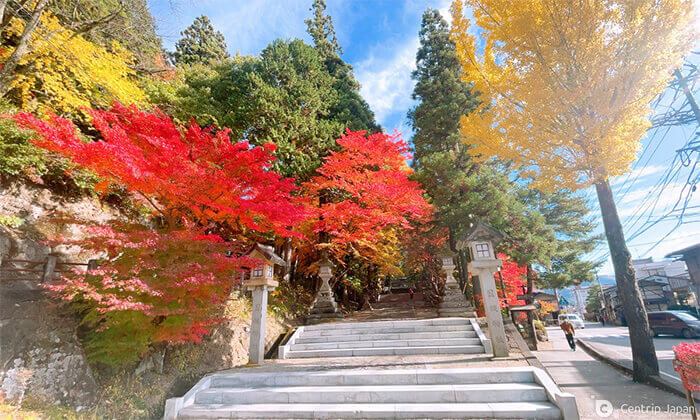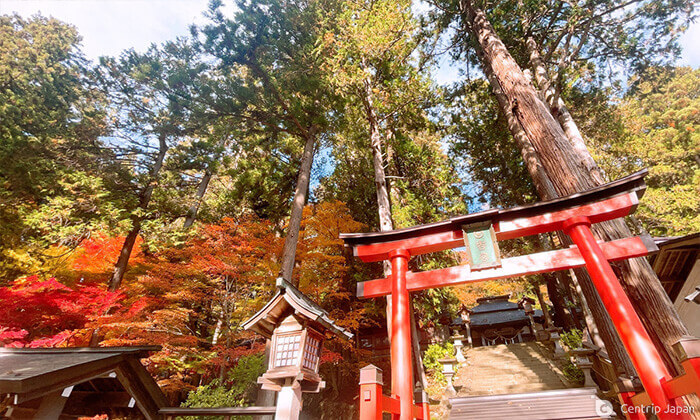 The walk to Hie Shrine takes 25 minutes but it is worth it. The shrine is recommended by locals for its stunning autumn leaves. Your leaf-peeping begins as soon as you enter the shrine's grounds until you get to the children's park. Every path takes you on a journey through a world of reds, yellows, oranges, and browns.
Tenshoji Temple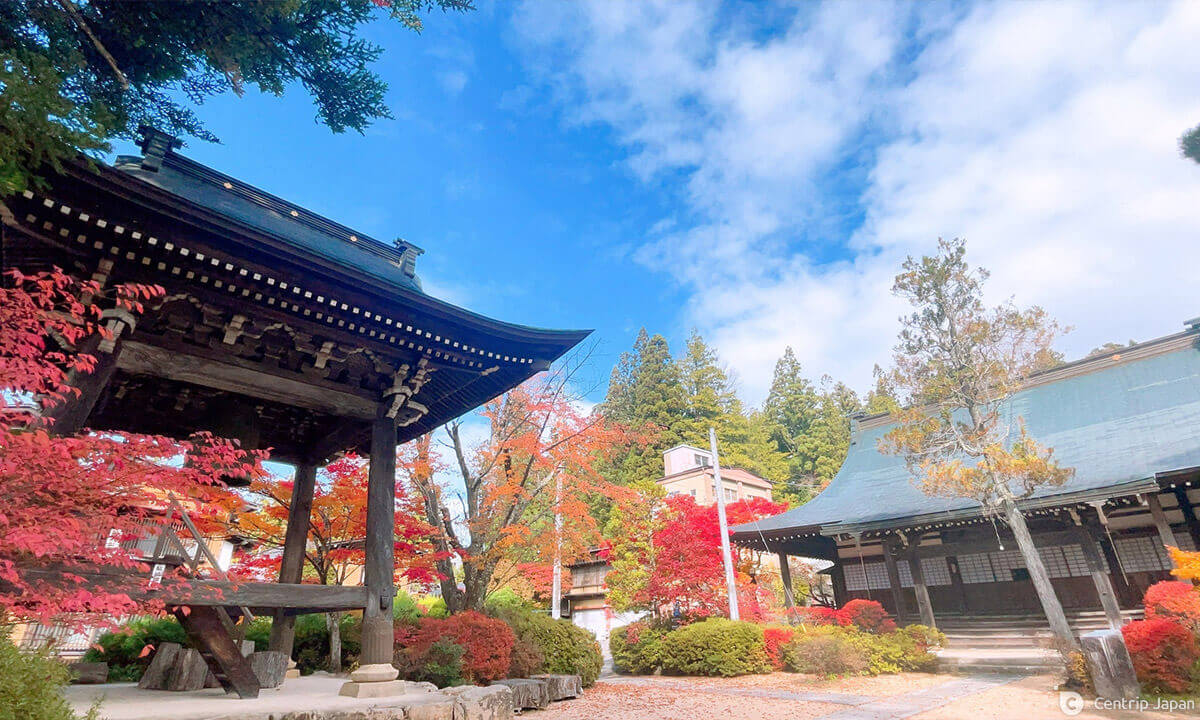 Exceptional autumn scenery alongside excellent craftsmanship can be seen at Tenshoji.
A 25-minute walk from Hie Shrine brings you to Tenshoji Temple. Here a walking course was established by Nagachika Kanamori, whose family ruled Takayama for 107 years. Kanamori's affection for the Higashiyama area in Kyoto made him move many temples to the east of Takayama, creating a 3.5km long walking course. The Buddhist temple Tenshoji, built by the skilled carpenters of Hida, is the best place to see the exceptional scenery that combines the elegance of Japanese architecture, a large Buddhist bell, and a Japanese garden with Momiji.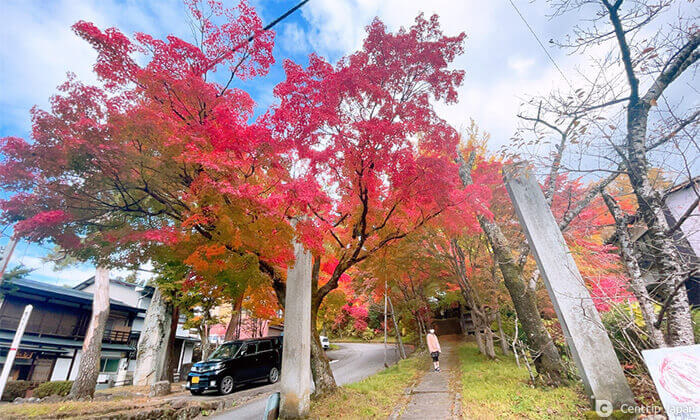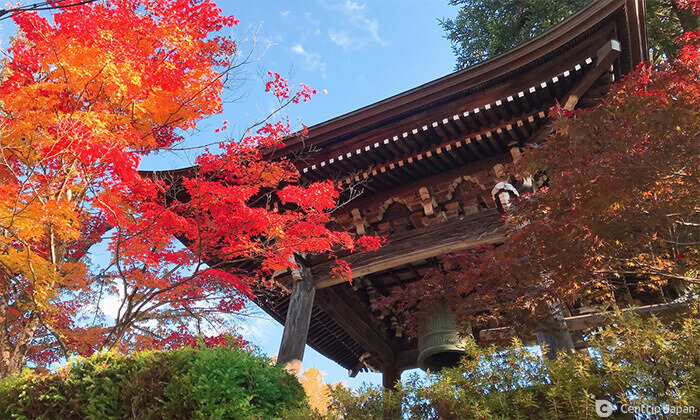 Kitayama Park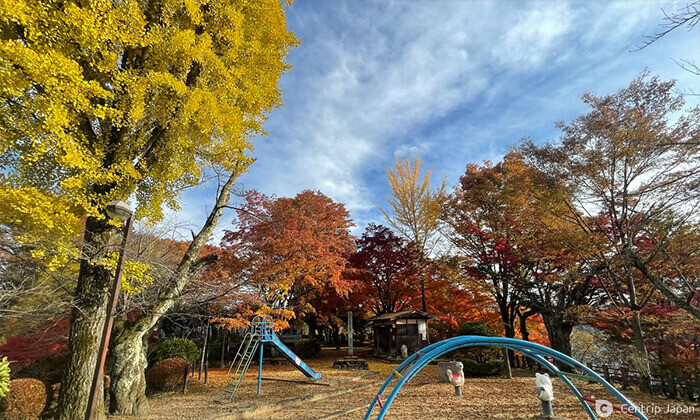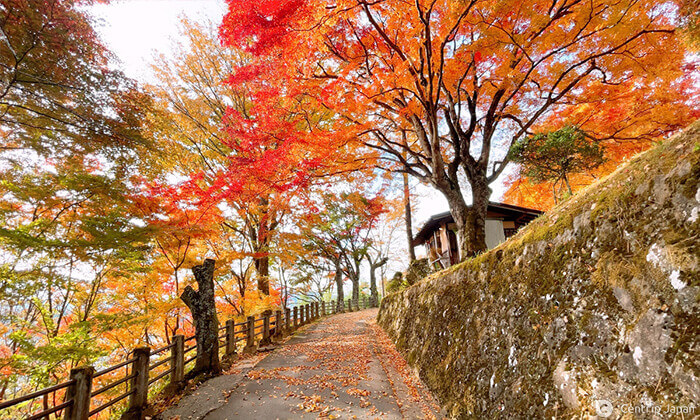 Care to hike up a small hill for views of the city and the Japanese Alps?
It takes 30 mines to reach the top of Kitayama Park from Tenshoji Temple. The view from the top is picturesque and on clear days in autumn it makes for a pleasant walk with views of the snow-capped Alps and autumn leaves. A cafe near the park has outdoor seating so you can enjoy a hot cup of joe as you take in the view. The calm-laidback atmosphere makes for a perfect break.
Hida Folk Village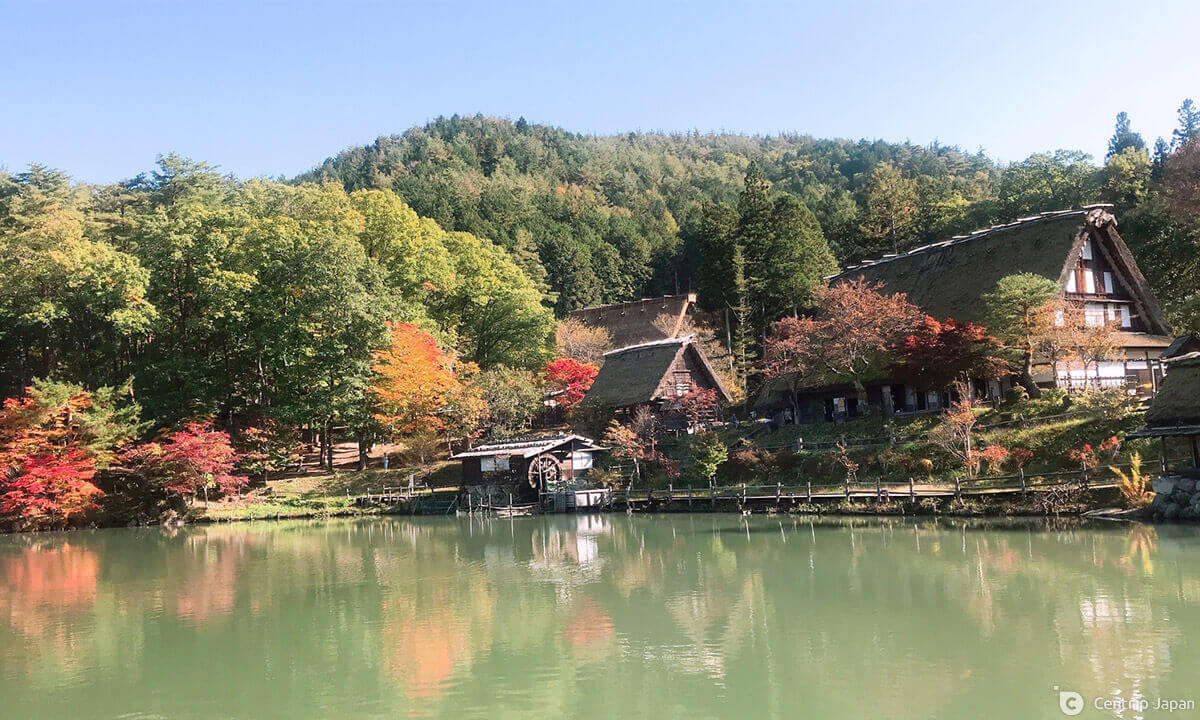 Picturesque autumn scenery
We recommend a bus to get to the folk village. The ride takes about 10 minutes from eh Nohi bus terminal and is ¥100 per person. Value tickets including the entrance fee to Hida Folk Village for ¥800 are also available.
If you've ever heard of Shirakawago you'll have an idea of what to expect at Hida Folk Village. The village is an outdoor museum recreating the traditional life of the Hida region. More than thirty private houses including four nationally important cultural properties were relocated here from various areas around Hida along with 8,000 traditional tools on display. Altogether this creates a unique scene in autumn as swans greet you at Goami Pond and you enjoy the old homes against the backdrop of autumn leaves.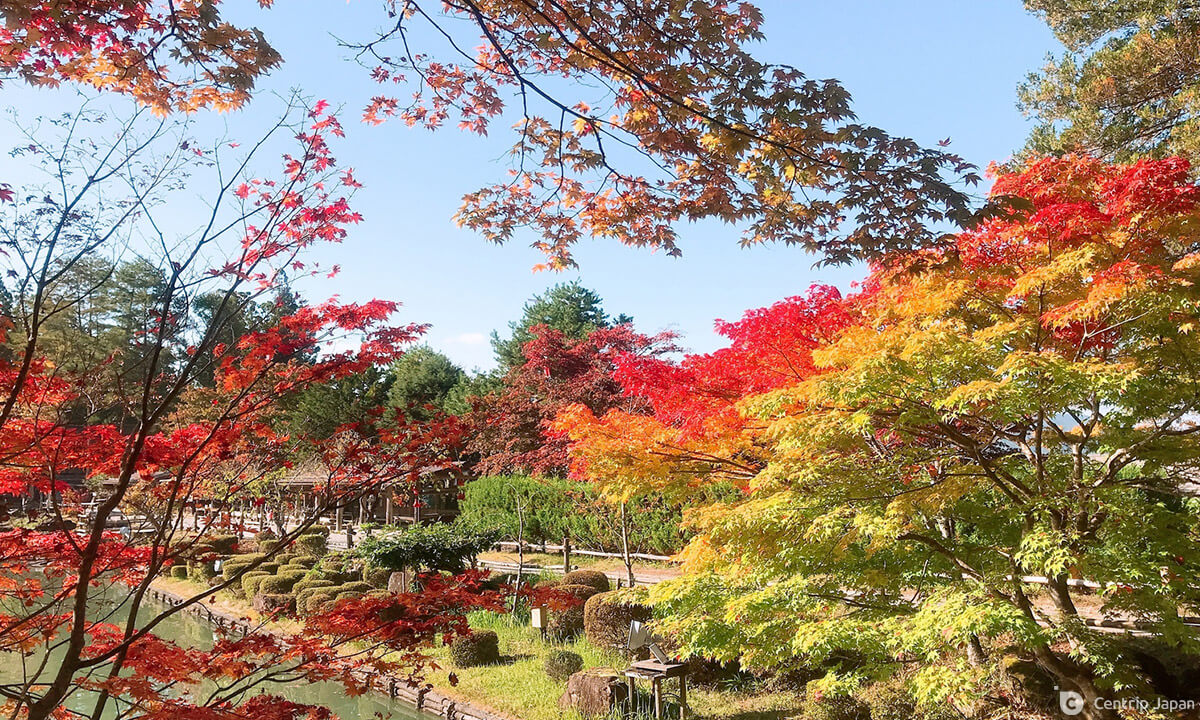 Fall colors of Hida Folk Village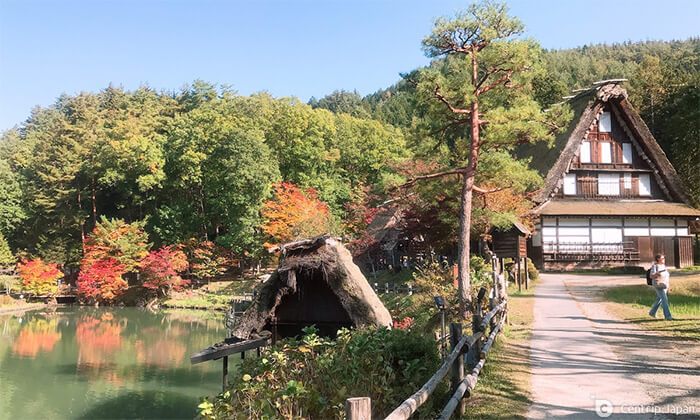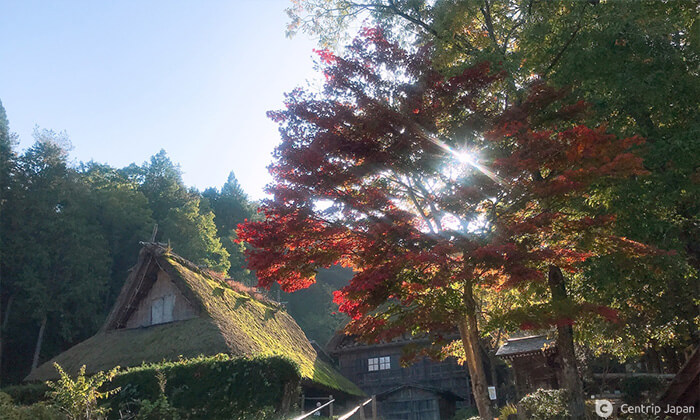 Hiking Route
It's also a great season for hiking around the outskirts of the town.
Utsue Forty-Eight Waterfalls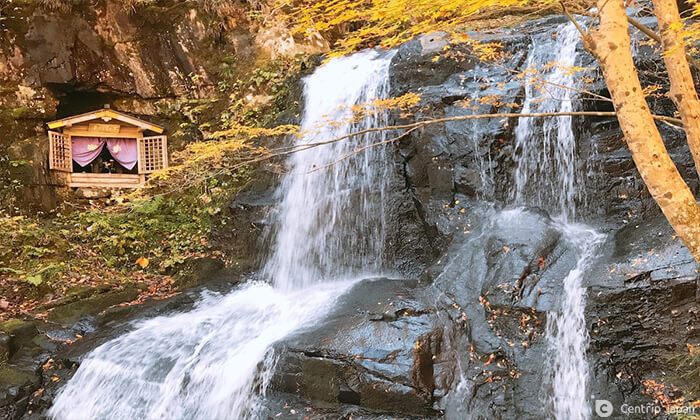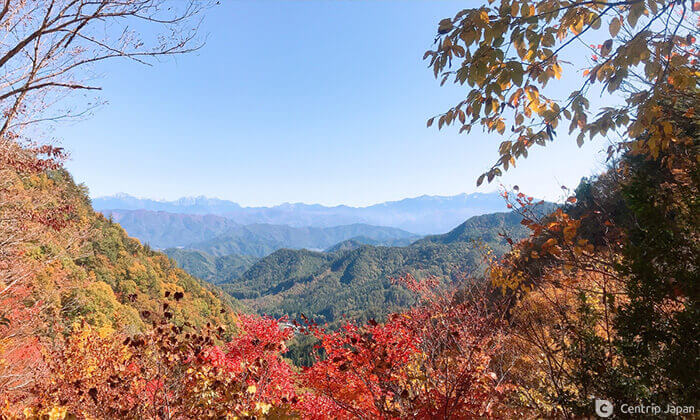 Utsue Forty-Eight Waterfalls Prefectural Park is one of the "Top 33 Autumn Leaf Spots in Hida and Mino". It is a 30-minute drive from Takayama with a free shuttle bus running from JR Hida Kokufu Station, which is a 12-minute ride from Takayama. The 880-meter walk is also a great place to take part in Forest Bathing. Fall colors in this area start around the end of October due to the high altitude.
It takes about one hour to complete and you can connect with nature and feel refreshed. So come and connect with nature for a memorable autumn day.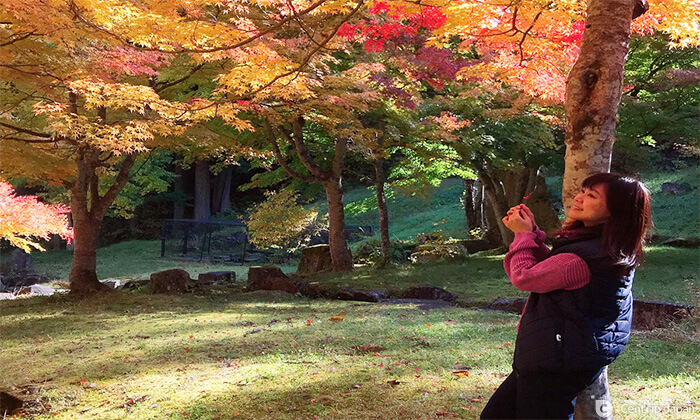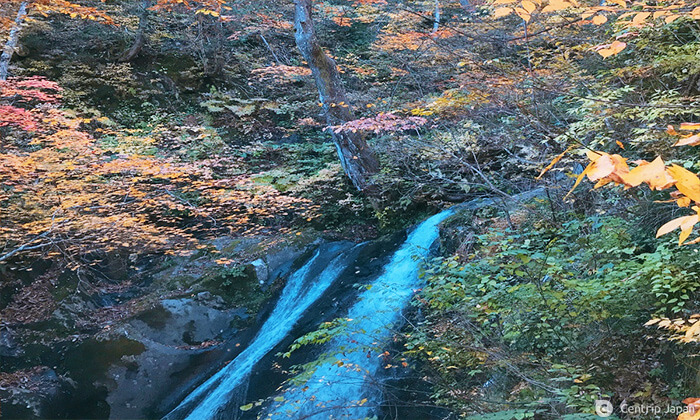 Matsukura Castle Ruins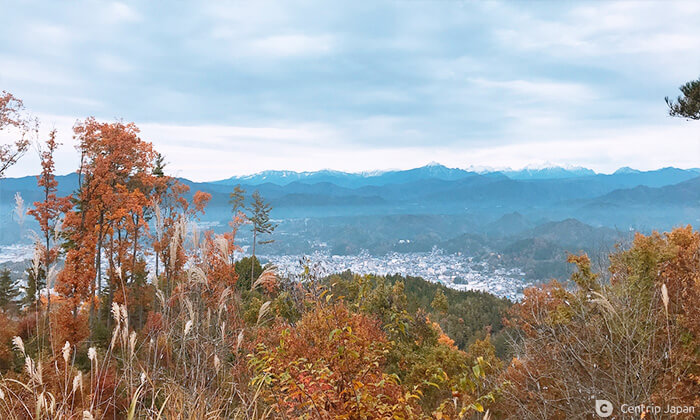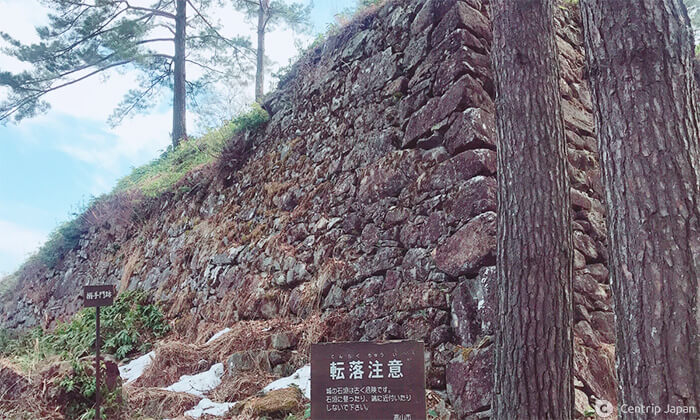 If you'd like a bit more of the outdoors check out Matsukura Castle Ruins. It takes 25 minutes of uphill walking, but when you make it to the top you are treated to panoramic views of Mt. Norikura and the Shin-Hotaka range.
Climbing the ruins you'll come across old stone walls and scattered stones from the 16th century.
Shiroyama Park and Castle Ruins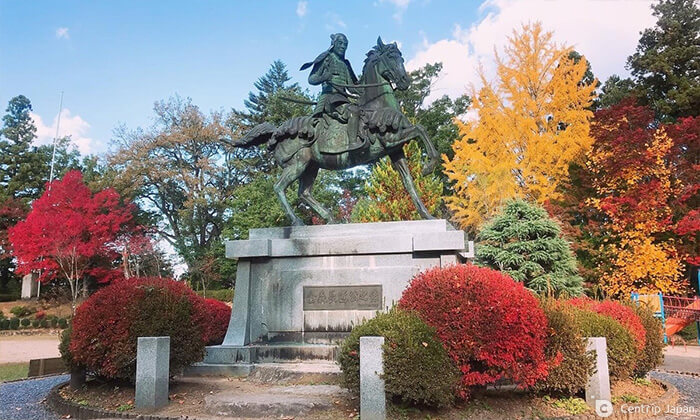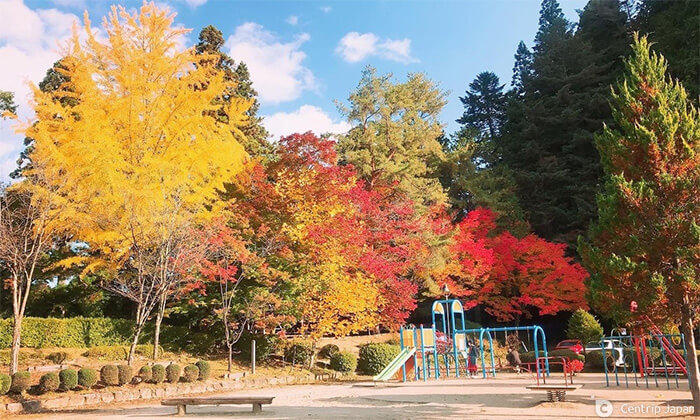 Takayama castle no longer remains but the ruins still sit on the spot. It now acts as a walking course used by locals for daily exercise and casual hikes. It takes about 1-2 hours to complete the Shiroyama walking course. You can also go to Ninomaru Park for some leaf peeping and trying out the local delicacy of Oden. Oden is a dish of assorted fish cakes, tofu, and daikon radish.
Sweets and Treats
While walking around town why not grab something sweet to fuel your walk? Chestnuts and Sukuna pumpkin are used in autumn treats such as Kuriyose (red bean jelly with chestnut), Kurikindo (mashed chestnut confection), Sukuna pumpkin pudding, Sukuna pumpkin cheesecake, and Hida apple pie. If you want to fill up a bit more get some Gohei-mochi (rice cake with sauce and seeds) is another must-try food.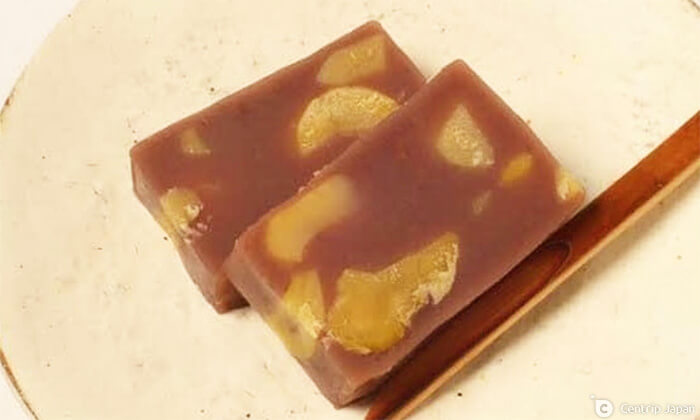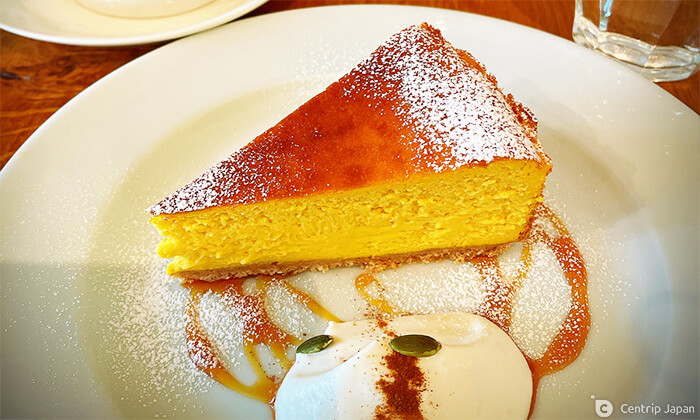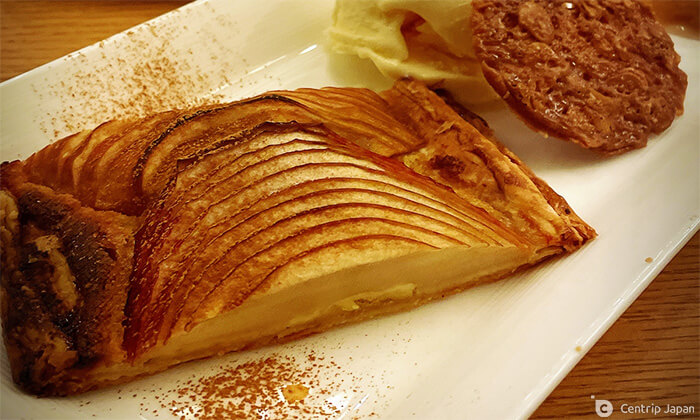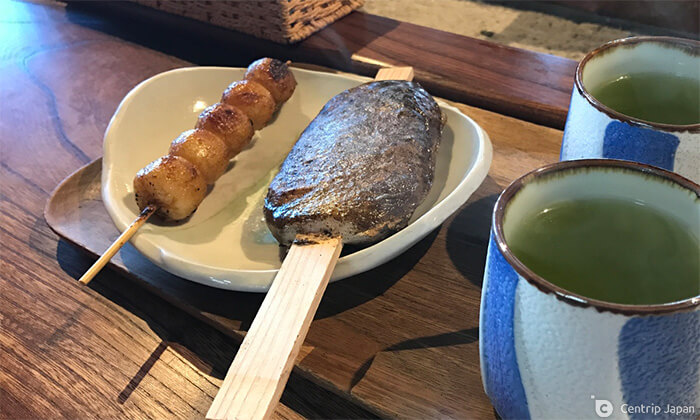 How do you get to Takayama from Nagoya?
From Nagoya, the fastest and direct way to reach Takayama is by JR Wide View Hida train and it takes about 2 hours 40 mins. Alternatively, you can also take the public bus to Takayama. The train (one-way) is ¥5,610 and the one-way bus to Takayama is cheaper at ¥3,100.
Wrap-up
Whether walking or on a bike, the autumn leaves create the most amazing scenes for photography. Takayama has a lot of great sites to see and is enhanced when you try out some of the delicious sweets available. Surrounded by beautiful nature, Takayama is a city where you can take your time to admire the splendid colors of fall.
Click here to get the latest information on Central Japan.Centrip Japan - Nagoya and Chubu Information