| Bonnie Chow 
Takayama: A Winter Wonderland
Let it snow! Let it snow! It is winter in Takayama now. From mid-November to March, the mountains areas of Japan, over 500m in elevation, are blanketed in snow. If you'd like to see Japan framed in beautiful white snow, then Takayama's long winters make for the perfect backdrop. With morning markets, the old townscape, and the folk village of Hida-no-Sato, the memories you make here will last a lifetime.
Bundle Up
In winter, Takayama gets as low as -6ºC and the Okuhida Onsen area (1000m above sea level) is around 2 to 3 degrees lower. If you aren't used to it, it can feel pretty cold, especially in the morning and night. January is the coldest month with the Okuhida Onsen area getting plenty of snowfall. Takayama gets less snow, but wet snow makes the roads icy. Please dress warmly, wrap something around your neck, cover up your head and ears, and don a thick jacket if you can. If you plan to visit a more snowy mountainous area or the world heritage site of Shirakawa-go, it is better to put on a pair of waterproof shoes or boots too.
What makes Takayama Winter's special?
Takayama is surrounded by the Japanese Alps. The area is great for tourists visiting the mountains and looking to enjoy winter sports, relax in hot springs, and admire wonderful snowy scenery. The Okuhida Onsen area and ski resorts are only one hour away by bus or car which is perfect for a day trip from Takayama. Just strolling around Takayama city is also a pleasure, you can see traditional buildings, shrines, and temples covered in snow. At night the light shows are a must-see winter event that is seeing for the magical moments.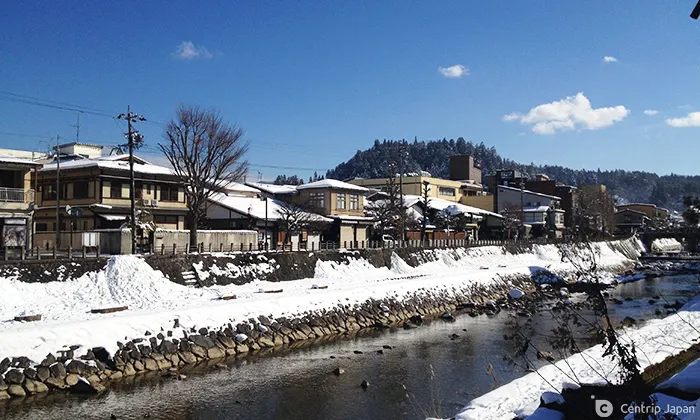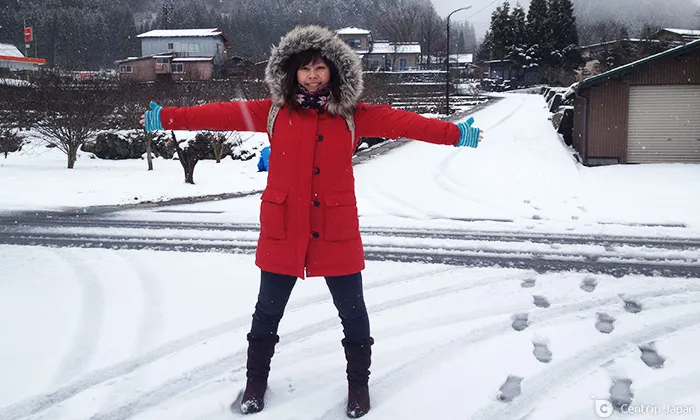 Outdoor activities
There are several ski resorts in Takayama accessed easily by public transportation or by car in an hour, and, while the scale of Takayama's ski resorts is smaller, the snow is perfect for beginners and intermediate skiers. Below are some popular snow resorts among Takayama's locals:
Mont Deus Hida Kuraiyama Snow Park
Mont Deus Hida Kuraiyama Snow Park is the closest ski resort to Takayama, with free shuttle buses running from JR Takayama station every day during ski season. The bus ride takes 40min. Rentals, ski, and snowboard lessons (in Japanese only) are available. The Snow Park is best for beginners with its gentle slope. Not keen on snow sports? Snow cruising lets you sit in an inner tube and get pulled by a snowmobile.
Websitehttps://japan-skiguide.com/guide/htm/r0230cns.htm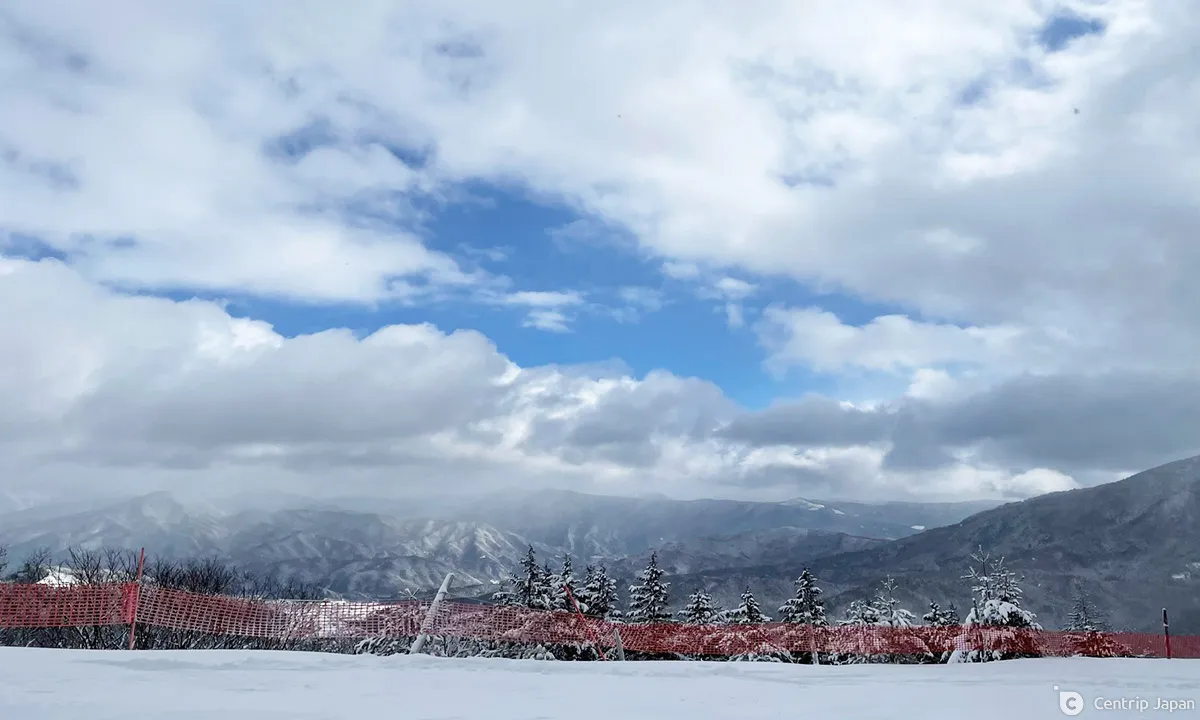 Clear views of the Japanese Alps on a fine winter's day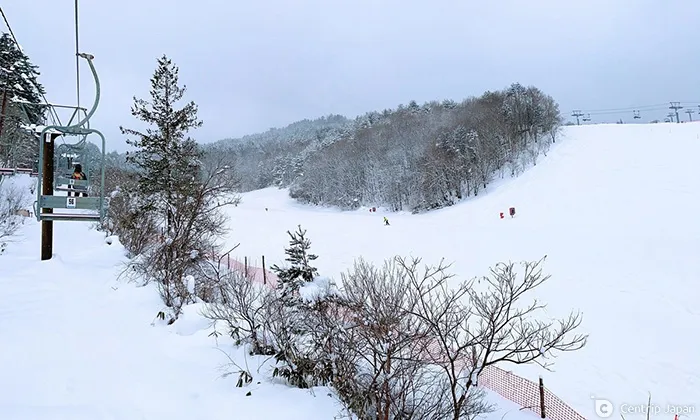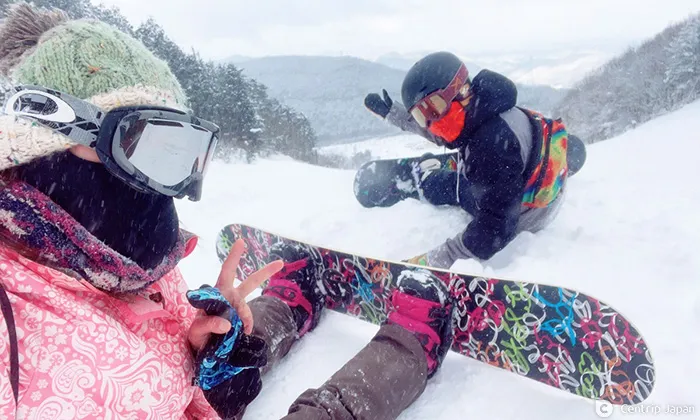 Honoki Daira Winter Resort
It takes 40min by bus to Honoki Daira Winter Resort from Takayama bus station. Equipment rentals, ski, and snowboard lessons (in Japanese only) are provided too. The quality of the snow at Honoki Daira is said to be the best in this region. Skiers training competitions often use the longer courses here, and on the panorama course, the Japanese Alps can be seen clearly in fair weather. Adults and children can also have fun in the children's sled area.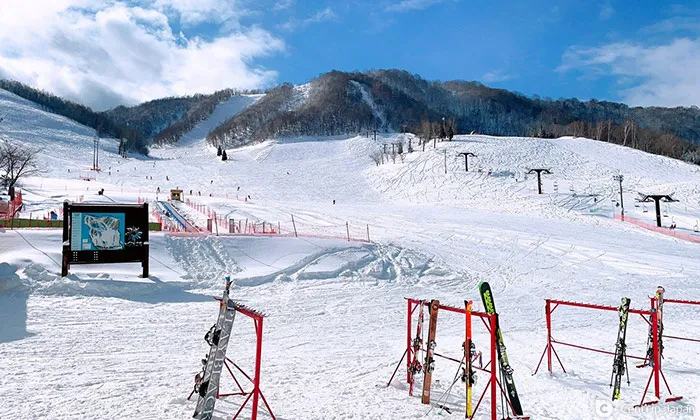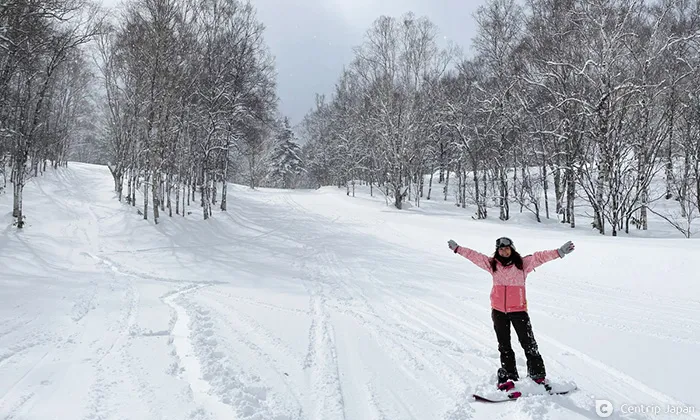 Winter wonderland
Okuhida Onsen Area
Okuhida Onsen is a famous hot spring area about one hour by bus from Takayama. The five hot spring villages, surrounded by the Northern Japanese Alps, each have unique sources for their water. There are more than 100 outdoor baths. Since the altitude is around 1000m above sea levels, it is also a perfect place for winter sports such as skiing, snowboarding, snowshoeing, and hiking on snow. Special winter events are held from the end of December until the end of March every year. Both daytime and nighttime scenery are magnificent so overnight stays are recommended.
Shinhotaka Ropeway
The Shinhotaka Ropeway is about 1 h 45 min by bus from Takayama bus station and costs ¥2,200 one-way. It is the only double-decker gondola in Japan, and it takes you up 2,156 min 15 min. The observation deck has amazing panoramic views of the Japanese Alps and earned two stars in Michelin Green Guide Japan. Don't forget to explore the snowy wonderland outside and have fun in the winter snow corridors! Snowshoe tours are available in Japanese, and reservations are required. The round trip ropeway fee for adults and children is ¥3,300 and ¥1,650.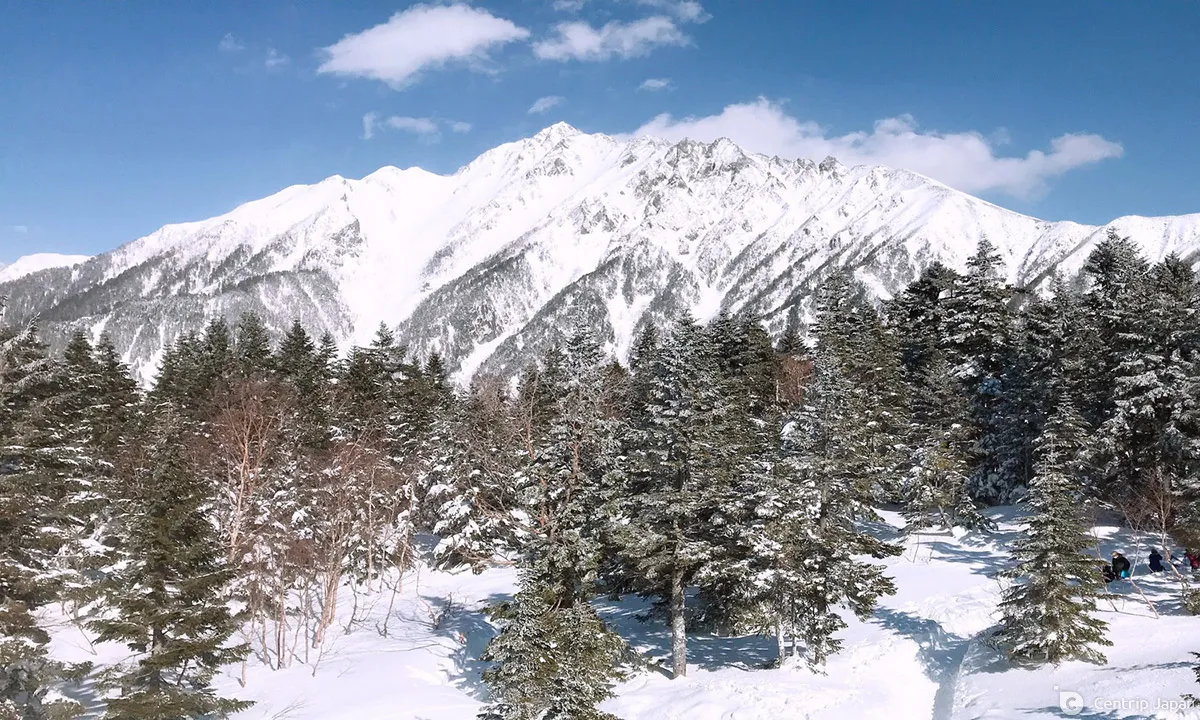 Panoramic views of the Japanese Alps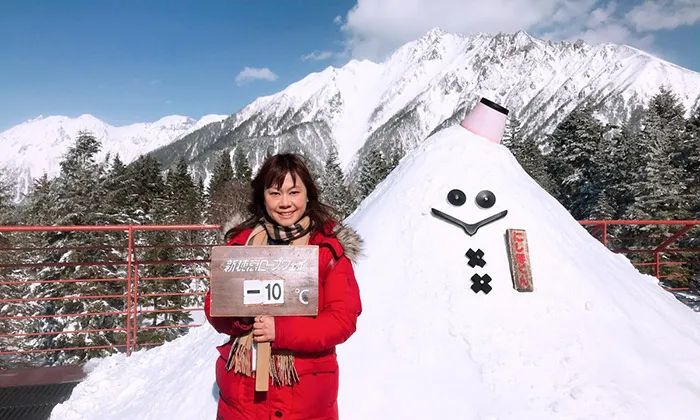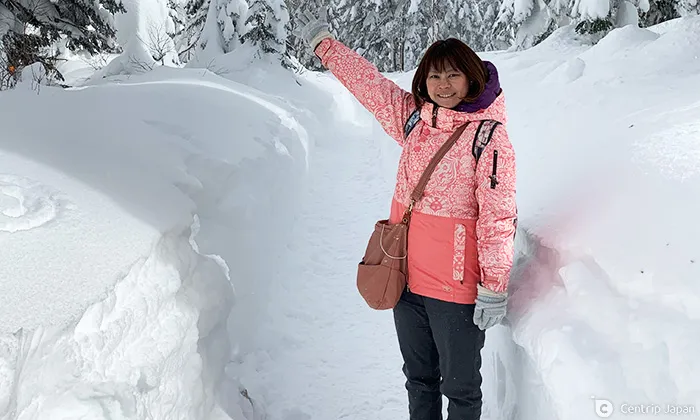 Hirayunomori
Hirayunomori sits among nature and is popular among locals for its natural underground hot springs. It is welcoming to all tourists (tattoo-friendly) as the one-day onsen costs ¥600. There are 16 indoor and open-air baths, and it is the best place to experience Yukimi-buro (seeing winter scenery in an open-air hot spring). Imagine yourself soaking in a hot spring while watching falling snow surrounded by beautiful mountains.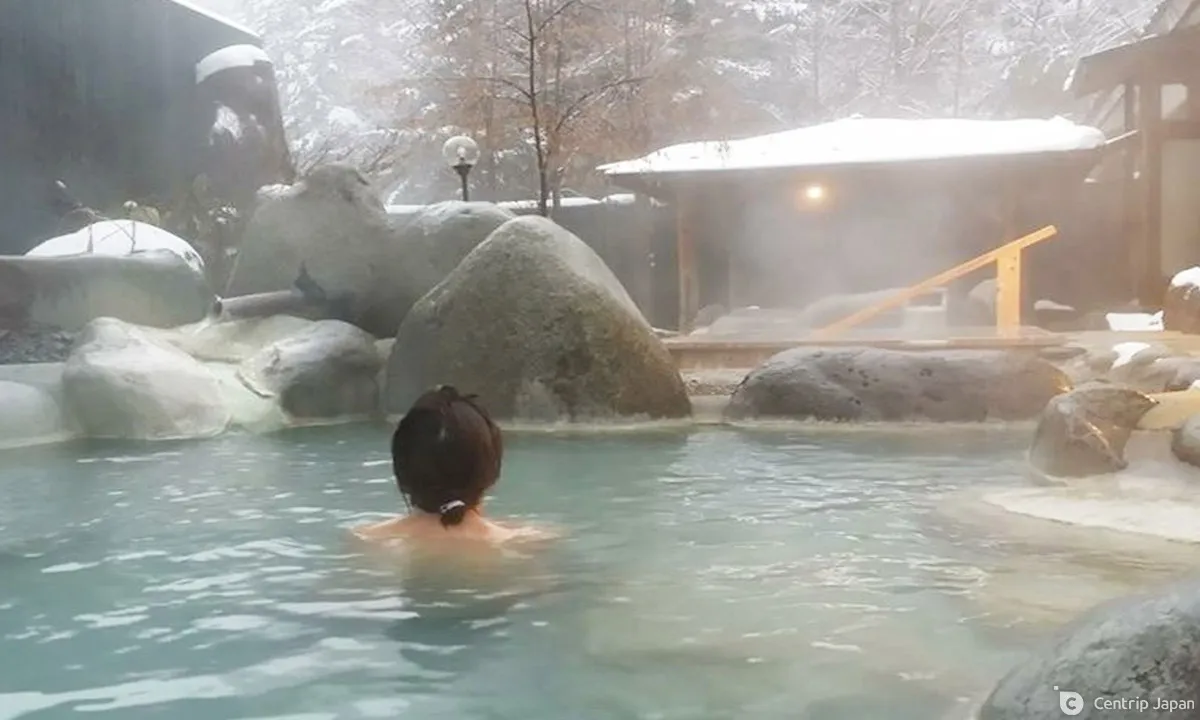 The open-air baths are relaxing
Winter special events
Taruma Kanekori Illumination
Have you ever wanted to step into a frozen world of ice and snow? It is no longer a dream. Every year in winter, a frozen waterfall and icy forest are lit up at Shin-hirayu. Together they create magical unforgettable scenery. If you need a place to stay why not check out one of the various traditional Japanese inns?
| | |
| --- | --- |
| Dates | Late December to end of February, 2023 |
| Hours | 5pm to 9:30pm |
| Venue | Taruma waterfall park |
| Day | A 5-min walk from Shin-Hirayu Onsen bus station (75 min from Takayama bus terminal on the Nohi Bus Shinhotaka Line) |
| Night | 75 min by car from Takayama (public transportation is unavailable) |
| Fee | Free |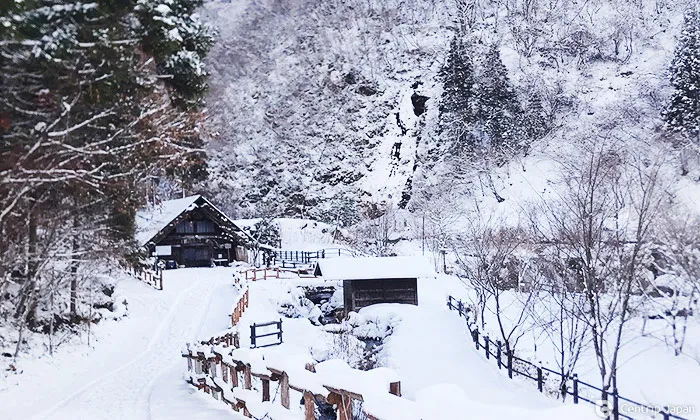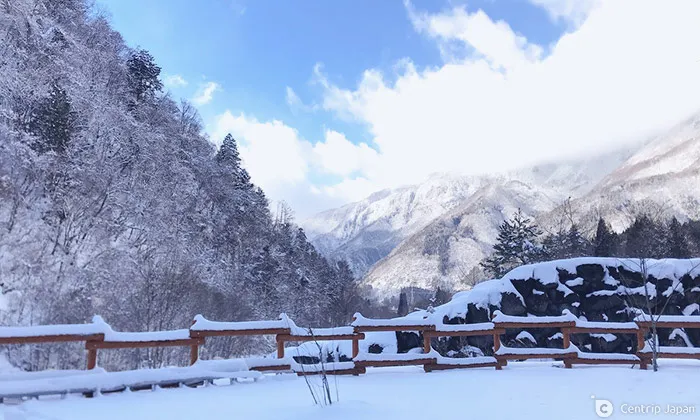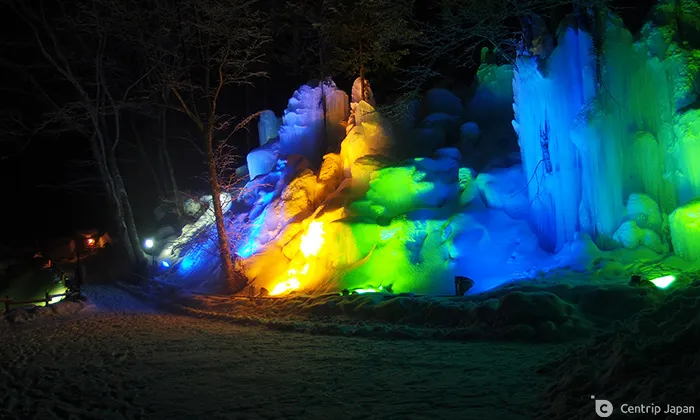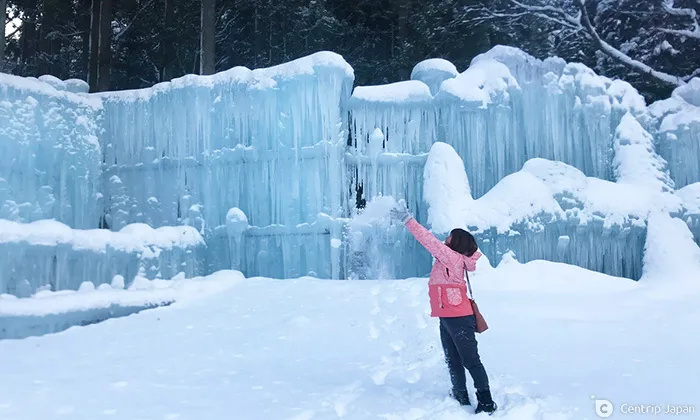 Nakao Kamakura Festival
Have you ever seen an igloo before? In Japanese, they are known as kamakura. About seven kamakura get built in the Nakao Kogen Highlands each year. Each igloo is host to different activities such as mochi(rice cake) making, lion dance, and sake ice bar. For guests who are not driving, staying in the accommodation next to the venue is perfect if you want to indulge yourself. Are you ready to immerse yourself in a snowy wonderland surrounded by forest lit up by snow lamps?
| | |
| --- | --- |
| Dates | February 1st-10th, 2023 |
| Hours | 8-9 pm (weekdays) 8-9:30 pm (weekends) |
| Venue | Nakao Shirayama Shrine |
| Day | A 3-min walk from Nakao Shirayama Shrine bus station (90 min from Takayama bus terminal by Nohi bus Shinhotaka Line) |
| Night | 80 min by car from Takayama (public transportation is not available) |
| Fee | Free entrance |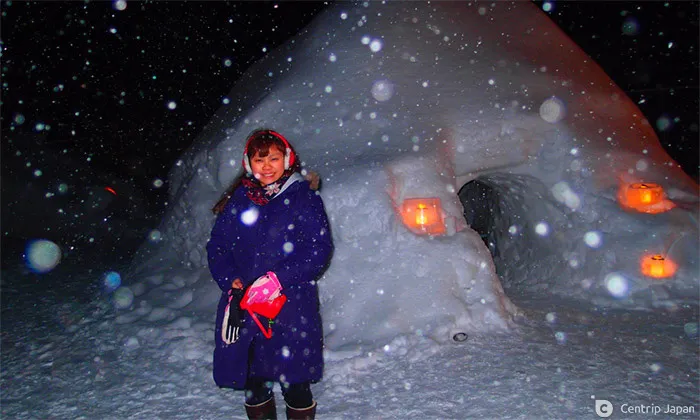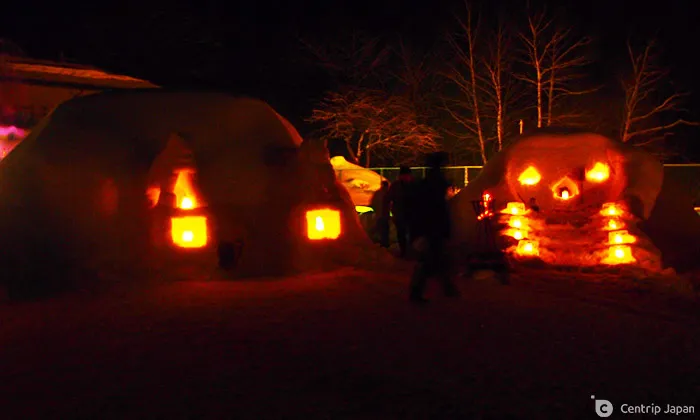 Akigami Onsen Subzero Forest
Ready to enter a fantasy world of red, blue, and green in a -10ºC forest? In 1971 the owner of Akigami Hot Spring Inn turned the forest next to them into a forest of frozen trees. The previous owner's son keeps the tradition of maintaining this sub-zero forest alive. Snack, food, and hot drink are served in the ryokan during the light shows. However, if you would like to enjoy traditional Japanese cuisine and enter a hot spring after the event, the best way is to spend the night in Akigami Onsen.
| | |
| --- | --- |
| Dates | January 1st – March 31, 2023 |
| Time | Until 9 pm |
| Venue | Akigami Onsen |
| Transportation | 90 min from Takayama bus terminal on the Asahi Line |
| Fee | Free |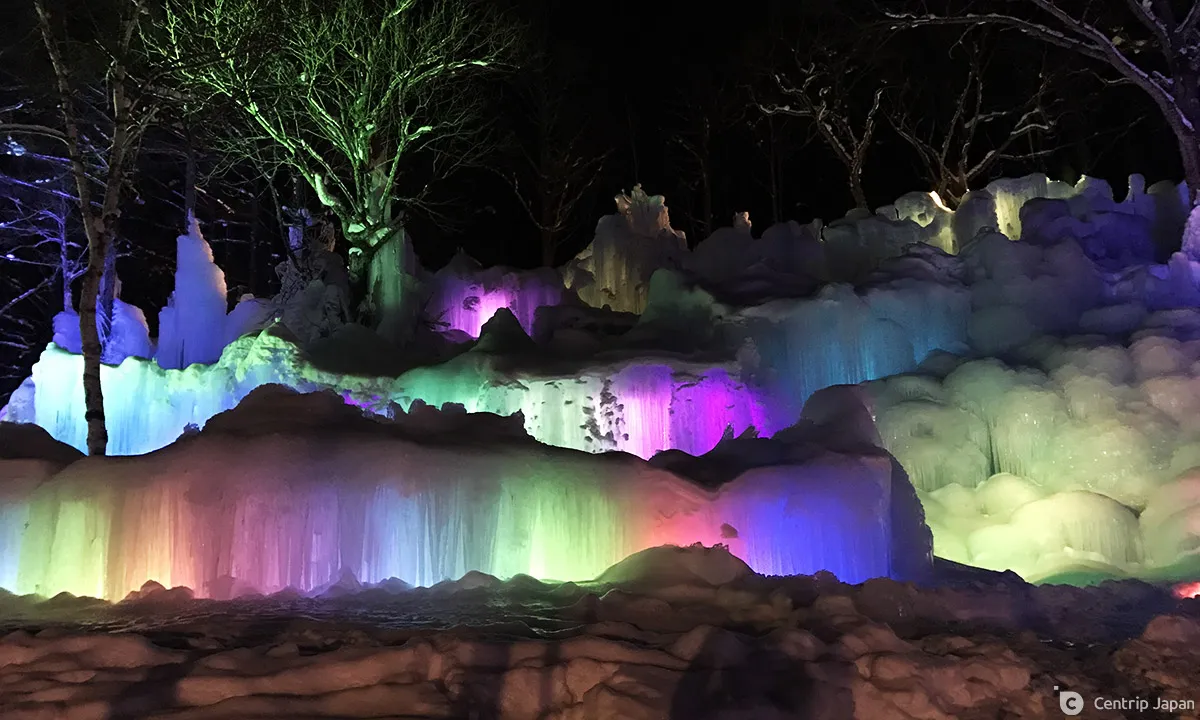 The scenery in subzero forest is simply magical!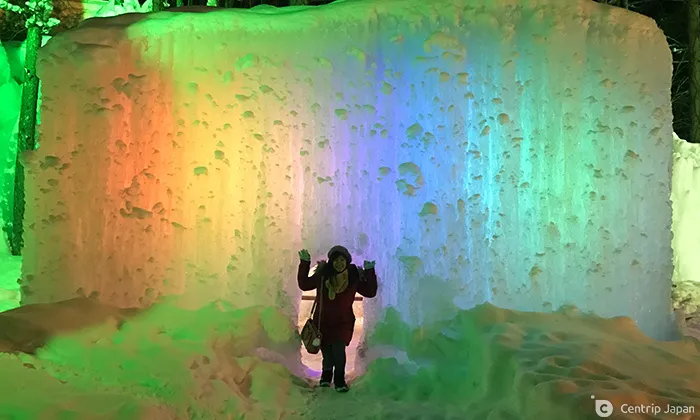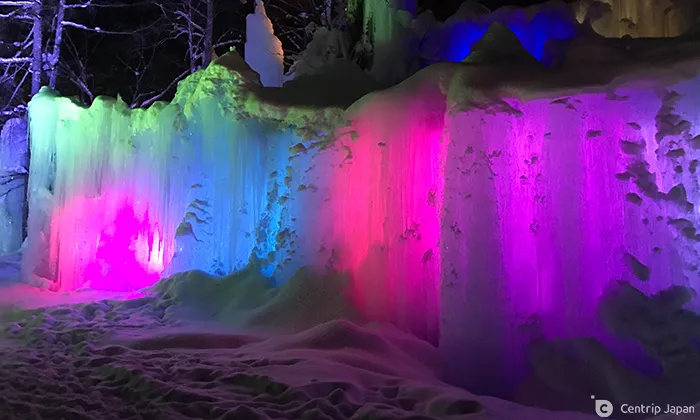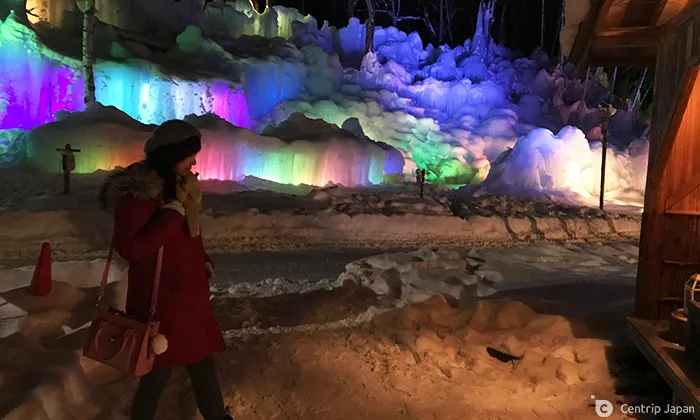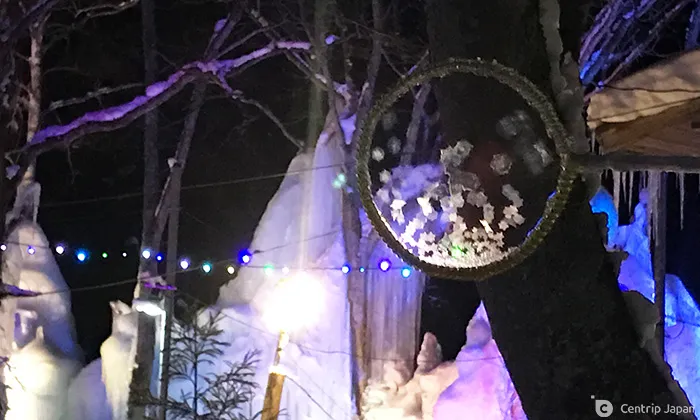 Hida Folk VIllage Light Up
Hida Folk Village is an open-air museum in Takayama city and shares many similarities with the World Heritage Site Shirakawago. Due to increasing global warming, rain falls in Shirakawago during the winter. On the other hand, Hida Folk Village, in the mountains, doesn't face the same issue. For guests who want to enjoy Christmas lights, Hida Folk Village is a must.
| | |
| --- | --- |
| Date | January 10th, 2023 – February 28th, 2023 |
| Time | 5:30 pm – 7:30 pm |
| Venue | Hida Folk Village |
| Transportation | 10 mins by bus, 7 mins by car or 30 mins walk from JR Takayama station |
| Fee | Adults ¥300, Children ¥100 |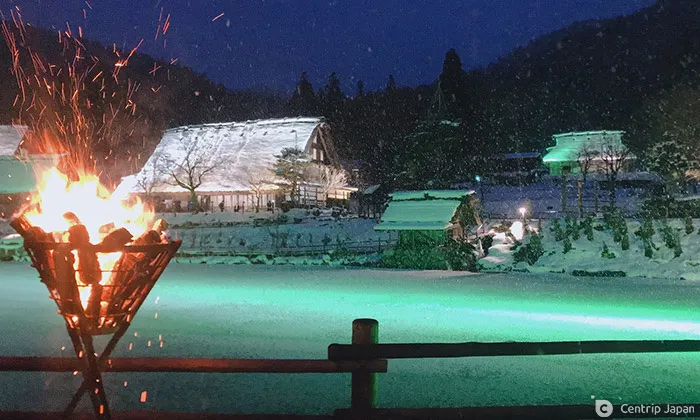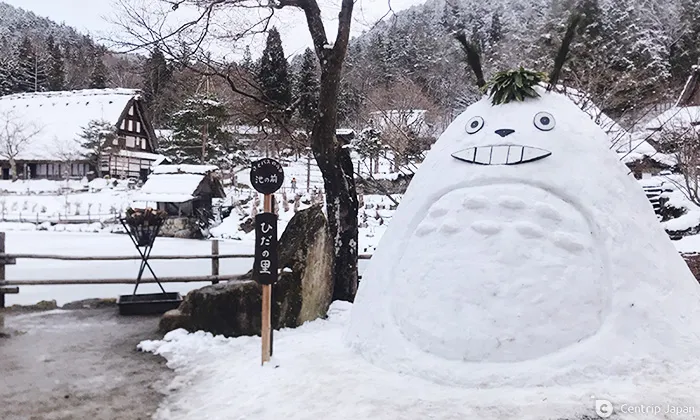 Nakabashi Bridge Winter Light up
Winter scenes are stunning after heavy snowfalls. The bridge is located near Takayama's Old Town so you can't miss it when walking around the town.
Date
December 1st, 2022 – February 28th, 2023
Time
4:30 pm – 9:30 pm
Venue
Nakabashi Bridge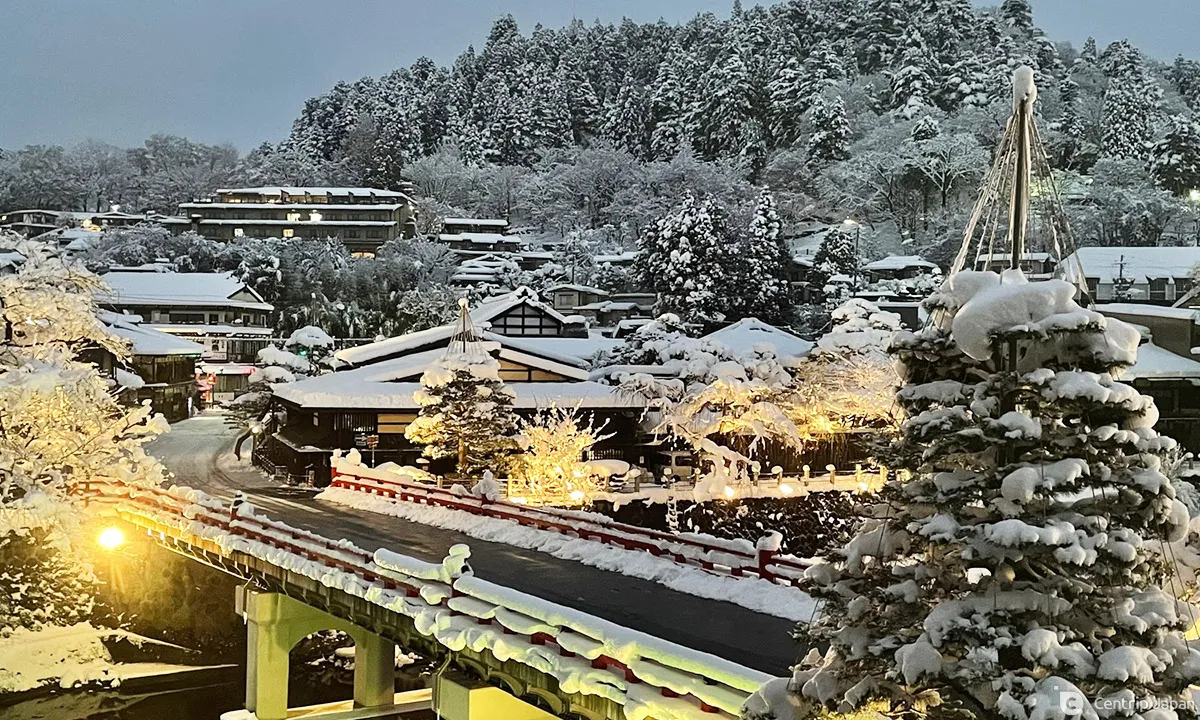 Like a picturesque Christmas card.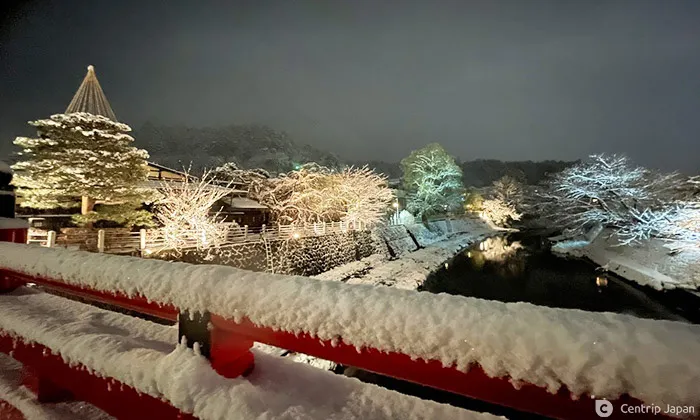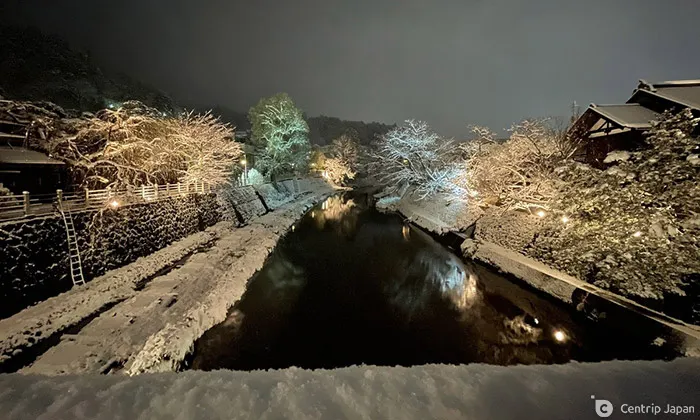 Year-end countdowns
In Japan, from the dawn of the new year, Japanese people take part in a tradition called Hatsumode. It means the first pray of the year, and many people travel all over the country to visit important shrines to make an offering and give a prayer. In Takayama, there are numerous shrines and temples to visit and pray for the coming year.
Sakuayama Hachimangu Shrine
A shrine in the Takayama Festival in Autumn. For Hatsumode the shrine gives out charms and free sake to everyone.
Kokubunji Temple
On New Year's Eve in Japan, the custom of Joya-no-Kane, the ringing of temple bells 108 times, begins. Joya means New Year's Eve while Kane means bell. It is the one day in Takayama that we can climb up the bell tower to ring the bell in Kokubunji Temple (canceled last year due to COVID-19). Please visit Kokubunji temple and listen to the ringing of the bells in winter.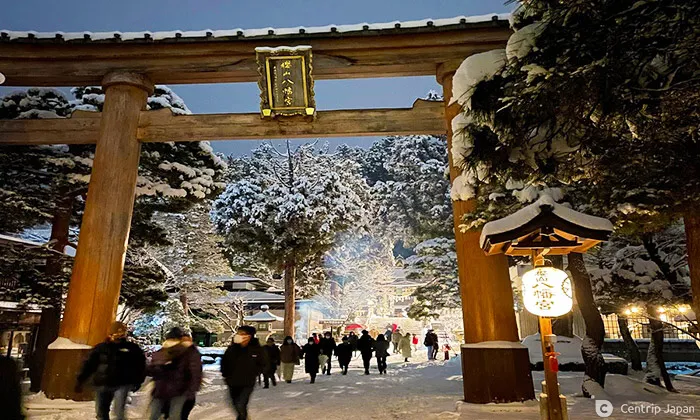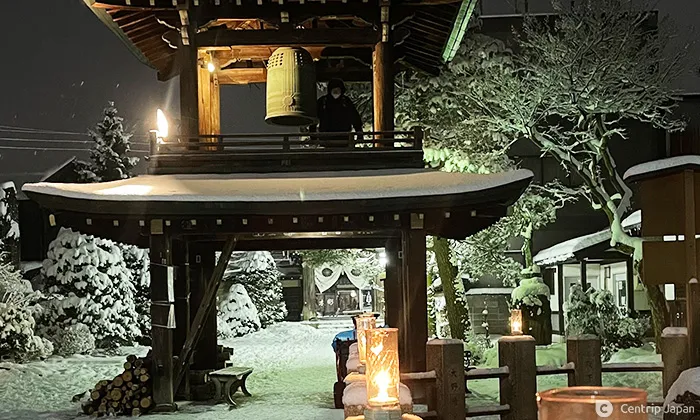 How to get to Takayama from Nagoya?
It takes 2 h 40 min from Nagoya to Takayama using the JR Wide View Hida train. A one-way ticket is ¥6,140. Buses are also available for ¥3,170. If you like to drive during winter, be aware that the roads are snowy from December to March.
Wrap-Up
A winter trip to Takayama is full of things to do and see. Remember to dress warm and you'll be read enjoy the frozen-snow-covered wonderland!
Click here to get the latest information on Central Japan.Centrip Japan - Nagoya and Chubu Information