| Bonnie Chow 
Exploring Flowers among the Nature of the Hida Region
It gets hotter and more humid in Takayama during June and July. However, the rain and summer sun make early summer one of the best seasons to visit. These conditions contribute to the growth and beauty of various seasonal flowers and treks into nature give you an escape from the heat. Keep reading for some recommended spots near Takayama, easily accessed by car or public transportation.
Weather and Clothes
The rainy season in Takayama varies every year between June and July for two to three weeks. Takayama's sunny days in summer are still attractive with relatively low humidity compared to other big cities in Japan, such as Tokyo or Osaka. The highest recorded temperature was 32 degrees Celsius and 16 degrees Celsius at night. It is chilly in the morning and night, so a windbreaker is good when visiting the area. For hiking, it is better to apply sunscreen and wear a hat for UV protection as you can get sunburnt while spending long hours under the sun. To be fully prepared, please check the weather forecast in advance.
Utsue Forty-Eight Waterfalls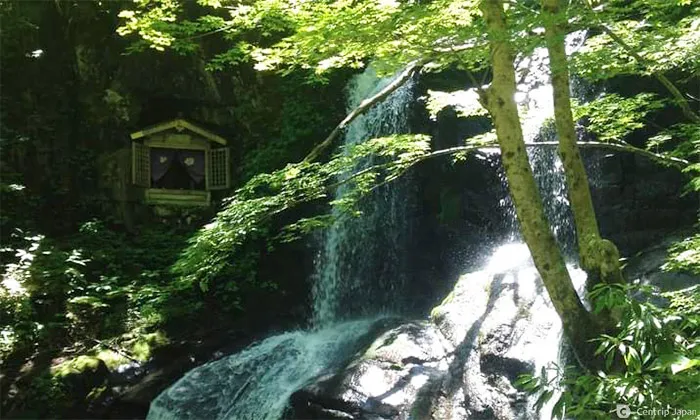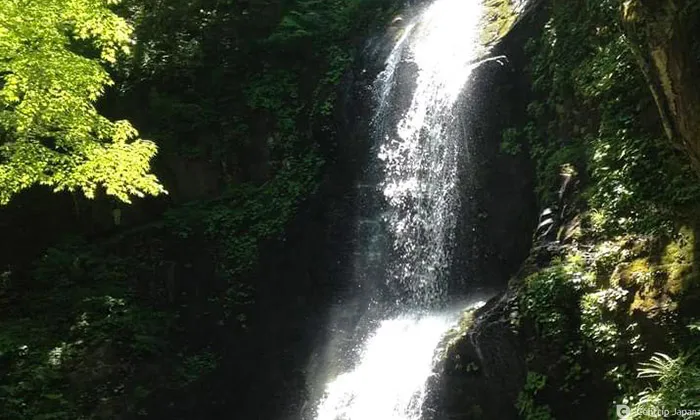 Imagine visiting a natural preserve only a 30-minute drive from Takayama. Utsue Forty-Eight Waterfalls Prefectural Park is situated on Mt. Ibushiyama and is a great destination for forest bathing in summer because of its high elevation (around 1,300 meters above sea level). Hiking in summer can be hard, but this course with thirteen waterfalls is a short one-hour hiking course covering only 880 meters. The splash of spring water from the waterfalls will make you feel cool and refreshed.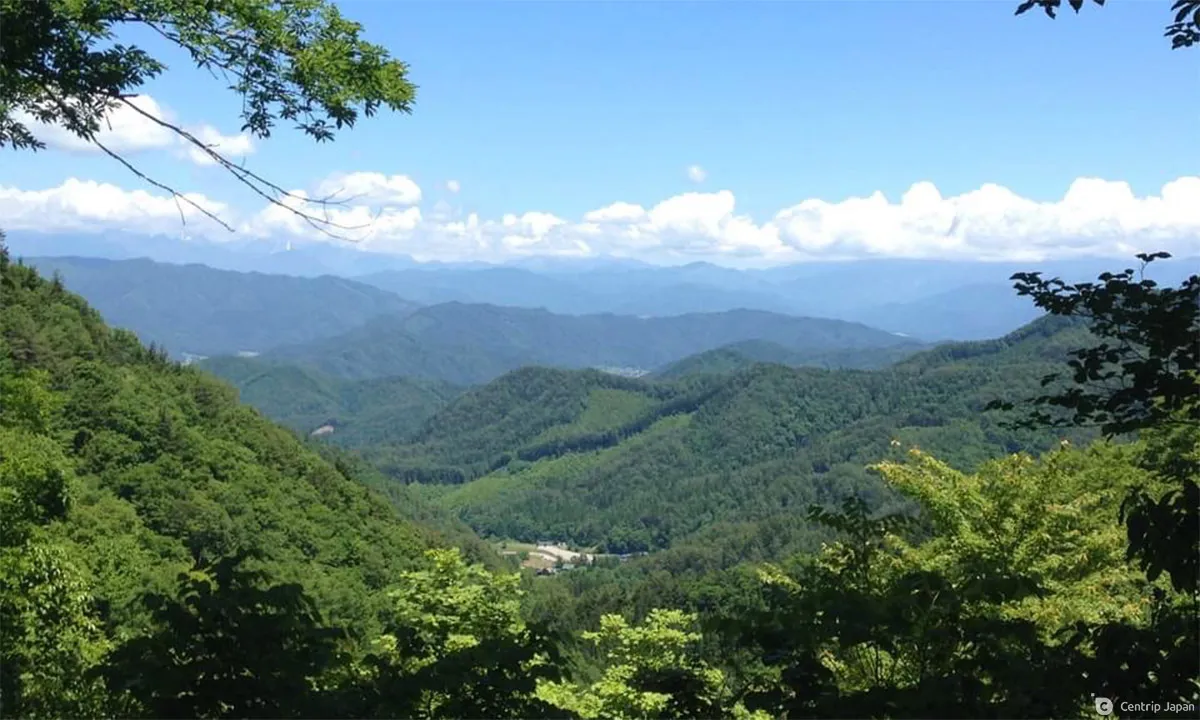 The lush greenery of the mountains from the observation point is wonderful.
The path is gentle and rewards you with a panoramic view of the lush greenery of the Japanese Alps once you reach the observation point. Make sure you take a deep breath and inhale the negative ions.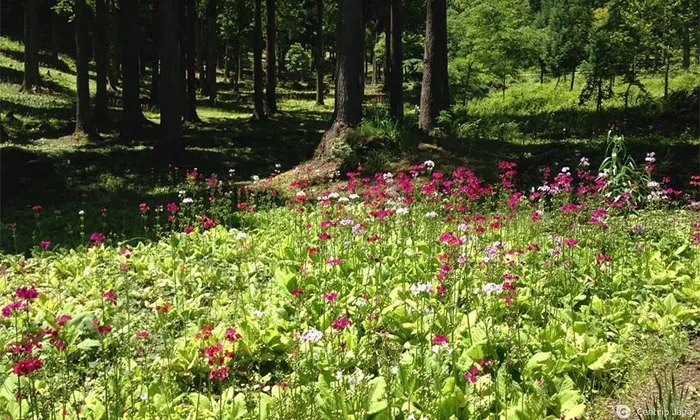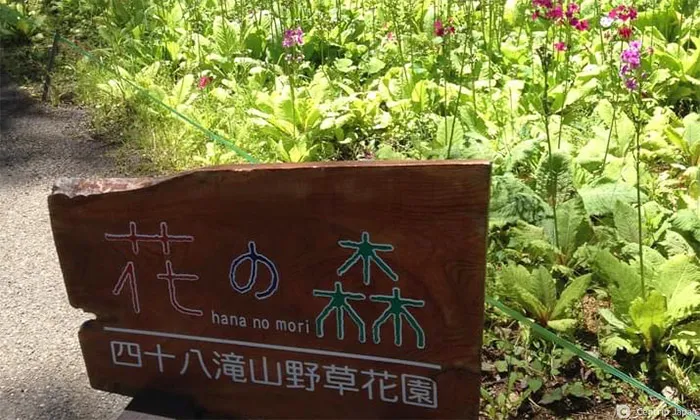 If you are visiting from late May to early August, make sure you stop by Hanamori flower garden near the entrance of the park. Seasonal flowers such as Japanese primrose, Japanese lily, and hydrangea bloom between late May to early July.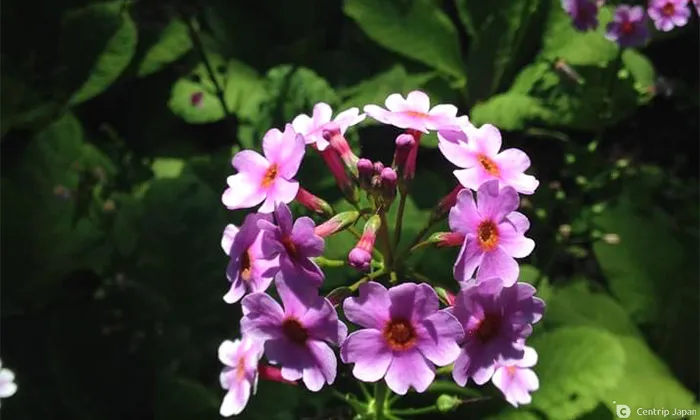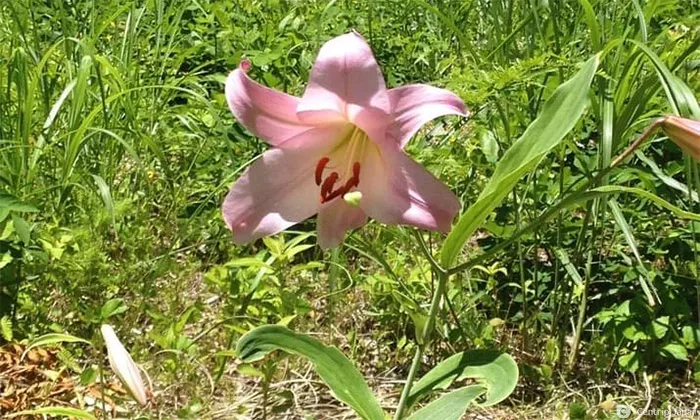 Transport fare
Aside from renting a car, it is possible to reach the park by taking a free shuttle bus from JR Hida Kokufu Station, a 12-minute ride from Takayama.
The entrance/cleaning fee to the park and garden is ¥300 per person. If you want to unwind, swing by Yuyukan Utsue 48 Waterfalls Spa on your way back. It is ¥620 and comes with a free transfer to the station. Please check with the staff at the counter. So come and connect with this hidden gem for a memorable summer day.
Kawai Rose Garden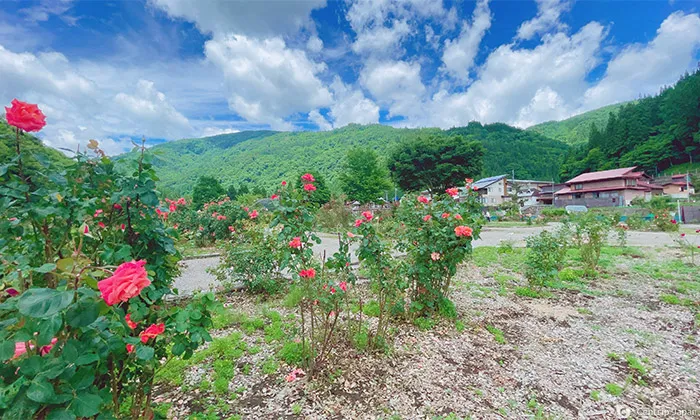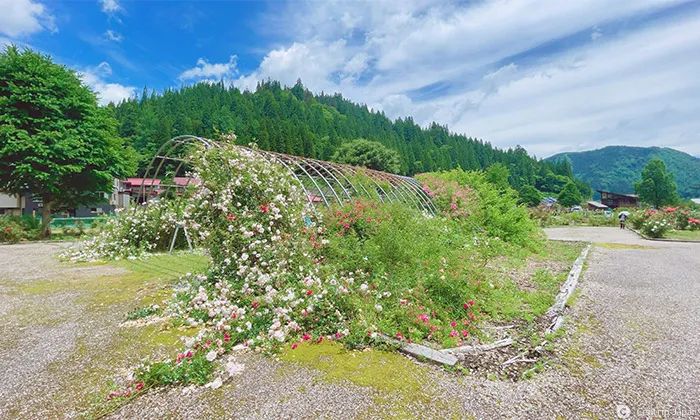 Admire the elegant beauty of 5,000 roses covering 1,300 different species in a day at Kawai Rose Garden. The garden is 28km from Takayama and is an outdoor venue with colorful roses surrounded by mountains along the Odori River.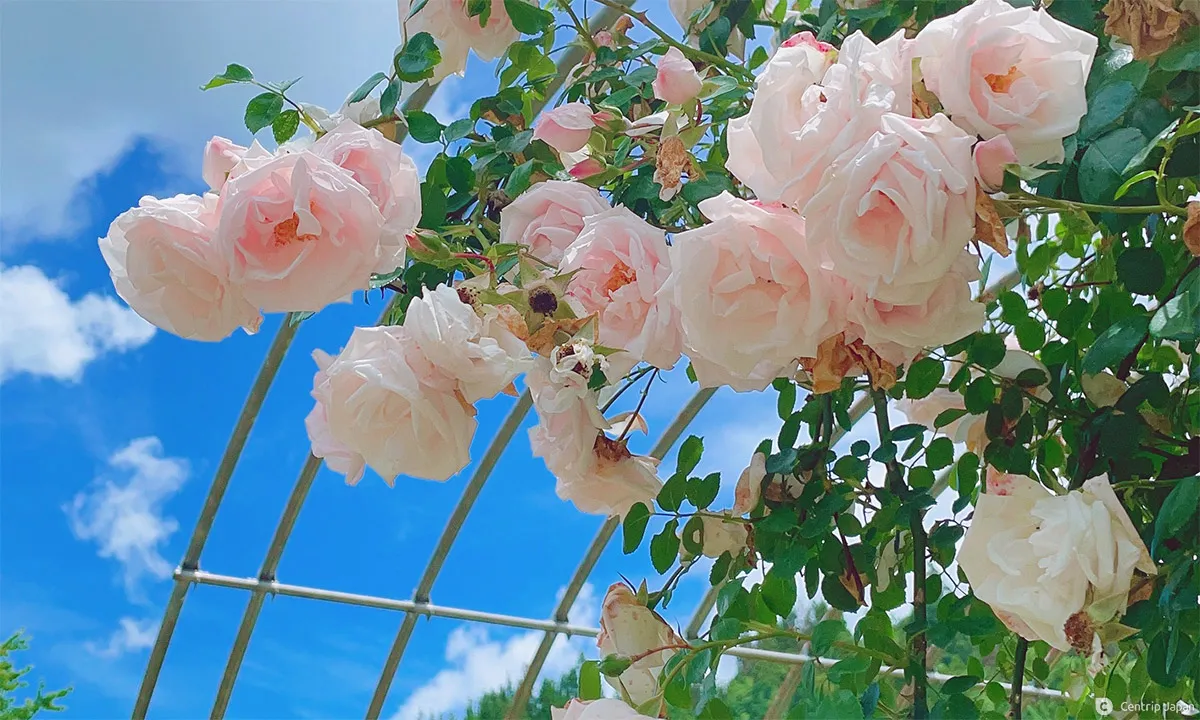 The pale pink roses look lovely contrasted with the blue sky.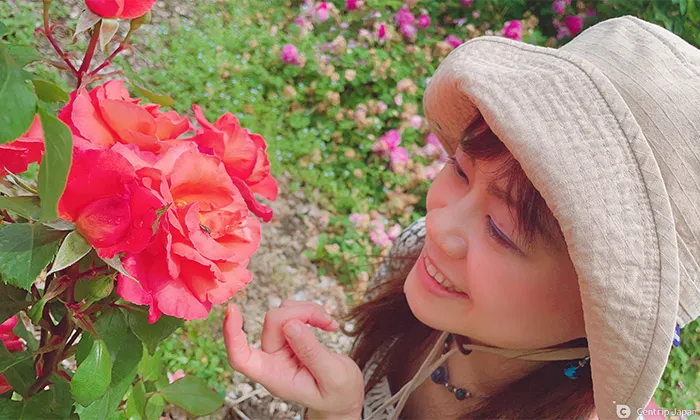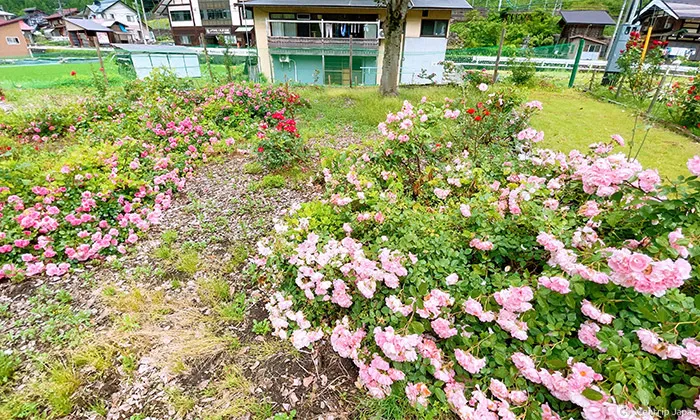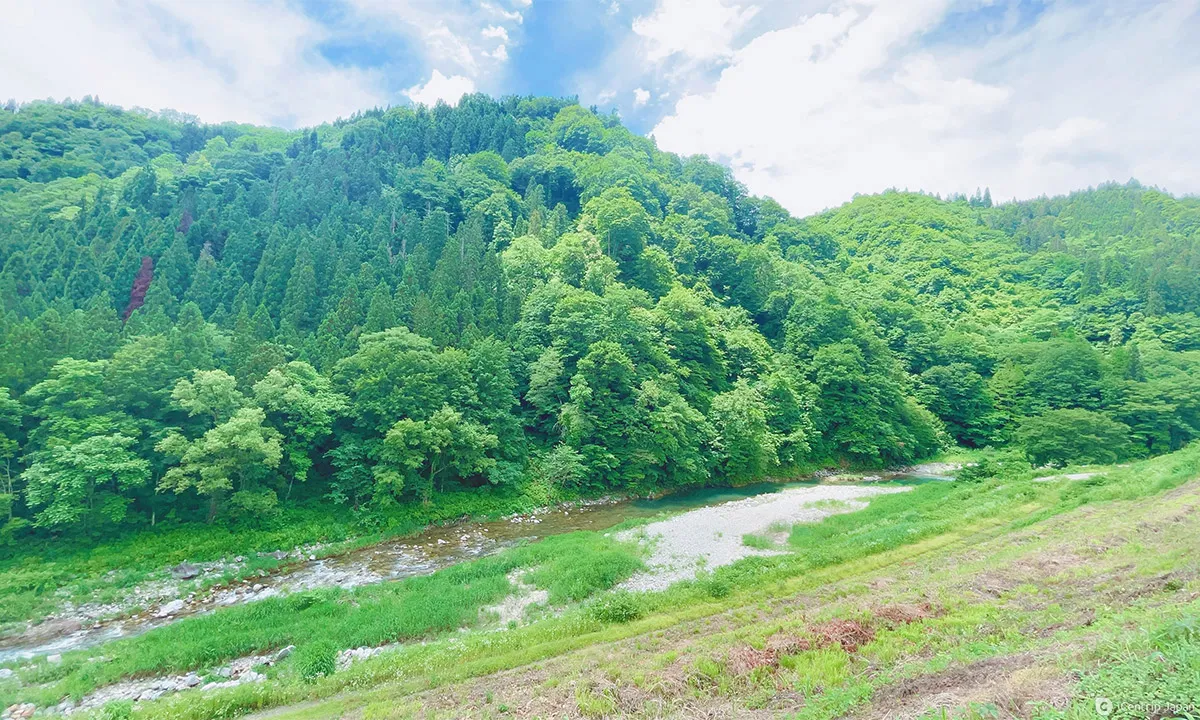 Walk along the Odori River for scenes of red roses contrasted with the surrounding greenery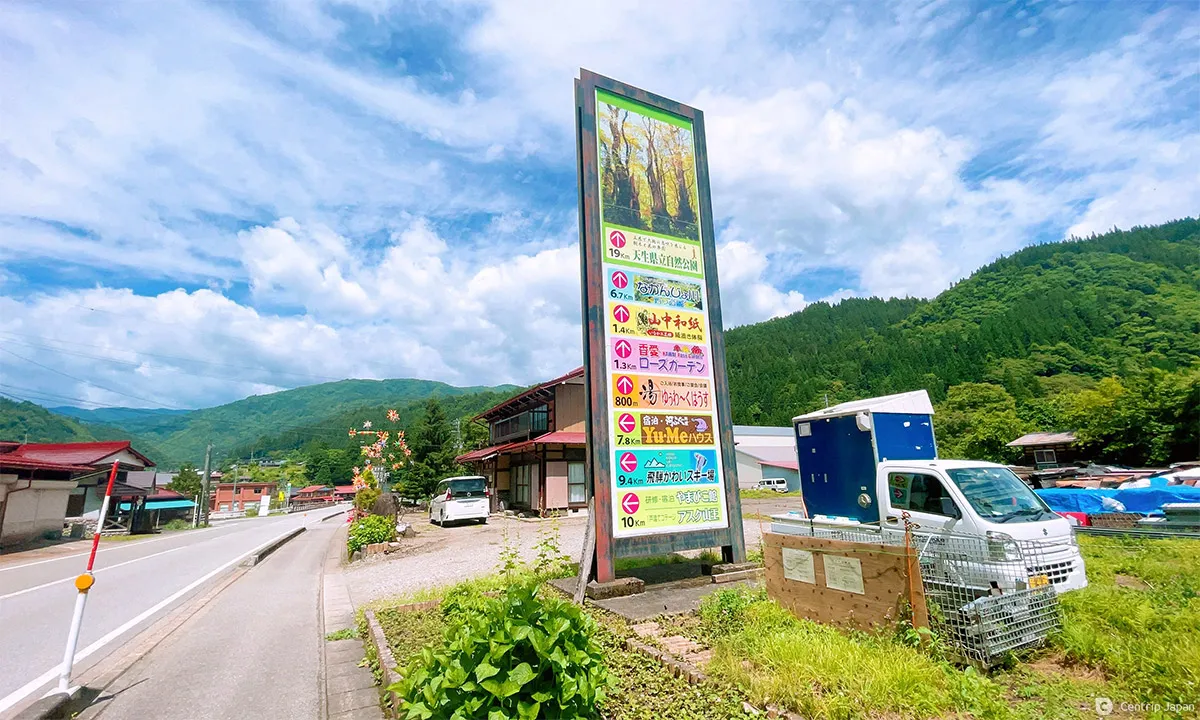 Heading to the rose garden on the way from the station
Kawai Rose garden is open from mid-June until October and is free to enter. Discover the characteristics and the distinct fragrances of each rose as you stroll through the garden. Who knew roses could smell so great?
Directions and Fare
To visit the garden from Takayama, either drive or take the JR train and get off at Tsunogawa Station, then walk for 25 minutes to the garden. The one-way train fee is 510 yen per person. Remember to pick a sunny day to visit this garden as everywhere you look is instagrammable.
Shirakawago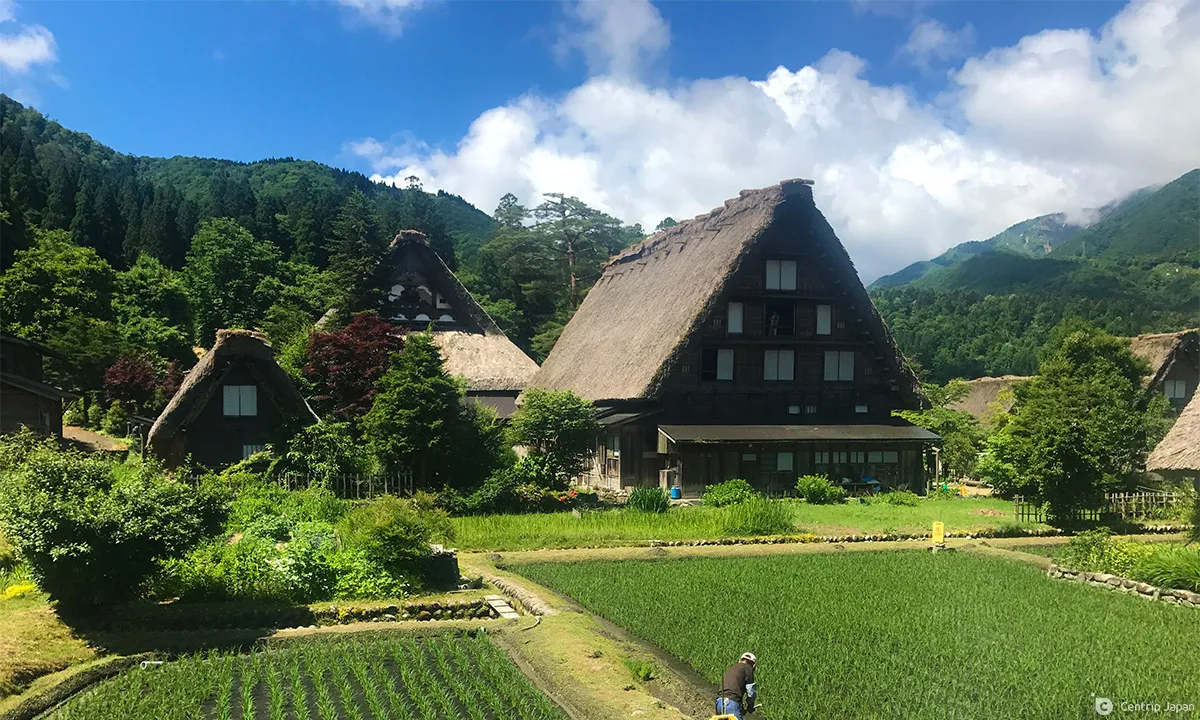 Shirakawago looks vivid in summer with the green stalks of freshly planted rice.
The UNESCO world heritage site Shirakawago is famous for its winter scenery, but early summer is also extraordinary. Hydrangeas thrive in the summer rains adding to their vibrant looks. This vivid appearance makes the hydrangea a popular flower for viewing in Japan.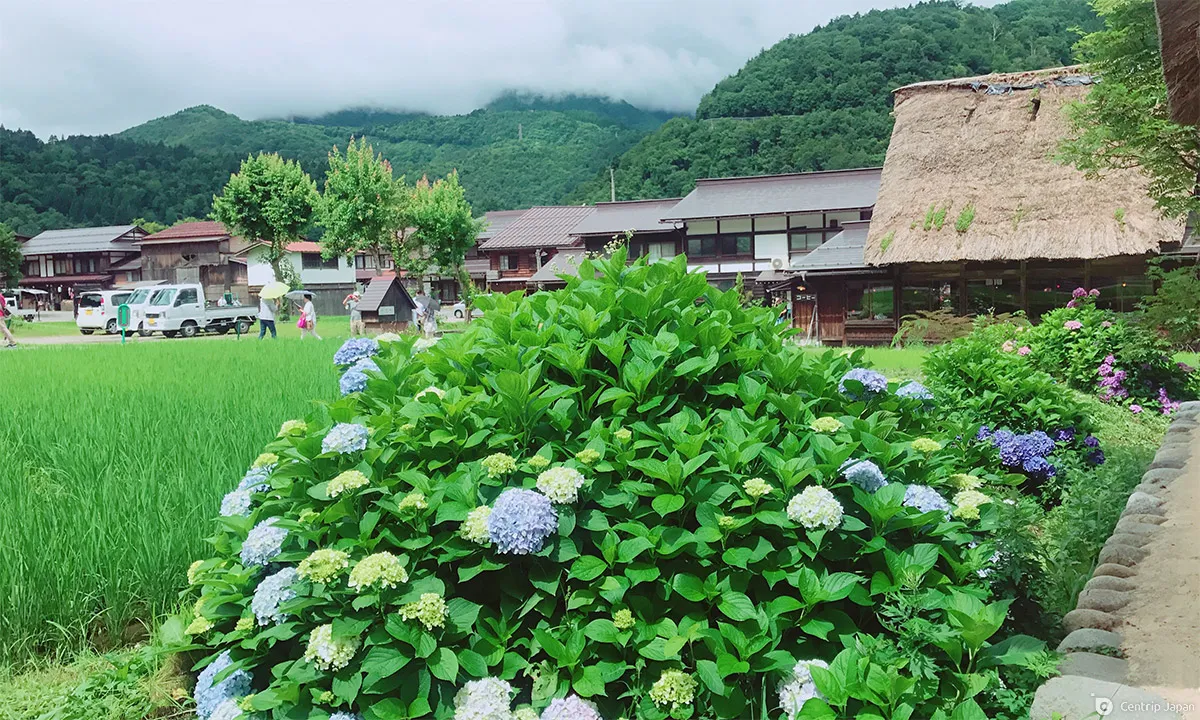 Shirakawago remains picturesque with summer hydrangea
The hydrangea, surrounded by mountains with misty clouds, and steep-thatched-roof houses, create picturesque scenery. Shirakawago is a lively village of 600 Gassho-style gingerbread-like houses from a storybook and is easily accessed from Takayama by bus or car in an hour; once you step into the village you are immersed in a fantasy wonderland. The morning is the best time to take pictures in the misty fog and light.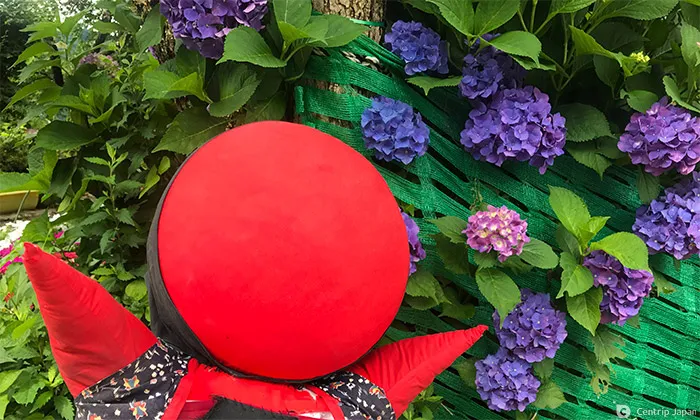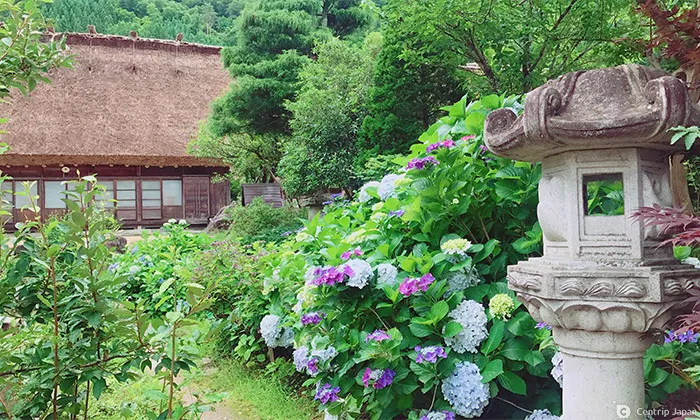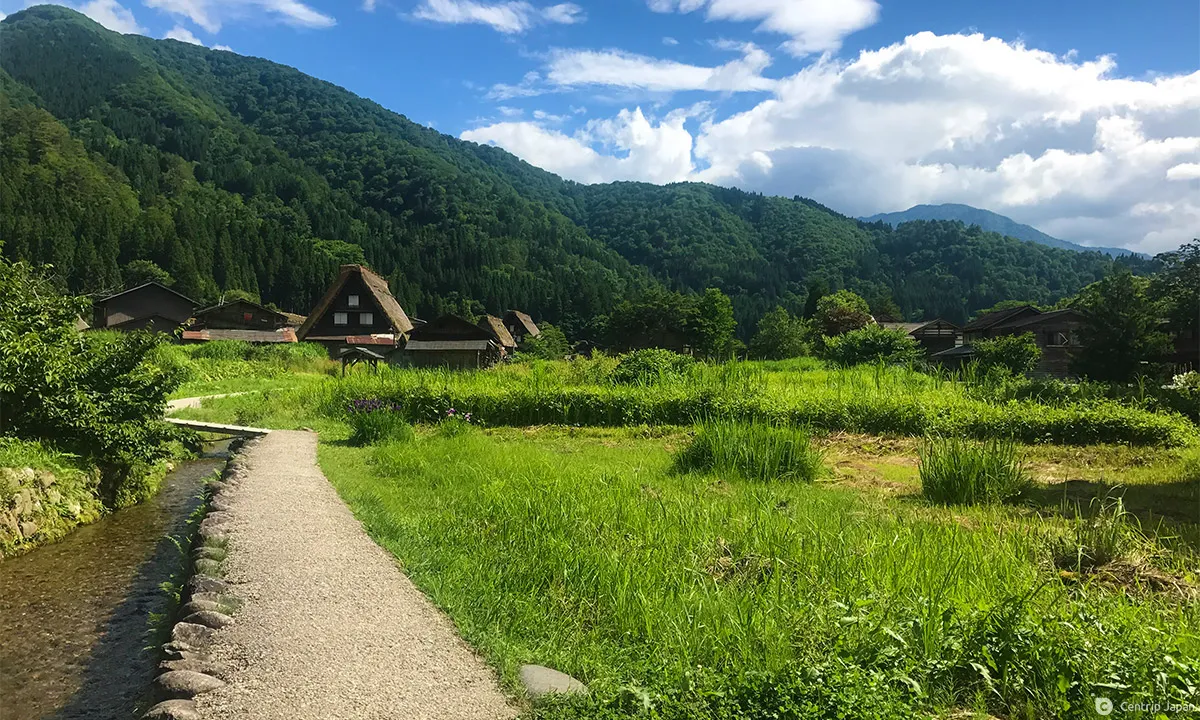 A walk relaxing early summer walk in Shirakawago
Amou Prefectural Natural Park
Ready to indulge in an off-the-beaten-path trail to partake in some forest bathing? Amou Prefectural Natural Park, between Kawai town and Shirakawago, has abundant natural marshes, beech forests, alpine plants, and seasonal flowers.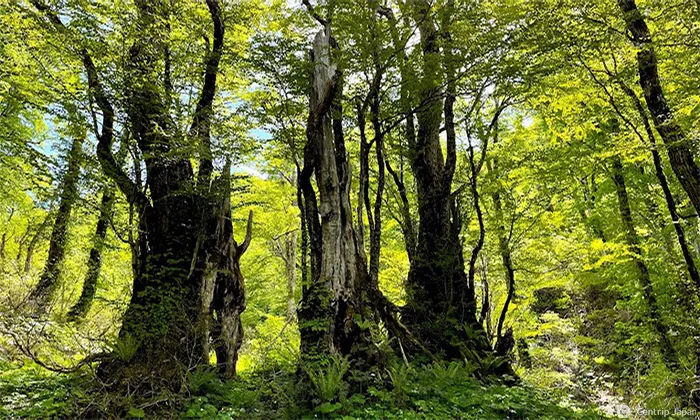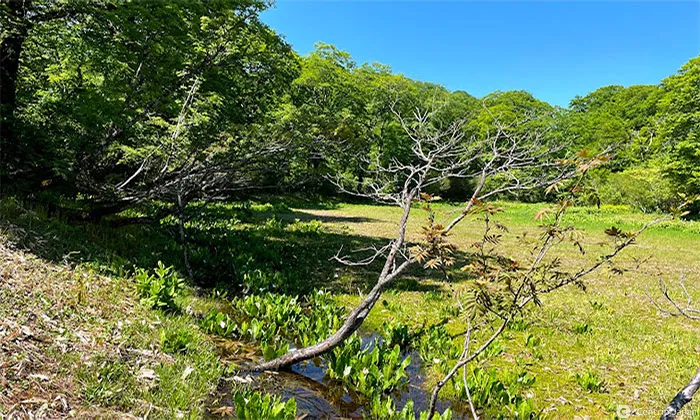 Because the park is situated over 1,300 meters above sea level, and snow piles up on the road through the winter until May, it is best to visit after the snow melts in June. The shortest route is 1.1 km long and takes 40 minutes to finish with flowers such as mizubashou flowers(Asian skunk-cabbage), soft windflowers, diphylleia grayi, and daylilies in Amou Highland Marsh.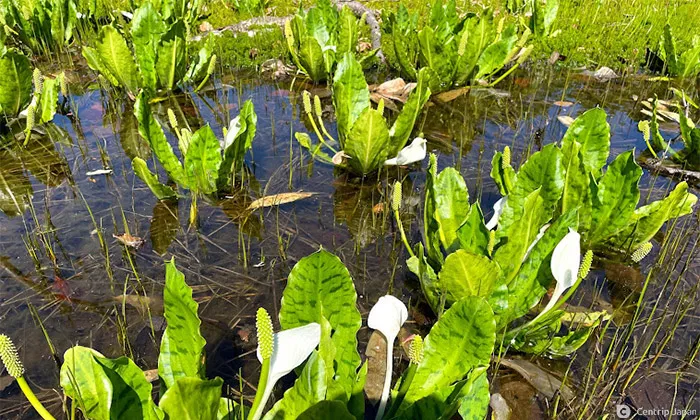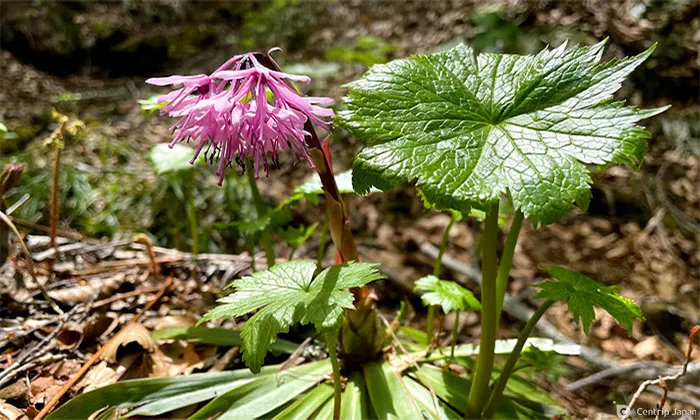 Keep walking towards the branch of Karatani, and you will find giant Katsura trees called Katsura Gate. Touch it and feel the powerful energy from the tree. Here you can continue the journey and hike for another 10 or 70 minutes to see the mizubasho flowers in Mizubasho and Kidaira marsh.
There is another 2.3km hiking route to the top of Mt. Mominuka with breathtaking views of the Japanese Alps. The park is also renowned for having fantastic autumn foliage. To get to the park, it takes about 1 hour to reach the Amou Prefectural Natural Park Parking Lot from Takayama by car. Alternatively, it is only 13km from Shirakawago, so add another 20 minutes for the total time. Please be careful when driving as the roads are narrow and have many curves.
If you want to relax your muscles after the hike, head to Nukumori no Yu Spa for a natural onsen. It only takes 40 mins by car on the way back to Takayama. This area is famous for fruit such as apples and peaches, so you may want to purchase some while at the onsen.
How to reach Takayama
From Nagoya, take the JR Wide View Hida train. It takes about 2 hours and 40 minutes. Alternatively, take the bus to Takayama. A one-way train ticket is ¥5,610, whereas the one-way bus fee to Takayama is cheaper at ¥3,100.
Wrap Up
Ready to explore the lush greenery in the Hida region and enjoy the seasonal flowers? Whichever you prefer, the scents of Kawai Rose Garden, the hydrangeas of Shirakawago, or the variety at Utsue 48 Waterfalls, we've got you covered. Cap it off with a hike through Amou Prefectural National Park and take a relaxing dip in an onsen. We hope this article helps you to prepare for your next summer trip.
Click here to get the latest information on Central Japan.Centrip Japan - Nagoya and Chubu Information