| Jessica Piora & Yuichi Kobayashi
Komoro Kaikoen: autumn leaves and castle ruins
What is the best place to enjoy the autumn red leaves in Japan? Komoro Kaikoen is a great candidate!
Komoro Kaikoen is a municipal park in Komoro, Nagano Prefecture.
Kaiko means "recalling the old days", making Kaikoen a park where you can commemorate the old Shogun castle of Komoro.
The castle of Komoro was built in 1554 as a fortress and later rebuilt as a castle.
Through the years, the castle was controlled by different clans and lords, and it was ultimately destroyed in 1871, after the Meiji restoration.
Kaikoen is a great location for history enthusiasts, art fans (the park is currently hosting a photography exhibition), and nature enthusiasts.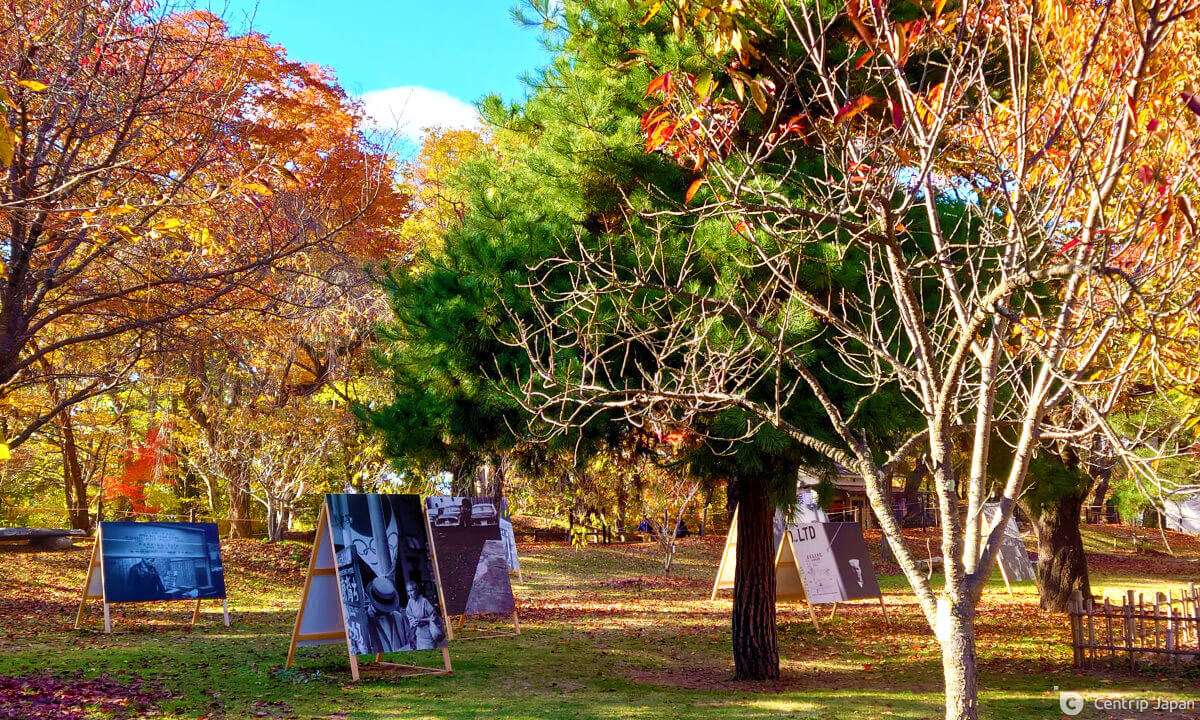 Photography exhibition in Kaikoen
If you want to see the beautiful autumn leaves that characterize autumn in Japan, this is an exceptional location to do so.
The park is stunning. Here you can take a walk and fully appreciate the beauty of this season.
Komoro
Komoro is a small town (of 40,000 inhabitants) located in Nagano prefecture.
It is a nice destination for people who enjoy nature and old atmospheres. The municipal park surrounding the ruins of an old shogun castle is the ideal location for those who wish to learn more about the old Shogunate days, and the streets and cafés will take you back to the Showa era.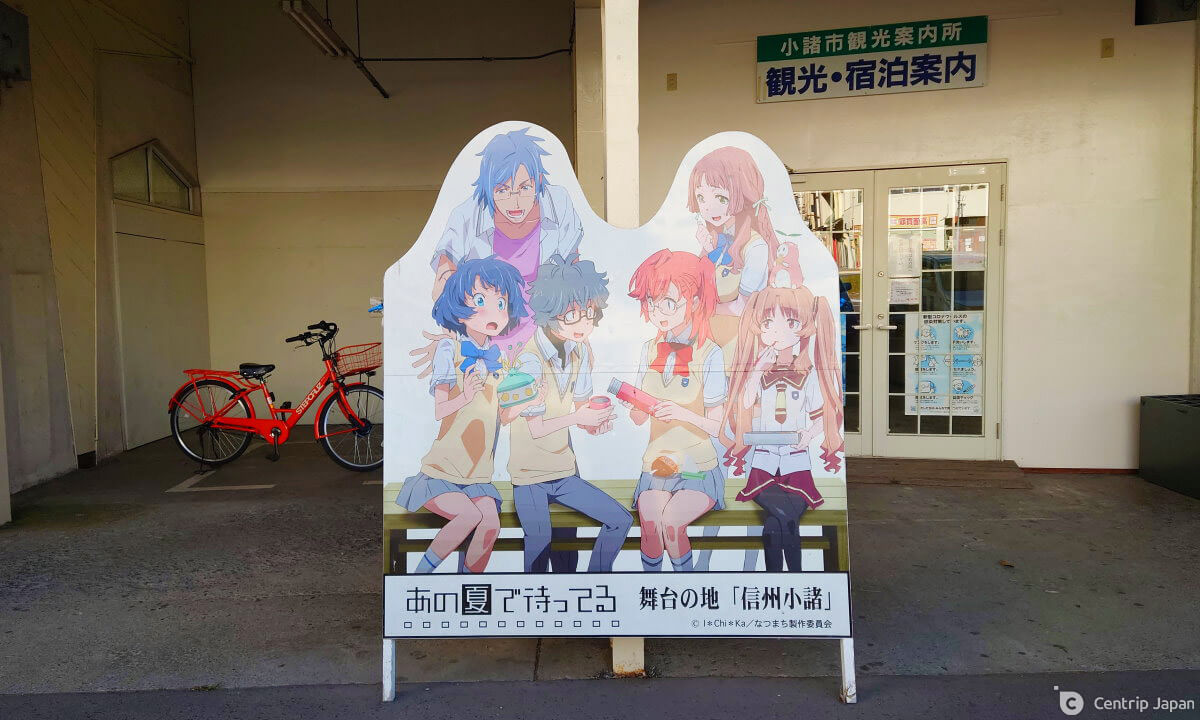 Ano Natsu de Matteru is an anime set in Komoro!
To reach Komoro from Nagoya Station take the Shinano line to Nagano.
From Nagano, get on the Testudo line for Komoro and get off at Komoro station.
The park is right next to the station!
To visit Kaikoen, you need to pay an entrance fee of 200 yen.
Kaikoen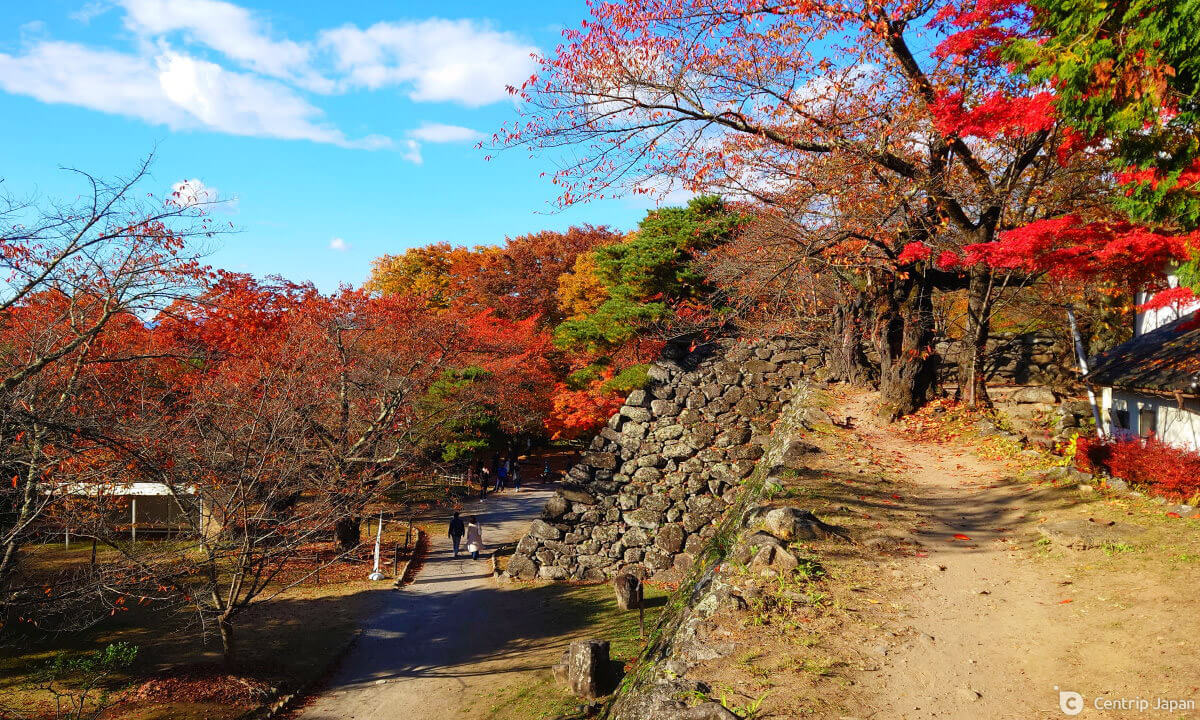 Take a walk in the park
Kaikoen is a beautiful municipal park that surrounds the ruins of the old castle. 
It is popular among local people who come to the park for their morning walk, and you will notice that it has plenty of visitors all year round.
 In Japan, enjoying the red autumn leaves (or koyo) is a widely appreciated activity, just as appreciated as the more popular hanami in spring. 
The best way to enjoy koyo is to take a walk in a beautiful park, like this one. 
In Kaikoen the Autumn view is spectacular, but it is beautiful all year round.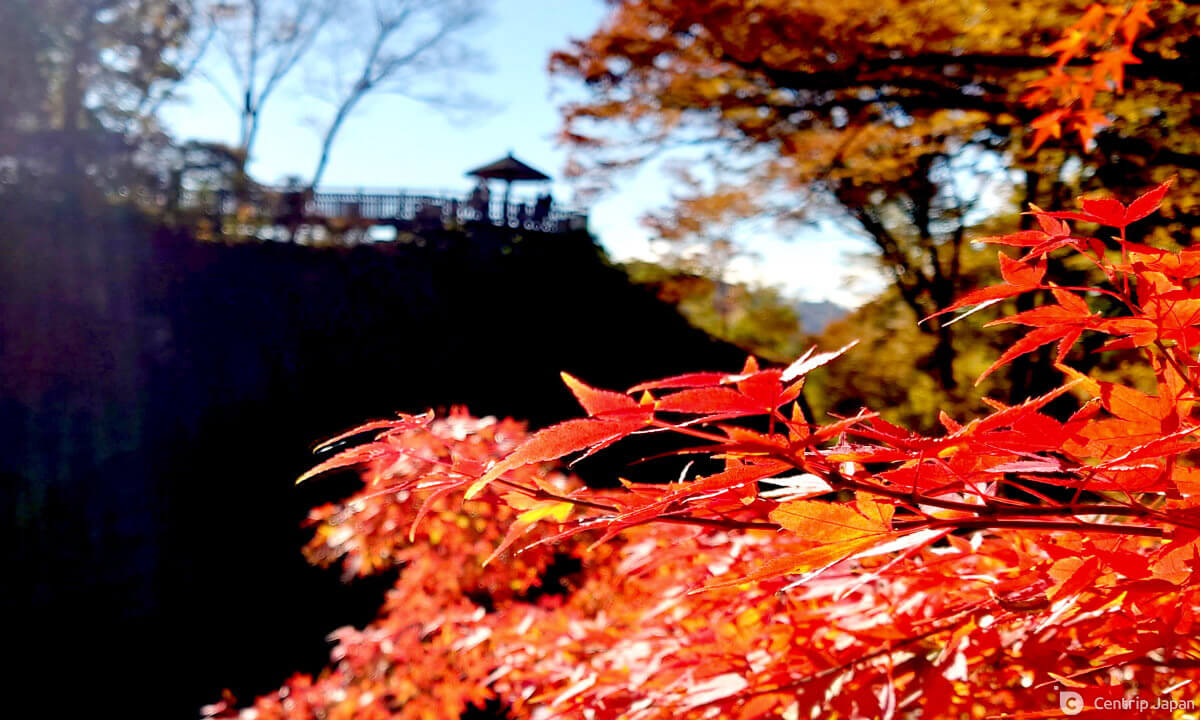 Kaikoen, observatory and red leaves
The park is currently hosting an art exhibition that features a number of photographs. This is "boat" by Kensuke Koike.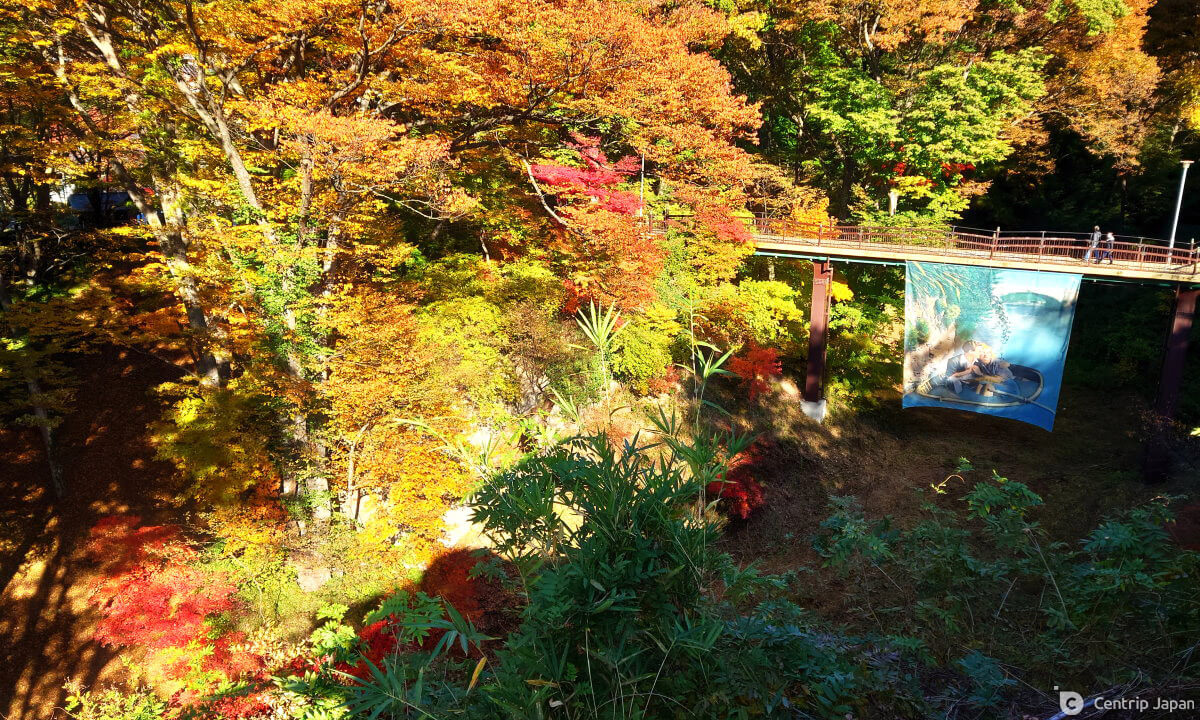 Boat, art in the park
Ruins of the Castle
As you walk around the park, you will see the ruins of the Shogun castle and a little signboard in front of each of them, explaining their history and relevance.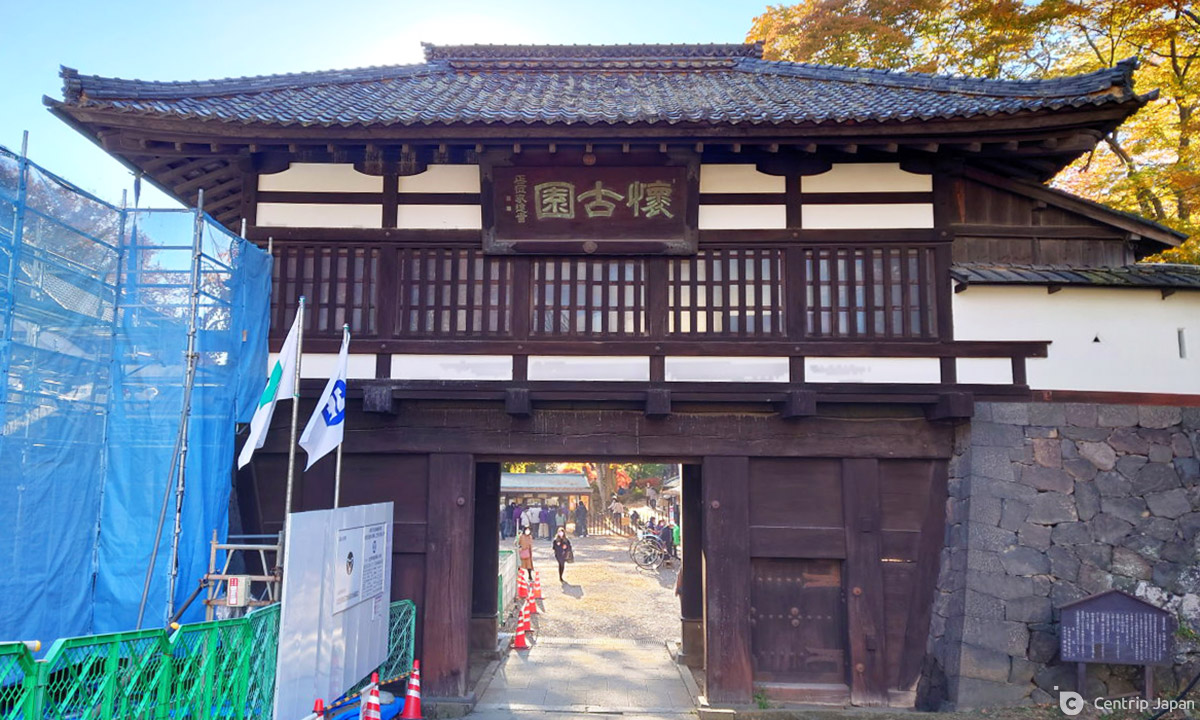 Entrance
You can see remains of the old castle gates and towers.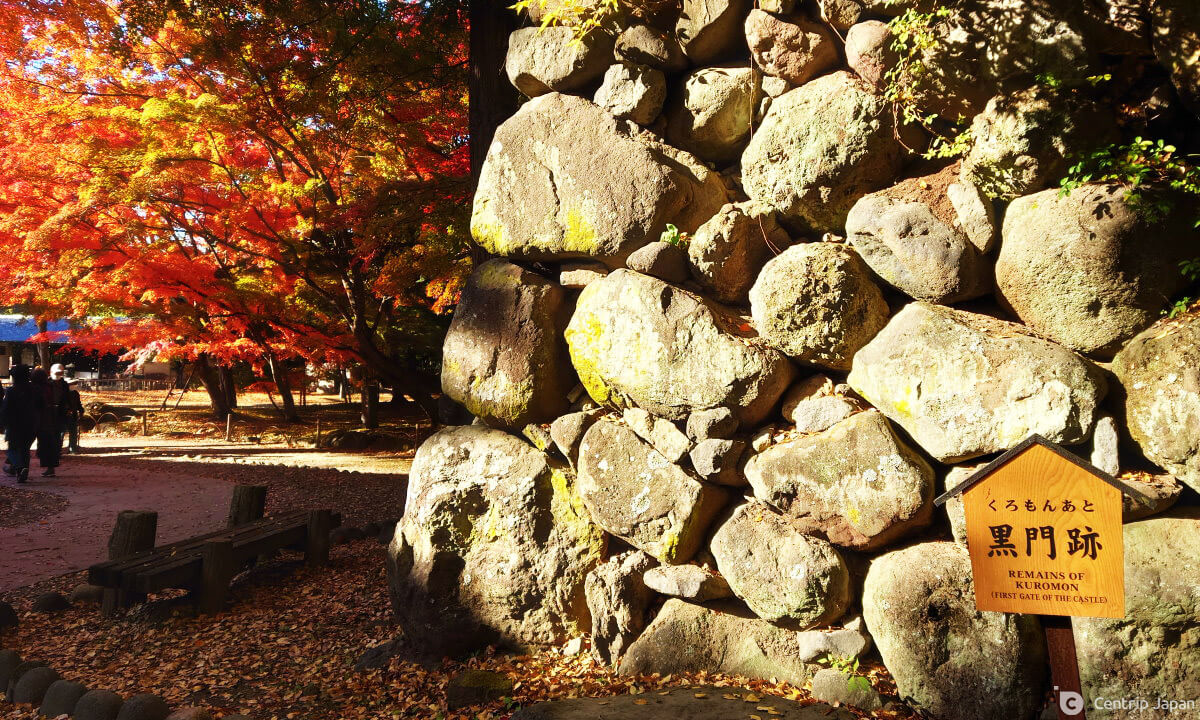 Remains of the first gate of the castle
This small building is where the old weapons of the castle are kept. Part of the photography exhibition is taking part inside the building, as well.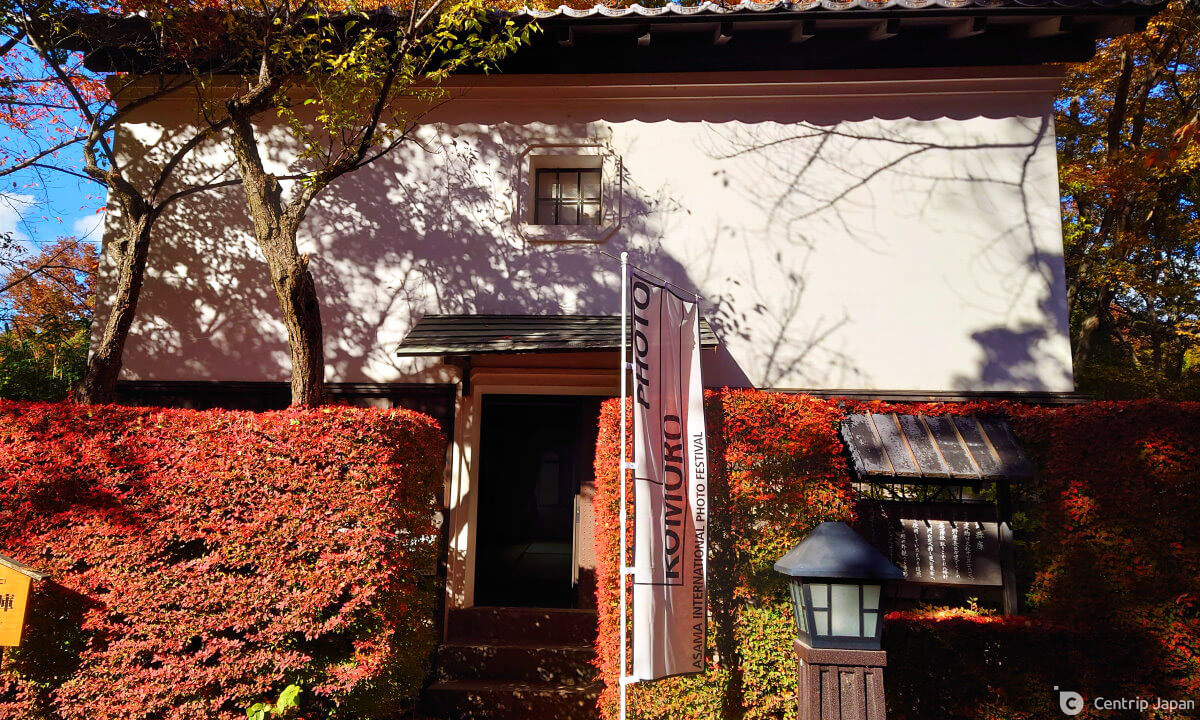 Bukiko
This interesting box is not part of the castle ruins, but it commemorates a Buddhist priest, that used to come here to preach. It plays a recording of a sermon from Priest Sodo Yokoyama(1907-1980).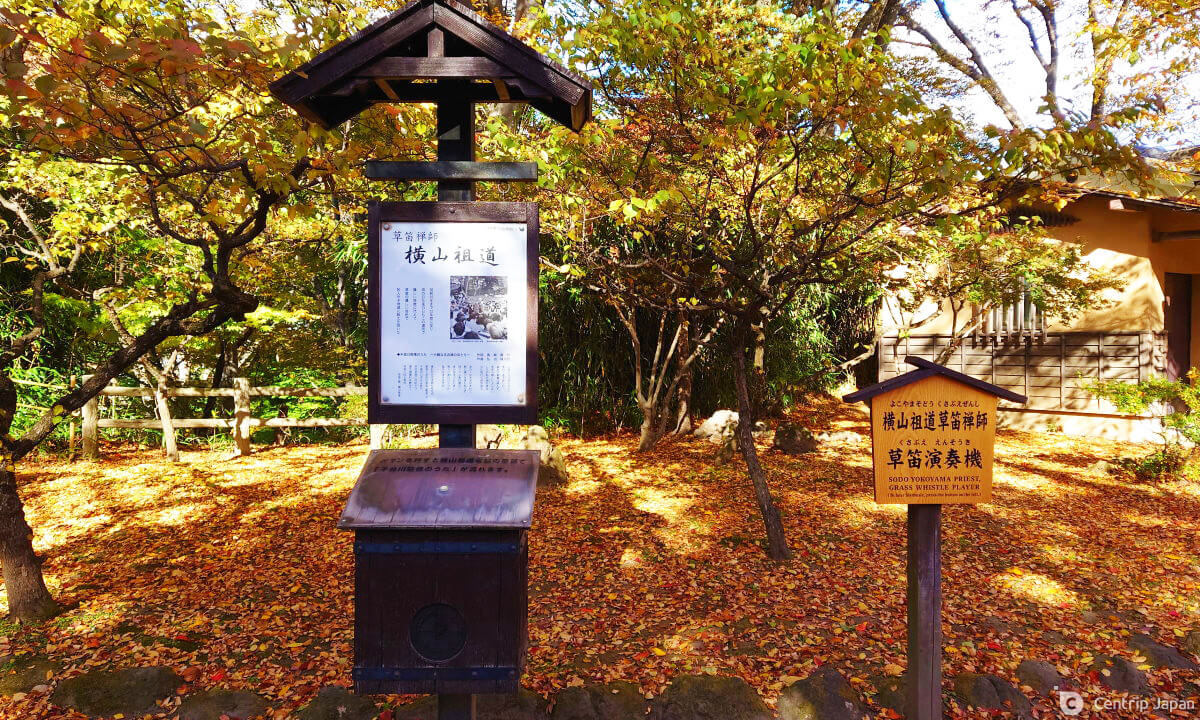 In memory of Yokoyama Sodo
He would preach Zen teachings using a grass whistle. He used to sing difficult ideas to children, in a way that made them easy to understand.
This spot was used as a resting space for the carriage of the lord.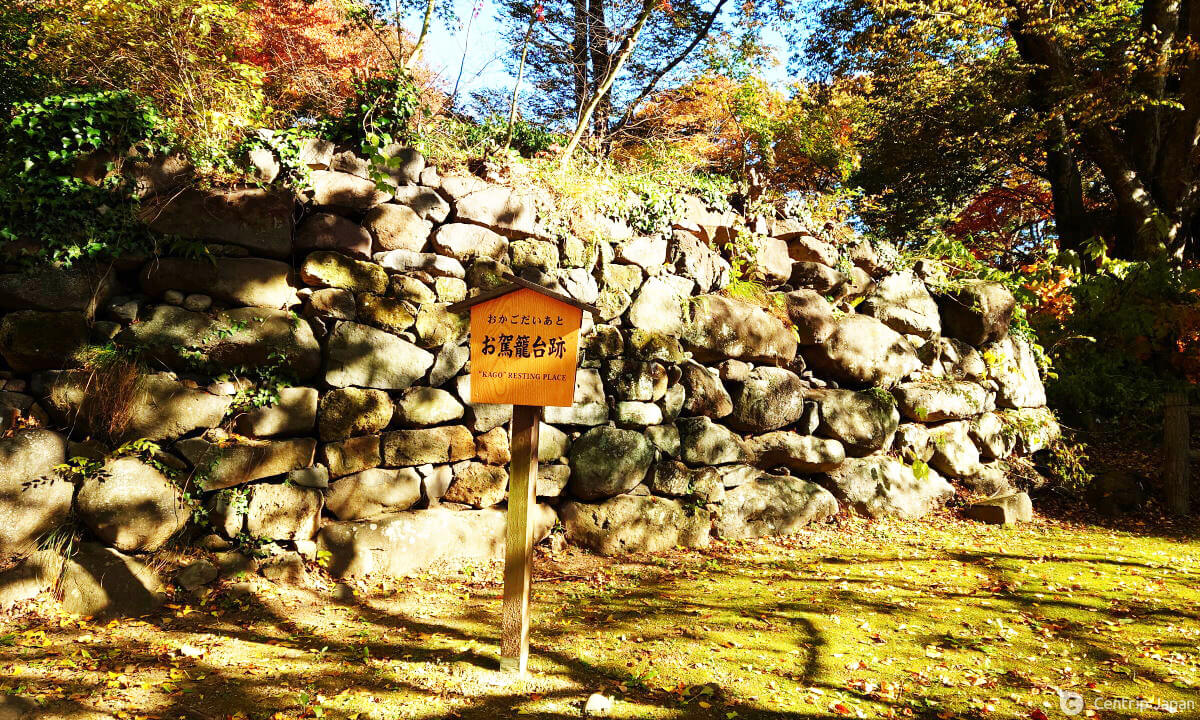 Carriage resting place
The honmaru remains are the remains of the main part of the castle.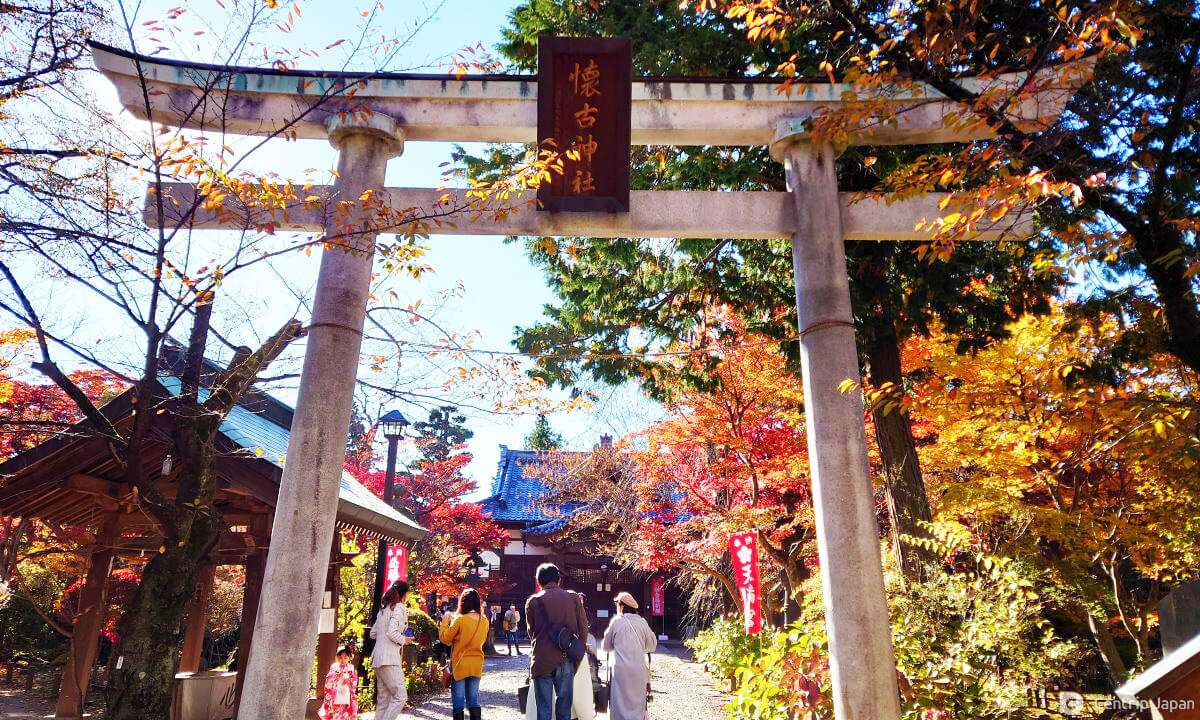 A shrine in the park
In this part of the castle, there is a little jinja (a Shinto shrine), with a beautiful carp pond. It's a picturesque corner in the park, ideal for taking evocative pictures like this one.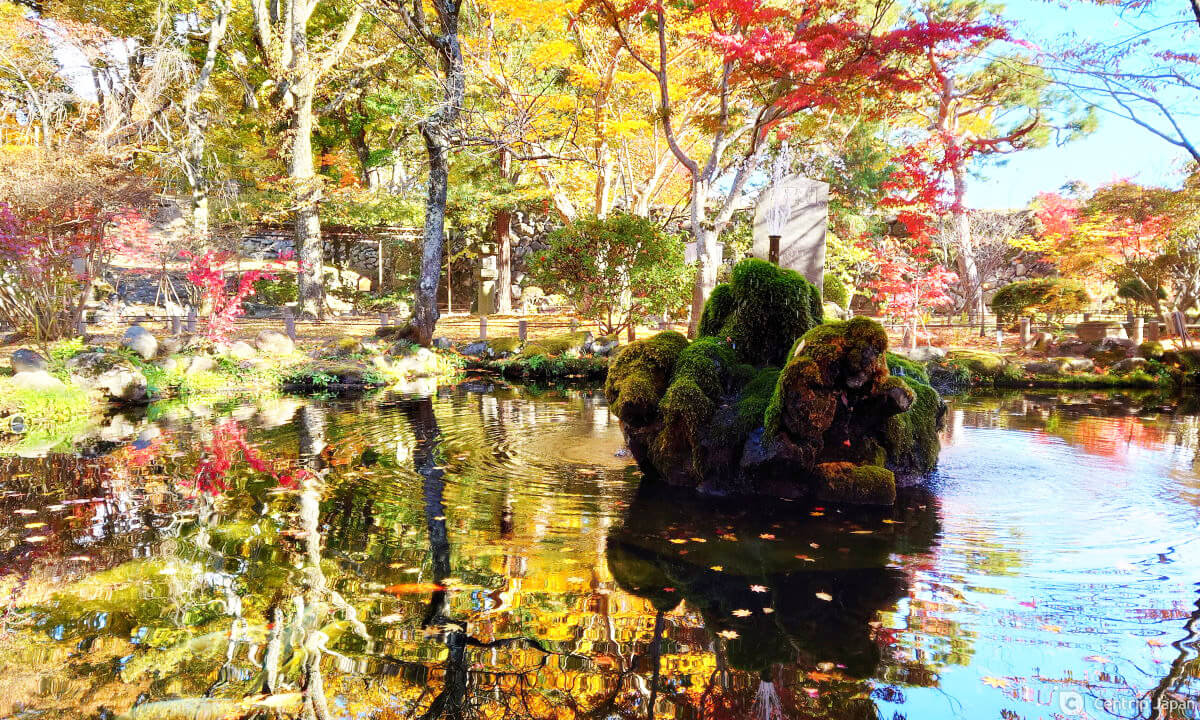 Carp pond
This is a mirror stone, which you can use as a mirror. It reflects your face!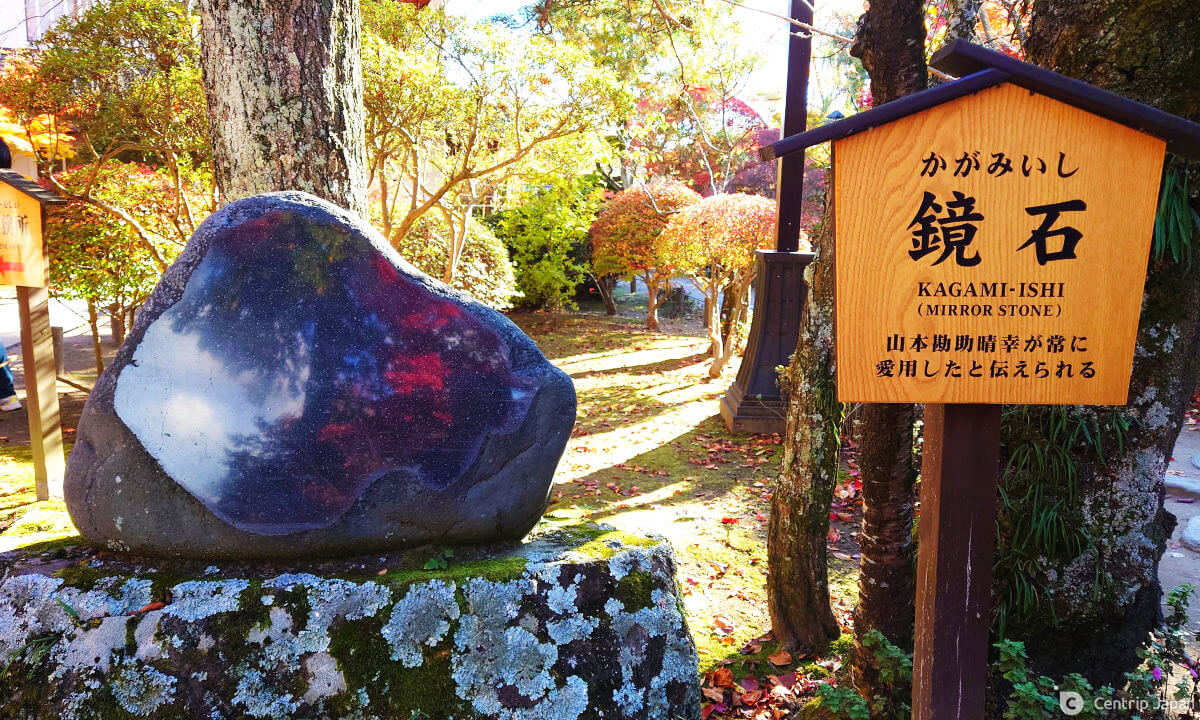 Mirror Stone
Here you can pick an omikuji to predict your future! The selection of omikuji was peculiar, and I chose this one, which is Rilakkuma themed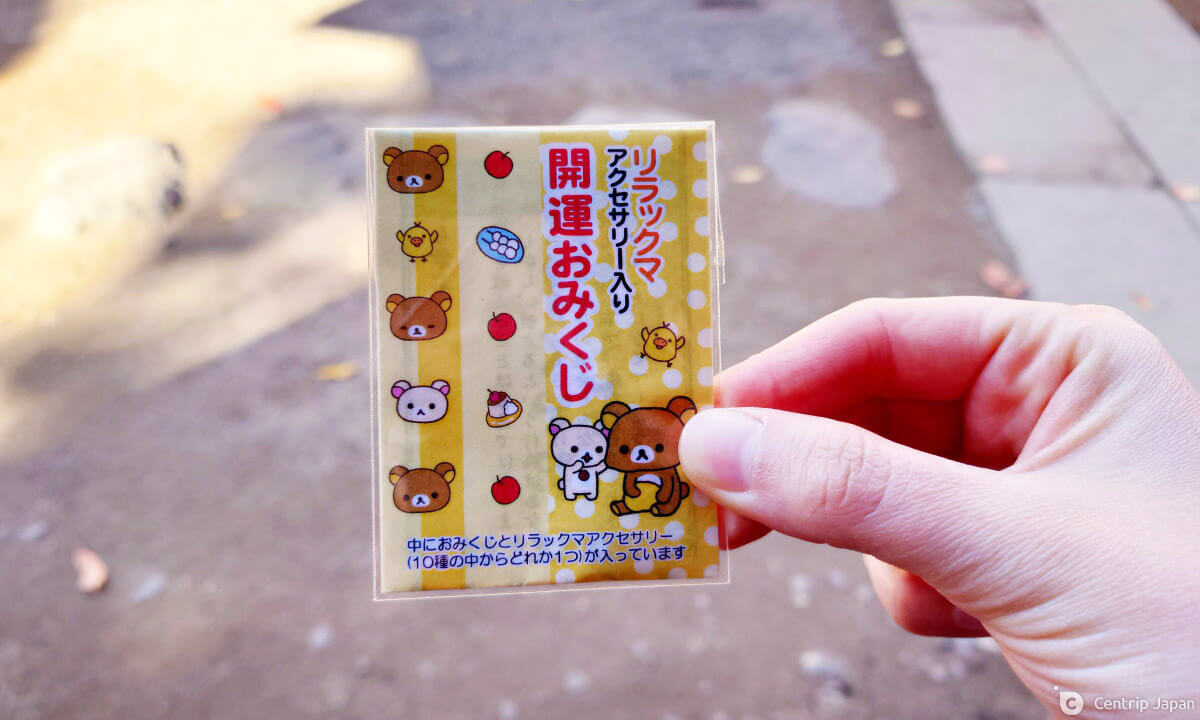 Rilakkuma predicts my future
How to draw an omikuji:
Omikuji are little oracles you can find at temples and shrines in Japan. Drawing one can cost a different amount of money, depending on the shrine or temple, but most of the time you can get an omikuji for 100 yen.
Sometimes the omikuji consists of a little stripe of paper, sometimes it comes with a little gadget or figurine like this one, making it slightly more expensive.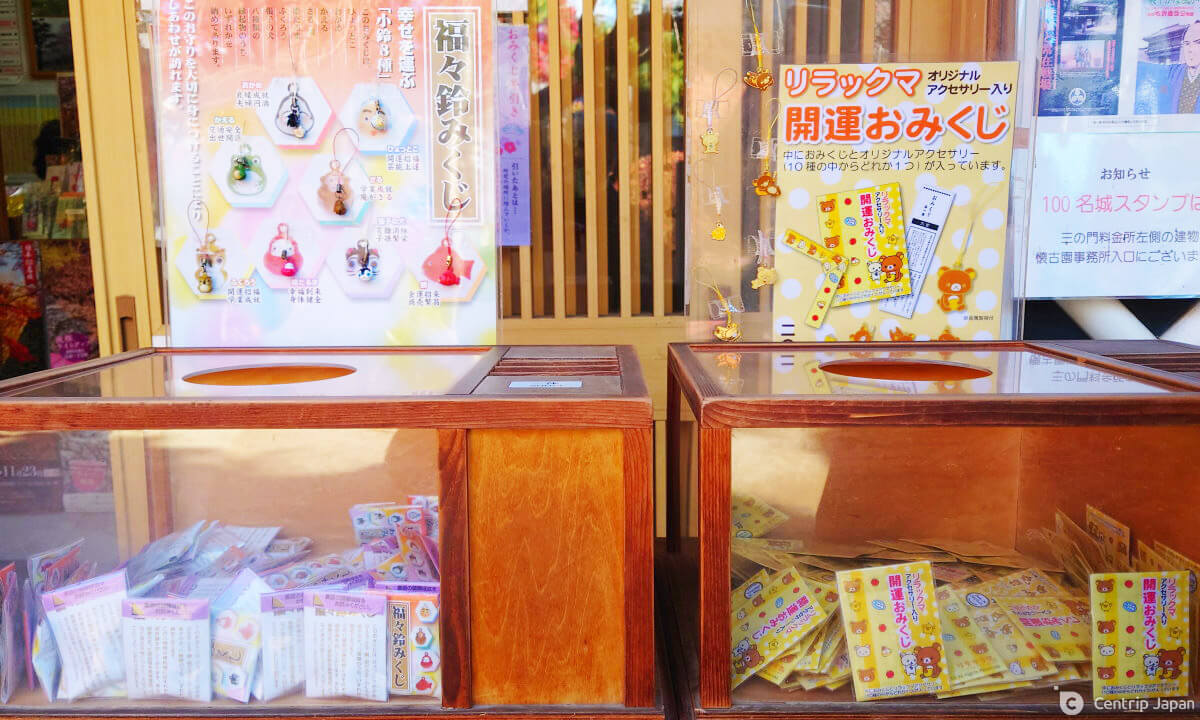 Fancy omikuji
Sometimes the staff of temple will make you choose a little stick and give you a paper stripe with the oracle that corresponds to your stick.
Some other times, like in this case, you can draw the omikuji directly from the box.
After you read your oracle, you can tie it to this rack in the temple.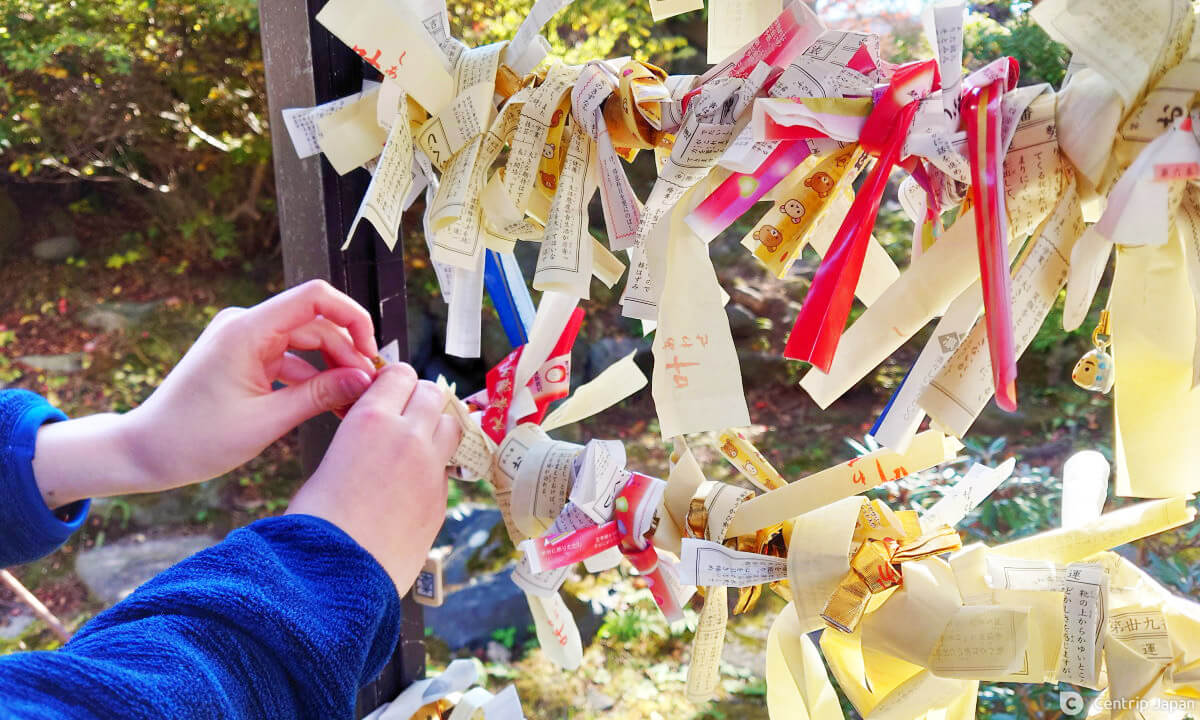 Tie your omikuji to this rack, especially if it's unlucky
Teishaba Garden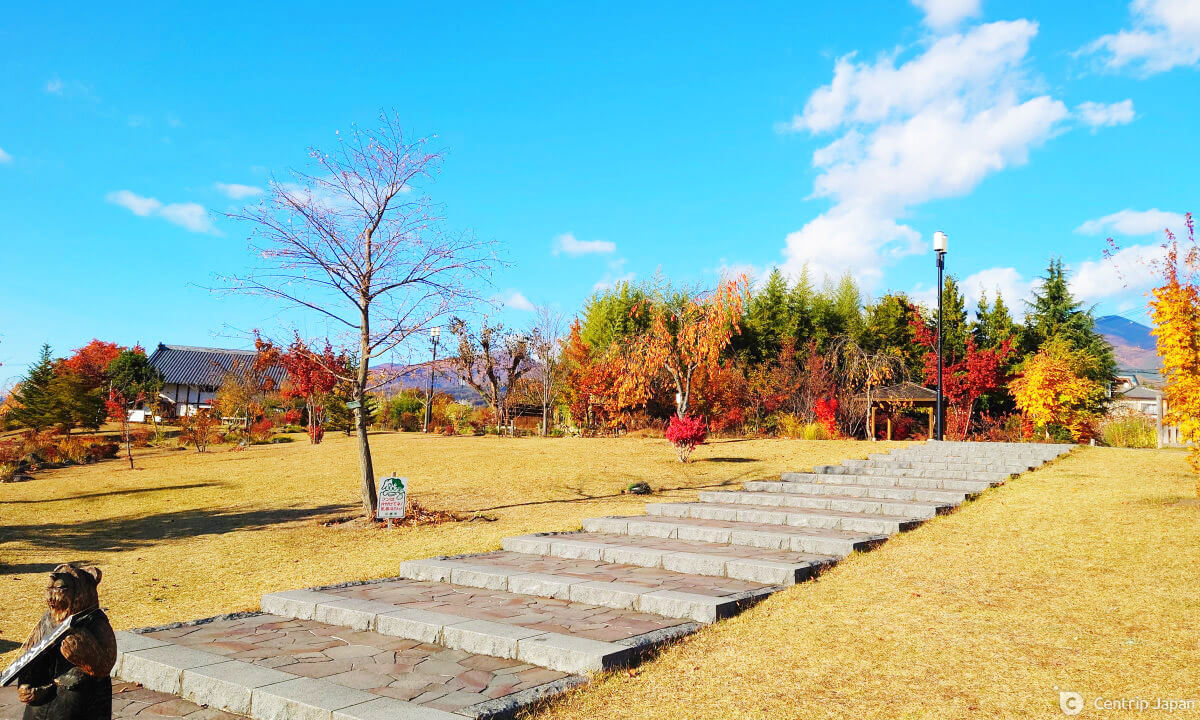 Teishaba Garden
After a long walk in the park, you can enjoy a break at Teishaba Garden.
Teishaba Garden is a small area near Komoro station that includes a botanical garden and some cafes. You can sit on the patio of one of the cafes and look at the beautiful flowers while you enjoy a refreshing drink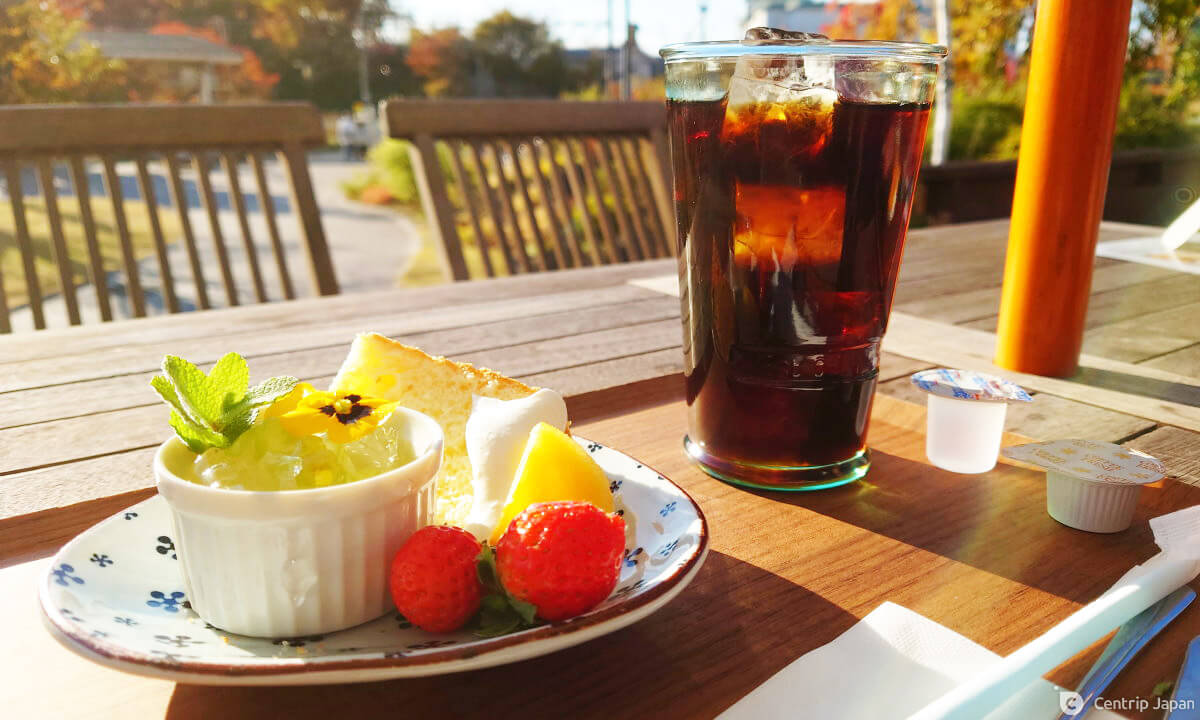 Coffee on the patio
At Teishaba Garden you can also purchase flowers and plants.
Nunobiki Kannon
Nunobiki Kannon is a secret destination in Komoro, and it takes a long hike to get there.
If you are on foot, you can get on a bus for Aguri no yu, and take a 2 km hike from there.
It will take you to a clearing amidst the mountains, where you will find a Tendai temple built over a cliff and a statue of Kannon, the bodhisattva of mercy.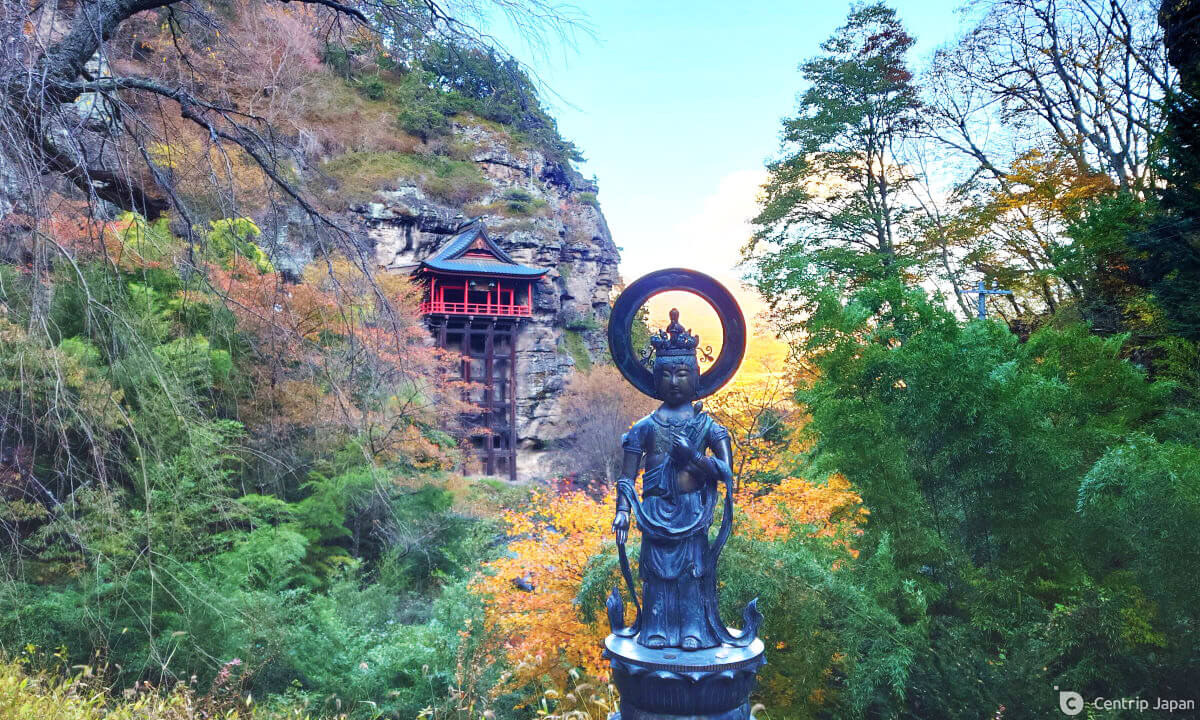 Nunobiki Kannon
If you choose to visit this location, make sure you go when it's bright outside, as the mountain road is steep and quite dangerous if you're not paying attention.
For those who are driving, note that the road to the clearing doesn't have a guardrail. Be careful.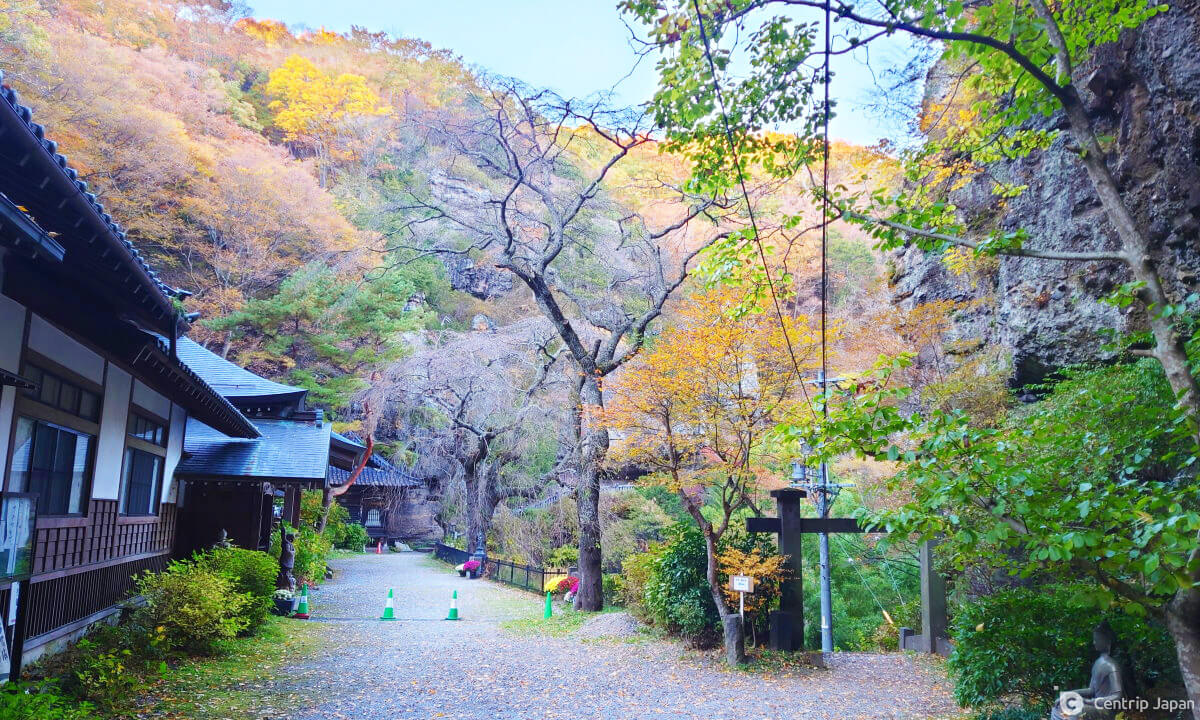 Amidst the mountains
Wrap Up
Beautiful in Autumn, Komoro is a great destination for koyo enthusiasts. It's a small city, but it's full of surprises! If you are planning on visiting Nagano Prefecture, make sure you pay a visit!
Click here to get the latest information on Central Japan.Centrip Japan - Nagoya and Chubu Information