| Hannah Tsai
Visit Izu Atami for a 2-Day, 1-Night Adventure on a Single Ticket-2
Next-Day: 10:00 AM Izu-san Shrine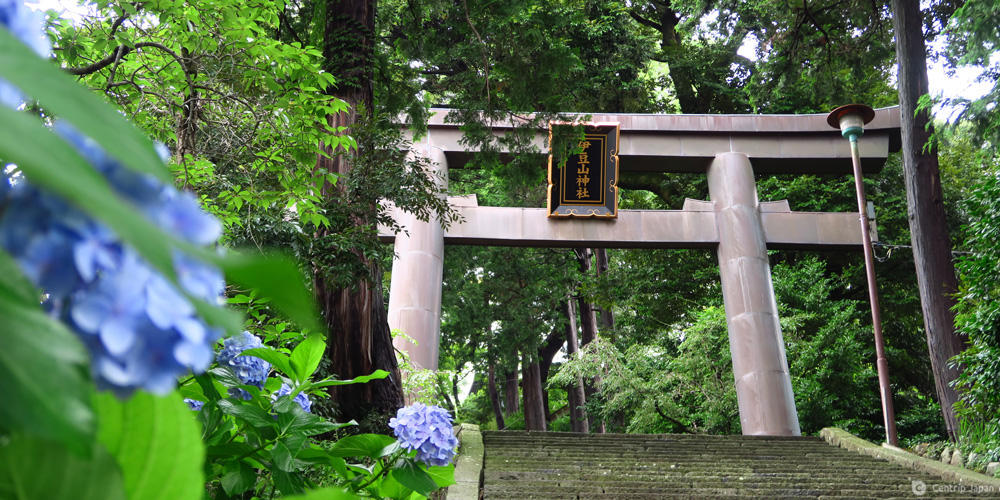 Today, we'll be taking the #5 Yu Yu Bus from Atami Station towards Izu-san Jinja Station. (approx. 7 min.)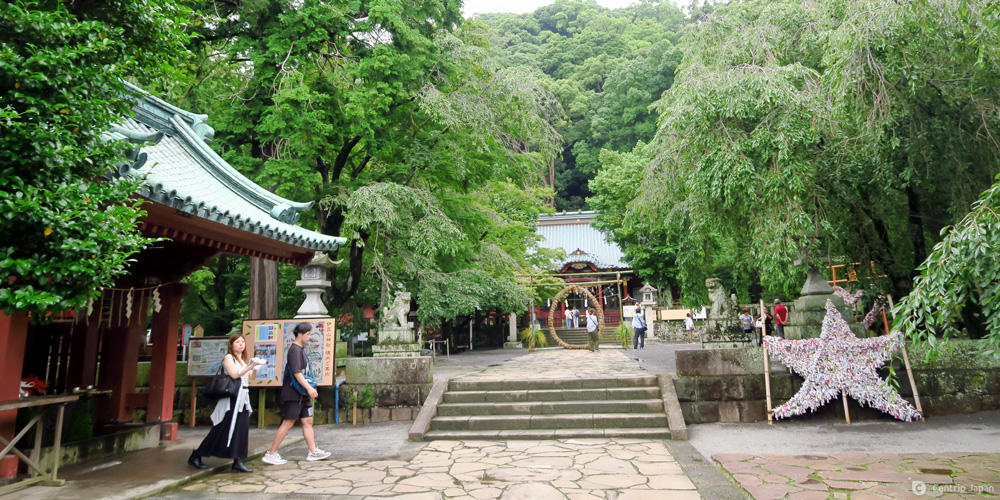 Izu-san Jinja (伊豆山神社-Izu-san Shrine) gets its name from the Izu area. It has ties to the Kamakura Shogunate's Minamoto Yoritomo and his wife Houjou Masako, making it quite famous throughout the ages.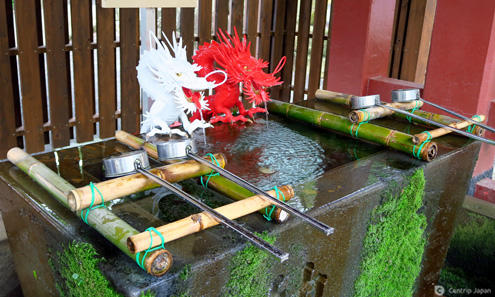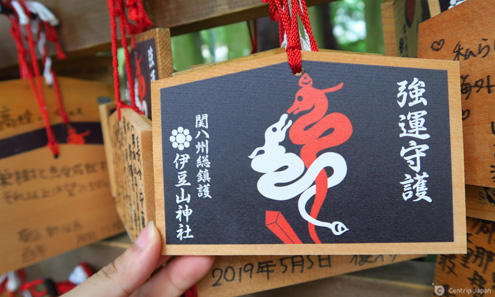 Famously, the water fountains used to wash your hands before entering the shrine are red and white dragons.
It's believed that beneath Izu-san lives two dragons, one red, one white. The red dragon controls fire and the white dragon controls water. These two dragons work together to create hot springs, bring luck, help build good relationships, and prevent disaster. You'll see the red and white dragons on good luck placards and maps throughout the shrine.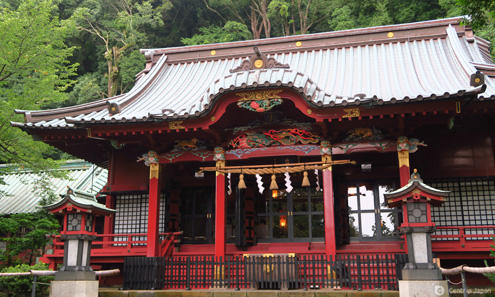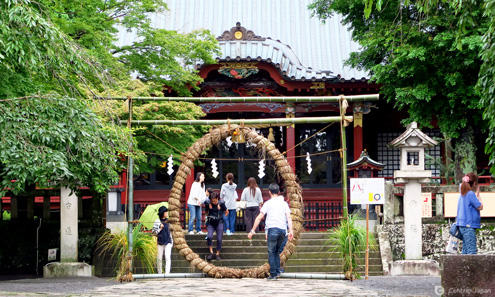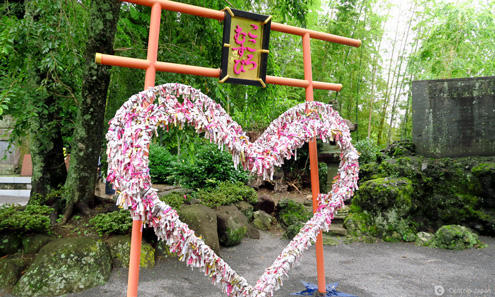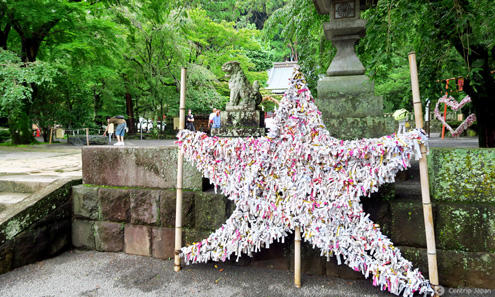 It's called the "Love Shrine" as well, and the fortunes you can buy here are emblazoned with hearts and stars!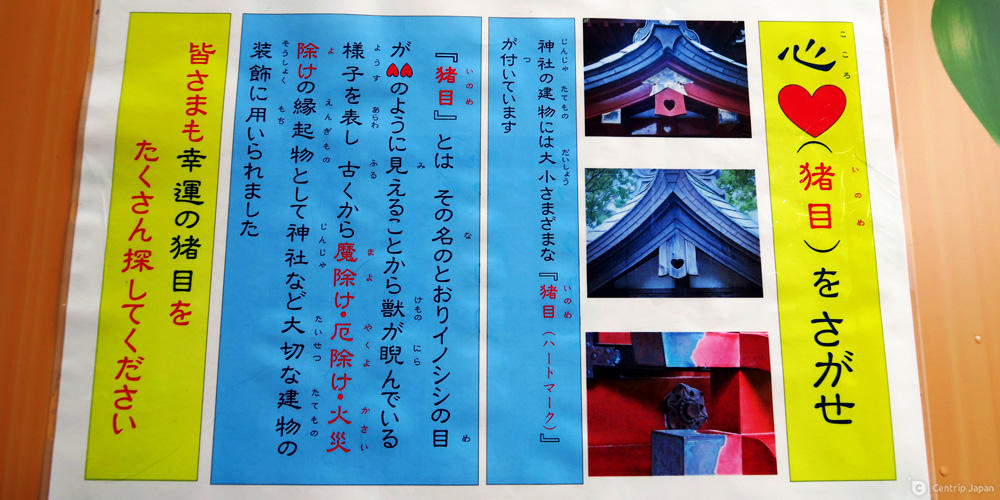 You can see hearts everywhere in the shrine's architecture, but it's no passing fad. The heart shape called "Boar Eye" is so-called because the shape of a boar's eye upside down likes that way. It is said to ward off evil and fire. Better find some hearts!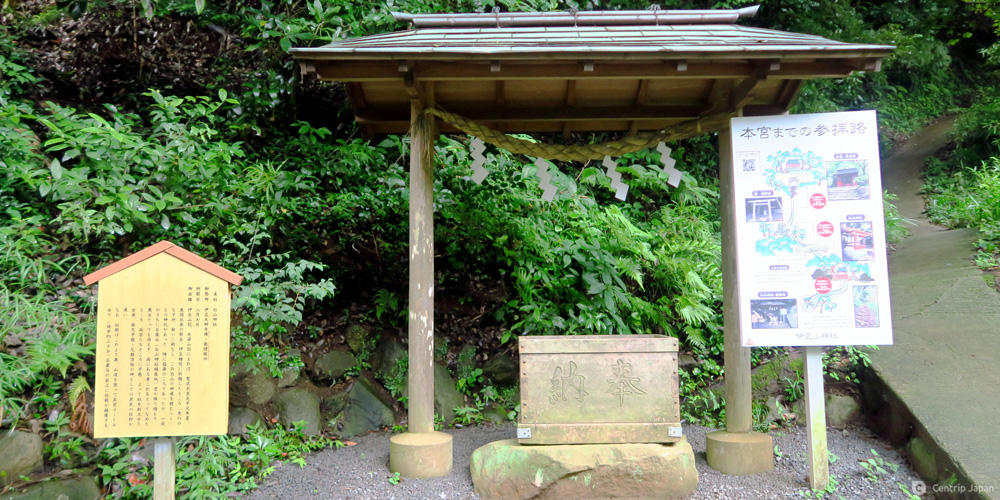 There are two other shrines within walking distance of the main shrine called "Shirayama Jinja (白山神社-Shirayama Shrine)" and "Honmiya(本宮)", which is supposed to be the most powerful of all the shrines, and it will take you about 45 minutes to walk there. If you don't have time, you can also visit the Shirayama Jinja at Youhaijo(遥拝所) at the foot of the mountain.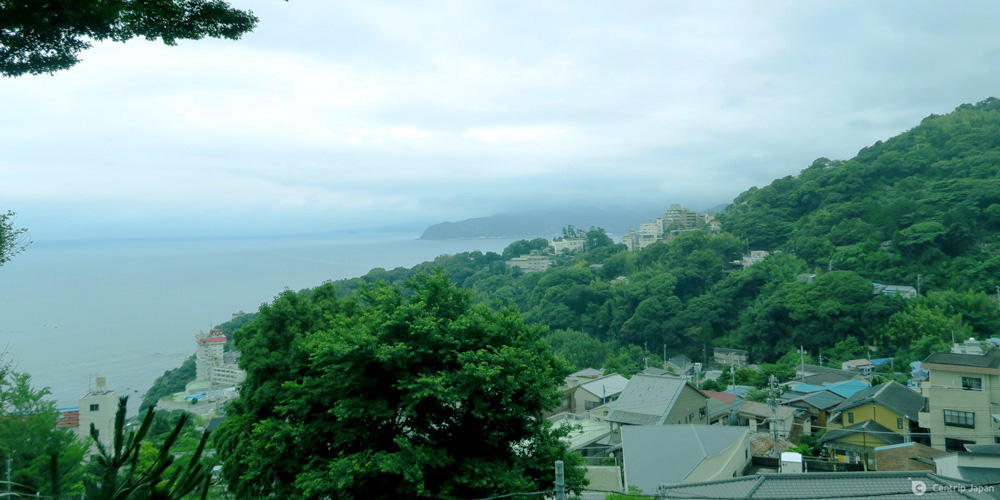 There is a rest area at Izu-san Shrine where you can see the quiet ocean overlooking Sagami Bay at an altitude of 170m.
12:00 PM Shopping District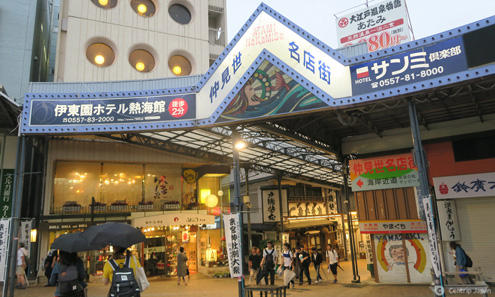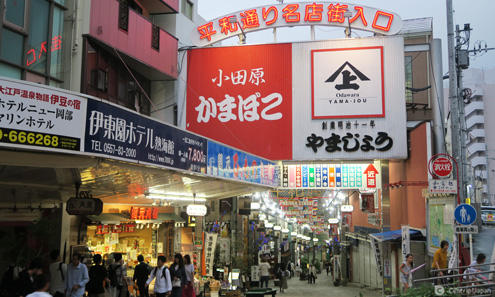 There are 2 shopping districts next to Atami Station, Heiwa-Dori and Nakamise-Dori. They each have several restaurants, souvenir shops, sweets shops, and cafés. You can pick up Atami's most famous sweet, the "Onsen Manju (温泉饅頭-a sweet bun sold in hot springs) ", here and visit the famous tempura restaurant, Maruten.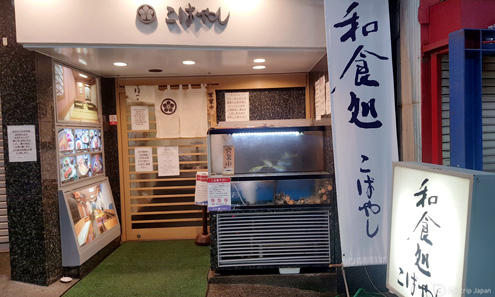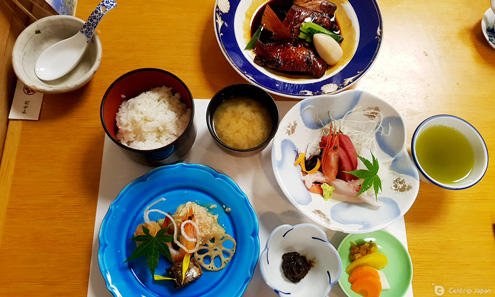 The seafood in Atami is amazing—be sure to try the red bream.
Centrip recommends the seafood shop called Kobayashi on Heiwa-Dori, and try the Tsubakizen Course (¥2,300), which comes with sashimi, stewed red bream, fresh seaweed soup, and fruity ice cream. Every bite is a treat and it won't hurt your wallet.
1:30 PM Atami Castle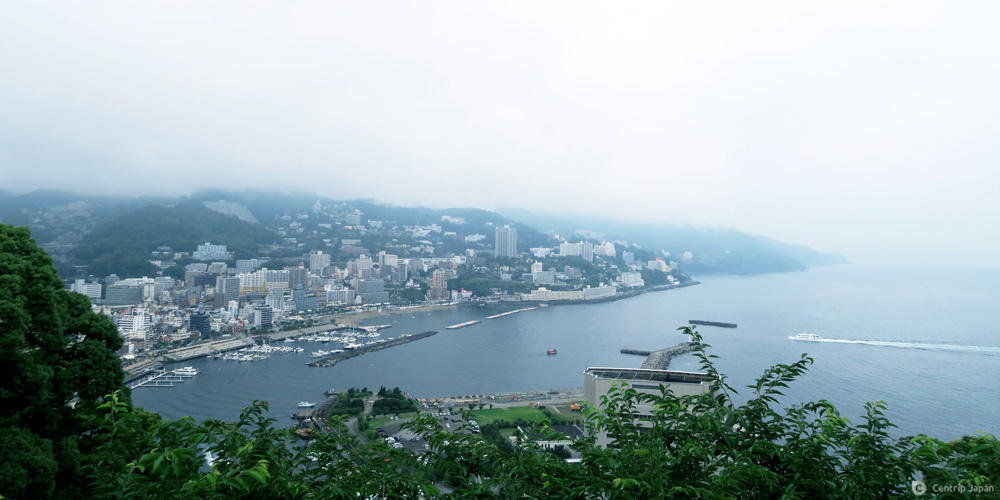 After stepping off the train at Atami Castle, you'll come across three fantastic spots: Atami Treasure House, Atami Castle, and the Atami Mystery House. There's also a hot springs area along the path to the castle, and even if you don't use the facilities, they are still beautiful to look at.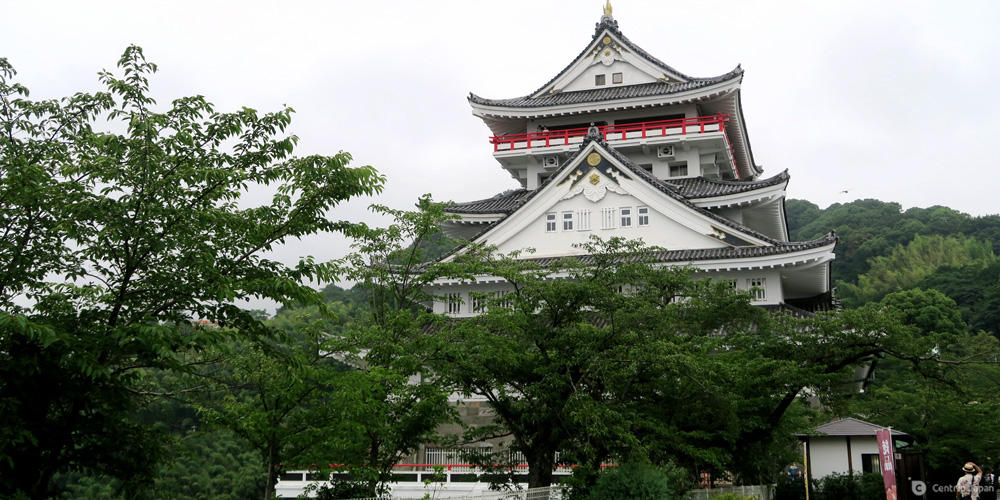 Atami Castle lacks history, and it was built in the modern era. It does, however, have a collection of Japanese swords, armor, ukiyo-e paintings, games to play, cosplay opportunities, and a handful of things for kids to try out.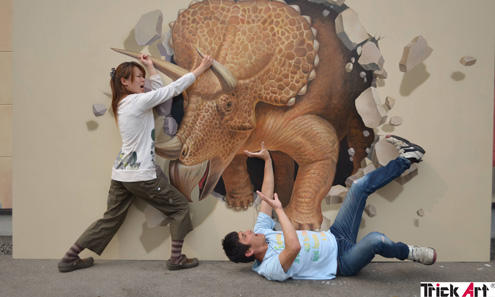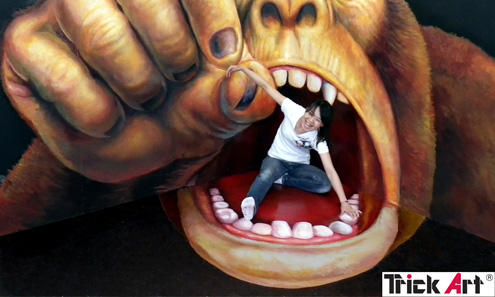 At the Atami Mystery House, while you can see 2D art, catch a live gorilla, and take 3D photos.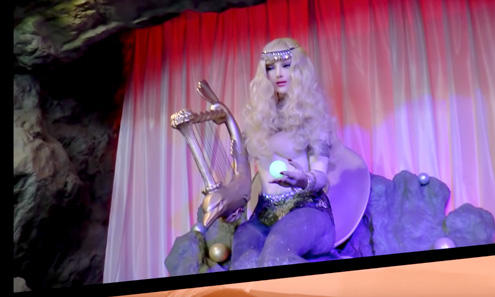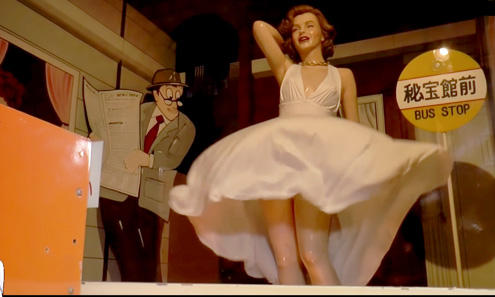 The Atami Treasure House isn't for the kids though. It's filled with adult-theme displays from the Showa Period. You'll find interesting things to see for sure here, along with some very risqué souvenirs to take home with you.
Please be advised: you must be at least 18 years old to enter.
4:00 PM Kiunkaku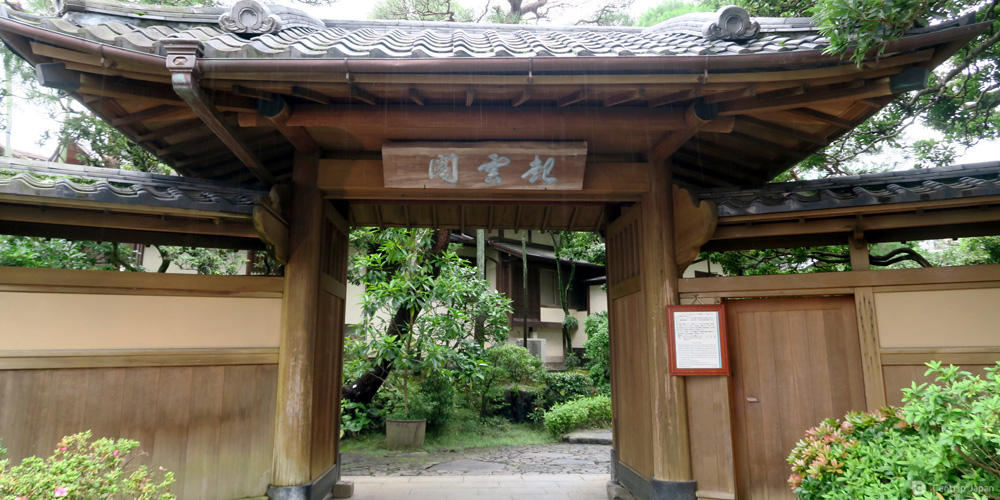 Next up, we're taking the Yu Yu Bus to Kiunkaku (起雲閣) Nishiguchi where we find one of the three gorgeous villas to be found in Atami.
Kiunkaku, which began operation in 1919, was originally started by the Uchida conglomerate as a quiet place for unwell mothers to heal. It was later opened to the general public as a tourist spot.
In addition to its Show-era beauty and Romanesque style, it has a unique architectural style which brings together those Europe, Japan, and China. It attracts many Japanese and is considered to be historically, culturally, and architecturally important.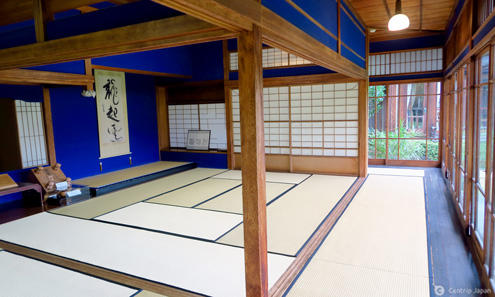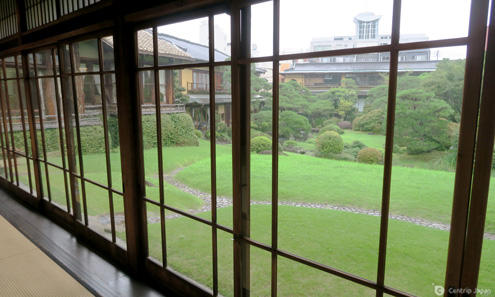 So, what's Kiunkaku like?
The first part of the property is the Japanese-style hall titled "Kirin Taihou(麒麟・大鳳)". It's a simple room with high ceilings and a view of the garden on three sides. The slightly distorted transparent glass looks plain, but it is a special variety known as "Taisho glass" handcrafted by Taisho craftsmen. It is irreplaceable.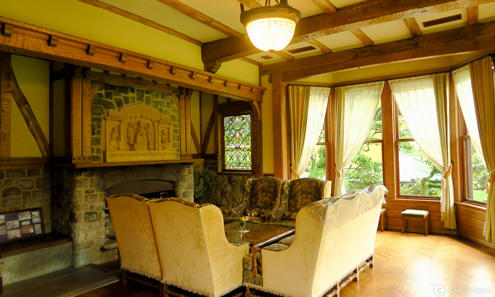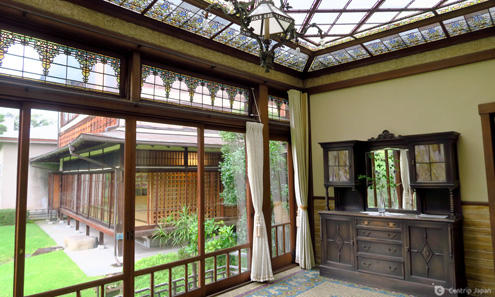 The following area is called Tamahime(珠姫), a Western-style building that has a fireplace, stained glass, and sofas.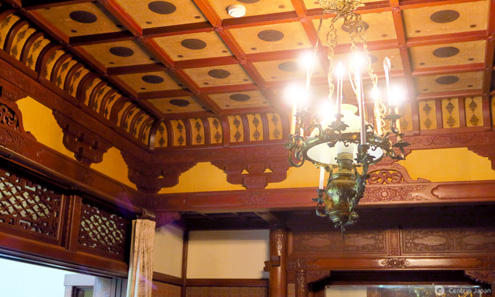 You may be surprised to see that these buildings have electricity. There are intricate Chinese carvings everywhere that are well-balanced.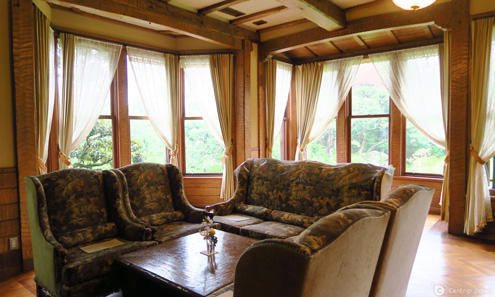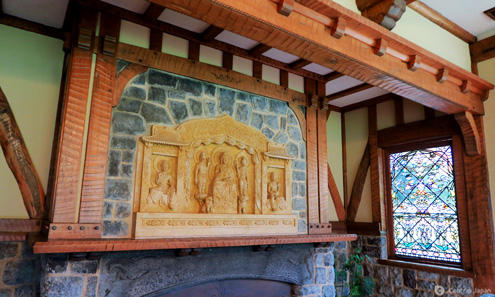 "Gyokukei (玉溪)" is a European-style mansion that imitates the medieval style, with a Japanese engraved on the side of the fireplace, and round pillars often seen at Japanese Shinto shrines.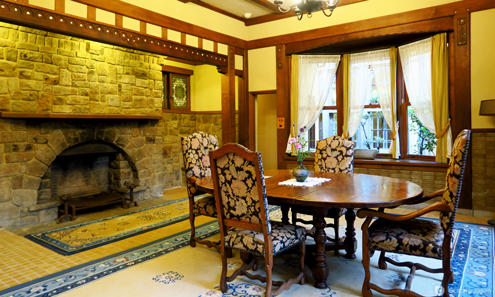 Western-style building "Kongou (金剛)" has elegant guest rooms and a romantic Roman bath.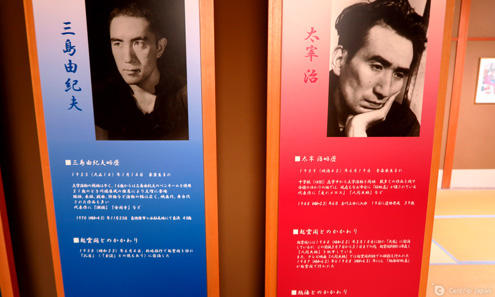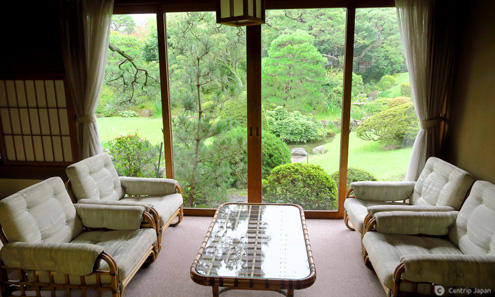 Japanese literary masters Osamu Dazai and Yukio Mishima once stayed at Kiunkaku. This is your chance to sit in the same place as the literary master.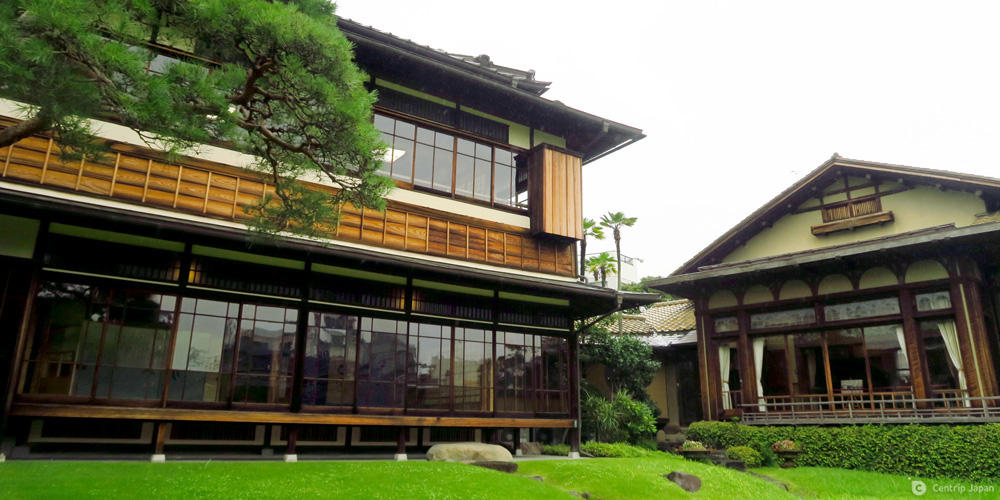 With your ticket for Kiunkaku, you can visit the Japanese garden designed by the second owner for free. There are 20 tons of rocks in the garden that required 20 landscapers to place over two months.
Wrap-Up
While it lacks the flash of big cities like Tokyo or Nagoya, and may not have the long history of Kyoto or Kanazawa, Atami has a lot of unique qualities that make it worth a visit. There are places to enjoy the greenery, see the ocean, relive Japan of yesteryear, enjoy delicious seafood, and lounge in a hot spring. There are even a few sacred Shinto spots to visit. If you're looking to spend a day or two by the beach, Atami is a great place to be!