| Centrip Editorial Board
Hamamatsu: Cuisine, culture, and a beautiful gate on the sea
Do you like laid-back trips among nature? Does fresh eel and seafood sound appealing? If you want to visit a new area, we recommend checking out Hamamatsu in Shizuoka, only an hour away from Nagoya by car. Centrip Japan has a 3-day 2-night course with Hamamatsu as your base. It makes use of the discount train tickets provided by the HAMANAKO RAIL PASS. So get ready to enjoy the dunes and eat some famous Hamamatsu gyoza (dumplings)!
HAMANAKO RAIL PASS: A must-have traffic pass for any trip to Hamamatsu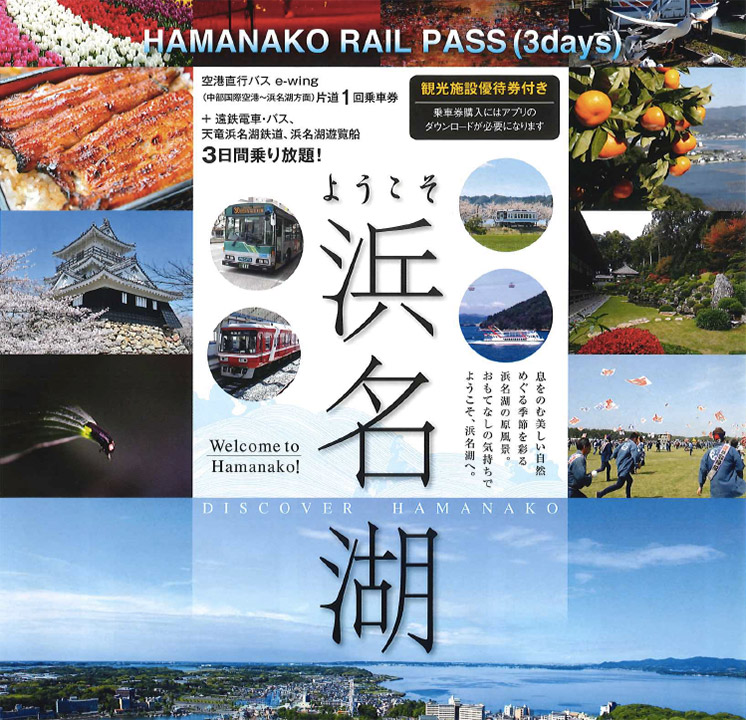 If you're going to visit Hamamatsu, we recommend the HAMANAKO RAIL PASS (3-day) , it's a great deal for transportation. The pass covers almost all transportation in Hamamatsu. You can ride freely on Entetsu trains & buses, Tenryu Hamanako Railway, and the Hamanako Cruise for three days. A one-way ticket for the direct bus e-wing from the Central Japan International Airport is also included. It also includes coupons for 21 tourist attractions. You can't beat this bargain! (Price: Adults - ¥4,900, Children ages 6-12 - ¥2,450)
If you won't be using Central Japan International Airport or are planning a shorter trip a 2-day ticket is also available.
Click here to purchase.
[Day 1] 14:00 YAMAHA INNOVATION ROAD: A musical instrument museum that fuses classics and technology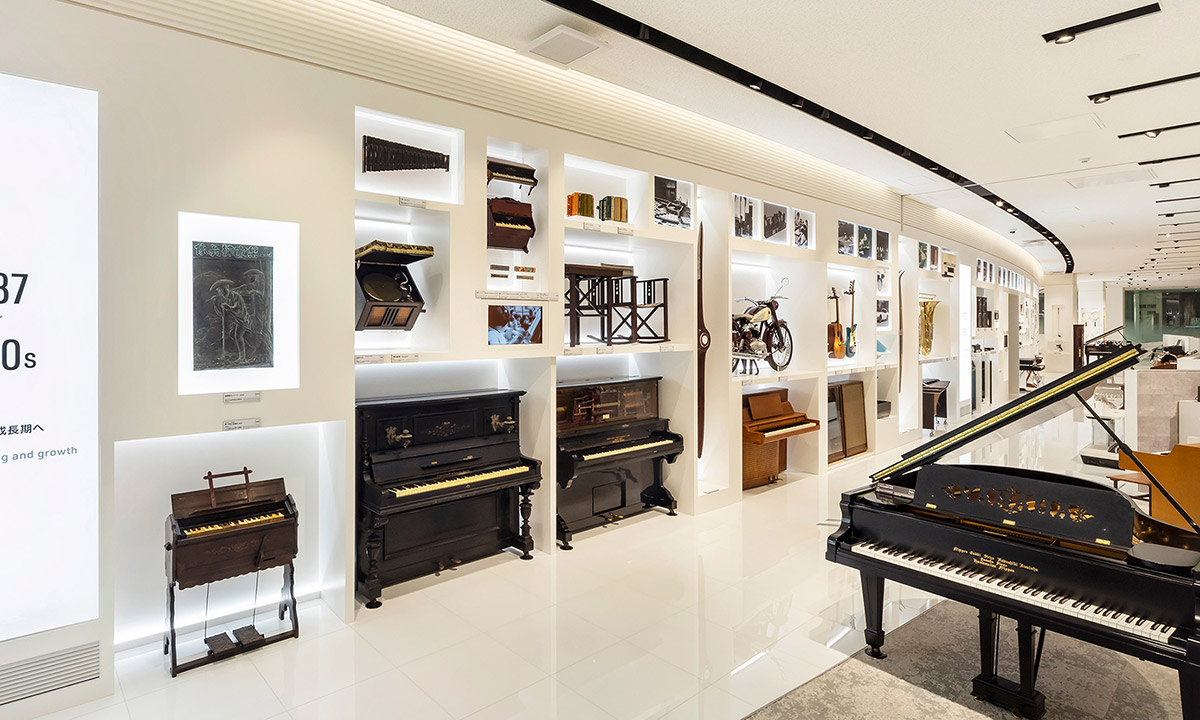 From Chubu International Airport to Hamamatsu
Take the direct bus e-wing from Chubu International Airport to Hamamatsu Station (about 135 minutes).
Let's start the 3-day tour!
The head office of the world-famous musical instrument company YAMAHA is located in Hamamatsu. YAMAHA INNOVATION ROAD is a musical instrument museum founded by YAMAHA. On display is a range of antique musical instruments with over 100 years of history to a modern DJ mixing experience, as well as an exhibition area for piano parts, and a virtual stage. The museum combines antiques and science and technology making it a paradise for music lovers.
17:00 Tasting Hamamatsu cuisine: Hamamatsu gyoza and jumbo eels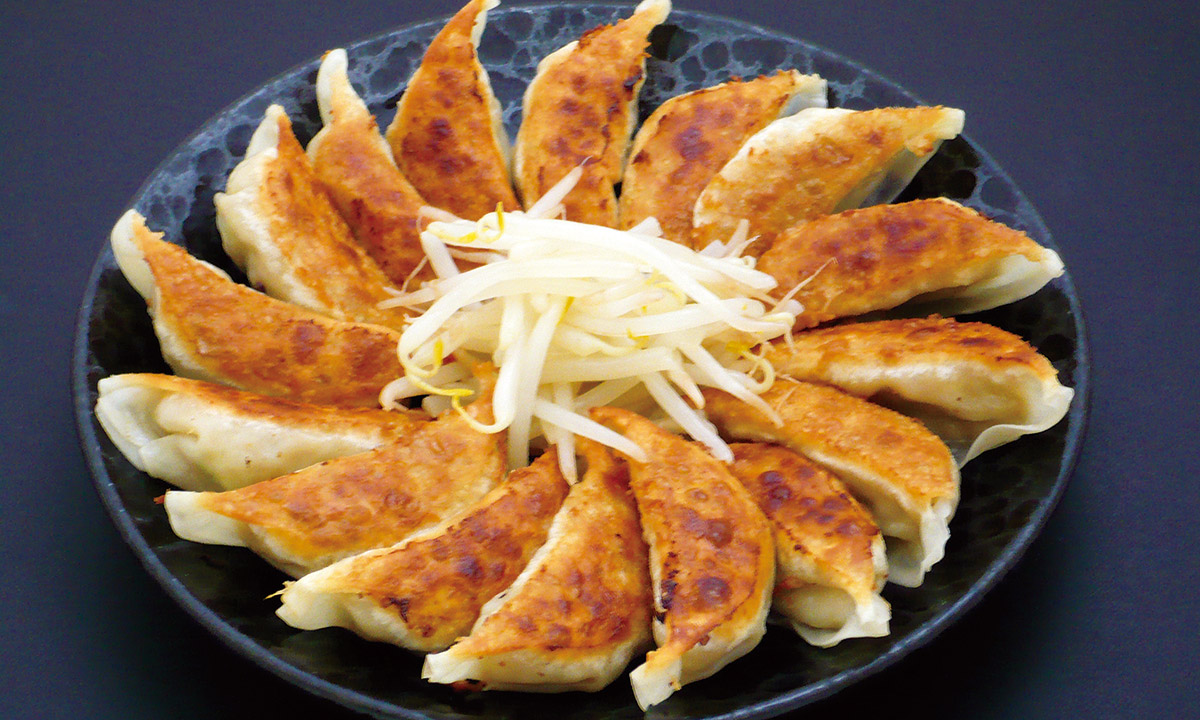 You haven't been to Hamamatsu until you've had Hamamatsu Gyoza (dumplings)! Hamamatsu is one of the largest gyoza-loving cities in Japan. Gyoza is arranged in a round shape with bean sprouts in the middle. Hamamatsu gyoza has more veggies than regular gyoza, and the texture is much more refreshing. Not just any gyoza can be Hamamatsu Gyoza. Strict conditions are applied. First, the maker must have lived in Hamamatsu for at least three years. And the gyoza must be made in Hamamatsu City. The strictness of these conditions is a guarantee of their delicious flavor.
Our recommendations are Ishimatsu Gyoza , the originator of Hamamatsu Gyoza, near Hamamatsu Station, and Mutsu Giku , and their superbly sweet vegetables.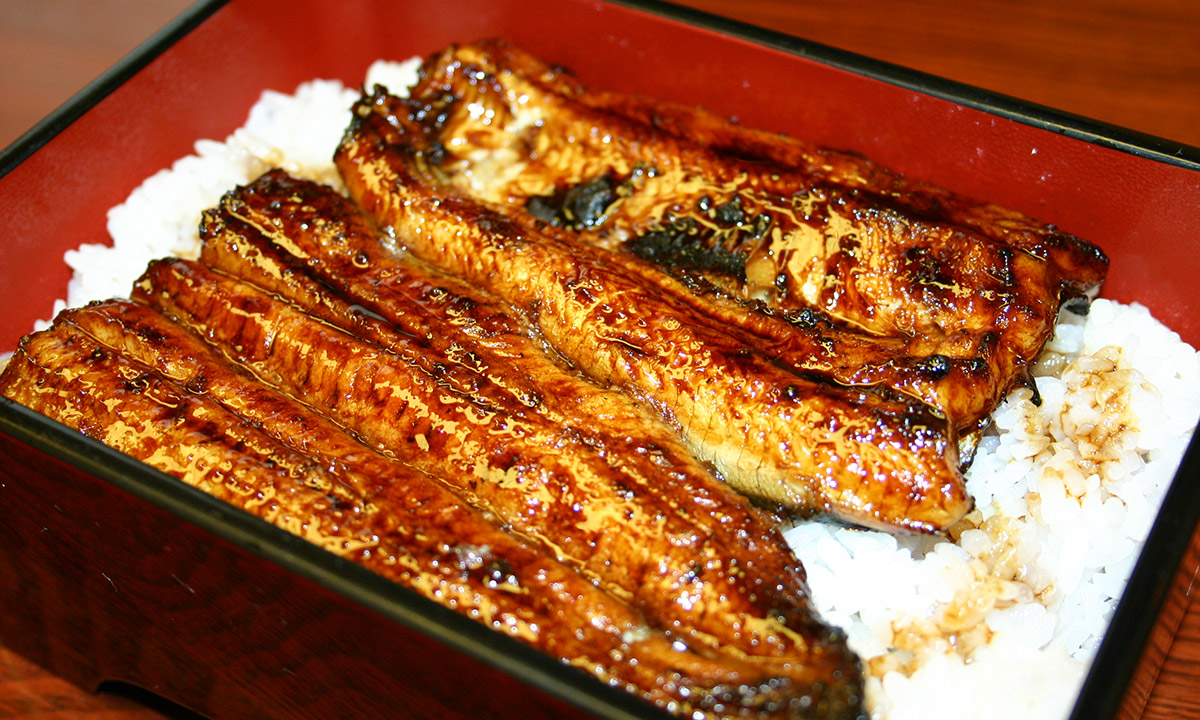 Hamamatsu is also famous for eels. Lake Hamana has a 100-year history of eel farming. The mineral-rich water and warm climate allow them to raise eels with almost no fishy odor. You can enjoy them cooked in Kanto-style, steamed and then baked till tender and low in fat, or Kansai-style, which are charcoal-grilled and fragrant.
The 100-year-old restaurant Atsumi is one of the best places to go for eel. It's only a 10-minute walk from Hamamatsu Station.
Hotel Concorde Hamamatsu: A hotel on the doorstep of history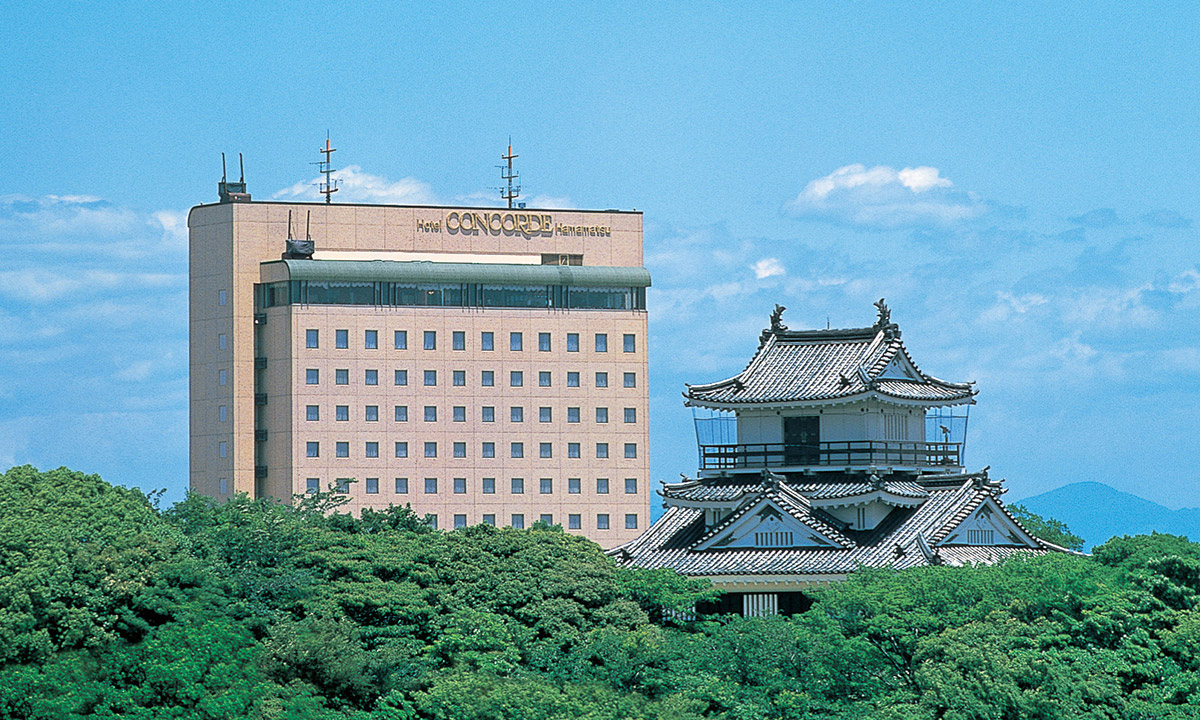 On your first night, you'll be staying at Hotel Concorde Hamamatsu near Hamamatsu Castle. Transportation here is convenient, and you can return to the hotel early to give your dogs a rest. Their buffet-style Japanese/Western breakfast is another feature. Local dishes, like eel & rice, are served. It's a great way to taste authentic Hamamatsu food while taking in the view of Hamamatsu Castle.
[Day2] 11:00 Hoko-ji: Authentic vegetarian food at a Zen temple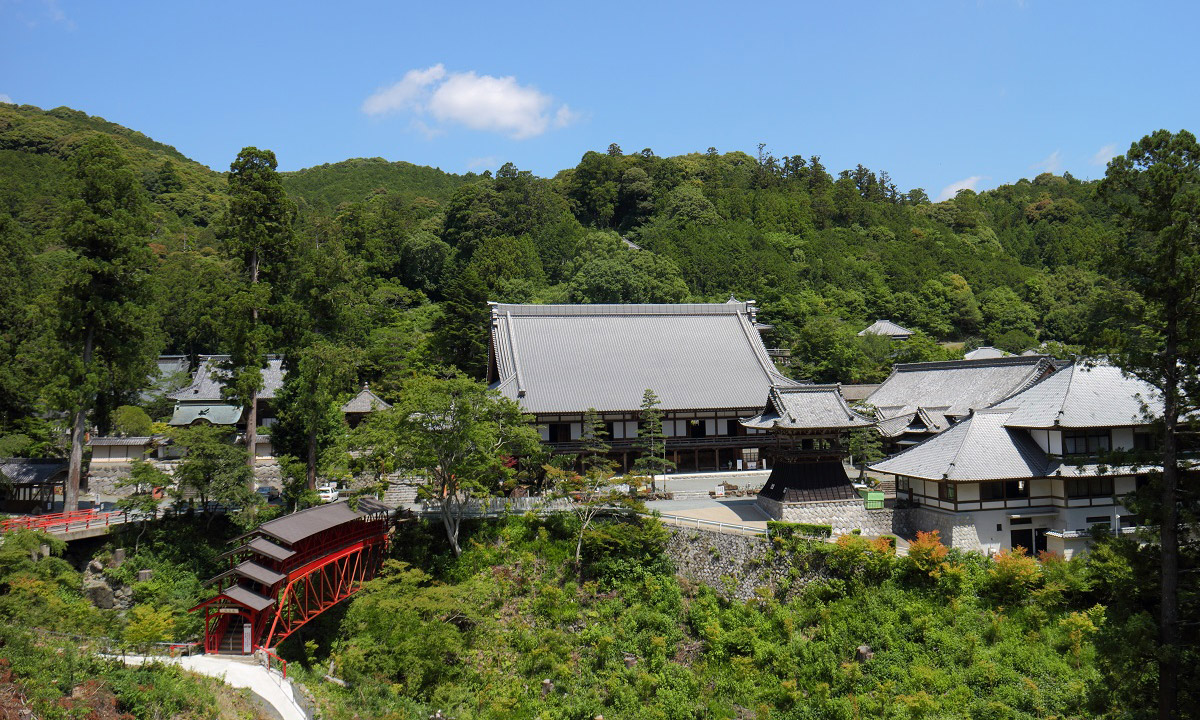 Hoko-ji is a famous Zen temple in the central Japan area. Passing along a quiet mountain path with more than 500 stone Buddha statues, you'll come upon a serene and stately temple. In addition to viewing the three statues of Shakyamuni Buddha, an important national cultural asset, there are also opportunities to experience Zazen and the tracing of Buddhist images.
Don't forget to try the vegetarian food, known as Shojin Ryori, at Hoko-ji Temple. Shojin Ryori is Buddhist cuisine centered around soybean-based foods like tofu along with seasonal vegetables and wild mountain plants, which are believed to bring balance and alignment to the body, mind, and spirit. Hoko-ji's Hoko-ji Shojin Unaju is especially famous. Many people may be surprised, but they aren't real eels. The eels are made of lotus root, yam, and tofu, and when served with brown sauce, they look a lot like the real McCoy!
14:00 Hana-no-Mai Sake Brewery: Shizuoka's finest local sake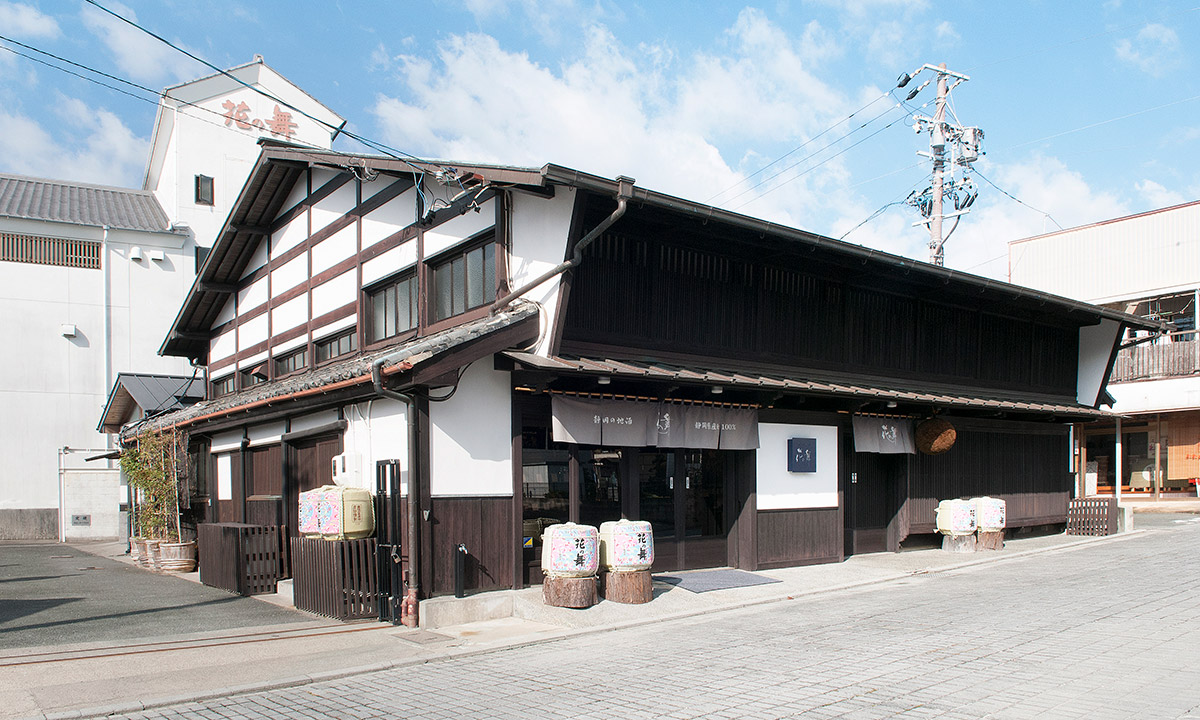 In the afternoon check out the 50-year-old Hananomai Sake Brewery in Hamamatsu and taste some sake! Made from Yamada-nishiki rice grown in Shizuoka prefecture and underground water from the Akaishi mountain range of the Southern Alps, this sake is one of the best in Japan. Hananomai Brewery's sake has won numerous gold medals in the New Sake Competition. The most popular is their sparkling sake. It comes in four flavors: sake, yuzu (a sour citrus fruit), strawberry, and lemon.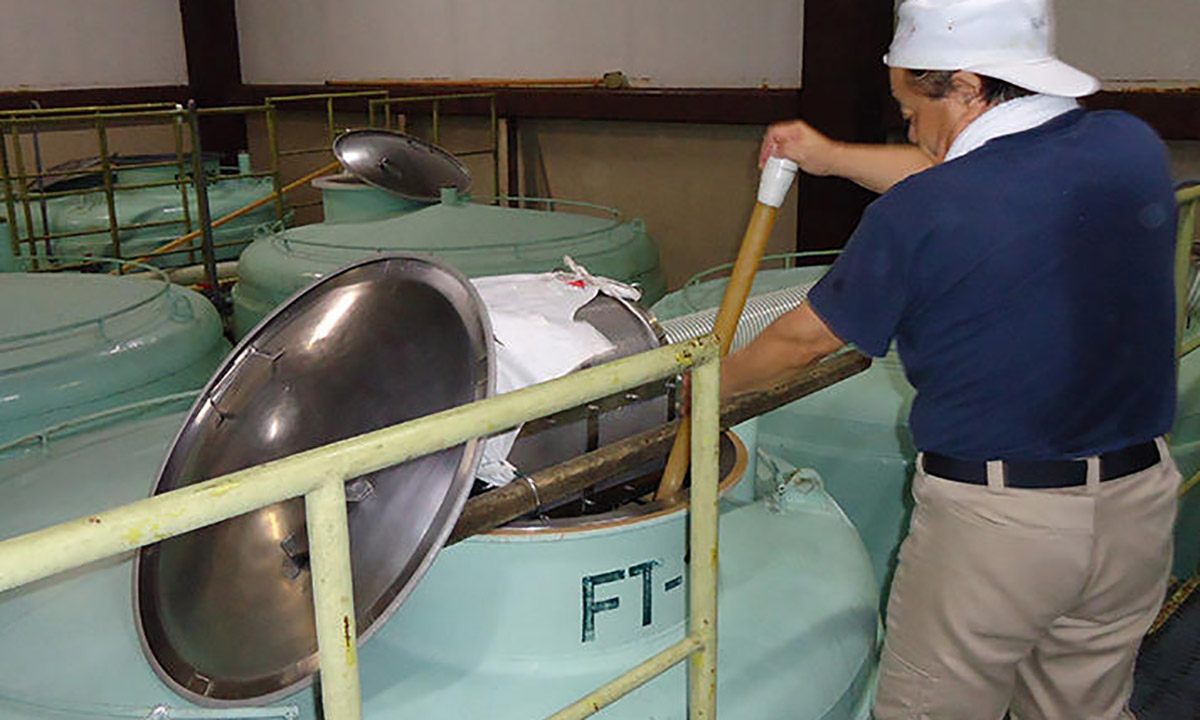 If you know Japanese, we recommend the free brewery tour of Hana-no-Mai. You can see the brewing process under the guidance of an experienced brewer and also sample a variety of sake and shochu. Applications for tours can be made on-site or booked online in advance.
5 pm Bentenjima Seaside Park: The large Torii gate on the water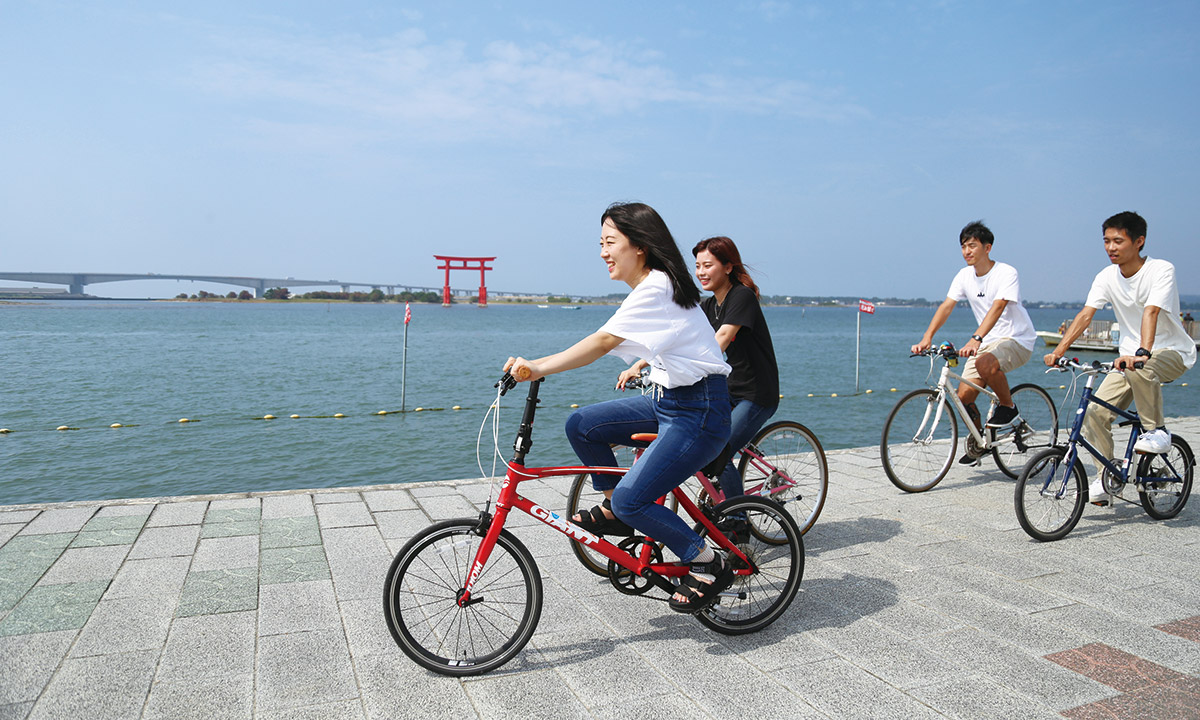 Hamanako is home to one of five torii gates in Japan that are on the water. The large, red torii gate, about six stories high, towers over Lake Hamana. In the daytime, the torii gate looks great against the backdrop of the blue sea and sky. At night, when it is lit up, it looks divine. If you want to see the torii on the water, Bentenjima Seaside Park is the place to go. You can see the torii gate, rent bicycles, or enjoy taking a walk.
7 pm Takiya Fishing: Traditional fishing experience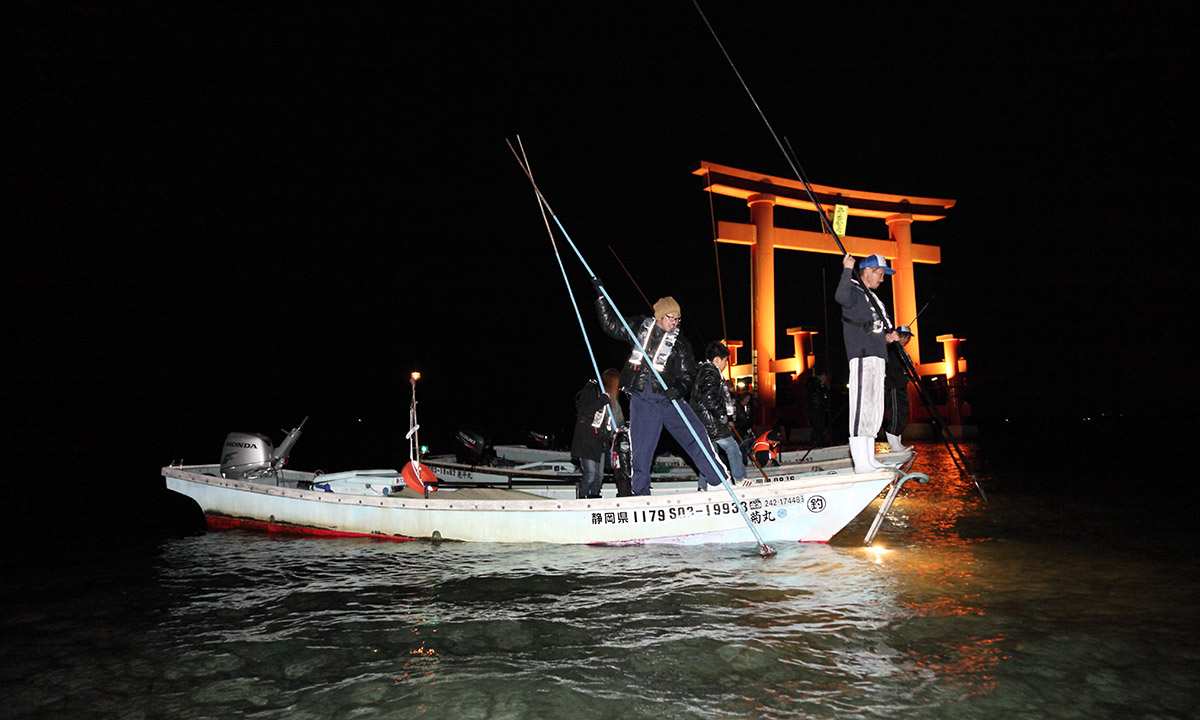 If your visit falls between May 15 and the end of September, don't miss Takiya fishing where you can experience a traditional fishing method handed down from generation to generation on Lake Hamana. You can also enjoy an amazing sunset from the boat.
The Takiya fishing method involves lighting the surface of the lake from a fishing boat in the evening or at night and catching the fish that gather near the light by using a 5-meter long harpoon. Take the fish you catch home or have tempura, miso soup, and other dishes prepared on-site, with your catch, and eat them on the spot. There's nothing quite like the taste of freshly caught fish!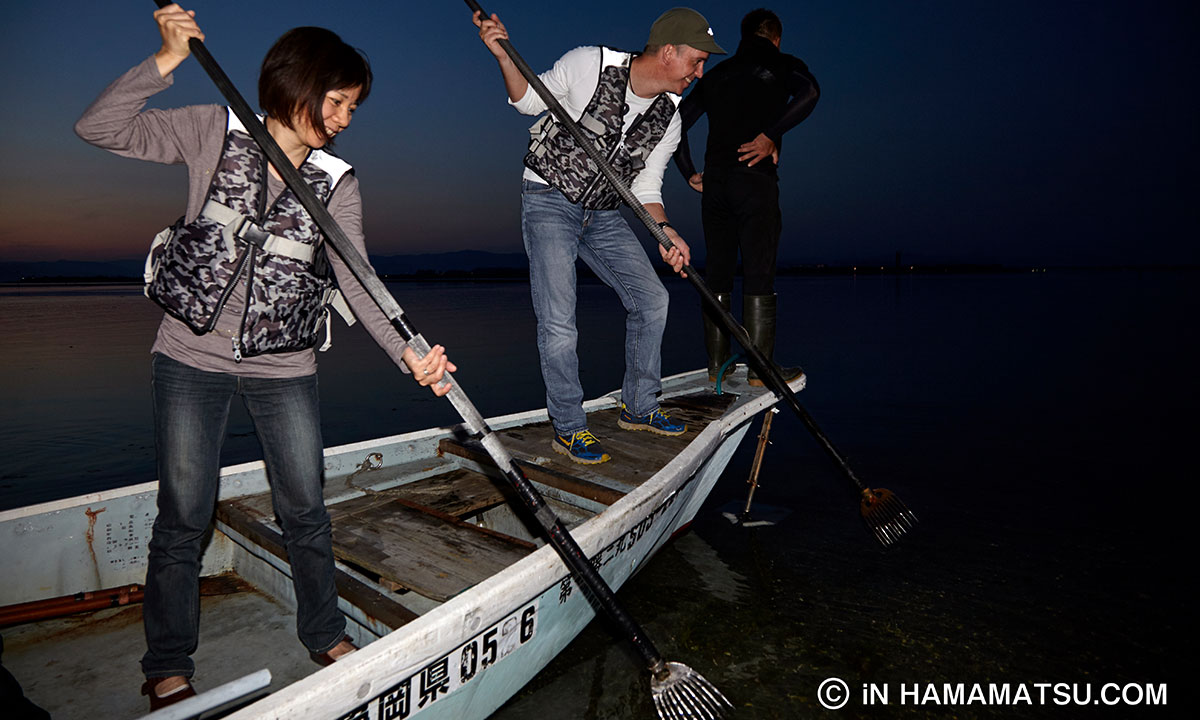 [Day3] 10 am Hamamatsu Castle: Where Ieyasu Tokugawa rose to fame.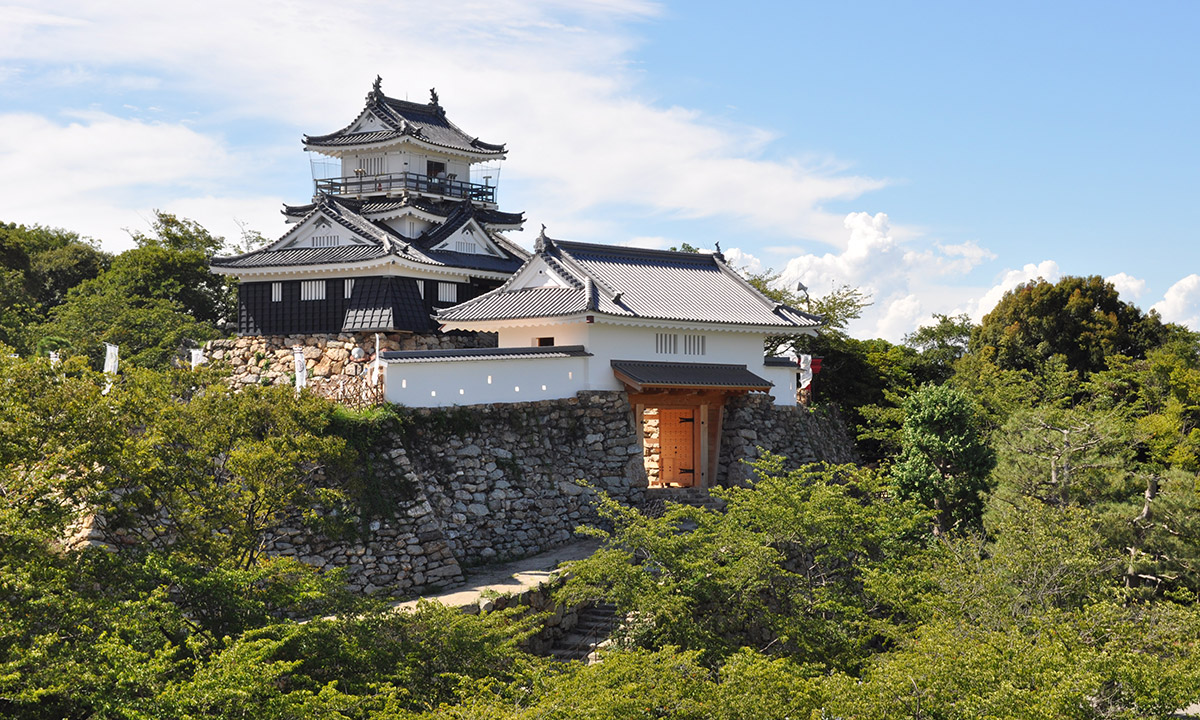 Ieyasu Tokugawa was a general during the Warring States period and lived in Hamamatsu Castle for 17 years. There are many statues and goods relating to Ieyasu Tokugawa in the park. Every Sunday, an Ieyasu Tokugawa mascot comes out to meet everyone. After Ieyasu Tokugawa, successive lords of Hamamatsu Castle were later appointed to important positions in the Shogunate, earning it the moniker, Castle of Success.
The park next to Hamamatsu Castle is a popular spot for flower viewing and autumn foliage. Come and see Hamamatsu Castle, each season offers new and beautiful scenery.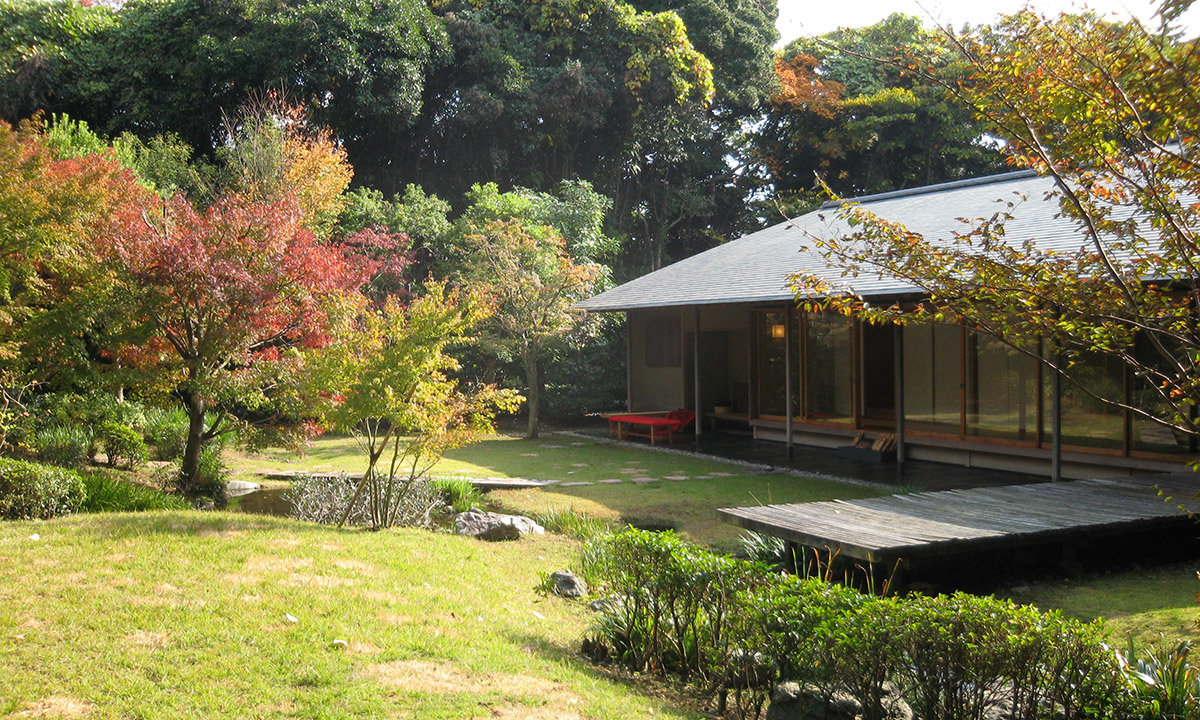 When you are tired of walking, head over to the tea house, Shointei, and enjoy some Japanese sweets and relax while having a cup of refreshing green tea.
2 pm Hamamatsu Festival Hall: See the kites of the Hamamatsu festival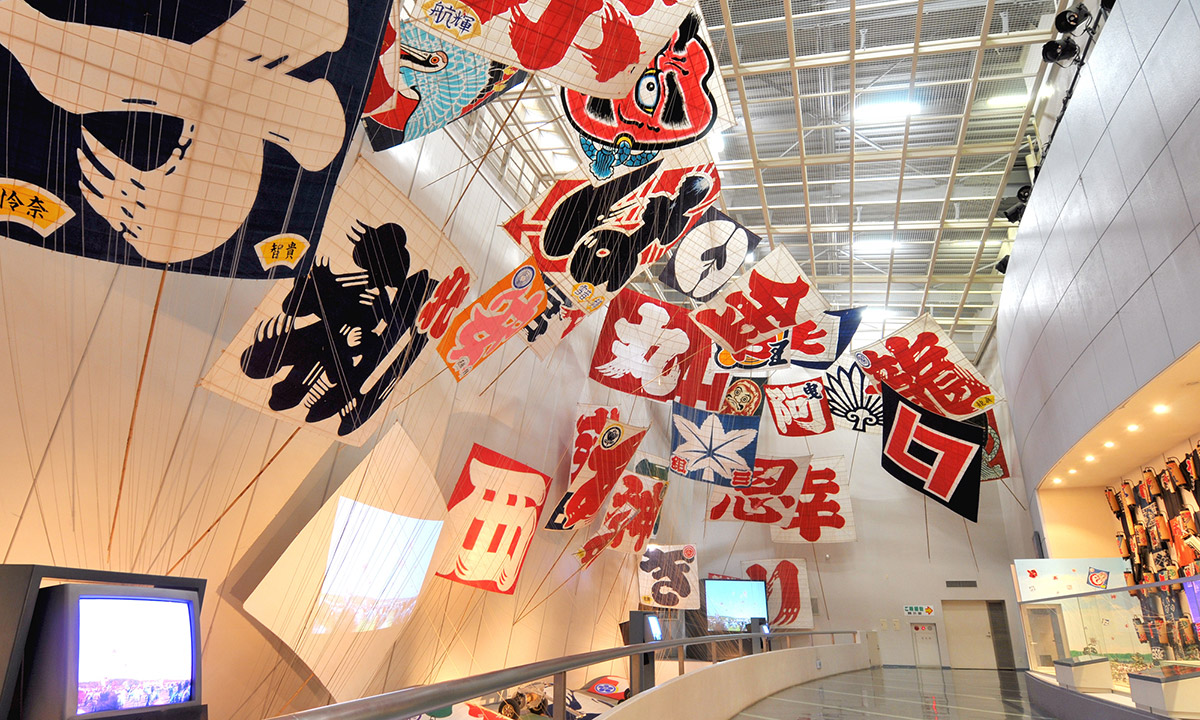 The Hamamatsu Festival is held every year between May 3-5. During the day, a kite flying competition is held on the sand dunes. The competition starts with multiple kites entangled in the air and the first kite to break loses. At night, the Goten Yatai (floats) parade around the city, attracting a million tourists every year. At Hamamatsu Festival Hall, experience the fascination of the festival all year round. You can see the kites up close. They are several meters long and require several people to pull them to get them airborne. You can also admire the glittering Goten Yatai, and make your own kite to fly outside.
4 pm Nakatajima Sand Dunes: Feel the endless horizon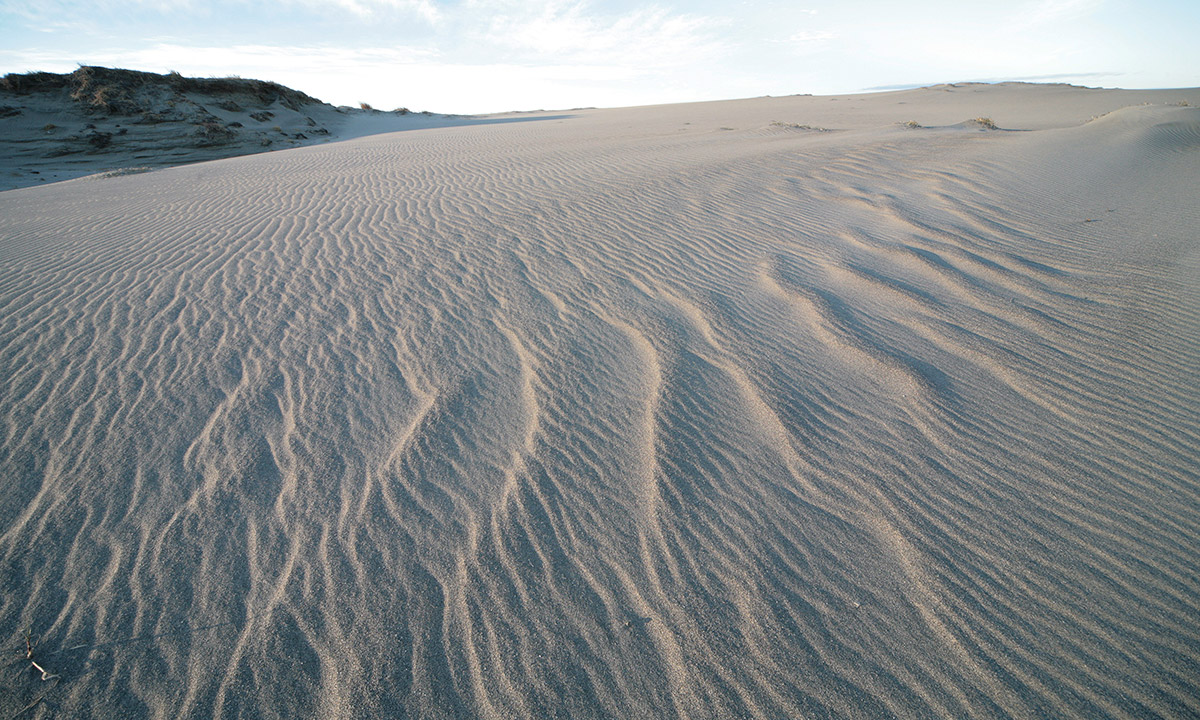 Nakatajima Sand Dunes are one of the three largest sand dune areas in Japan and is also the site of the Hamamatsu Festival kite flying competition. On a windy day, you can admire the ripples created by the wind on the sand. A true work of art created by Mother Nature. Stepping on the soft grains of sand and looking out at the dunes and the Pacific Ocean, will leave you feeling refreshed, and under the light of the evening sun, the dunes become a spectacular red.
Wrap-up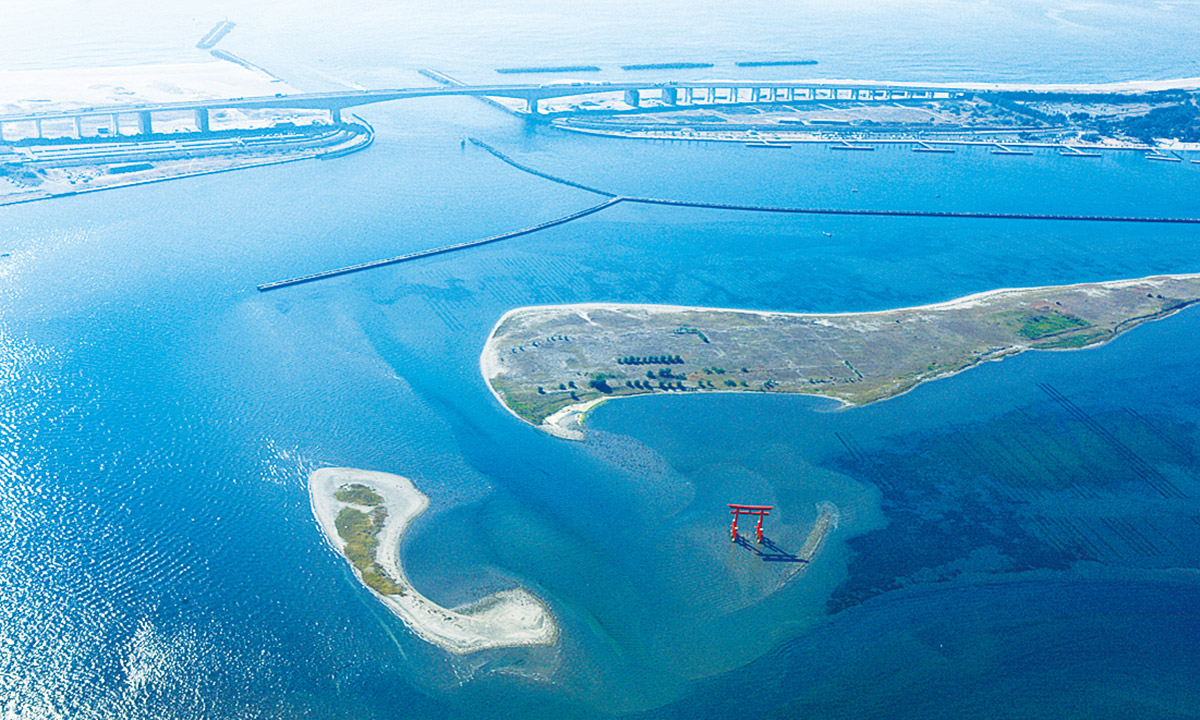 Hamamatsu is home to gyoza (dumplings), unagi (eels), a torii gate on the water, one of Japan's three largest sand dune areas, and so much more.
If you make use of the HAMANAKO RAIL PASS, your transportation for three days is covered. Make use of the HAMANAKO RAIL PASS to create a leisurely trip that's perfect just for you!
Sponsored by Hamamatsu and Lake Hamana Tourism Bureau
Click here to get the latest information on Central Japan.Centrip Japan - Nagoya and Chubu Information