| Centrip Editorial Board
Centrair's Brand New Facility! Enjoy your dish while looking at an aircraft up close! at FLIGHT OF DREAMS.
Navigator's Profile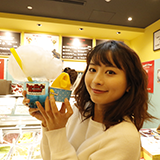 About FLIGHT OF DREAMS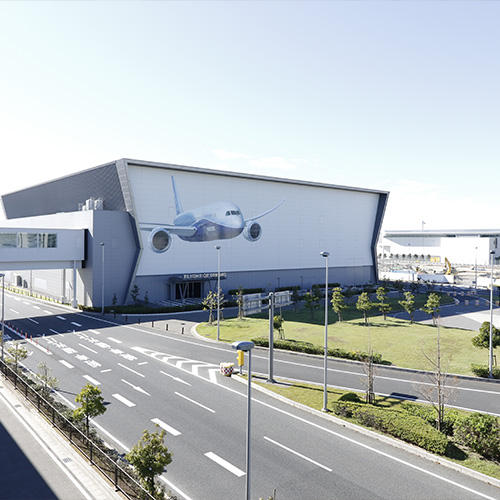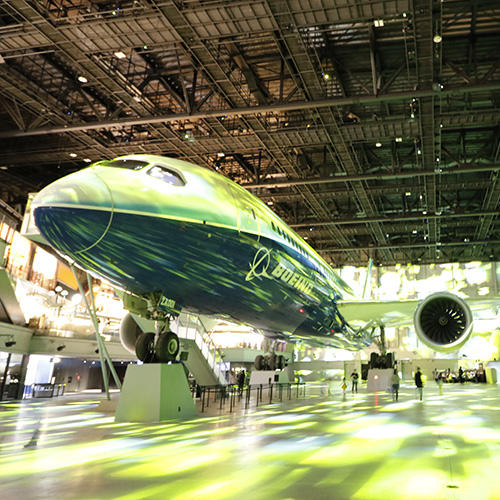 Flight Park opened on the first floor of the gateway to Chubu, the Chubu Centrair International Airport in October 2018. Flight Park is home to a display of Boeing's first 787 and a host of flight-related experiences.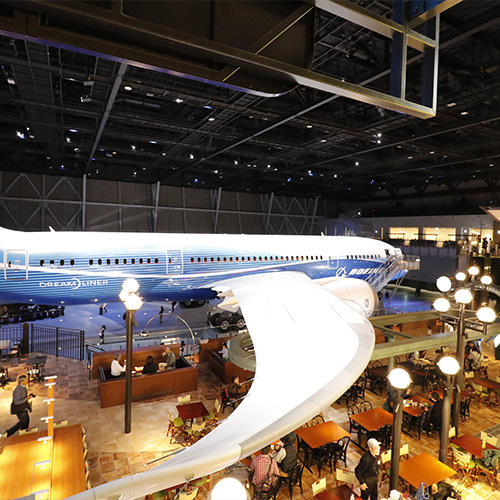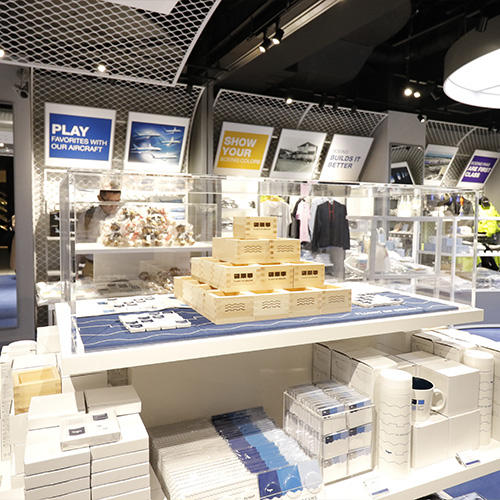 On the second and third floors, you'll find a shopping and dining area dedicated to Boeing's hometown of Seattle, aptly named "Seattle Terrace". It's a great place to relax, get something to eat, or do some shopping while you gaze out at the massive airliner on display. Entrance to "Seattle Terrace" and the Boeing Store on the first floor is free.
With easy 5–10 minutes access from Meitestu's Chubu International Airport Station on the second floor of Centrair, it's a great place to swing by whether you're in town for business or sightseeing.
Enjoy Japanese Cuisine with a View of Aircraft at Seattle Terrace on the 2nd and 3rd Floor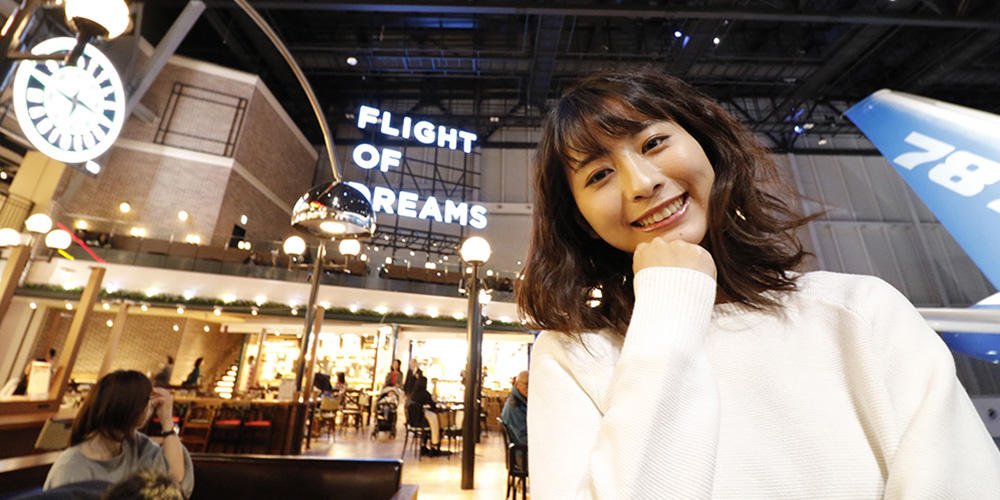 From this point on, we'll be introduced to the tastes of Seattle Terrace by Chinese-born model and singer, Ron Monroe!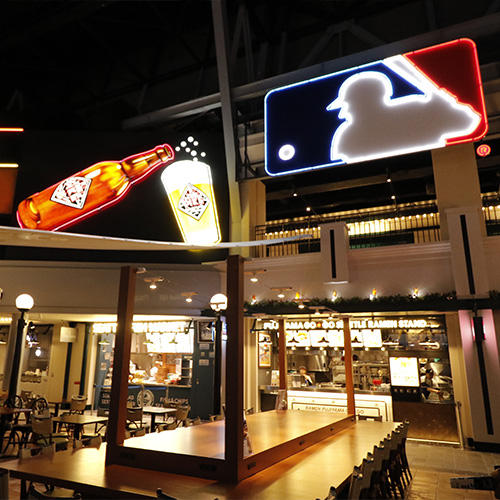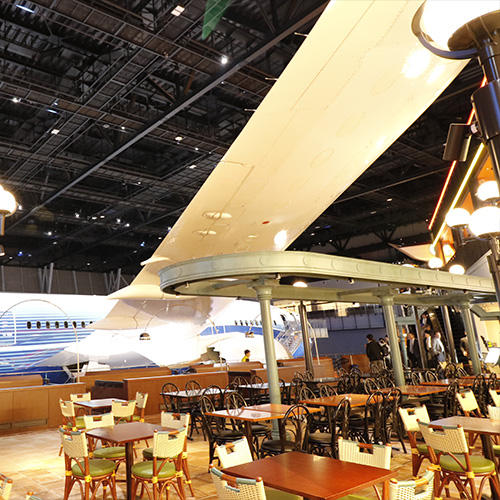 Seattle Terrace is built as a recreation of a Westcoast American city street. It's filled with authentic shops from Seattle, 16 in-all, with 5 completely new to Japan. You'll find sushi, ramen, steak, seafood and cafes here. The foodcourt sits just below the wing of the Boeing 787 on display. It's has a theme park-like atmosphere.
1. Shiro Kashiba: Enjoy authentic sushi at a 5-star restaurant in the US!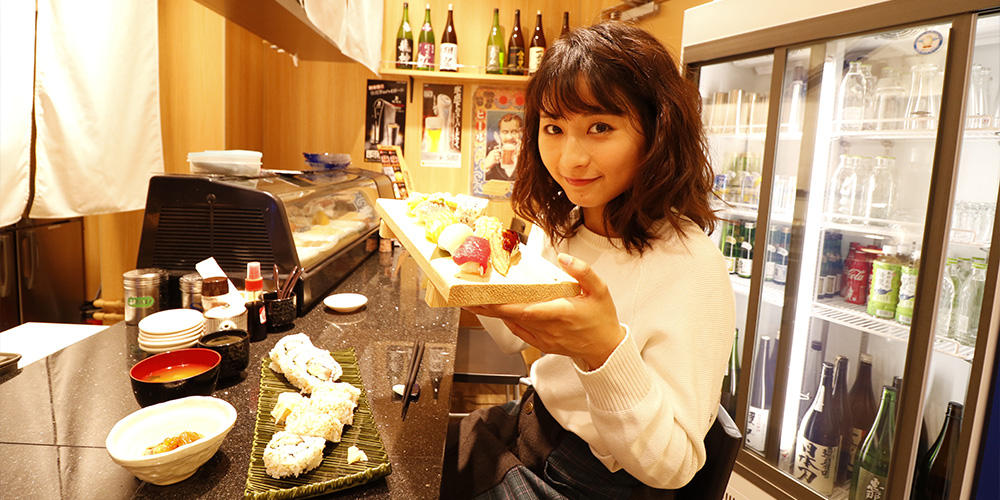 Sushi Kashi is responsible for bringing authentic Edo-mae sushi to Seattle. Its head chef trained in Ginza and opened Seattle's first Edo-mae sushi shop 50 years ago. This is Sushi Kashiba's first location in Japan.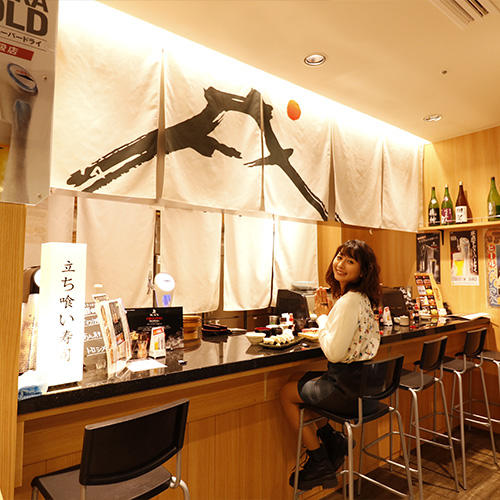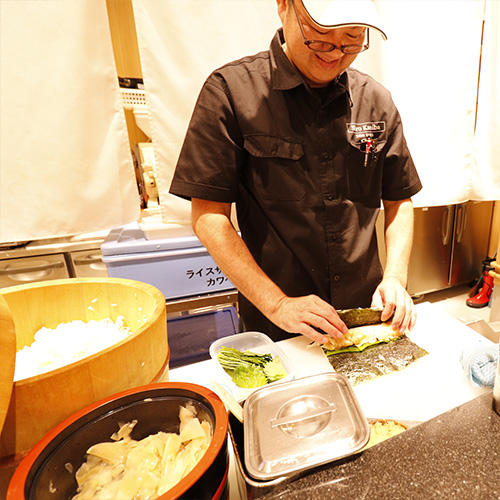 You can eat inside the food court, but the restaurant also has a counter space available for customers to eat at. It's a great place to watch the sushi chef work.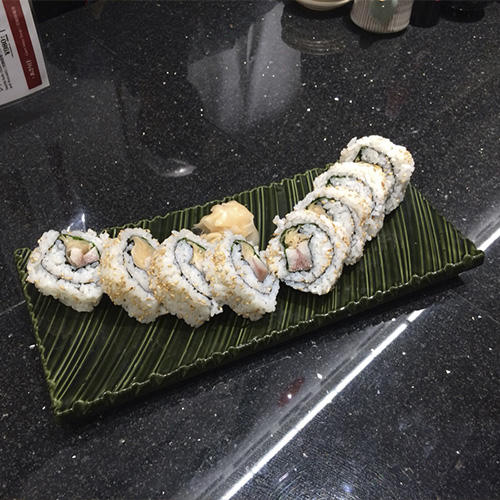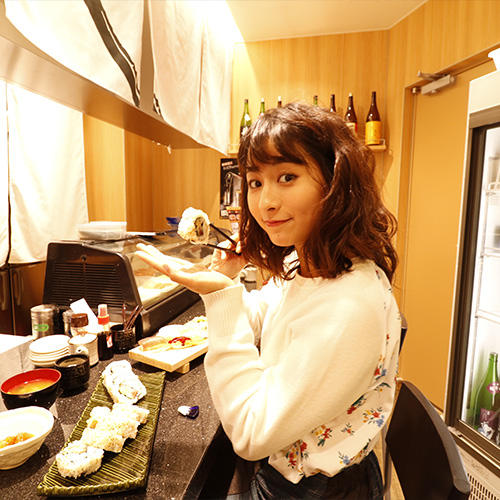 For just ¥980, you can try the "Famous Kashiba Roll", made from shiso, nori seaweed, and mackerel. It's the restaurant's most celebrated dish. In addition to standard "nigiri" sushi, you'll also find "chirashi" sushi, eel rice bowls, and other sushi and fish dishes to enjoy. This is a great place to drink Japanese rice wine as well. This is the only place to find Seattle's wonderful sushi culture in Japan.
2. FUJIYAMA★GOGO SEATTLE: The Perfect Match of Miso and Cheese! World-Famous Famous Ramen!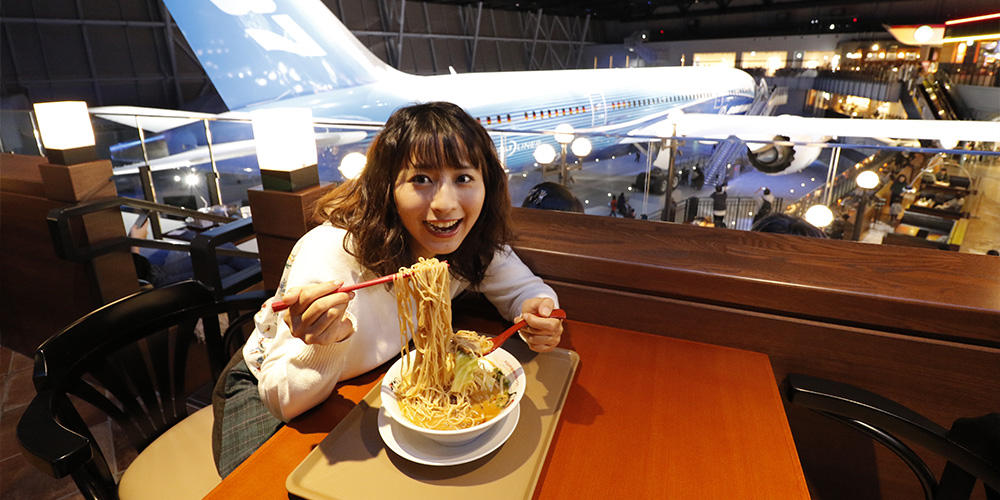 Home to delicious ramen and richly flavored tsukemen, this Nagoya-favorite's slogan is "Connecting Nagoya to the World through Ramen". They have branches all across the globe including, Thailand, Indonesia, Hong Kong, Taiwan, China, America, and France.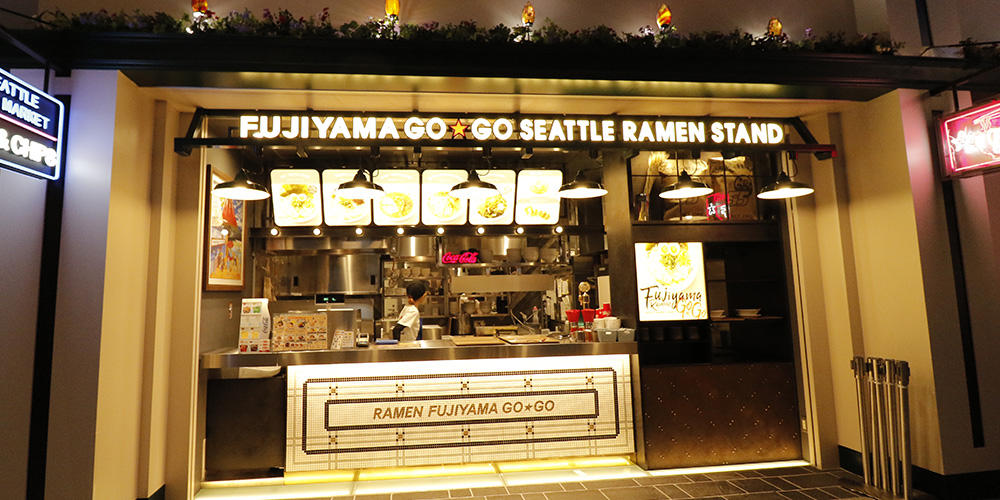 The "Melting Cheese Miso Ramen" (¥980) is new to the menu for Seattle Terrace. Its generous portions and gorgeous presentation is a feast for the eyes. In addition to this unique offering, you'll also find "Salt Truffle Ramen", "Seattle Jiro Ramen", and other dishes created from the ground up specifically for this branch. Special dishes prepared with Northwest American ingredients can also be found here.
3. Foodie's Stand: Poppy, Cute, and Tasty Bite-Sized Treats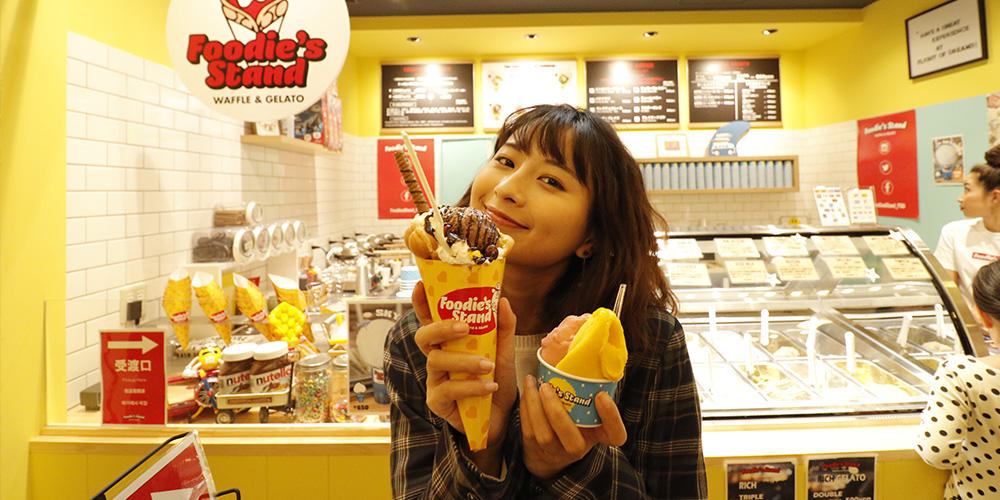 Foodie's Stand is an awesome pancake shop with a style all its own. It's a great place to try bubble waffles wrapped in gelato that have become wildly popular on the West Coast.
Ron started with the King Chocolate (¥980), one of eight varieties of bubble waffle. The "Crazy Nagoya" (¥880), which includes sweet red beans, is also highly recommended. If you're not in the mood for a bubble waffle, you can purchase gelato separately.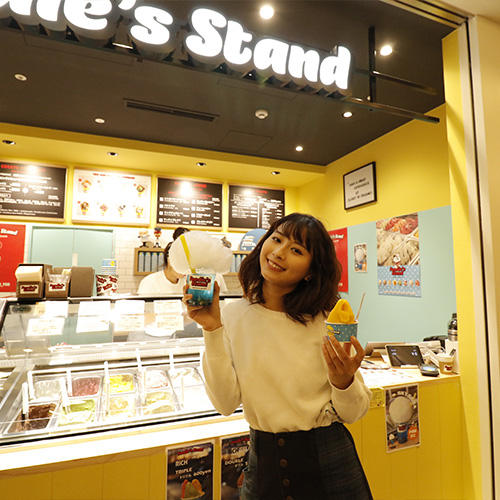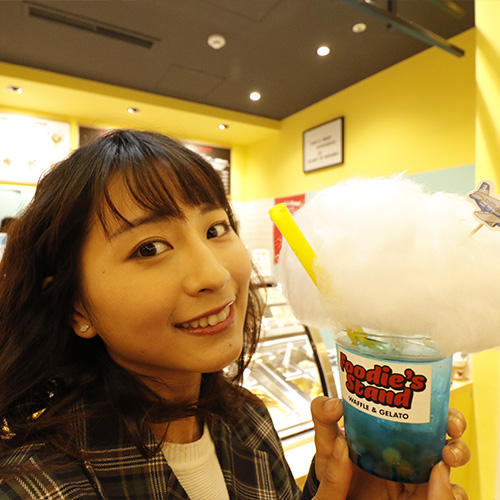 Here you'll find a FLIGHT OF DREAMS limited edition cotton candy-topped blue drink called "Sky Soda" (¥650). The drink itself has rainbow-colored tapioca floating inside.
4. SEATTLE FISH MARKET: Casual Seafood Dining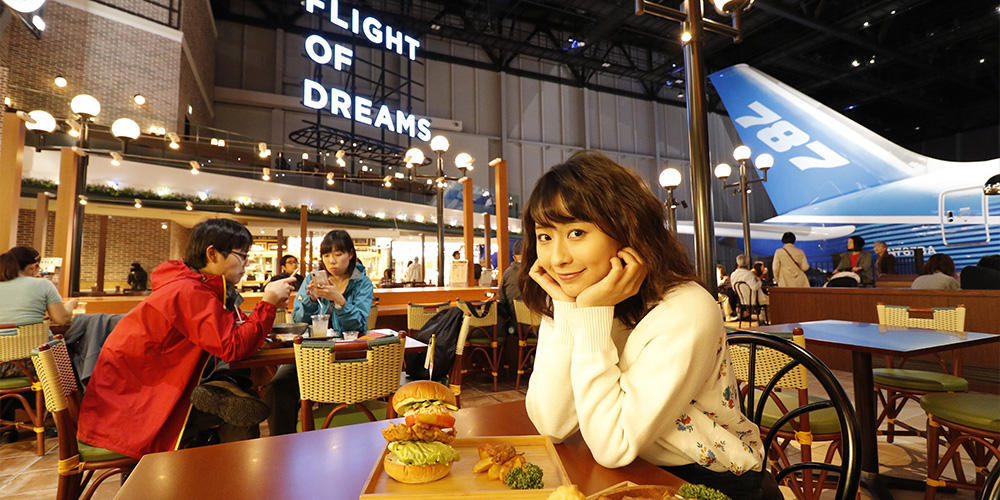 This is long-standing Nagoya fish house has developed its own unique style. Their most famous dish is fish & chips, but they also serve burgers and curry as well. They have a number of seafood items that adults and kids will love. Visit SEATTLE FISH MARKET for a real taste of Seattle.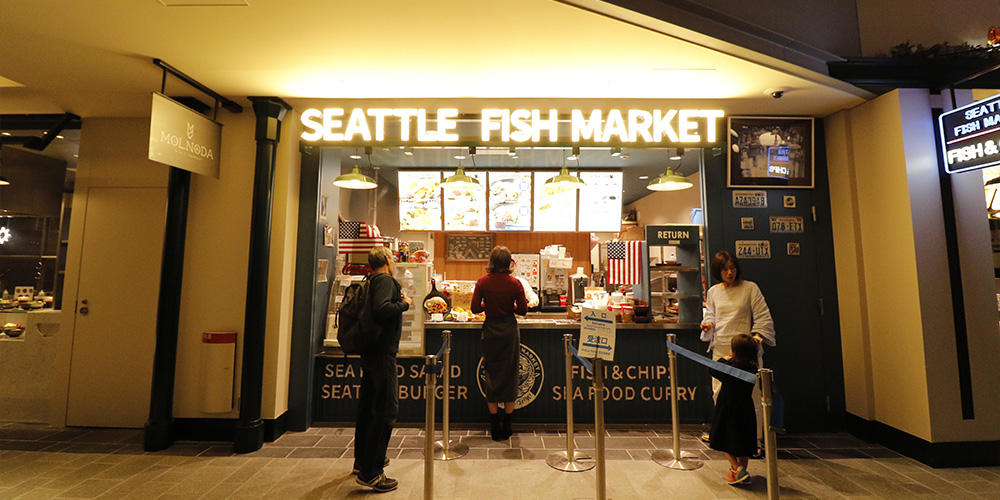 The Seattle Double Salmon Burger (¥1350) is made with a generous helping of Seattle-raised marinated salmon and grilled to perfection. The salmon is also flavored using local fish from Nagoya waters and a delicious teriyaki sauce.
Seattle Terrace is also home to a chocolatier, a cheese shop, an Italian restaurant, and a craft beer bar—all opening their first locations in Japan. It's not just restaurants at Seattle Terrace, however. You'll also find a variety of non-food shops, sweets shops, and souvenirs from Oregon. Of course, you'll also find a Starbucks here, with an airplane-themed counter available for customers.
FLIGHT OF DREAMS is a luxurious place to relax and enjoy yourself.
Getting to FLIGHT OF DREAMS from Centrair