| Centrip Editorial Board
Spring Trip to Tateyama Kurobe along with Takayama and Shirakawago
Enjoy Tateyama Kurobe Alongside Takayama and Shirakawago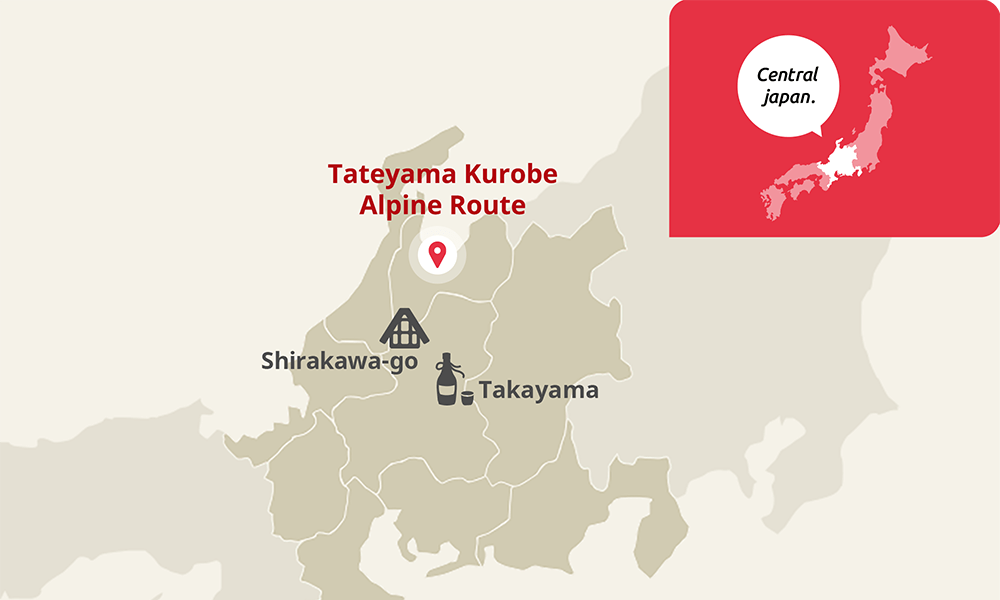 Takayama and Shirakawago are popular tourist destinations for foreign travelers because of their old townscapes, the Gassho-zukuri village, and their easy access from Centrair. The Tateyama Kurobe Alpine Route, which is popular for its magnificent scenery, is located near Takayama and Shirakawago. The Alpine Route is one of Japan's leading mountain sightseeing routes encompassing enormous snow walls and beautiful alpine plants. The Shoryudo Bus Pass covers all of the most popular areas, making bus transportation throughout Central Japan simple and allows for worry-free trips between Takayama, Shirakawa-go, Tateyama Kurobe Alpine Route, and Centrair.
Why is the Alpine Route So Popular? (The Secret of the Alpine Route's Popularity)
Yuki no Otani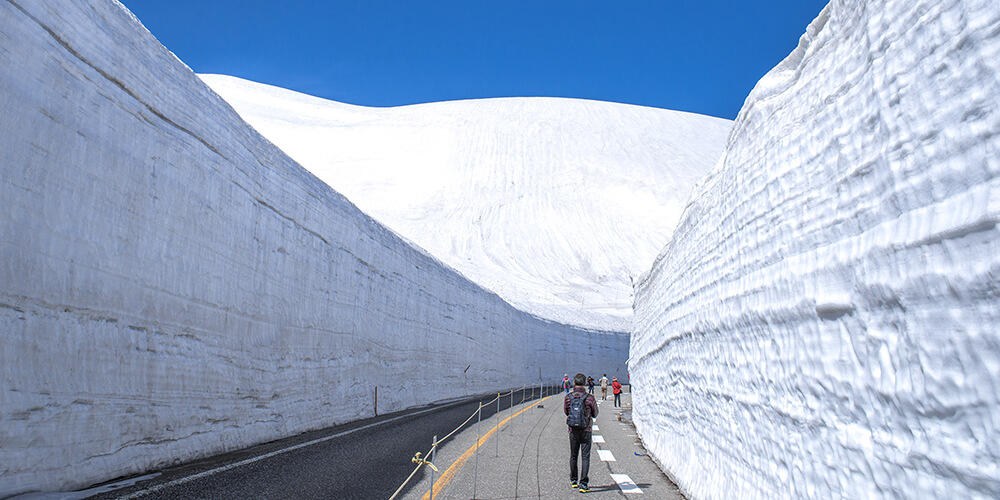 Enjoy an enormous snow wall approaching up to 20 meters high from April to June.
Kurobe Dam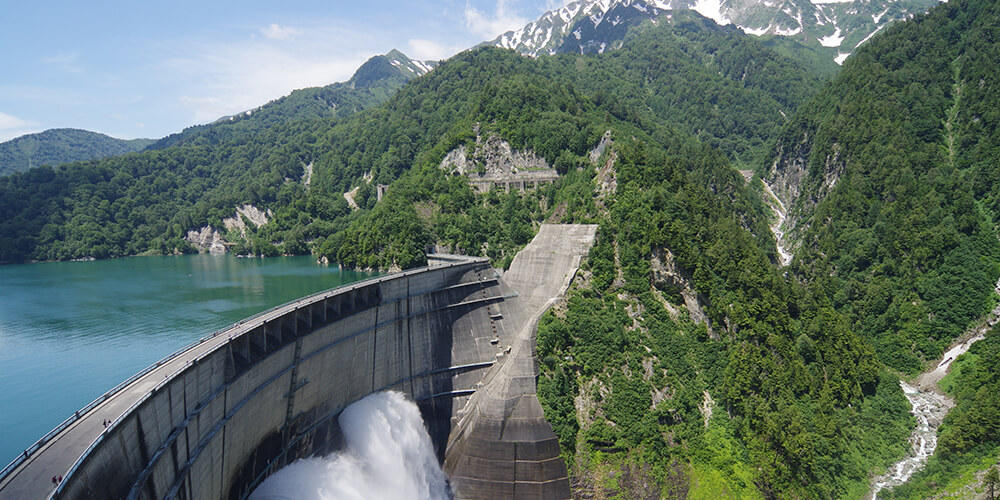 The largest dam in Japan. Water release from the end of June to the middle of October is a must-see.
Mikuriga Ike Pond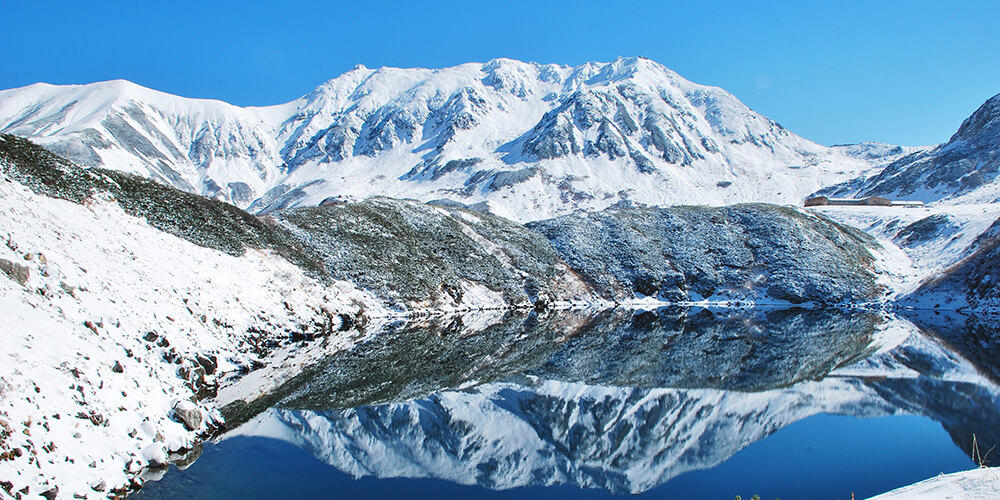 Volcanic lakes with beautiful blue and clear surfaces. During May and June, you may have an opportunity to see grouses.
Mt. Murodo Observatory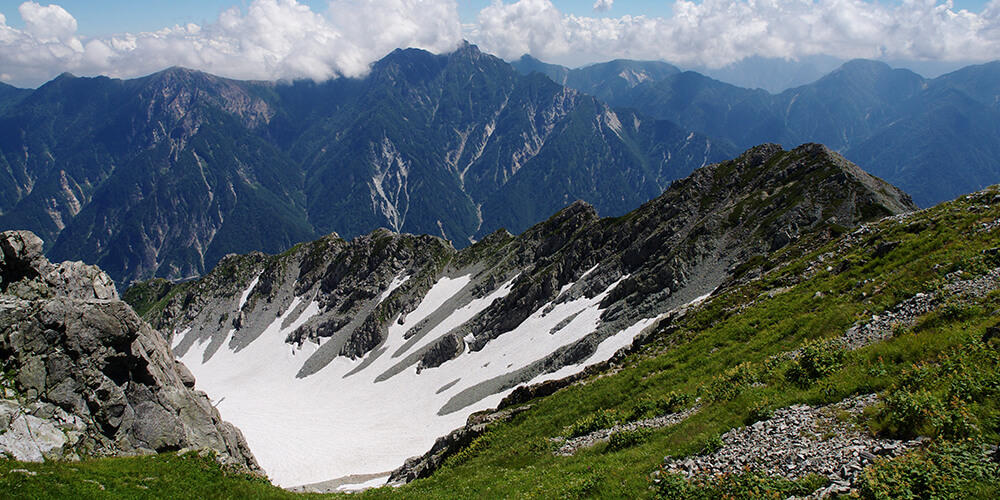 A scenic spot in a sea of clouds. Enjoy sleigh rides in the snow.
Enma (The King of Hell) Deck Observatory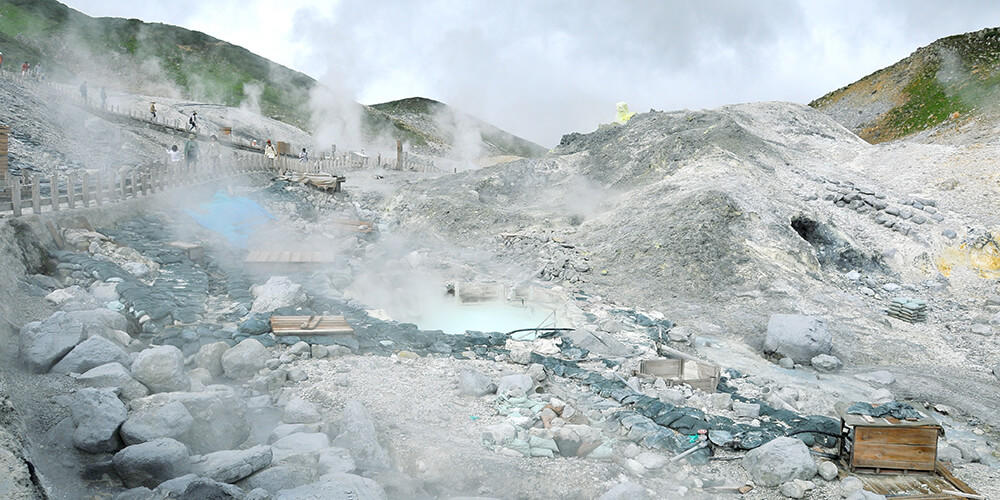 See the volcanic gas rising from the active volcano crater.
Unique Vehicles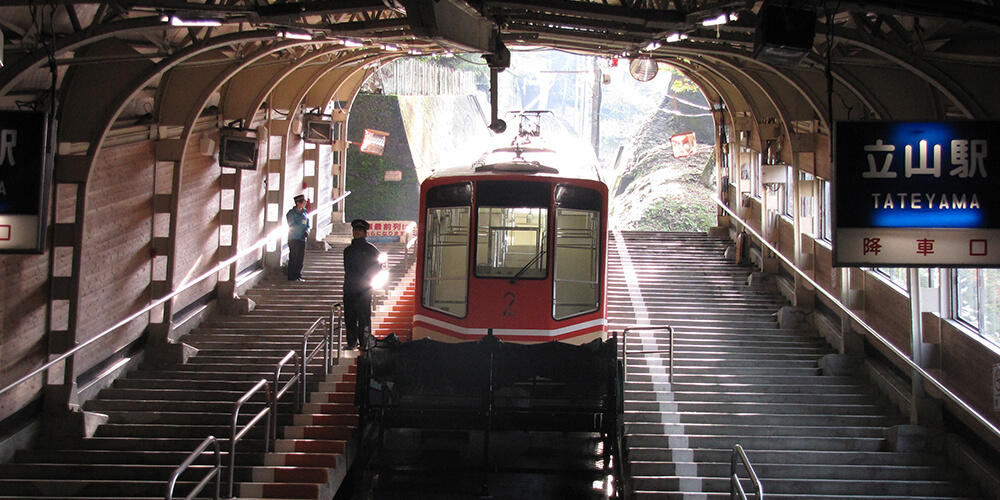 There are a lot of unique vehicles such as cable cars, plateau buses, and tunnel trolley buses.
Chi no Ike (Blood Pond)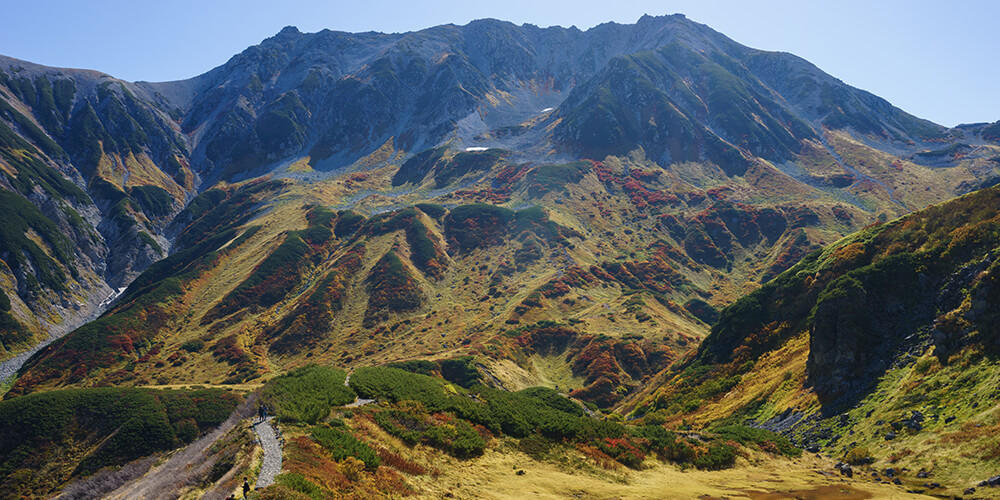 See the blood-red pond from summer to autumn. The color is due to the concentration of iron in the water coming from the mountain crater. The shape of the pond is also interesting.
Tateyama Ropeway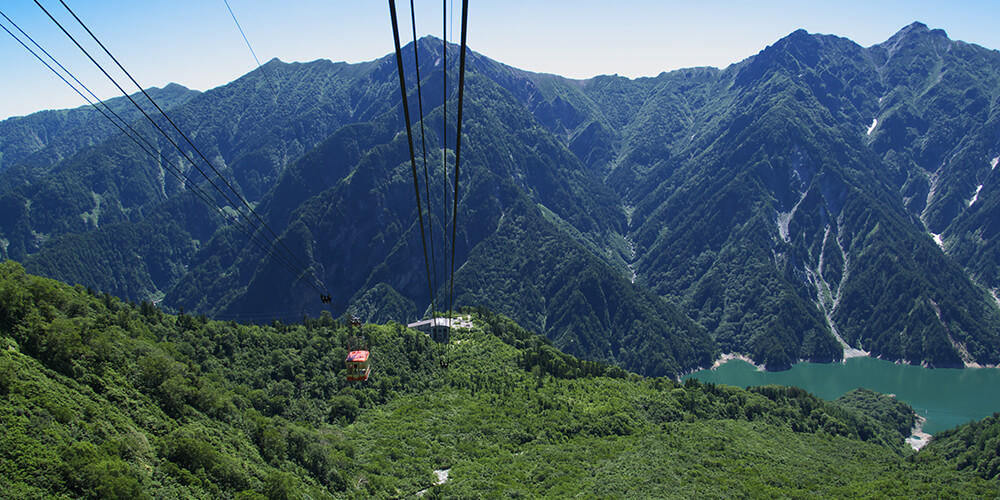 The longest ropeway without supporting bridges in Japan. A panoramic view from the ropeway makes you feel like you are at a moving observation deck.
Geography and Getting There.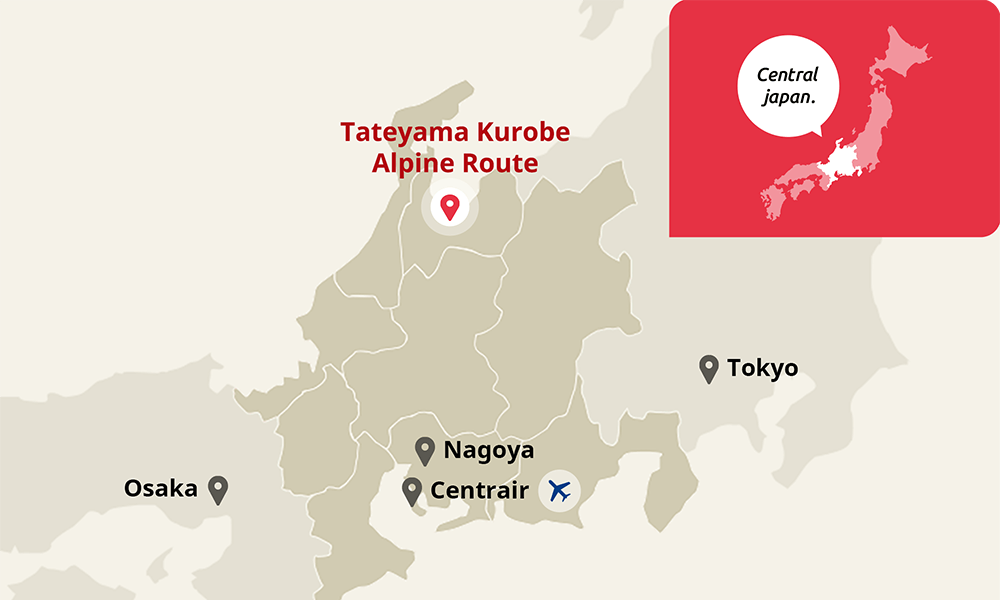 The Tateyama Kurobe Alpine Route is a sightseeing route which goes through mountains over 3,000 meter-high, covering Toyama and Nagano prefectures. After you get to Tateyama in Toyama or Ougizawa in Nagano, all you have to do is to follow the designated course. However, getting there is the hardest part and even many Japanese visitors often get lost.
From Tokyo, Osaka, and the Chubu Region
From Tokyo
Take Hokuriku Shinkansen (bullet train) to Toyama from Tokyo. Take Toyama local line at Toyama Station to Tateyama.
There is a direct bus from Shinjuku Station, but it is a night bus and arrives at Toyama early in the morning.
From Osaka
Take the Thunder Bird Limited Express to Kanazawa to Osaka. Take Hokuriku Shinkansen (bullet train), etc. from Kanazawa Station to Toyama Station.
Take Toyama local line from Toyama Station to Takayama.
From the Chubu Region
Take a highway bus to Toyama from Nagoya or the Chubu region. Take Toyama local line at Toyama Station to Tateyama.
Or, take a highway bus to Shirakawago and Takayama from Nagoya or the Chubu region. Visit Shirakawago and Takayama for sightseeing. From Takayama, you can directly go to Ougisawa by highway bus. You can go around Shirakawago, Takayama, and Tateyama Kurobe by bus.
Tourist spots around Tateyama and Kurobe
introducing a recommended tour from April to June when you can see the snow in the Tateyama Kurobe Alpine Route.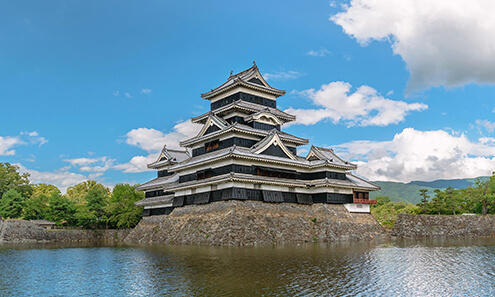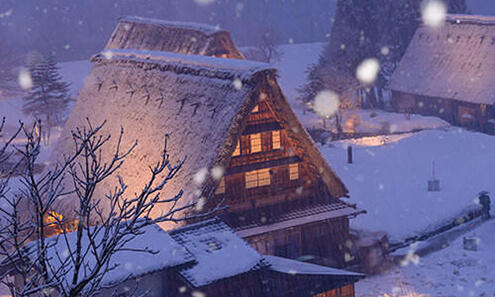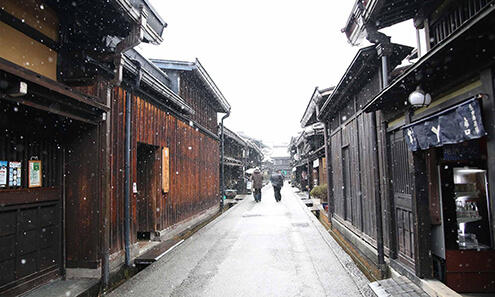 To start your trip from Nagoya Station is recommended. Go to Nagoya Station from Centrair. Then go to Shirakawa-go, Takayama, Tateyama Kurobe Alpine Route, and Matsumoto from the station. Since you can take express buses to each destination from Nagoya Station, you don't need to worry about changing trains which can be complicated and annoying.
Questions and answers for tourism at Tateyama Kurobe Alpine Route
Is it open all year round?
The area closes mid-winter due to heavy snowfall. The area is generally open April 10 to November 30, but the schedule may change in response to snowfall.
Where to Buy Tickets
You can buy tickets for the Tateyama Kurobe Alpine Route at the station but you may have to wait in line due to its popularity. Ticket sales may be limited during holidays such as early spring, summer, autumn, etc. So, purchasing tickets in advance is recommended.
When making your plans to get to the Tateyama Kurobe Alpine Route, you can make a reservation for the Shoryudo Bus Pass, the Takayama Roundtrip Tateyama Kurobe Alpine Route Course ", etc.
What to Wear?
The average temperature in April ranges from 0°–4° C during the day. It gets up to around 8°–12° C in June. It is 14°–18° C even in midsummer. Temperatures reach sub-zero even during the daytime in November. The mountain climate is quite different from that in town, so bring winter clothes like down jackets even in early spring.
How long does it take?
It takes 6 to 7 hours to travel the Tateyama Kurobe Alpine Route, including a one-hour lunch. The "Takayama Roundtrip Tateyama Kurobe Alpen Route Course departs from Takayama at 7:40 am and returns at 9:05 pm.
If You Want to See the Snowy Otani and Water Release All Together...
You can see the Otani Snow Wall from the middle of April to June. The Kurobe Dam's water release for tourists is usually held from June 26 to October 15, but may be canceled depending on the weather. So, if you know what you want to see, it is suggested to check the schedule in advance.
Things to Keep in Mind
The Tateyama Kurobe area is a national park where scarce animals and plants are preserved. Please follow the rules to protect the surrounding nature. Walk the designated path in the mountains. Do not pick alpine plants. Take your trash with you and do not drop cigarette butts. Please use the designated toilets.
Wrap up
Visit Tateyama Kurobe Alpine Rouge along with Shirakawa-go, Takayama, Matsumoto, and Shinhotaka is convenient because they are all in the Chubu region and each is full of tourist attractions. After enjoying the nature, culture and history on the outskirts of the Chubu area, head back to Nagoya, the central city of Chubu to enjoy the unique local food and shopping. If your point of departure from Japan is Centrair, Japan's most fun-filled airport, enjoy yourself till the last minute before returning home.
Sponsored by Chubu Centrair International Airport