| Hannah Tsai
Five Luxury Camping Sites in Central Japan
Camping by a beautiful ocean or deep in the mountains of Japan is a dream for many people. However, the need to prepare camping gear on an overseas trip might dissuade travellers to Japan.
But what if you didn't need to prepare anything? Join us as we introduce you to the joy of Glamping in Central Japan, where the prep is taken out of the equation so you can rest, relax, and reinvigorate yourself in style.
What is Glamping?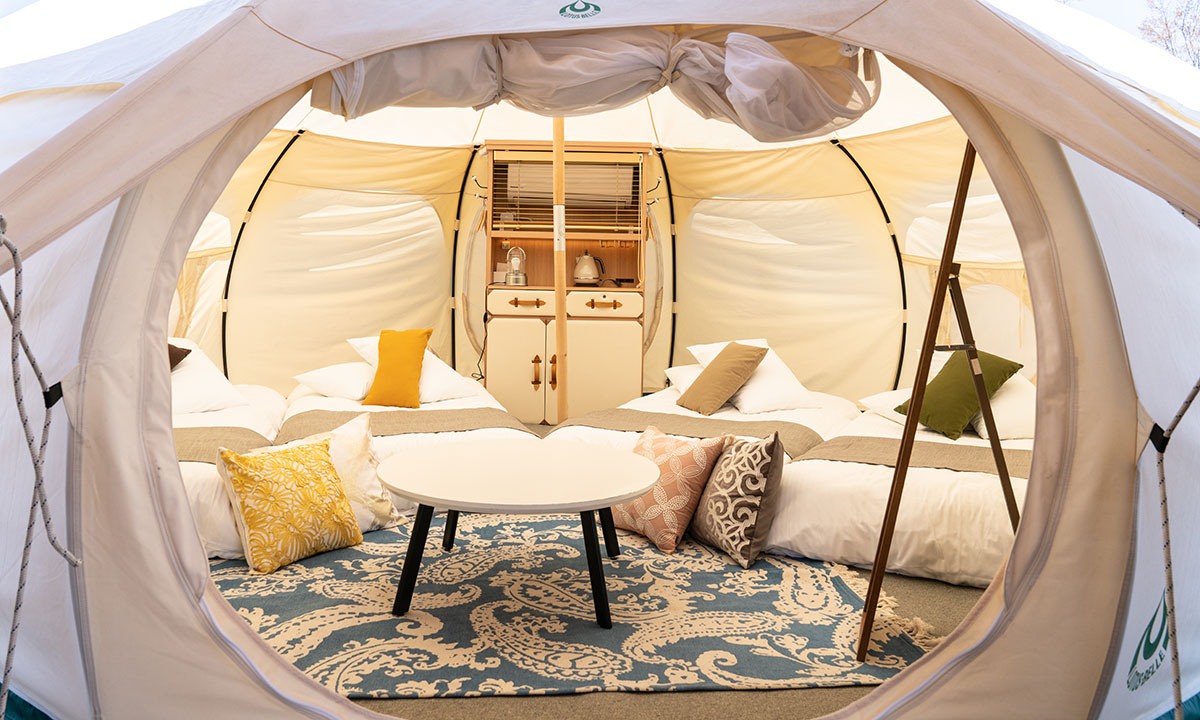 Credit:GLAMP ELEMENT
Glamping is a combination of the words "Glamourous" and "Camping." It differs from camping because you don't need to set up your own tent, cook over the fire, sleep in a sleeping bag, nor do you need to put up with inclement weather. At glampsites, the tents are already set up, with luxury beds, cooked food, and heated or cooled depending on the season.
Japan has recently latched onto the Glamping trend and has several luxurious campgrounds to choose from, each more beautiful than the last. They are perfect for visitors looking for a no-fuss trip, that want to experience nature and enjoy the comfort, while not having to deal with the complications of renting camping gear in Japan.
Glamping Features in Central Japan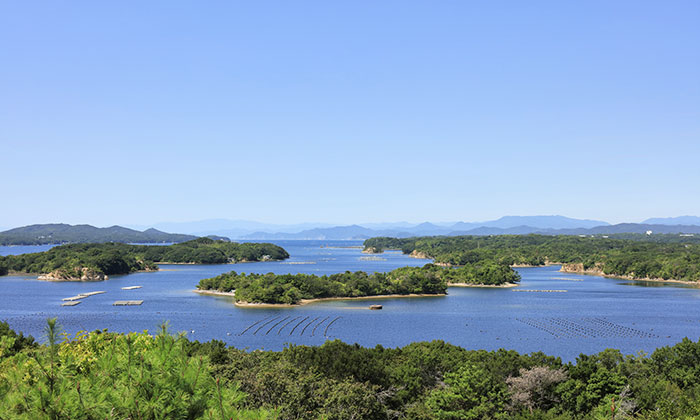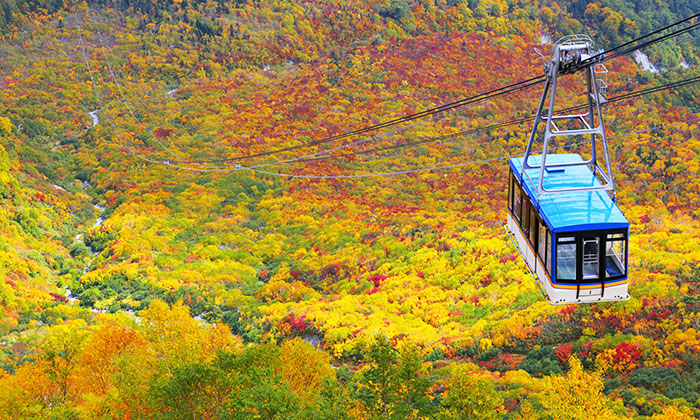 The Central Japan region is abundant in nature, so the Glampsites make sure to take advantage of the local landscapes. In Mie, a prefecture next to the Pacific, there are fantastic views of the ocean; Nagano & Gifu, prefectures in the Japanese Alps, make use of the mountains to create glampsites that feel as though they are floating in the clouds. Shiga, home to Japan's largest lake, Biwa, is full of campgrounds designed with creeks.
We have selected five glampgrounds in the Central Japan region, each with its features and themes. These glampsites are popular with overseas visitors so be sure to check them out and find your favourite!
GLAMP ELEMENT (Shiga): Cabins and tents on a river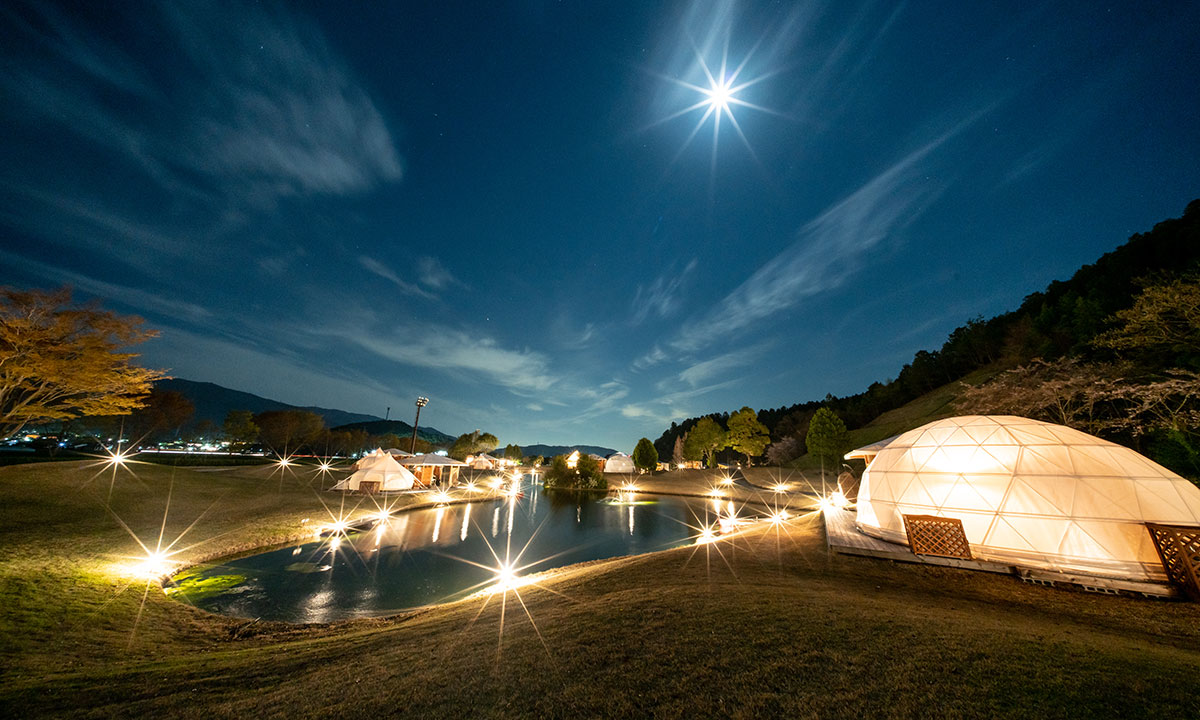 Located in Maibara in Shiga, GLAMP ELEMENT has a clear pond with Mt. Ibuki in the background.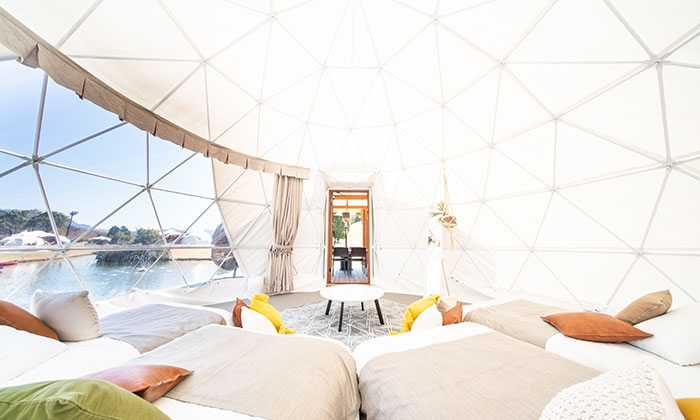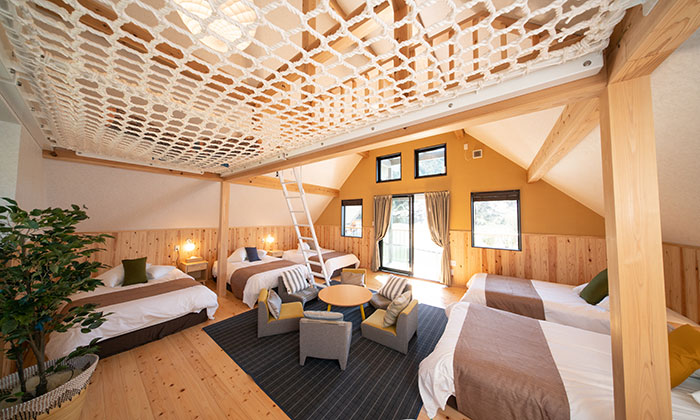 GLAMP ELEMENT has a variety of room types, the Lotus Tent, White Dome, Wood Cabin, Concept Cabin, Raindrop, and Villa. It looks like a town out of a fairytale. Each room has comfortable beds, stylish furniture, and beautiful curtains that open to reveal stunning views of the landscape.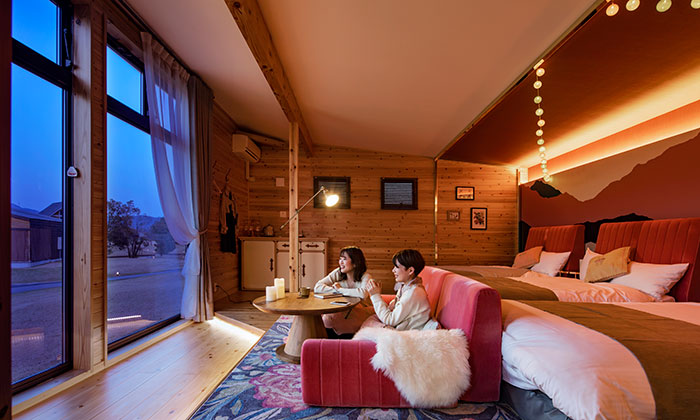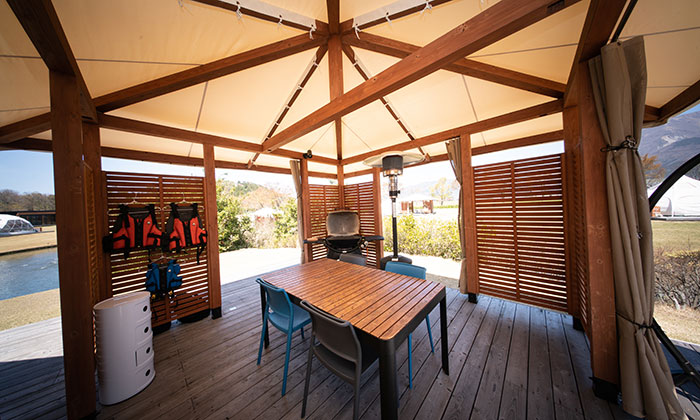 Each room type has an outdoor section where you can enjoy refreshments supplied by the glampsite.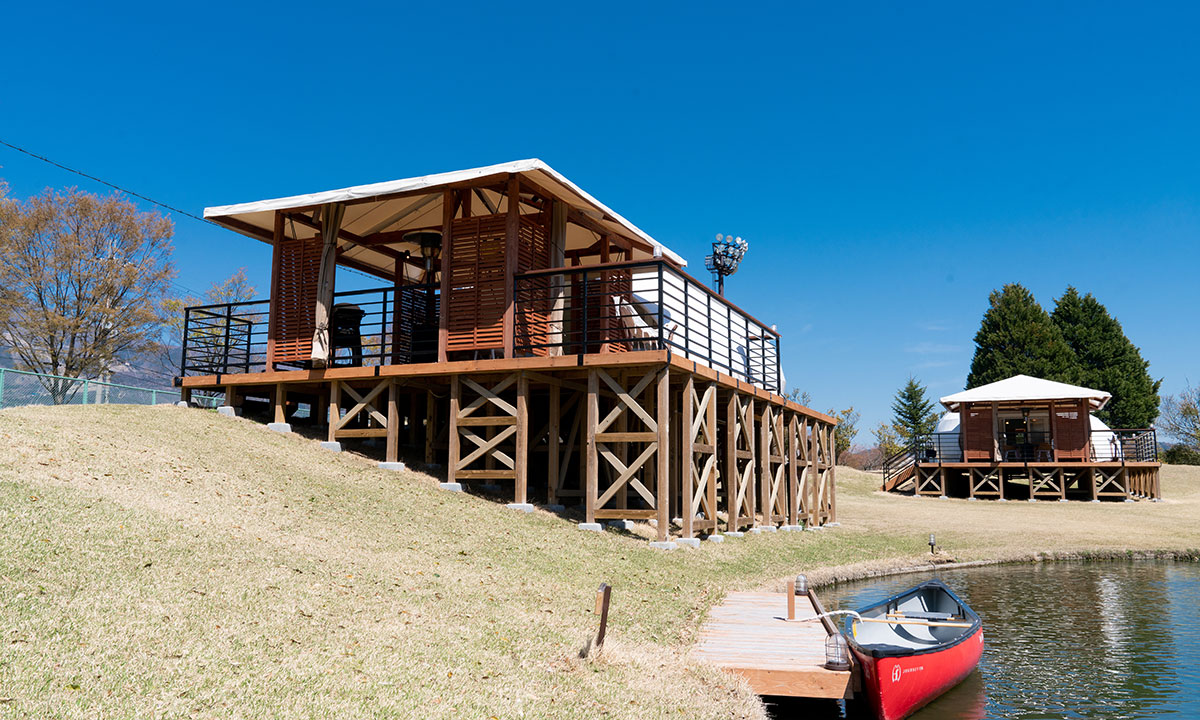 And best of all, your meals and all the facilities are included in the accommodation fee. So don't worry about any extra charges. Just sit back, relax, and enjoy your day.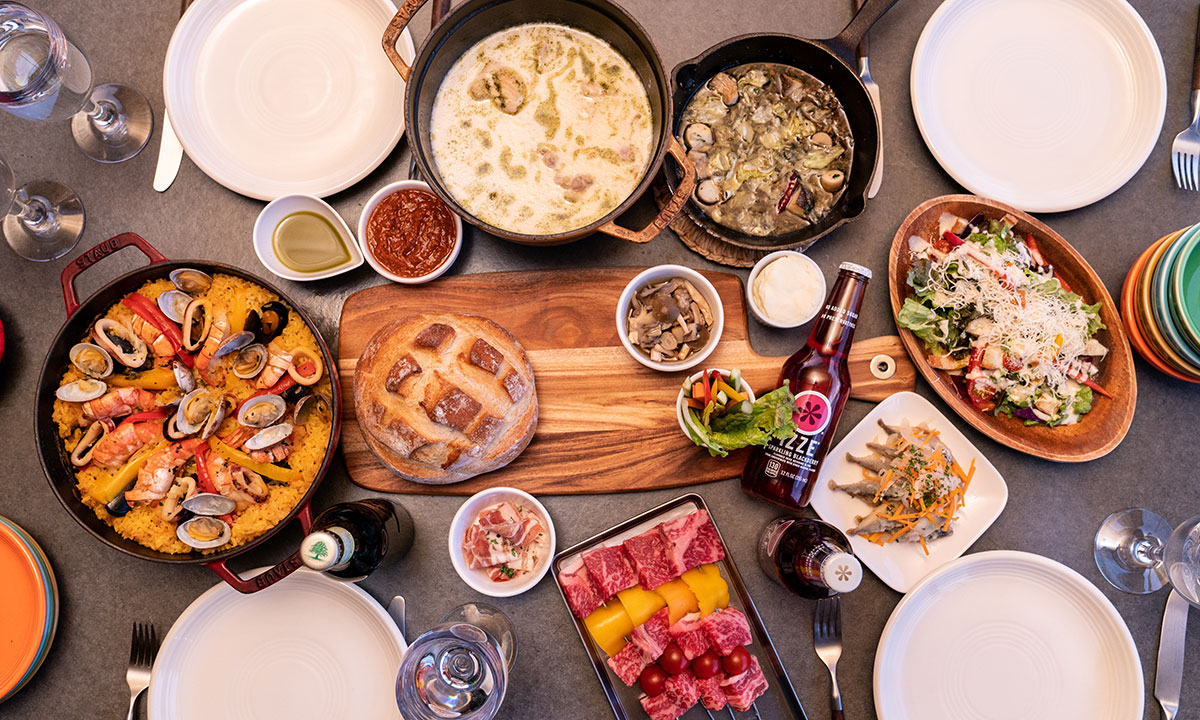 Dinner is cooked by a personal chef who will come and cook for you. Dishes include seafood paella, oven-baked bread, scallops and mushroom ajillo, and more, as well as a choice between Western or Japanese style breakfasts. And after dinner, you can head over to the bar for an all-you-can-drink special!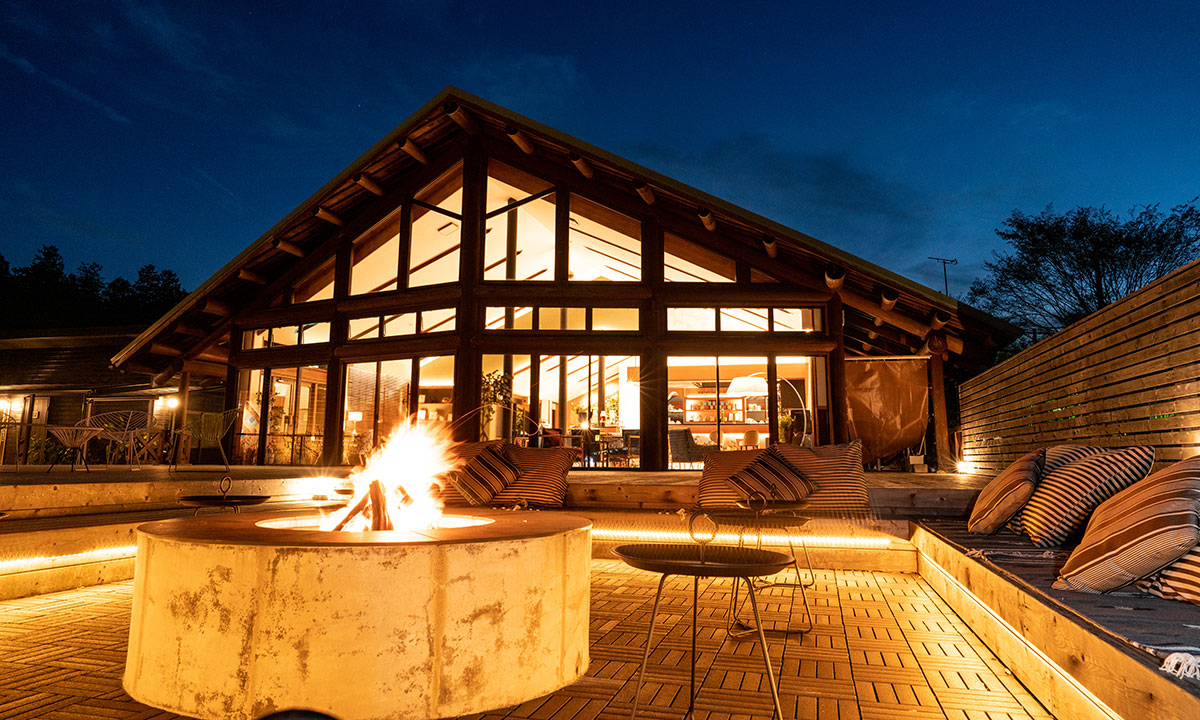 Then wrap up your night under the quiet night sky while Mt. Ibuki looks down upon you as you recline by the campfire.
The staff at GLAMP ELEMENT mostly speak Japanese and use translation machines for communication, but their attentive service and sincere attitude of hospitality more than makeup for some communication troubles.
Features
Pondside cabins and tents, various stylish room types, a special boat, views of Mt. Ibuki
Capacity
4~6 persons (depending on room type)
Price
Approx. ¥23,595–¥40,535 (including meals per person in a room for four people, depending on room type and season)
Heating and Air Conditioning
Provided
Rental Supplies
Toothbrushes, toiletries, and bath towels are provided free of charge
Bathroom Facilities
Separate bathroom provided
交通方式
By car
By train (Free shuttle bus to JR Omi-Nagaoka Station is available by reservation)
Snow Peak FIELD SUITE HAKUBA KITAONE KOGEN (Nagano): Resting on a sea of clouds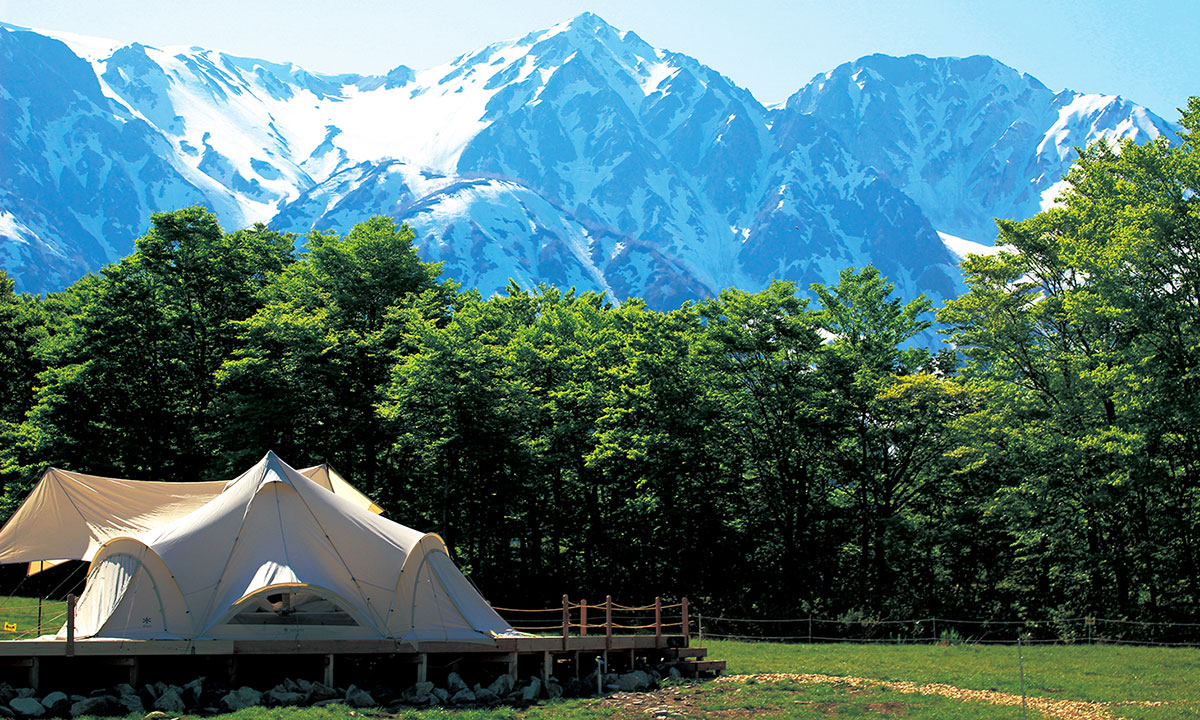 Imagine yourself waking up amidst a sea of clouds with the peaks of the Japanese Alps occasionally disturbing the surface. Then Snow Peak FIELD SUITE HAKUBA KITAONE KOGEN, is where you'll want to go. Created by the outdoor sporting goods brand Snow Peak, it is the first mountain resort of its kind in Japan.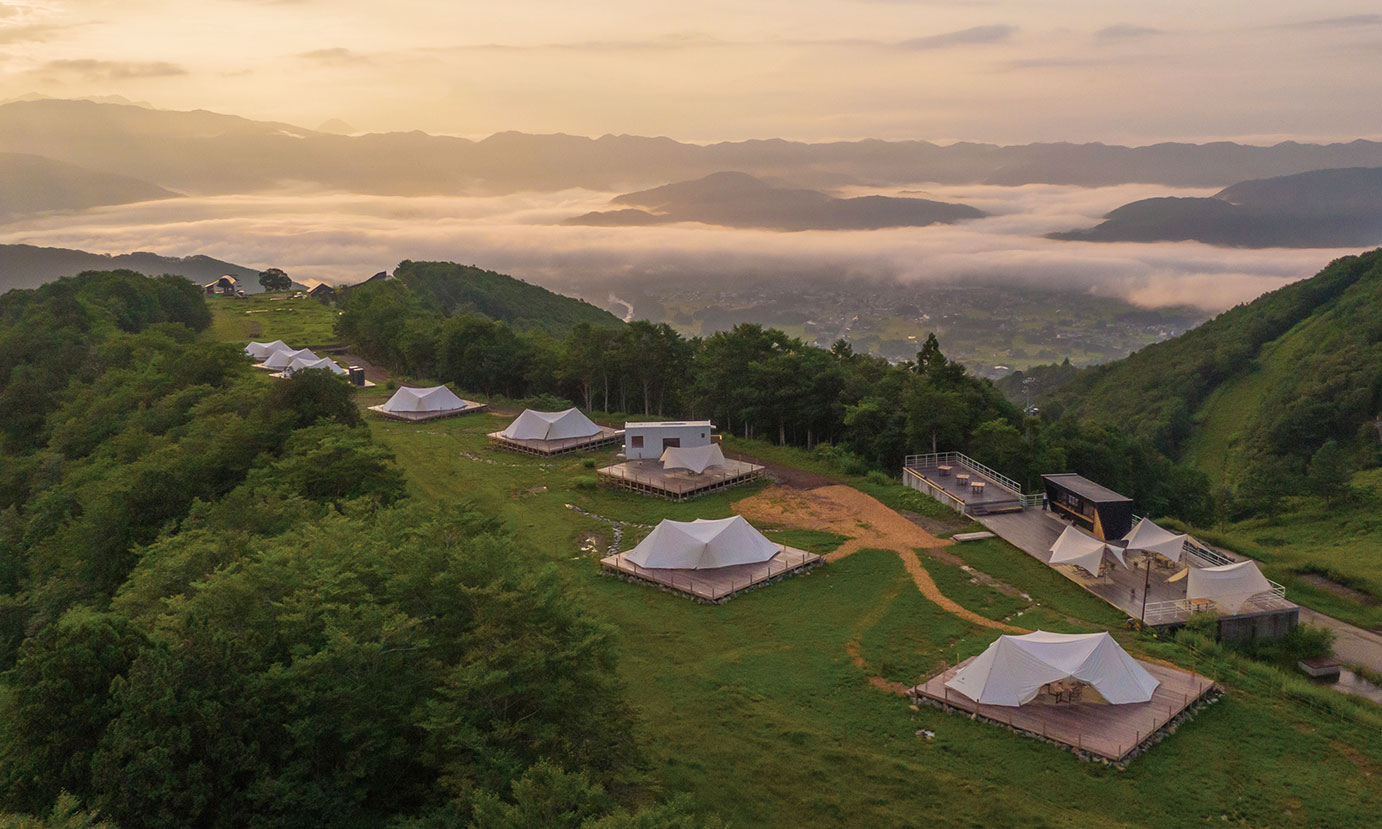 Located in the 1,200 meter high areas of Hakuba in Nagano, you get views of the Hakuba landscape as part of your stay! Each season offers new treasures, like low-hanging clouds that swirl around your feet while you enjoy clear skies in the summer, the reds and oranges of leaves colouring the mountains and valleys in autumn, and a white blanket of snow just outside our tent flap in the winter.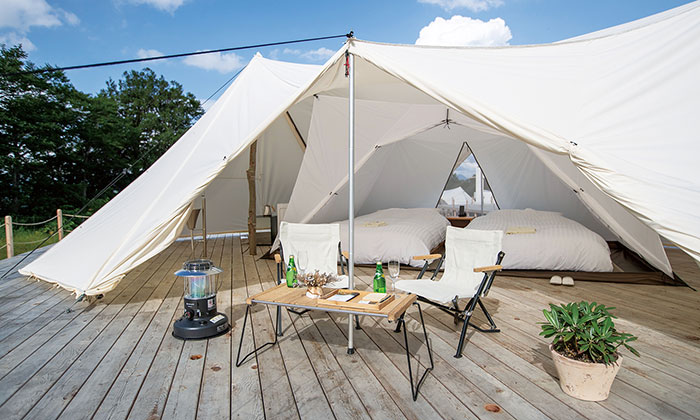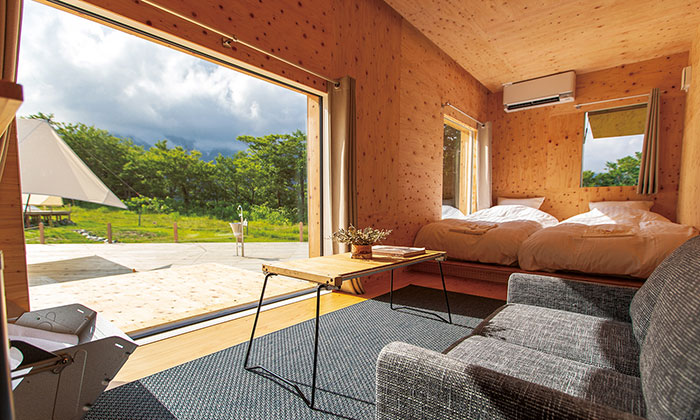 Snow Peak FIELD SUITE HAKUBA KITAONE KOGEN has eight rooms: seven tents, and one cabin which was designed by the famous architect Kengo Kuma.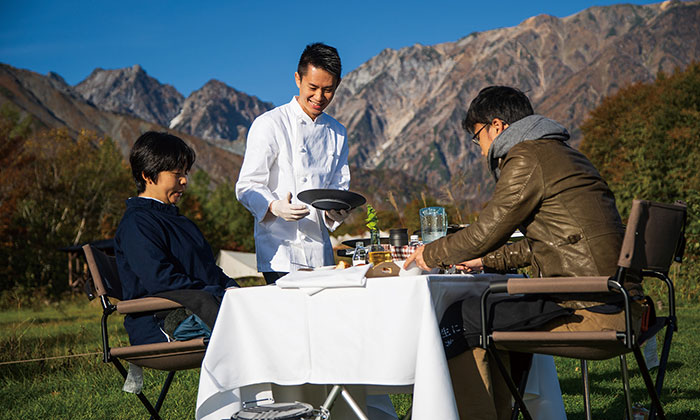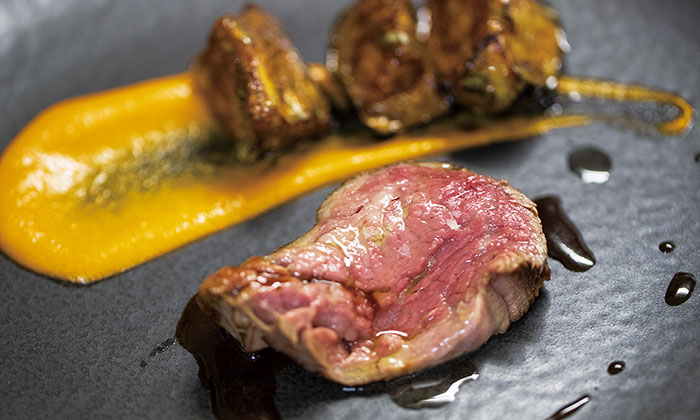 This glampsite is more like a high-class hotel. You can book professional massages, eat food prepared by an Italian-trained chef who has experience making meals using local ingredients and listen to live music performances. With a maximum of 16 guests at the resort along with a staff of 20 or so, you will be able to experience these luxurious services to your heart's content.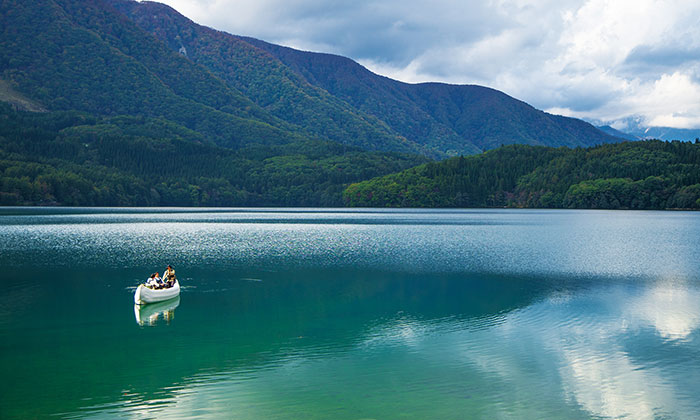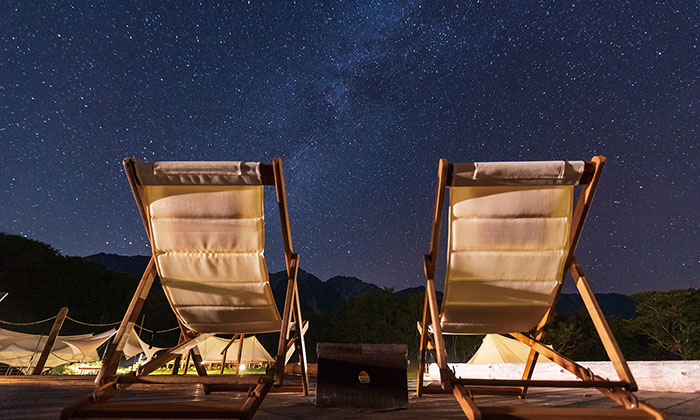 You can experience waking up for an early mountain sunrise, soak in open-air hot springs, take lunch in a personal canoe (additional charge), and watch the evening stars around a campfire. Even the simple act of waking up and having breakfast while gentle flakes of snowfall around you make for unforgettable experiences.
When overseas tourists attend, English-speaking staff is employed to help them feel at ease. It should be noted that only children over 10 years of age are permitted, so this glampsite is better for married or unmarried couples looking for a getaway.
Features
The only mountain resort of its kind in Japan, operated by the famous outdoor brand Snow Peak, with high-class service
Capacity
2 to 3 persons
Price
Starting at ¥176,000 (one room rate, including 3 meals)
Heating and Air Conditioning
Provided
Rental Supplies
Bathroom supplies and pyjamas are provided free of charge
Bathroom Facilities
The cabin has an attached bathroom Tents have separate bathrooms
Directions
By car
By train (free shuttle bus to Nagano Station)
GLAMP DOME Ise-kenjima (Mie): Pure white domes near the ocean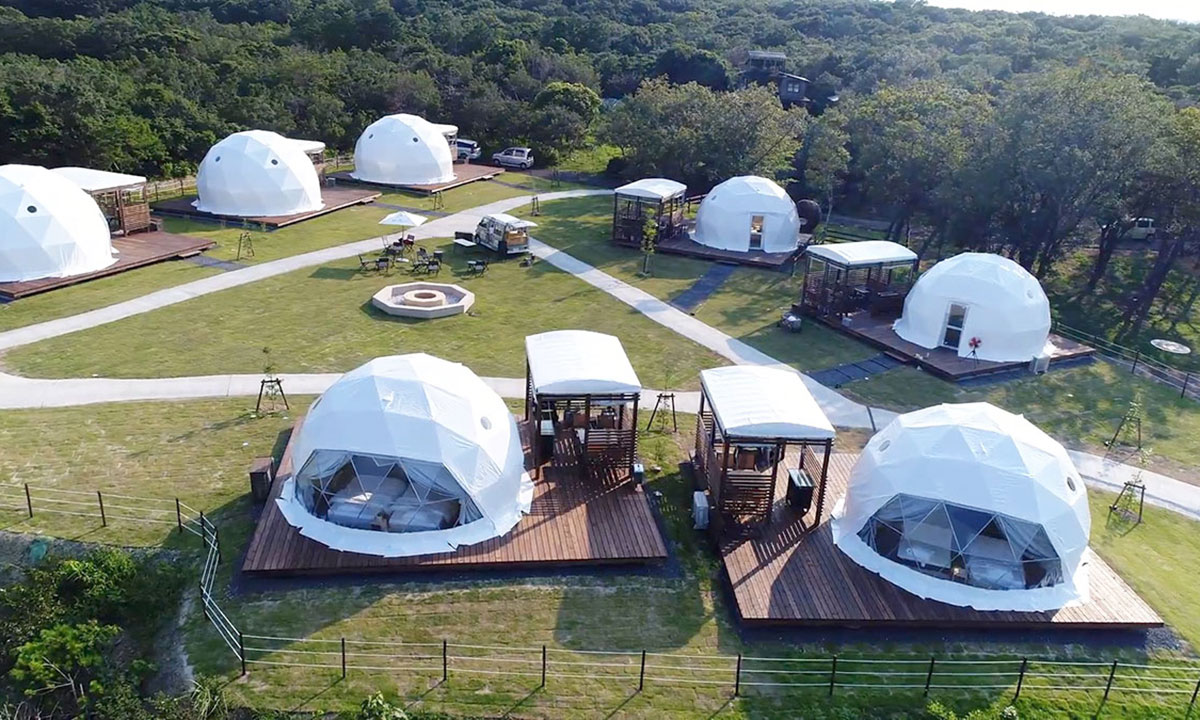 Opened in 2019, GLAMP DOME Isekashikojima is the first of its kind on the eastern seaboard using dome tents from which you can see the ocean and forests.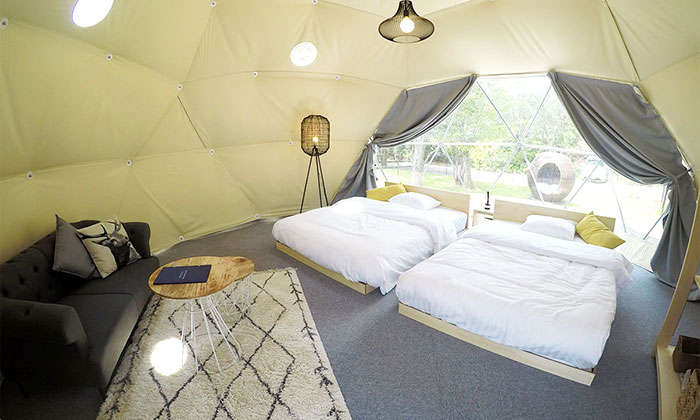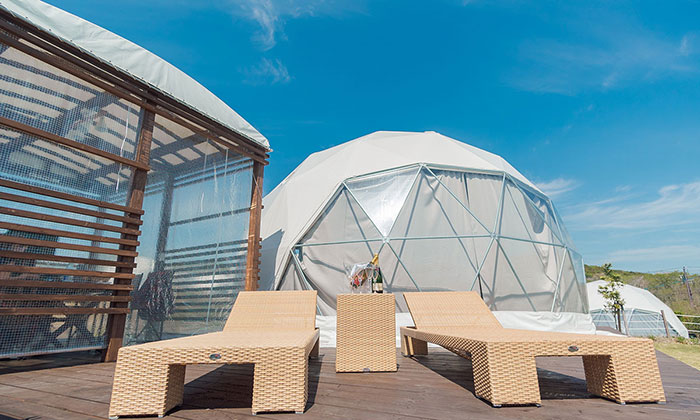 The tents are furnished with beds, carpets, and wooden furniture, to make it as comforting as any hotel. During the night the tent lights up like a jewel in the night sky, perfect for a photograph.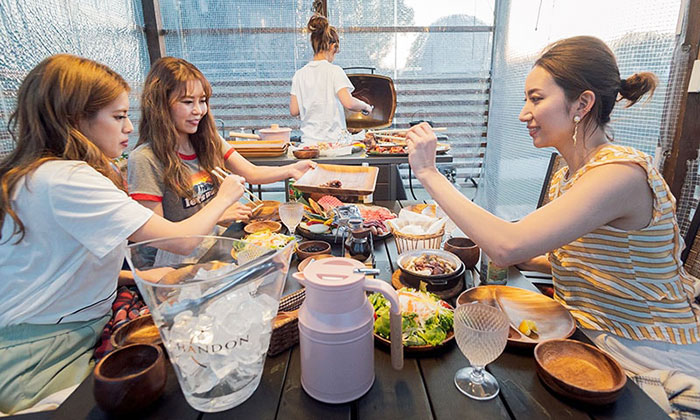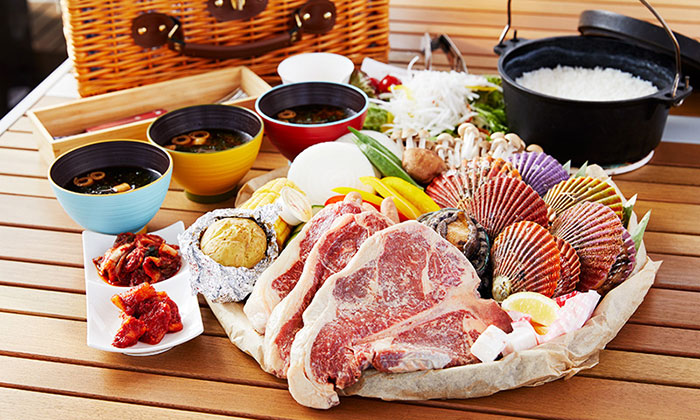 Since Ise Shima is famous for its seafood, it's only natural that the food should make use of local seafood ingredients. Having BBQ is a popular choice for guests, with dishes that include Matsuzaka beef, locally sourced seafood, and a deluxe plan of one lobster per person.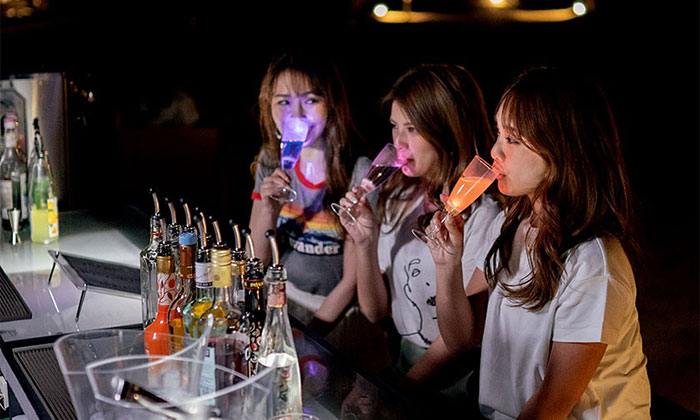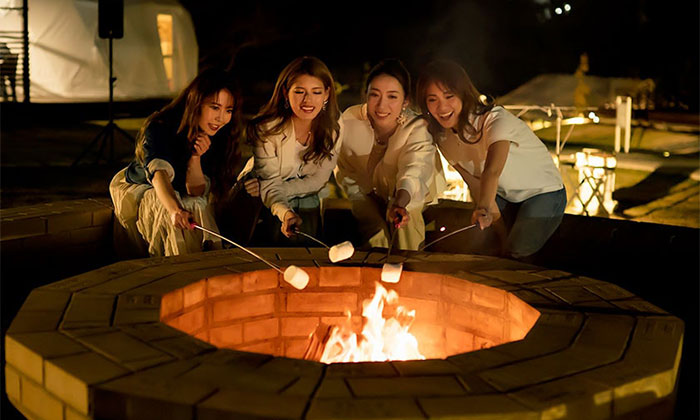 And after a meal treat yourself to some Häagen-Dazs ice cream, or enjoy an evening drink at the all-you-can-drink bar.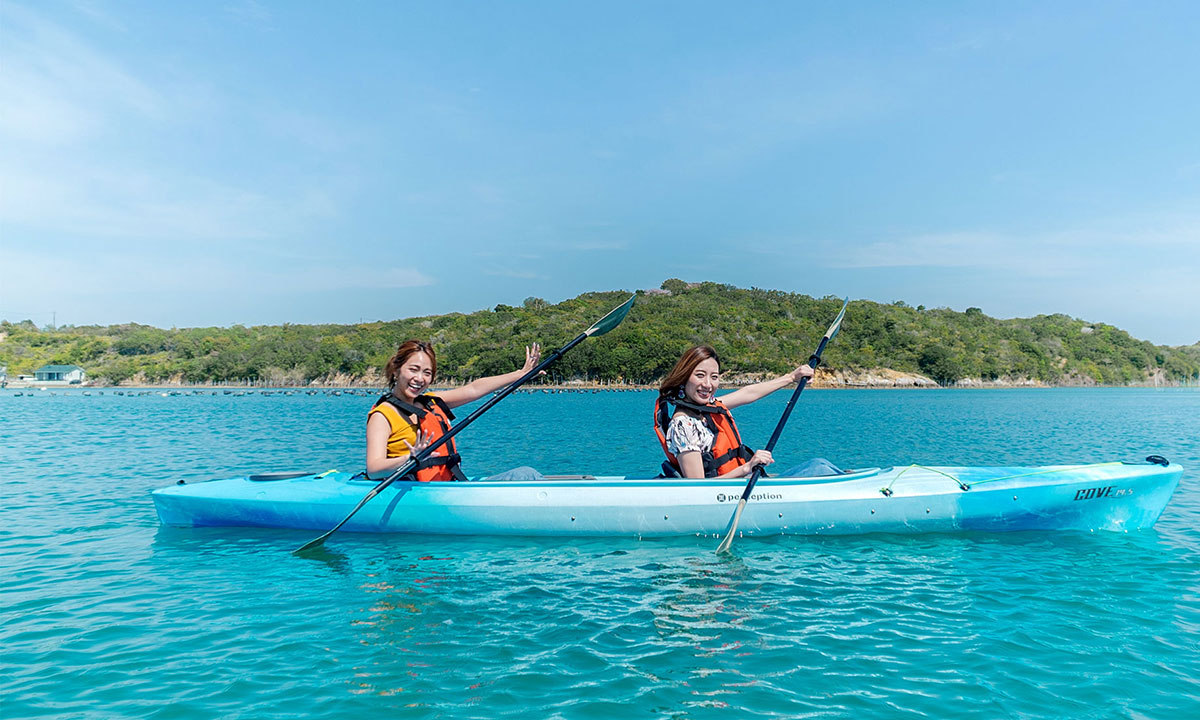 Seasonal activities include snorkelling and canoeing in the summers (additional fee) or romantic lighting in the winter. Whichever season you choose you'll have something to enjoy.
Although there is no dedicated English service, the staff will do their best to communicate.
Features
Pure white dome tents, close to the ocean and a wide range of water activities
Capacity
5 to 10 people
Price
Starting at ¥17,050 (excluding meals, price per room for 4 persons, depending on room type)
Heating and Air Conditioning
Provided
Rental Supplies
Bathroom supplies and pyjamas are provided free of charge
Bathroom Facilities
。Separate bathroom
Directions
By car
By train (regular free shuttle service to Kashikojima Station)
Nagomiya Seseragi (Gifu): Cabins in the woods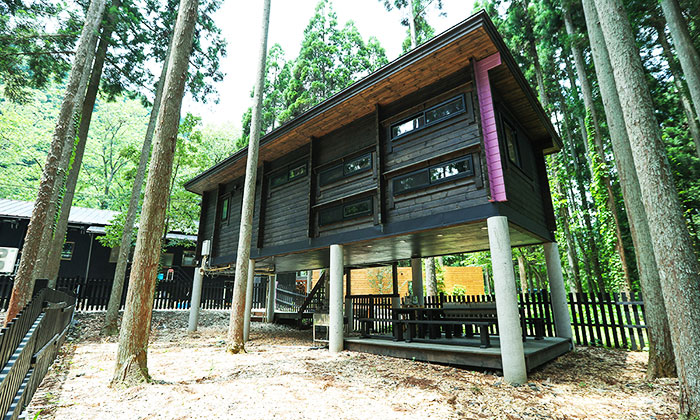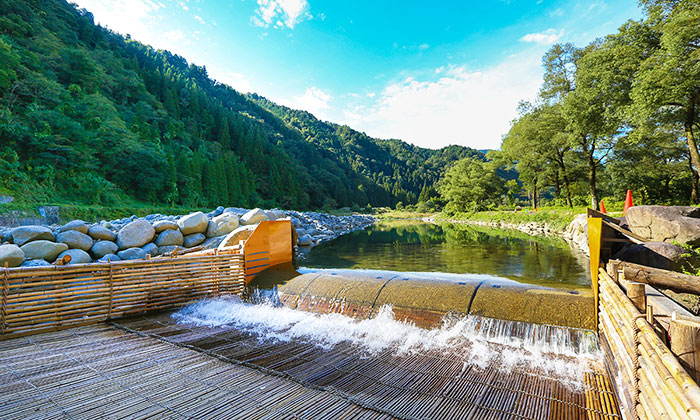 Nagomiya Seseragi is in the forest of Gifu and offers old-fashioned cabins for your stay. The camping area is near the Nagara River so you can enjoy the water, and every year from August to October local seasonal fish, that you can catch with your bare hands in the stream and grill for dinner.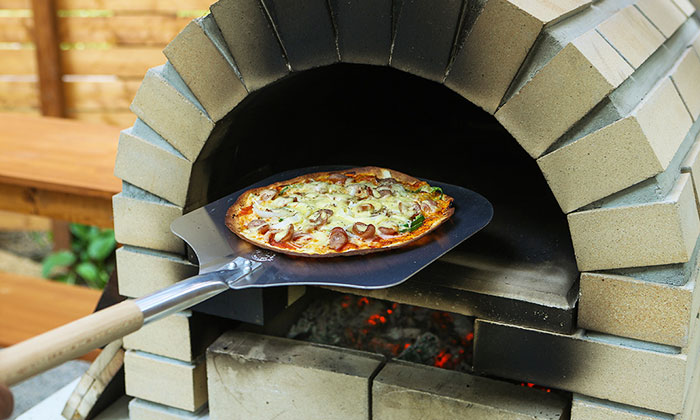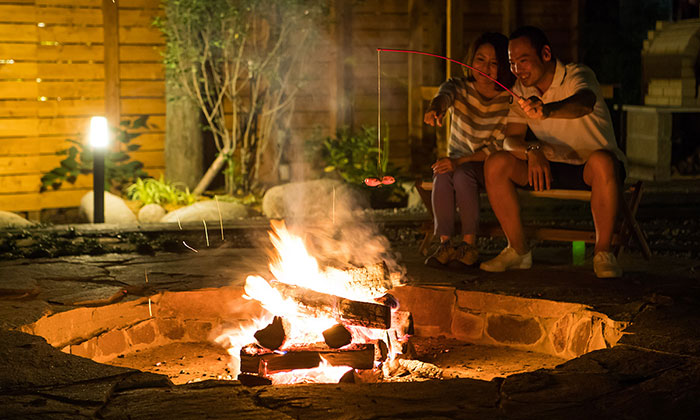 The best thing about Nagomiya Seseragi is the abundance of experiences available, such as making homemade cheese and sausages (¥3,850 for 4 people), hand-made pizzas (¥3,900 for 2 pizzas), and a deer butchering experience guided by a local hunter.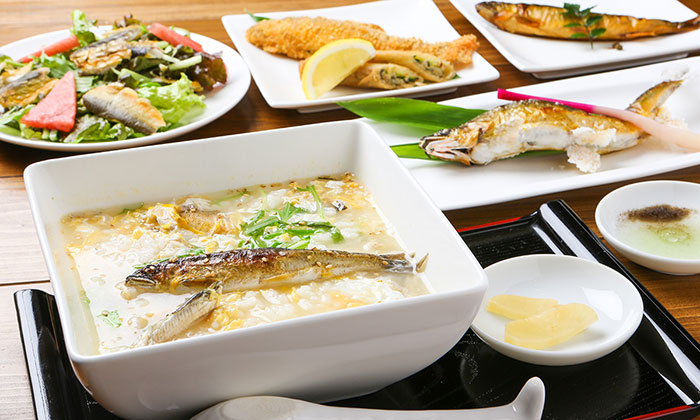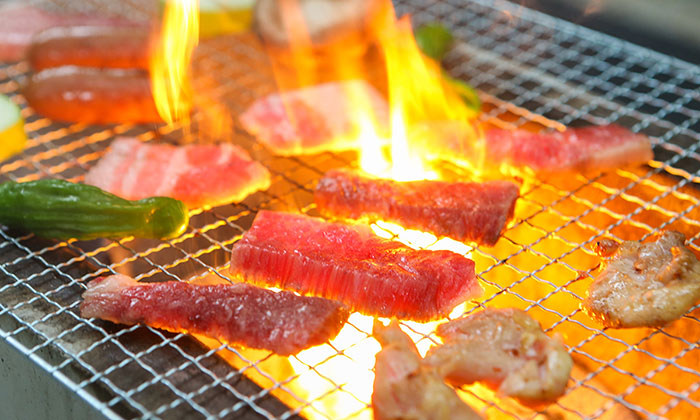 Nagomiya Seseragi prepares BBQ in the evening using local specialties such as Hida beef and chicken. The BBQ is accompanied by Nagomiya Seseragi's freshly prepared fish dishes to soothe away the weariness of the day. Once you've eaten your fill, recline on a lounge chair by the campfire and listen to the healing sounds of the fire as you take in the unobstructed starry sky as can only be seen in the mountains.
You can also take a trip from here toGujo-Hachiman, orAmida Falls and try out some flowing Japanese noodles.
| | |
| --- | --- |
| Features | Cabins, various activities (catching fish, smoking food, etc.), local cuisine |
| Capacity | Cabin for 8 persons |
| Price | ¥28,000–¥45,000 (for a room for four people, ¥3,300 for each additional person over four) |
| Heating and Air Conditioning | Provided |
| Rental Supplies | Bath towels can be rented. Toothbrushes, pyjamas, etc. not provided. |
| Bathroom Facilities | Available |
| Directions | By car |
Kabuku Resort (Mie): Camping with traditional Japanese cultural experiences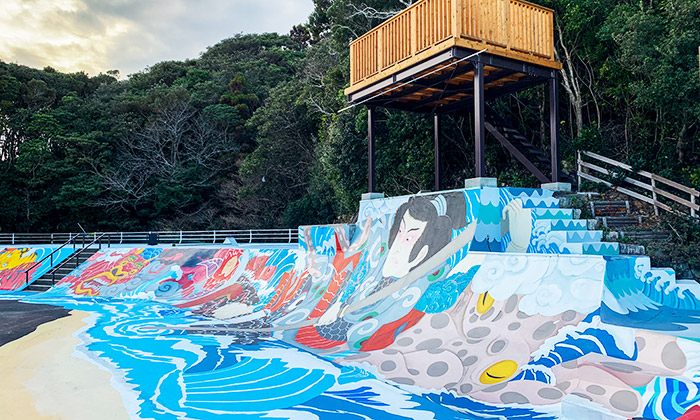 Kabuku Resort, in Shima, Mie, is a glamping site near the ocean. The best part about this glampsite is you can combine traditional Japanese culture with modernity. You can grill your meat Ukiyo-e murals and modern art and exercise at the art-covered skatepark.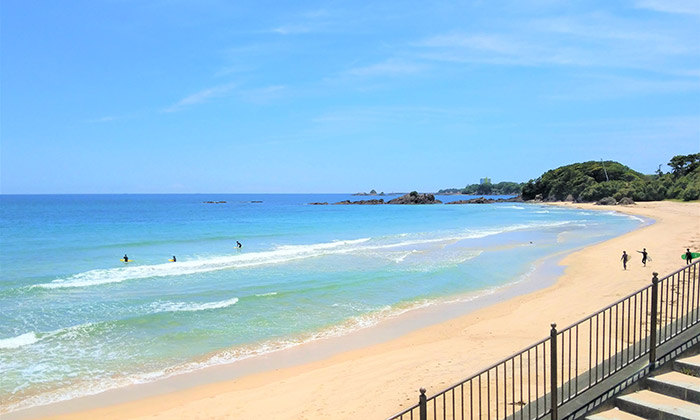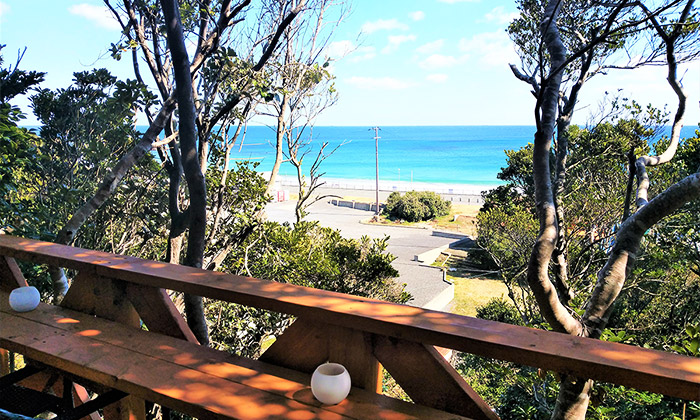 Ichigohama is a beautiful beach, just a short walk from the campground. It is considered a haven for surfers and stand-up paddleboarding (SUP). So don't forget to swing over to the ocean and take a dip. If that isn't your thing then take a seat in the observation area and enjoy the view with a drink, or take a dip in the park swimming pool (summer only.)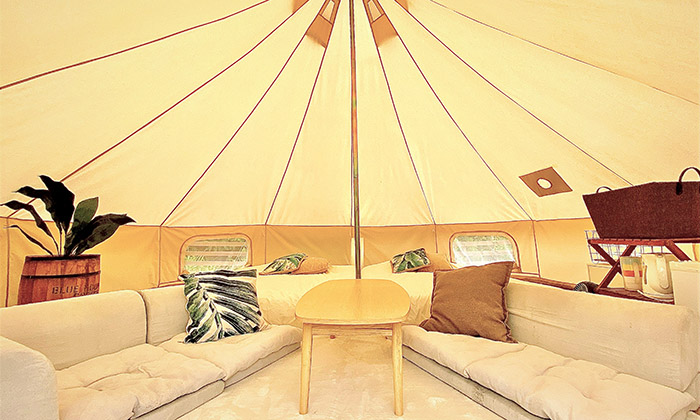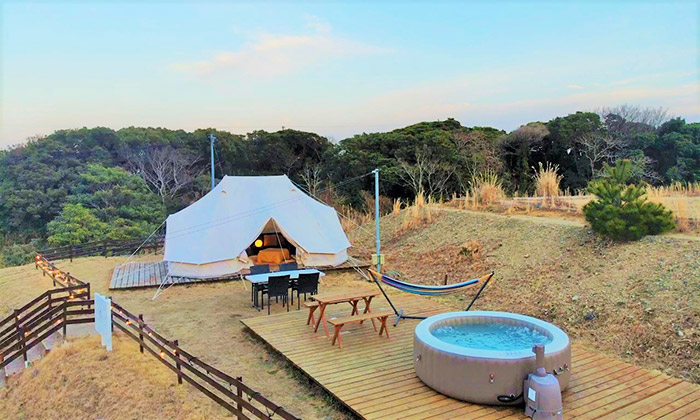 There are two types of tents, the regular "Glamping" tents, and the "Glamping" tents with jacuzzi and sauna access. They also come with beds, sofas, heaters, fridges, and more to ensure a comfortable stay.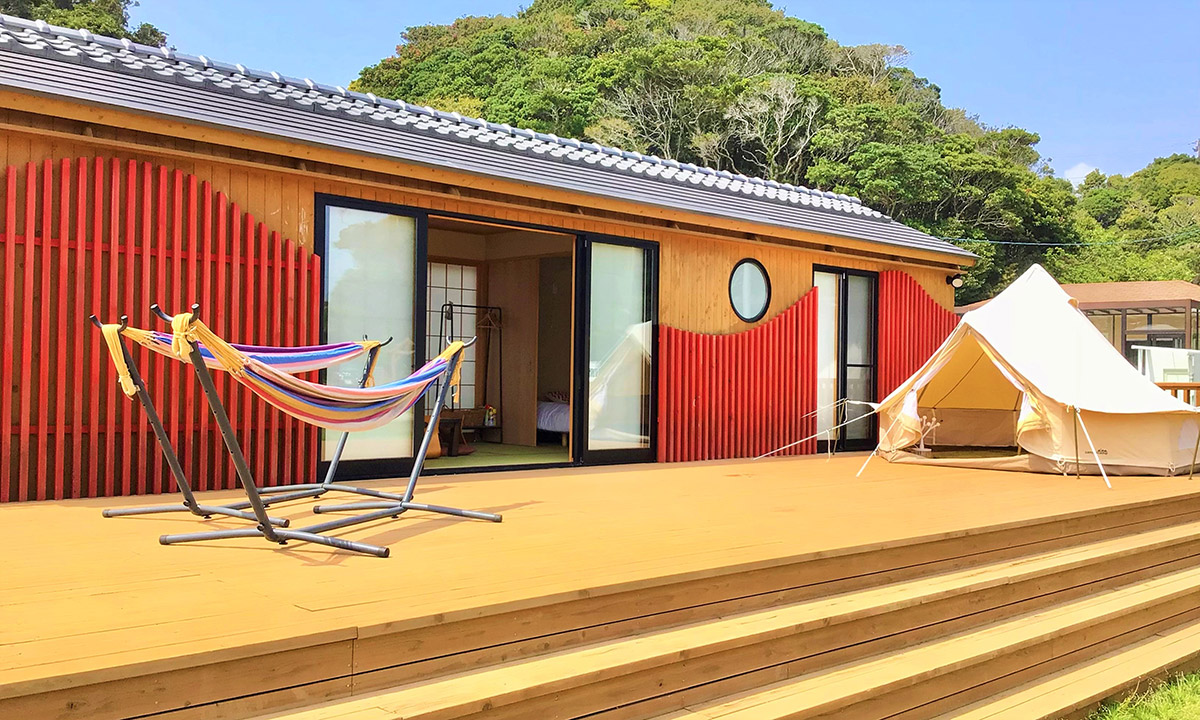 If you want to stay near nature, but don't want to sleep in a tent then the "Moving Room" is for you. It's like a small trailer with seating beds and a bath.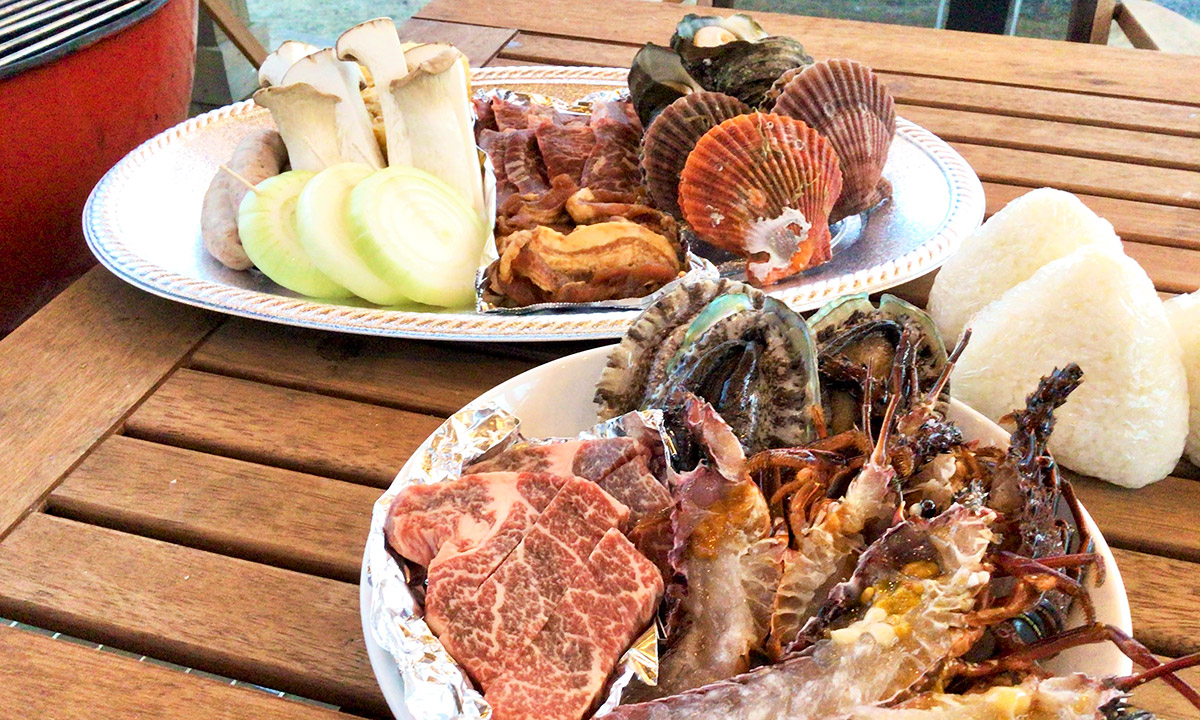 For food try the signature seafood BBQ. It includes seafood caught by Shima's Ama divers (traditional female divers) and smoked fish, perfect to enjoy at a seaside campground.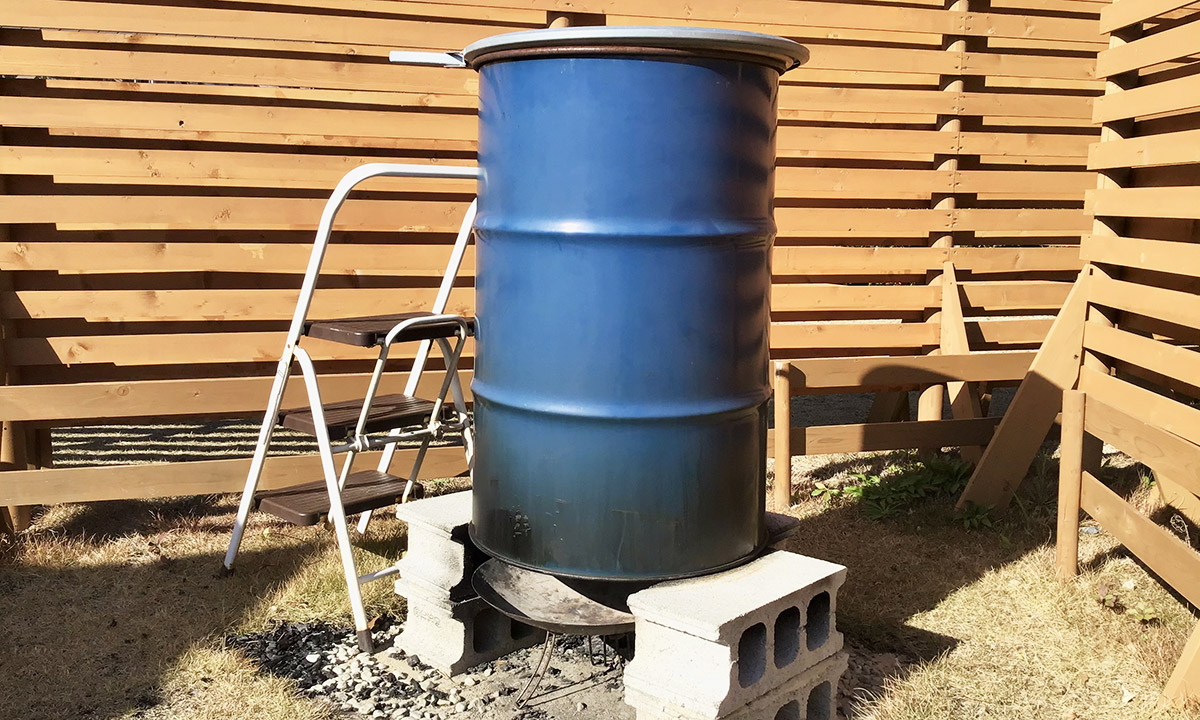 You can enjoy activities like SUP, yoga under the stars, visits to Ama huts, and tie-dying. You can even experience the traditional Japanese barrel bath, that you may have seen featured in Japanese animation.
Features
Near the sea, combines traditional Japanese culture and camping, at an affordable price.
Capacity
four to seven people depending on the room type.
Price
¥9,000 (excluding meals, for 4 people per room)
Heating and Air Conditioning
Provided
Rental Supplies
Bathroom supplies are provided free of charge.
Bathroom Facilities
Tents have separate bathrooms
Directions
By car
By bus (take the 92 Shima Line from Ugata Ekimae bus stop to Shijima Nokyomae and walk for 5 minutes
Wrap-up
Have you been bitten by the glamping bug yet? Many people are looking to get outdoors and away from the city centers to avoid the epidemic. So glamping makes a great choice with its balance between nature and comfort.
Pack your bags (you don't need much, the luxury camping will help you prepare! Come and enjoy the camping experience of escaping from everyday life!
Click here to get the latest information on Central Japan.Centrip Japan - Nagoya and Chubu Information