| Paul Deckret
Travel Back in Time on a Visit to Nagano's Hidden Village
Northern Nagano is home to a small, secluded village that is accessible only on foot and offers a fascinating chance to see and experience life as it was in Japan many, many years ago.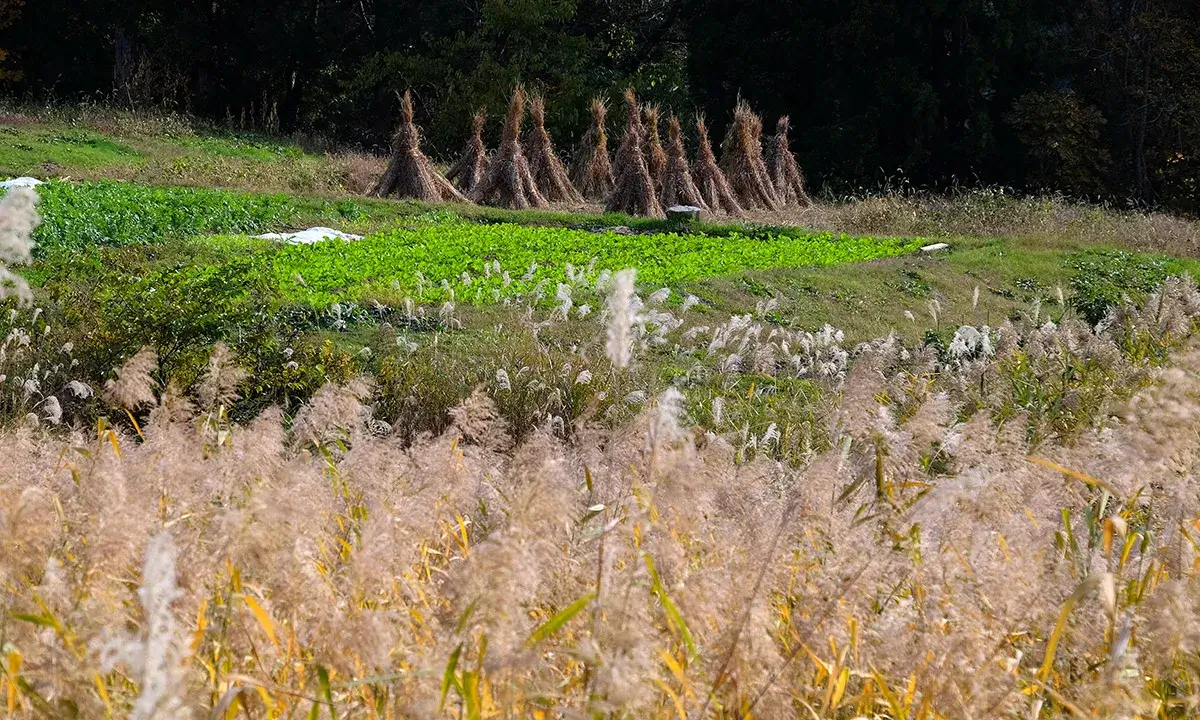 Pyramids of kaya after being harvested. This is what traditional thatched roofs are made from.
Japan: A Land of Contrasts
Japan is known throughout the world as the 'Land of Contrasts' due to the distinctive blend of ancient and modern that shapes the country's landscape and culture. Quirky contradictions of technology and tradition are common, and often they exist side by side; like a Starbucks standing at the entrance of a centuries-old temple complex.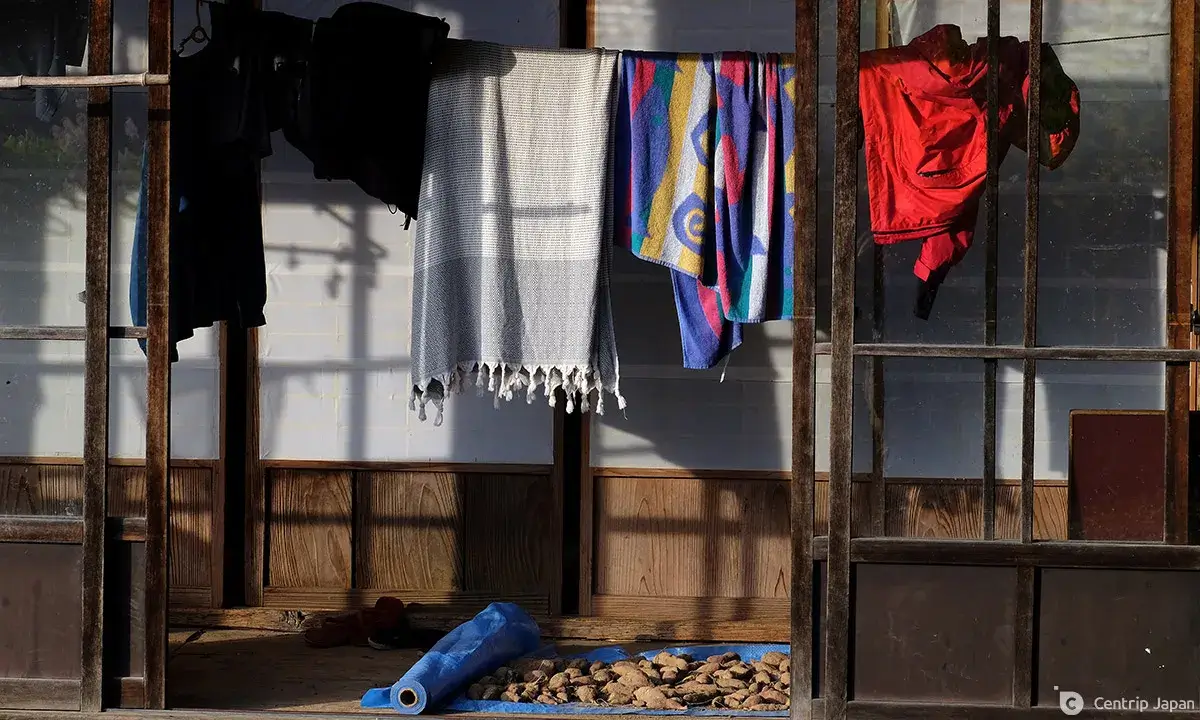 Potatoes and clothing set out to dry in the afternoon sun; a far cry from city life
Yet perhaps the most striking contrasts are found when comparing Japan's vibrant, densely-packed population centers to its quiet, sparsely-settled rural areas. The differences are often overwhelming, so much so that visiting the countryside can sometimes feel like taking a trip to an entirely different country: But there's one incredibly unique and isolated village in northern Nagano where it actually feels like traveling back in time.
Maki: A Village Lost in Time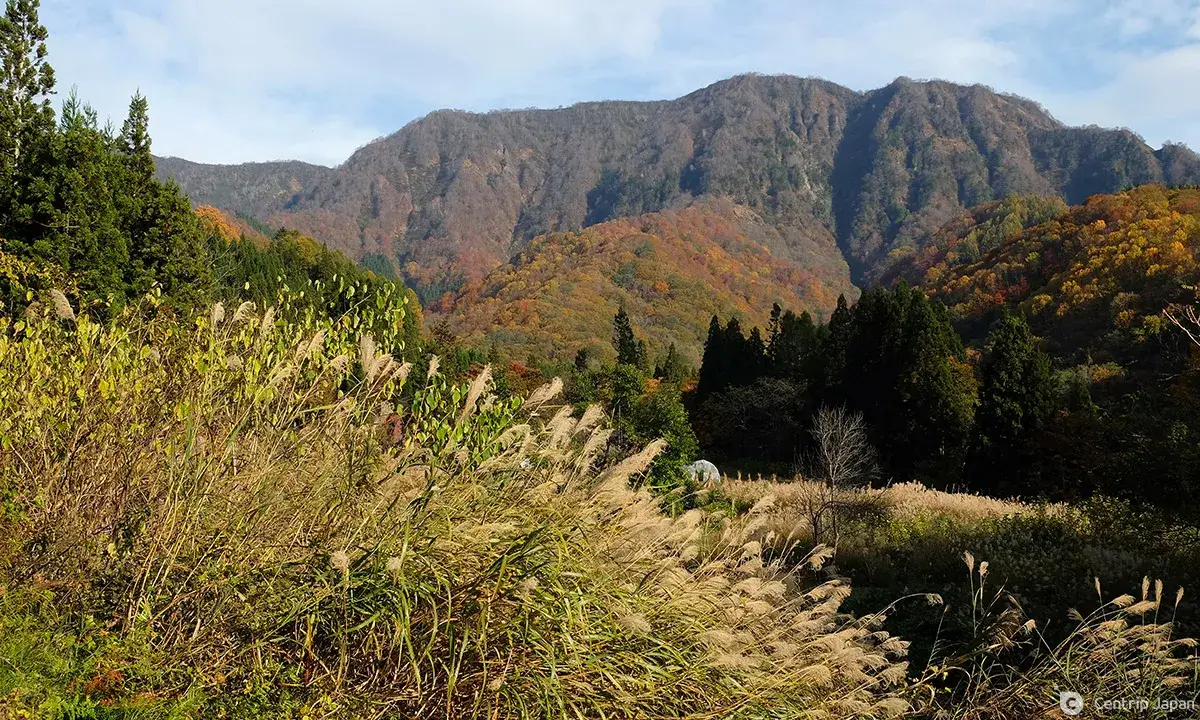 Mountains clad in fall colors rise high around the village of Maki
The characters that form the name Maki are said to be a homophone for the kanji 牧, which is pronounced the same, but essentially means 'a land with horses.' This supposedly comes from the fact that the area was a grazing ground for military horses during the middle ages, and again from the 17th to 19th centuries, this time for the horses of Edo period daimyo.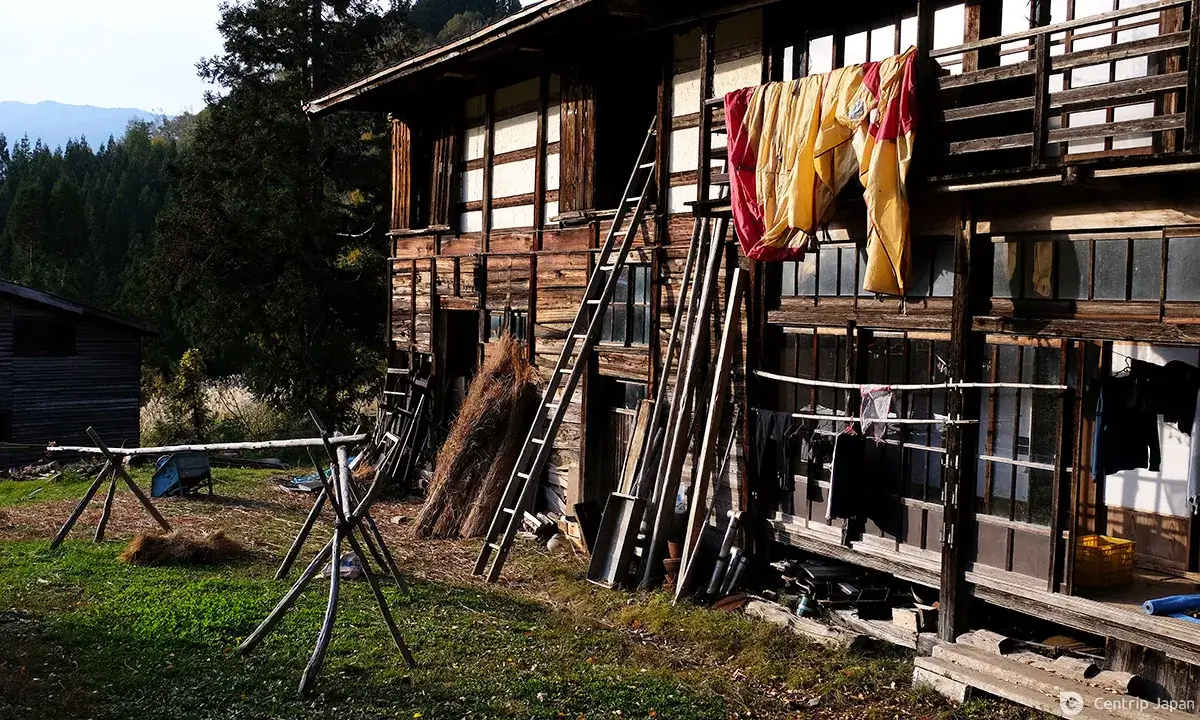 Maki's largest building and the community gathering spot, Arayashiki
Nowadays it's a simple, yet beautiful, place of exceptional nostalgia. A handful of houses dot the landscape, including the massive, thatched-roof main building called 'Arayashiki', and are encircled by rice, kaya, and vegetable fields. Maki is bordered directly by mountains on three sides, and the views across the valley at the massive ridgeline containing 'Hakuba's 3 Major Peaks' are extraordinary on a clear day. It's charming enough to have been used as a shooting location for several films over the years.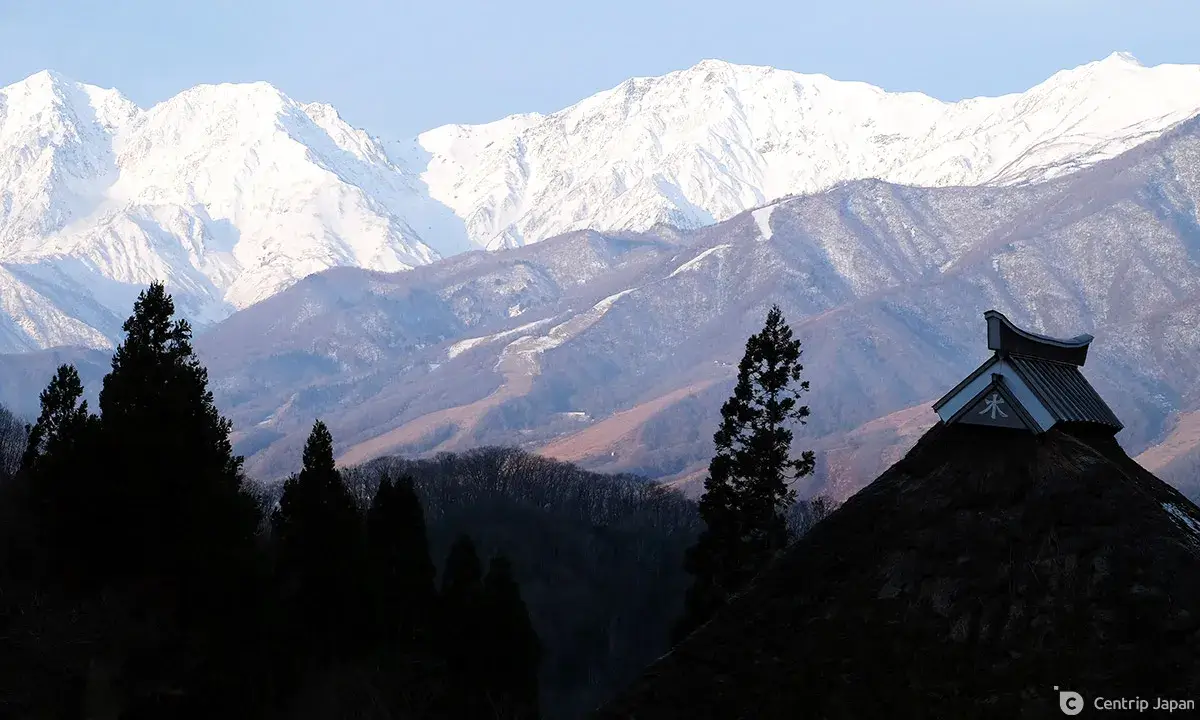 Hakuba's 3 Major Peaks as seen from Maki: Hakuba Yarigatake, Shakushi-dake, and Shirouma-dake
Where is Maki?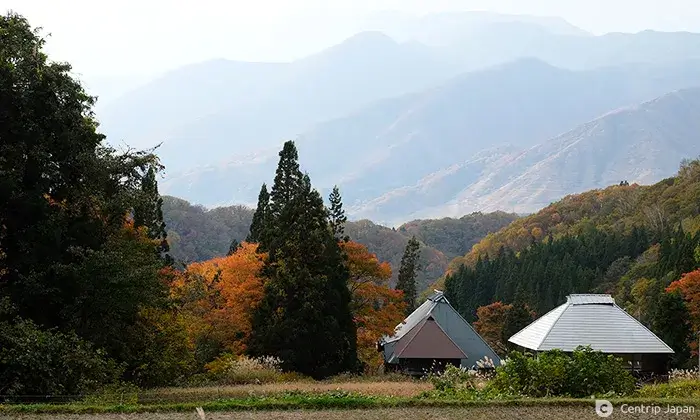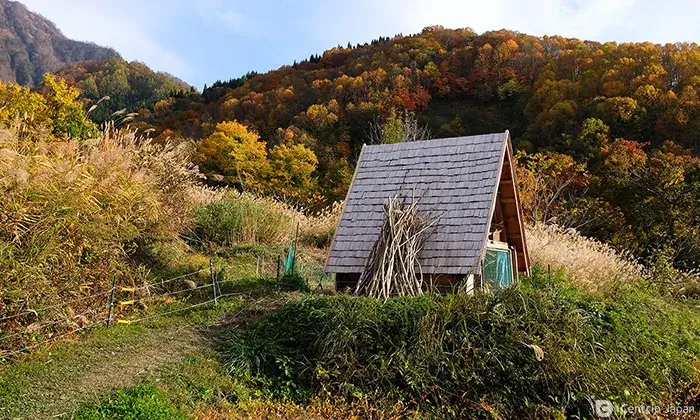 Maki lies inside the boundaries of Otari Village, which sits between the ski resort town of Hakuba and the city of Itoigawa in Niigata Prefecture. Otari is a traditional satoyama community in the foothills of the Northern Alps, with less than 3,000 residents spread out over 54 distinct settlements of varying sizes. Maki is one of those settlements, occupying a small clearing cut into the mountainside to the east of the 'Himekawa' river valley, at an elevation of around 900 meters.
What Makes Maki Unique?
In this modern age where convenience often trumps all else, Maki is an exceedingly rare exception to the rule. Life here is hard, slow, and deliberate; and that's the point.
No Vehicular Access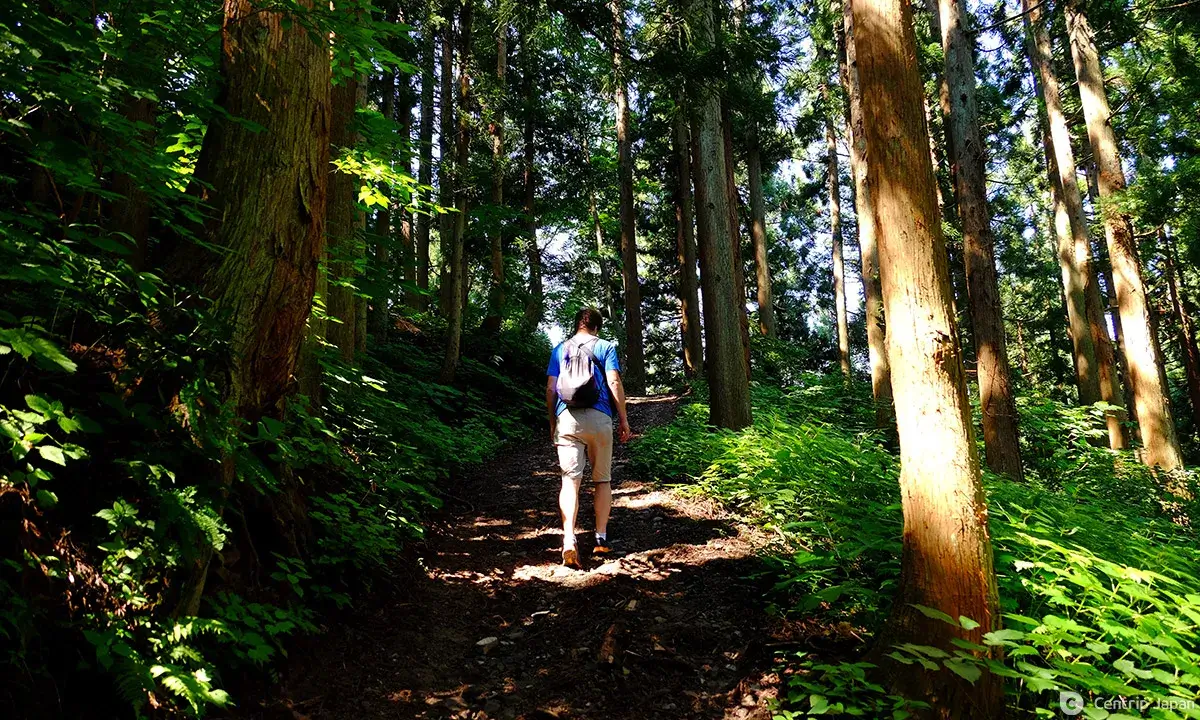 The path to Maki starts out in a cedar forest before passing through a native forest later on
Despite being tucked away in a remote corner of Otari away from everyone and everything else, there are no paved roads providing access to Maki. Residents and visitors alike need to walk in on a humble, 2.5km long road of rock and dirt that slowly narrows into a singletrack hiking trail while gaining over 300m of elevation in total. That's hard enough as it is, but it bears mentioning that this area is recognized by the government as a 豪雪地帯, or "area of heavy snowfall," and can be blanketed in multiple meters of snow during the winter months.
An Abandoned Village Brought Back to Life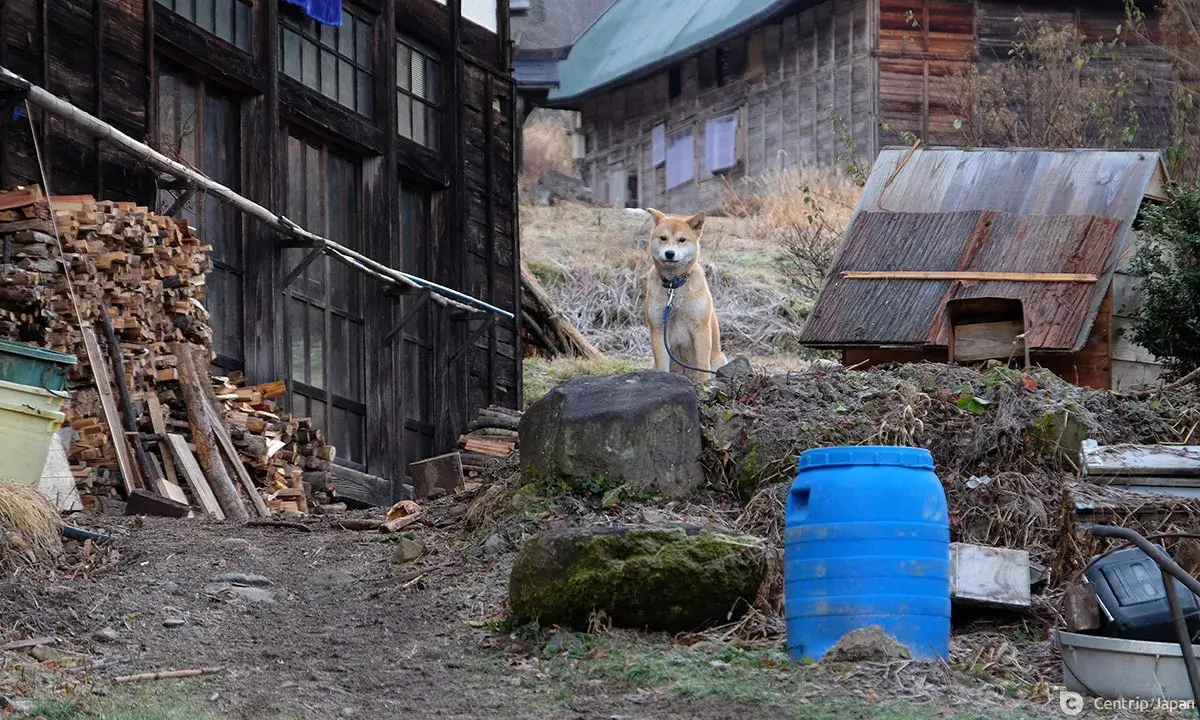 Maki can be a vibrant hub of activity, or a quiet restful place depending on the timing of your visit
Like many small, agricultural regions, this part of Japan has been hard hit by the country's aging and decreasing population, as well as the general exodus of people from rural to urban areas. Maki was once a vibrant community that slowly shrunk over time. In 1968 the small local branch of the elementary school was abolished, by 1971 only twelve households remained and at the end of 1972, the last residents had packed up and left, leaving Maki abandoned.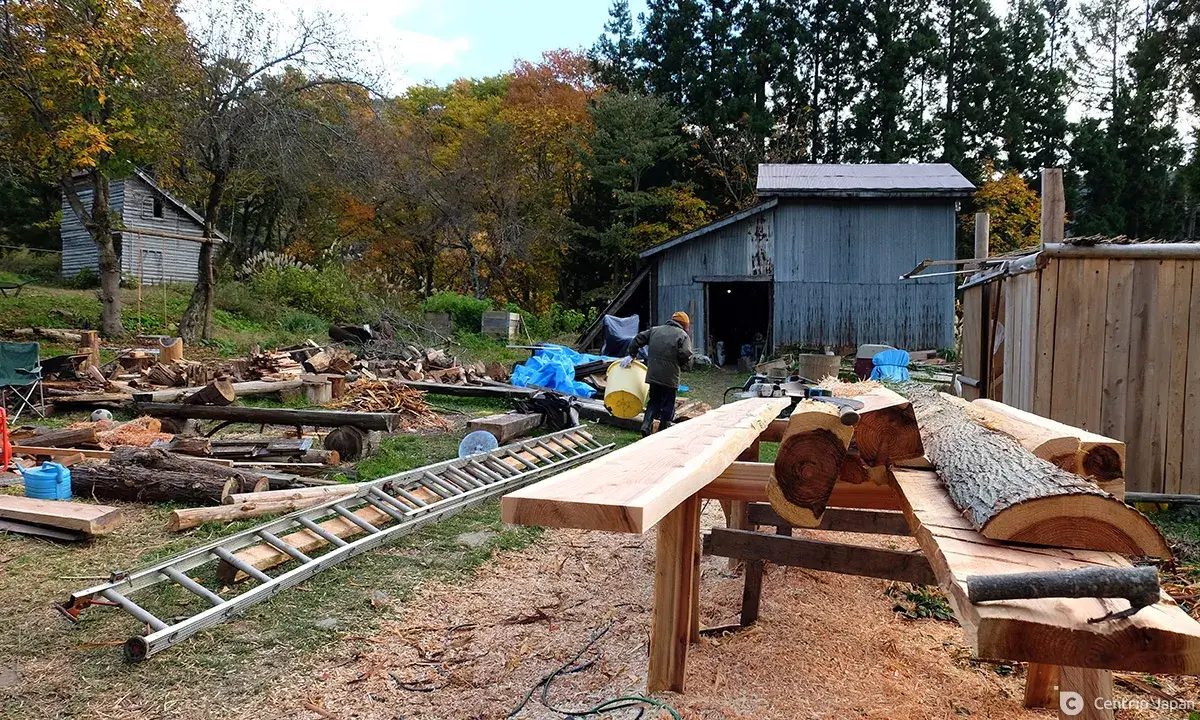 Wood being cut for construction projects. As of this year, Maki now has its own sawmill powered by a water wheel
In 1974 a communal, non-profit agricultural organization now known as 'Kyodo Gakusha' was founded for the purpose of providing people with physical and mental disabilities a chance to improve their quality of life through the principles of independent labor and self-reliance. Maki was established as the group's third "farm" in 1978 and has been populated and maintained by a rotating cast of short and long-term residents ever since. Usually, there are around 20 people living in Maki full time, though the number is constantly fluctuating.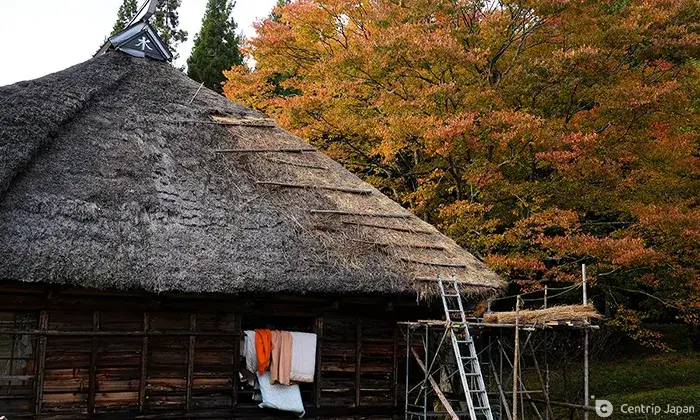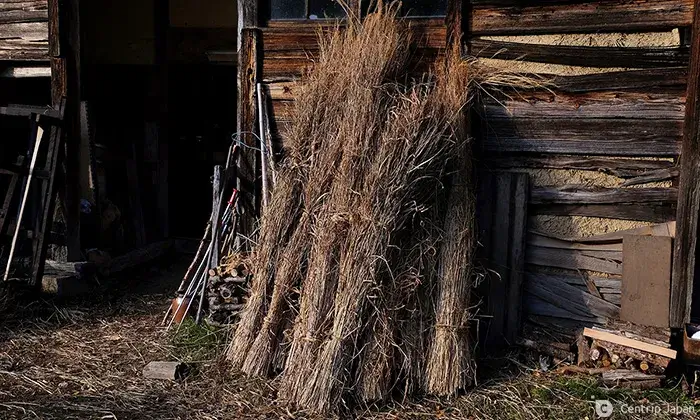 A Focus on Community & Self-Sustainability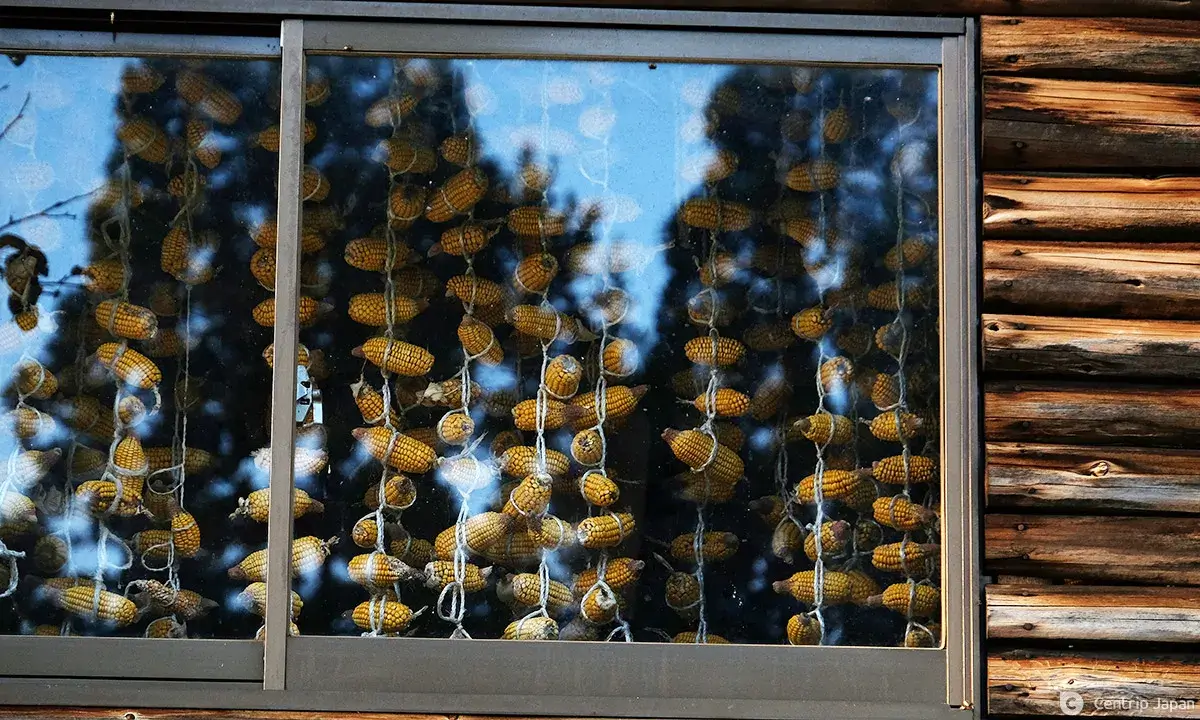 Locally-grown corn hangs in a window to dry before the advent of winter
One of the major goals for the inhabitants of Maki is to reduce their reliance on outside sources as much as possible for everything from food, water, labor, and more. The other, equally important side of that is the focus on building a strong bond of community amongst the members. They are not fully self-sufficient, nor wholly off the grid, as electricity has reached the village; but most of the food is grown by the residents, water comes from a nearby stream, and a majority of the fuel used for heating is locally-sourced firewood.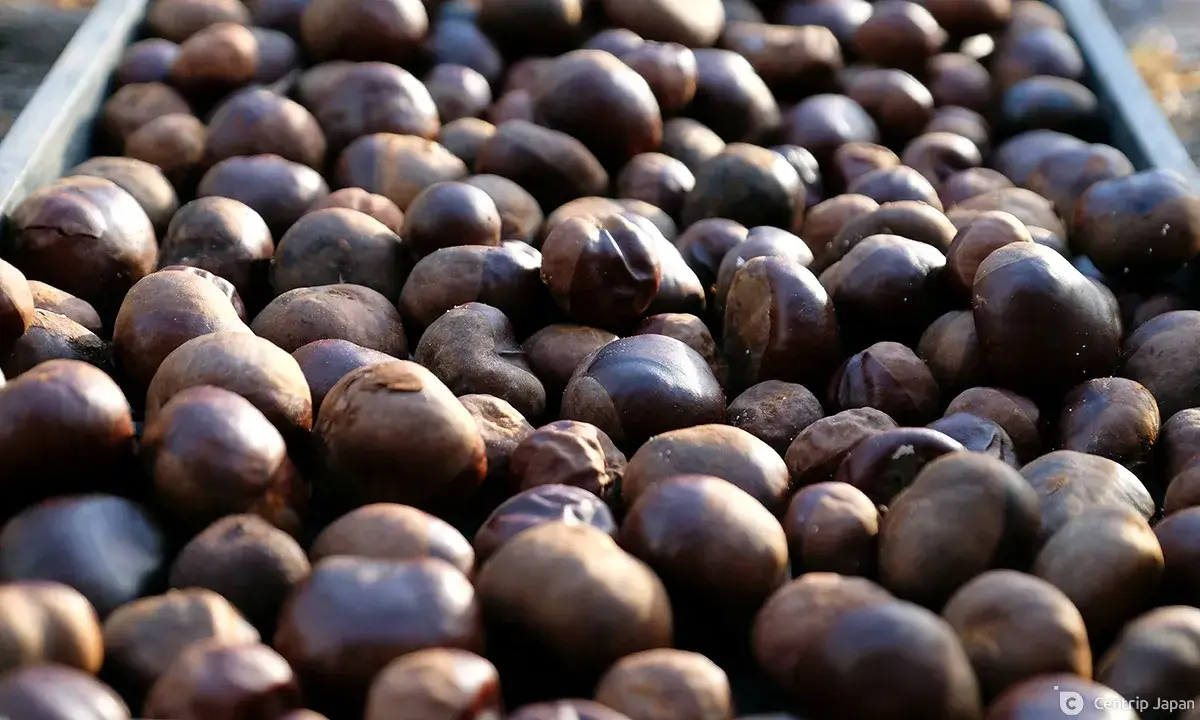 Japanese horse chestnuts are a local delicacy in the Otari area and are used in a variety of ways
Agriculture is the basis of life in Maki, and everyone works together, each in their role. Farming is done organically, and goats, ducks, and chickens are raised on-site. Edible plants, nuts, and berries are harvested from the nearby hills. Because of the harsh winters, summer and fall are critical and busy times of preparation to ensure survival and comfort during the long, cold, dark days stuck inside. During those snowy months clearing snow is an endless affair, time is also spent on making crafts such as woven bamboo and straw products to be used in Maki or sold for profit.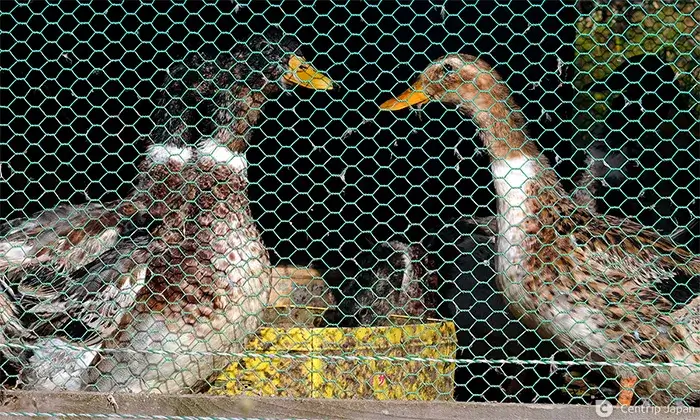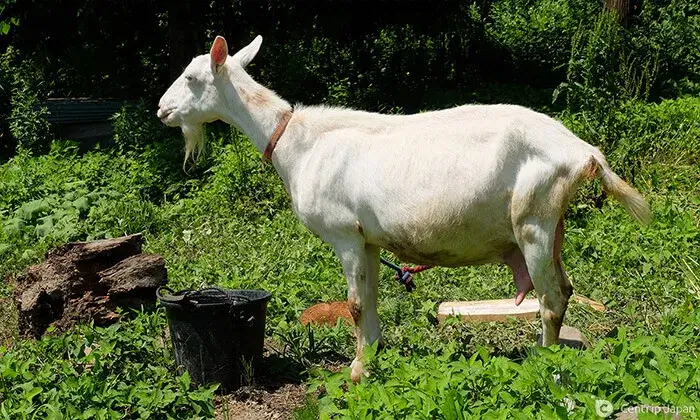 Is it OK to Visit Maki?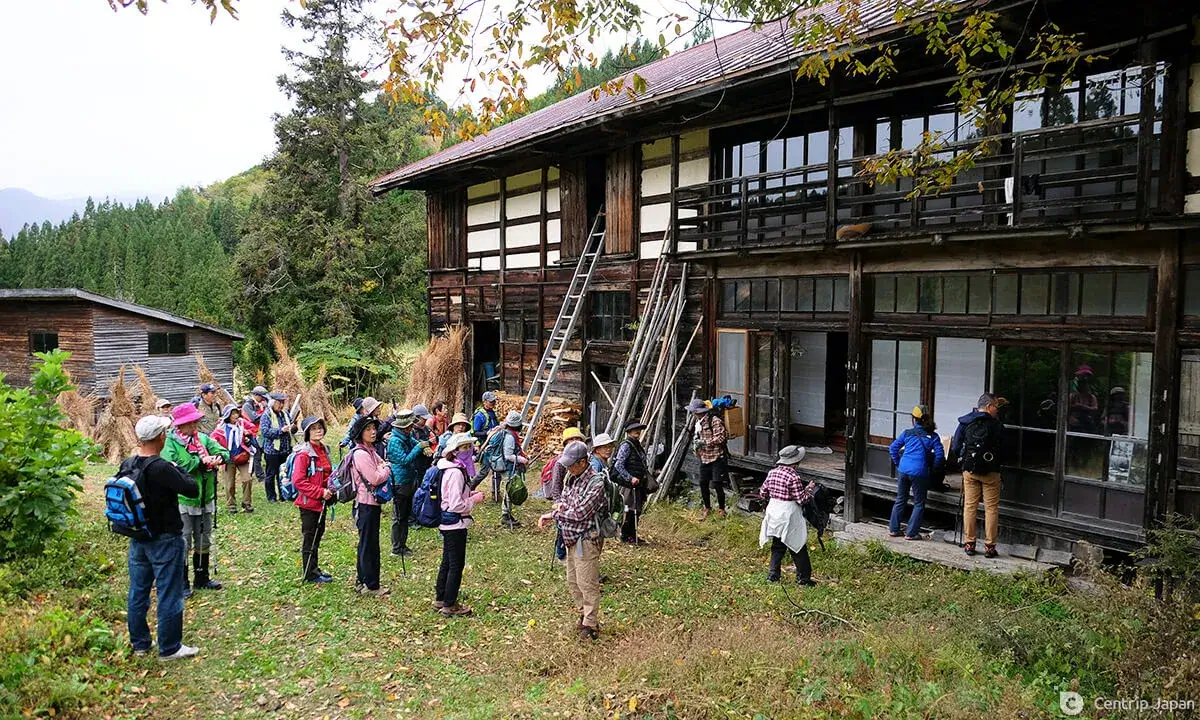 A group of Japanese hikers on a tour to Maki organized by the village government
The answer is, "Yes!" Geographically, Maki is closed-off from the outside world, but the spirit of the community is very welcoming. The machine-translated Maki page on the website of Otari's village government directs people to call the phone number of the tourism bureau for information. It's probably not 100% necessary to call before hiking to Maki, but they should be able to provide some basic guidance (in broken English) or answer general questions about the route. They can also set you up with a guide if you like. They may even be able to arrange an overnight stay in one of the rooms that often hosts volunteers or visitors.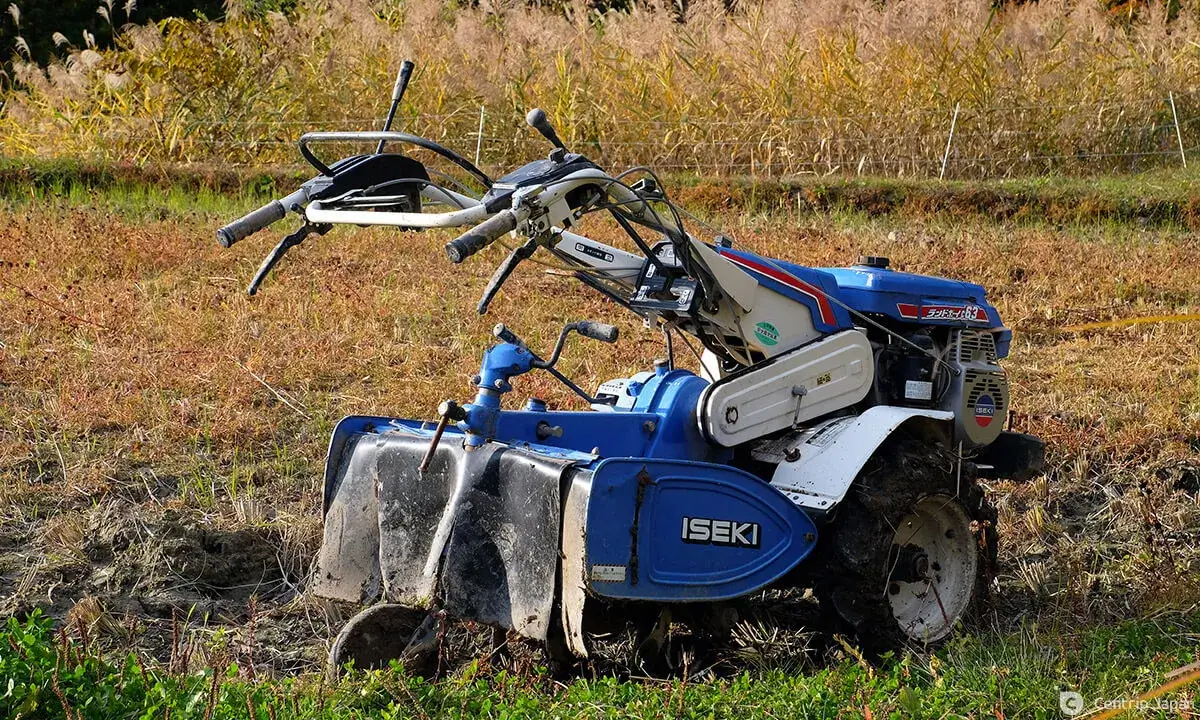 Maki hasn't shunned all of the conveniences of modern life, machinery is one small way to make life easier
How Do You Get to Maki?
Getting to Maki is a two-part process. The first part is personal or public transportation to Otari, followed by the hike to the settlement itself. Please read the description below for details.
Getting to Otari
As previously mentioned, Maki is located in the village of Otari in northern Nagano. Otari's main train station is Minami Otari, which lies on the JR Oito Line. The fastest and easiest way to get to Otari from Nagoya is to take the Limited Express Wide-View Shinano on the JR Line to Matsumoto Station and transfer to the Limited Express Azusa. It takes roughly 4 hours and costs a little more than ¥8,000 one way. Slower trains or a combination of bus and train are cheaper but take more time.
Hiking to Maki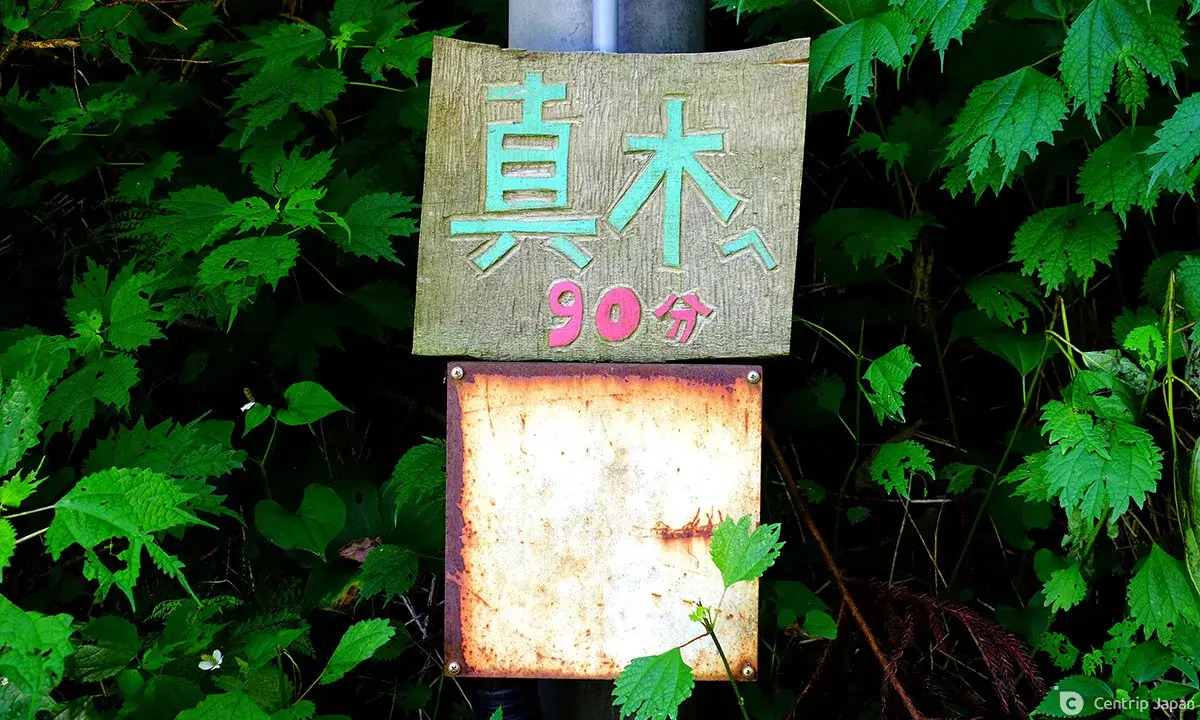 A sign reading "90 minutes to Maki" greets you at the trailhead
The hike itself is on a clear and easy-to-follow path all the way to Maki: the trickiest part can be finding your way to the trailhead. You start directly from Minami Otari Station. Exit the station and proceed straight, keeping the train tracks on your left and the river on your right. You need to cross over to the other side of the tracks at the railroad crossing, almost immediately viewable on the left, then a quick right turn at the T junction.
From there you'll follow the road as it climbs for approximately 600m, first passing several apartments and other groups of buildings on your left-hand side before entering an area where the road is lined with steep-sloping concrete walls on the left and guardrails on the right. Soon you'll encounter a sharp turnoff that doubles back and climbs in the opposite direction. Head that way and as you follow the road another 400m or so you'll hit the entrance to a gravel road with a small wooden sign written with the Chinese characters for Maki, telling you it's a 90-minute hike up.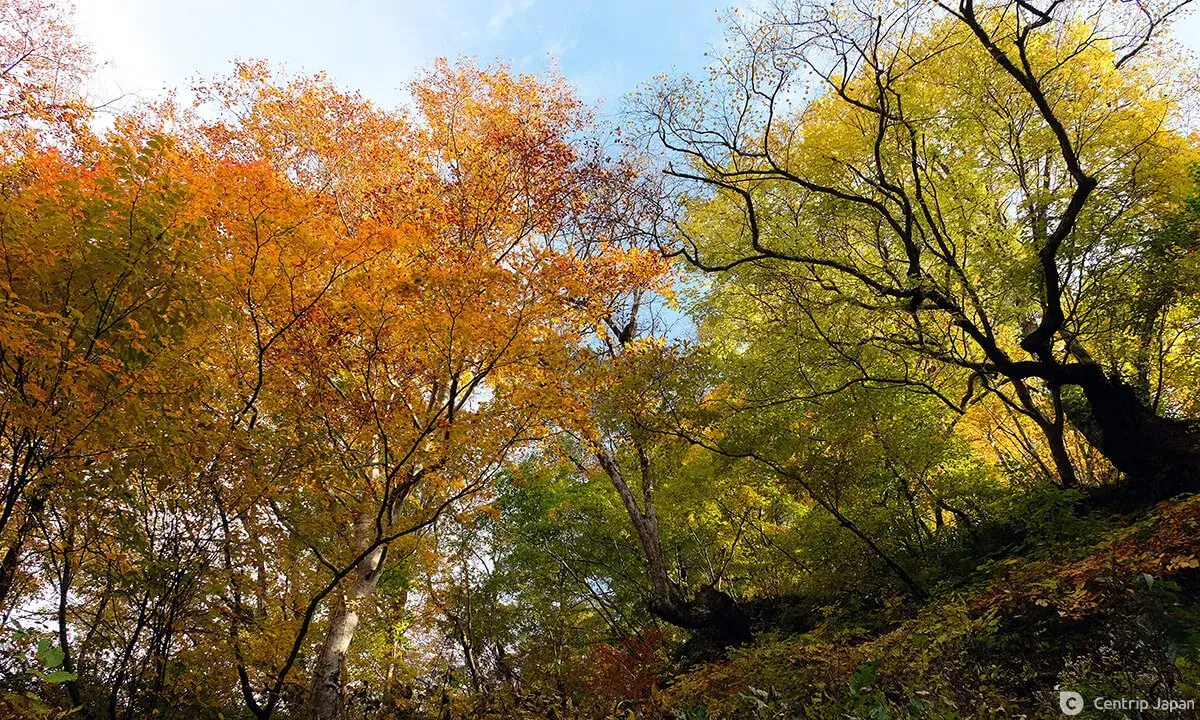 The hike to Maki is a pleasant walk through beautiful forest
The path climbs initially through a cedar forest to a pass, where it then descends and crosses a small river. Another climb to another pass follows, before descending to and crossing a second river. From there the final climb to Maki is all that is left.
Click here to get the latest information on Central Japan.Centrip Japan - Nagoya and Chubu Information