| Jessica Piora & Yuichi Kobayashi
Naraijuku: Enjoy the old streetscape in this post town located between Edo and Kyoto
The city of Naraijuku
If you are a fan of Shogunate Japan and wish to enjoy the atmospheres of the Edo era, Naraijuku is just the right destination for you. It used to be the 34th of 67 post towns on the Nakasendo-Highway, a route that would connect Edo (Tokyo) and Kyoto, and allow communication, travel, and commerce between the two cities. Back in the day, the city used to be highly frequented by travelers and was therefore known as Narai senken, Narai of 1000 houses. Visitors could spend the night in Naraijuku and rest, before continuing their journey to either Edo or Kyoto. In 2021, the old buildings remain preserved, and even newly built houses need to abide by specific standards of construction to maintain the old Edo atmosphere that can still be savored in the city. This is the perfect destination for those who wish to take a relaxing stroll among old wooden buildings of great cultural and historical relevance.
Access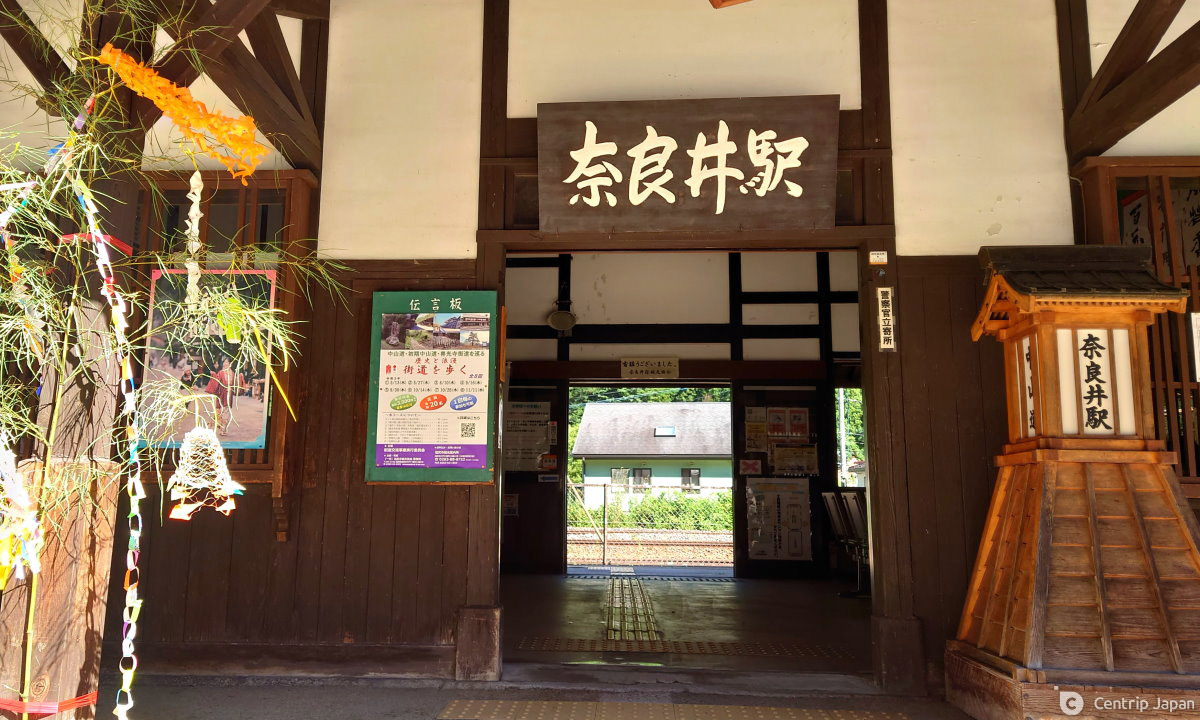 Naraijuku station
To Reach Naraijuku from Nagoya Station: Take the Chuo Line for Nagano. At Kiso Fukushima, transfer on the Chuo Line for Matsumoto, and get off at Naraijuku. Another option is to take the Chuo Line for Nakatsugawa. At Nakatsugawa, transfer on the train for Matsumoto and get off at Naraijuku.
Let's protect our Town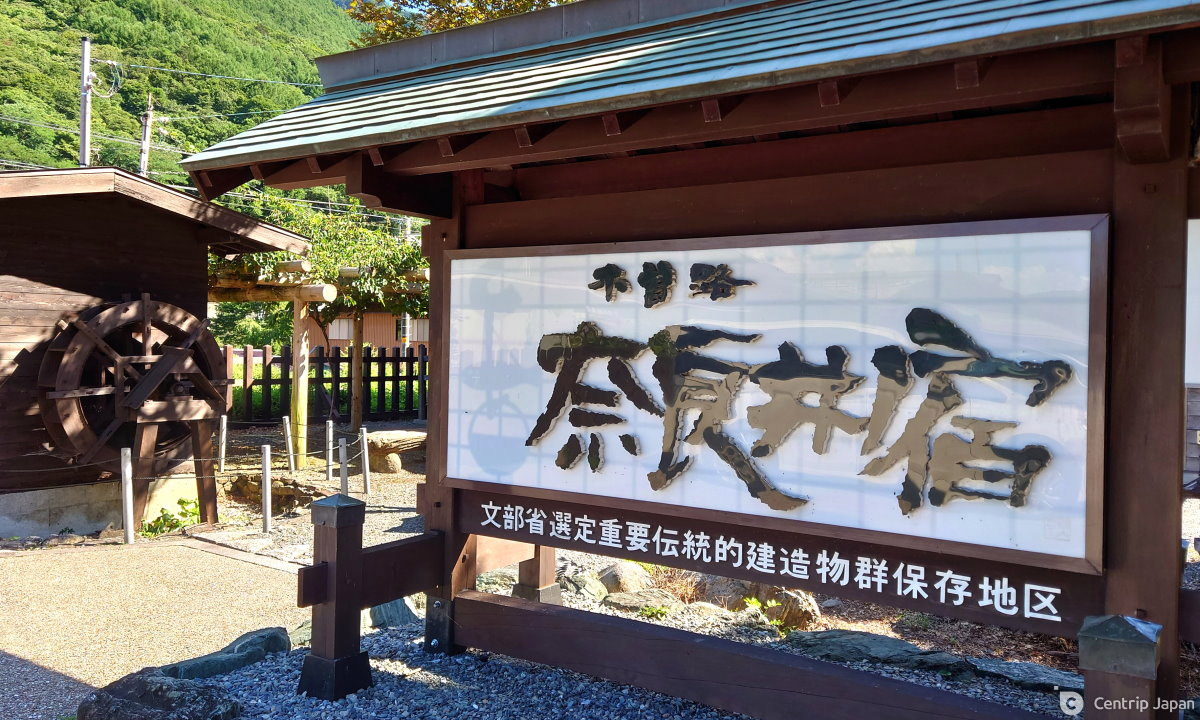 Welcome to Naraijuku
 You will be able to appreciate the characteristics of this location as soon as you get off the train.  Every building (including the station) is a characteristic Edo-style wooden building. A sign saying "Let's protect our town" will welcome you to the city, and you will find that this is precisely the intention that unites the people of Naraijuku.
Sennen-ji and the legendary rocks!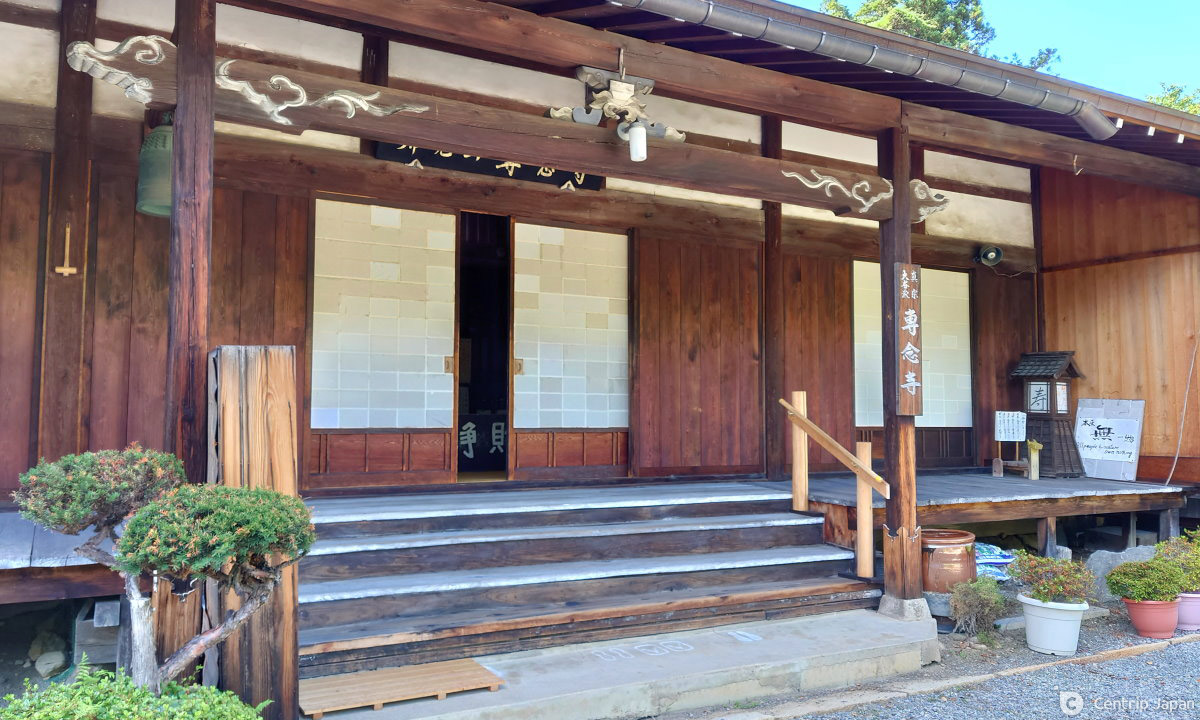 Sennen-ji
Have you ever seen a legendary rock in person? Well, this is your chance. Our first stop is Sennen-ji, a temple affiliated with the True Pure Land sect of Buddhism.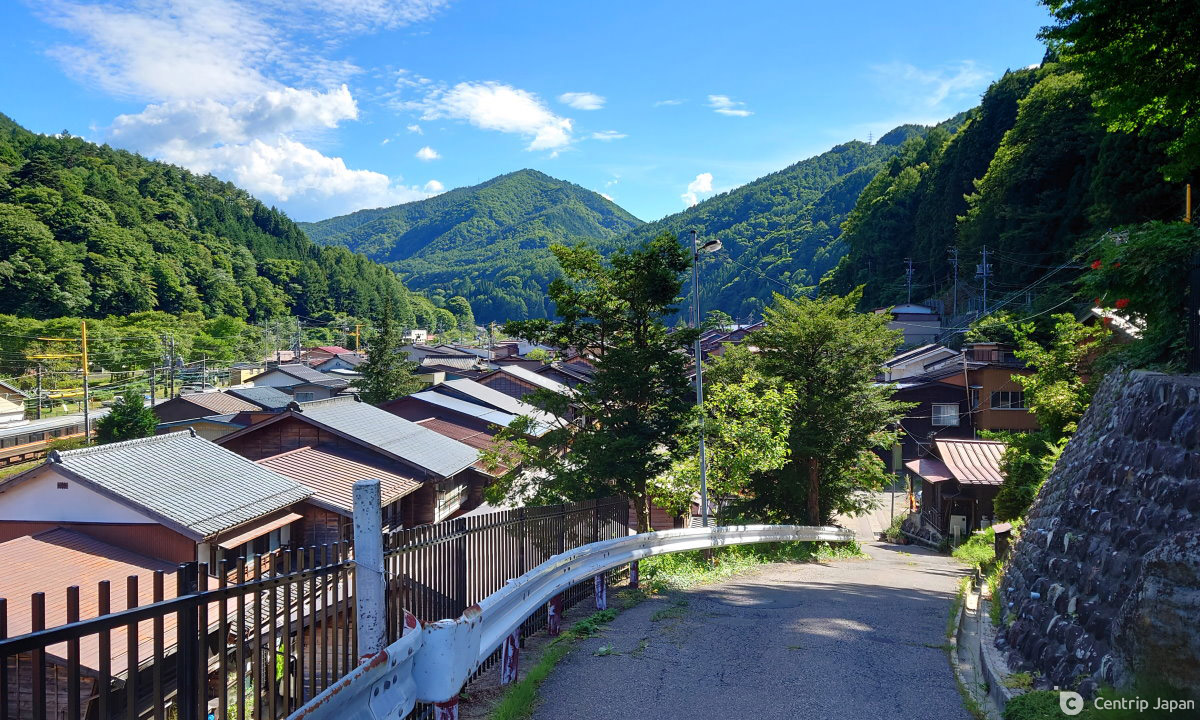 Take a stroll near Sennen-ji
It is a lovely place for a stroll, and you can enjoy a nice view of the town, but what will catch your attention are these legendary groaning rocks at the entrance. When the temple was transferred to this location in 1729, these two rocks appeared in the process and started groaning, hence why they are conserved here as legendary groaning rocks.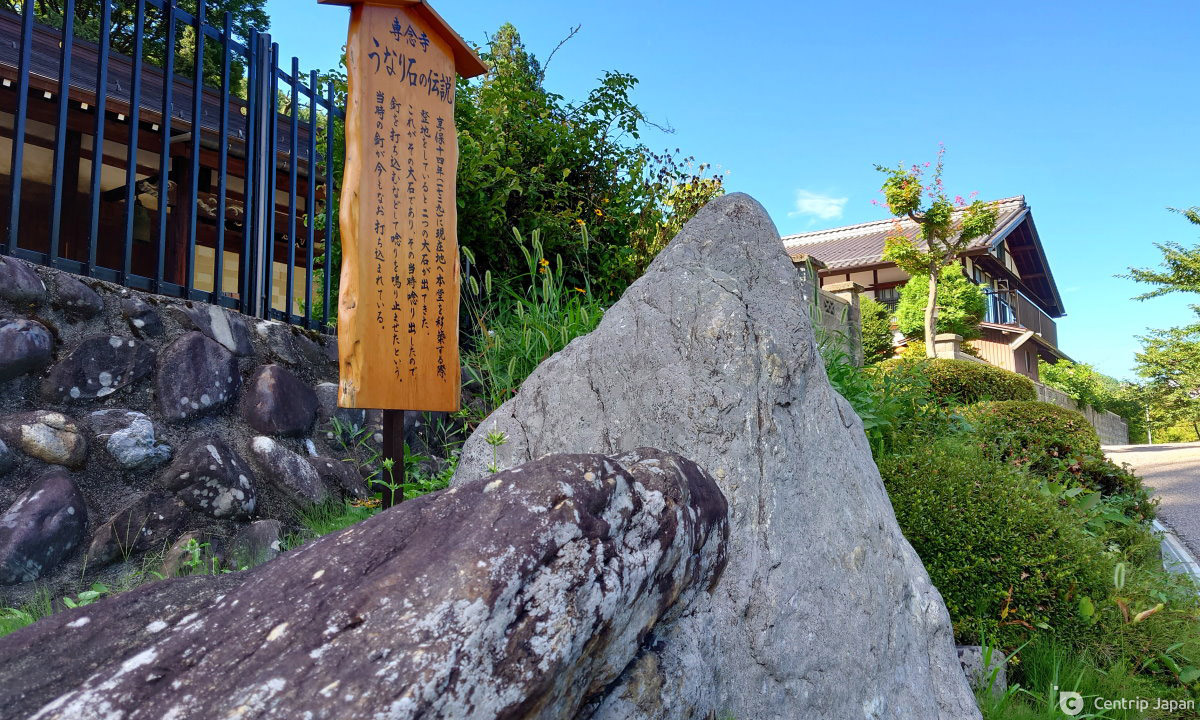 The legendary groaning rocks
Wooden Houses and Shops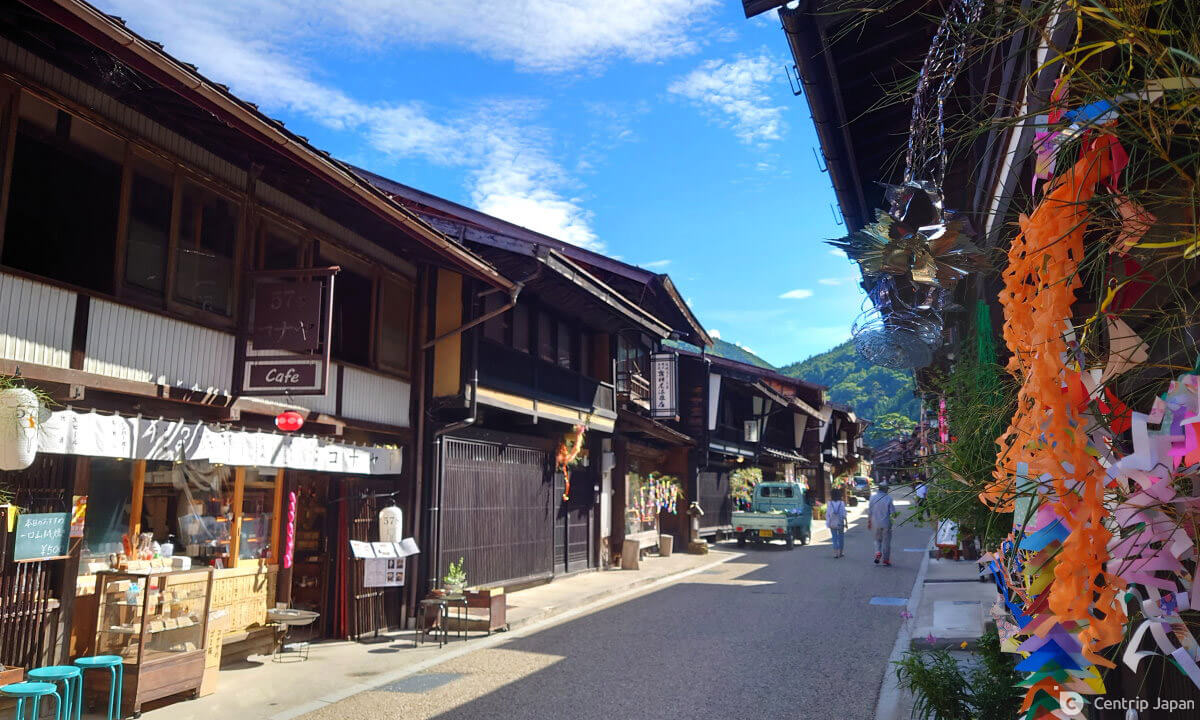 The traditional streetscape in Naraijuku
In 1978, Naraijuku was designated an Important Preservation District for Groups of Traditional Buildings, and efforts have been made to maintain the atmosphere of the old post town. The streetscape and the smell of wood will take you back to the Edo era!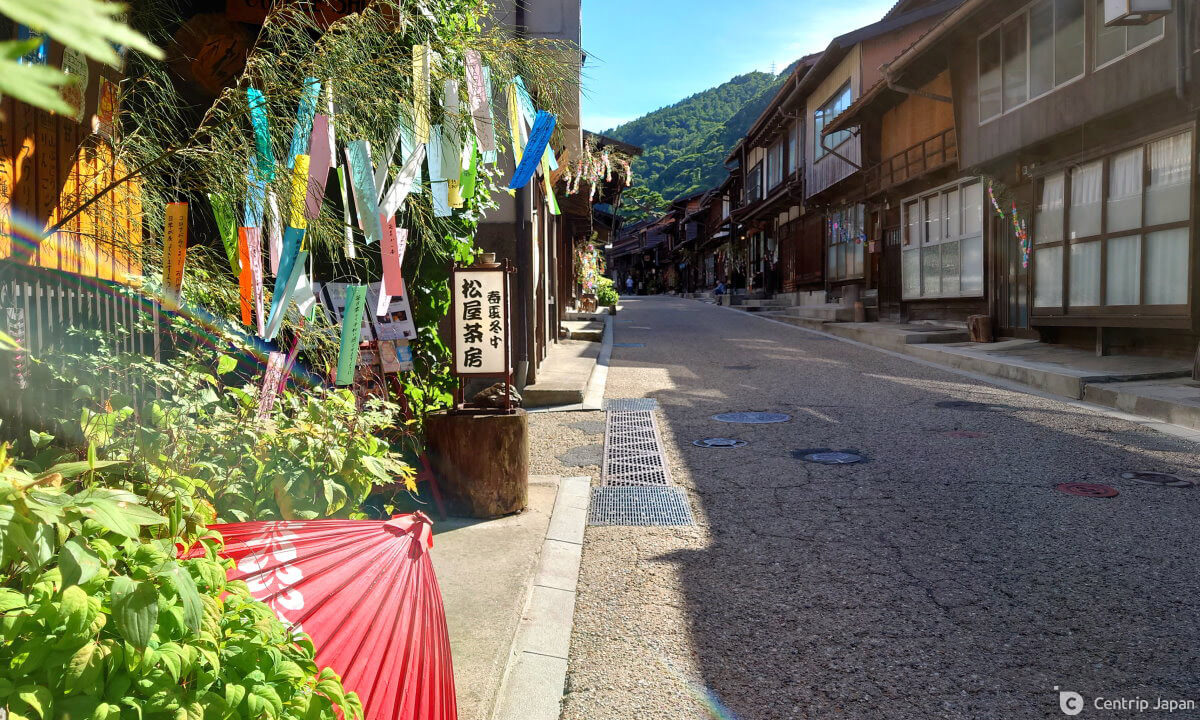 Traditional wooden buildings
Most buildings on the old road are currently restaurants and shops where you can purchase some refined wooden items and souvenirs (and even wood itself!). Among these souvenirs are minebari combs. Minebari combs are traditional combs made of a particularly hard variety of wood. This kind of wood is extremely difficult to carve, and thus results in these remarkably thin and sophisticated combs. There are only two artisans that master this carving technique nowadays, and the youngest is 70 years old. It is indeed a rare craft.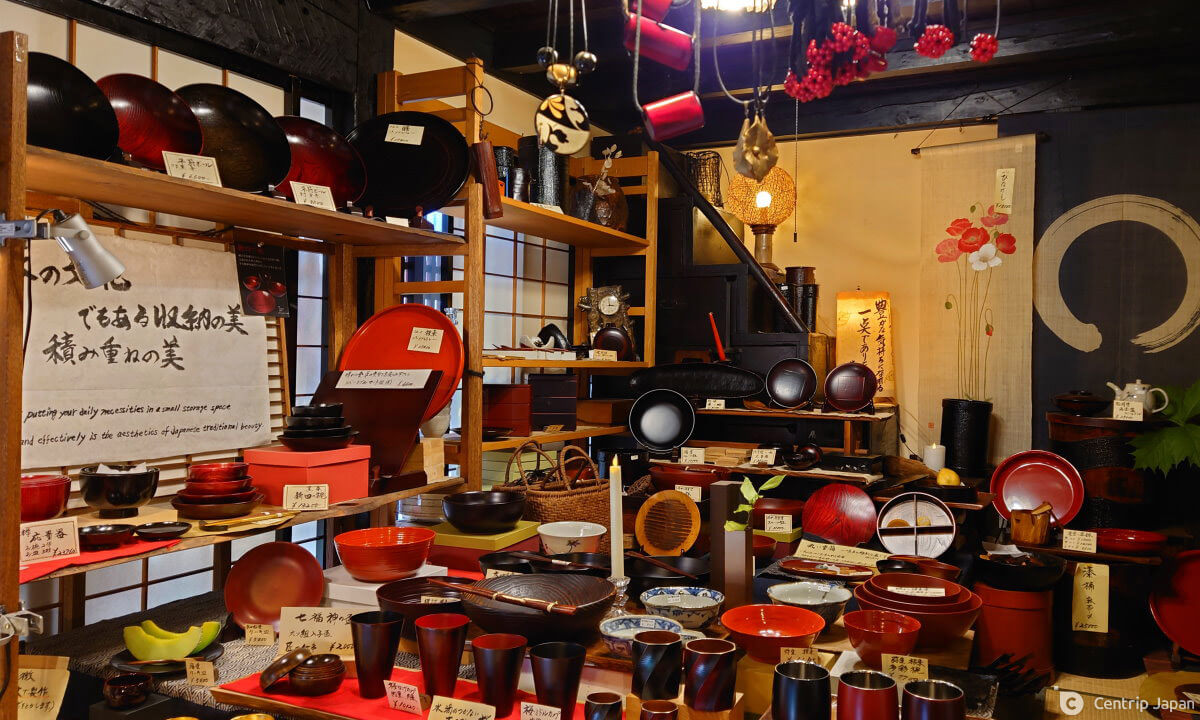 Typical wooden items sold in Naraijuku. This shop sells minebari combs as well, but for privacy reasons, we were asked not to show the combs in the picture.
You can also purchase traditional lacquerware (kiso shikki), lunch boxes and cups made of bent cypress wood (magemono), wooden toys, like this bamboo-copter (taketombo), chopsticks, and all sorts of wooden items.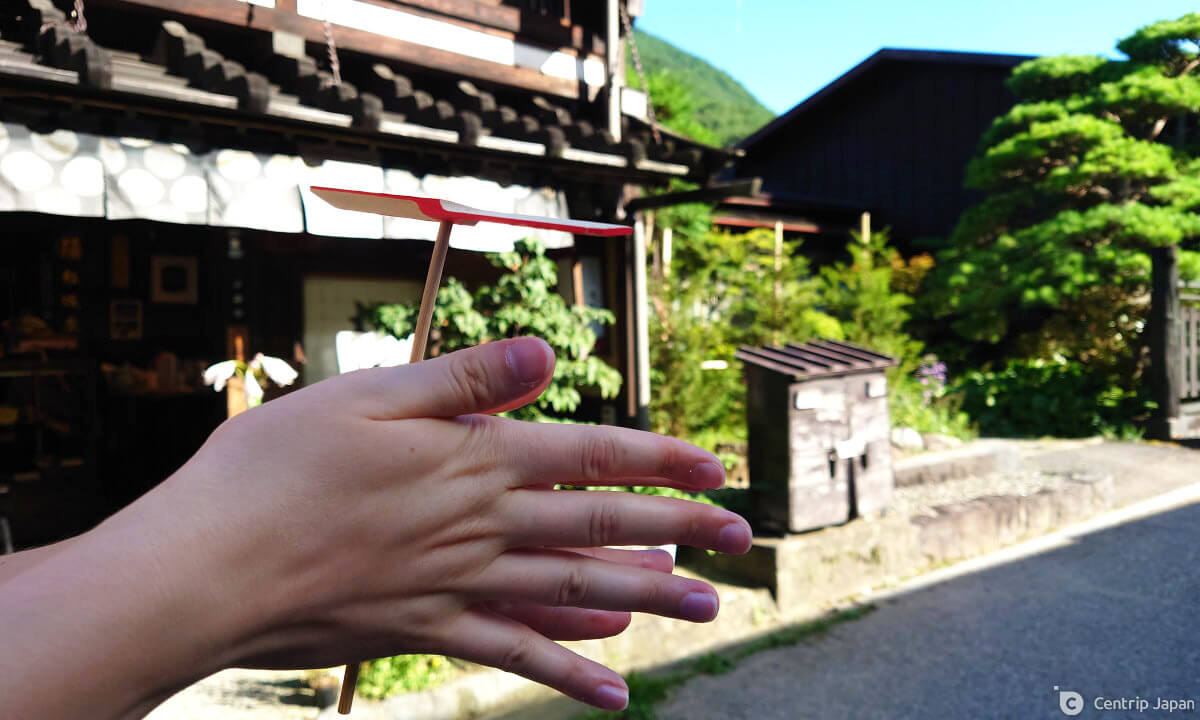 Taketombo, a bamboo-copter. Yes it flies
Do not forget to ask the shop owner for permission before you take any pictures.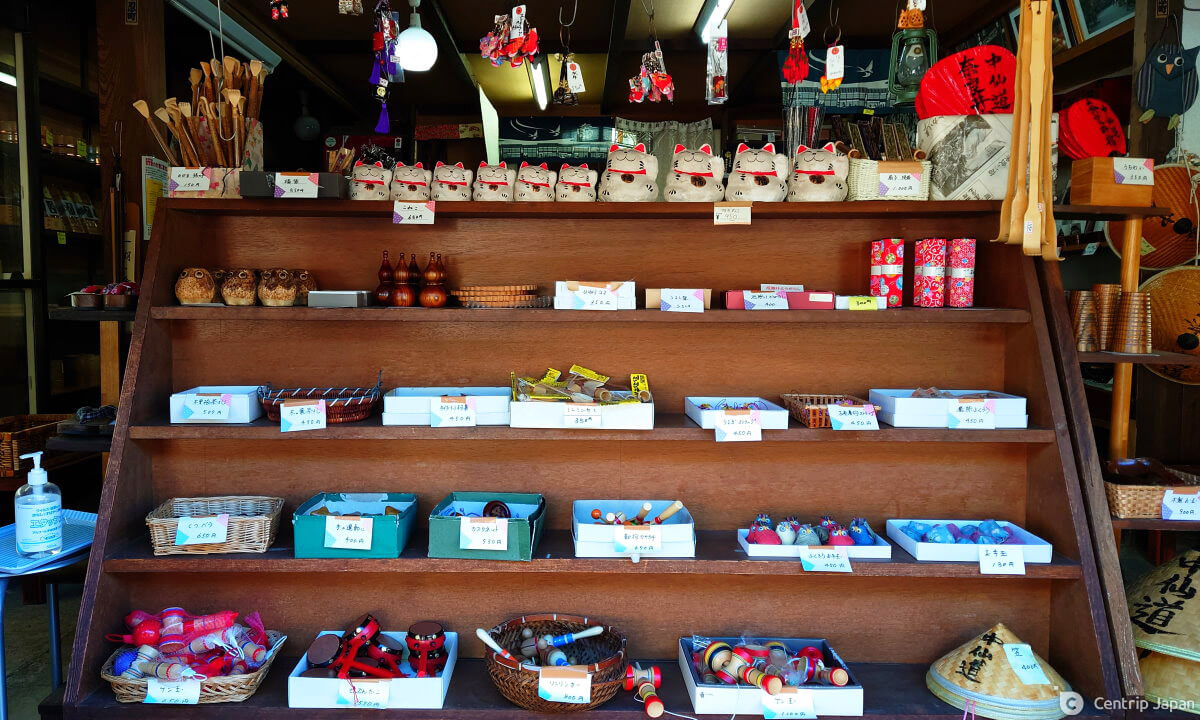 A toy shop
Little Water Fountains
Walking the old road (about 1 km long) you can encounter these little water fountains, originally built for travelers. The water is drinkable, so have a sip, the water is delicious, and continue walking!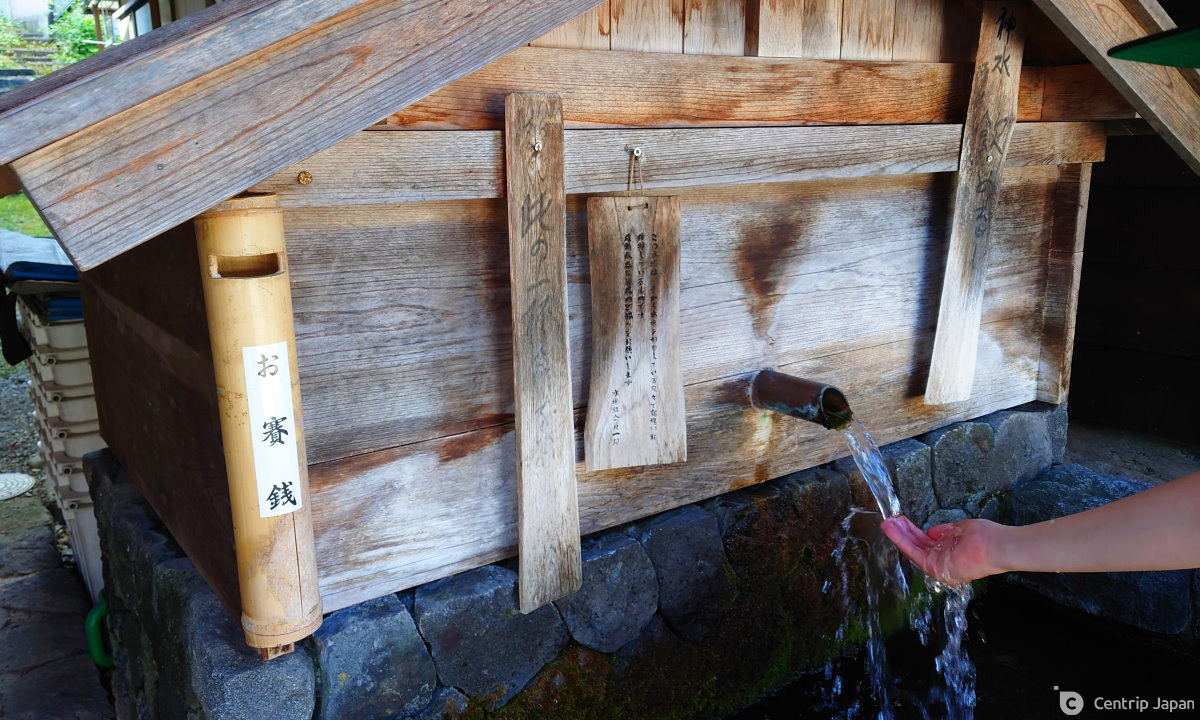 Refreshing drinkable mountain water!
Chosen-ji, the temple with the big dragon painting!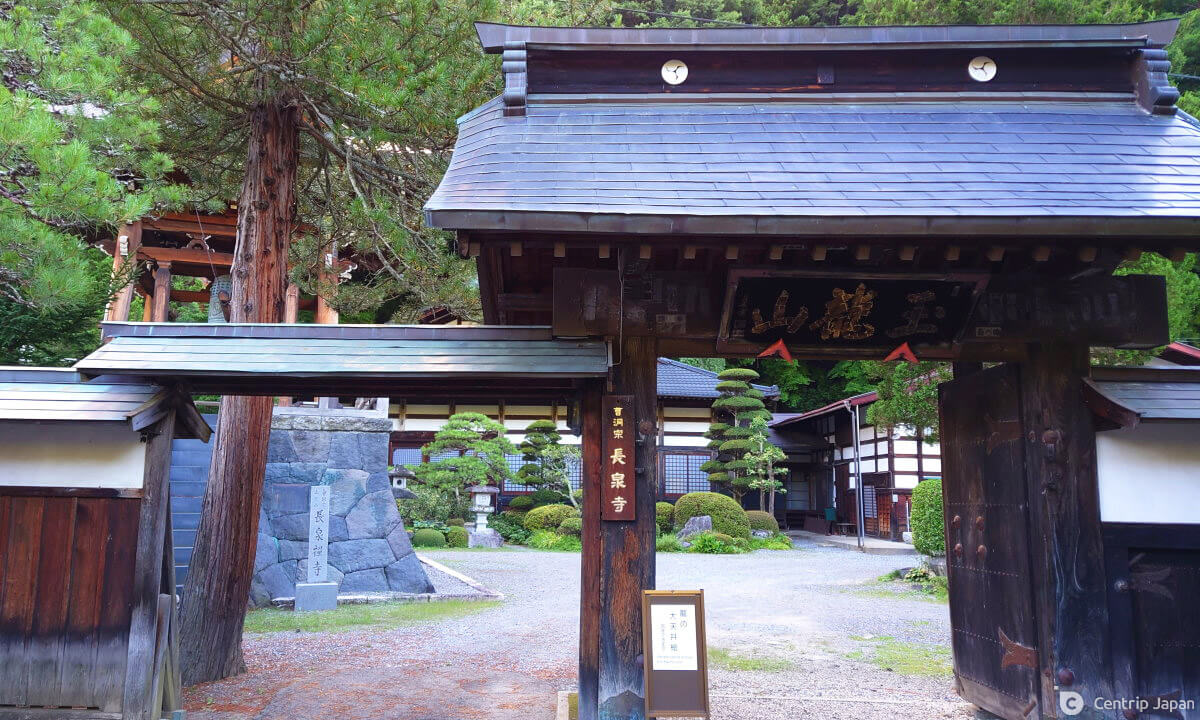 Chosen-ji entrance
Chosen-ji is a Zen temple. This specific temple has two peculiarities.  The first one is its affiliation with tea commerce. During the Edo era, tea leaves were brought to the Shogun from Uji (a small city near Kyoto, where widely appreciated tea leaves are grown) via the Nakasendo road.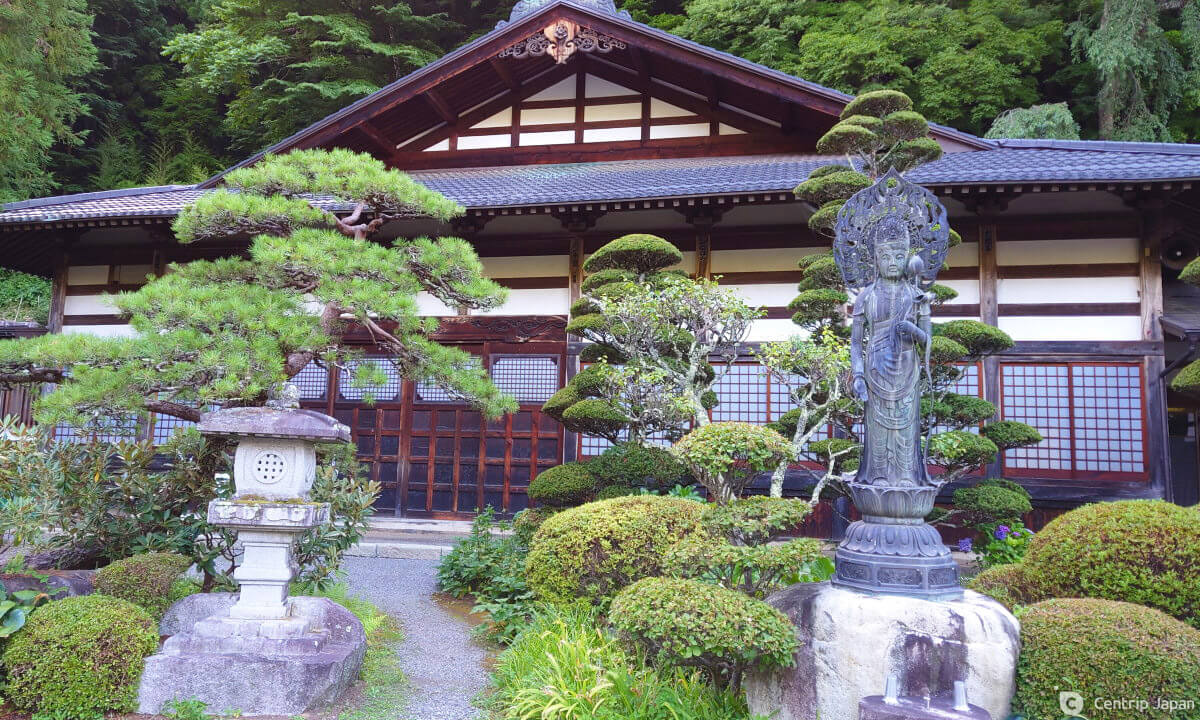 Chosen-ji
Being halfway through, this temple was designated as the location that would offer hospitality to the crew that transported the tea leaves, and where the crew could find some rest. The second characteristic is this beautiful dragon painting on the ceiling (yes, it is ok to photograph!) The dragon, painted about 130 years ago, watches over training monks.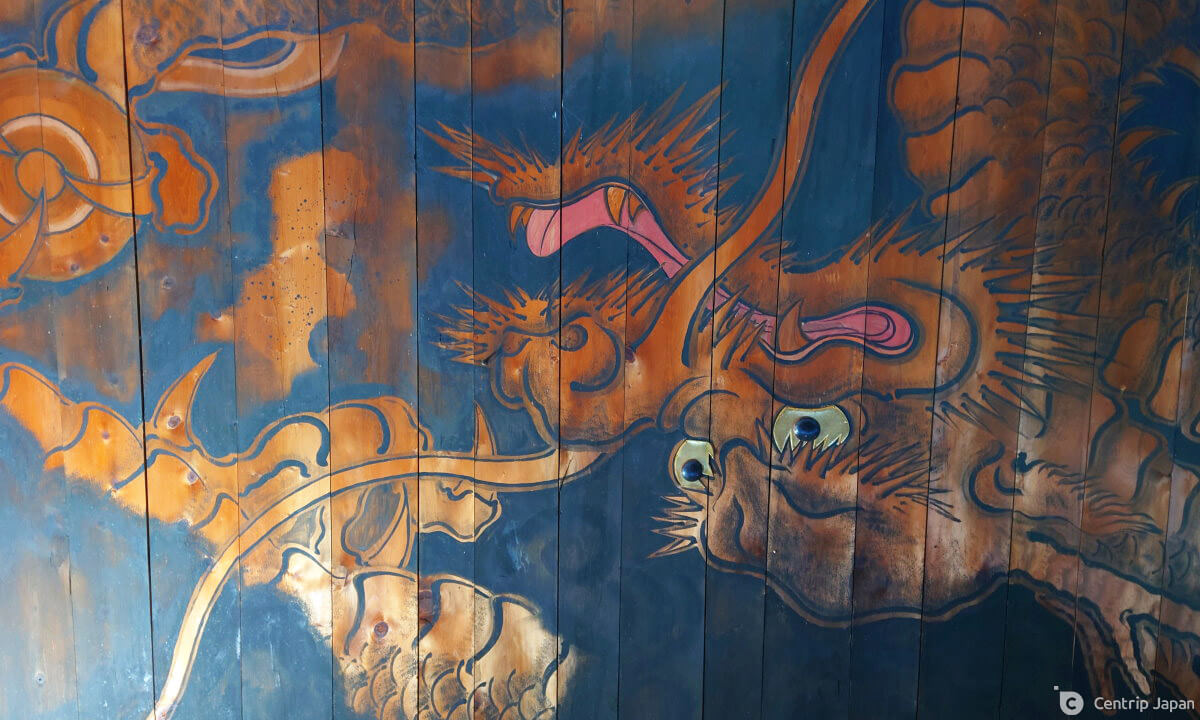 The roaring dragon
It was named "roaring dragon" because the sound echoed in the temple whenever someone clapped their hands. Unfortunately, clapping hands inside the pavilion is no longer allowed to avoid damaging the old building.
Shizume Shrine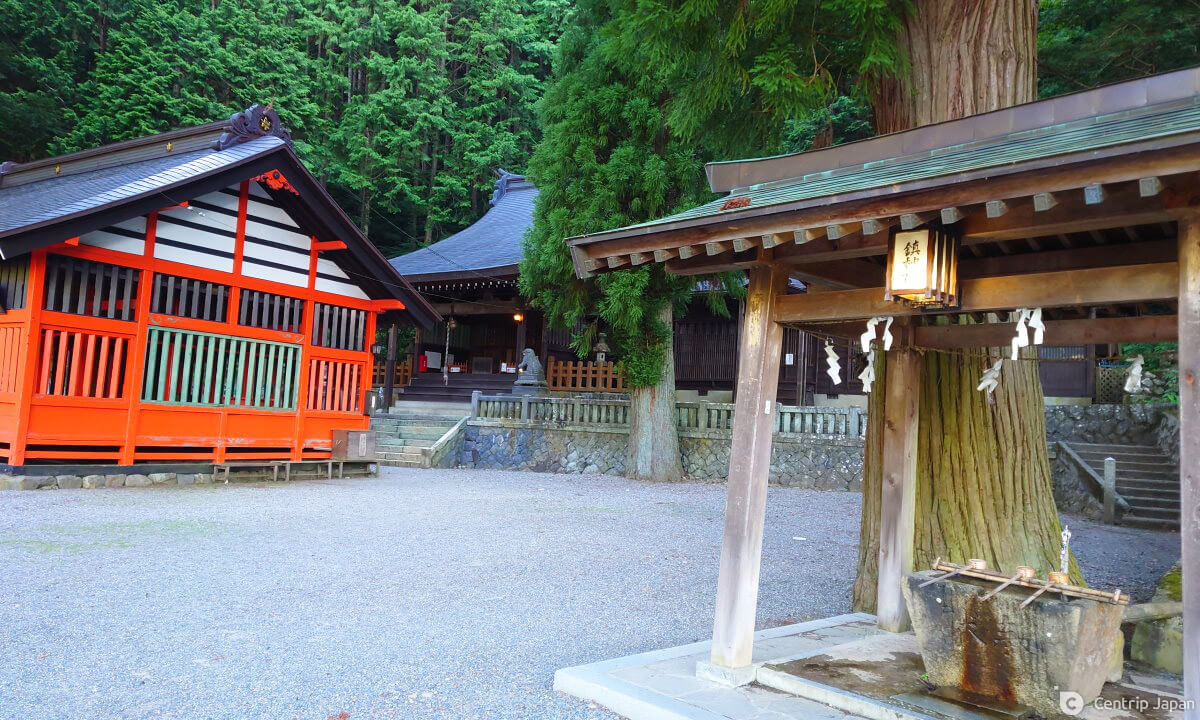 Shizume Shrine
This is the village shrine. Here, you can appreciate the typical atmosphere of Japanese Shinto shrines.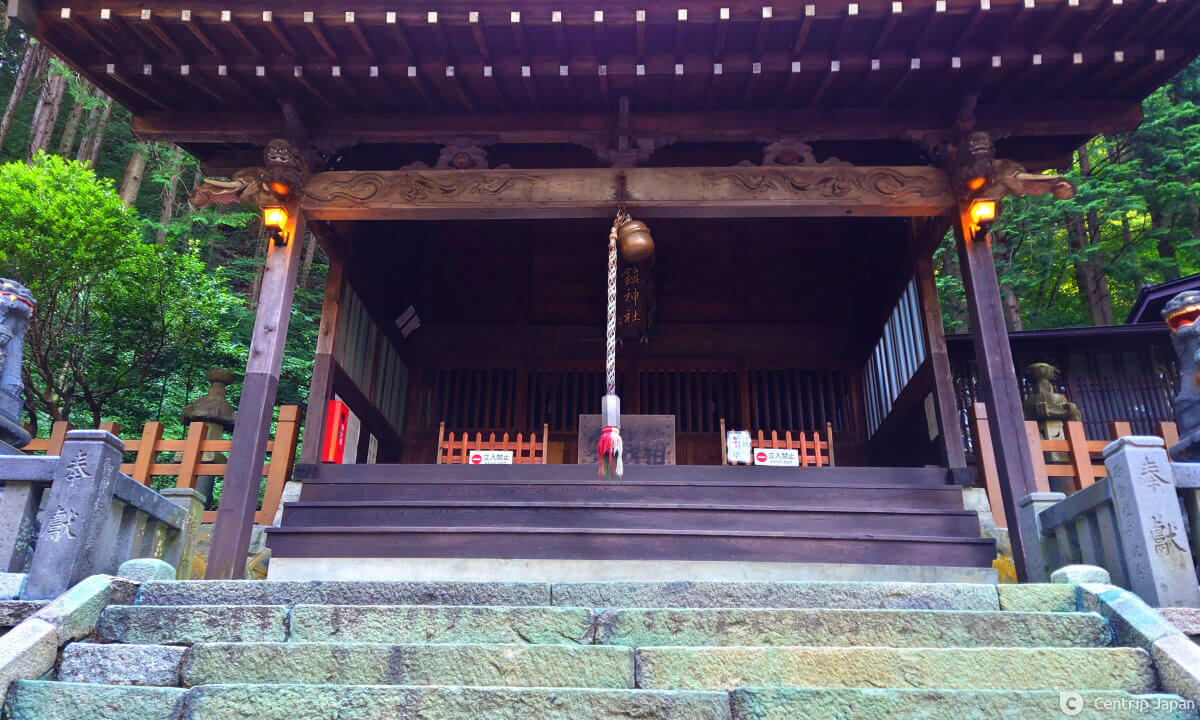 The prayer area
If you can visit in Summer, an annual festival celebrating this shrine is held on August 12. Young people perform folkloristic dances, and you will be able to appreciate traditional music performances as well!
Kakigoori. 
If you feel like taking a break, why not try some Kakigoori? Kakigoori is a typical Japanese summer dessert! It consists of syrup poured over shaved ice. It is very sweet and refreshing! Strawberry (ichigo) is the most appreciated flavor.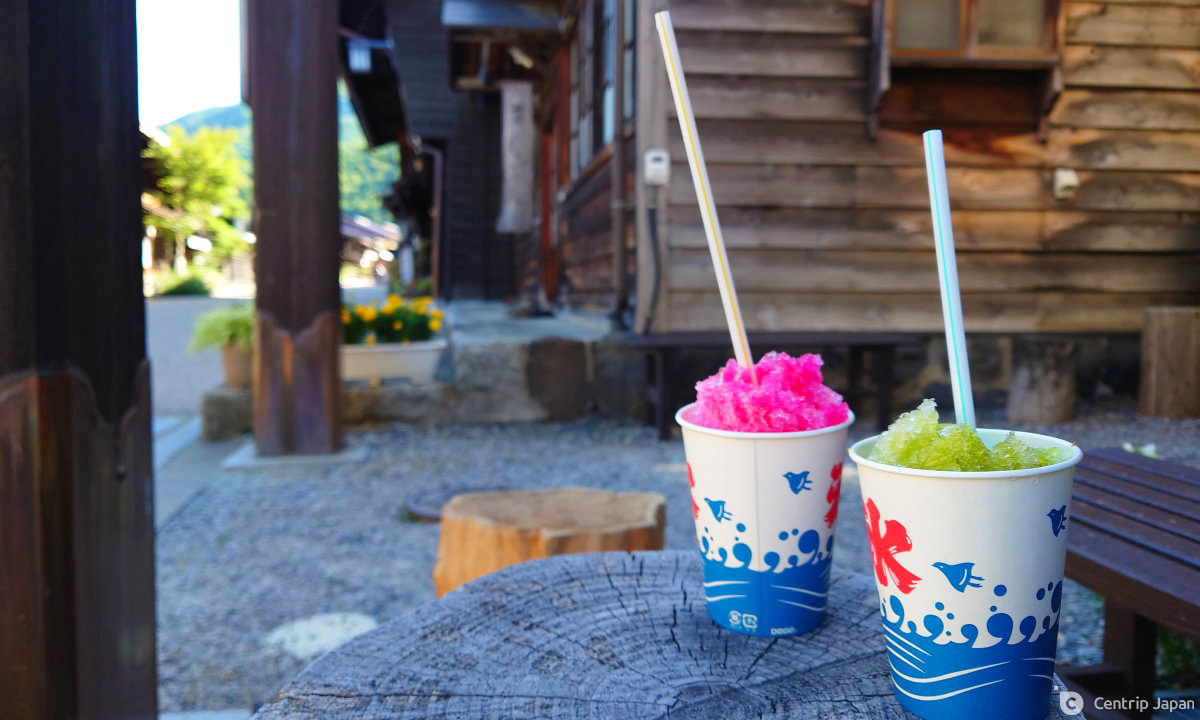 Ichigo kakigoori, Matcha kakigoori
Walks and Hikes
You have several options for hikes and walks all around town. The old city streetscape stretches for about a kilometer over the old Nakasendo road, but if you feel like walking more, you can try to climb up the mountain paths and enjoy a hike among the trees.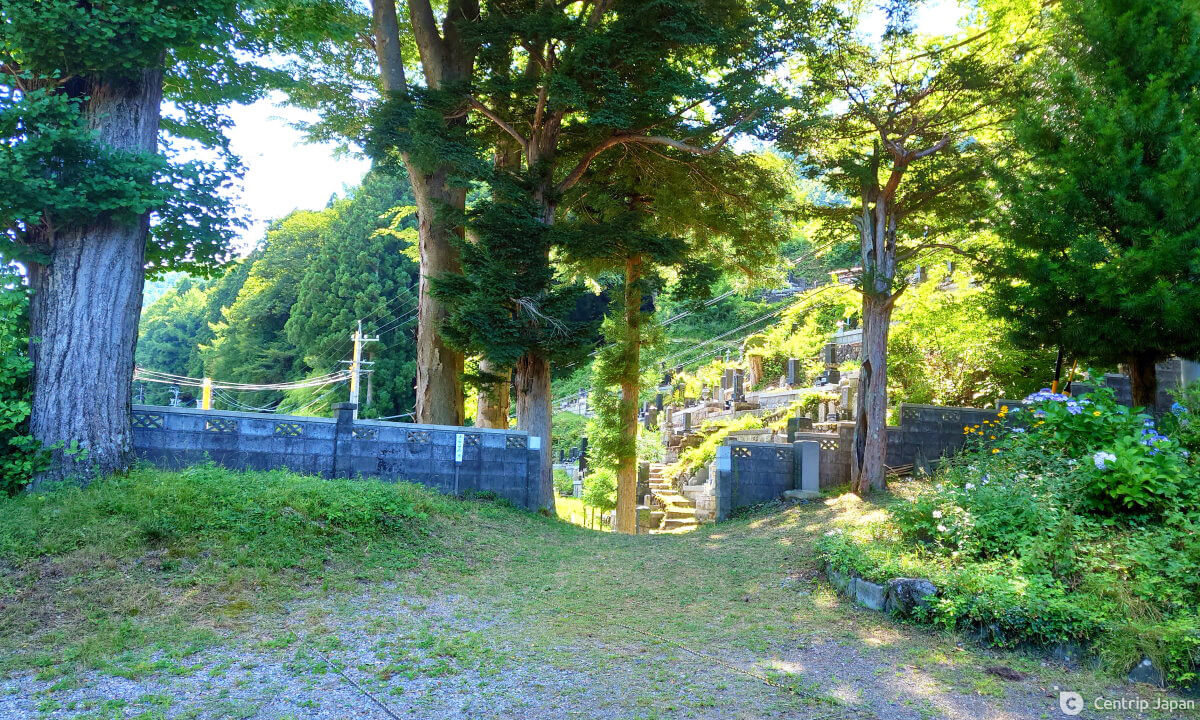 Enjoy the nature
Or walk the path by the railroad on your way back for a quieter route.
Wrap Up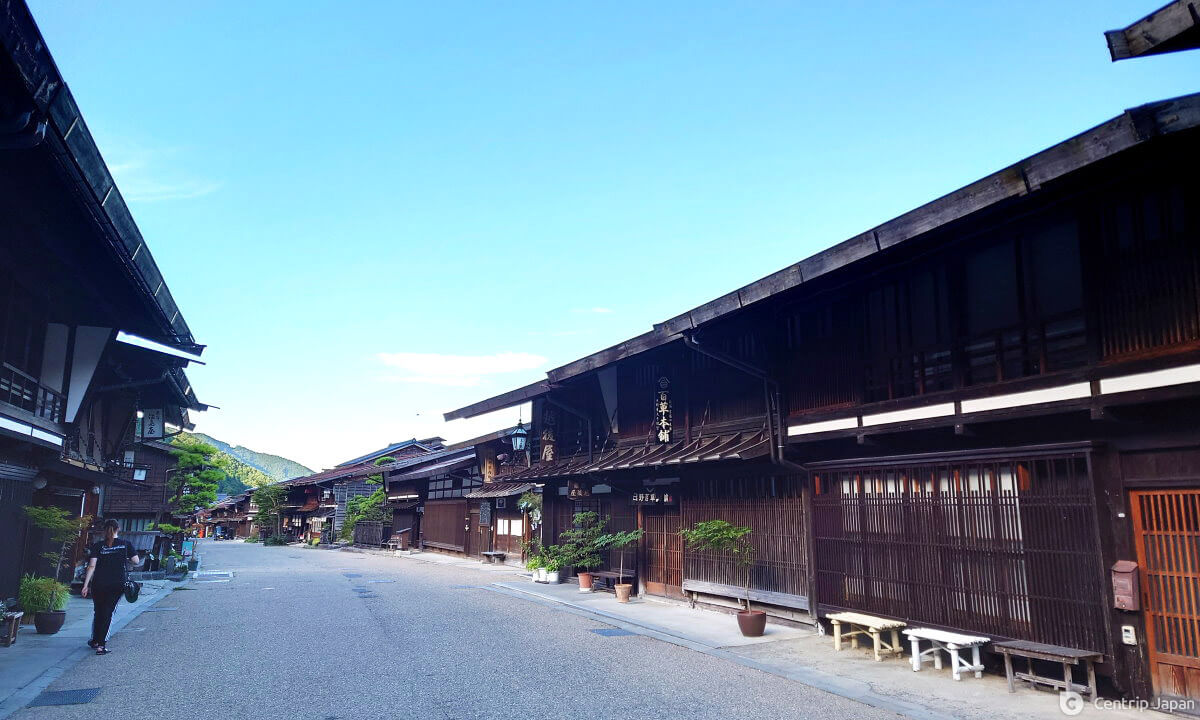 Naraijuku, the streetscape
There are several places and hidden corners you can explore in this little town, but the most important thing to keep in mind is that who makes it possible for this historical location to be preserved are the people of Naraijuku. The people of Naraijuku are happy to receive visits, as they care deeply about protecting this location. A lady working at a lacquerware shop told me that she always takes time to talk to everyone over a cup of tea, regardless of her sales. You will find that people are willing to share their stories with you. If you have the chance, I hope you will pay a visit to this beautiful location.
Click here to get the latest information on Central Japan.Centrip Japan - Nagoya and Chubu Information