| Bonnie Chow
Takayama: A One-day Walk through Matsukura
Takayama is one of Central Japan's most famous tourist destinations. If you have been to Takayama, you will know that guidebooks, websites, and influencers typically introduce the old town, morning markets, and Hida beef restaurants. Undoubtedly, those are must-visit spots in Takayama, but if you spend more than one night in Takayama, why not step off the beaten path?
In this article, I introduce the Matsukura area, a short walk from Takayama station, with many shops, restaurants, and museums to visit. You will be amazed by the diversity this area offers.
Recommended One-day Walking Course
It is common for tourists to take the bus to visit Hida Folk village, but they skip all the interesting spots on the way.
My walking course starts at the west exit of the station. It takes you past several places, all within a short walking distance of one another. Once you reach the final spot, Hida Folk Village, you can choose to take a bus to go back to the train station in 15 mins or on foot in 30 mins.
Hida Collection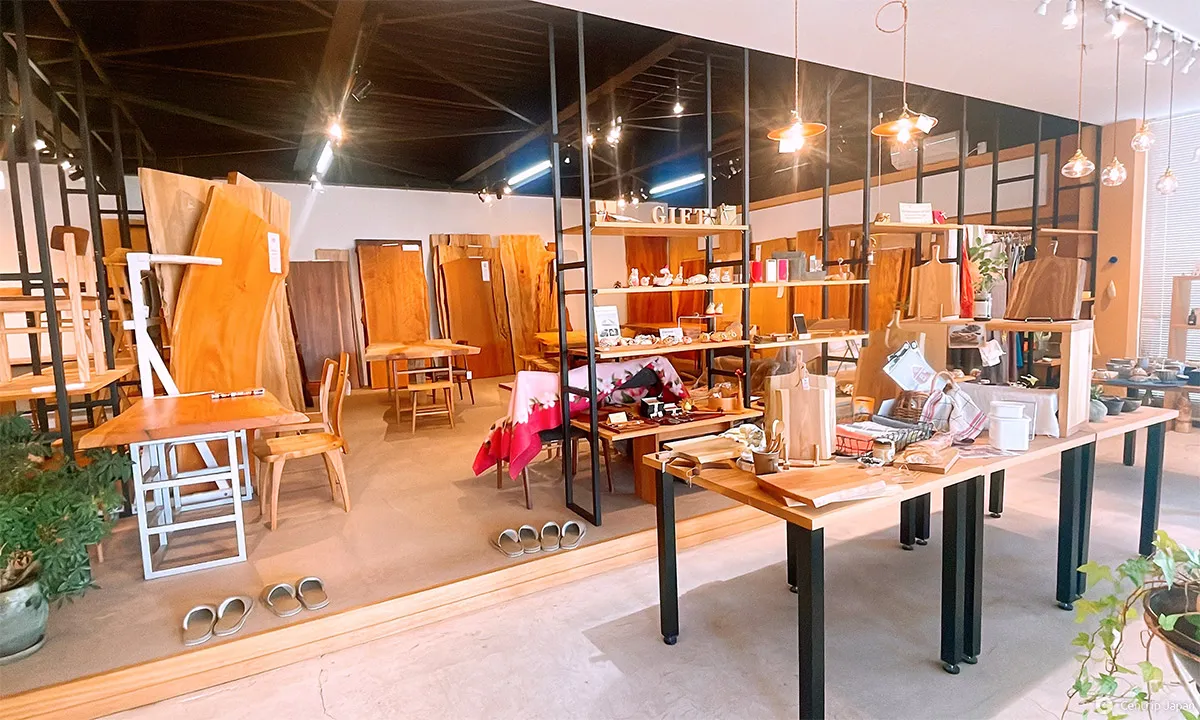 Handmade ceramic cups by a local artisan in the Hida region
Hida Collection is a 14-minute walk from JR Takayama station. Here you can find the masterpieces of local carpenters and artisans, such as wooden furniture, pottery, accessories, and household goods. Names of the artisans are displayed next to their work so you can follow them on social media for any updates or future purchases.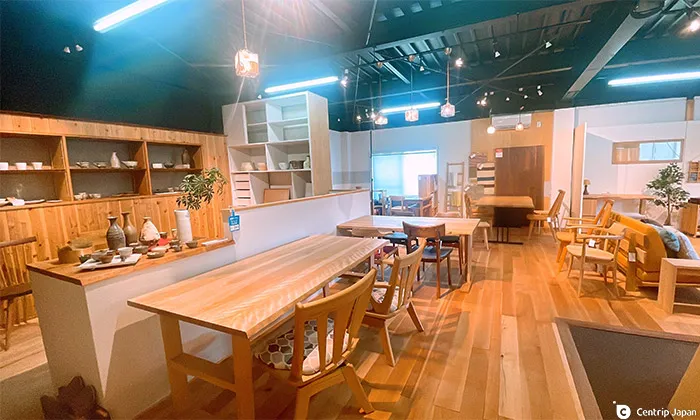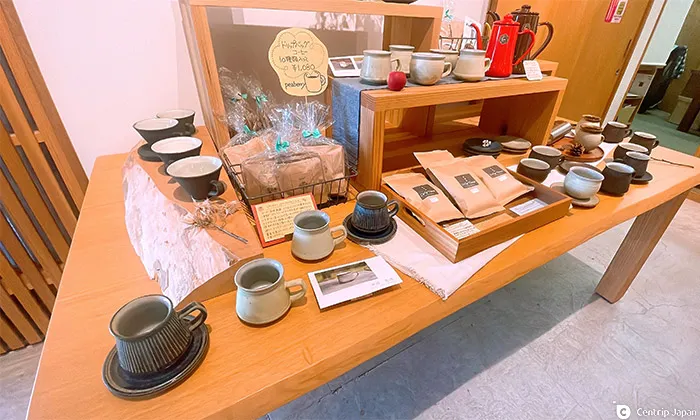 Climbing to the second floor, you can see the different designs of wooden furniture made by local carpenters. All furniture on the second floor is tailor-made.
Boulangerie Noboriya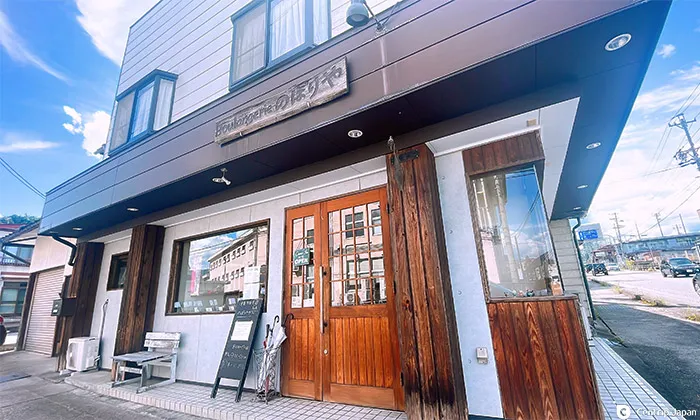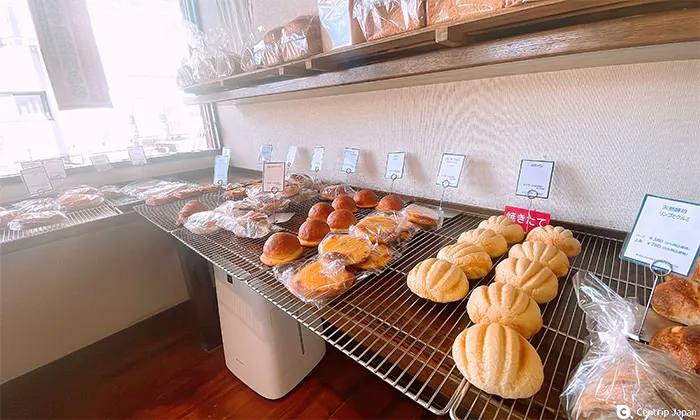 Can you resist the lovely smell of freshly baked bread? There is nothing quite like it, and the bakeries like Boulangerie Noboriya aim to please.
It stands across from Hida Collection and serves a variety of bread, sandwiches, and sweets. The store opens at 8:00 am, so stop by for a bite in the afternoon while exploring the Matsukura area. Just beware—Monday and Tuesday are holidays.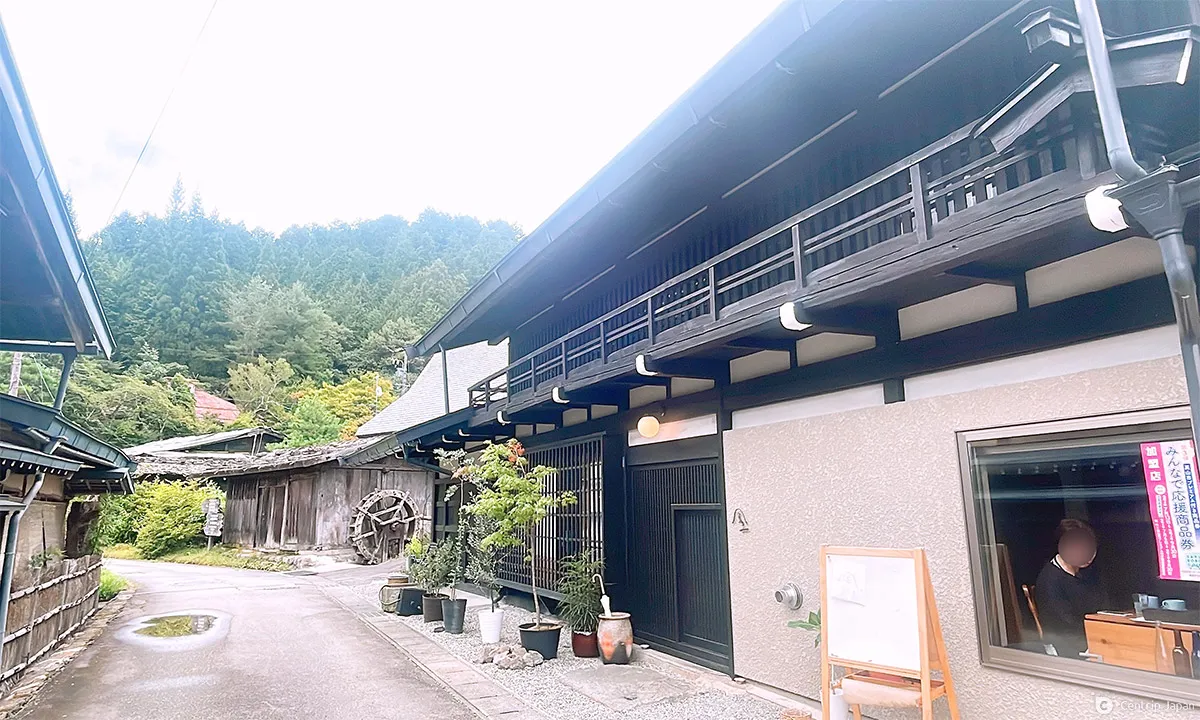 A small door leads into an old Japanese folk house.
Lunch at FŪDO
After a short walk, it's time to get a bite to eat. It takes 6 minutes from Boulangerie Noboriya to FUDO. FUDO is a new Italian restaurant in a renovated-wooden Japanese folk house that opened in May 2022. FUDO's atmosphere is cozy, keeping the Takayama traditional decore and lattice windows with partitions between tables.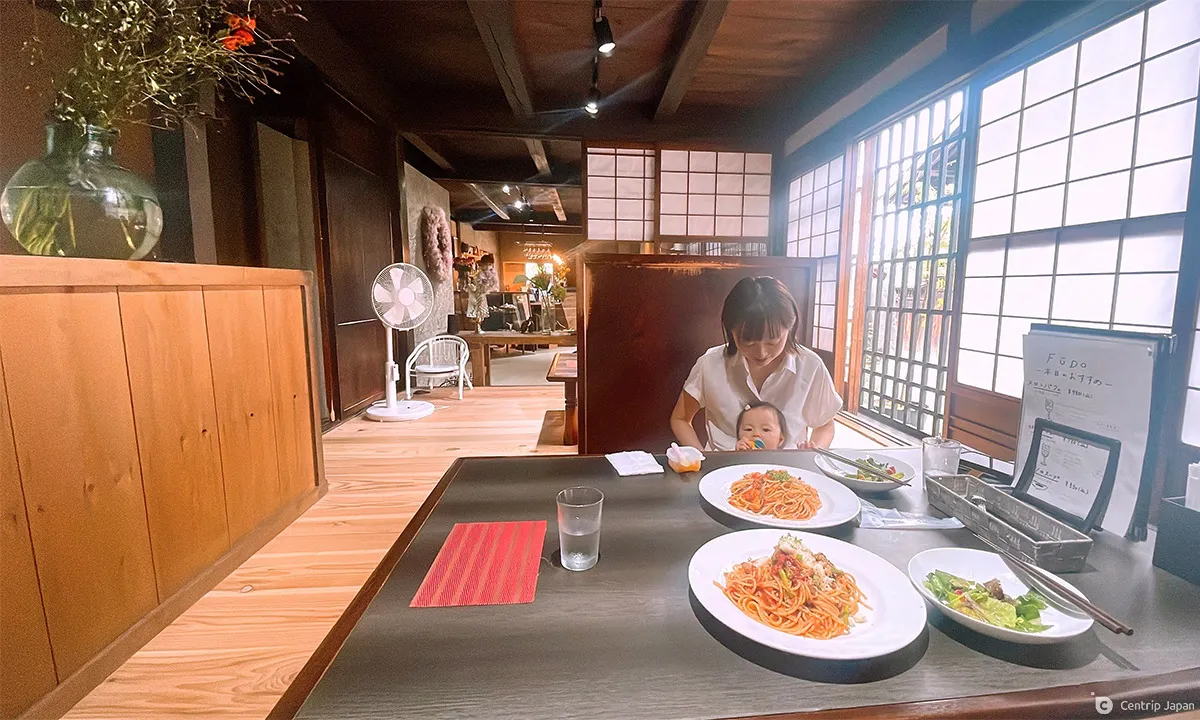 Japanese lattice windows bring in natural sunlight
Fresh vegetables from the Hida region and seasonal fruit parfaits such as Hida peaches or melon (in summer) are the must-try dishes at FUDO to satisfy your tastebuds. FUDO is open for lunch and dinner except for Wednesdays.
Hida Takayama Teddy Bear Museum & Shop & Cafe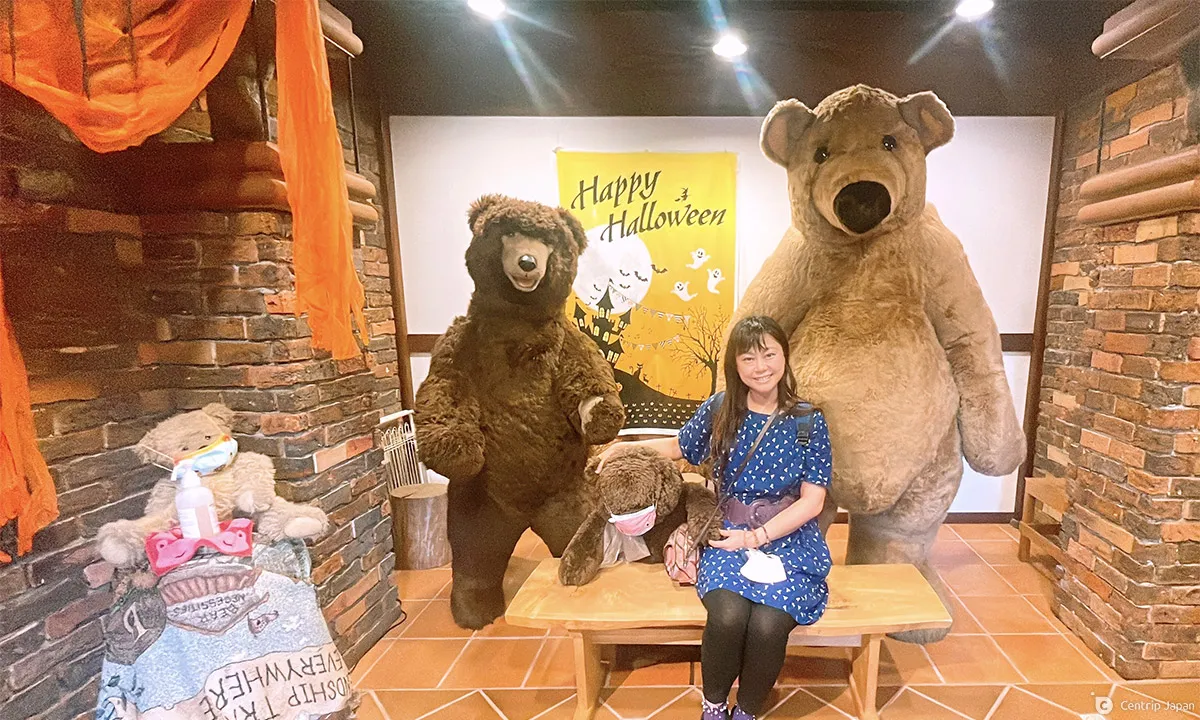 Four teddy bears are waiting for you at the museum entrance
After lunch, get ready to be amazed by one thousand Teddy bears. This is the world's-first environmentally-themed teddy bear museum, delivering its environmental message through its art collection. It takes five minutes to walk to the Teddy Bear Museum.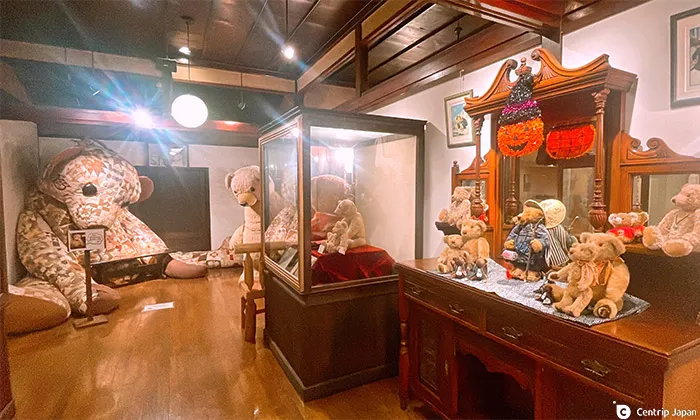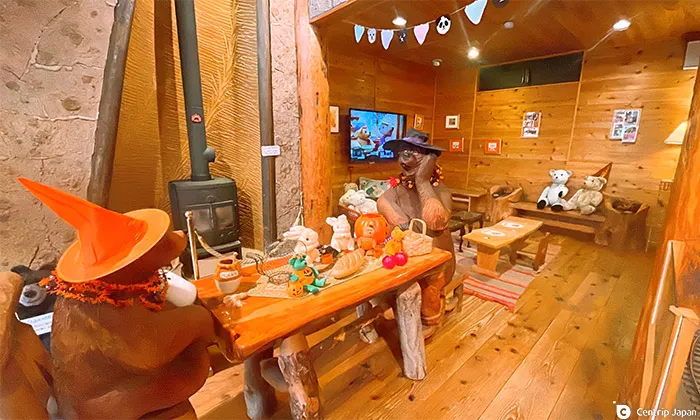 On the outside, the museum looks Japanese—the building is a renovated 180-year-old thatched roof Japanese farmhouse—and the inside is a fantasy land of teddy bears.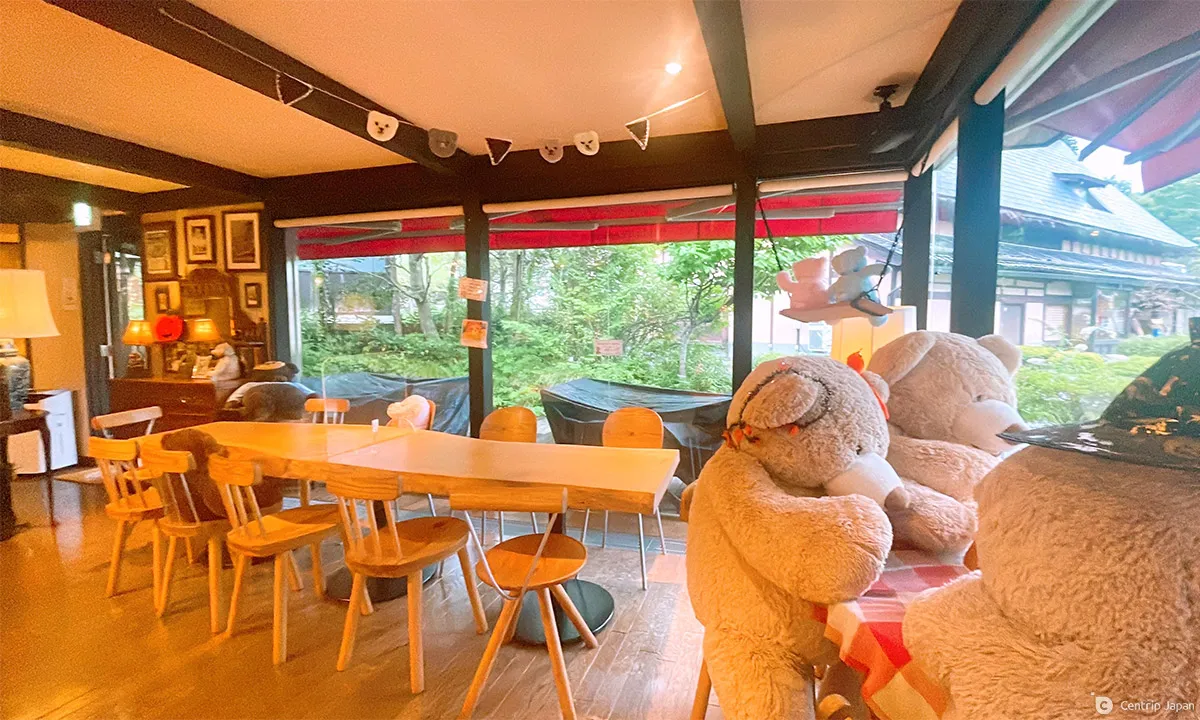 The Teddy Bear Café has a warm atmosphere where visitors can drink tea while hugging cute teddy bears.
After checking out the bears, drop by the gift shop and café for a break. The museum closes on Wednesday and costs ¥600 for adults, and admission for children under six is free.
Kochi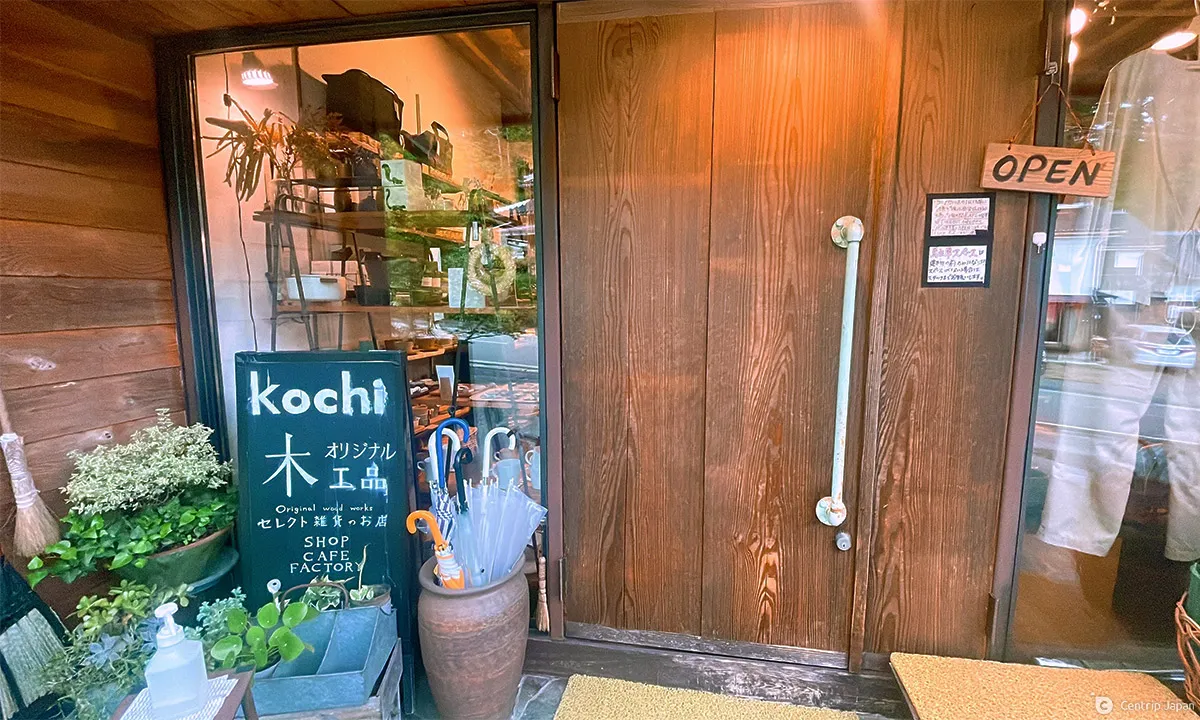 Kochi has a selection of woodwork made by local carpenters
Kochi, a household goods store owned by local carpenters, is just minutes from the Teddy Bear Museum. Kochi sells original woodwork that includes clocks, household decorations, and more. A café is on the second floor for you to relax if you have not had a chance until now. Kochi will always surprise you with its collection of new goods.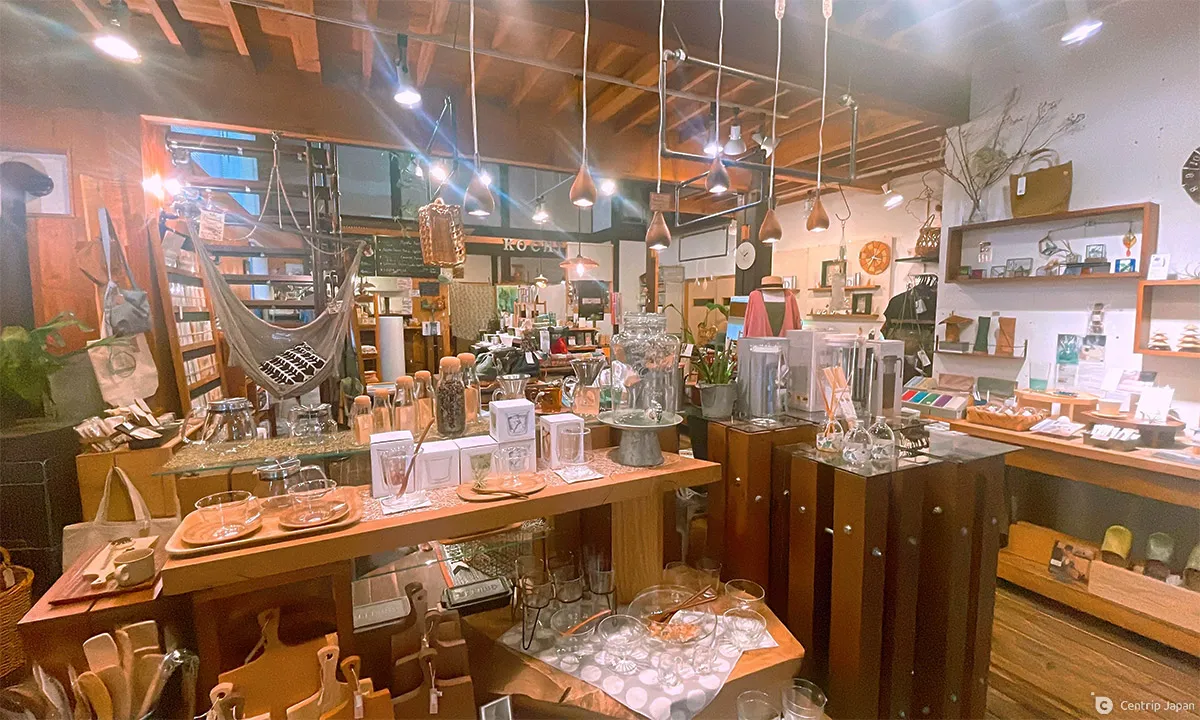 A collection of household goods at Kochi
Cat Shelter - Niyan living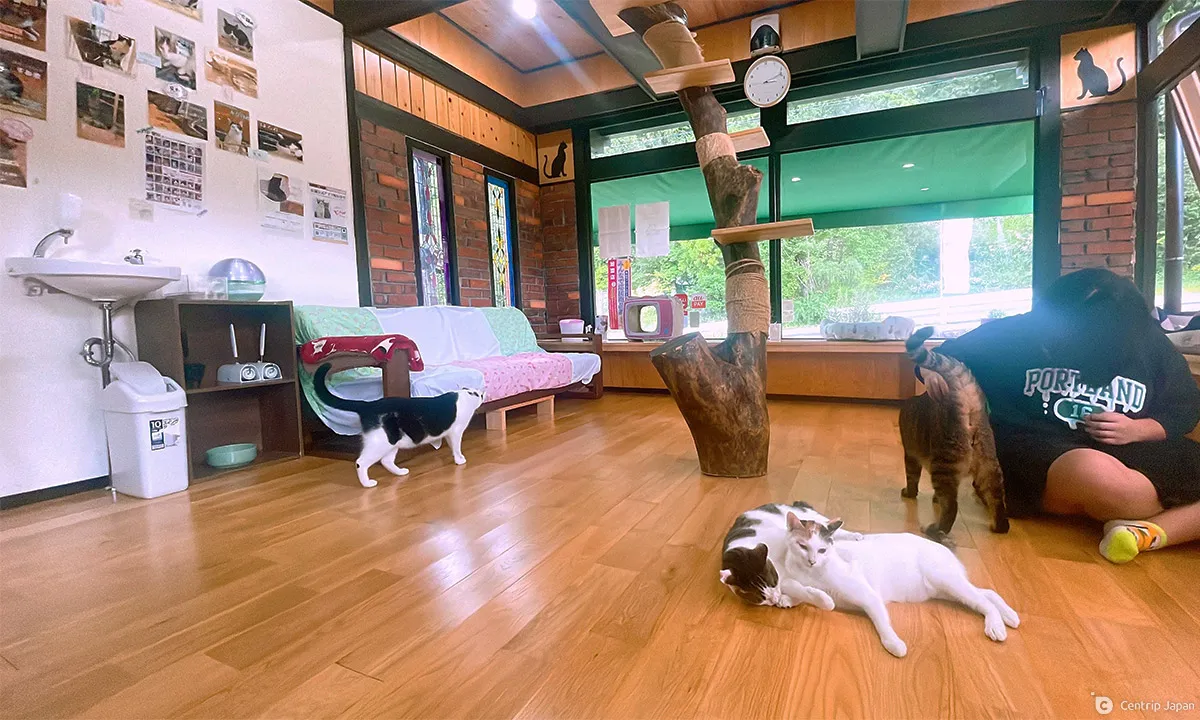 Getting along with the cats
Right next to Kochi is Nyan living. It opened in 2020 in the Matsukura area and is a safe and relaxing place for children and adults to meet cats.
Around 20 cats are in the shelter, and many are stray cats in need of owners. Visitors can pay ¥500 for 30 mins to play with the cats and contribute to the animal shelter. It is perfect for a break from walking.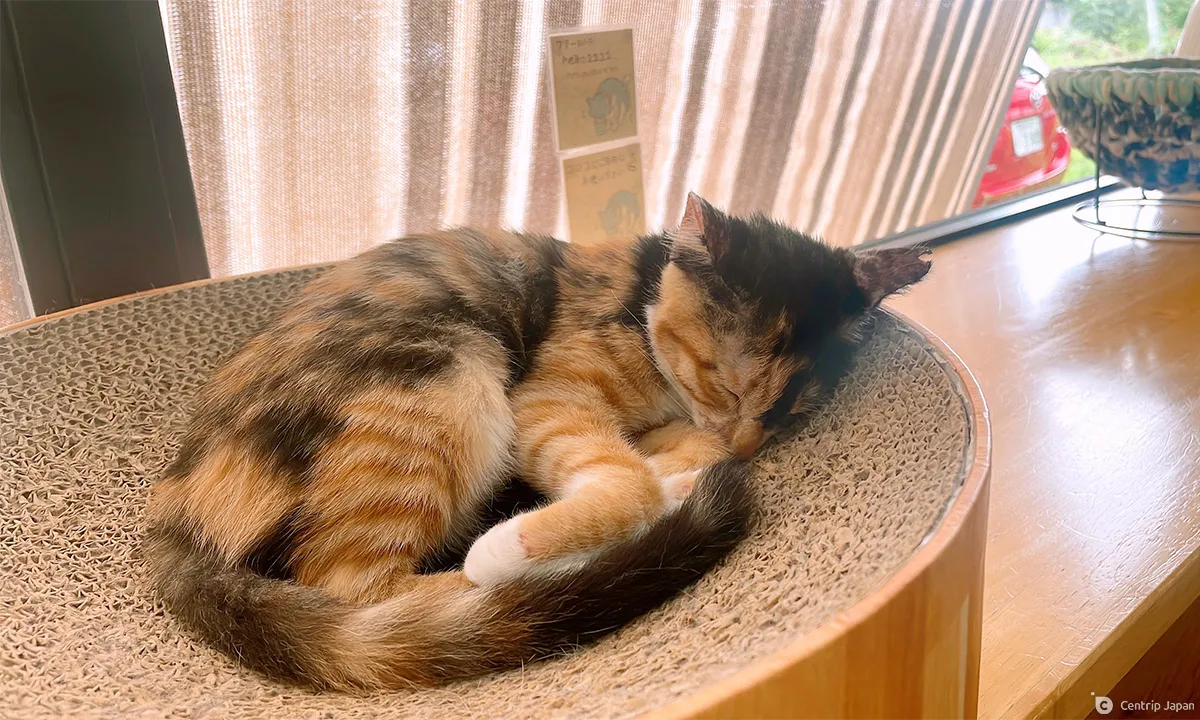 Just watching kittens asleep is a great way to relax
Hida Folk Village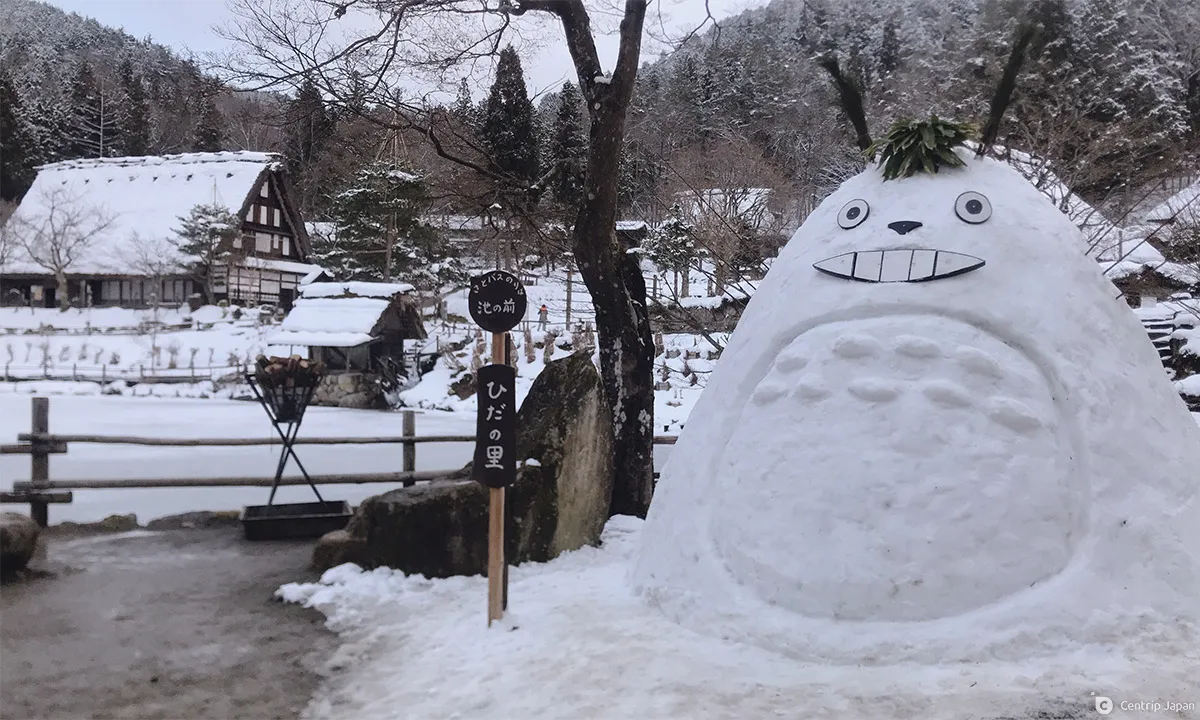 The beautiful scenery of Hida Folk Village in winter with a giant snow Totoro statue
Next is Hida Folk Village, an open-air museum with thirty thatched-roof houses relocated from the mountainous areas of Japan. The scenery is exceptional, especially in autumn and winter, with beautiful Japanese maple leaves and snowy white colors.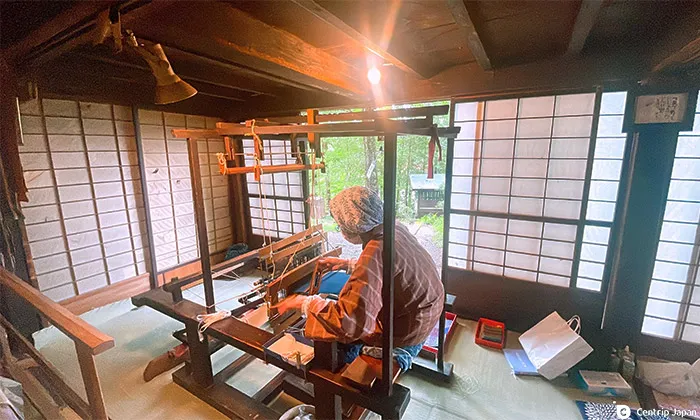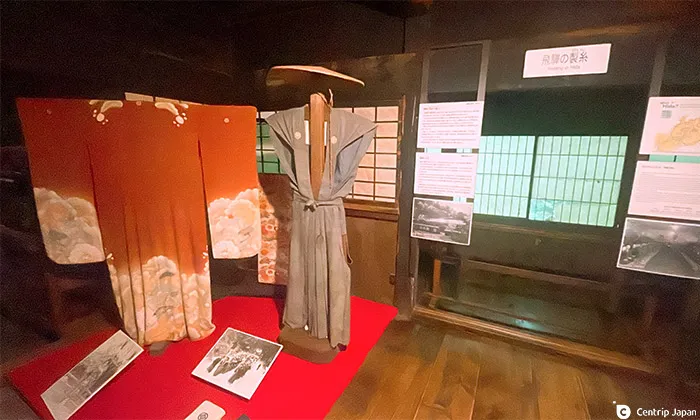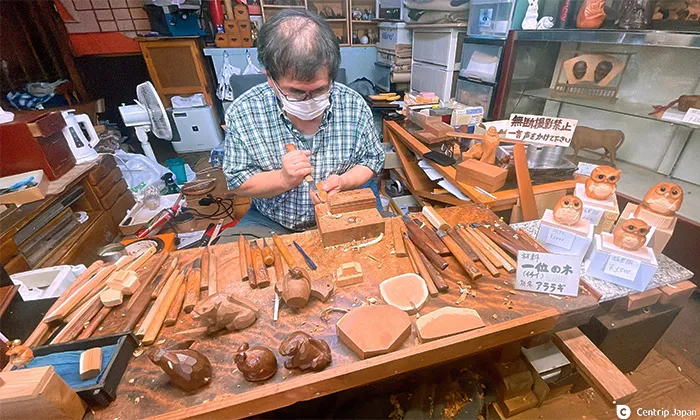 Be sure to visit the lookout for views of the Japanese Alps when the sky is clear. An hour is the suggested time required for exploring the village and checking out the farmhouses to learn about the history and culture of the Hida region. Exhibits have English information boards, and demonstrations of silk-spinning, woodcarving, and straw sandal making are available too. The entrance fee for adults is ¥700.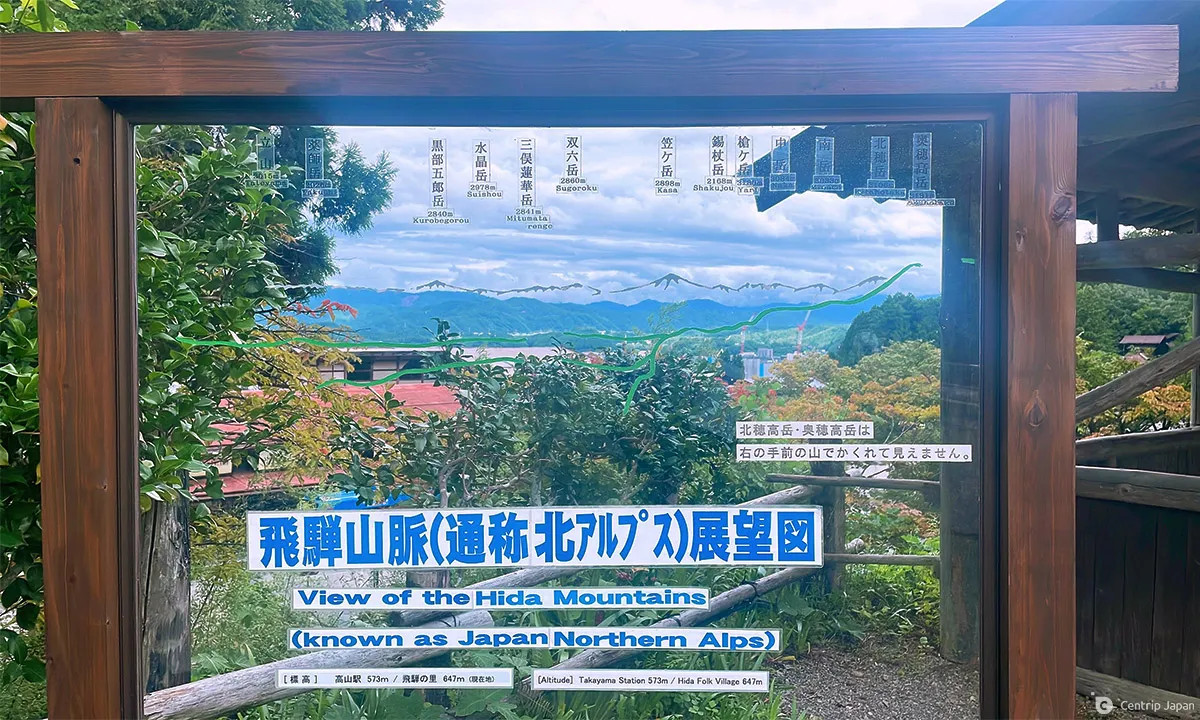 A view of the beautiful Japan Alps landscape
When you finish with the folk village, take the 15-minute bus ride (Sarubobo bus) back to JR Takayama station for ¥100.
How to get to Takayama
From Nagoya, the fastest and most direct way to reach Takayama is by JR Wide View Hida train, which takes 2 hours and 40 minutes for ¥5,610. If you want to save money, take the bus to Takayama, which is cheaper at ¥3,100 for a one-way ticket.
Wrap Up
As a local living in Takayama for eight years, I found Matsukura intriguing to explore and hang out with friends. I hope you find it a rewarding experience to spend the day wandering around the other side of Takayama to learn more about the culture and craftspeople of the area while having fun.
Click here to get the latest information on Central Japan.Centrip Japan - Nagoya and Chubu Information