| Centrip Editorial Board
Aichi Triennale 2019, A Popular Art Festival Held Every Three Years in Nagoya
A Popular Art Festival - Modern Art Exhibitions on the City Stage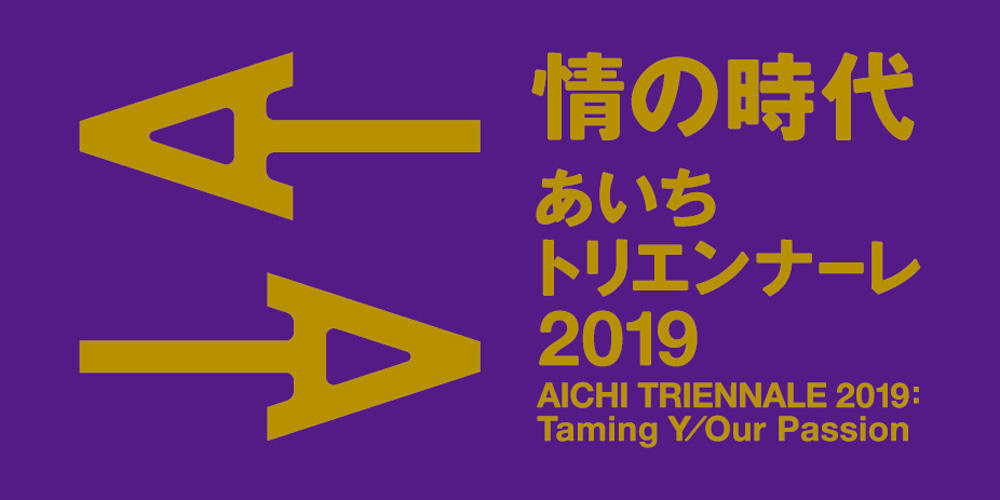 Art festivals are held in various places in Japan. For example, the Setouchi International Art Festival (瀬戸内国際芸術祭/Setouchi Kokusai Geijutsusai) is popular internationally and held triennially. You may not know, but there is another such festival held in Aichi Prefecture in the Chubu Region. The international art festival, Aichi Triennale, in Aichi Prefecture is also held once every three years, and will be held in 2019!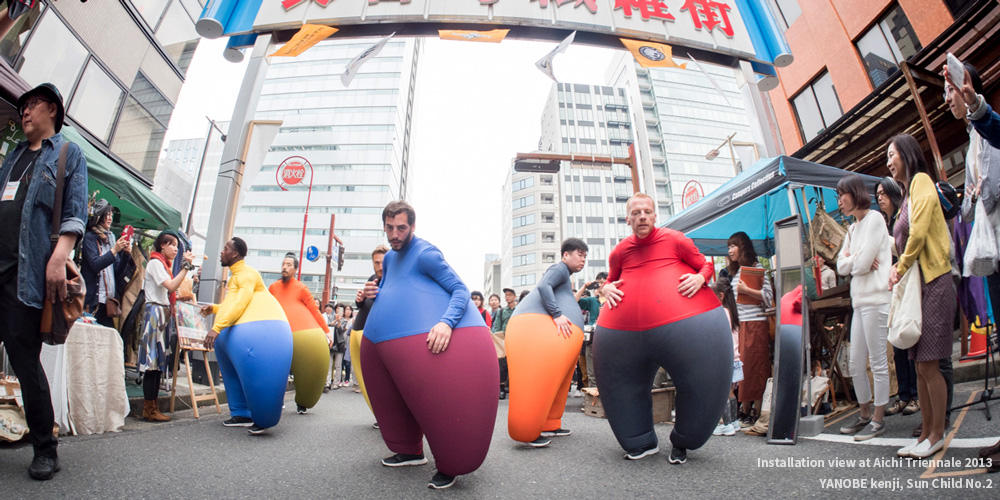 Aichi TRIENNALE 2013
Aichi Triennale is an art festival staged in a city. The everyday life of Japanese people and contemporary art fuse together. Rather than being held in a special space, you can encounter cutting-edge domestic and international artworks, while walking through the city.
Nagoya is host to the Aichi Triennale, one of the largest international art festivals in Japan and a large number of foreign artists, as well as prominent Japanese artists, will attend. Many tourists will also visit.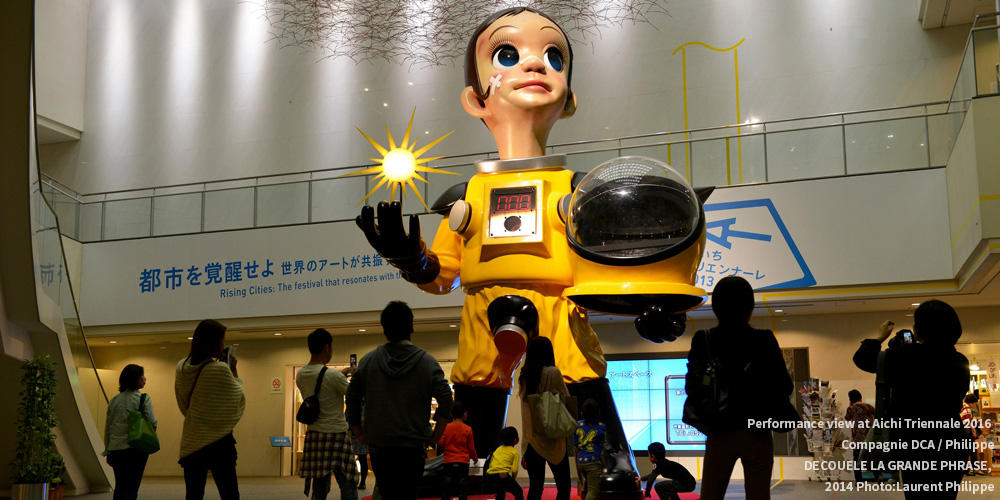 Aichi TRIENNALE 2016
More than 80 artists will participate this time, the fourth time. In addition to the International Contemporary Art Exhibition (国際現代美術展/Kokusai Gendai Bijutsuten) where works are displayed at art museums, various expressions beyond art and music such as visual programs, performing arts such as theater, and music programs are developed.
There are some works you can see while walking around the shopping district and historical street. There is a participatory program which people of all ages can learn and enjoy themselves.
Aichi Triennale provides an opportunity to connect people with the World Expo Art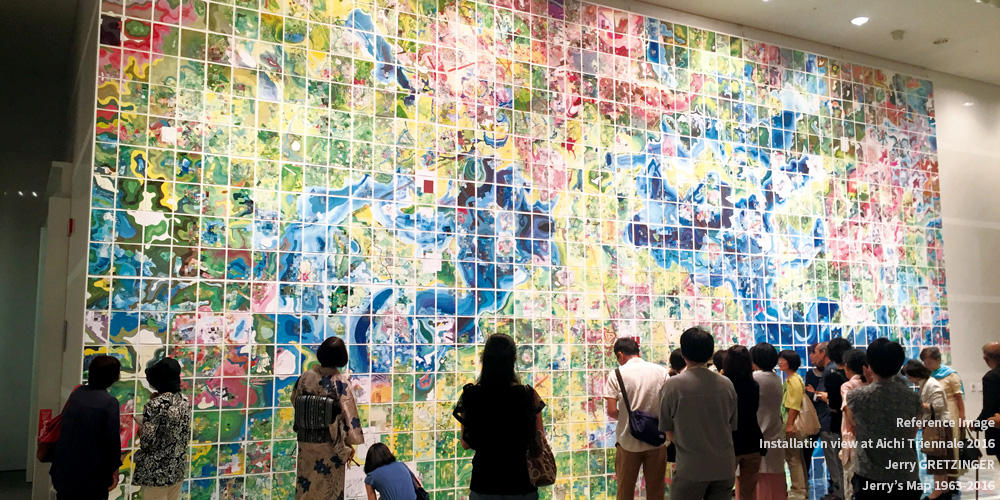 Aichi TRIENNALE 2016
The Aichi Triennale began at the 2005 Aichi Expo (Aichi Earth Expo). The purpose for transmitting various information from Aichi to the world at an Expo where people can make connections, and rather than hosting a single event, the purpose was to develop a lasting festival of contemporary art. So, in 2010, the first Aichi Triennale was born.
Nine years later, the Aichi Triennale has become a popular art festival with around 600,000 visitors.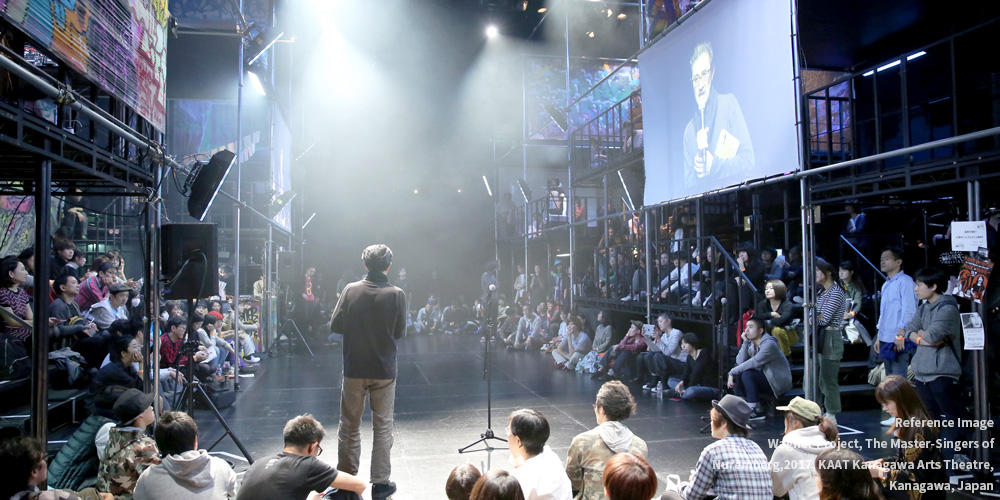 The types of exhibitions include art museums, theaters, music, and more, with a focus on several art museums in Nagoya, theaters, shopping districts, historic buildings, and Toyota City, famous for the automobile industry, as venues, with many visitors both coming from domestic and abroad to visit. Above all are the on-stage performing arts with radical works from artists from around the world, as well as about 10 musical performances.
What is Aichi Triennale Like?
As you may not be able to imagine from just reading the above explanation, let's have a look at the past Aichi Triennale together!
The First Theme, Arts and Cities (2010)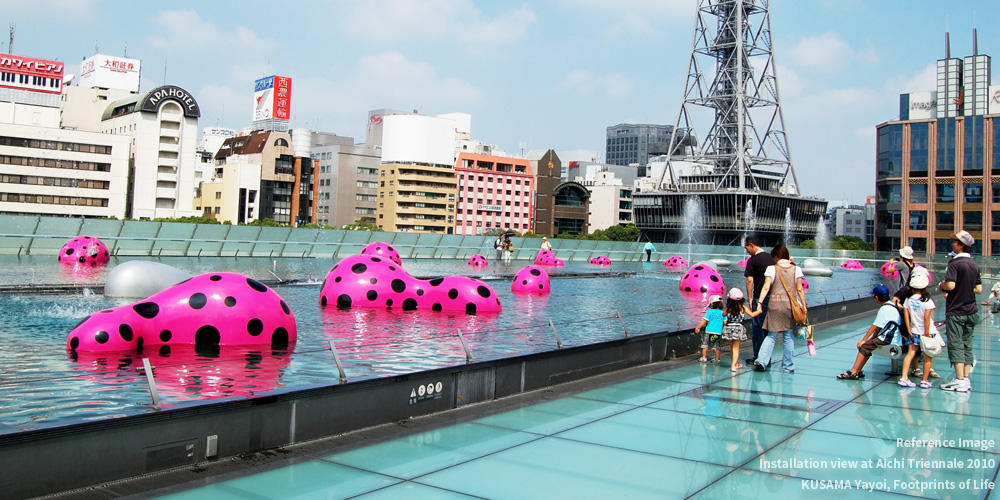 The park and open buildings such as Oasis 21 were the venues, and the interiors and walls of the building were the works. An exhibition that made the city itself a work of art was popular. About 570,000 people visited.
The Second Theme, Awakening - Where Are We Standing? - Earth, Memory, and Resurrection (2013),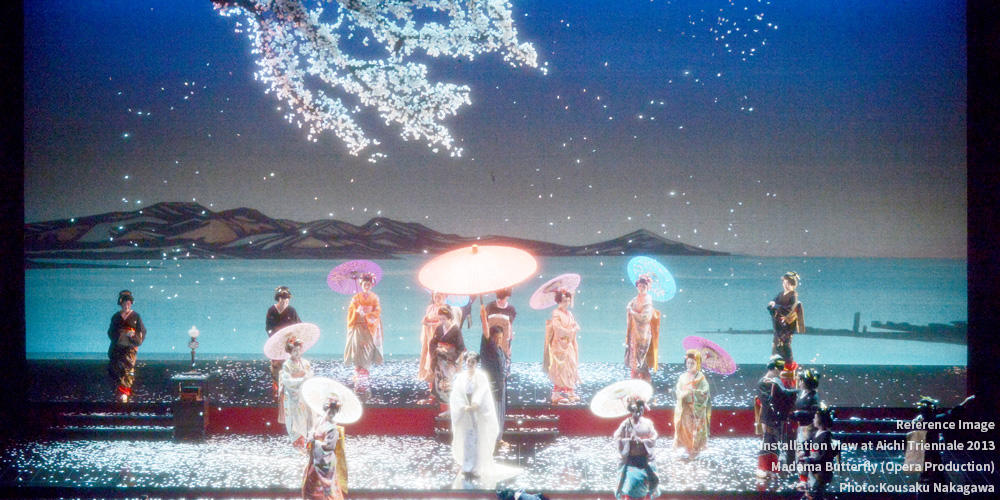 The exhibition hall was held not only in Nagoya but in a wide area, and in addition to works of art, theater works such as operas were staged. International colors were also enriched by developing trick art in the underground mall in collaboration with a design office in Taiwan.
The Third Theme, Homo Faber: A Rainbow Caravan (2016)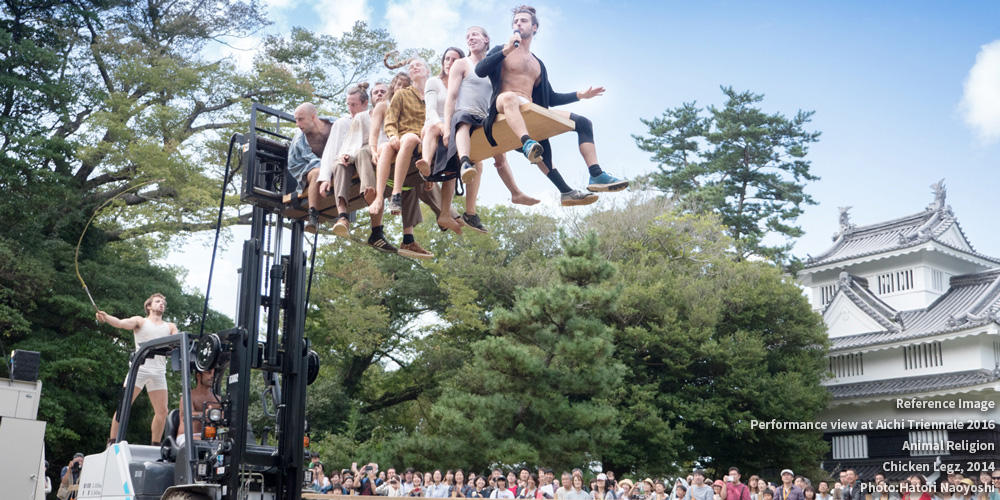 The theme of human travel became more artistic. Exhibits were no longer held solely in theaters or museums, but they also included the performing arts, the setting was no longer just in the city but the city itself was merged with artful performances. At the end of the exhibition, all works were removed from the city, and the city returned to its everyday style. It was like an ephemeral dream.
The Fourth Theme, Taming Y/Our Passion (2019)
Finally the fourth festival. We will introduce you to the artworks!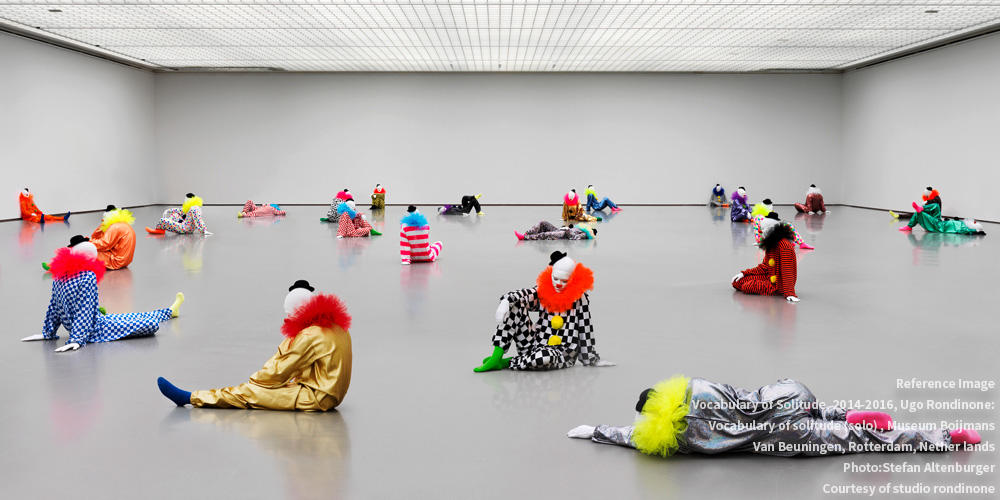 Ugo Rondinone
Born in 1964 Brunnen, Switzerland and based in New York, USA
The images that are both romantic and natural, such as clouds, rainbows, and mountains, are projected on a daily basis to clarify the nature of modern life.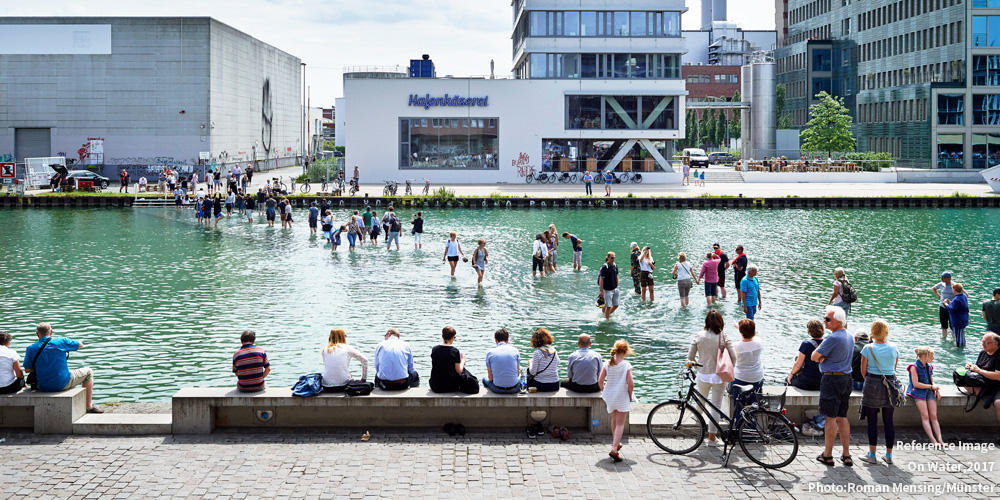 Ayşe Erkmen
Born in Istanbul, Turkey, 1949 based in Berlin, Germany She carefully interprets a sites hidden context creates artwork by temporarily moving objects in the environment. There are also works that allowed visitors to cross deep water by allowing spectators to walk on the surface of the water—a chasm that would normally be impassable.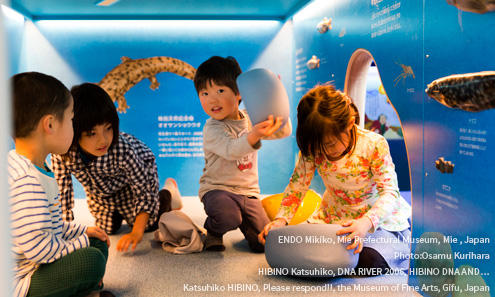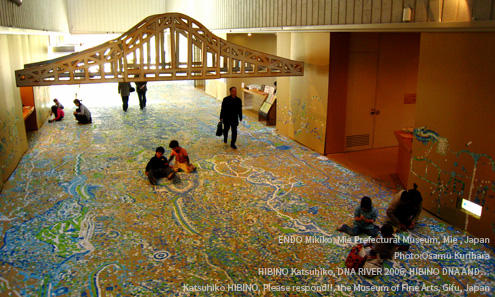 Mikiko Endo & Katsuhiko Hibino
As an architect, Miki Endo designs museums and public space that can be enjoyed by adults and children alike. Hibino Katsuhiko develops collaborative projects with people from various regions and industries while trying to make art function in society.
How to Enjoy Aichi Triennale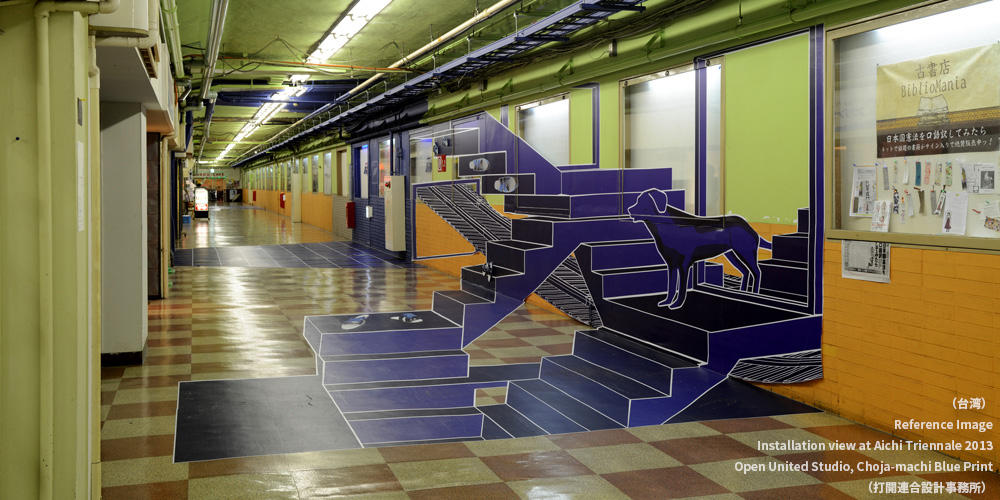 Aichi TRIENNALE 2013
The exhibition will be held at multiple venues over 75 days from August 1st to October 14th. The exhibition International Contemporary Art Exhibition at museums requires a ticket. There is a 1 DAY pass where you can see each venue as many times as possible, and a free pass where you can see each venue many times during the exhibition period.
Separate tickets are required for the Klimt Exhibition held at the Toyota City Museum of Art, as well as music programs, and performing arts. However, you can see the exhibitions in the shopping districts, town, and historical buildings free of charge.
Recommended Course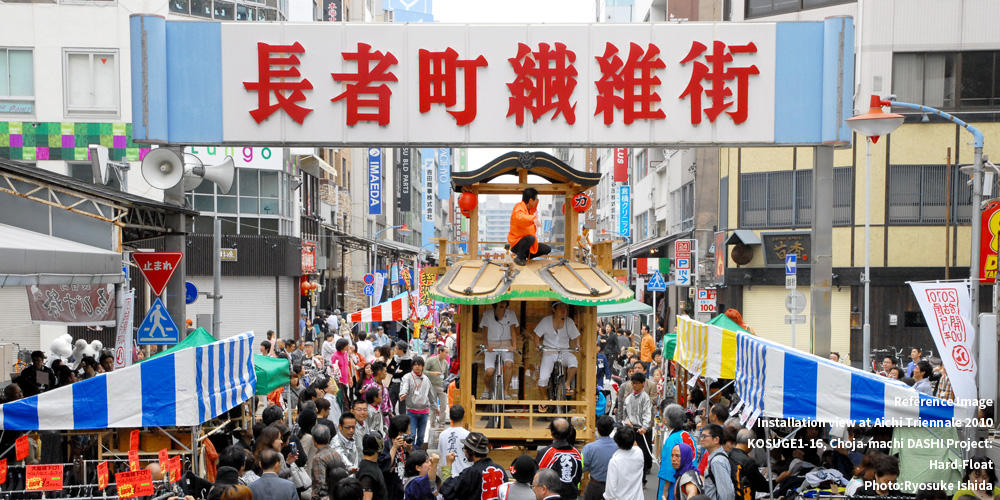 Aichi TRIENNALE 2010
From Nagoya station, take the Higashiyama subway line to Sakae station.


Next to Oasis 21 (オアシス21/Oashisu21) is the main meeting area, Aichi Arts Center (愛知芸術文化センター/Aichi Geijutsu Bunka Sentaa), where you can appreciate many works of art on display.

From Sakae station, take the Higashiyama subway line to Fushimi station.


There you can visit the Nagoya City Art Museum (名古屋市美術館/Nagoya-shi Bijutsukan) and appreciate the many works of art on display.

From Fushimi station, take the Tsurumai subway line to Marunouchi station.


At Shikemichi and Endouji Shopping Street you can see in the city the many works of art on display.

From Kokusai Center station, take the Sakura Dori subway line to Nagoya station.
*Nagoya Station is within walking distance of the Aichi Arts Center, so walking is recommended to take your time to walk and admire the city!
From the Aichi Arts Center, it is 1.6km to Nagoya City Art Museum (about a 20-minute walk) From there to Shikemichi it is 1.9km (about a 25-minute walk) and then from there to Nagoya Station it is 1.1km (about a 15-minute walk).
Aichi Triennale 2019 Information - Tickets, and Locations
International Modern Art Tickets
1 Day Pass
General ¥1,600, University Students ¥1,200, Highschool Students ¥600
*You may visit the various event locations as many times in the day as you would like.
Free Pass
General ¥2,800, University Students ¥2,000, Highschool Students ¥1,000
*At any time during the event, you may enter any of the locations as many times as you would like.
*An original hand towel is included.
*A 1 Day Pass can be exchanged for a free pass by paying the difference in the ticket prices.
Tickets can be purchased online from the official site. Advance tickets are available at a discount.
Official Site Ticket Information (English)
Purchase a Ticket Online - 1 (Official Ticket Website)
Purchase a Ticket Online - 2 (Peatix)
Event Dates
2019, August, 1st, (Thur) - October,14th (Mon & Holidays), 75 Days
Location
1. Aichi Arts Center (a 3-minute walk from Sakae Subway Station)
2. Nagoya City Art Museum (an 8-minute walk from Fushimi Subway Station)
3. Nagoya City, Shikemichi & Endoji (a 5-minute walk from Kokusai Center Subway Station, or a 15-minute walk from Nagoya Station)
4. Toyota City, Toyota City Art Museum and Toyota City Station Area (Toyota City Art Museum and Toyota City Station Area about a 15-minute walk)