| John Asano
Exploring One of Japan's Three Great Hot Springs on Foot
Gero Onsen is a charming hot spring resort town deep in the mountains of Gifu Prefecture. This compact onsen town is easy to explore on foot and is famous for its beautifying waters. It is a great place to spend a day from either Gifu City or Nagoya and can easily be added to your itinerary in conjunction with trips to nearby Hida Takayama and Shirakawa-go.
One of Japan's Three Great Hot Springs
Gero Onsen can boast a history of over 1,000 years and during the Edo period (1603-1868), it was called one of Japan's "Three Best Onsen" by the esteemed Confucian philosopher and scholar Hayashi Razan (1583-1657) along with Arima Onsen in Kobe and Kusatsu Onsen in Gunma Prefecture near Tokyo. Even today, Gero Onsen is still considered to be an onsen paradise and one of the best hot springs in Japan.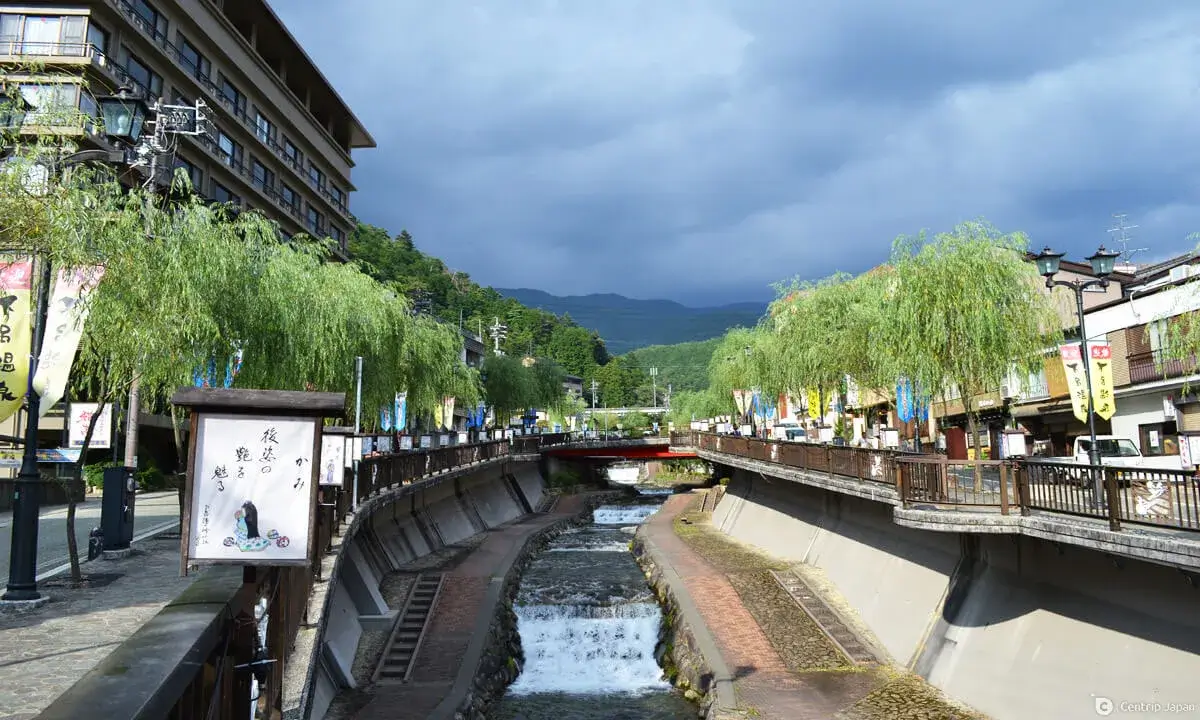 The main resort area of Gero Onsen 
The Beautifying Waters of Gero Onsen
The mineral-rich hot spring water flows naturally from underground at Gero Onsen and is believed to make your skin soft and velvety smooth. The water is called "Bijin no Yu" in Japanese by the locals, which means "Beautifying Waters". The natural spring water gushes out of the ground at a temperature of around 84 degrees Celsius with the alkaline water transparent and smooth with a faint aroma and soap-like qualities.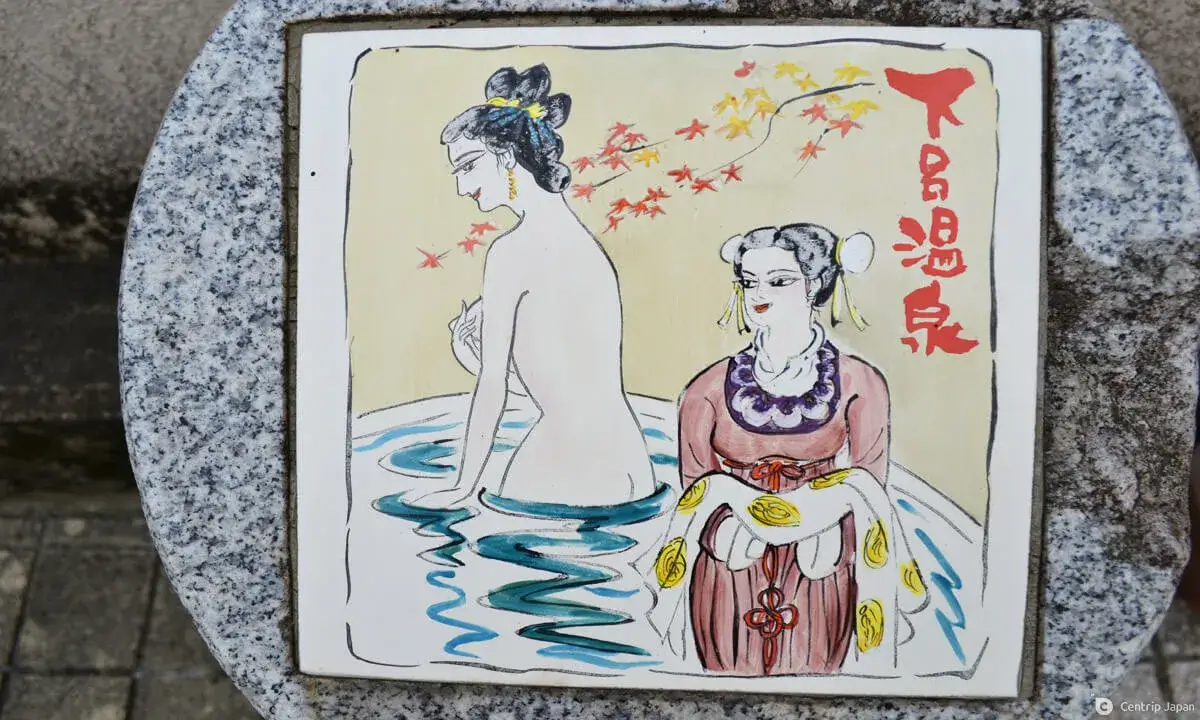 The beautifying waters of Gero Onsen have been enjoyed for centuries 
The beneficial effects of the spring water have been used since the Tenryaku era (947-956) and have attracted the attention of medical practitioners from all over Japan. It is said that soaking in this spring water will improve your blood circulation, relieve fatigue, and promote your overall health. It is the perfect remedy to refresh both your body and mind.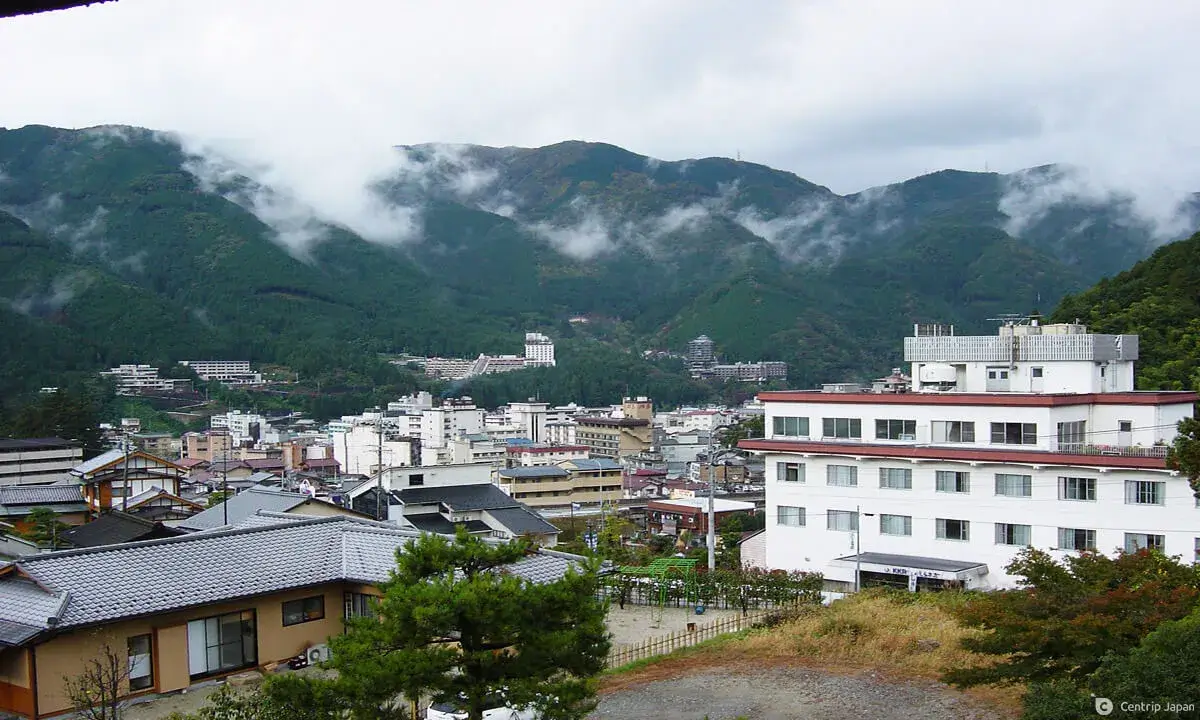 View of the nearby mountains from a resort hotel 
Walk Around the Town to Enjoy the Foot Spas
One of the great things about Gero Onsen is that it is compact enough to explore on foot. Dotted around the town are a collection of ashi-yu (foot baths) that anyone can enjoy for free. They are fun to discover while you check out the town and the perfect place to rest and soak your tired feet after all the walking, or warm up on a cold winter's day.
The foot spas come in a range of different styles and themes, so each one is unique from the other.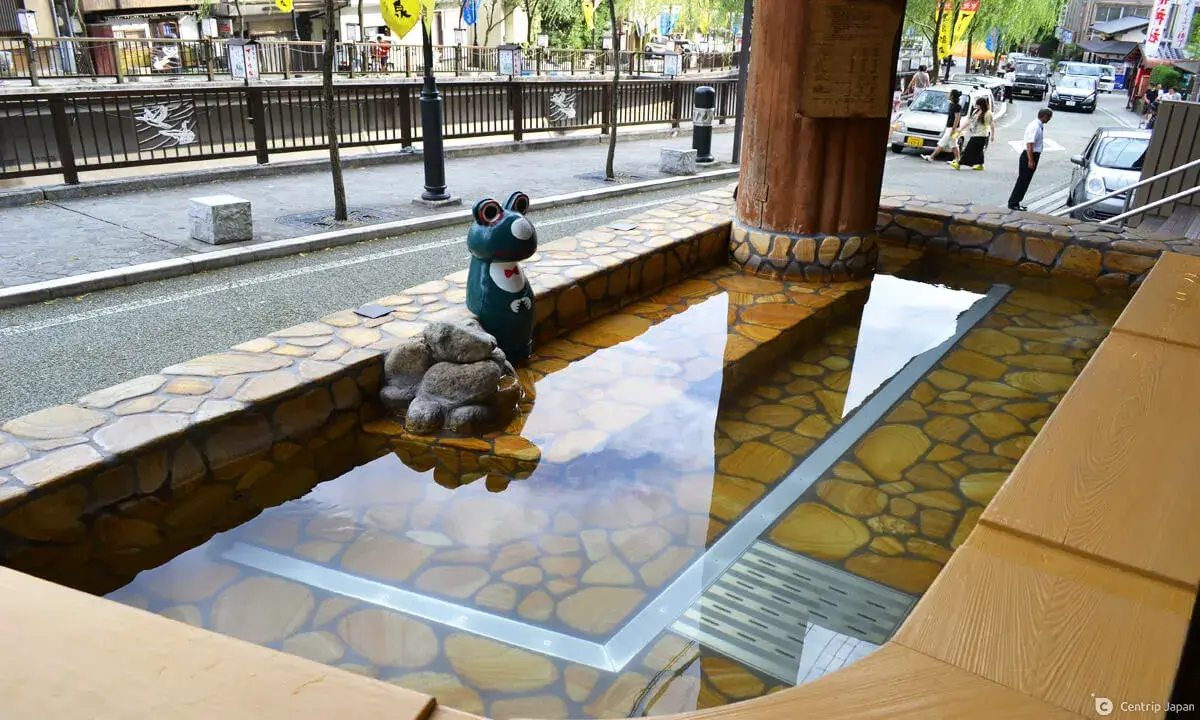 Frog foot spa on the main street
One of my favorites is the Seven Lucky Gods themed Sarubobo Golden Foot Spa, which features a golden boat filled with sarubobo (a red-hooded baby monkey famous in the Hida area) dressed as the seven lucky gods.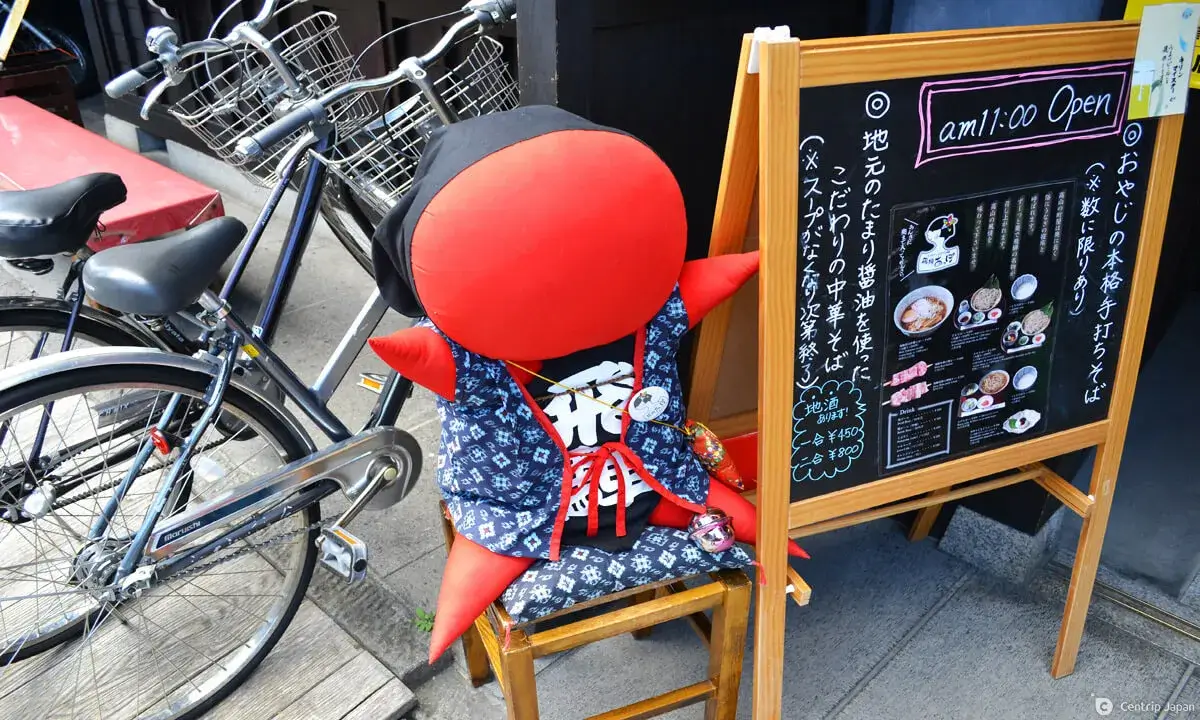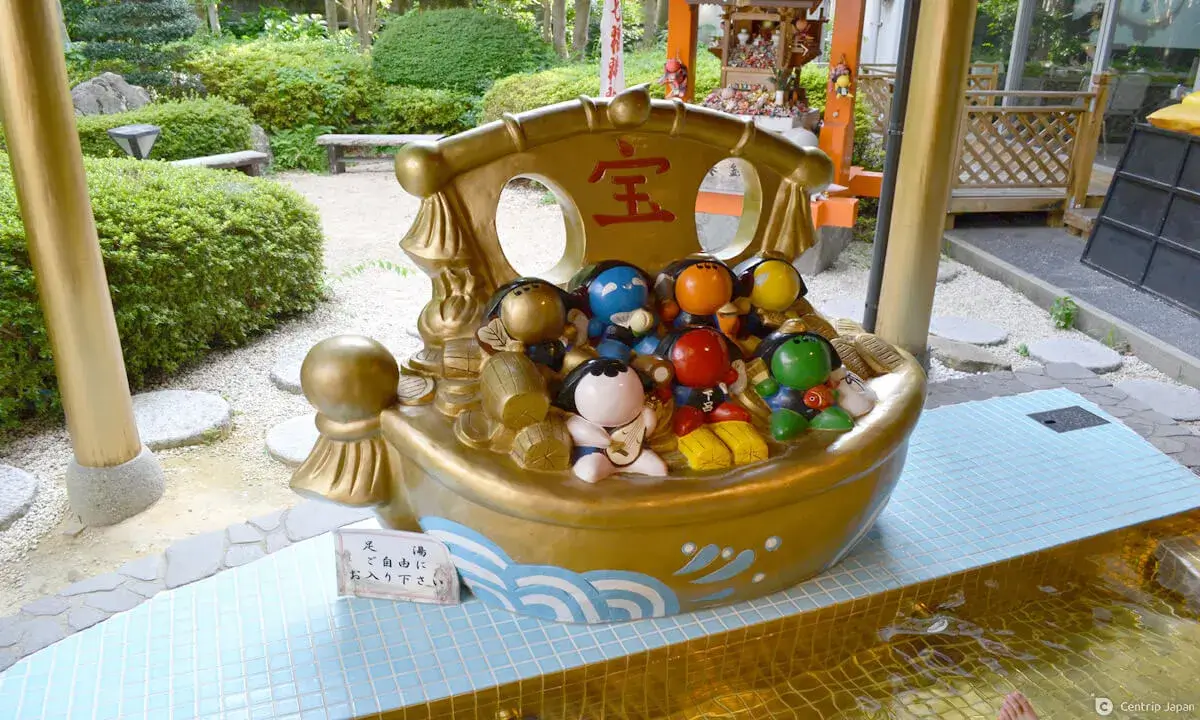 The European-style Venus Foot Spa is also worth checking out for its cool western-style vibes.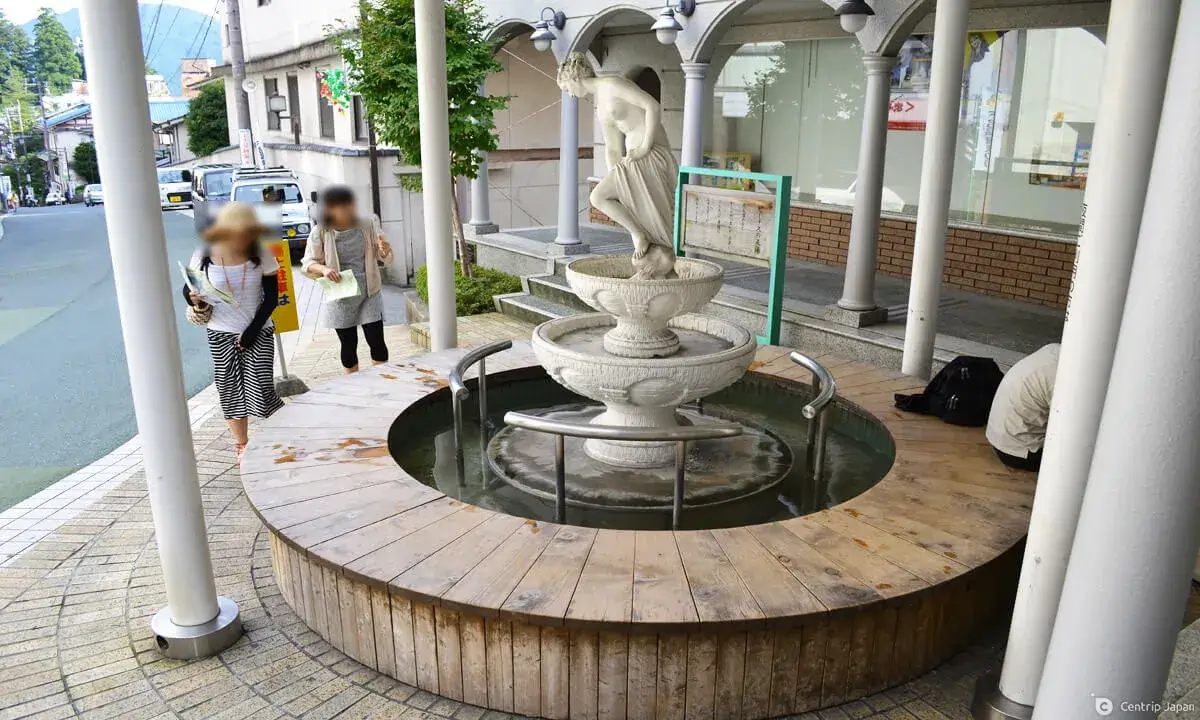 Venus Foot Spa
A great way to enjoy the town is to stay overnight at an onsen resort hotel, where you can enjoy a delicious meal and then stroll around the hot spring town in the evening dressed in your yukata (light summer kimono) and wooden geta sandals.
Other Places of Interest
Funsenike Open-Air Bath
If you are feeling brave, you might want to check out the free riverside open-air bath, which is located at the south end of Gero Bridge along the banks of the Hida River about 3 minutes on foot from Gero Station. It is a popular spot for both the locals and tourists with the natural hot spring water free to use. The large bath is mixed, so both men and women must wear bathing suits while using the bath. It is a fantastic place to enjoy a soak while taking in the breathtaking mountain scenery and fast-flowing river.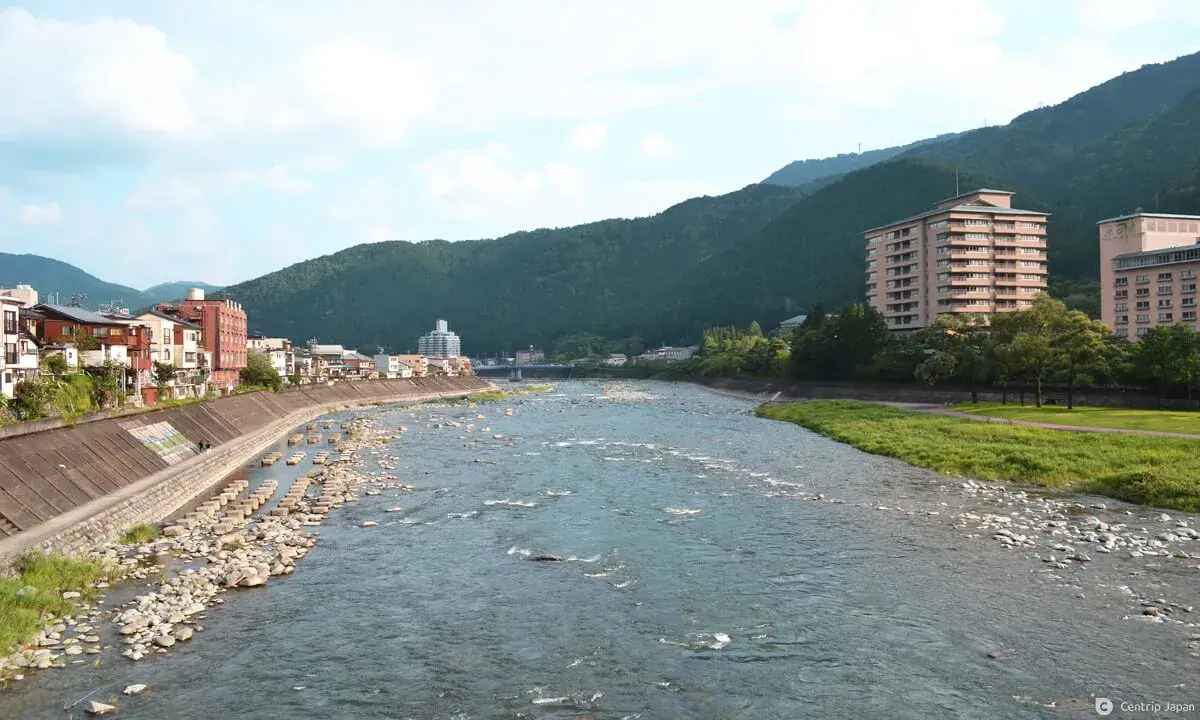 The Hida River 
Kaeru Jinja
As you walk around Gero Onsen you will notice a lot of references to frogs. This is because in Japanese "gero" is the sound a frog makes, so it is a playful connection to the name of the town.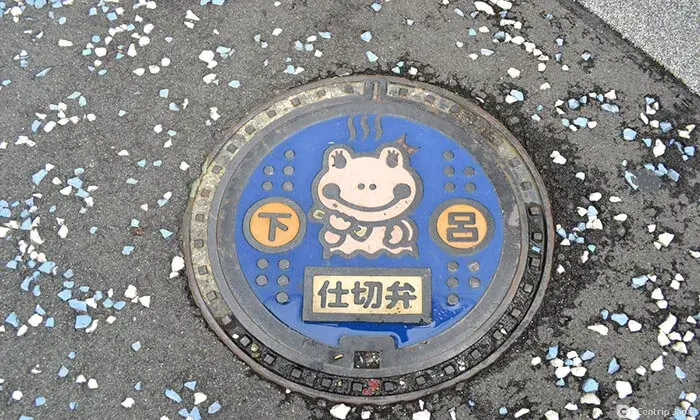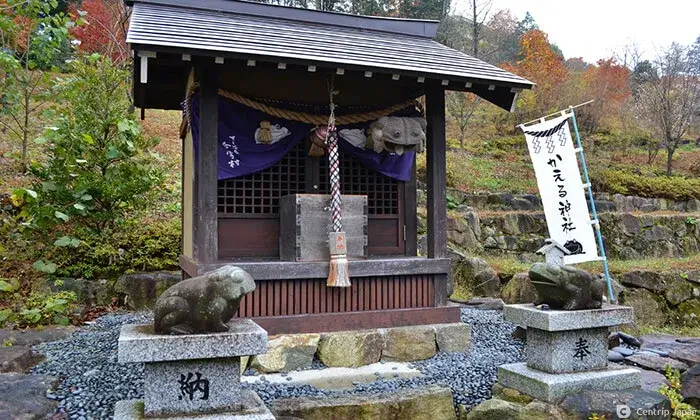 Kaeru Jinja (Frog Shrine) celebrates this connection in all its glory with icons and depictions of frogs in every corner.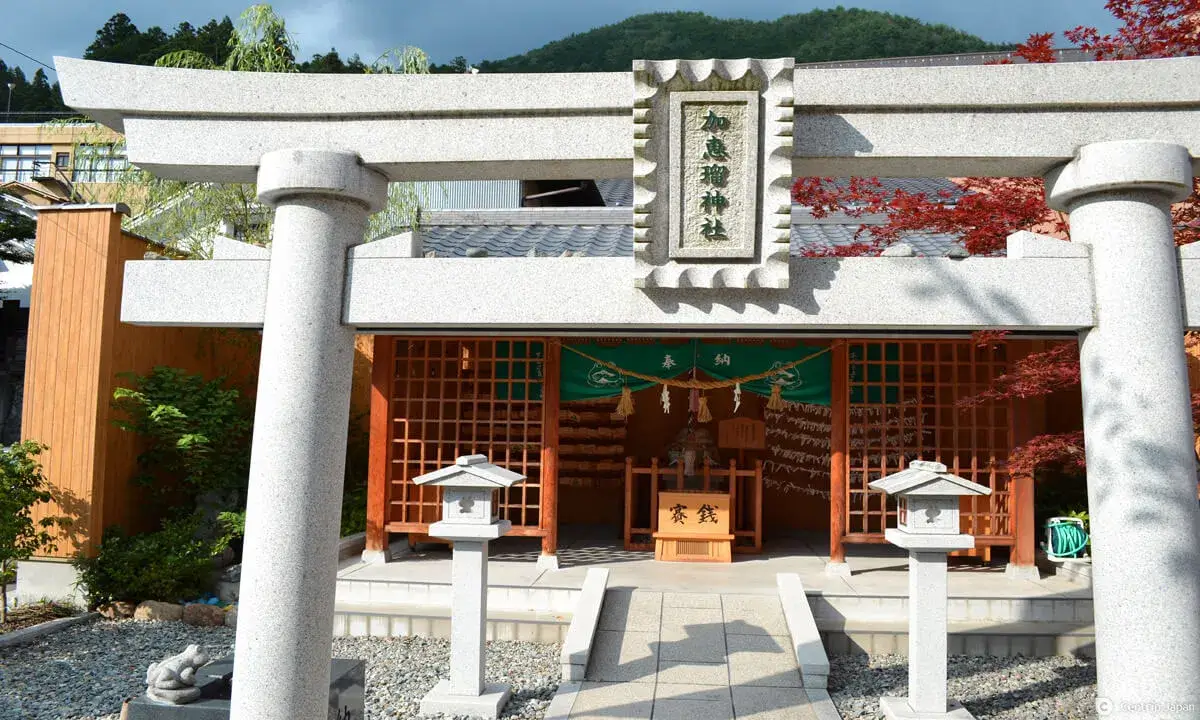 The entrance to Kaeru Jinja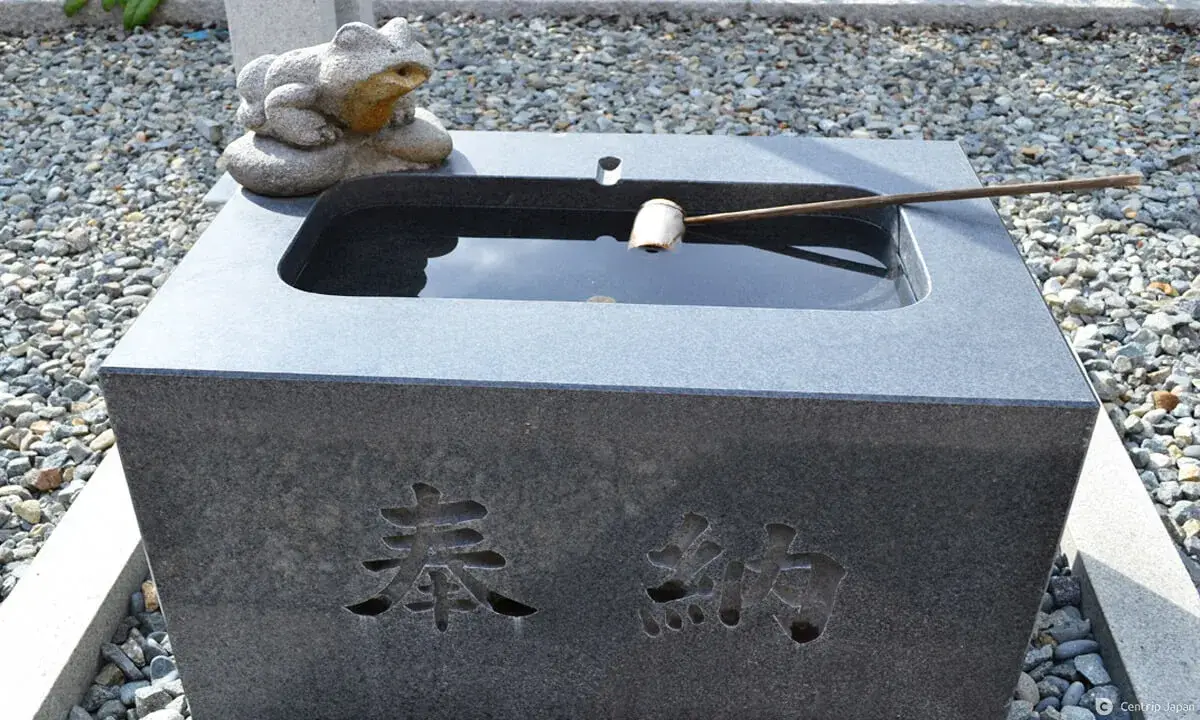 Frog temizuya water purification basin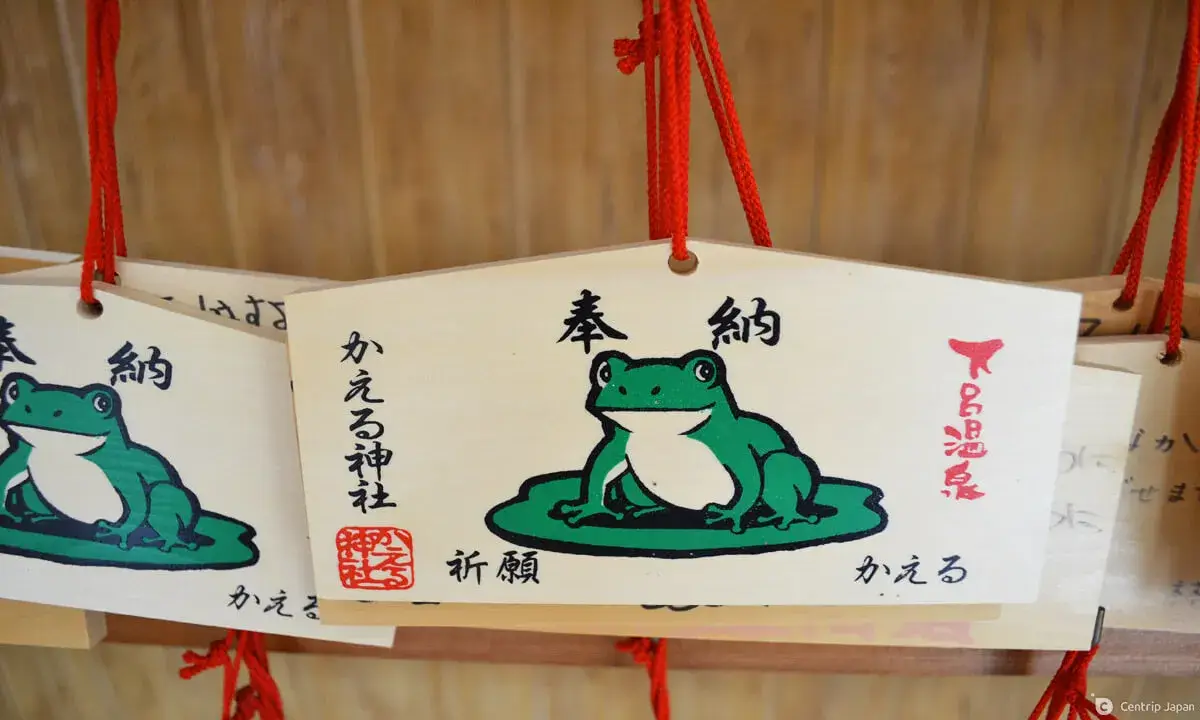 Frog wooden ema wishing plaques
Gero Onsen Gassho Mura
A short six minutes by bus from Gero Station is Gero Onsen Gassho Mura. This open-air museum located just above the town is home to several gassho-zukuri traditional thatched roofed houses from the Hida region of Japan. Here you can experience Japanese culture first-hand by painting ceramics, making Japanese handmade washi paper, and joining in on the various seasonal activities.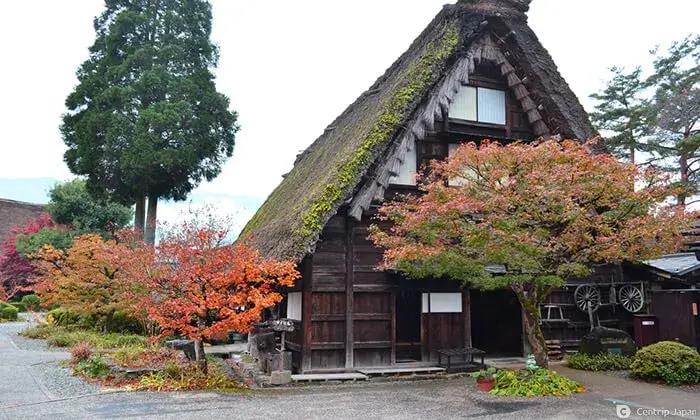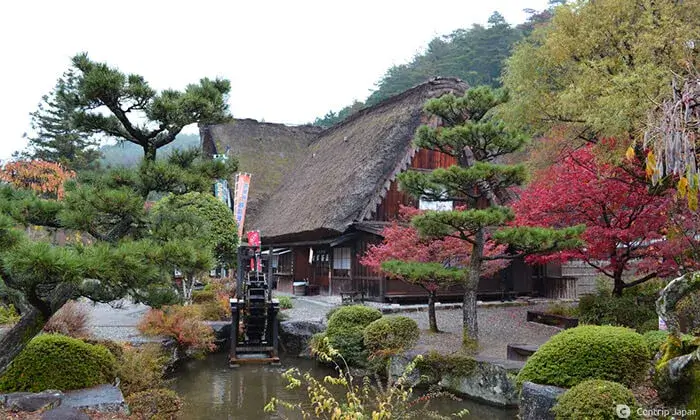 Yumeguri Tegata Spa Pass
If you are an onsen lover, keen to check out a selection of hot spring baths, it might be a good idea to pick up a Yumeguri Tegata Spa Pass. The pass allows you to access three hot springs of your choice from a selection of over twenty. You can purchase the wooden tablet pass all around town at hotels, souvenir shops, convenience stores, and the tourist information center near the station.
The Yumeguri Spa Pass costs ¥1,300 and is valid for six months. It also makes a great souvenir from your trip.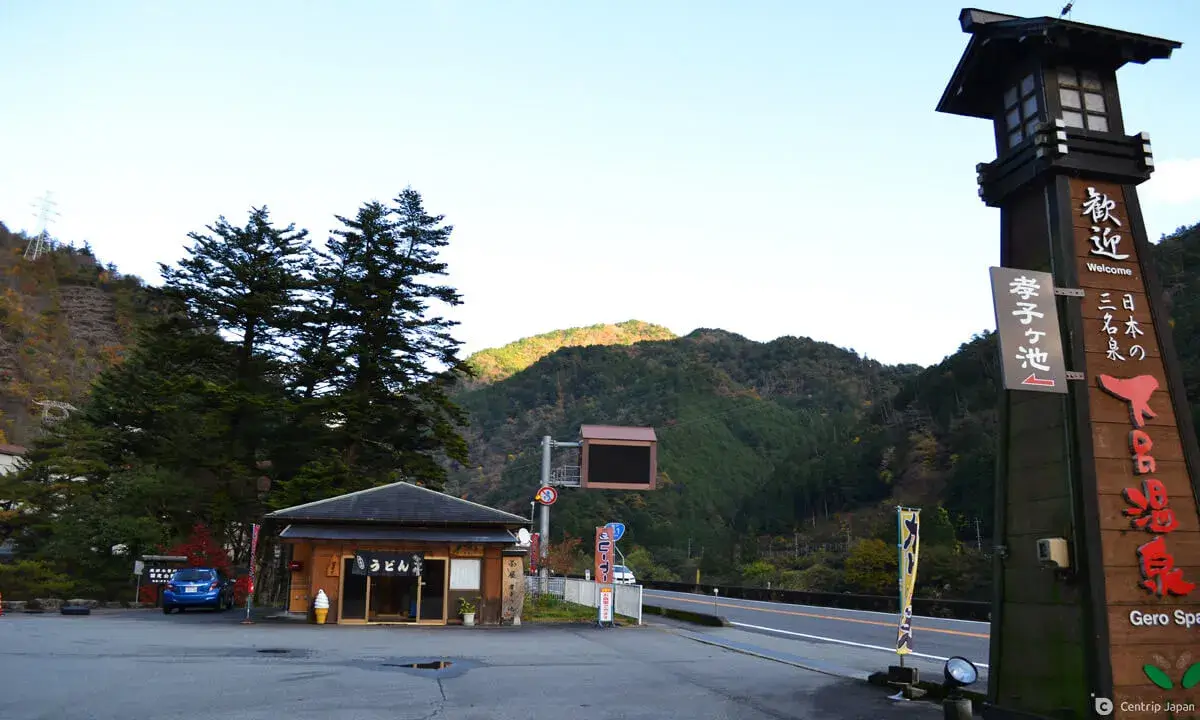 Welcome to Gero Onsen
Gourmet Food
A must-try delicacy when you are in this part of Gifu is Hida Beef. This soft, pink gourmet beef, which is rich in marbling, literally melts in your mouth and is served in a variety of dishes ranging from Hida Beef sushi and beef croquette to steak and sukiyaki.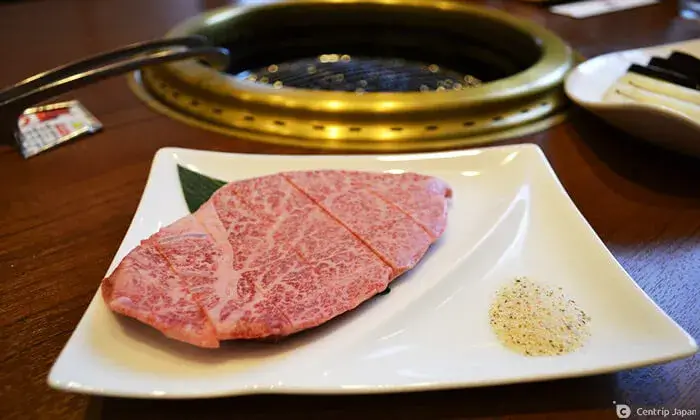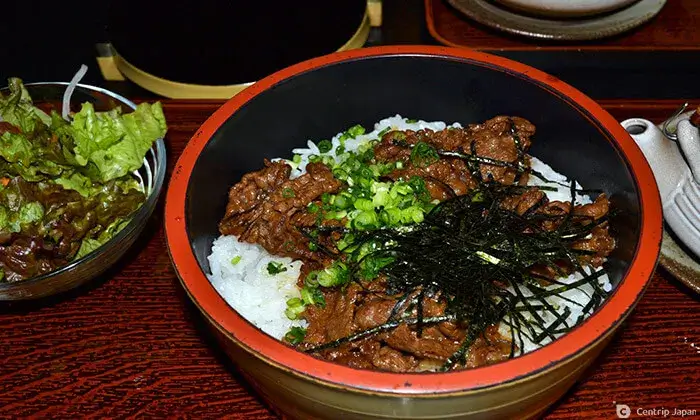 A local delicacy is Kei-chan Chicken, which is chicken and cabbage with various vegetables cooked over an iron hot plate. It is flavored with either miso or soy sauce and served with white rice, giving it a real home-cooked, comfort food vibe.
Wrap Up
Gero Onsen is a perfect winter escape for anyone looking to get outdoors and enjoy Japan's traditional hot spring culture.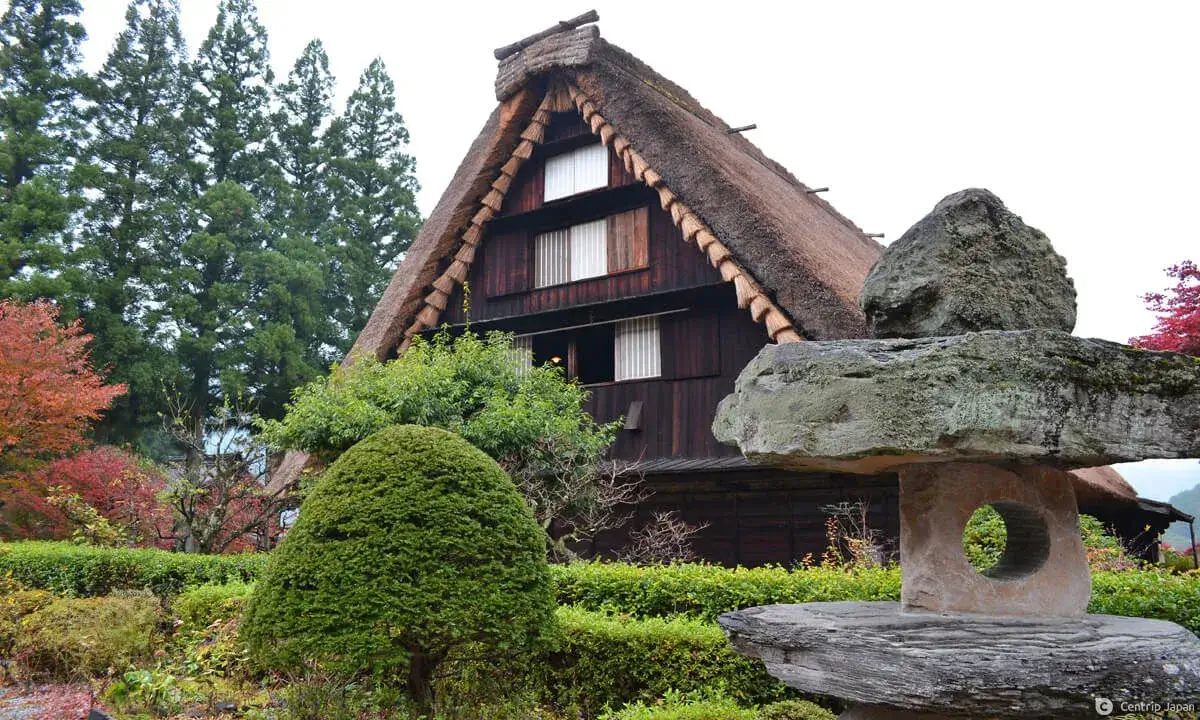 Gero Onsen
How to Get There?
Take the JR Hida Limited Express Wide View from JR Nagoya Station to Gero Station. It should take around 100 minutes and cost ¥4,500 (one way). The trip is covered by the Japan Rail Pass if you are lucky to have one. A cheaper alternative is to take a highway bus from Nagoya Station to Gero Station. It takes around 150 minutes by bus.
Click here to get the latest information on Central Japan.Centrip Japan - Nagoya and Chubu Information