| Centrip Editorial Board
Gero Hot Springs: Nagoya Day-trip Sightseeing Series 4
Japan is teeming with hot springs. They're everywhere. A lot of visitors to Japan are here for the hot springs. Japan's got over 3,000 hotels built around hot springs. With so many to choose from, how are you supposed to choose just one?
Everyone's got their opinion about which is their favorite, but during the Edo Period, Confucian scholar, Hayashi Razan, famously declared that the three greatest hot springs in Japan were Kusatsu, Arima, and Gero Hot Springs. In this article, we'll take a look at Gero Hot Springs.
About Gero Hot Springs
Gero Onsen is one of the most popular tourist destinations in the Hida region of Gifu Prefecture, along with Takayama and Gujo Hachiman.
Gero Hot Springs isn't too far from Takayama and Gujo Hachiman, making it a popular spot for travelers heading to the Hida Region. It's easy to get to from Nagoya, and if you hop on an express train, you don't even have to change trains. It'll take you 100 minutes from Nagoya to Gero Station. Step off the platform and you're right in the heart of town.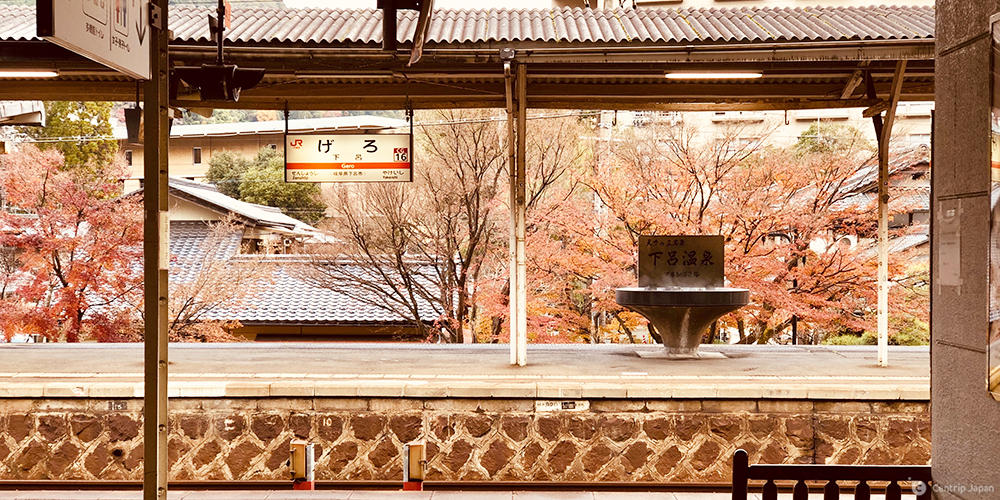 Hot spring water also gushes out on the platform of JR Gero Station
The main reason to go to Gero is its hot springs. The water in Gero is known to be great for your skin—making it soft and smooth. Because it's said to beautify your skin, it's often called "Beauty Water" and is quite popular with women.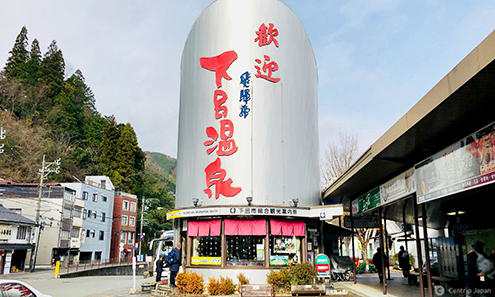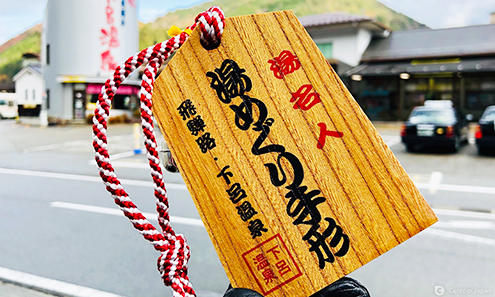 The best way to enjoy Gero Hot Springs is to spend the night at one of the many hospitable accommodations around town, but lots of people do Gero as a day trip as well and enjoy hot spring hotels with pay-as-you-go systems and there are even free-to-use foot baths to be found on the streets of the city. The availability of hot springs that don't require an overnight stay is reason enough to visit Gero even just for one day. Gero isn't just hot springs though! There are several tourist attractions in and around the city that will keep you busy. You can also enjoy the delicious food of the Hida Region while you're in Gero and there are plenty of eateries and places to stay, and there's a lot of culture to take in as you walk through town.
Getting to Gero Hot Springs
The best way to get to Gero Hot Springs is by train. If you take the Limited Express Hida from Nagoya Station, you'll arrive in Gero in just 100 minutes. Trains leave every hour and the total cost for a trip is ¥4,170. The train rides right along the river and the view is fantastic.
There is also a direct bus from Nagoya to Gero. There's only one bus every day, but a reservation is required and is kind of inconvenient for foreign travelers.
Sightseeing in Gero
Most of the sightseeing spots in Gero are near the station and most of the places we'll introduce below are within walking distance. If you're doing just a day trip, it's totally possible to take a dip in the hot springs and still spend half the day walking around town, taking in the culture.
Onsen-ji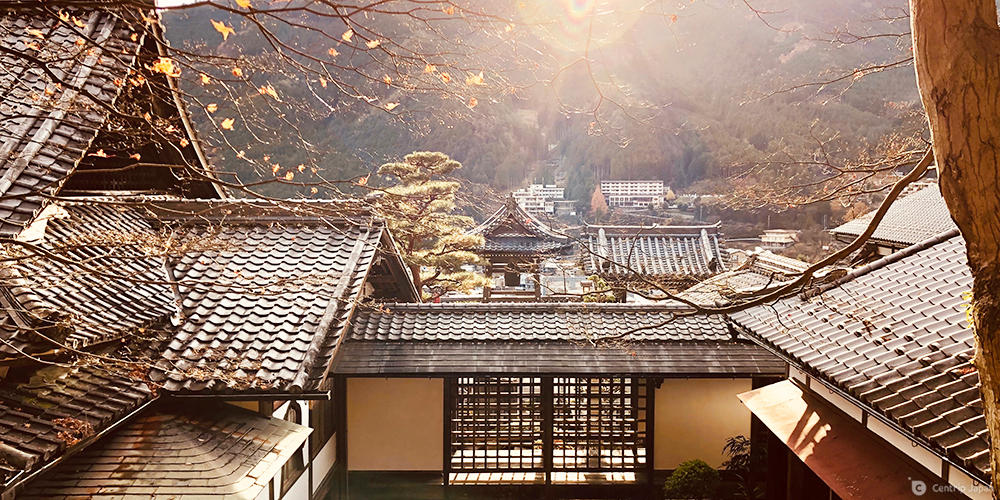 Spectacular view from Onsenji Temple
As soon as you get off the train at Gero Station, you'll be crossing the Hida River, walking over a gorgeous red bridge. Head through town and towards the hills on the other side of it. Keep walking and you'll come to a Buddhist temple named after the town. This is Onsen-ji (onsen means "hot spring" in Japanese). This temple even has a legend associated with it about an egret that came and caused the hot springs to "spring up".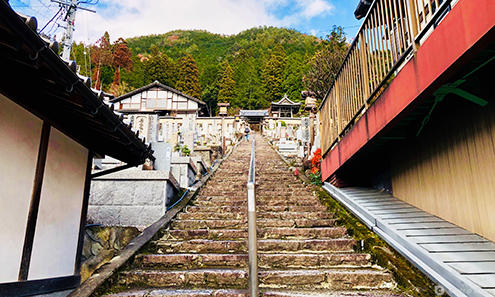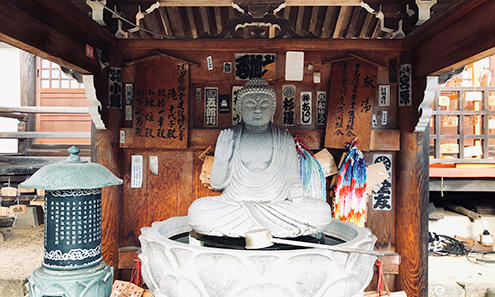 After climbing the 173 steps at the entrance of the temple, you'll enter a serene atmosphere. Here you'll find a statue of Buddhist figure Nyorai, with hot spring water flowing under his feet. This hot spring water is said to heal you if you pour hot water over the statue; if you have back pain, pour it on the back of the statue, or if you have foot pain, pour it over the foot of the statue, it will heal the parts where you pour the hot water over.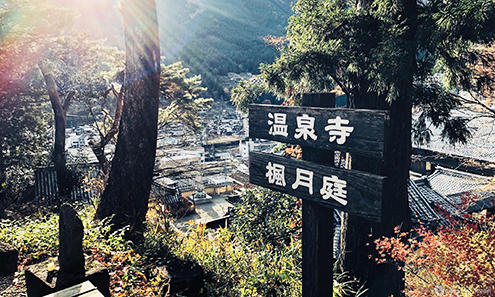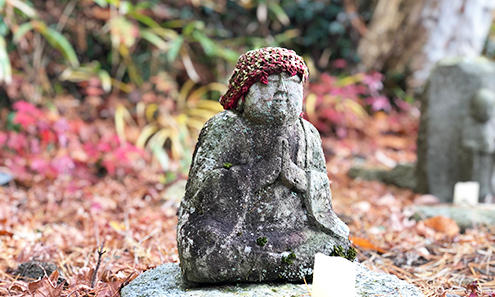 The grounds stretch wide across the top of the hill, and you're sure to feel a sense of calm wash over you as you walk around the temple. You'll notice many small Buddhist statues scattered throughout the complex too. Head towards the back of the temple—passing the main building and bell—you'll discover a beautiful view of the hot springs village.
While it's a beautiful, quiet spot to visit, it's particularly beautiful in the fall when the leaves change, and many visitors come in the evening to see the temple all lit up.
The Gassho Village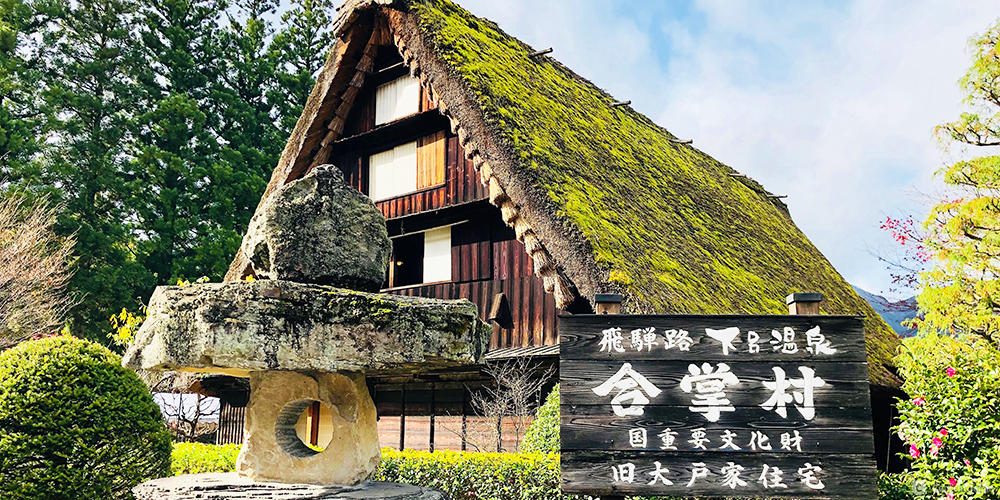 An old Gassho-zukuri house moved to Gassho Village
Come down to the hot springs village from Onsen-ji, cross over the smaller river feeding into the Hida River, and head toward the Gassho Village. The Gassho Village is considered to be a major sightseeing spot, even in Gero Hot Springs.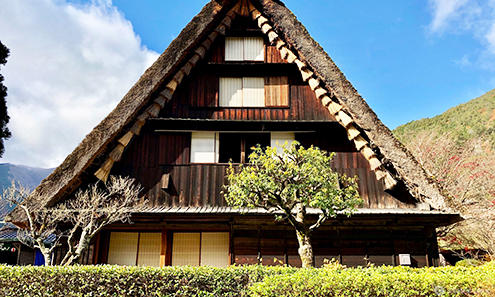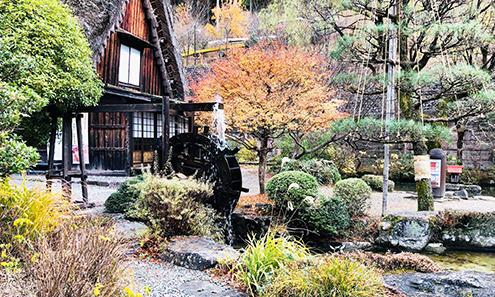 The Gassho Village is where you'll find lots of old, traditional homes from the Gero's Hida Region. These buildings are important Japanese cultural assets, but visitors are still able to enter and look around. It's a chance to see and experience the culture and traditional ways of the Hida Region.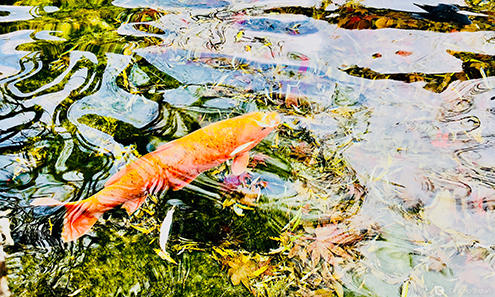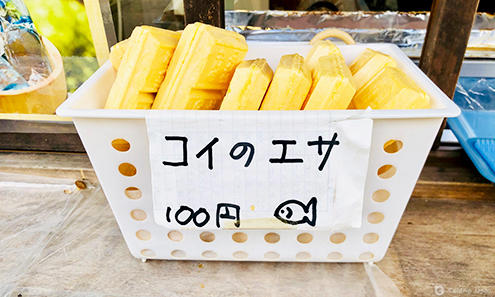 There is a waterwheel and pond inside the Gassho Village that has crystal clear water and is stocked with colorful carp. Fish food can be purchased for ¥100 as well. The fishies are surely hungry! There is even a foot bath available, so you can keep the rest of your clothes on, helpful in those cold winter months.The village has many places to try out traditional handicrafts including ceramics and paper-making. Short, 1-hour activities are available, perfect for busy foreign visitors.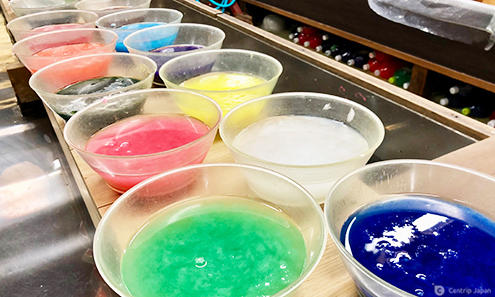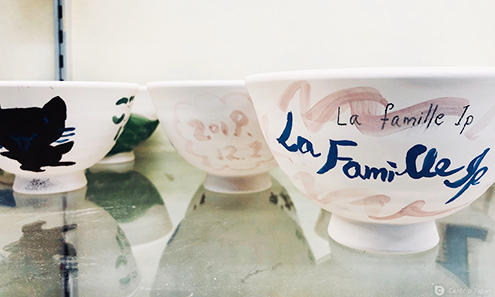 The village has many places to try out traditional handicrafts including ceramics and paper making. Short, 1-hour activities are available, perfect for busy foreign visitors.
Funsenchi
Fountain Pond is a symbolic spot of Gero Onsen, blessed with abundant spring water. Located on the banks of the Hida River, this spot is a great place to experience the spring water, take pictures, and create memories of your trip. Enjoy the sense of freedom that comes with dipping your feet in the hot water, listen to the murmuring of the river, and enjoy a 360-degree view of the hot spring resort. At night, the lights of the Gero Ohashi Bridge create a romantic atmosphere.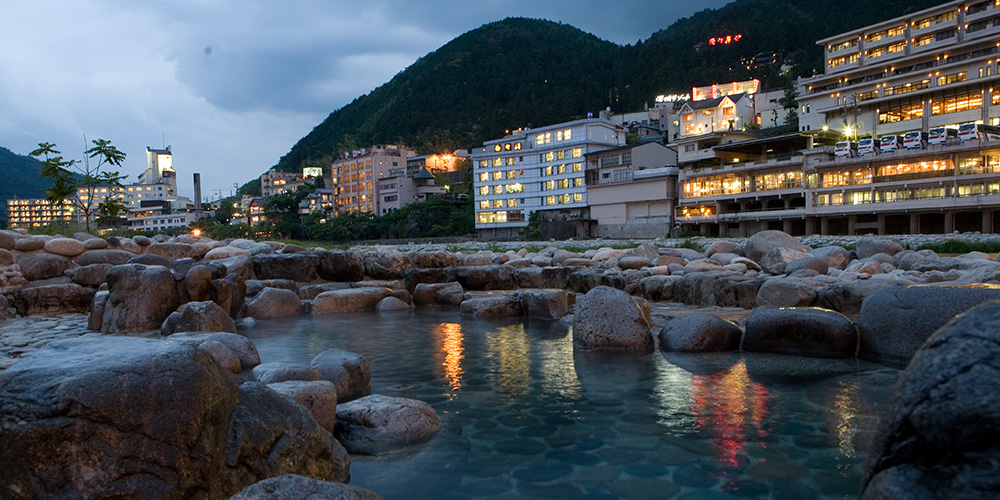 A view of the fountain pond
Walking Around Town
After taking in Onsen-ji, the Gassho Village, and the hot spring fountain, be sure to explore the rest of the town on foot.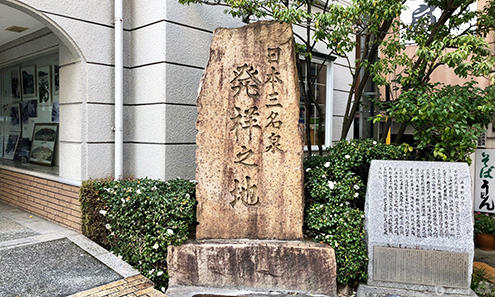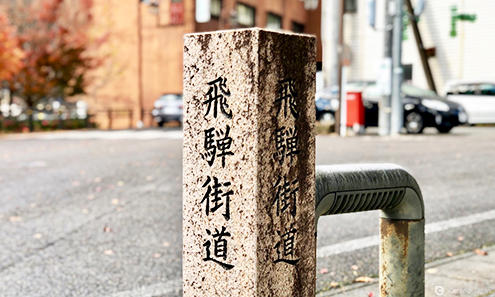 Gero has a lot of frog-related stuff, including a frog-filled frog shrine and lots of froggy souvenirs. This all stems from the world "gero" also being the sound a frog makes in Japanese. See how many frogs you can find!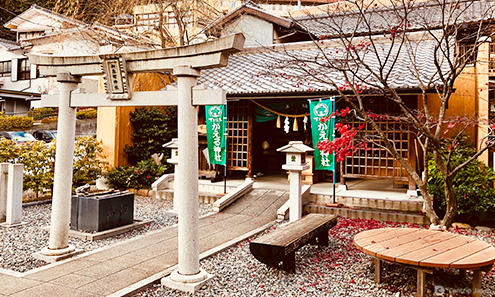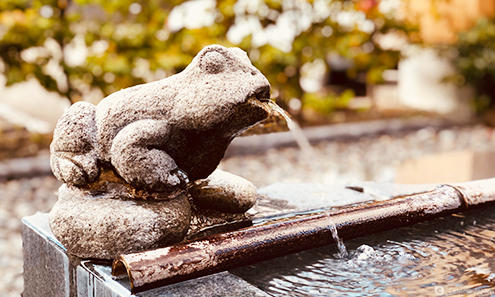 We recommend taking a walk along the Hida River and taking a look at how it flows through the mountains and trees. With each season, the view is a little different, so no matter what time of year it is, stretch your legs and explore.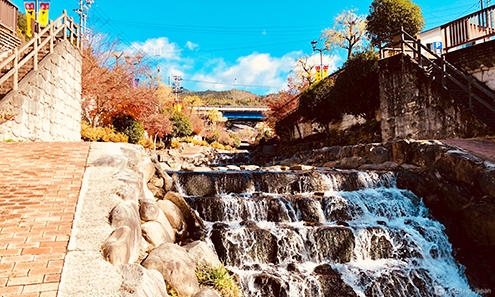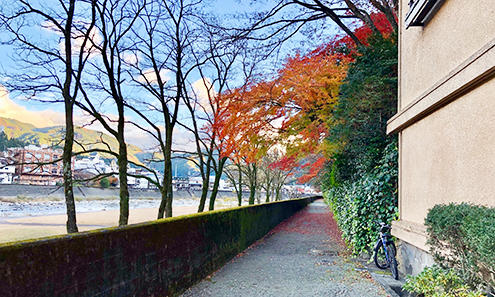 While not a tourist spot per se, Morihachiman Shrine is worth visiting. Every February 14, a festival for the god of the field is held here, but other than that, it's a pretty quiet place. There is a cedar tree of historical significance here that really creates a spiritual atmosphere. An evening walk around town can also be nice, as the town is lit up each evening. If it's cold out, you can warm your feet in one of the many footbaths around the city.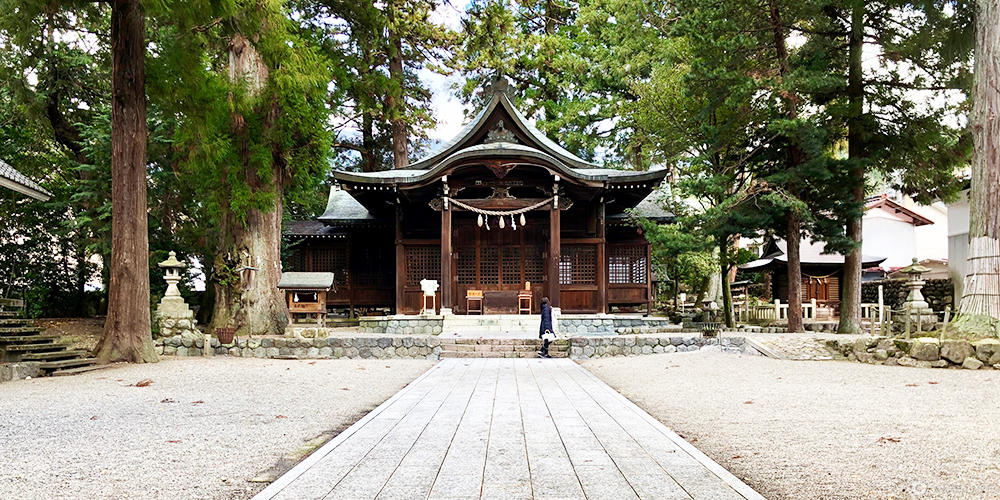 Quiet Mori Hachiman Shrine
An evening walk around town can also be nice, as the town is lit up each evening. If it's cold out, you can warm your feet in one of the many foot baths around the city.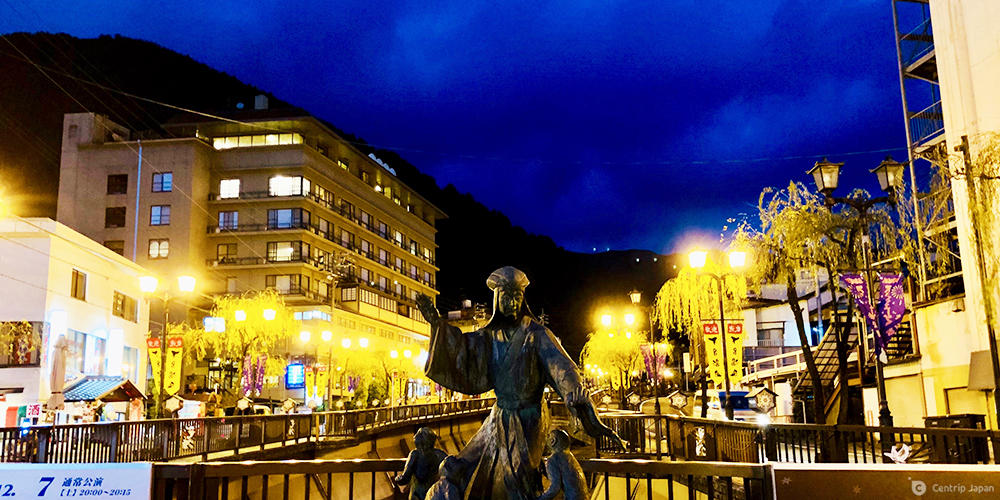 An illuminated hot spring resort and statue of Hayashi Rasan
Gero Pudding, a recommended sweet in the hot spring resort area
Gero Onsen is a fun place for sweets lovers.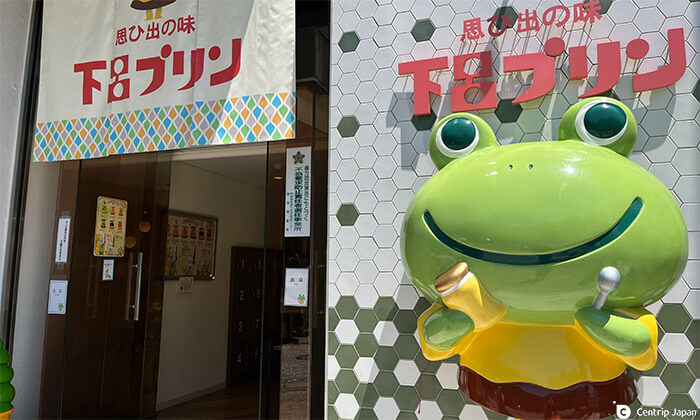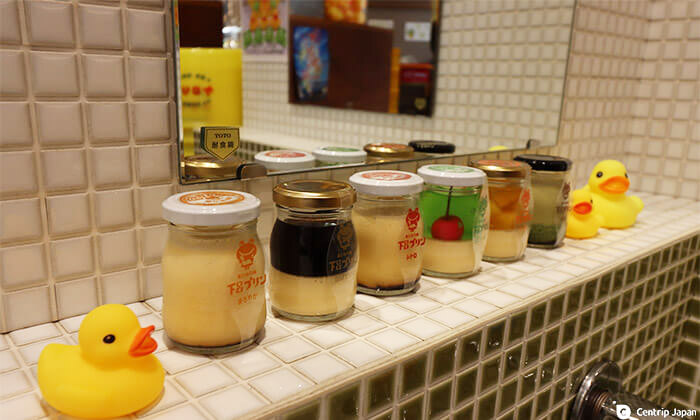 Our first recommendation is Gero Pudding, featuring an eye-catching character of a green frog standing at the entrance. In addition to the standard pudding with its mild flavor, they sell unique puddings such as matcha green tea and melon soda jelly pudding. The store is also a popular photogenic spot, with an eat-in space inside that resembles a hot spring bathtub.
Recommended Sweets in Onsen Town, Yuamiya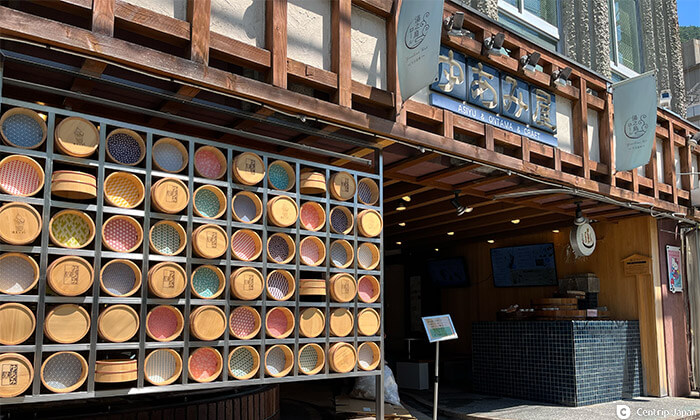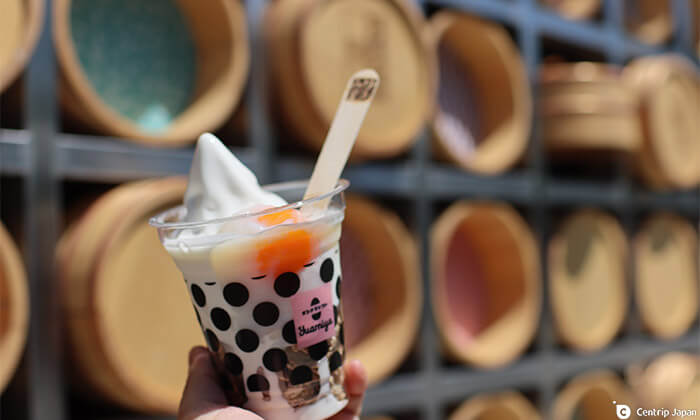 Next is Yuamiya, whose eye-catching exterior is covered by a wall of tubs used for washing in the hot spring baths. The most popular item on the menu is the Ontama soft-serve icecream. It consists of brown rice flakes topped with an onsen egg and soft-serve ice cream. The best way to enjoy it is to eat it as it is, then mix it all together and enjoy the change in flavor. Pudding heated in hot spring water is also popular. Inside the store is a footbath, where visitors can soak while eating products purchased in the store.
Local Treats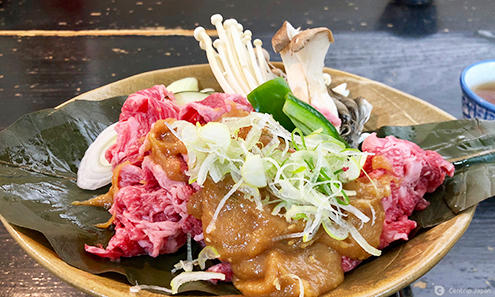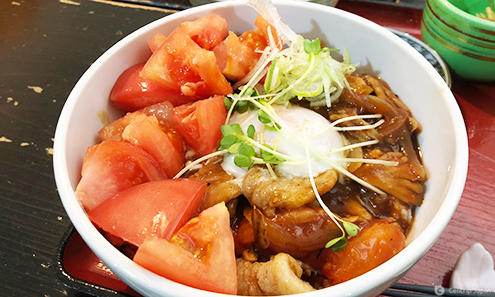 A typical dish using Hida beef in Takayama or Shirakawago is a dish known as Hoba Miso, sweet miso served alongside grilled beef and mountain vegetables, served and grilled on a hoba tree leaf. The Hoba Miso is grilled right in front of the customers using a tabletop stove, and the savory aroma of miso will whet your appetite. The area surrounding Gero is well-known for its production of tomatoes. Gero itself is famous for the Tomato Bowl. It's essentially grilled beef or pork served up with these yummy tomatoes. It's a favorite of both locals and tourists.
Recommended Accommodations in Gero Onsen
Although it is possible to visit Gero Onsen on a one-day trip from Nagoya, there are, of course, plenty of accommodations available in Gero Onsen.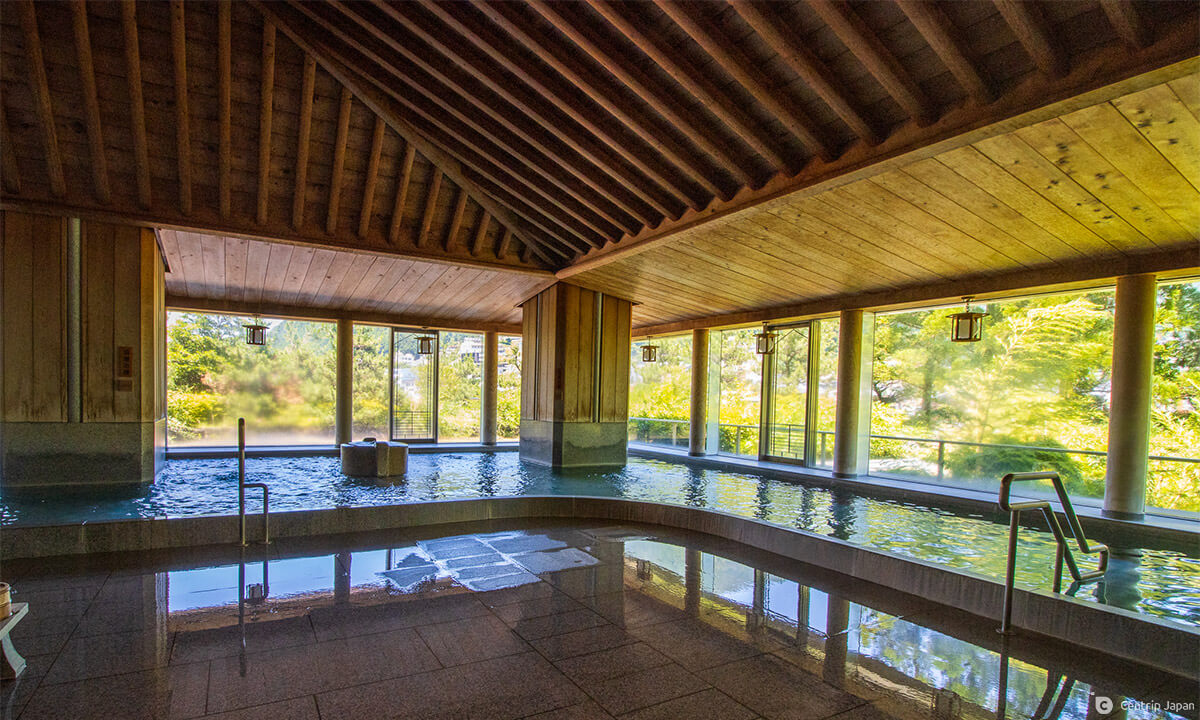 Suimeikan has three large baths.
Suimeikan is one of the most famous ryokans in Gero Onsen, located near JR Gero Station, and has four buildings lining the Hida River. In addition to three large baths featuring different atmospheres, the ryokan also has a hot spring pool that can be used year-round, allowing guests to enjoy the hot springs even while wearing swimsuits.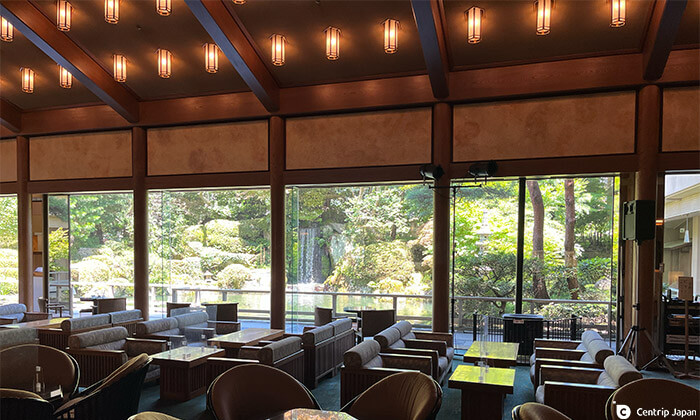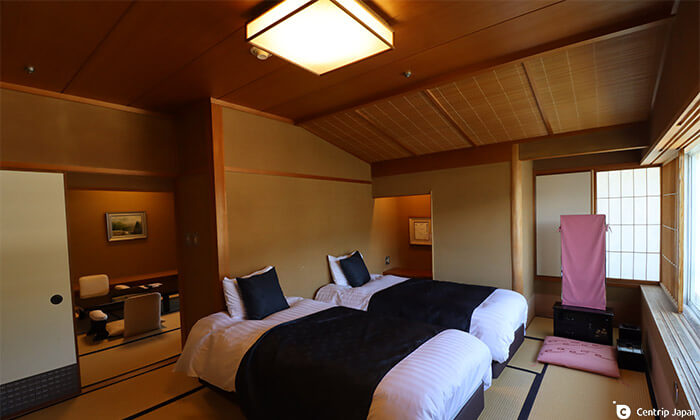 For other accommodations, please refer to the following websites.
Wrap-Up
Gero Hot Springs combines the charm of a traditional Japanese town with easy access for tourists to make the perfect destination for travelers looking to enjoy a Japanese hot spring. The water in Gero is famous for its healing properties and is highly regarded for its quality. The town's culture embraces this and makes it available to everyone through the accessible foot baths. If you're a fan of hot springs, Gero should not be missed!
Click here to get the latest information on Central Japan.Centrip Japan - Nagoya and Chubu Information