| Hannah Tsai
Cycling on Country Roads in Gifu and Gero
When people think of Gero City in Gifu, the first thing that comes to mind is the hot springs of Gero Onsen. Gero Onsen is famous as one of Japan's three famous hot springs. The water is clear and mineral-rich and known locally as beauty water. A standard trip to Gero is to first enjoy the hot spring facilities at your hotel, change into a yukata (Japanese bathrobe), and wander around the spa town. Centrip Japan is pleased to introduce the Gero E-bike Tour, which is closely connected to the daily lives of the locals and departs from Gero Onsen Town, a 10-minute drive away.
Let's take a peek at the cycling experience in Gero!
Join the Umeseko Tour, a cycling tour around Gero!
A 15-minute drive from Gero Station brings you to JR Hida Hagiwara Station, the meeting point for the Umeseko Tour.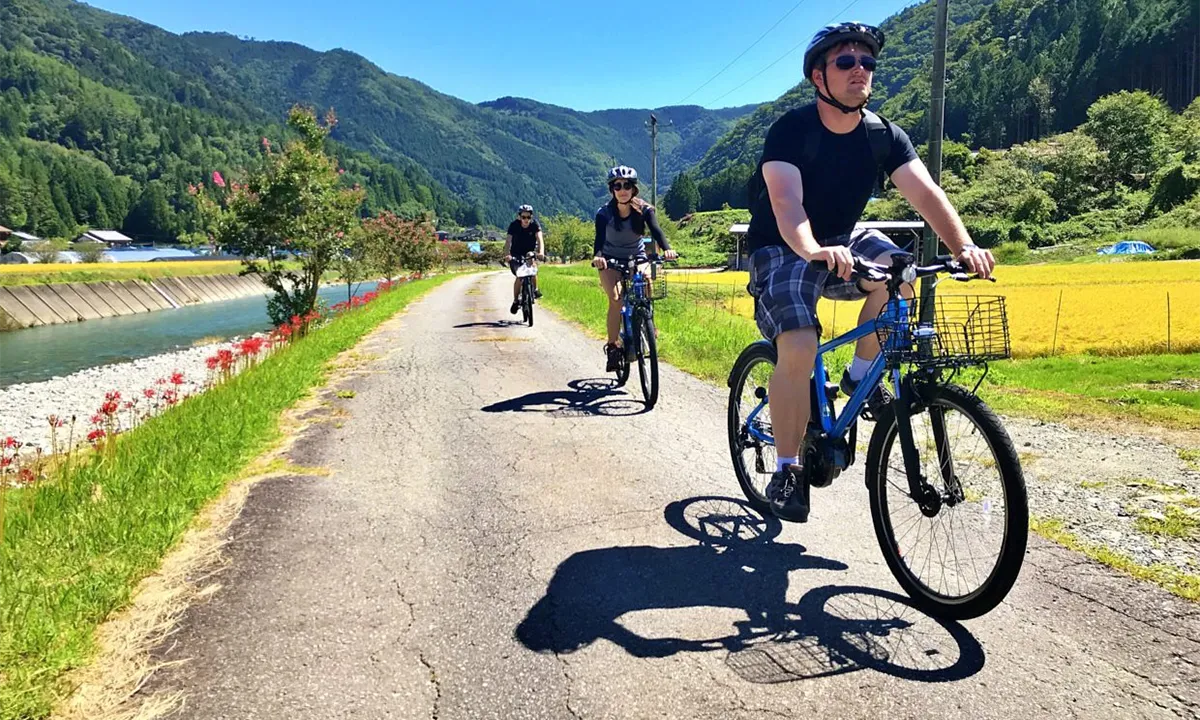 Umeseko's Maze E-Bike Tour
Umeseko Tour is an e-bike tour for small groups of 2 to 6 people through Ogihara Town and Maze Village in Gero City, operated by Japanese guide Dai, a Gero-city local. The area is a treat to ride through as it is not yet commercialized.
Dai-san, our guide, explaining the highlights of Gero
Our guide, Dai-san, provides tours in English and Japanese. Most participants come from Europe, the United States, Hong Kong, and Taiwan.
Umeseko Tour offers a variety of cycling tours. If you want to enjoy the great outdoors, we recommend the Maze Course along the clear Maze River, and if you like the atmosphere of historic towns, we recommend the Hagiwara-cho tour that passes through a former post town.
The Umeseko Tour Details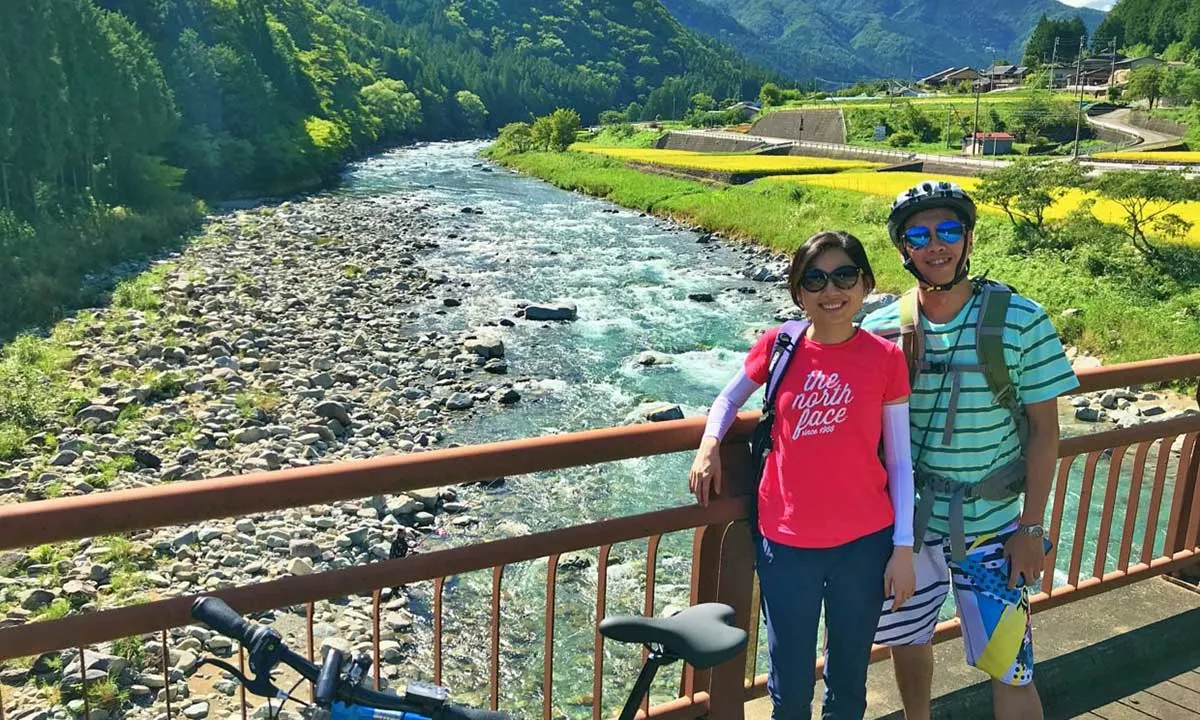 Maze Course with spectacular views
Maze E-bike 6-hour tour (¥15,000 per person, including meals): The most popular and winner of the TripAdvisor Travelers' Choice Award 2019. The 6-hour tour offers a great view of the clear waters of the Maze River and authentic Japanese cuisine with plenty of fresh and local ingredients. You can also enjoy authentic Japanese cuisine made with fresh local ingredients.
Maze E-bike 7.5-hour tour (¥24,800 per person, including meals): In addition to the above, this premium tour includes an agricultural experience and a sumptuous kaiseki meal (traditional multi-course Japanese dinner) served at a local ryokan (traditional Japanese inn). The Kaiseki dishes, prepared with locally grown ingredients, are made with the guest's tastes in mind. It is one of the most highly commented points made by tour participants.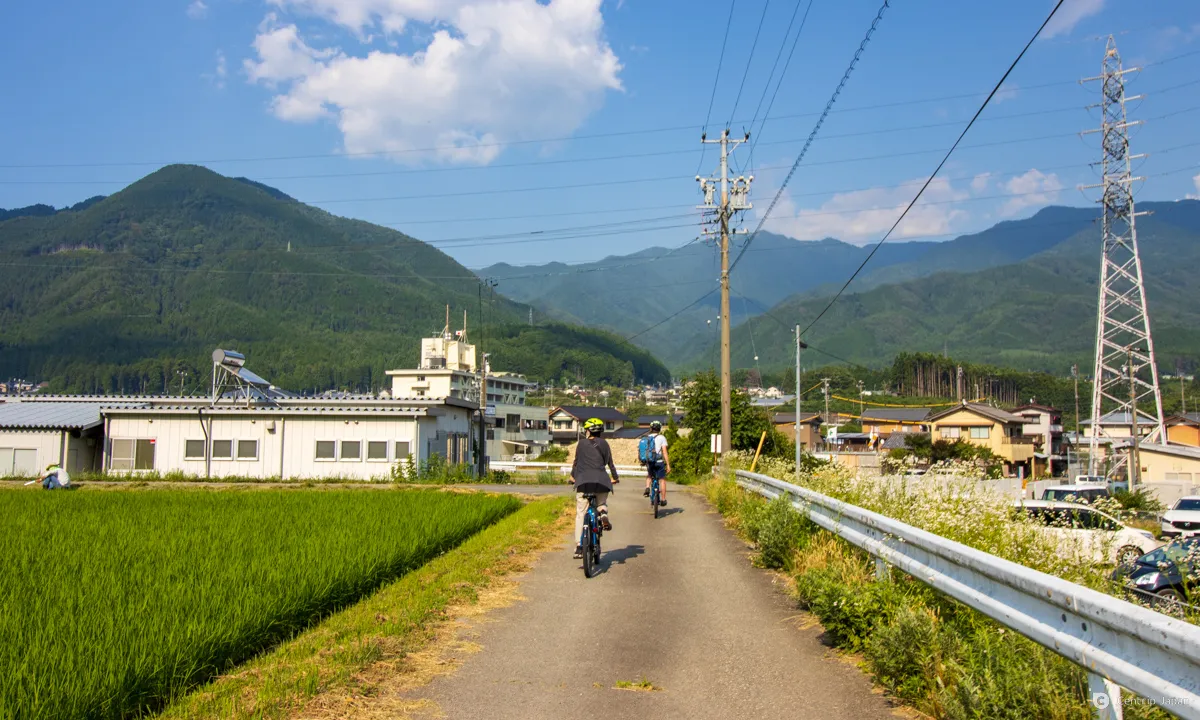 The Hida Hagiwara course is a great way to experience the Japanese countryside
Hida Hagiwara Sweets Cycling 2.5-hour tour (¥6,500 per person, meals included): This course takes you along the Hida Highway and Hida River to visit three confectionary stores locals love. The tour then passes through hills and fields to a park for a picnic.
The Umeseko Tour Experience
I have a sweet tooth, I chose the Hida Hagiwara Sweets Cycling tour.
Preliminary instruction and explanation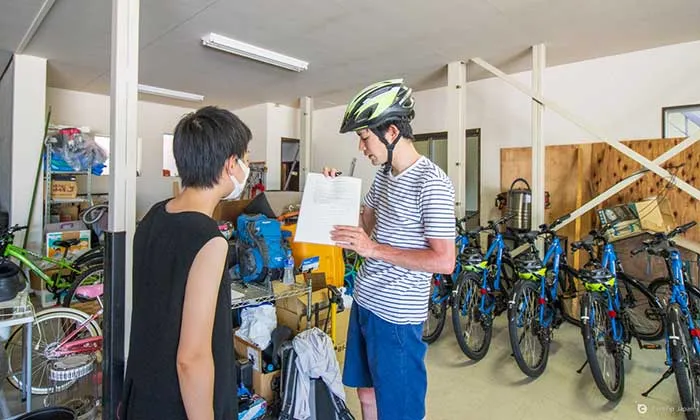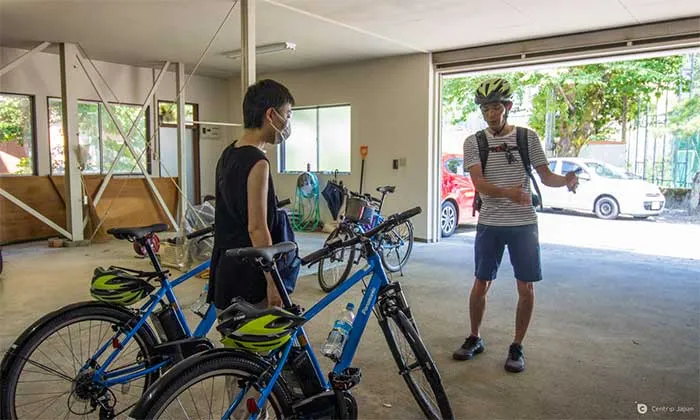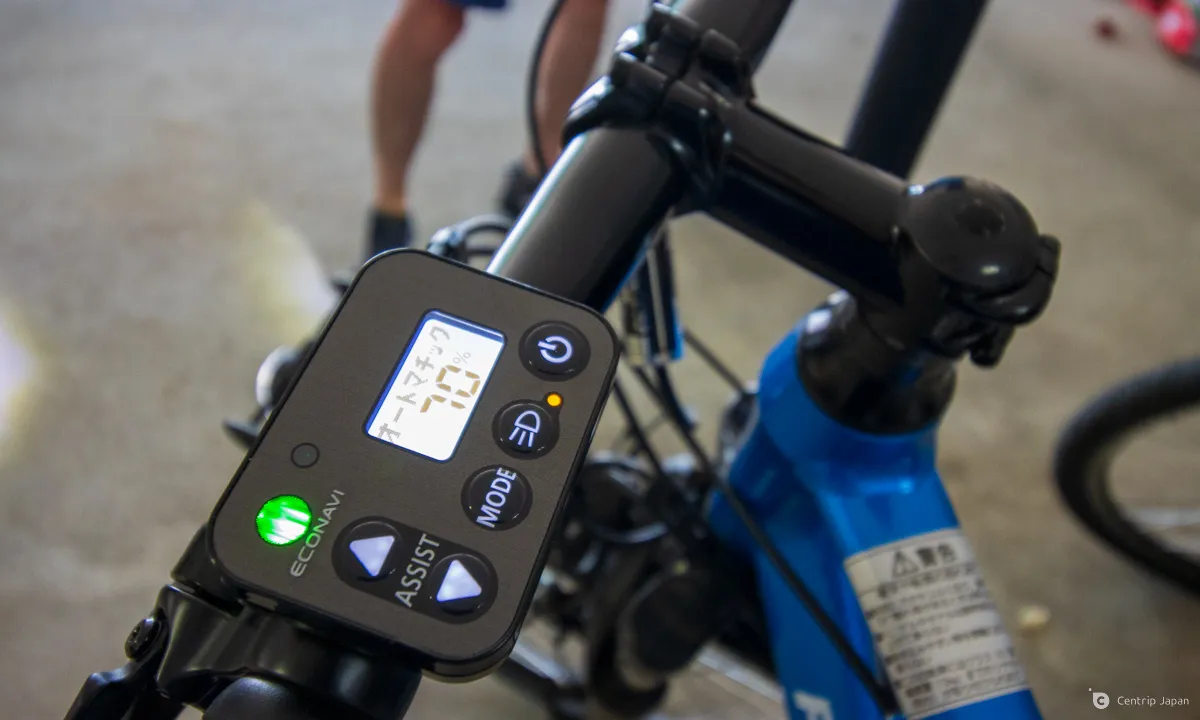 E-bikes help you ride uphill without getting tired
The key to this tour is the e-bike. When riding, it feels like you get pushed from behind. Even unathletic people don't need to worry. Your guide, Dai, will explain how to use the bike, what to look out for, and give cues when riding (e.g., raise your right hand to turn right later). Helmets come with the ticket, so bring a drink and a backpack, and you are ready to go.
Cycling Highlights 1: Hagiwara Shukubamachi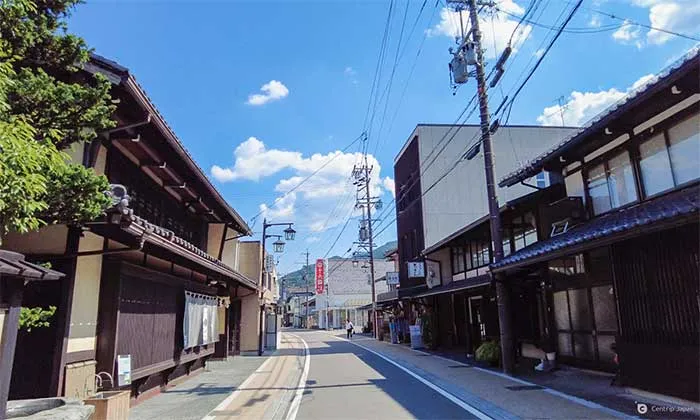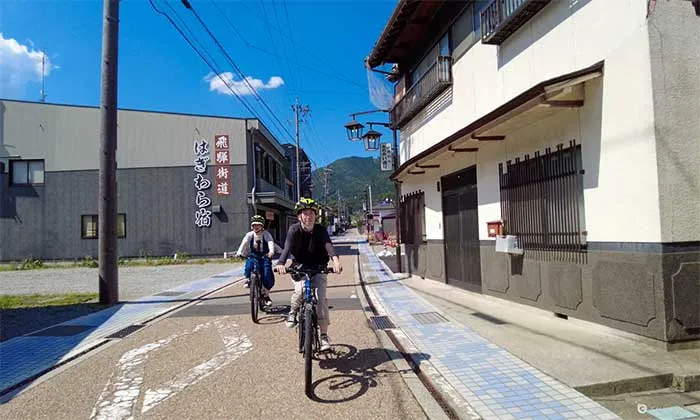 Hagiwara was a post town in the old Hida region. It was bustling and full of merchants selling medicine and salt from Ecchu-Toyama and people transporting goods. Today, the street is quiet, but old wooden buildings that retain traces of the past line both sides of the street.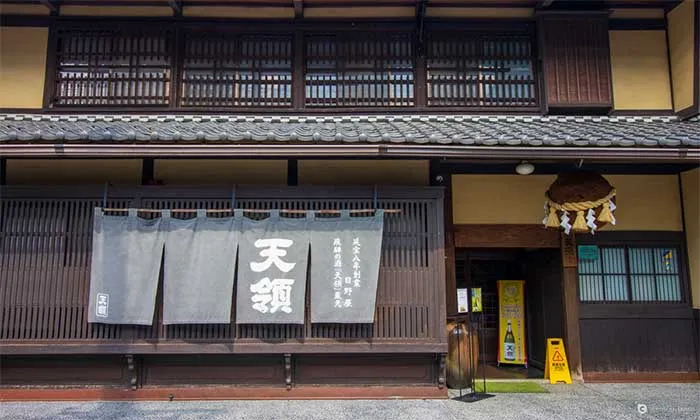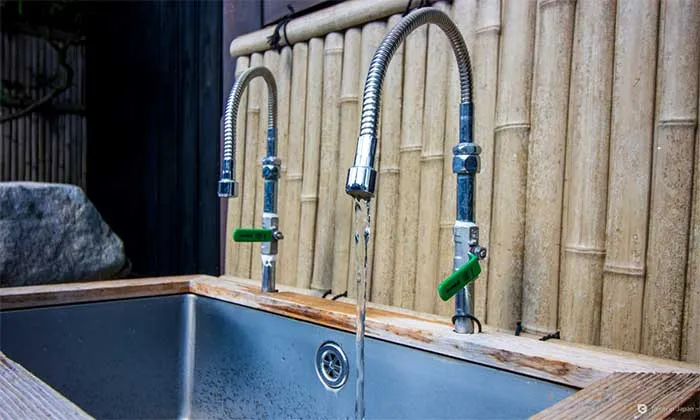 Sweets Shop 1: Shokado (Japanese and Western sweets)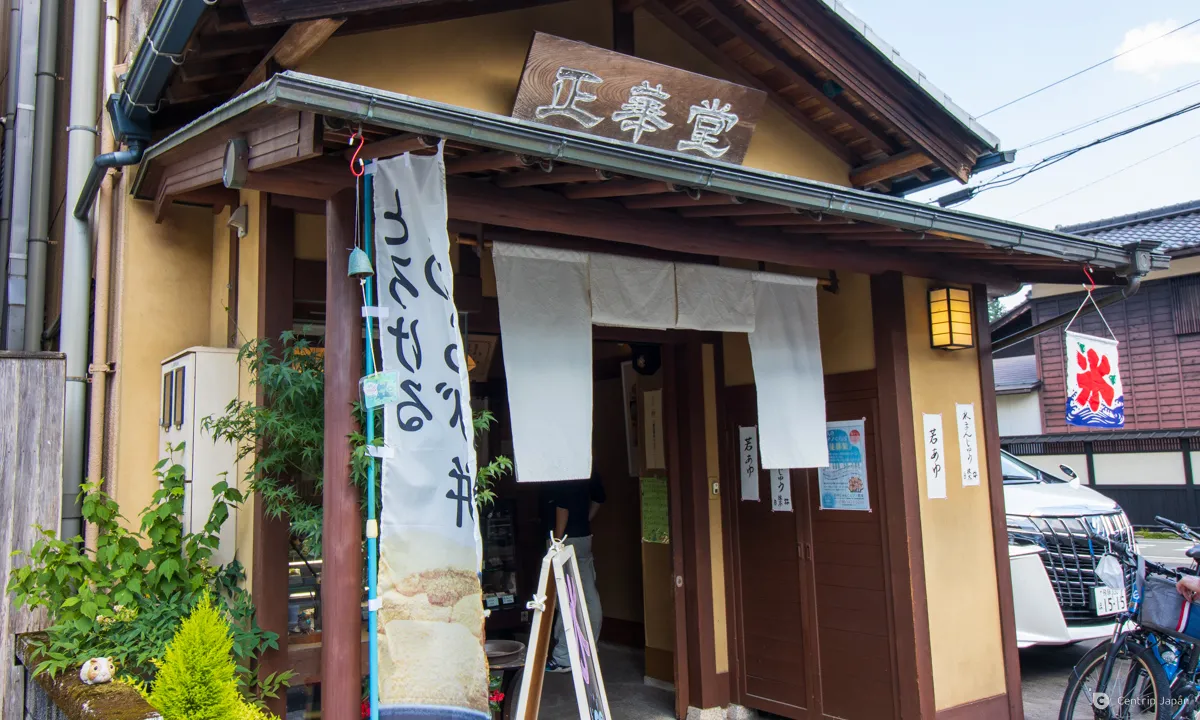 Shokado has a quaint old-fashioned storefront.
The first shop I visited was Shokado, a Japanese confectionery established in 1933 and now operated by third-generation owners. Inside the small, simple store, regular customers come and go, while some speak with the owner.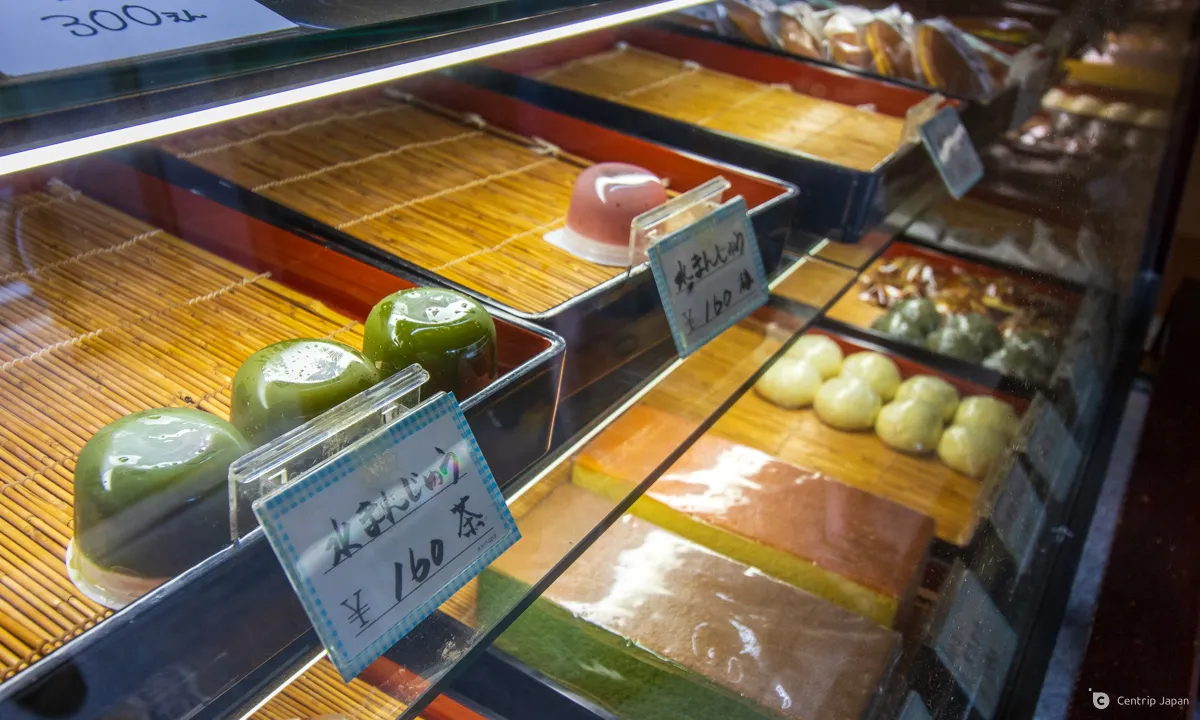 Western and Japanese sweets at a reasonable price
The exterior of Shokado looks very Japanese, but the store is unique as it sells not only Japanese-style confections (manjus, senbei) but also Western-style confections (apple pie, pumpkin pudding). More than 20 years ago, Shokado began producing Western sweets and now has customers who enjoy both kinds of sweets.
Shokado is known as the originator of Tochinomiseisenbei (horse chestnut rice crackers), now a specialty of Gero, and is still made by hand, following the production method handed down since the company's founding.
Sweets here are so cheap that you might end up buying too many.
The course includes the cost of sweets, so tell your guide which items you would like, and he will bring them to the final stop, the picnic in the park.
Sweets store 2: ANoi, a stylish pastry shop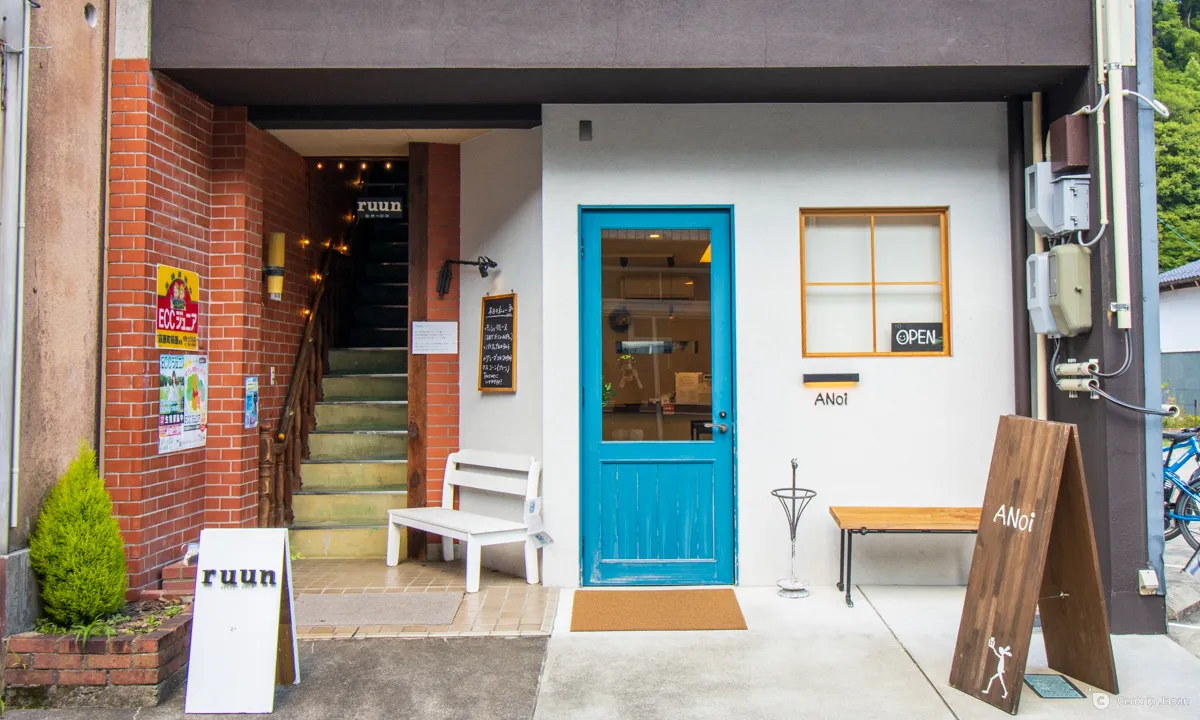 ANoi has a stylish and refreshing interior.
ANoi, a pastry store with a fresh blue and white design, sells a variety of biscuits and tarts. In addition to their signature French quiche, they also offer tarts made with different seasonal ingredients.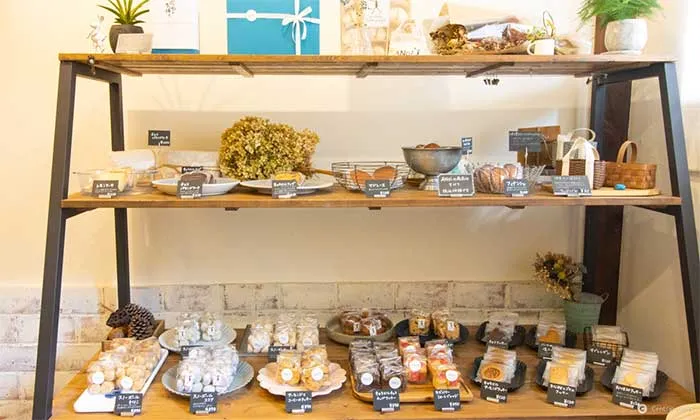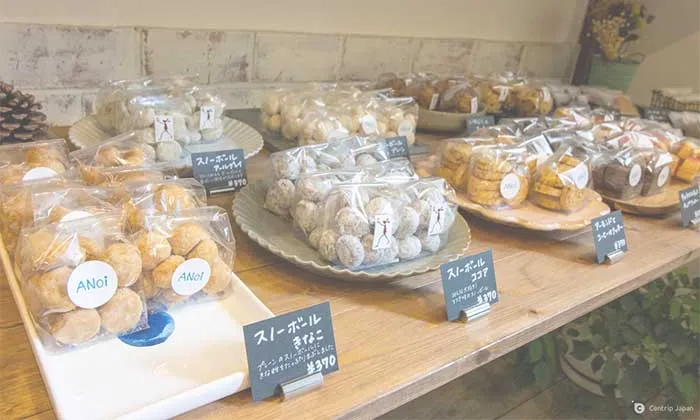 Scones, pound cake, chocolate cookies, coffee cookies with almonds, and more are on sale. These elegant, sweet flavors are perfect for enjoying a leisurely afternoon tea with a cup of coffee.
Sweets store 3: Photogenic sweets store SIEGFRIEDA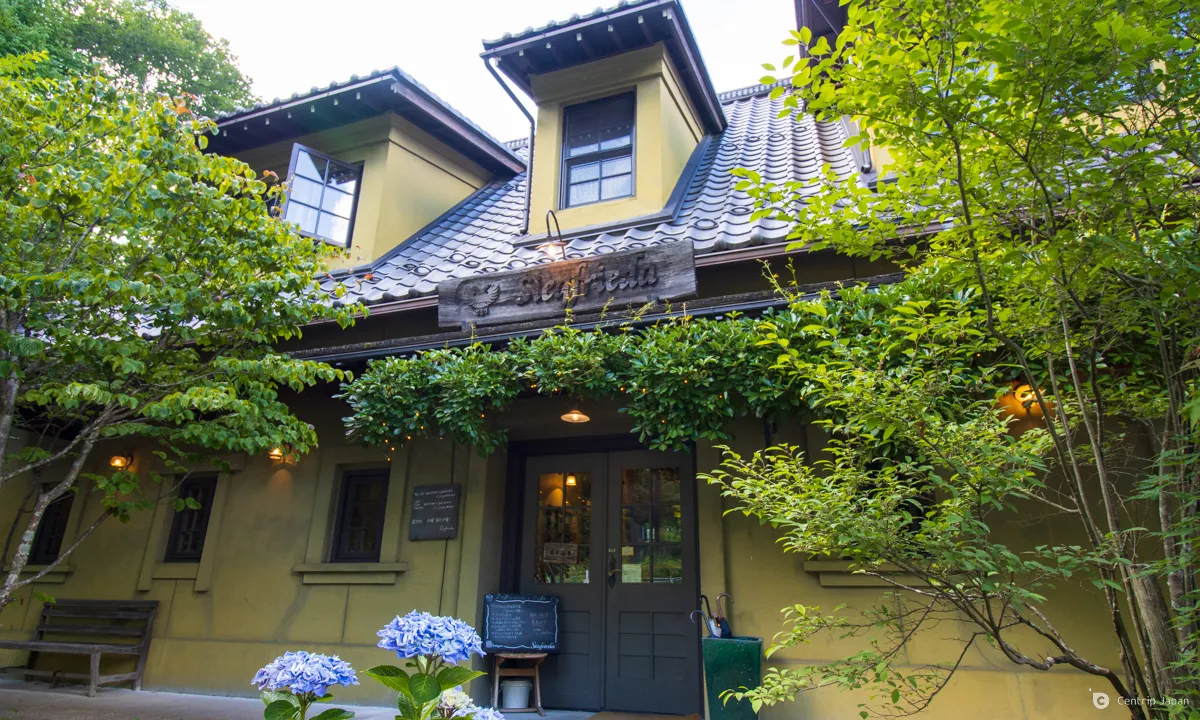 A European-inspired appearance covered with grape vines
The last sweets store was SIEGFRIEDA. I heard many good things about this store from our guide Dai beforehand. All the sweets, made by patissiers trained in Germany and Austria, look beautiful. Even Dai said, "You can enjoy better cakes here than at famous stores in Tokyo."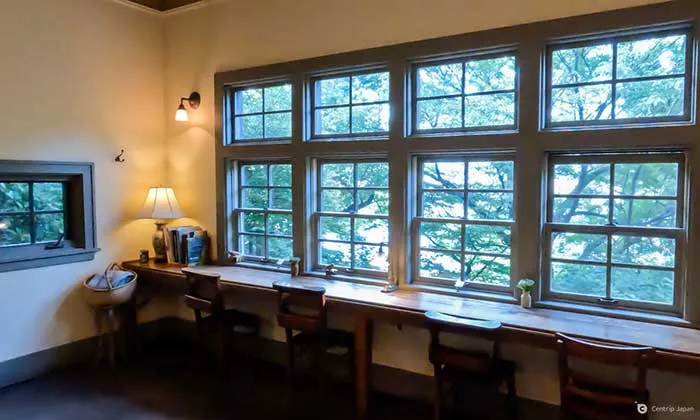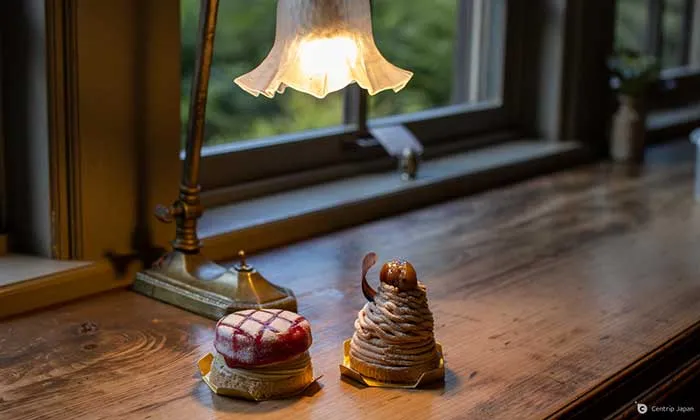 The warmth of the wooden interior and the shelves lined with exquisite confections look so delicate, like works of art, that they seem almost too beautiful to eat. The taste does not disappoint, and my friend who ordered the Mont Blanc said, "This is the best Mont Blanc I've ever had!"
The Sweets Cycling Tour takes you to a different sweets store each time, so you can look forward to seeing which one you will encounter next time you are here.
Bike tour highlight 2: Rural scenery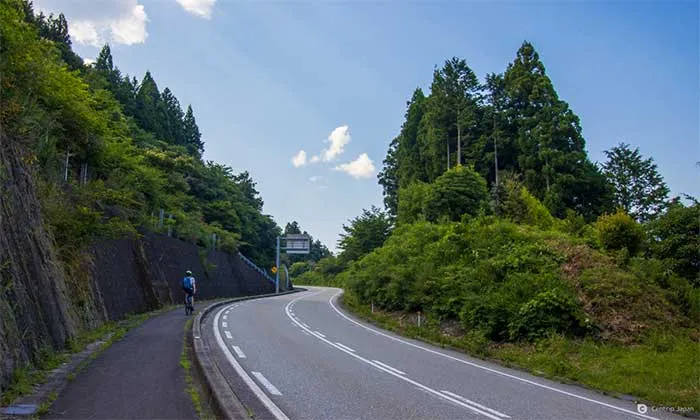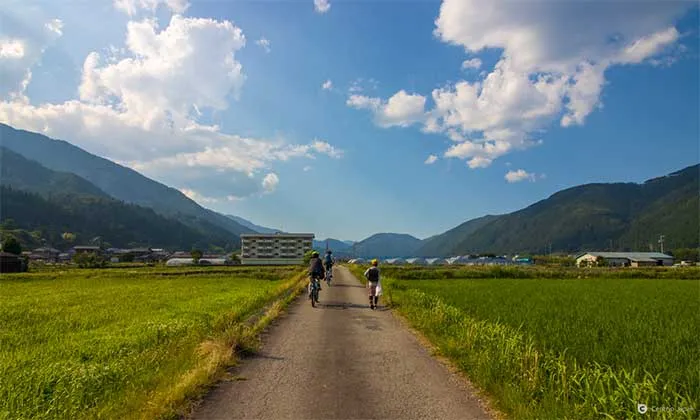 (We met an elementary school student on his way home as we went to the park for our picnic.) A private house and the peaceful countryside. On the way, we met farmers plowing their fields and elementary school students walking home. These everyday scenes made us feel as if we were living in Gero.
Bike tour highlight 3: Relaxing picnic at Hida River Park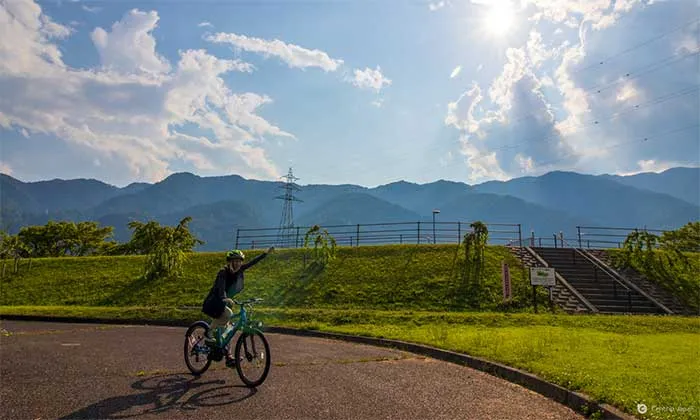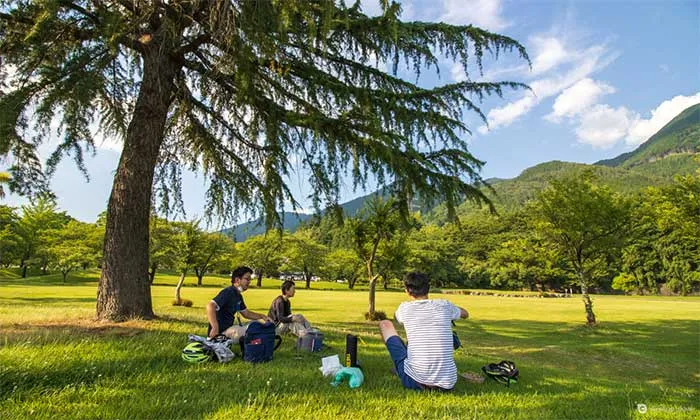 Hida River Park was the final stop of the cycling tour. Our guide Dai-san brought out his portable bean grinder and made hand-ground coffee. The beans are from the famous coffee shop Midori-no-Kan in Gero, said to have been tasted by the Emperor himself.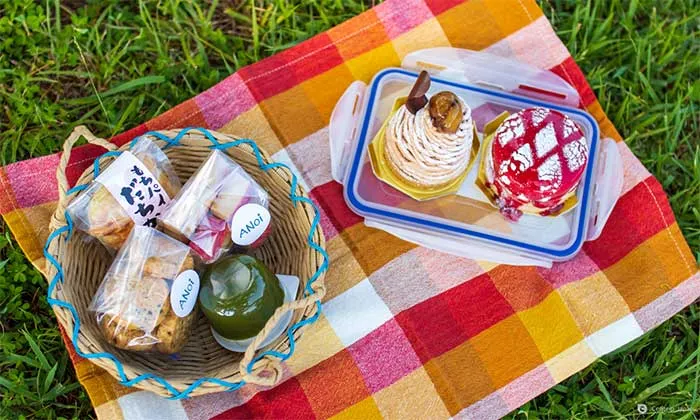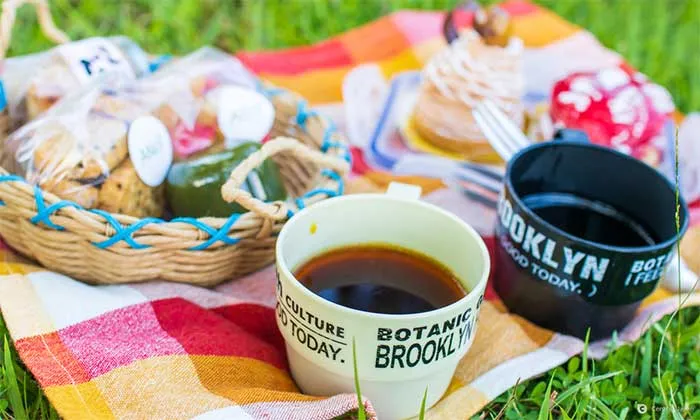 After biking, the sweets and freshly brewed coffee make for a perfect cap for the tour.
How to book an Umeseko Tour
Tours must be made in advance through the Umeseko Tour website. Click on the page of the tour you wish to take, click on the Book button, fill in your basic information, height, etc., submit the form, and wait for a response from a representative.
Currently, you can only make reservations through the Japanese version of the web page, but you can contact them through the contact form or call or e-mail them to make a reservation.
Directions to Umeseko Tour
By car, drive from Nagoya Expressway via Tokai-Hokuriku Expressway to Gero City. The trip takes about 2 hours. A 10-minute drive northeast of the center of Gero City will take you to Hida Ogihara Station.
By train, take the JR Limited Express Hida from Nagoya Station to Gero Station (1 hour and 40 minutes, ¥4,170). At Gero Station, transfer to the JR Takayama Line to reach Hida Hagiwara Station (10 minutes, ¥210.)
However, as there are few trains between Gero Station and Hida Hagiwara Station, it is recommended to use a cab (¥3,000.)
If you are coming from the Takayama area by train, you can take the JR Takayama Line from Takayama Station to Hida Hagiwara Station (50 minutes, ¥770.)
Have fun at Gero Hot Springs!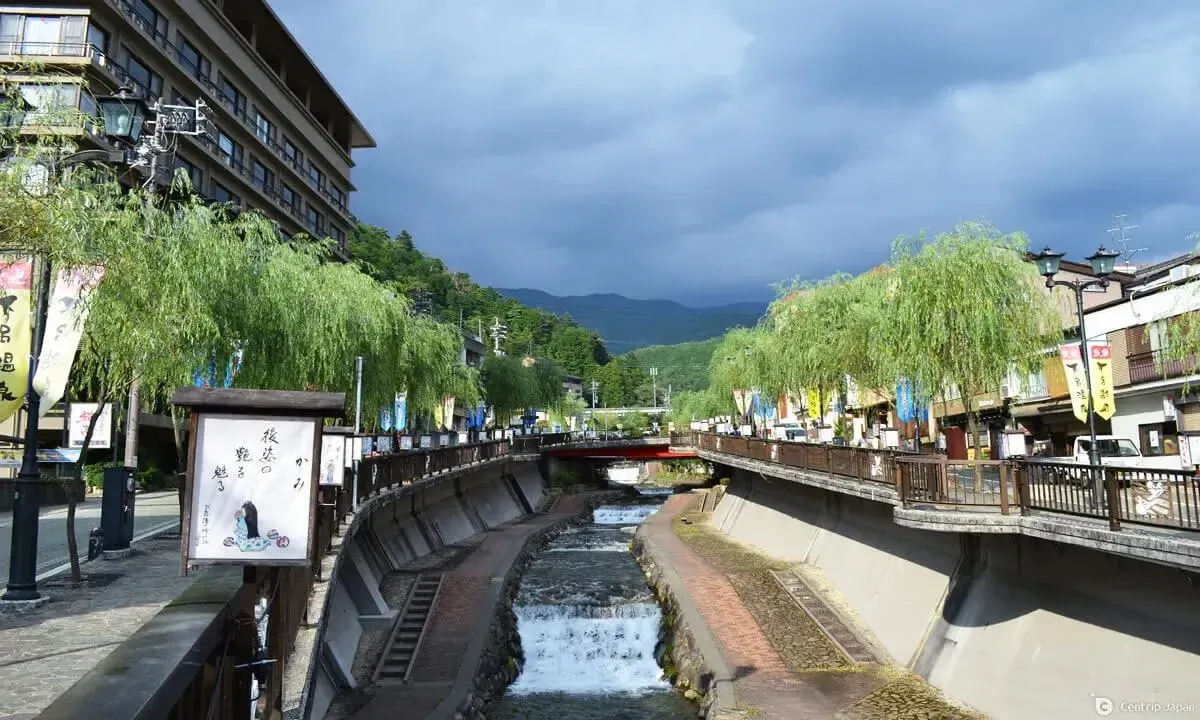 Gero Onsen town
After cycling, soak away your fatigue in the footbaths in Gero Onsen Town or stay at a hot spring hotel and enjoy the famous Bijin-no-yu (hot water of beauty), known to make your skin feel smooth and soft as soon as you soak in it.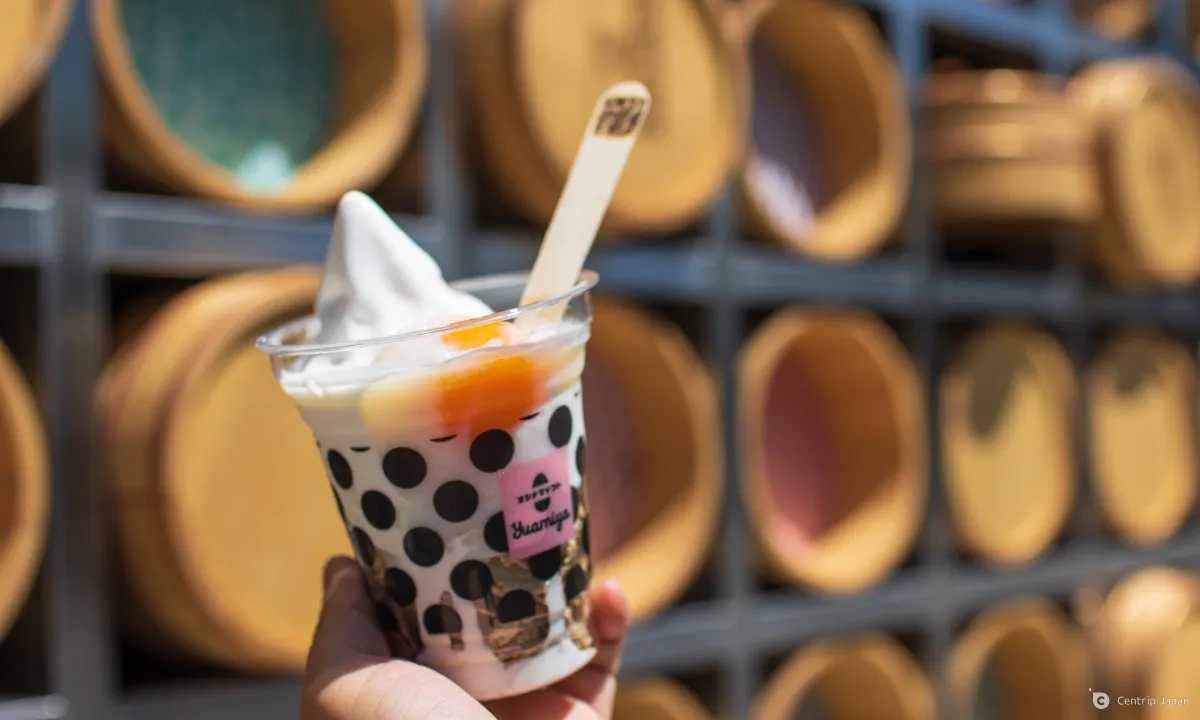 Ontama soft-serve ice cream, a specialty of Gero Onsen Town
I also recommend trying the Ontama Soft, soft-serve ice cream and specialty of Gero Onsen Town, the lovely Kaeru Shrine, and Onsenji Temple, and enjoying the panoramic view of the city of Gero. For more on Gero Onsen check here.
Wrap-up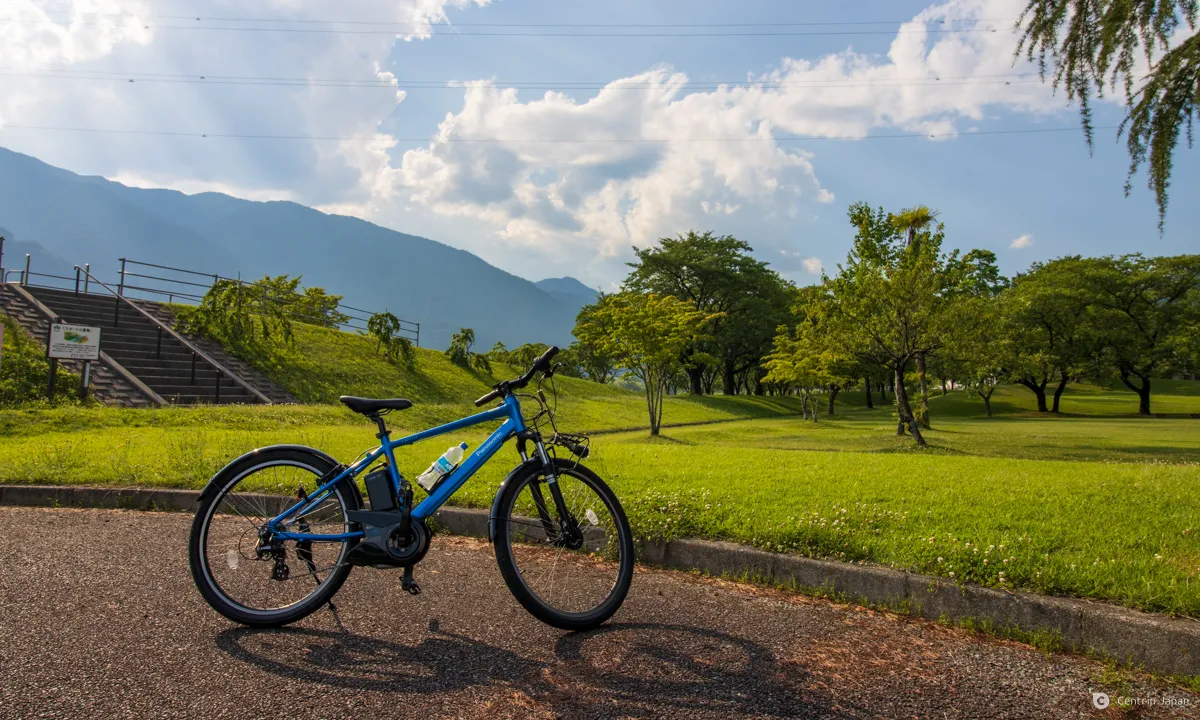 Easy-to-ride e-bikes
If you are tired of crowded installations and tourist attractions, want to experience nature, or want to know what the Japanese countryside is like, try a cycling tour of Gero.
Riding an e-bike through the Gero countryside and enjoying the warm hospitality of local guides and residents will make you feel like you belong.
Although it only lasts a few hours, these bike tours will give you a rich experience of Japan's countryside that will stay with you for a long time.
Click here to get the latest information on Central Japan.Centrip Japan - Nagoya and Chubu Information