| Centrip Editorial Board
Tour Japan's Countryside by E-bike
In the southern part of Nagano Prefecture (Minami-Shinshu), located roughly in the center of Japan, there is a long, narrow Ina Valley along the Tenryu River, which flows between the Southern and Central Alps.
This valley has long been a flourishing agricultural region and is notable for fruit production. Recently it has quietly attracted attention as a place where visitors can experience real farm stays and country life among those interested in eco-conscious agritourism.
This article introduces a model e-bike tour of Toyooka Village in the Ina Valley, based on the theme of experiencing the countryside at its best.
Recommended sightseeing contents in Toyooka Village, Minami-Shinshu
Directions from Nagoya to Toyooka Village in Minami-Shinshu
Traveling to Toyooka Village from the Nagoya area is convenient by car.
From the Nagoya IC, take the Tomei Expressway toward Kyoto, then enter the Chuo Expressway via Komaki JCT and exit at the Iida IC (about 110 km, 1 hour, and 10 minutes). From the Iida IC it is approximately 13 km or 20 minutes to Toyooka Tabi Jikan, the base for sightseeing in Toyooka.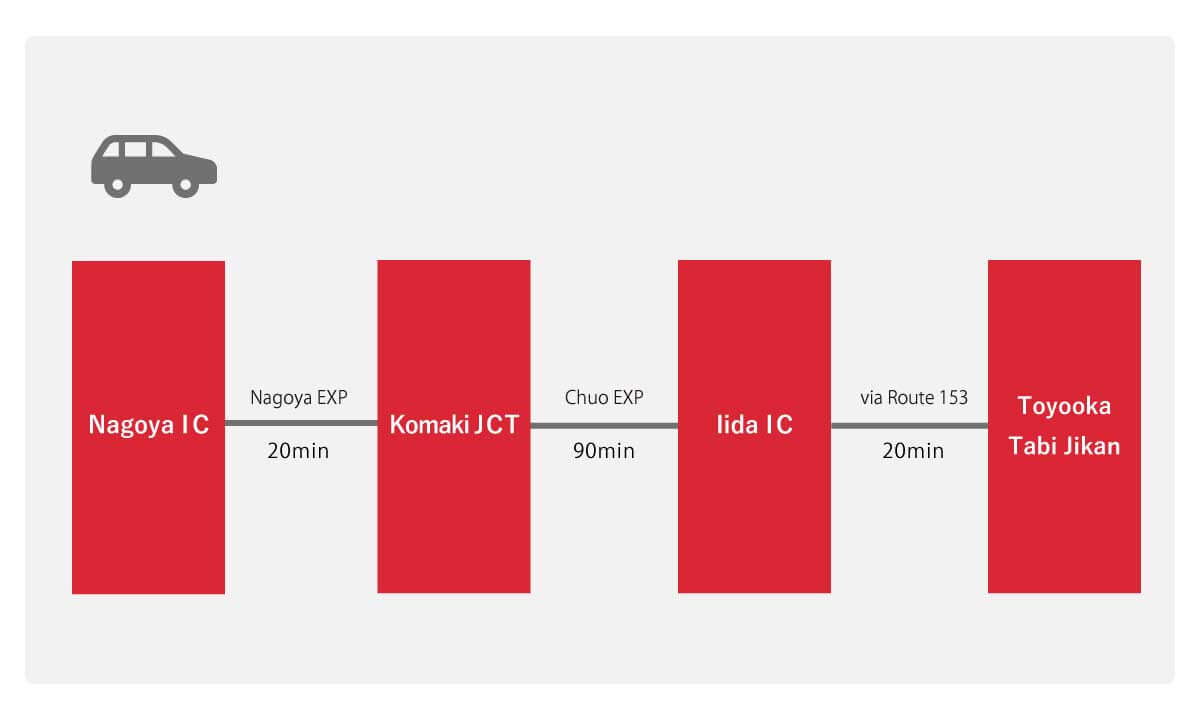 Scenic Cycling Through Rural Villages by E-bike
Toyooka Village has unique topography of river terraces, where the landforms in a staircase-like pattern toward the river, and a large elevation difference exists within the village. While the elevation of the sightseeing center, Toyooka Tabi Jikan, is around 400m, the elevation of Fukujima Teppen Park, the first destination, is approximately 800m (Incidentally, the highest point in Toyooka Village is 1,890m at the top of Mt. Kimenzan)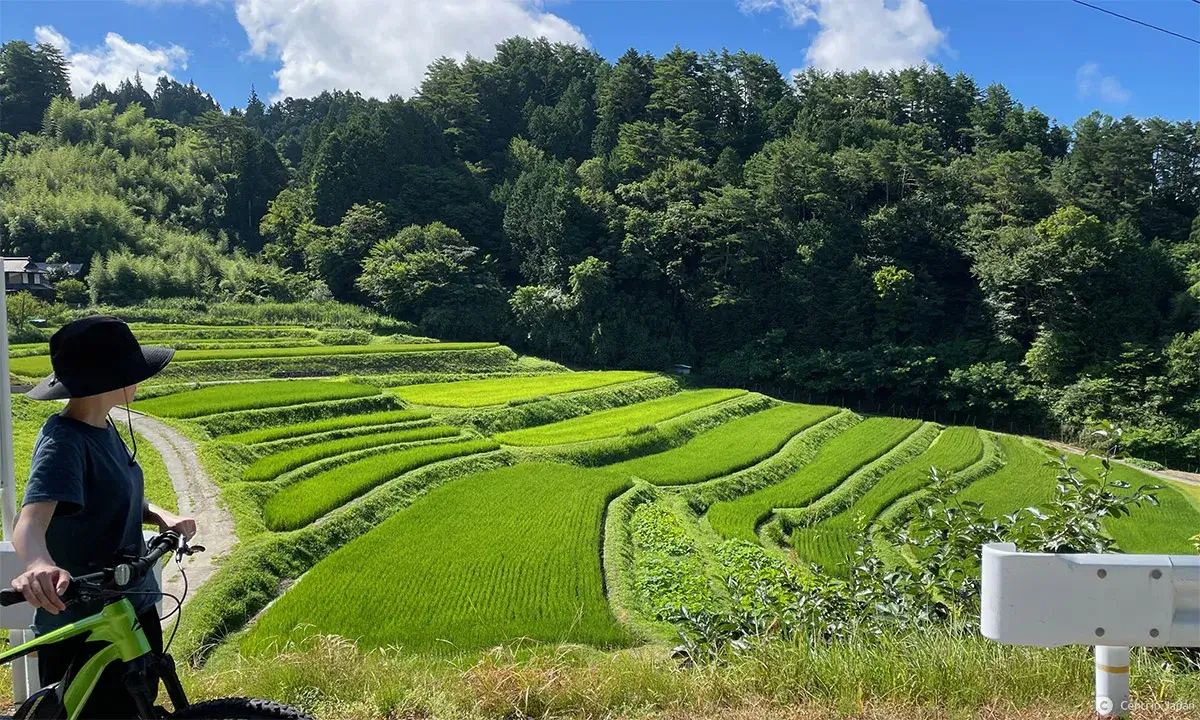 Taking a break next to a beautiful terraced rice field while cycling
E-BIKEs can easily climb steep slopes and are ideal for touring villages with steep differences in elevation. Toyooka Tabi Jikan, which also serves as the village's tourist information center, offers the latest e-bikes for rent.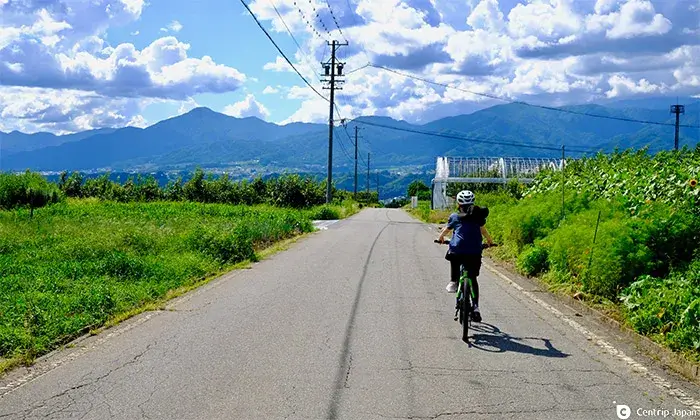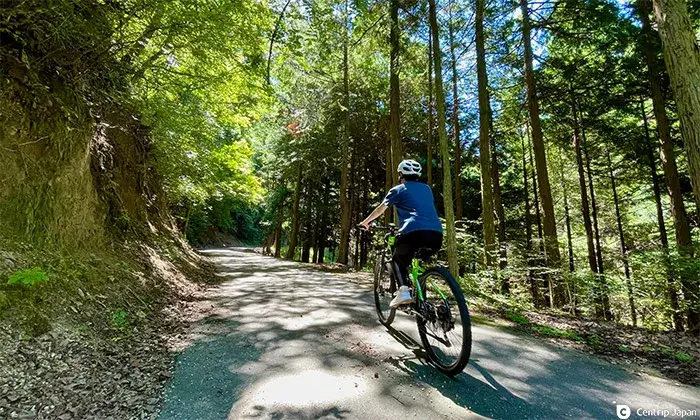 In addition to being convenient, cycling is a delightful way to enjoy the spectacular scenery of the countryside and the fragrance of the grass and trees. You can travel at your pace, taking the right amount of time you need to see things you might overlook when driving.
Flying on a Broom in Fukujima Teppen Park
Ever since I saw Studio Ghibli's, Kiki's Delivery Service, as a child, I wished I could one day fly on a broom.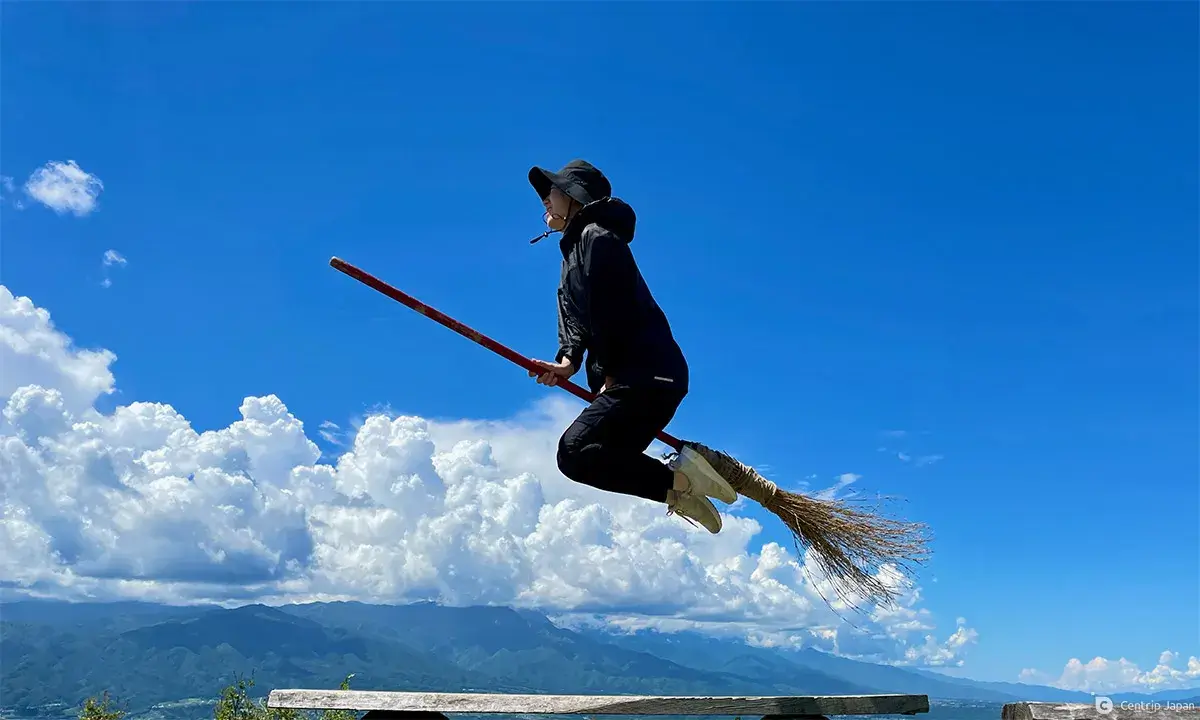 If you come to Toyooka Village, you can fly
After riding up a steep, winding slope by e-bike, there is a small observatory with a view of the entire town. I felt a mysterious breeze and then spotted a magical broom before my very eyes.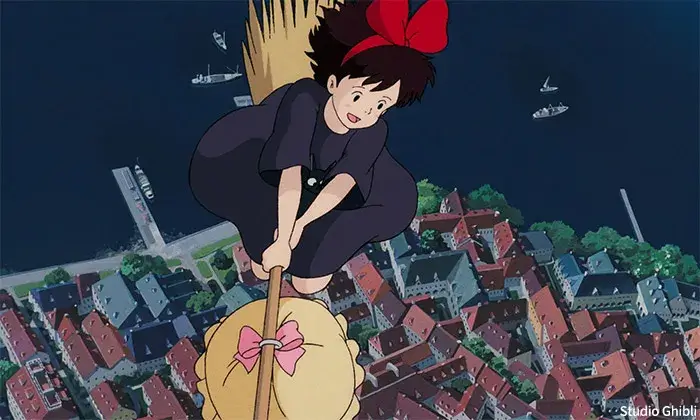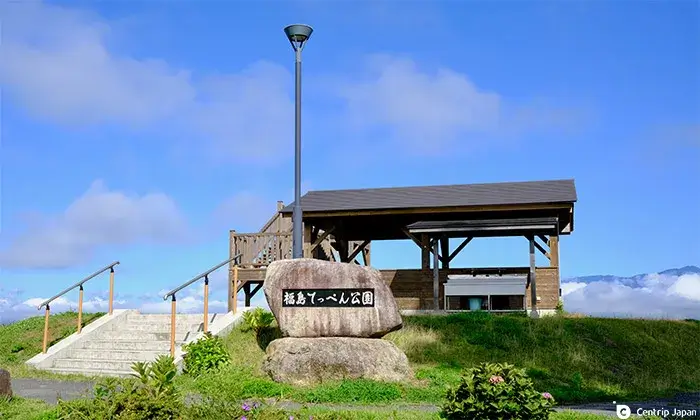 Putting the fantasy aside, Fukujima Teppen Park is located at the village's highest point, offering a panoramic view of the Southern Alps and the entire village in the valley formed by the Tenryu River below.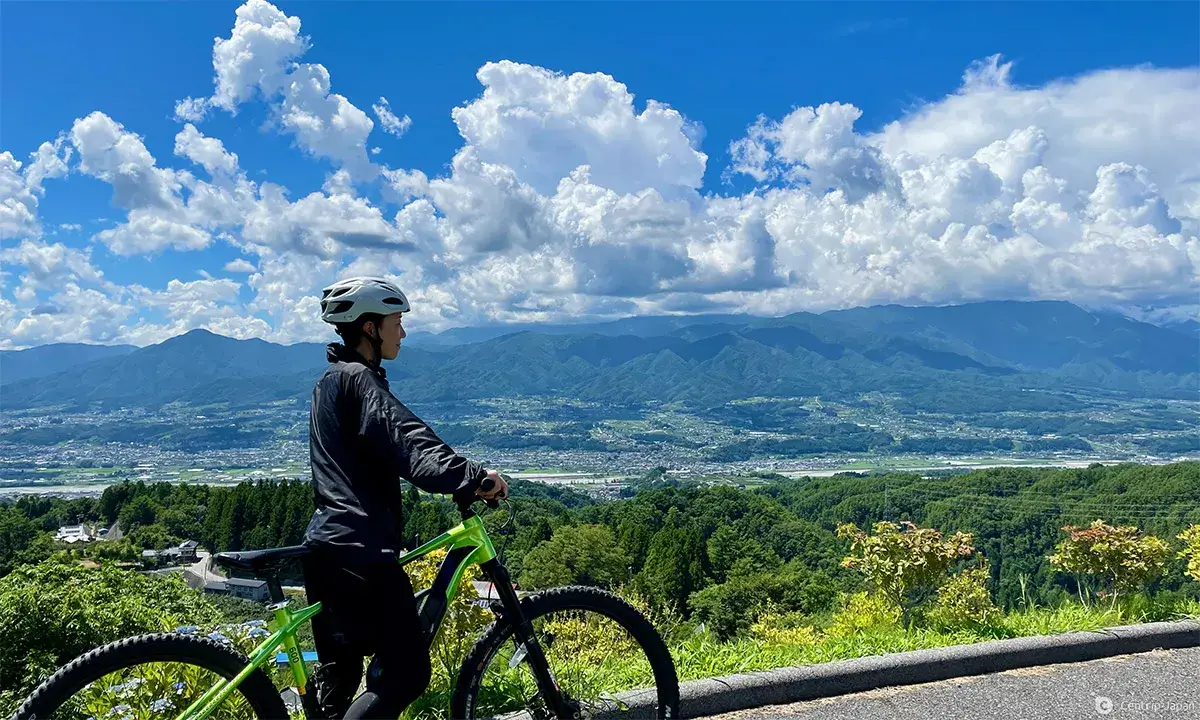 You can see the entire Ina Valley and the Central Alps beyond
The best place to fly is on the right side of the observation deck. Capture the moment of flight by holding your camera low and taking a picture at the right moment. If you want to learn the magic of flight click here.
Agricultural Experience: Harvest Seasonal Vegetables
After flying in the sky, come back to earth to dig in the vegetable fields.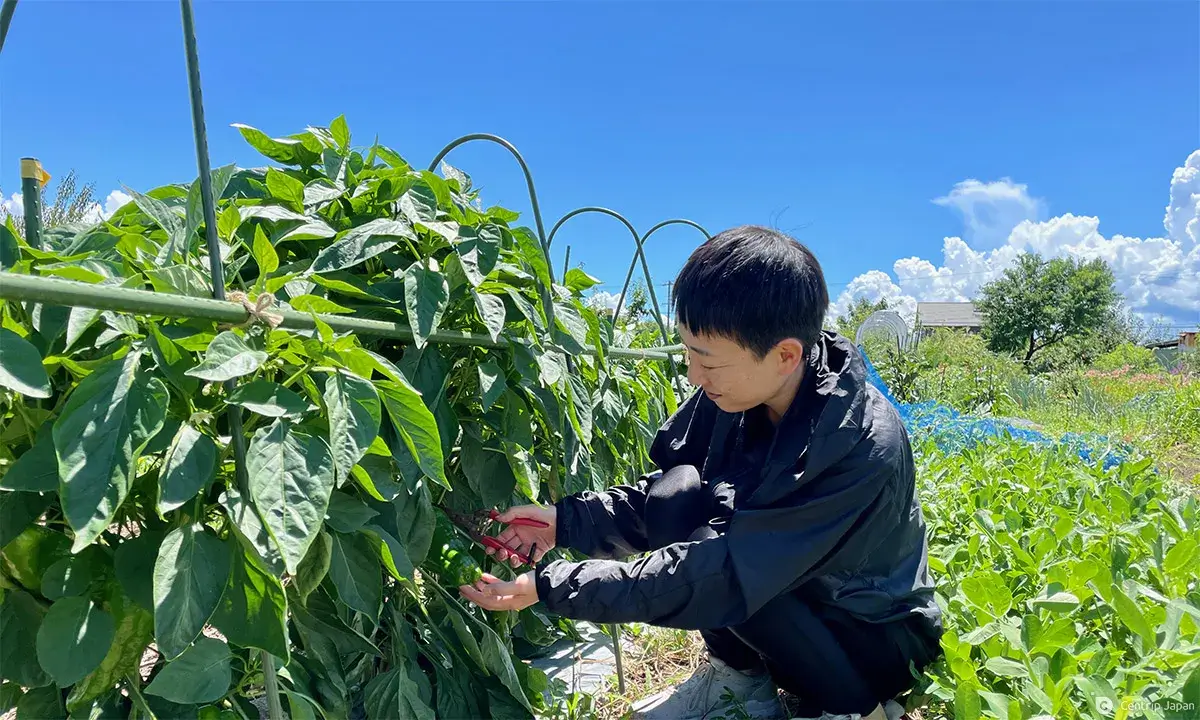 Work up a good sweat with a harvest experience under the blue sky
A variety of vegetables are grown in Toyooka Village. Some fields offer visitors the experience of harvesting and picking colorful vegetables such as zucchini, bell peppers, asparagus, corn, and tomatoes.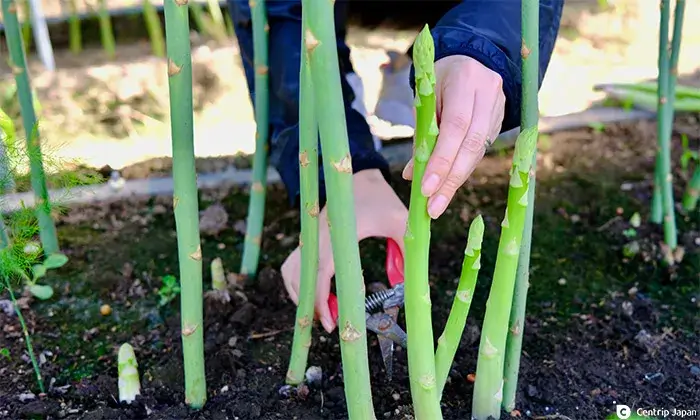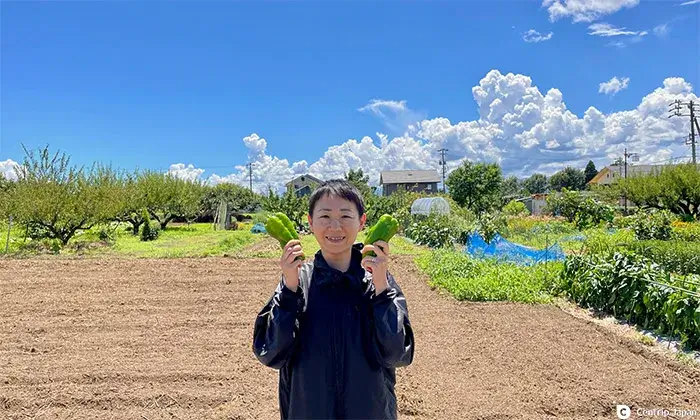 Living in urban areas, we are usually only familiar with the vegetables that line the supermarket shelves and are disconnected from the growing process.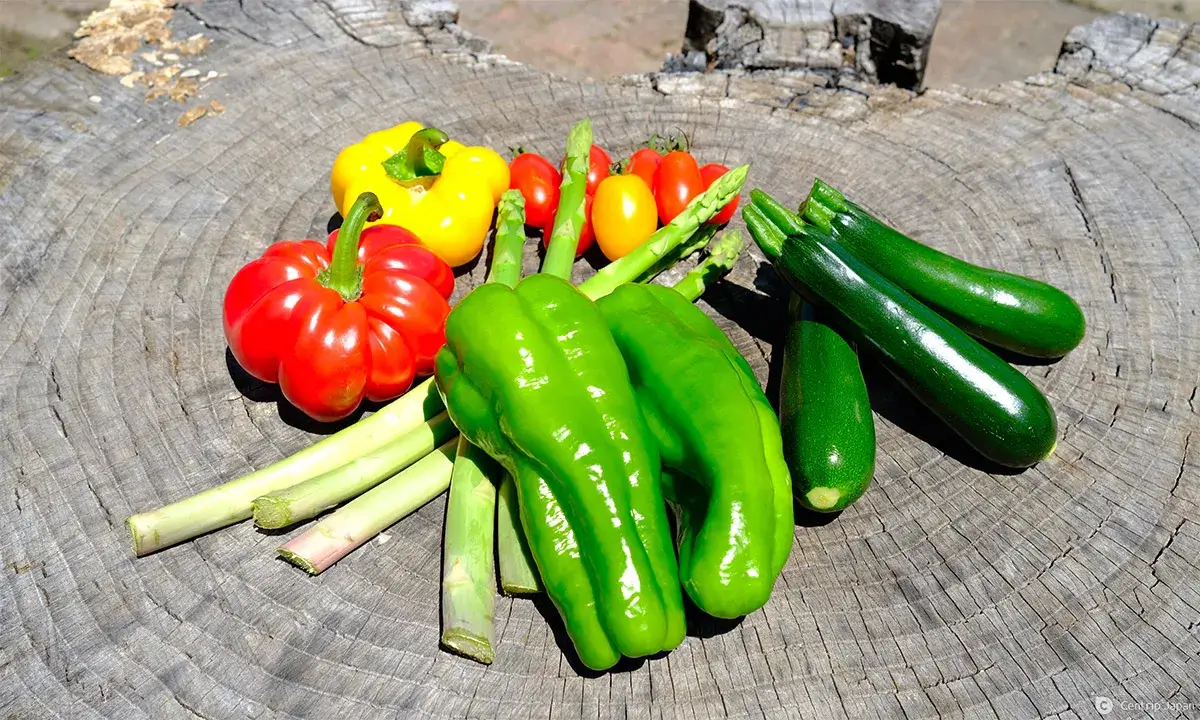 Today's harvest
Agricultural Experience: Pick Seasonal Peaches at Okanoue Farm Hara Orchards
Following the vegetable harvest in the fields, we went to the orchards. Toyooka Village is known more for its fruit production than for its vegetables, with cherries, peaches, pears, apples, persimmons, and other seasonal fruits growing all over the village. While cycling, the sweet aroma of fruit lured me off the farm road.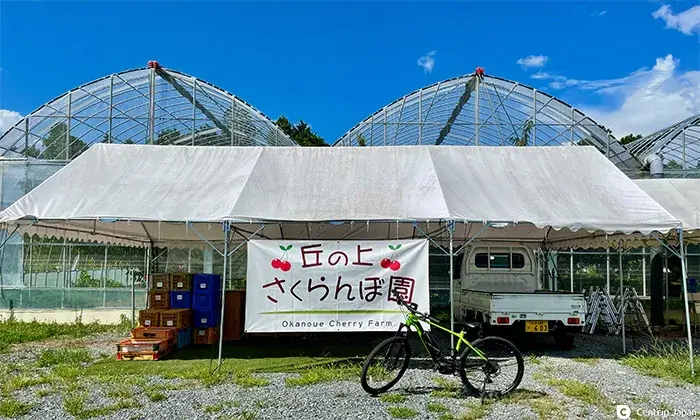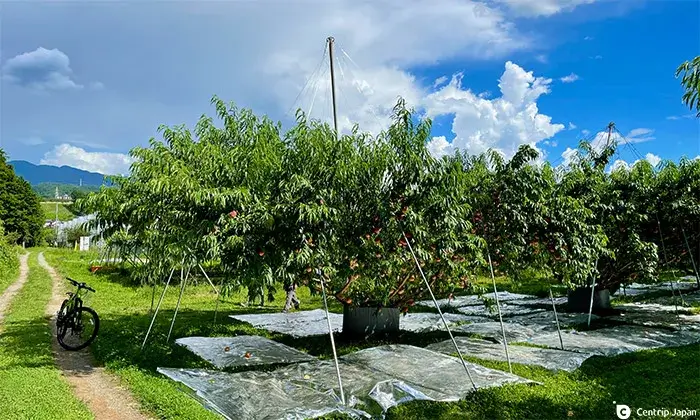 Many farms offer fruit picking for tourists. On this day, I visited Okanoue Farm Hara Orchards (*Currently, they only accept tourist groups.)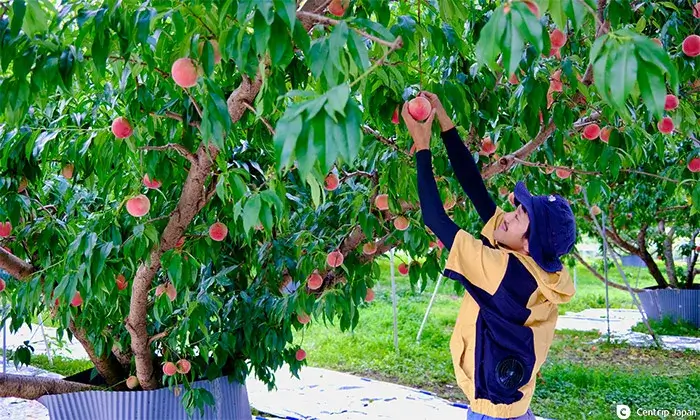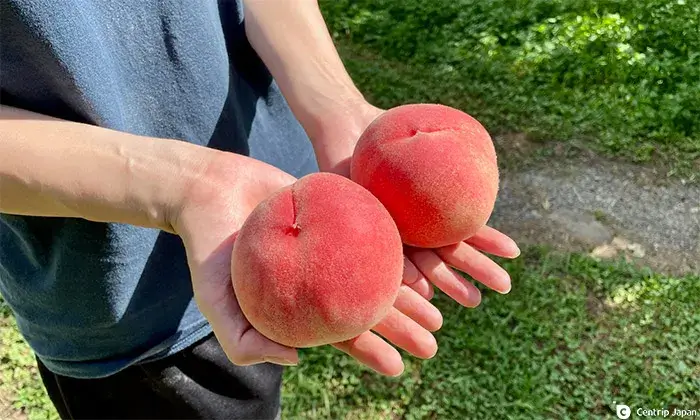 At the farm, you learn to select peaches and pick ready-to-eat peaches with care. We only picked peaches that were sweet enough to eat on the same day, but they ripen longer and would become even sweeter after a few days. Peach season is from mid-July to mid-late August. Depending on the season you can enjoy picking various other fruit.
Enjoy a BBQ With Hand-Picked Vegetables
After a morning of e-biking and getting hungry, it's time for lunch.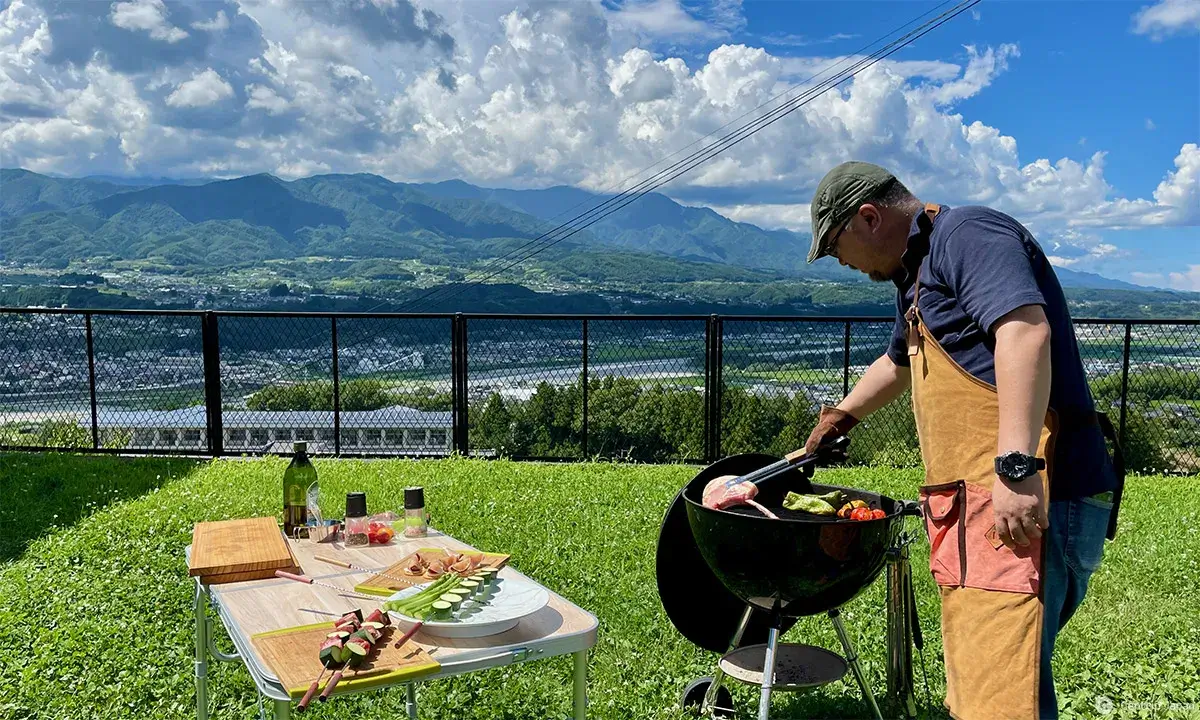 A great location to BBQ
For lunch, we had an outdoor barbecue made from the vegetables that we just harvested in the morning. This simple yet luxurious experience was a lot of fun.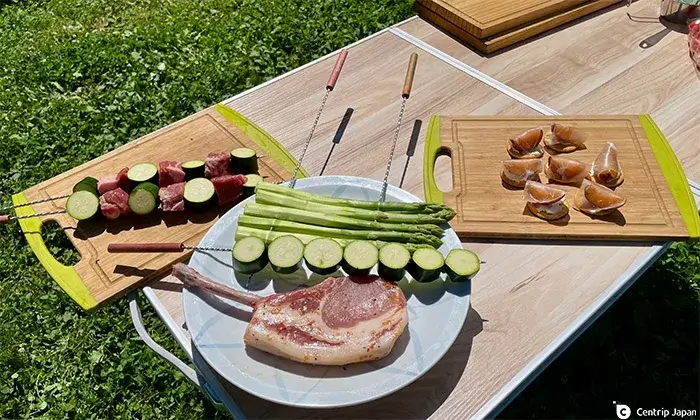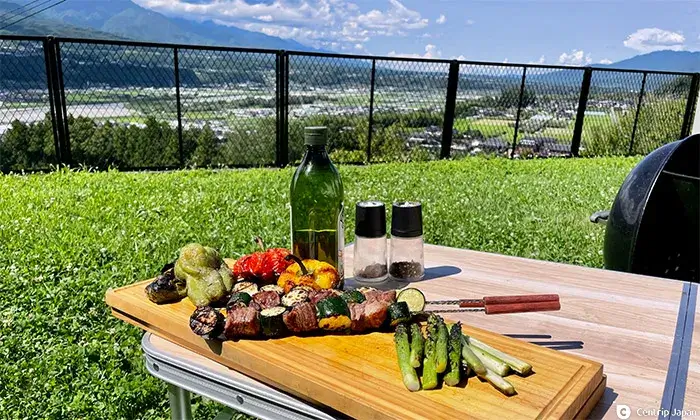 There are many places in the village for an outdoor barbecue. Our barbecue was held in a community space called Toyo Terrasse. Toyo Terrace also offers overnight accommodations and many companies use it for work vacations.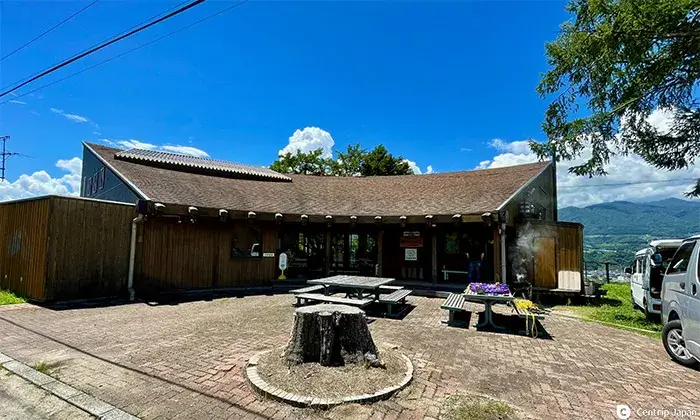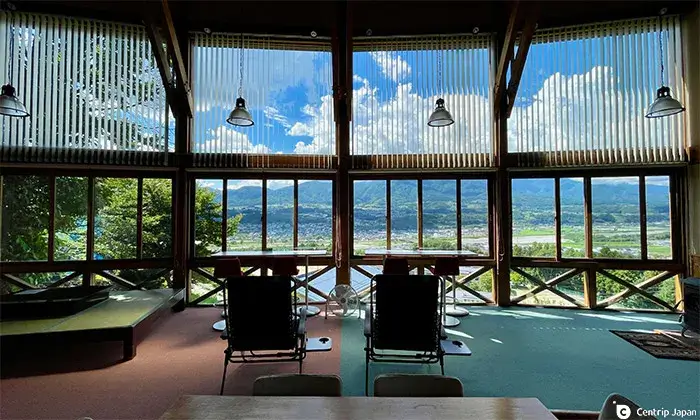 Shower Climbing in One of Japan's Largest Giant's Kettles
After a productive morning, there is still plenty of fun to be had in the afternoon. First, head for the Giant's Kettle in Abukawa Ravine.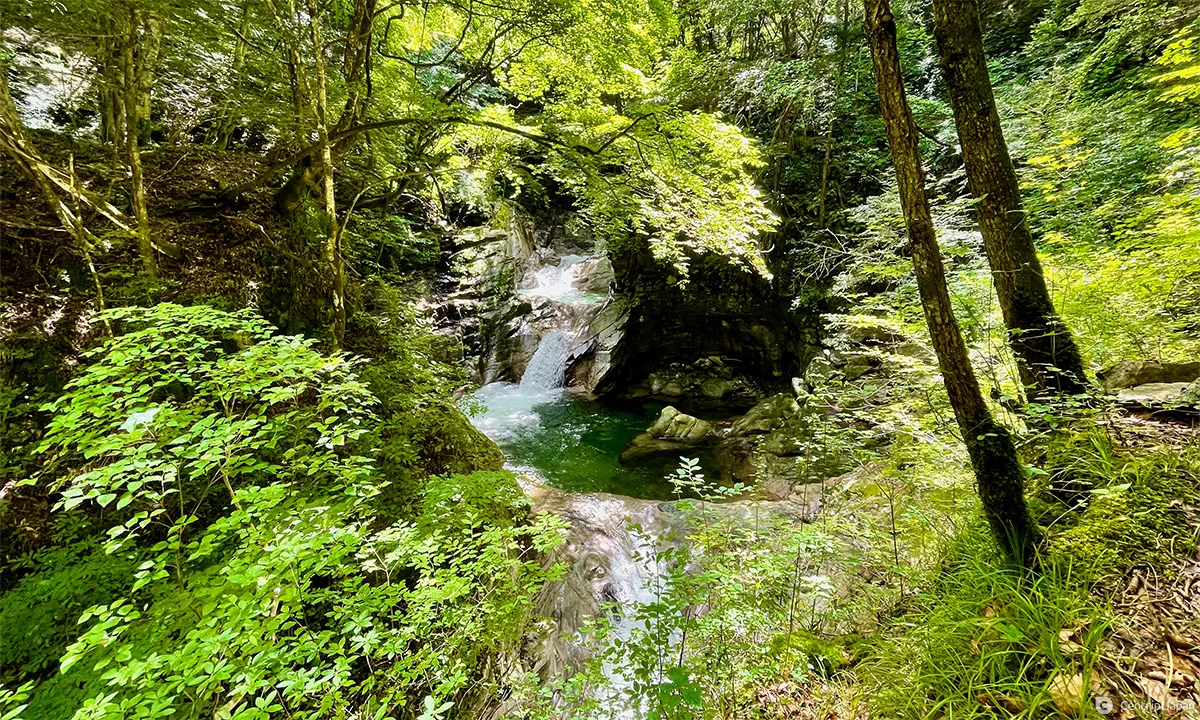 Mysterious landscape created by nature in Abukawa Ravine
A Giant's Kettle is a huge hole formed in a rock surface over a long period by flowing water. Toyooka Village has a huge Giant's Kettle, said to be one of the largest in Japan, with a diameter of about 7 meters. In summer, it is a great water attraction.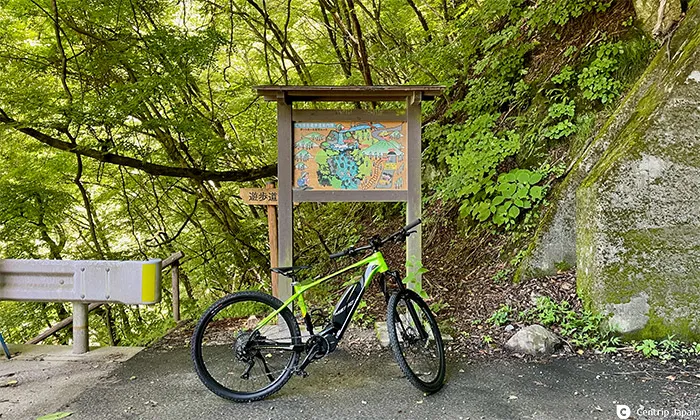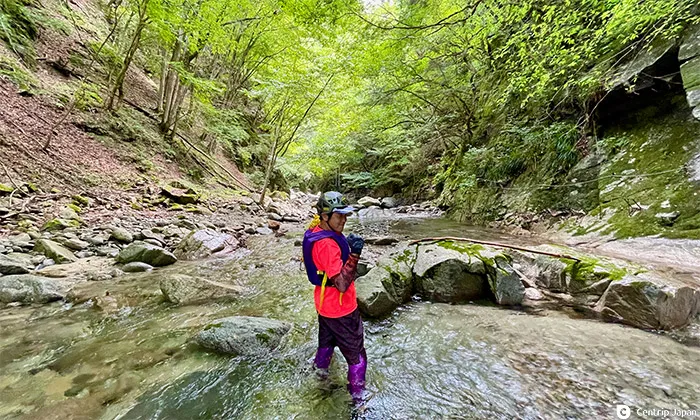 After arriving at the ravine, we headed upstream to the Giant's Kettle, guided by our experienced guide, Mr. Sakai. Upon descending to the water's edge, we were first overwhelmed by the beauty of the clear, flowing water. Then, when we put our feet in the water, we were surprised at how cold it was!
In the deep ravine, layers of greenery overhead block direct sunlight, creating a natural cooler. The sound of running water and the cool air is very pleasant.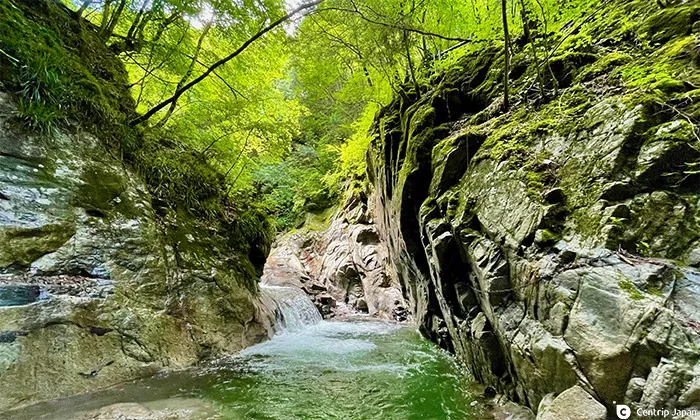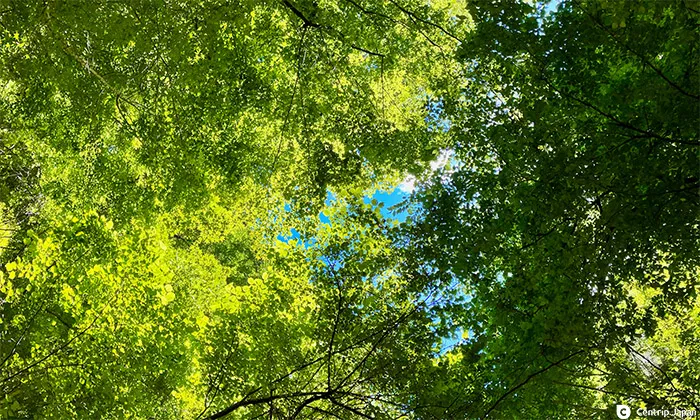 The Giant's Kettle is only a few hundred meters away. We enjoyed the adventure of walking on the rocky slopes on chains or pulling on ropes in the water up to our shoulders.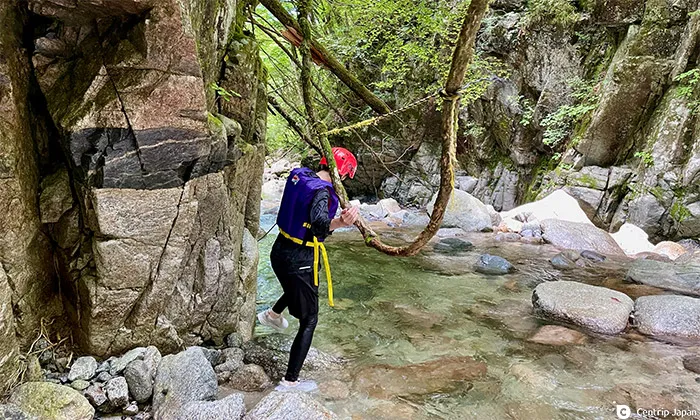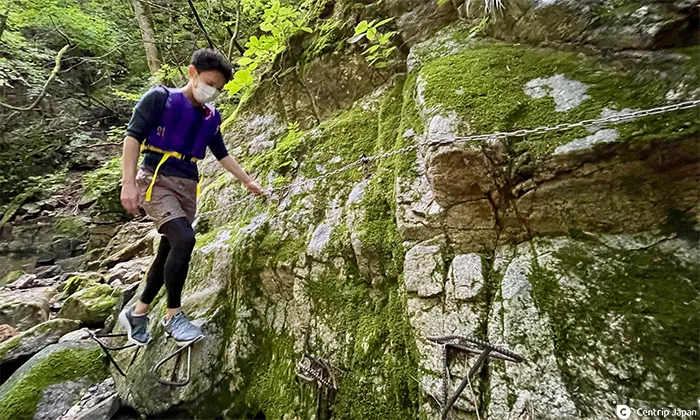 The guide will give you a rope and carefully support you when it is difficult to advance. Even small children can have fun without any problems. At the waterfall before the Giant's Kettle, visitors can try a shower climb, climbing over rocks while water splashes over them.
The sense of accomplishment after the climb is fantastic. Take a closer look at the mystical view of the Giant's Kettle. You will lose track of time as you watch the water flow by. If you have the courage, you can jump into the waterfall basin from here.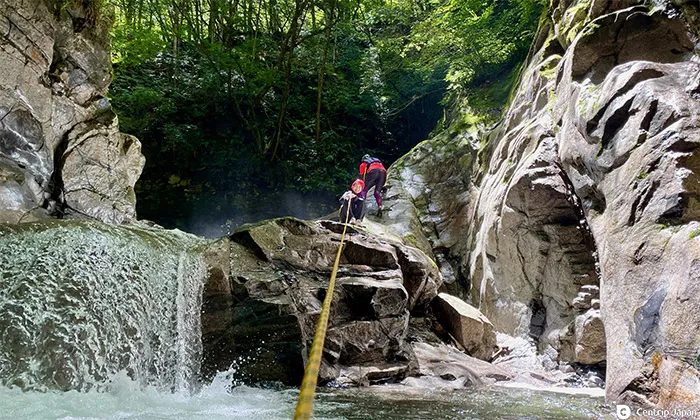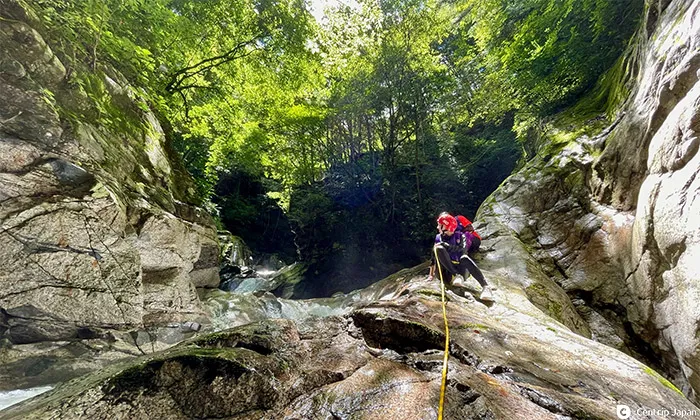 The water near the basin is deep enough that you cannot touch the bottom with your feet, but the current is gentle, so there is no need to worry if you wear a life jacket and follow the rope. Giving yourself up to the current and floating in the ravine is a unique way to spend time in Toyooka Village.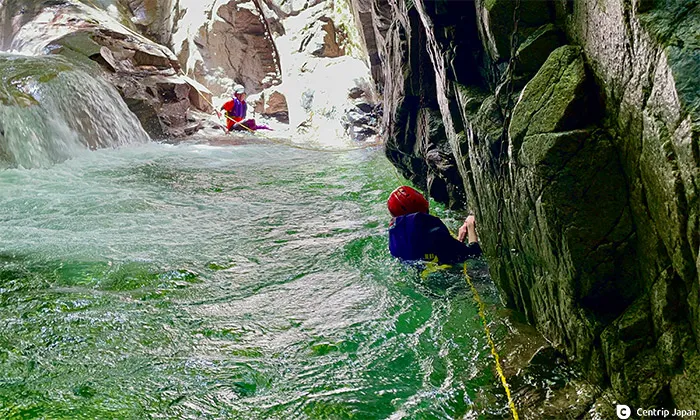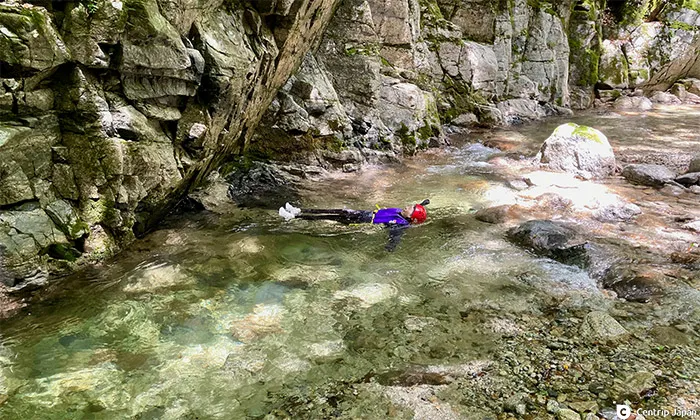 Visitors typically spend two hours to half a day at the Giant's Kettle. It is a special place that can be enjoyed only during the summer. Since the road conditions vary due to weather conditions, please visit with a reliable guide after consulting with Toyooka Tabi Jikan.
Cafe & Dining en: Peach Sweets in a Renovated Home
After a day full of activities, we went out for a special sweet treat.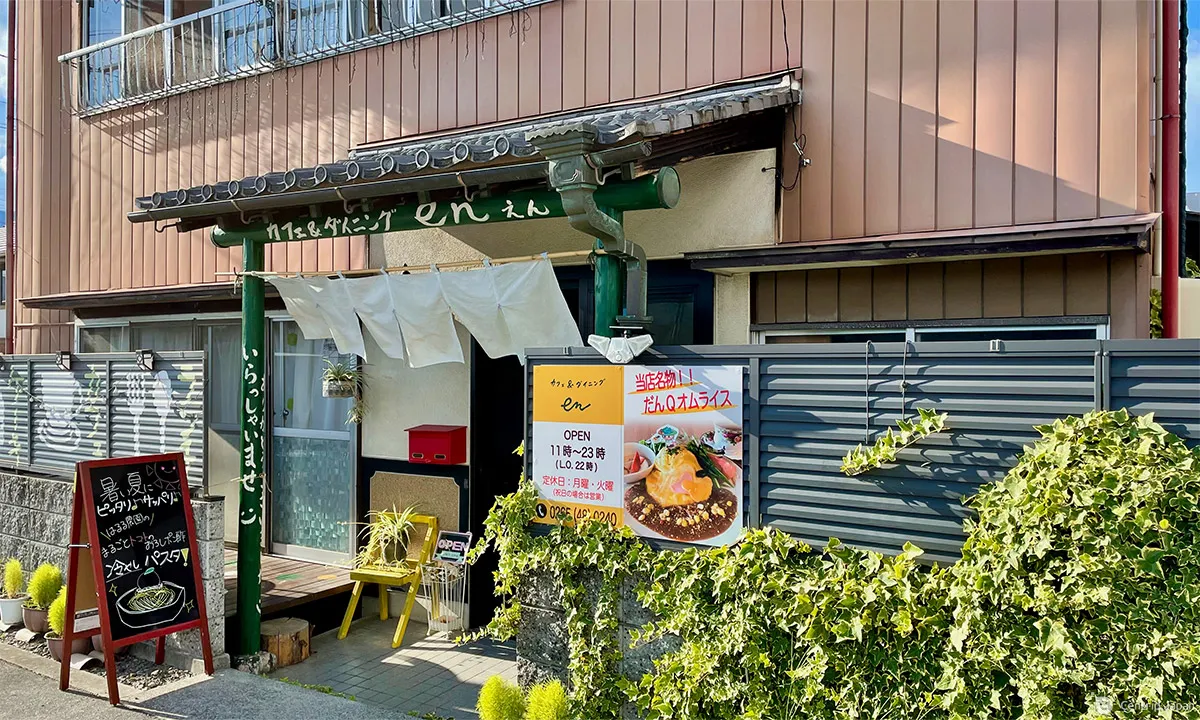 Cafe & Dining en, in the center of the village
In the central area of Toyooka Village is Cafe & Dining en, in a renovated old private house, owned by Mika Kuroda, who moved to the area after becoming obsessed with the charm of this village. Their most popular dishes are omelet rice dishes inspired by the topography of Toyooka Village and parfaits made with seasonal fruits.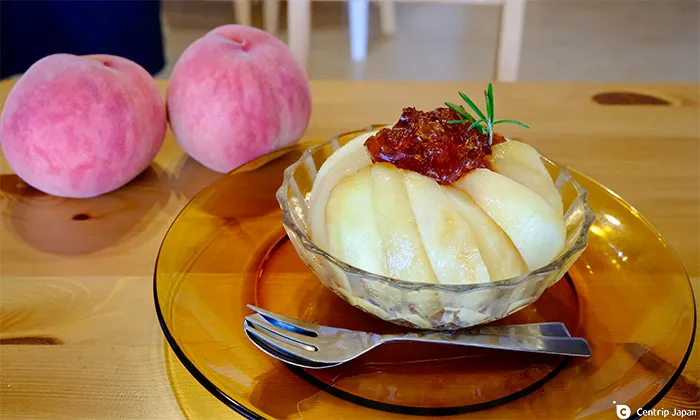 During our visit, we were served a sweet made from whole peaches. Toyooka peaches are lavishly arranged on top of homemade canelé and black tea ice cream. (*This is a limited item and requires a reservation). After a day of riding around on the e-bike, it was an irresistible treat.
Authentic Farm Stay Experience at Farmer's Guest House Higashi
Since there are no large accommodations in Toyooka Village, guests must make use of small guesthouses and campgrounds. We recommend staying at the Farmer's Guest House Higashi.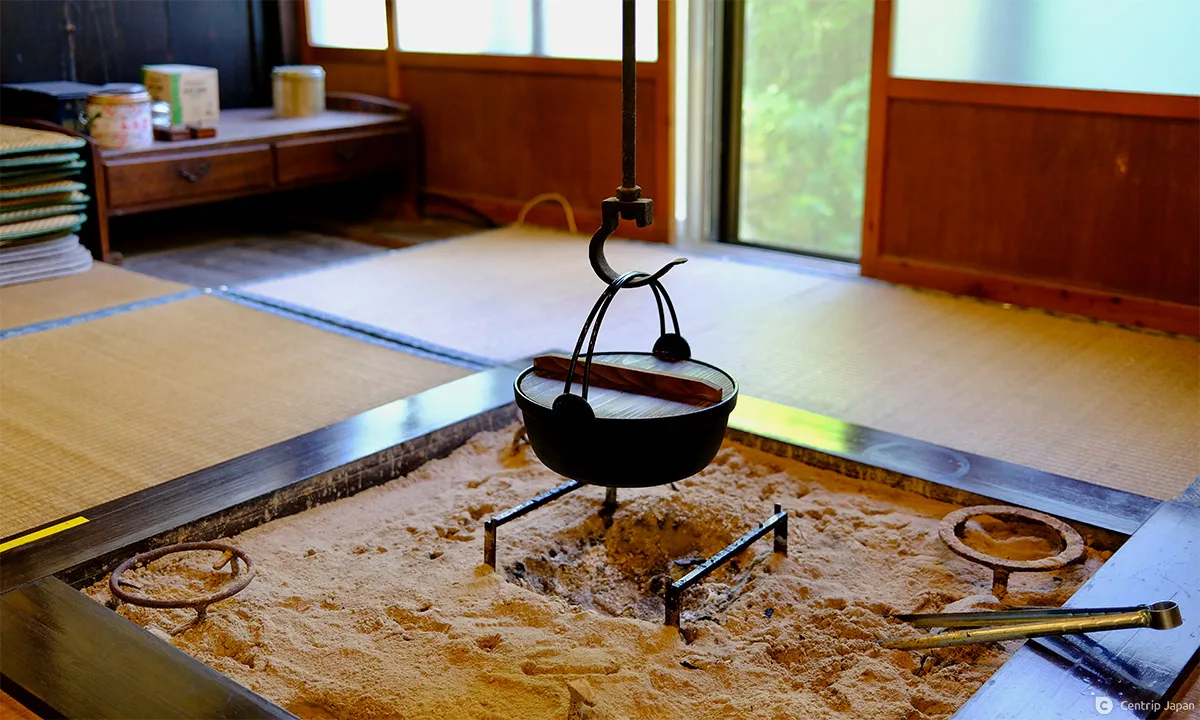 A sunken hearth where dinner is served
Farmer's Guest House Higashi is a 100-year-old farmhouse that has undergone a few changes to make it into an accommodation, so offers a genuine overnight farm experience. It is limited to one group per day and the owner, Mr. Mibu, an active hunter, will tailor your stay to your desired countryside experience. Just let him know: "I want to experience farming" or "I want to catch stag beetles."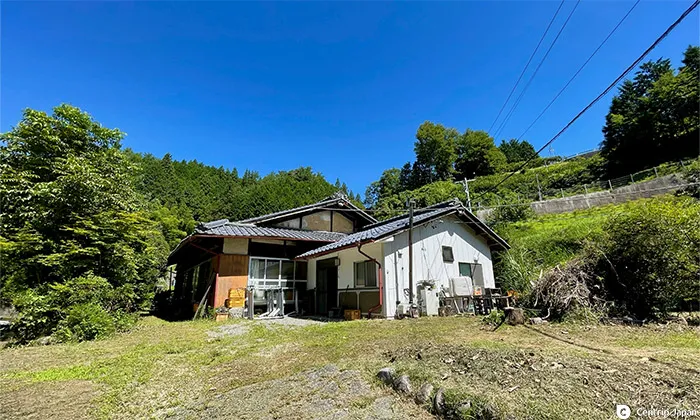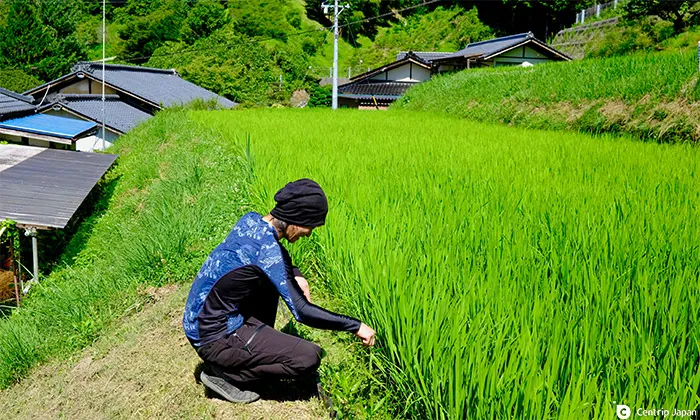 For dinner, we gathered around the sunken hearth and enjoyed freshly hunted venison and local river fish. There is no better place to fully enjoy a unique Japanese overnight farm experience.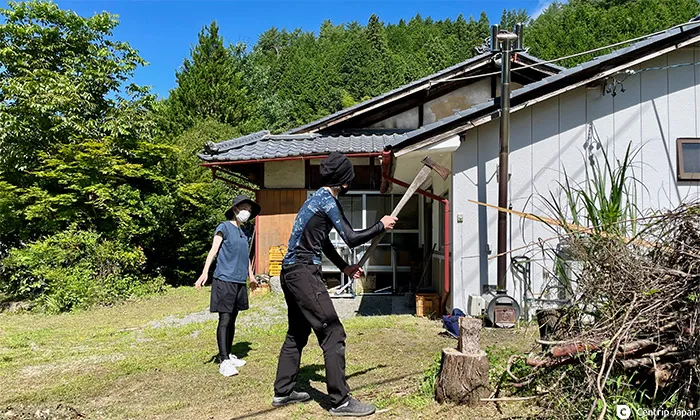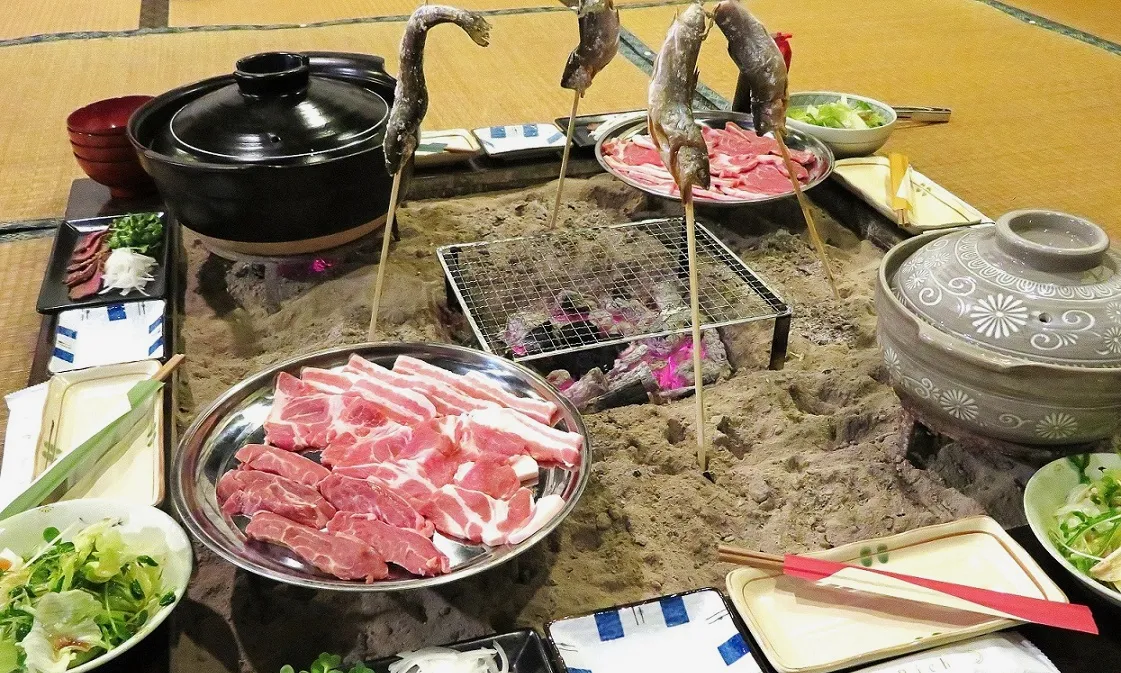 Toyooka Tabi Jikan and Toyooka Marche
If you are unsure about your travel plans in Toyooka Village, feel free to consult with Toyooka Tabi Jikan, which serves as the village's tourist information center. In addition to the e-bike rentals mentioned in the article, they can also introduce you to a variety of hands-on tours.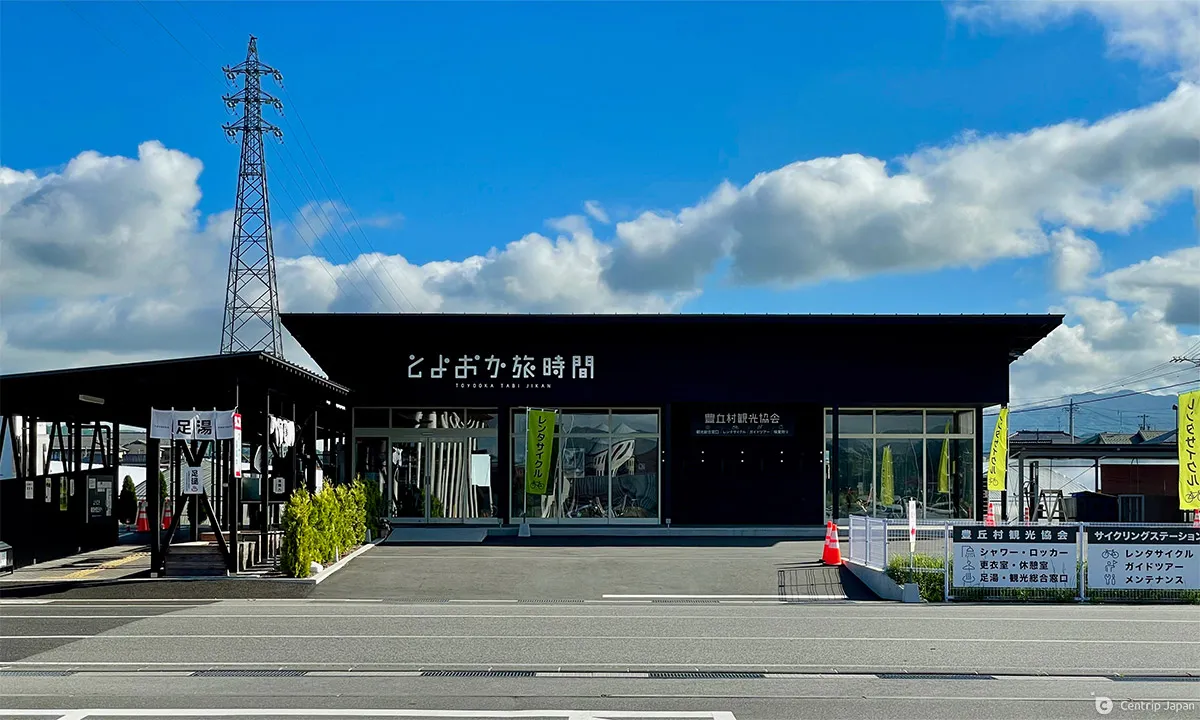 Toyooka Tabi Jikan
Footbaths (free) and showers (for a fee) are available at Toyooka Tabi Jikan, allowing visitors to wash off their sweat after cycling.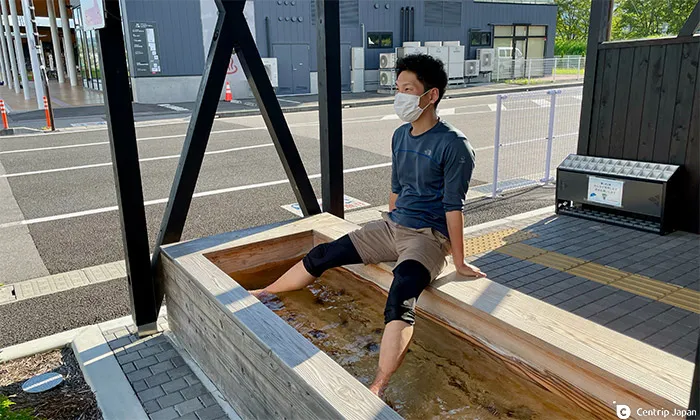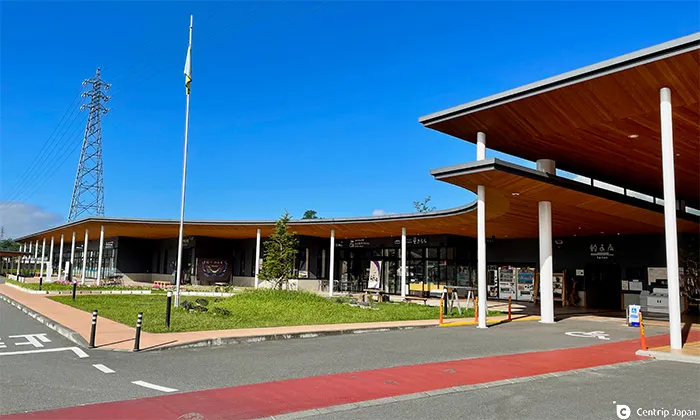 Across the street from Toyooka Tabi Jikan is Toyooka Marche, a roadside station that opened in 2019. At the farmer's market, Shikisai Ichiba, fresh vegetables, and fruit are sold, and there is a restaurant that uses local ingredients.
Wrap-up
Whether you are interested in an authentic farm stay or a countryside experience in Japan, there is often little information available and you may not know how to choose the right destination.
In Toyooka Village Toyooka Tabi Jikan plans a variety of guided sightseeing tours with flexible sightseeing courses based on travelers' requests. While we rushed through a lot of sightseeing content during our visit, it would be nice to have two or three nights to fully enjoy our stay in the countryside and to sit back, relax, and do nothing at all. We also recommend visiting Iida City, a nearby town in the same Minami-Shinshu area.
Click here to get the latest information on Central Japan.Centrip Japan - Nagoya and Chubu Information