| Centrip Editorial Board
Osu Transportation Info: Centrip Japan's Complete Guide to Osu
Three are three stations near Osu and eight streets. Here are some highlights from each station and what you'll find down each street.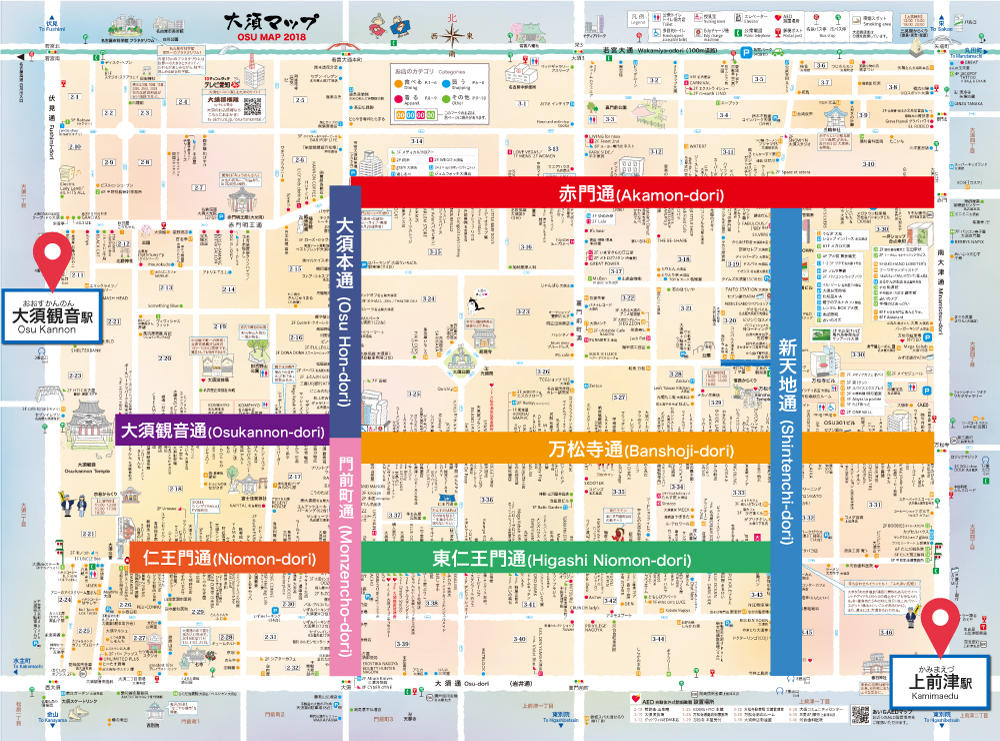 Osu's Three Nearest Stations
Kamimaezu Station (M03 / T09)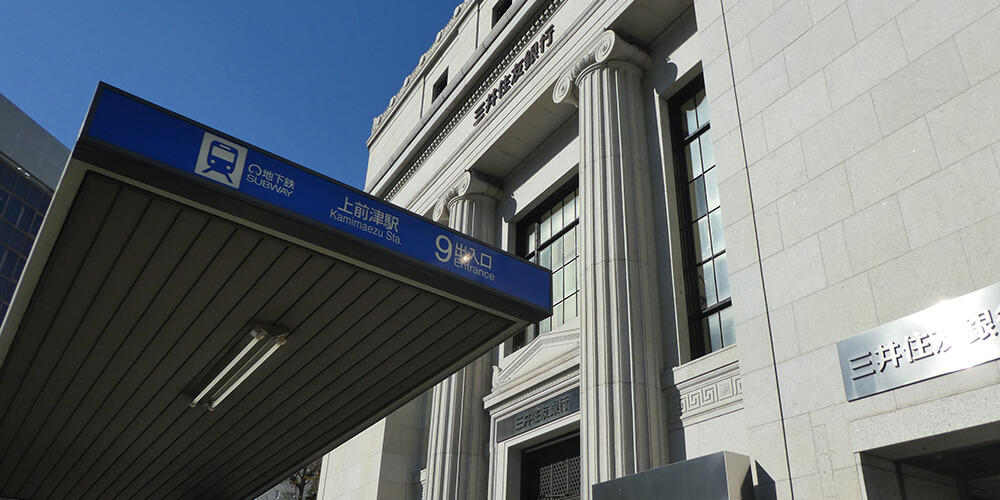 From Kamimaezu Station, you can go to "Higashinioumon Street", "East side of Banshoji Temple", and "South side of Shin Tenchi Street." You can also find "Osu 301 Building" which is famous for subculture shops such as maid cafes, and "Imai Sohonke" known for its chestnut sweets. It is convenient if you are visiting to see idol performances on the street or visiting the Fureai (friendship) square with its large Manekineko (lucky cat) where street performances are held on weekends, as well as cat cafes and used kimono shops."
Yabacho Station (M04)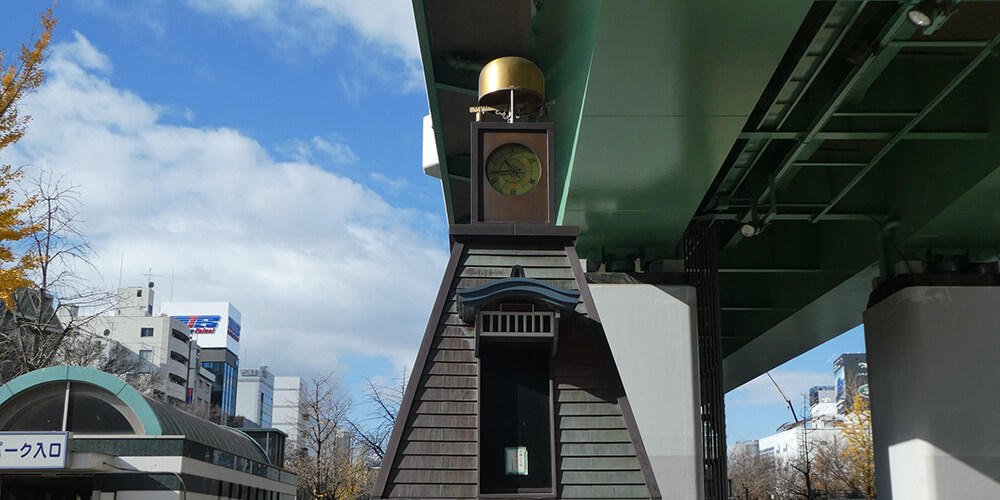 Close to Ameyoko Building and Banshoji Temple is Yabacho Station which offers great access to "Akamon Dori" and the "North side of Shintenchi Dori". At "Banshoji Temple", there is an automaton of the famous warlord, Nobunaga Oda, that pops up and dances at regular intervals. "Daiichi Ameyoko Building", a fun place for all ages, which retains a nostalgic feel from an older time when Osu was called an Electronics Town. The famous restaurant "Yabaton" which serves a Nagoya favorite "Misokatsu" (soy sauce dipped cutlet), and "Joshin Kids Land" an entire building consisting of hobby items, are also nearby. The "Three Heros Automaton" clock is also installed at the intersection of Yaba-cho.
Osu Kannon Station (T08)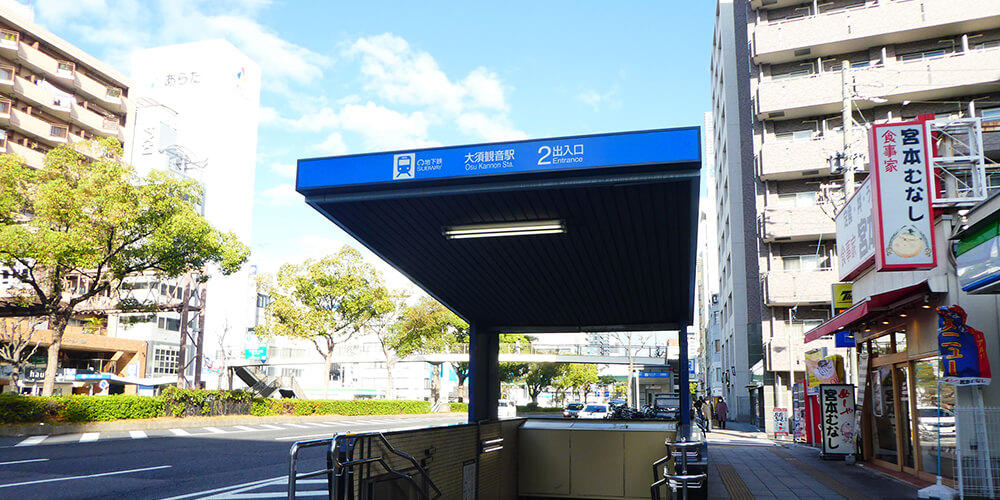 An Exit in front of Osu Kannon From Osu Kannon Station, it is easy to get to "Osu Kannon Dori", "Osu Hon Dori", "Niomon Dori", "Monzenmachi Dori", "Mansuji Temple Dori West", "Einin Mondo Dori West" and "Akamon Dori West." At those areas, you will feel the Japanese history because they have many shrines and temples. "Komehyo", a famous recycle shop, second-hand clothing stores, and restaurants where you can make your food to go are all on the Osu Kannon side. There are many restaurants from various countries arranged in the Nagoya style.
Osu's Eight Streets
Akamon-dori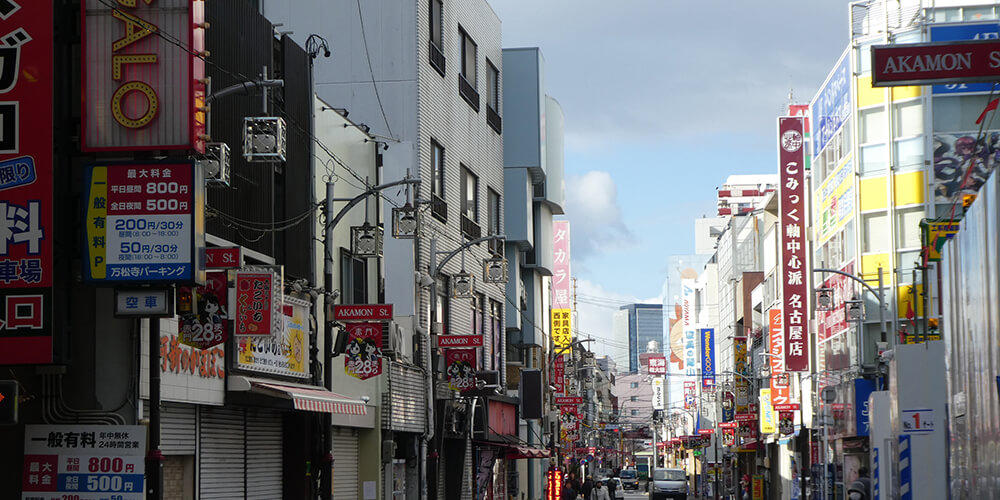 In the second Ameyoko Building, there are many different stores such as electronic parts, hobby, craft, glasses, and nails including the computer outlet shop Good Will", the soup curry restaurant, "Magic Spice" with its unique atmosphere, and "Grand Sian", a sweet shop in a renovated traditional Japanese house. There are also record and audio stores. In addition, there is a tetrahedral-shaped signal hanging in the air which many Japanese people take photos of because there are only two places in Japan where you can find such a signal.
Monzencho-dori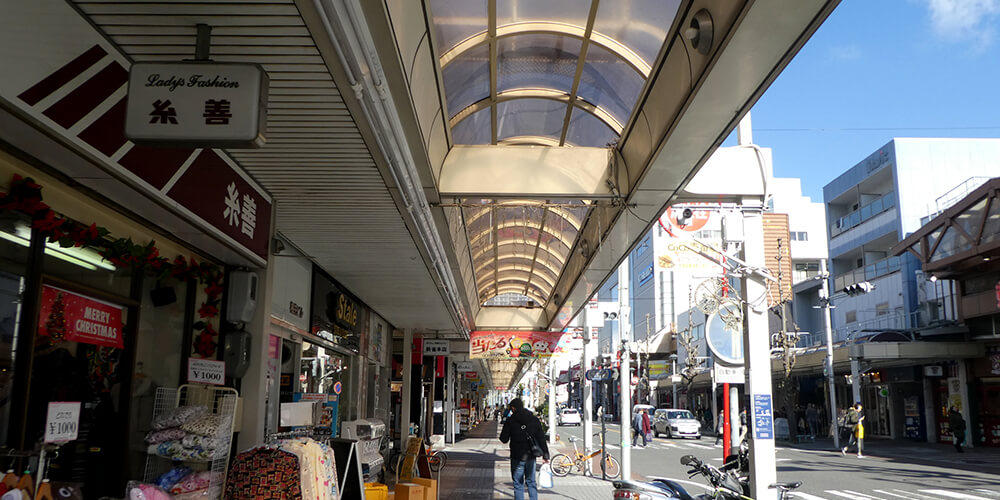 There are a lot of unique restaurants here, "Goraku-tei" a uniquely Nagoyan diner, "Shinjaku Honten" a Mitarashi-dango (sweet rice dumplings) store,, "Tokugawa Horumon Center" where you can enjoy meat at an extremely reasonable price for an admission fee, and popcorn specialty shops, as well as many others. Furthermore, there are many shops selling festival costumes and Buddhist altars, knives and more. Many stores retain traditional ambiance.
Shintenchi-dori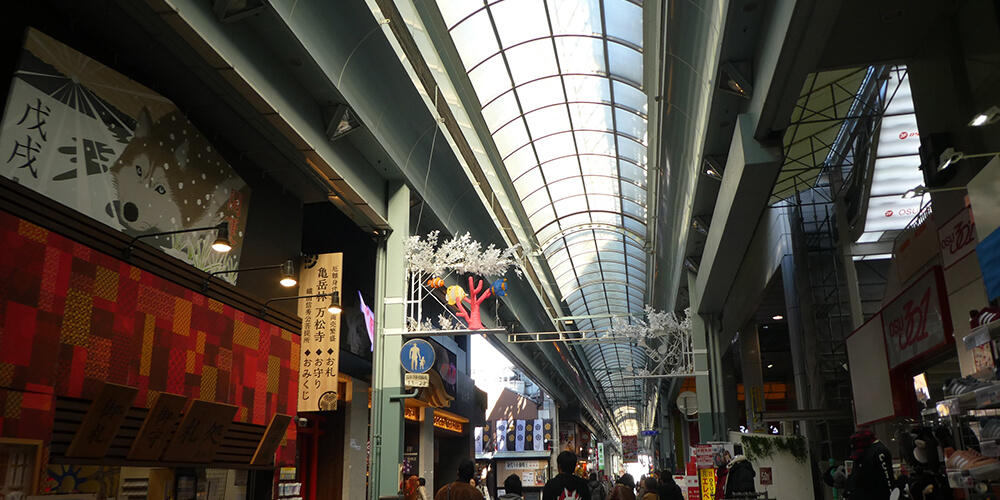 This street stretches north to south with lots of people crossing in front of Banshoji Temple. The Daiichi Ameyoko Building has many stores selling electronics, including PCs and audio equipment. There are a lot of restaurants selling delicous foods like Taiwanese baked dumplings, a creative Nagoya-Meshi-Don (rice bowl) specialty store, and a deep-fried chicken shop. There is also a cat café and a maid café, and you can see the symbol of Fureai (Friendship) Plaza, a huge manekineko (lucky cat). There are live performances and events by local idols, and street performances pop up every weekend, attracting tons of people.
Banshoji-dori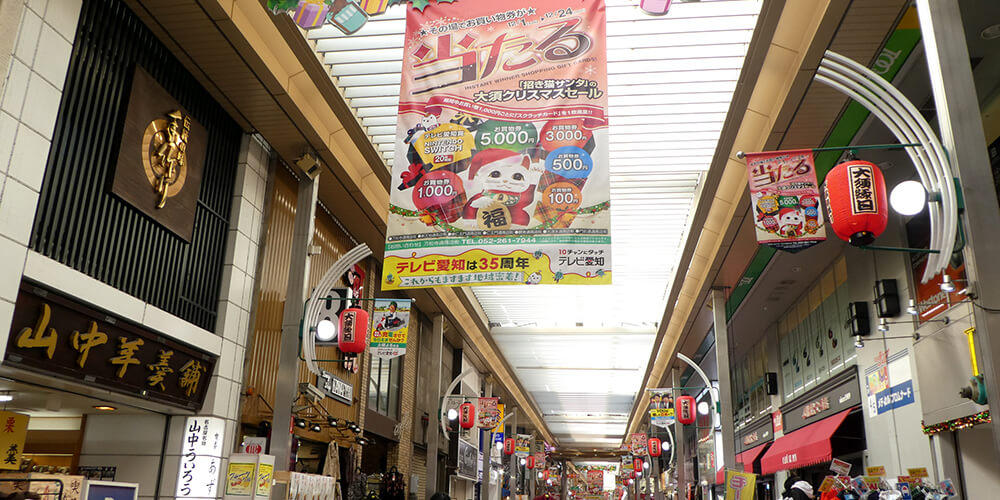 The main street extends from east to west. At the west end, there is a second-hand goods department store called "Komehyo". There are many other shops to enjoy such as new and used clothing shops, designer goods shops, drug stores, recreational shops, shoe stores, fresh food stores, and a jeans shop. At the east end's "Osu 301 Building" you can find various subculture shops. There are a number of restaurants such as "Noyabashi Manju" where you can eat "Ageman-Bo", a fried Manju (sweet rice cake), and "Imai Sohonke" known for its chestnut sweets.
Osu Hon-dori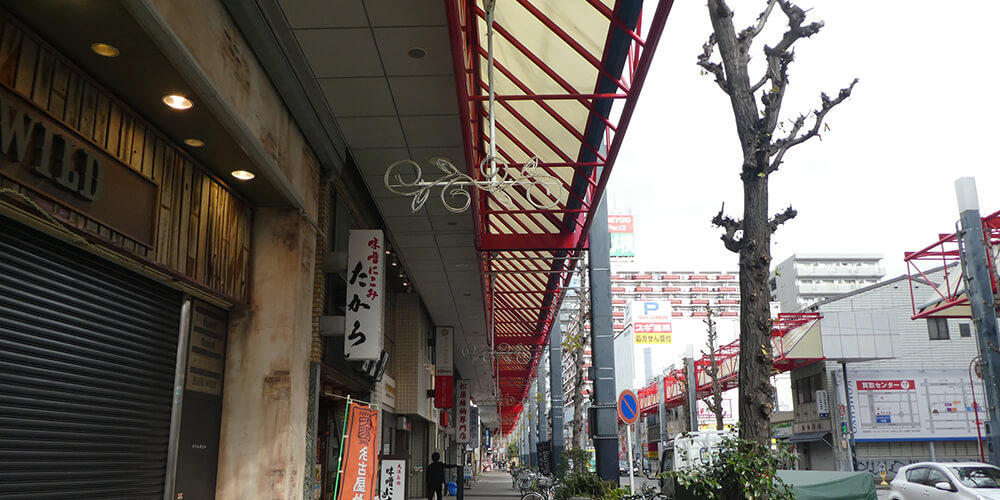 There are many shops with a lived-in feeling, which are different from regular sightseeing spots, that make Osu, Osu. There are incense shops, futon shops, and silver accessory shops. At the second Ameyoko Building on the north end, there are various shops selling electronic parts, recreational goods, crafts, glasses, and nails. On the south end, the second-hand department store "Komehyo" sells many used goods from brand products to home appliances."
Higashi Niomon-dori
All along Mainstreet, there are many variety-goods stores, and men's and ladies clothing stores. There are also some perfume stores. One place of interest is "KOMEHYO Yen=g" where you can purchase clothes based on their weight, typically 1g = 0.5yen. There are a bunch of place to eat and drink as well, Nagoyan, Brazilian, Vietnamese, Indian, Nepalese, kebabs, famous Taiwanese food stalls selling traditional bread, and even maid cafes! You will come across a wide range of diverse stores here.
Nimon-dori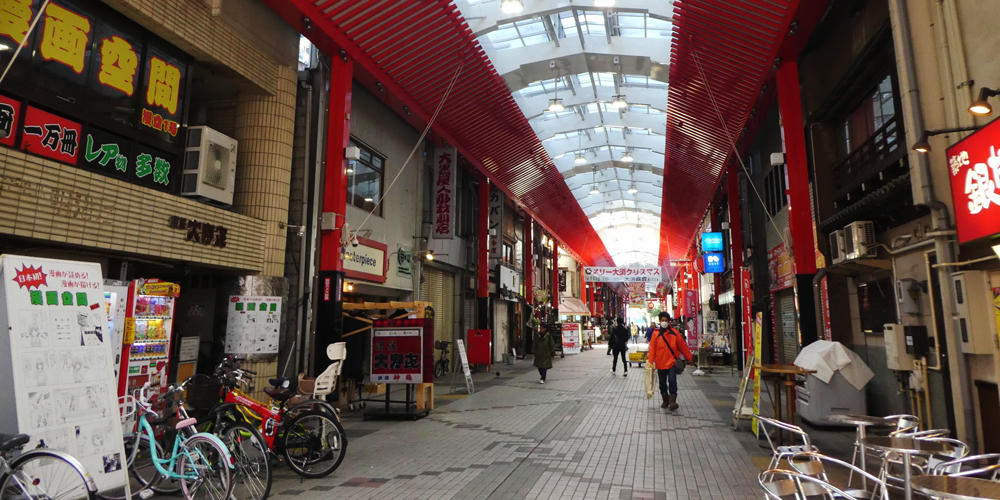 On the road out the south gate of Osu Kanon, stands out for its variety of fashion-focused stores. Used clothes, handbags, bag stores, shoes, hats, kanzashi (Japanese hairpins) and stores carrying a variety of beauty goods line the street. "Yakko" an old shop selling unagi (eel), Izakayas (Japanese bars), Hong Kong foods, soup curry, and maid cafes are also thrown in the mix. The many side streets are characterized by the various bars you will find. Grabbing a drink in these places that have a somewhat secretive feel can be a very enjoyable experience.
Osu Kannon-dori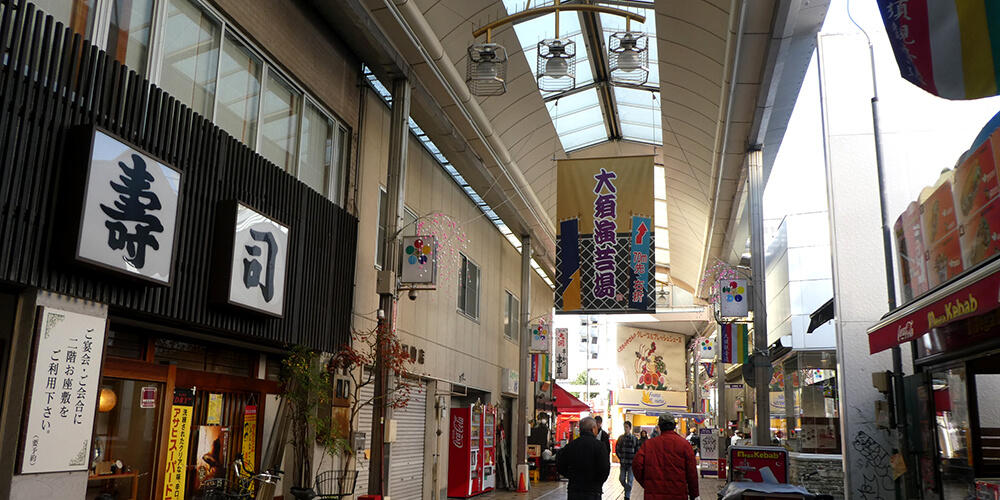 Monzenmachi stretches down the road east of Osu Kannon. It's a great go for a stroll and have a snack. The popular treats to be found here include kara-age (Japanese fried chicken), donuts, okonomiyaki, dote-ni (tripe stewed in miso bean paste), miso sauce LOCO-BURGERs, hot dogs, melon-flavored bread, fresh juice, and crepes, as well as Nagoyan Okonomiyaki, "salt fried green onions" and finally kebabs. There are also a lot of knick-knack stores and you'll find Komehyo, a great place to find high-end second-hand goods such as kimonos, cameras and musical instruments. There are bargains just waiting to be discovered.