| Centrip Editorial Board
Gifu City Cormorant Fishing Boat Experience: A One-Day Guide
Interested in Japanese history and traditional culture, but worried that simply looking at crafts might be a bit dull? If so, we recommend experiencing the traditional culture of 'Gifu City Nagaragawa Cormorant Fishing,' which has a history of over 1,300 years. Riding on a cormorant fishing viewing boat, you can not only enjoy the impressive 'cormorant fishing show' up close but also gain a deep understanding of the history and culture of cormorant fishing. Moreover, it's conveniently located, just a little less than an hour's drive from Nagoya city.
Here, we'll provide you with an experience report of the cormorant fishing viewing boat and information on reservations and transportation that everyone's curious about
The cormorant fishing tradition, Ukai, has a history of over 1300 years.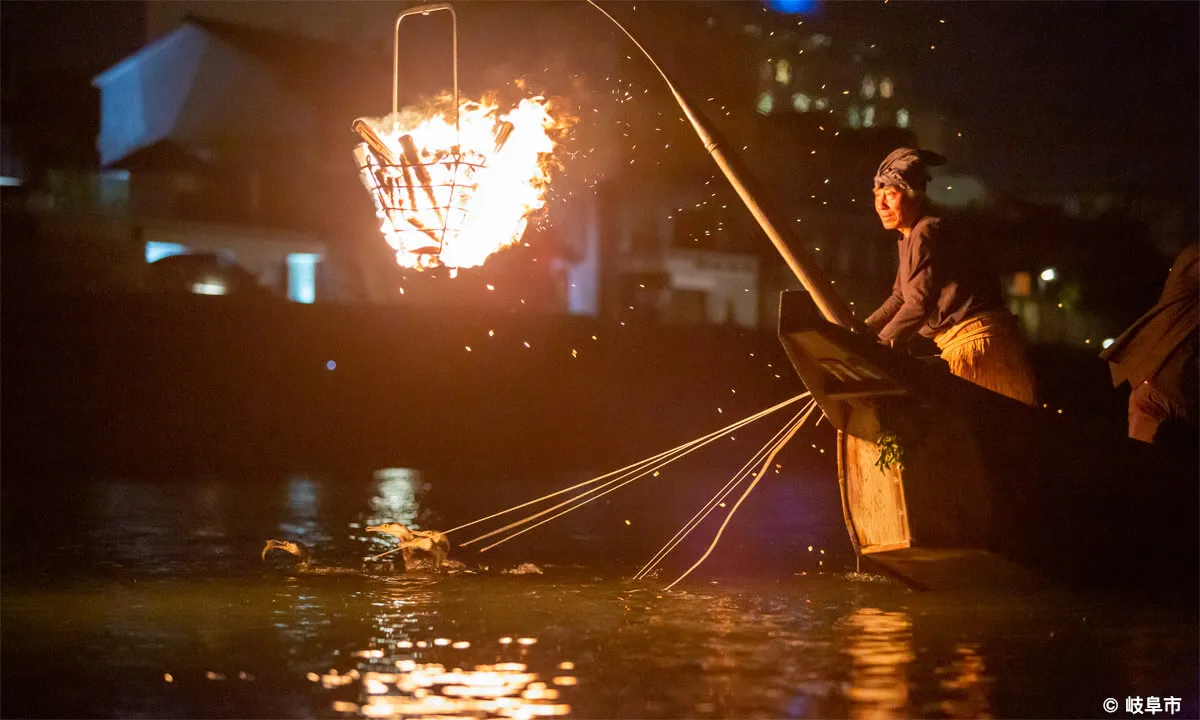 A scene of cormorant fishing
Ukai, or cormorant fishing, is a traditional fishing method where cormorants are skillfully used to catch fish in rivers. This tradition has a history of over 1300 years. There are only 11 places in Japan where you can witness this traditional culture, and the Nagara River in Gifu Prefecture is particularly famous.
The reason for its fame dates back to the Edo period when Oda Nobunaga initiated cormorant fishing on the Nagara River as a form of entertainment for his guests. In modern times, even members of the British royal family, such as a prince, and famous figures like Charlie Chaplin have witnessed cormorant fishing on the Nagara River.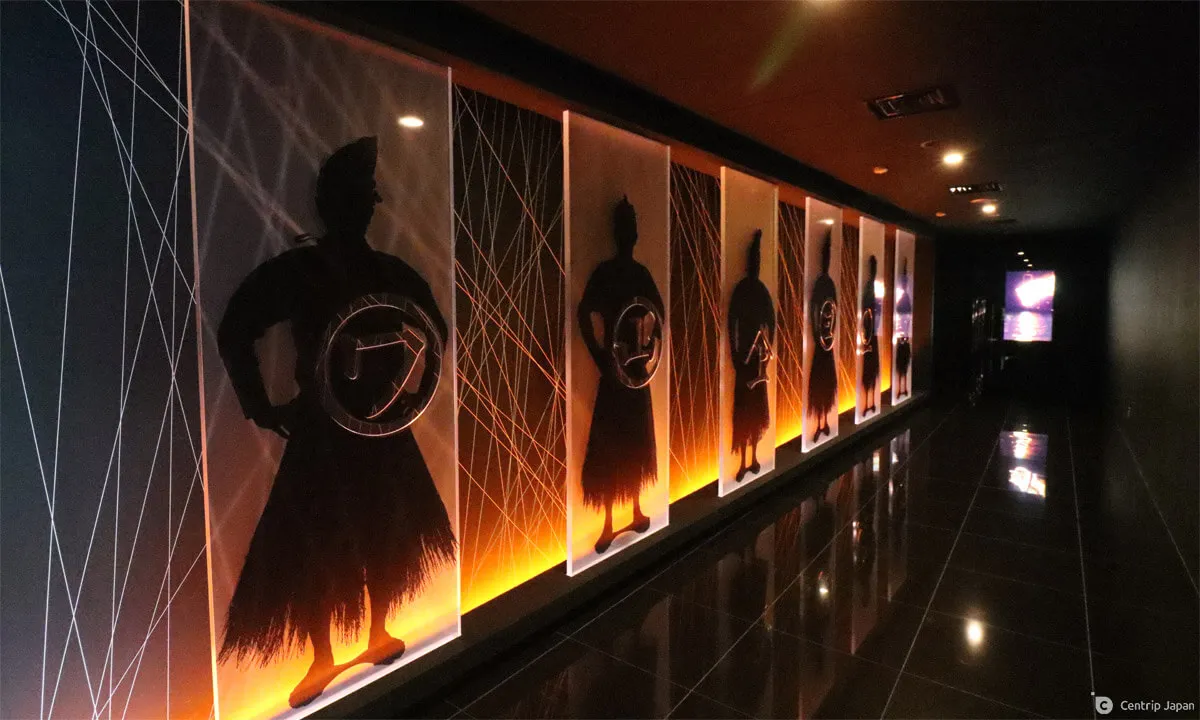 There are six cormorant masters, each of whom belongs to a family with a long-standing name associated with the practice, on the Nagara River. The fishing techniques have been passed down from generation to generation within these families.
There are six cormorant masters on the Nagara River, and their fishing methods have been passed down from father to son for generations.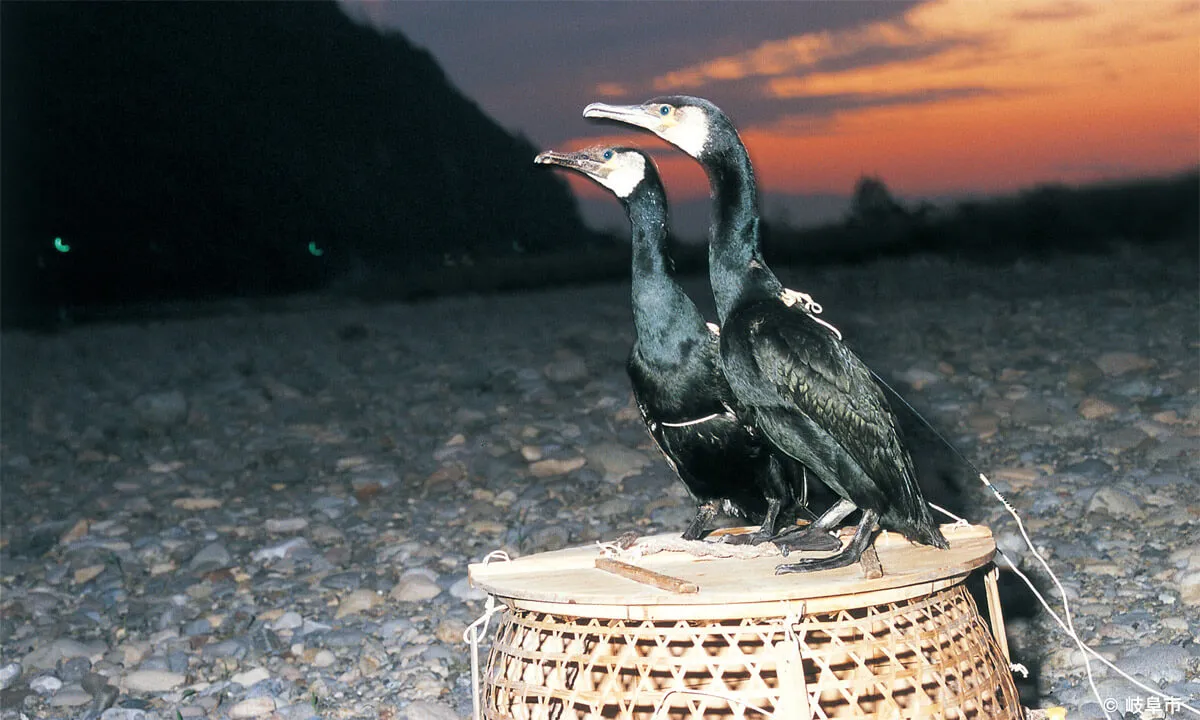 Cormorants are docile birds with excellent eyesight
In the homes of cormorant fishermen, they keep more than 20 cormorants, but on the day of the fishing event, they select around 10-12 cormorants that are in peak condition. They carefully bind a cord around the neck of each cormorant, adjusting the tightness. This allows the cormorants to catch large fish that remain in their throats and regurgitate them, while small fish can pass through the cormorants' throats, and the cormorants can consume them directly.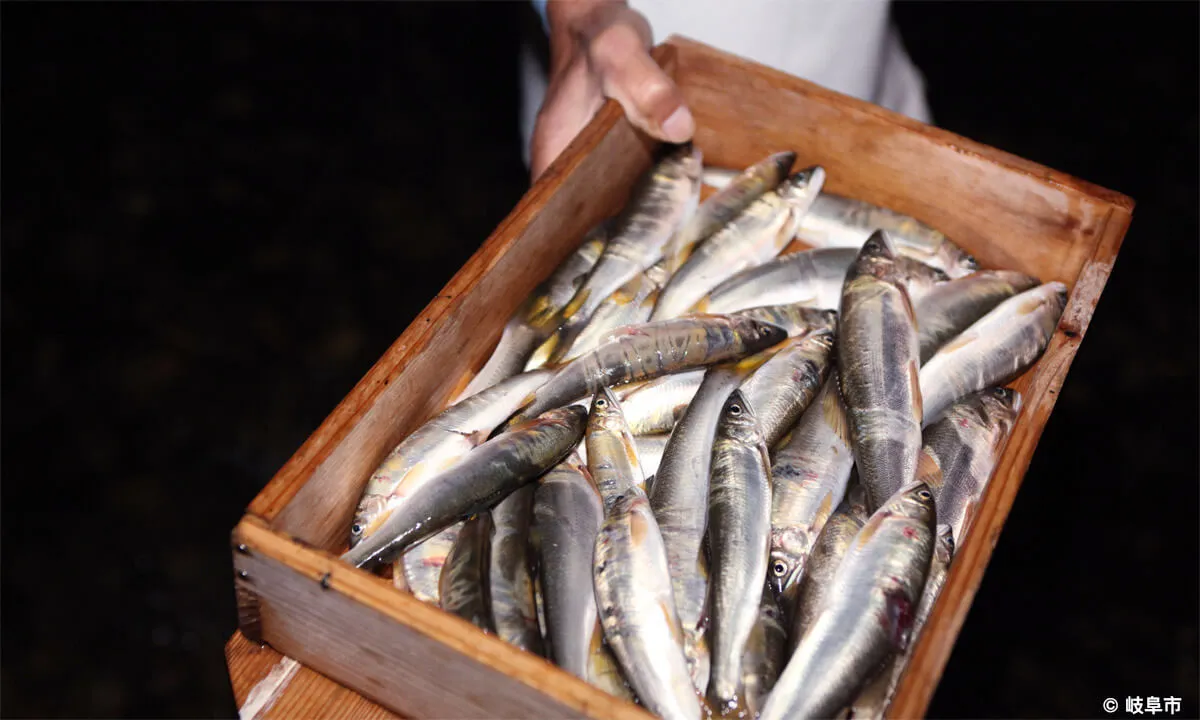 An Ayu with bite marks
Cormorants predominantly catch fish, and among their catches, ayu stands out as the most coveted. Ayu (sweetfish) with visible bite marks is hailed as a symbol of extravagance. Their exceptional freshness owes to the cormorants' skill at capturing them in a single, swift bite. Each year, ayu caught by cormorants along the Nagara River is offered as a tribute to the Imperial Family.
On cormorant-viewing boats, you can get an up-close look at cormorant fishing.
You don't have to be a celebrity like Chaplin to witness cormorant fishing up close. Just hop on a cormorant-viewing boat, available from May 11th to October 15th each year.
Online Booking and Ticket Purchasing
When it comes to booking the 'Cormorant-viewing Boat,' you have the option of reserving your spot online or purchasing tickets at the venue. However, due to high demand, we strongly advise making your reservations ahead of time.
The boat departs at three different times: 18:15, 18:45, and 19:15. The 18:15 and 18:45 departures offer onboard dining, while the 19:15 trip does not.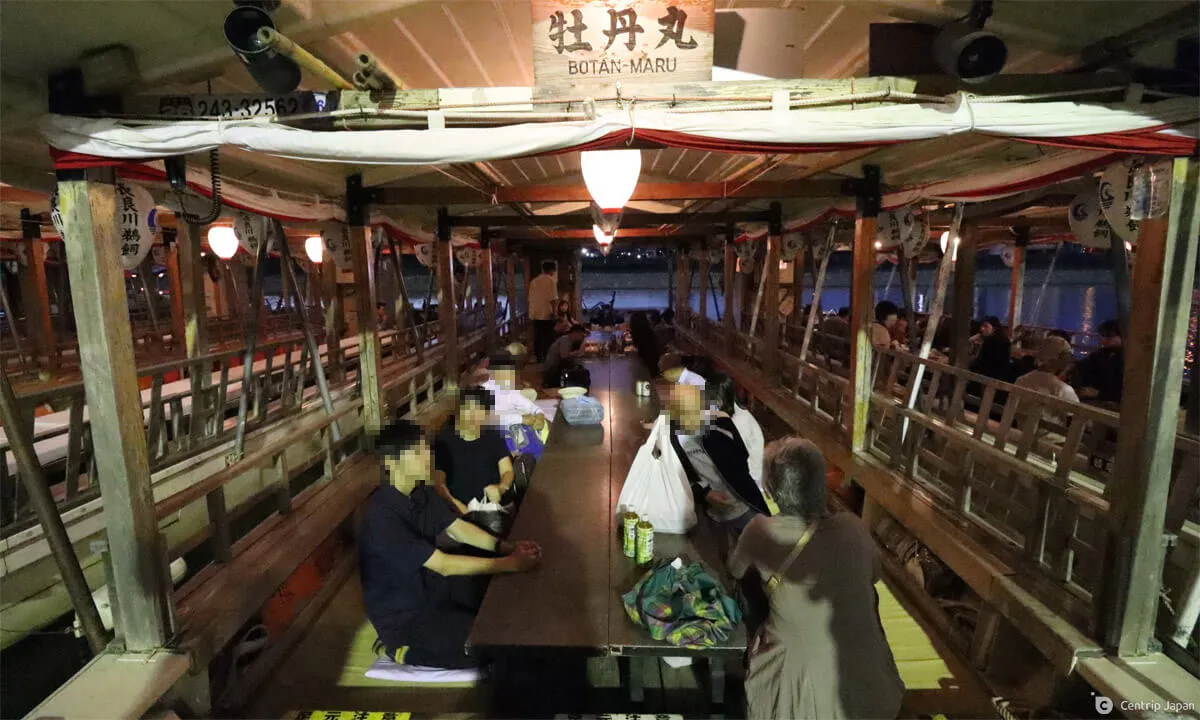 Inside a shared boat
The reason for this arrangement is that, despite differing departure times, the cormorant fishing show begins around 19:45. The boats departing at 18:15 and 18:45 first head to the riverbank, where they await the commencement of cormorant fishing. During this 30-minute to one-hour wait, passengers can engage in conversations and enjoy a meal on board. As for the 19:15 departure, the boat arrives at the riverbank, and cormorant fishing starts immediately, leaving no time for dining.
It's important to keep in mind that there are limited food options in the vicinity of the boat dock. We strongly recommend either purchasing a meal in advance from a convenience store or supermarket or booking a cormorant-viewing boat package that includes lunch. Otherwise, you may find yourself waiting on board while watching other tourists savor their meals.
You can reserve a cormorant-viewing boat on the official website. (English)
Cormorant-viewing boat with a surprise bento. (Japanese only)
The plan mentioned above comes with a set meal, and the departure time is set at 18:45. To make a reservation for this, you will need to call directly, so having some knowledge of Japanese might be helpful.
Getting there
Take a bus from JR Gifu Station or Meitetsu Gifu Station to Nagaragawa Bridge Station, which takes about 20 minutes. The Gifu City Cormorant-viewing Boat Office is just a 1-minute walk from there.
The schedule for the day:
5:30 pm: Check-in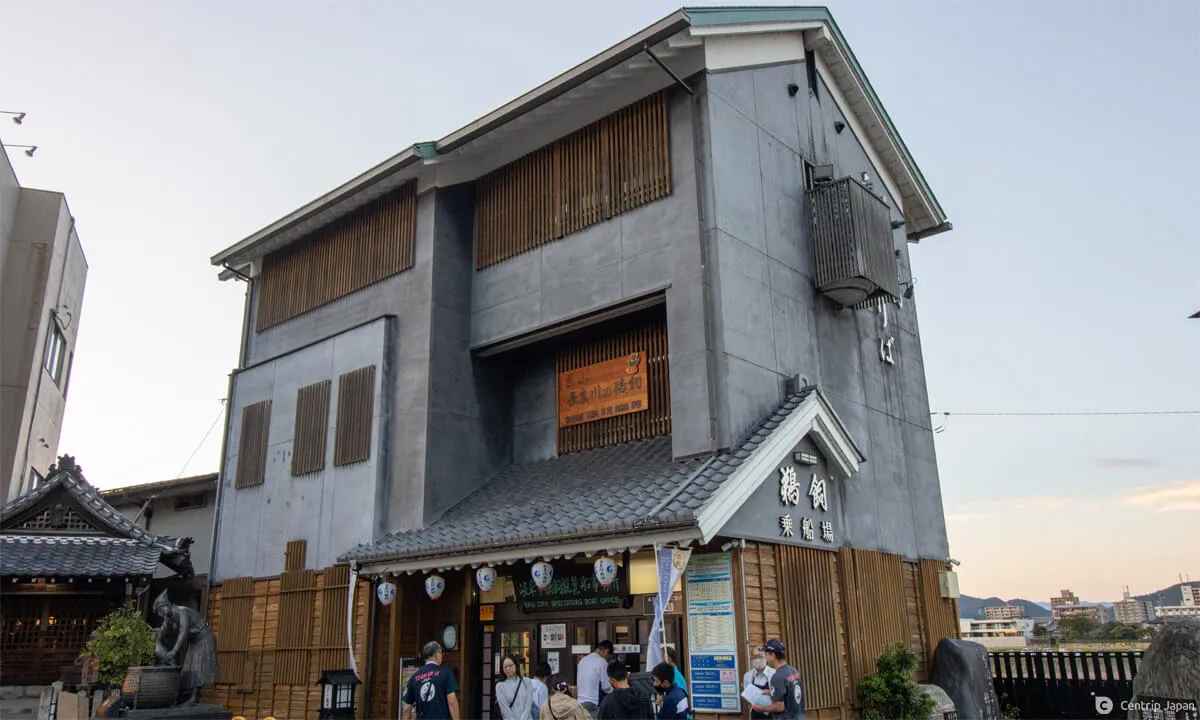 Gifu City Cormorant-viewing Boat Office
Please arrive at the Gifu City Cormorant-viewing Boat Office 30 minutes before your scheduled departure time to complete check-in and payment.
5:45 PM: Cormorant Explanation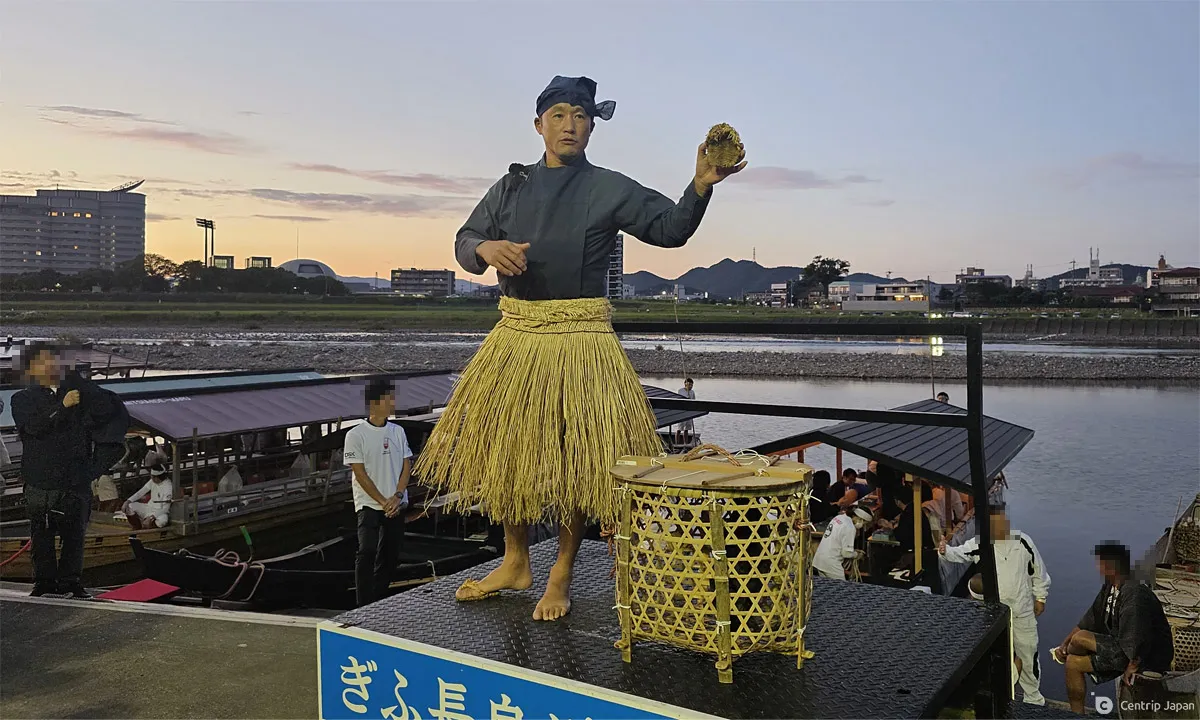 The cormorant master explained that the length of their shoes is designed to be half the length of their feet to prevent slipping.
During this time, the cormorant master will provide insights into cormorant fishing, demonstrate interactions with the cormorants, and share their knowledge. They'll also discuss the extensive training process, which typically takes around three years. Remarkably, well-kept cormorants can work for up to 20 years.
*Please note that cormorant explanations are only offered once. So, make sure to attend this session, regardless of your departure time.
6:15 PM to 7:15 PM: Departure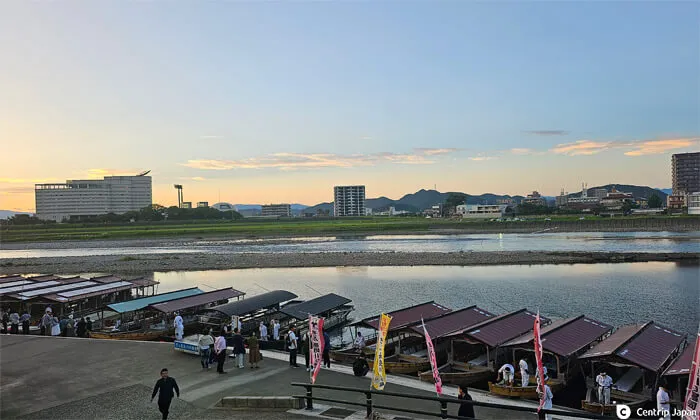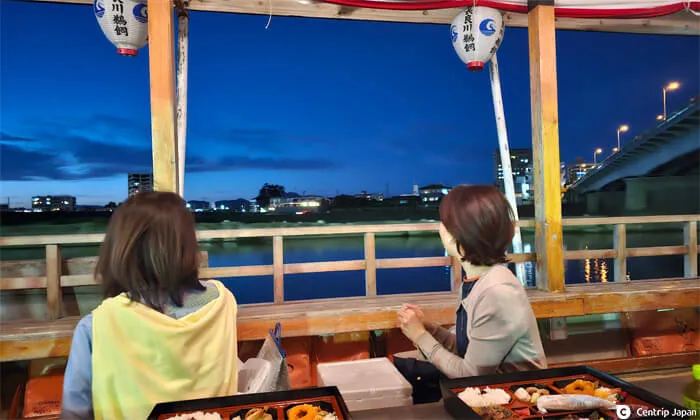 To board, simply locate the boat that matches the name written on your ticket. The boats depart individually and anchor along the riverbank after about 15 to 30 minutes, where you'll await the start of cormorant fishing. If you're on a boat that permits dining, you can enjoy a meal and chat with fellow passengers during this time.
19:45 Fishing begins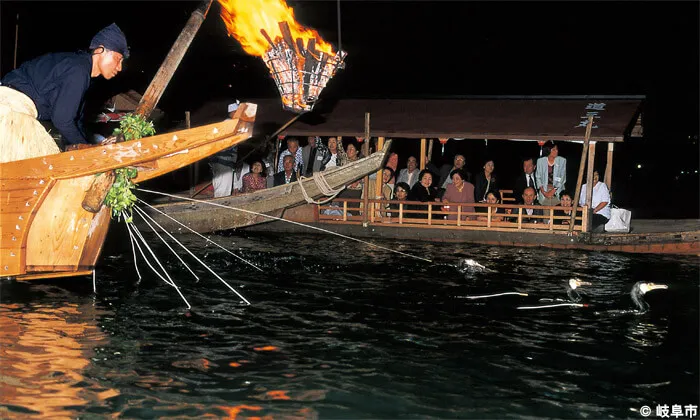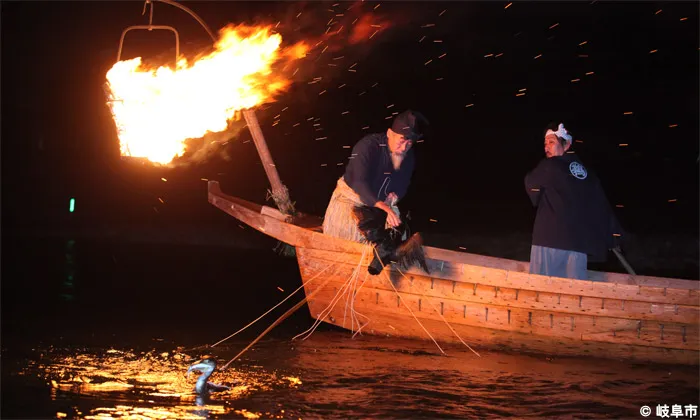 The cormorant fishing boats, aglow with fire, draw near passing alongside the sightseeing boats one after another, providing tourists with a close-up view. A lone cormorant master skillfully manages a dozen or more ropes to manipulate the cormorants. Illuminated by the flickering firelight, the startled fish fall prey to the cormorants, under the master's guidance, and are subsequently brought aboard the boat.
Amid the hushed night, the crackling of the bonfire and the rhythmic echoes of the cormorants diving into the water resonate with exceptional clarity. Occasionally, punctuated by the cormorant master's "Hooho" calls, it imparts a feeling reminiscent of a mystical ceremony.
20:30 Cormorant fishing ends and guests disembark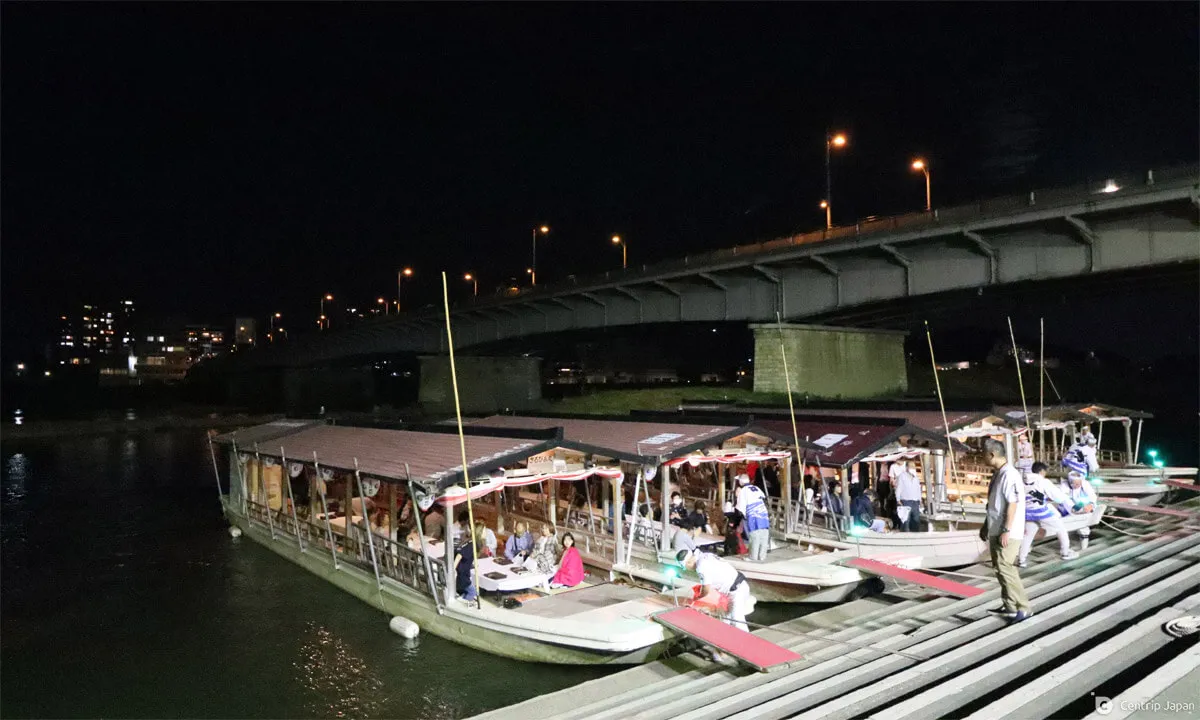 The boat returns to the starting point
Even if you've seen cormorant fishing footage beforehand, witnessing it in real life adds a whole new level of grandeur. It's absolutely worth the visit.
During my boat ride, I met European businessmen invited by Japanese companies and local residents who were on their third cormorant-viewing boat trip this year. These encounters might give you a glimpse of the remarkable nature of cormorant fishing.
Let's explore nearby attractions as a bonus!
Afternoon Stroll: Kawara-machi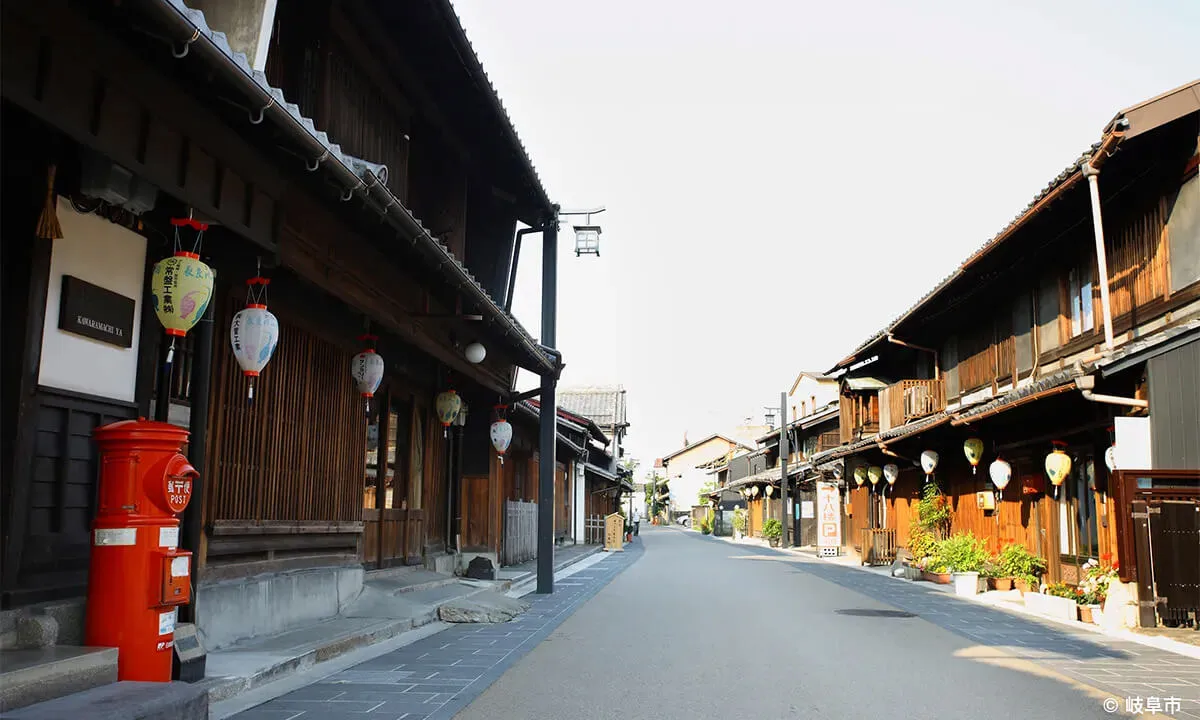 Kawara-machi District
Right next to the Cormorant Fishing Viewing Boat Office in Gifu City, you'll stumble upon Kawaramachi, a tranquil neighborhood with a charming array of wooden structures. You'll find plenty of time-honored shops and cafes housed in traditional old homes. Taking a leisurely stroll here for an hour or two before the cormorant fishing show is a wonderful idea.
More about Cormorant Culture: Nagara River Cormorant Museum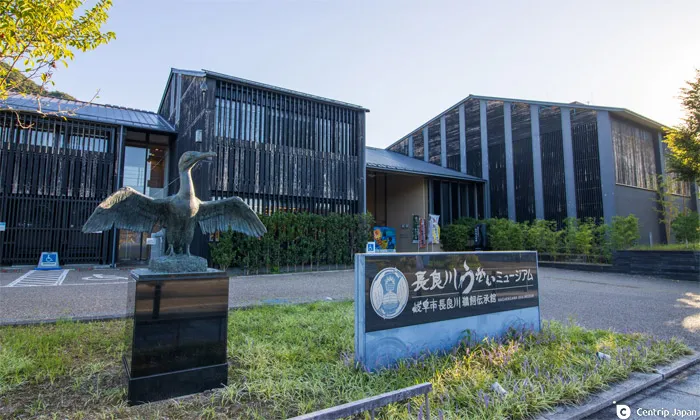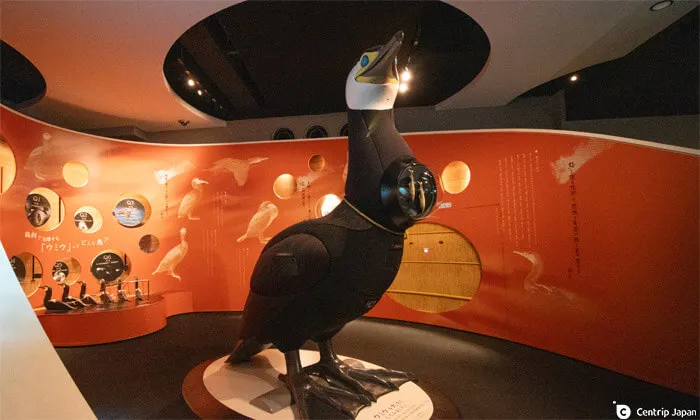 Prior to joining the cormorant fishing experience, we highly recommend immersing yourself in the culture of this place. You can gain a treasure trove of intriguing knowledge about cormorant fishing, such as a day in the life of a cormorant master, the habits of cormorants, and the delectable dishes crafted from the ayu fish they capture.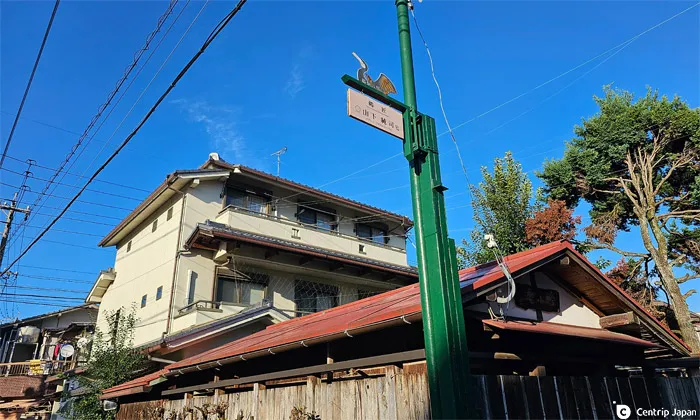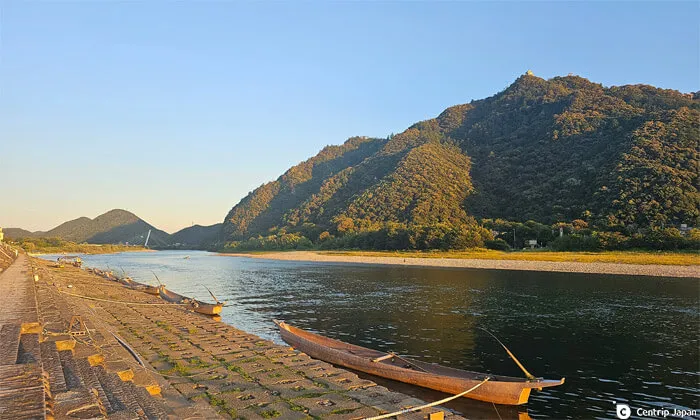 In proximity to the Nagaragawa Ukai Museum, you'll discover the homes of the cormorant masters. Right beside them, the cormorant fishing boats rest along the Nagaragawa River. This provides a special chance to experience the profound relationship between cormorant fishing and this local region.
Limited time: Gifu Castle at night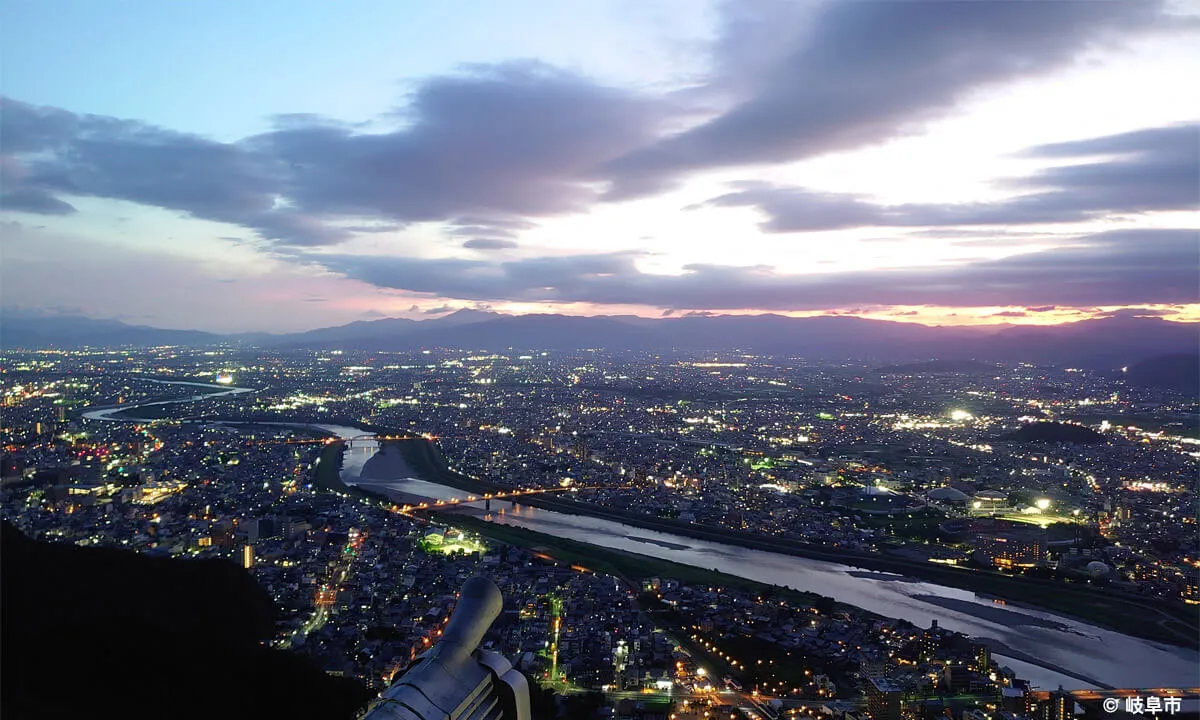 Night view from Gifu Castle
The keep of Gifu Castle, a prominent landmark in Gifu City, graces the hill's summit. Ascend to the keep via the ropeway, and you'll be treated to a breathtaking view of Gifu City.
Every year from April to October, you can indulge in the limited-time Gifu Castle Panorama Night View. The Gifu Castle and Kinkazan Ropeway, typically operating only in the afternoon, extend their hours into the evening during this period, allowing visitors to savor the radiant night vistas. The Gifu Castle Panoramic Night View coincides with the cormorant fishing season, meaning you might have to choose between the two. However, if you opt for the Gifu Castle Panorama Night View during the cormorant fishing season, you'll have the unique opportunity to observe the cormorant fishing lights from a higher vantage point, experiencing a distinct ambiance.
Gifu Castle Panoramic Night View Period (Japanese)
Drink Like the Locals: Tamamiya District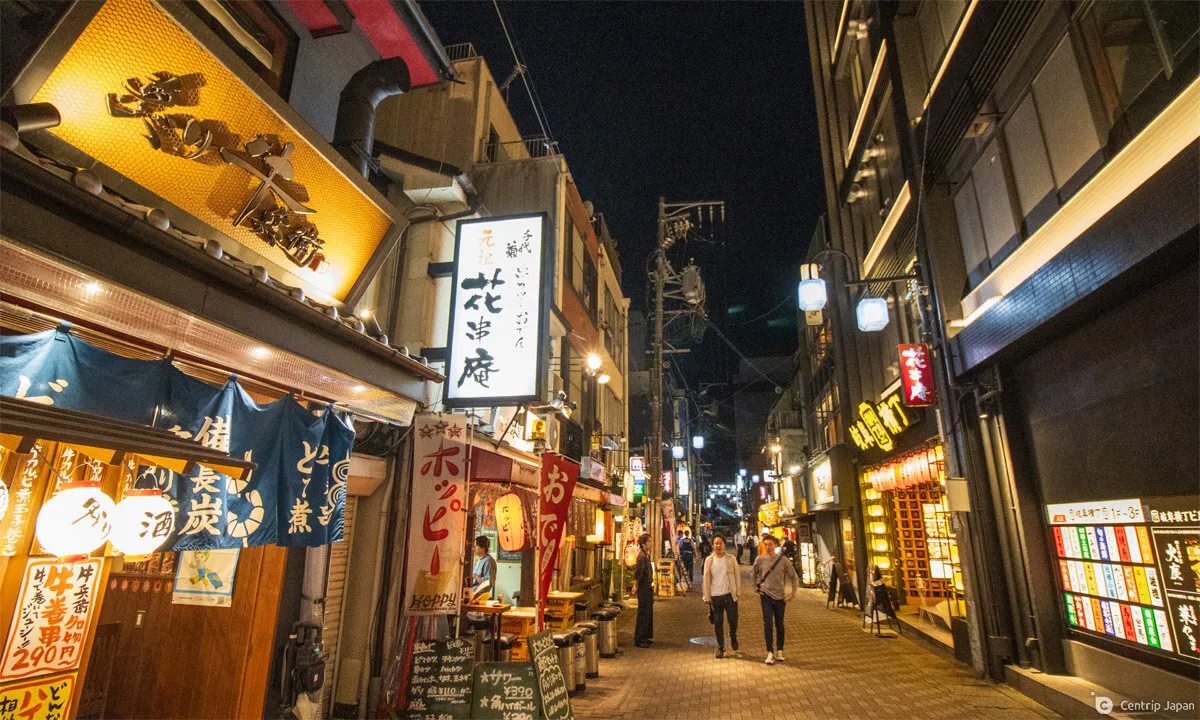 Tamamiya Area at Night
Just a stone's throw from JR Gifu Station and Meitetsu Gifu Station, you'll stumble upon the lively Tamamiya Area, home to over 400 izakayas. This is a fantastic spot to immerse yourself in Japan's rich drinking culture.
A hotel with a great river view
You'll find plenty of luxury hot spring hotels along the Nagara River. They're just a short walk from the cormorant fishing viewing boats, so staying at one of these hotels lets you enjoy the cormorant fishing show and then easily stroll back.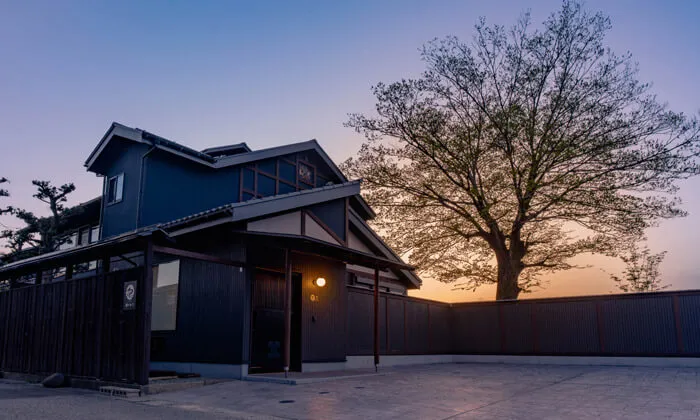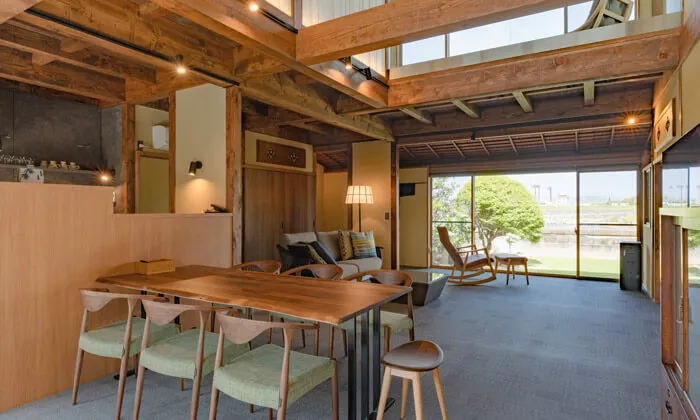 Take Juhachiro, for example, a place with a history of over 160 years. Here, you can opt for more than just the typical hotel room; they've got an entire villa available for exclusive rental. It's a chance to savor a cozy stay in this charming, historic ryokan.
Combine the cormorant fishing viewing boat experience with a stay at the Nagara River Hotel.
Wrap-up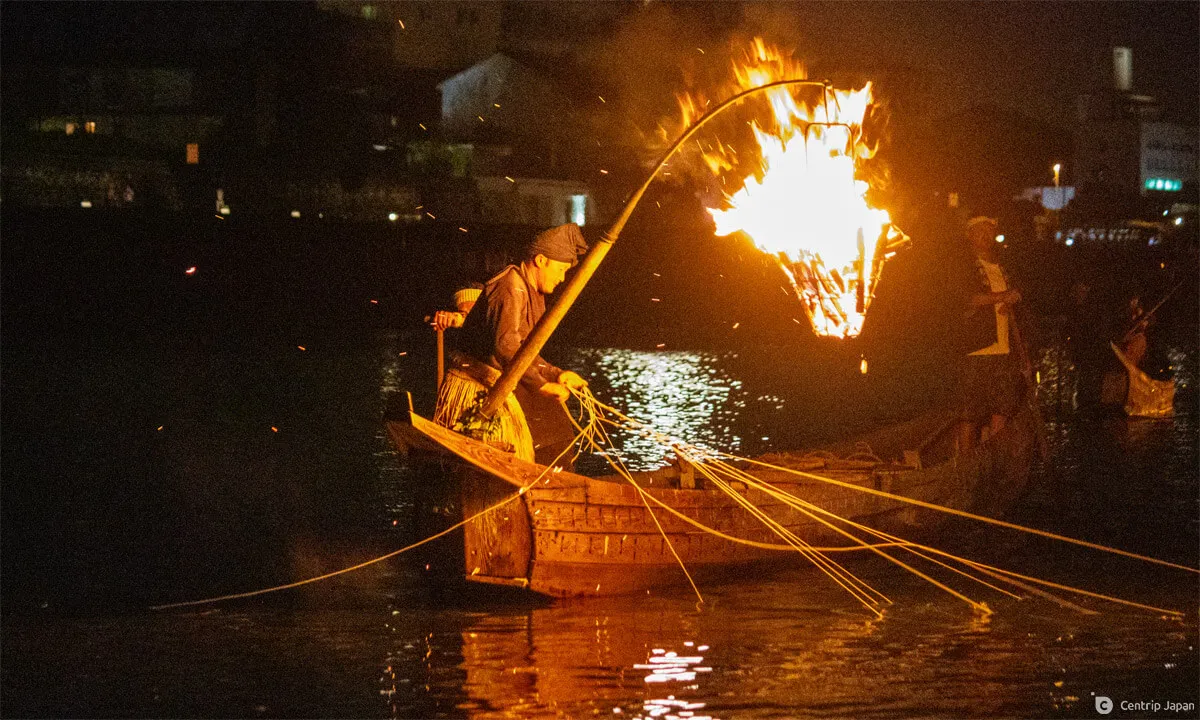 Cormorant fishing is incredibly exciting!
When you inquire of the cormorant masters, 'What does the cormorant mean to you?' their answers include terms like 'family,' 'children,' and 'partner.' It's truly touching to witness the interdependence and connection between these birds and the fishermen. The more you delve into it, the more you appreciate the captivating history of this millennium-old cormorant fishing tradition.
Whether you're a traveler in search of exotic and mysterious performances or someone with a curiosity for Japanese traditions, I'm sure you'll find delight in cormorant fishing viewing. Why not give it a go and experience it firsthand?
Click here to get the latest information on Central Japan.Centrip Japan - Nagoya and Chubu Information