| Centrip Editorial Board
Exploring Japan's Hidden Gem, Shimoguri no Sato, and Its Enigmatic Festival, Shimotsuki Matsuri
Nestled on a steep slope, seemingly suspended in the sky, lies Japan's hidden gem, Shimoguri no Sato. This secluded haven is surrounded by the stunning beauty of Japanese nature and hosts a mysterious festival that has been celebrated for centuries in the depths of the mountains. A place depicted even in Studio Ghibli's animations, it promises a unique experience reserved for those willing to journey this far.
The Allure of Japan's Hidden Gem, Shimoguri no Sato
Exiting the Chuo Expressway at Iida IC and driving carefully for about an hour, you'll finally arrive at an elevation of approximately 1,000 meters, where Shimoguri no Sato is located.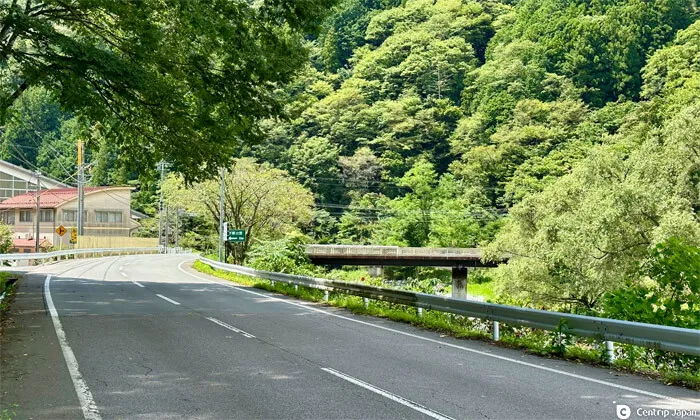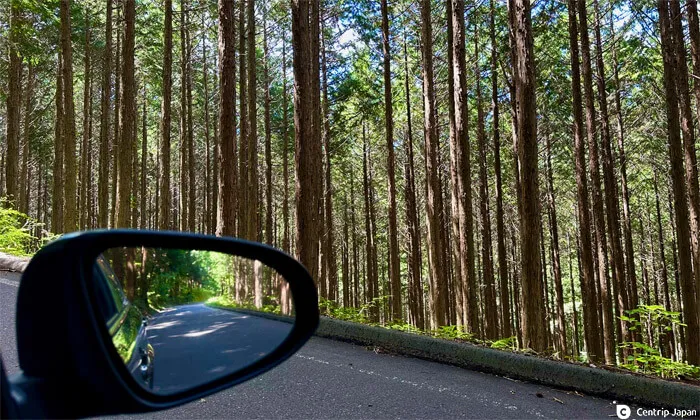 In this remote mountain village, you'll find houses, fields, and people making a living on slopes exceeding a 30-degree angle. Famed Japanese writer Kyuya Fukada once wrote, "I don't know of a more beautiful and peaceful mountain village than Shimoguri." Studio Ghibli's director Hayao Miyazaki drew inspiration from this village, creating memorable anime.
So, what makes Shimoguri no Sato so captivating?
Hiking through Shimoguri no Sato with a Local Guide
In Shimoguri no Sato, you can enlist the help of knowledgeable local guides for hiking tours (booking is generally required at least 14 days in advance). There are several routes available, including one that takes you from a viewpoint to a parking area and back (Route A).
For our expedition, we requested a guide for Route C, which starts from the parking area, goes to the observation deck, and then follows a winding path through the village, passing by Jugosha daimyojin Shrine.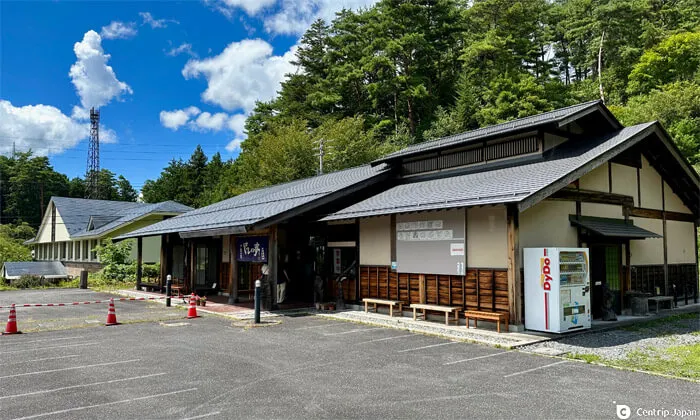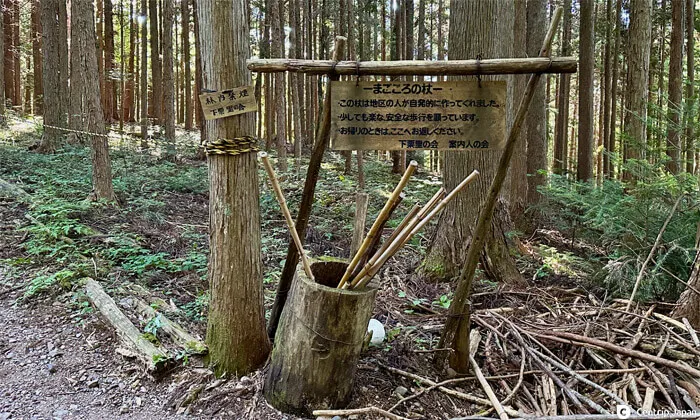 Route C covers approximately 5.4 kilometers and takes about 2 hours and 30 minutes to complete. Meeting the guide at the Hanbatei near the tourist parking area, you'll head towards the viewpoint first.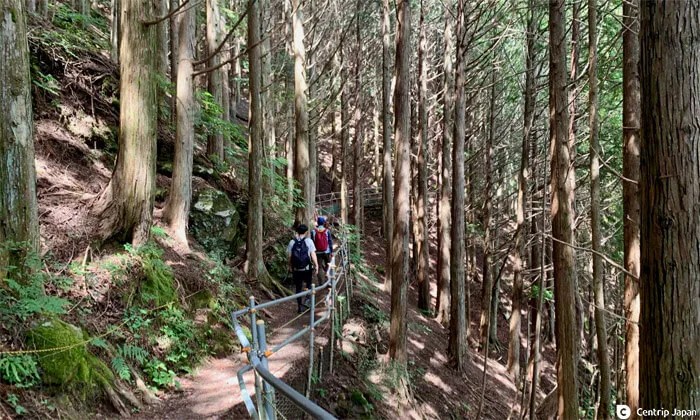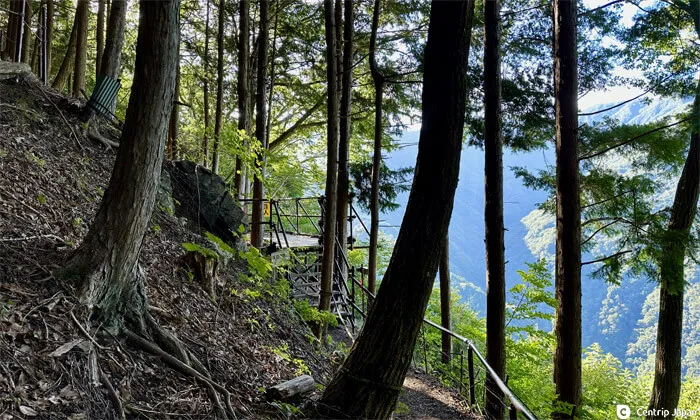 From the parking area to the viewpoint, it's a 15-20 minute walk. As you leave the road and venture onto the gentle path along the mountainside, you'll soon see the observation deck made of iron pipes.
From this vantage point, you can admire the entire village nestled along the steep south-facing slope. Prepare to be awestruck by the sudden breathtaking view! As you gaze at the village seemingly frozen in time amidst the mountains, you'll be entranced for a while.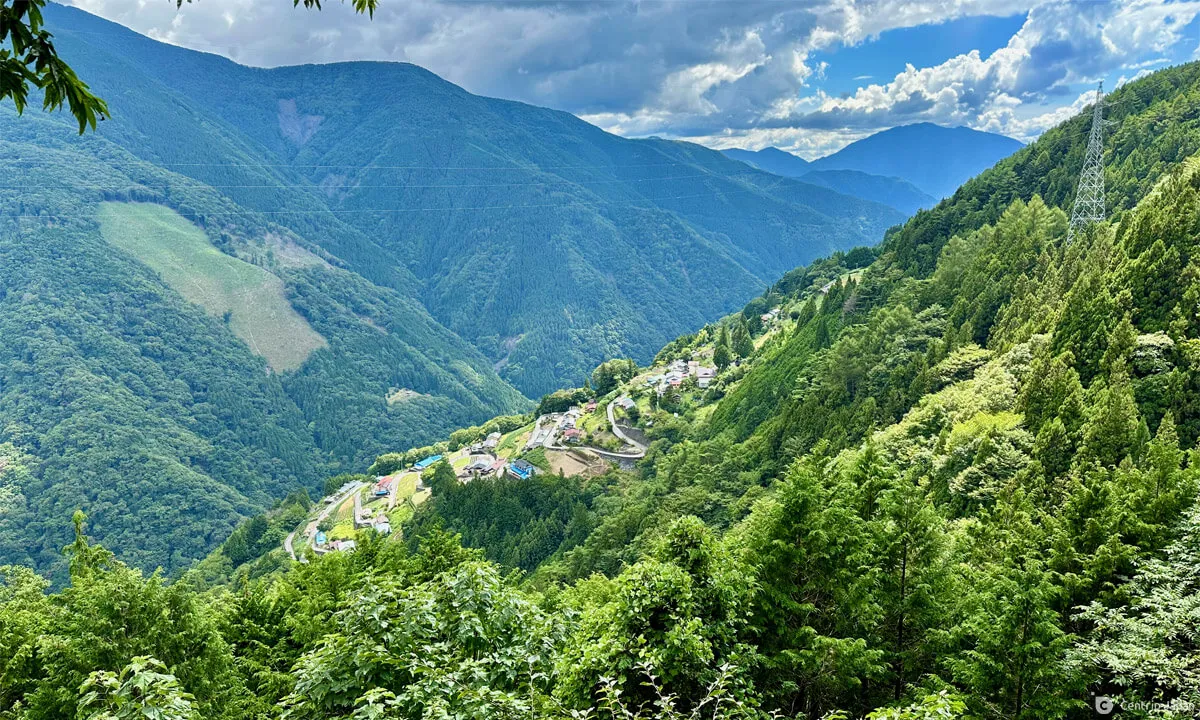 Shimoguri no Sato viewed from the Ogibira observation deck
Shimoguri in the summer, surrounded by lush greenery, is beautiful, but it offers a different charm during autumn's vibrant foliage or winter's snowfall.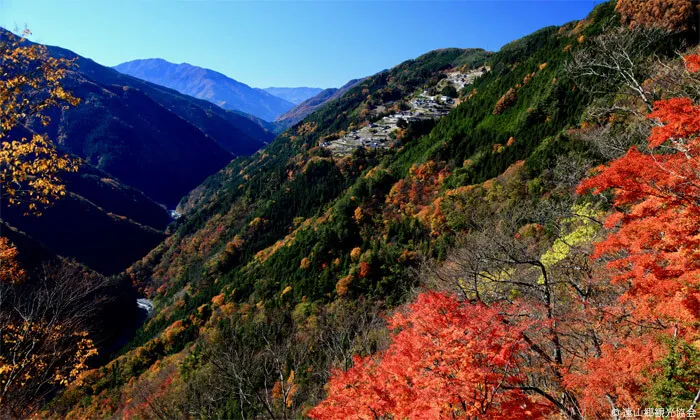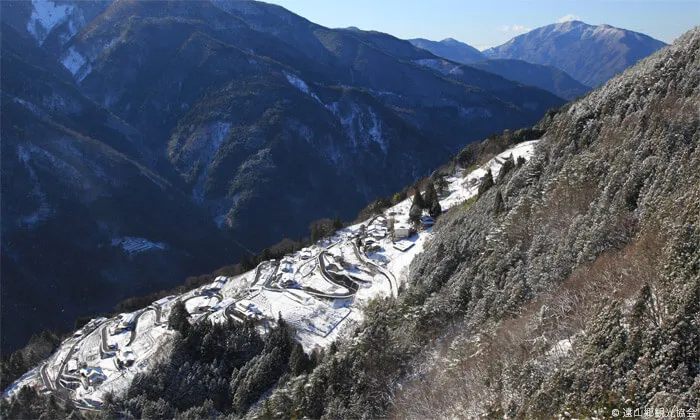 After thoroughly enjoying the panorama, retrace your steps from the observation deck and descend the winding slope that cuts through the heart of the village.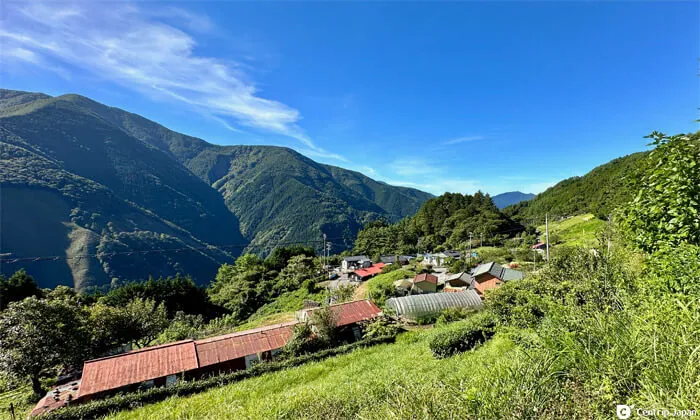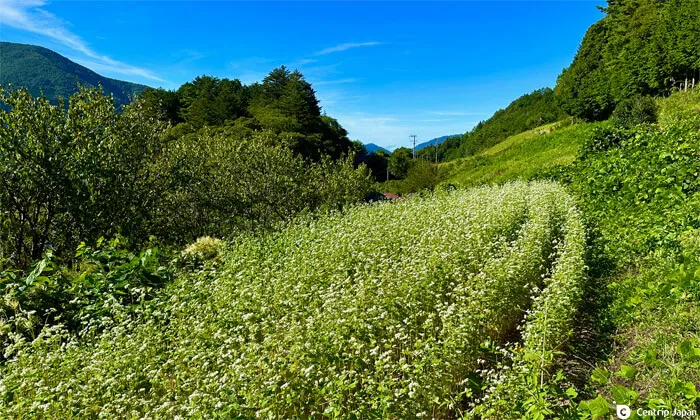 On this day, Mr. Noboku was our guide and member of the Shimoguri no Sato Guides Association. He provided us with insights into various aspects of the village, including the crops grown here, the cuisine, daily life, customs, history, geographical features, unique surnames in Shimoguri, stories about the festivals, and much more.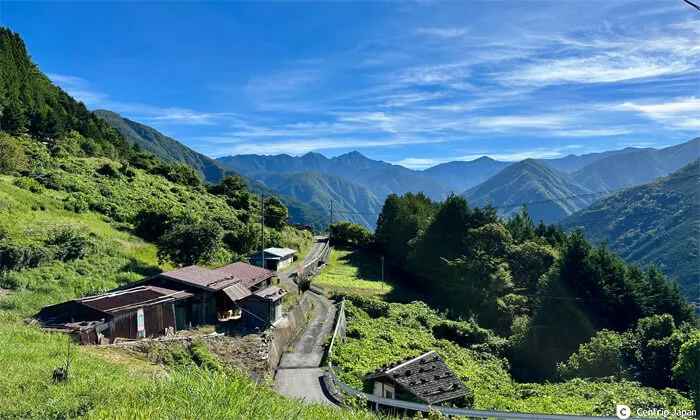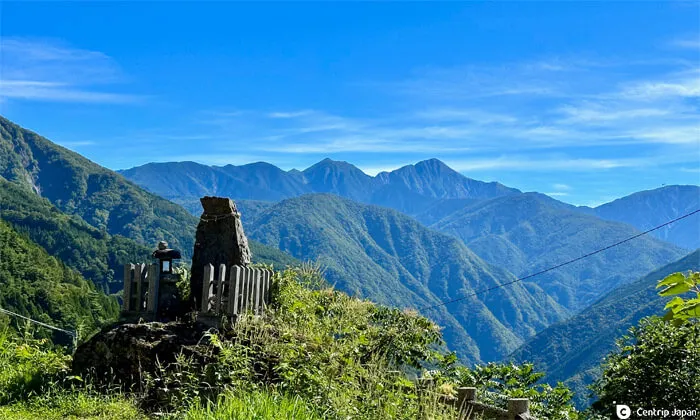 In the steeply sloped fields scattered across the area, you can find various crops being cultivated, including Shimoguri potatoes, which are small-sized potatoes, as well as soba (buckwheat), and tea. Given the challenging natural conditions of the mountainous region where growing rice is difficult, you can observe ingenious techniques and strategies employed by the farmers to cultivate these crops throughout the area.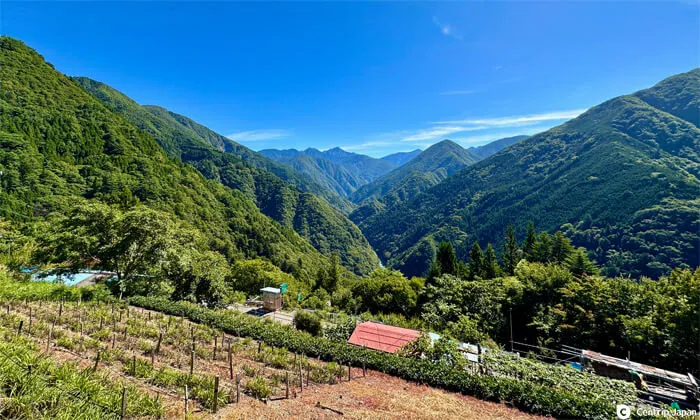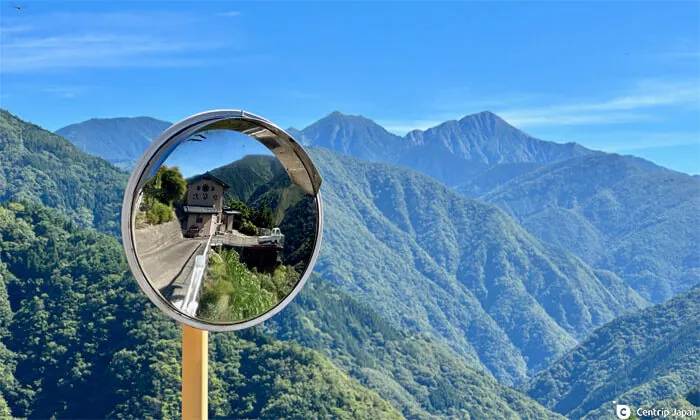 As we walked along the trails during our hike, the local residents we passed by would offer a friendly nod and a warm smile in response. Strolling through the village while taking in the surrounding natural beauty provided a truly pleasant experience, allowing us to connect with Japan's pristine landscapes and create a delightful and comfortable atmosphere.
The Eccentric Festival of Toyamago, Shimotsuki Matsuri
During the hike, you'll visit a small shrine located in the middle of the village. This shrine is known as Jugosha daimyojin Shrine and hosts the famous Shimotsuki Matsuri festival of Shimoguri no Sato.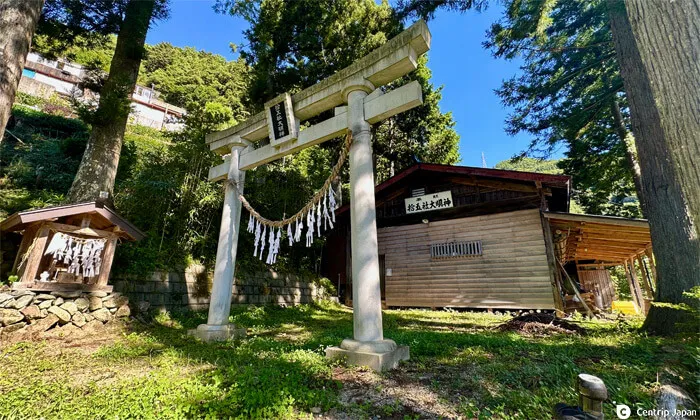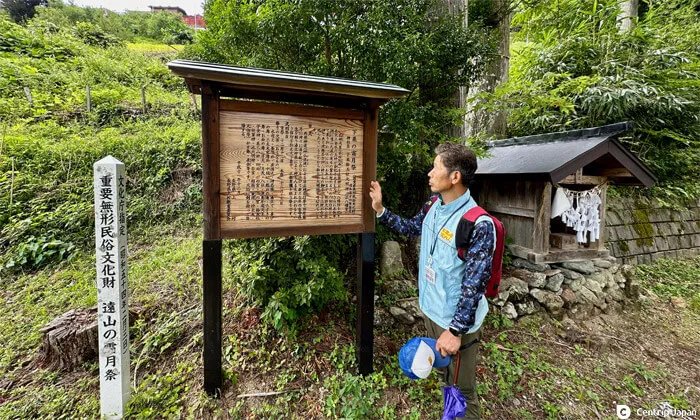 Shimotsuki Matsuri is part of a group of festivals known as Toyamago designated as Important Intangible Folk Cultural Properties by the Japanese government. In Shimoguri, it is held annually on December 13th. The festival traces its origins back nearly 800 years when a ritual called Yudate performed at the imperial court was introduced to the village. Over the centuries, the festival has been faithfully passed down and preserved in its original form.
The festival begins around 9 a.m. on the 13th and continues until around 3 a.m. the next morning.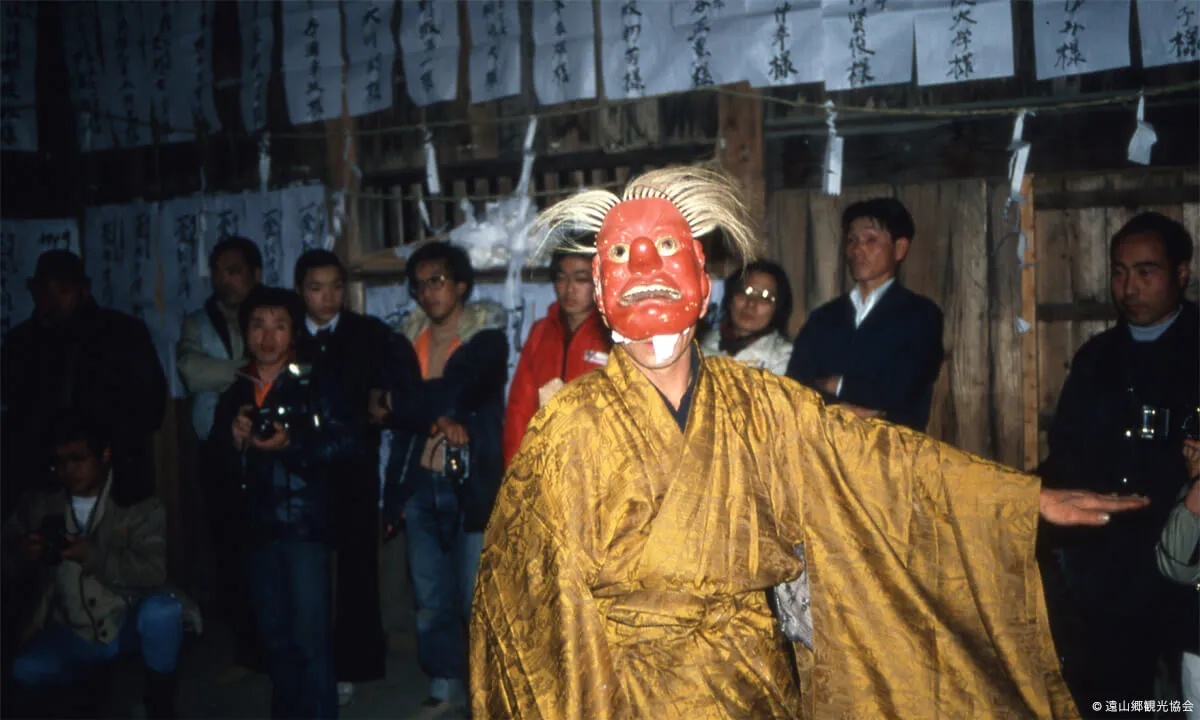 39 masks featured at Shimotsuki Matsuri
Within the shrine's central hall, various rituals take place around a hearth, and 39 masks are featured. Some highlights of the festival include priests with masks splashing hot water from a boiling cauldron with their bare hands, and young men wearing masks called Yo-omote moving through the audience to the rhythm of drums and unique chants.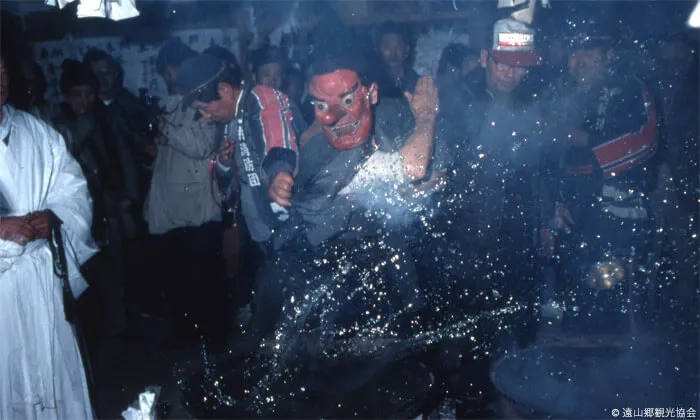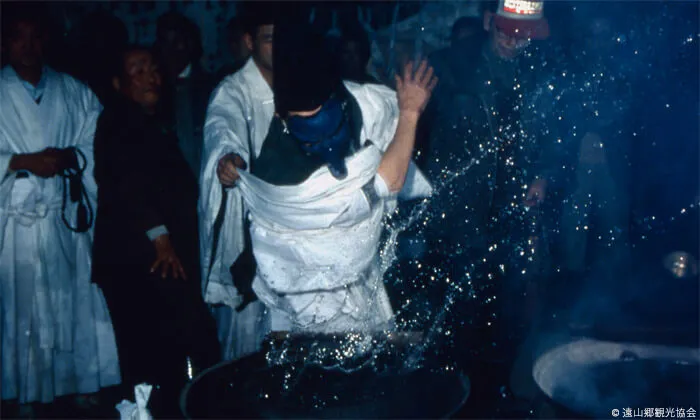 The festival takes place during the lunar month of Shimotsuki, which corresponds to December in the modern calendar. This period was believed to be a time when the sun's light waned, and the power of all living things diminished. To welcome gods from across Japan, offer them hot water, and bathe in it themselves, seeking the rejuvenation of life in the harsh natural environment of Shimoguri, the festival has been celebrated since ancient times.
During the hike with the Shimoguri no Sato guides, you'll have a special opportunity to explore the interior of Jugosha daimyojin Shrine.
It's worth noting that Studio Ghibli's animated film Spirited Away is said to have drawn inspiration from Shimotsuki Matsuri. Director Hayao Miyazaki himself stayed at a guesthouse in Shimoguri no Sato and later produced the short film Chuuzumou, which is set in the village. Clearly, it was an inspiring experience for him.
Lunch in Shimoguri no Sato
There are only two places to have lunch in Shimoguri no Sato. If you want to try local cuisine, visit Shokujidokoro Ippuku. For soba noodles, head to Hanbatei.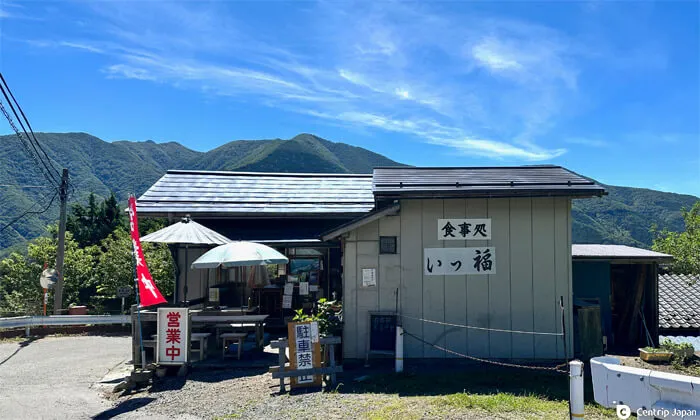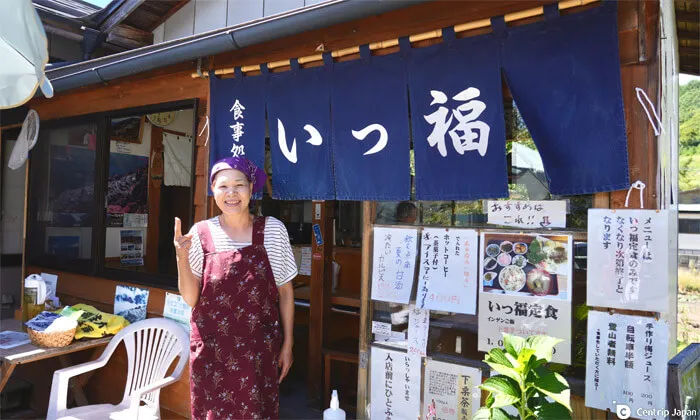 Ippuku, located at a scenic viewpoint overlooking the surrounding mountains, is known for its hearty meals featuring seasonal vegetables. In autumn, they serve chestnut rice. Besides the delicious food, the endlessly cheerful hostess will make your Shimoguri memories even more delightful.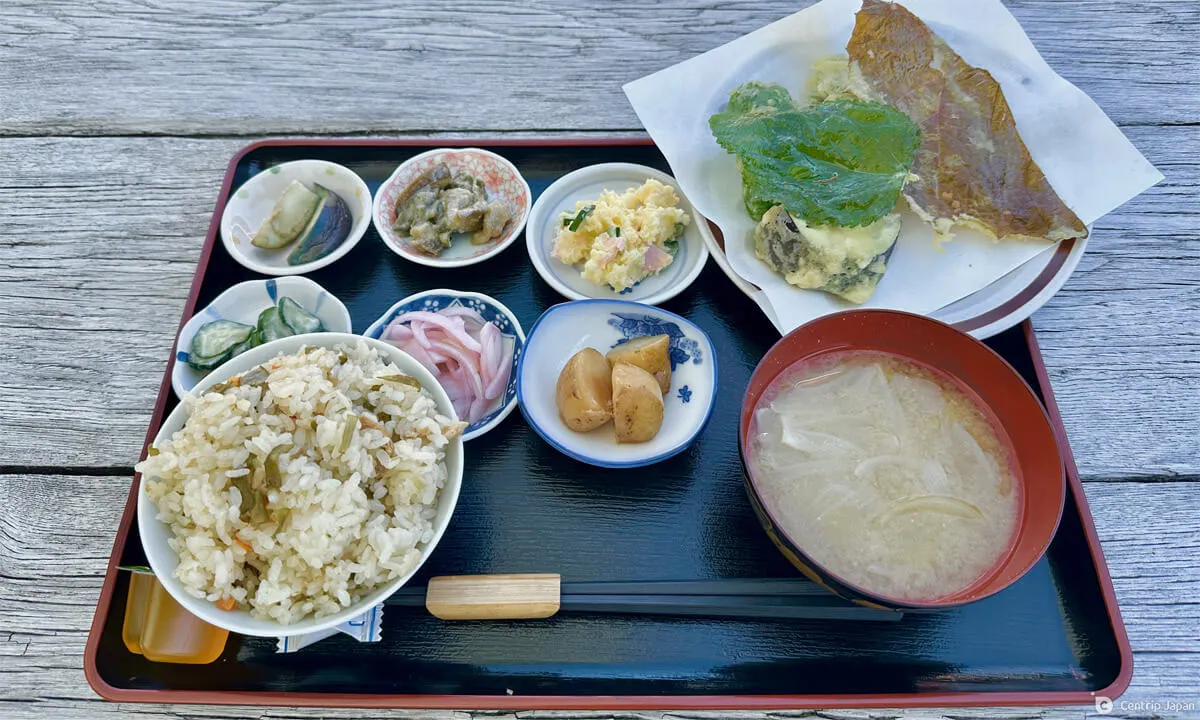 If you're interested in trying Shimoguri's local dishes, go for the Ippuku Meal Set
The restaurant Hanbatei is adjacent to the tourist parking area and is operated mainly by local women from the village. They serve soba noodles as well as local specialties like Shimoguri potatoes and konjac dengaku (konjac cooked with miso). The restaurant also has a shop selling souvenirs.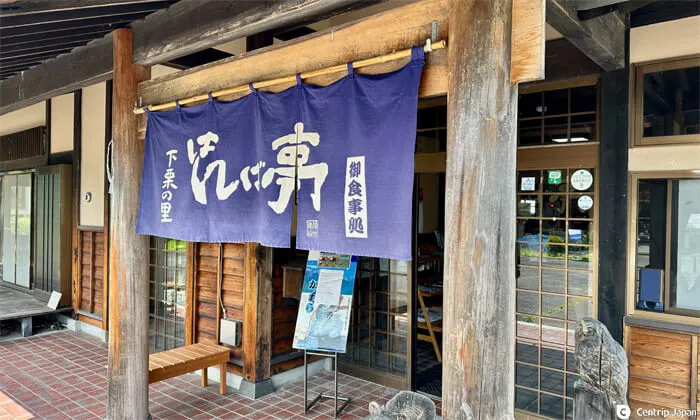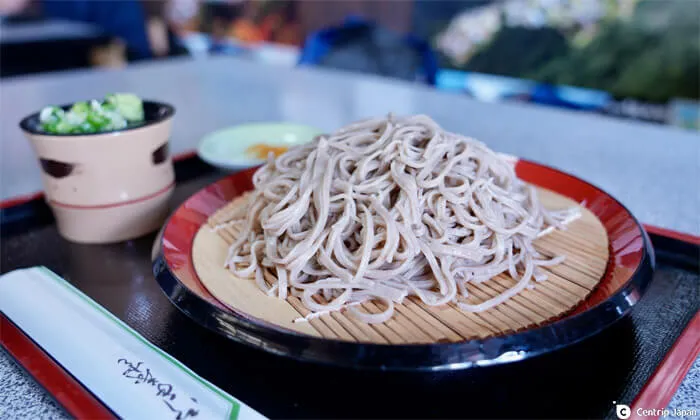 In front of Hanbatei, you can enjoy a magnificent view from the tourist parking area. The tranquil scenery from here has even earned Shimoguri no Sato the nickname Japan's Tyrol.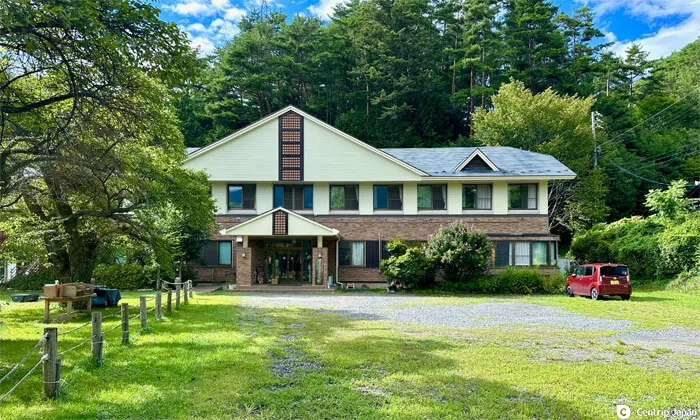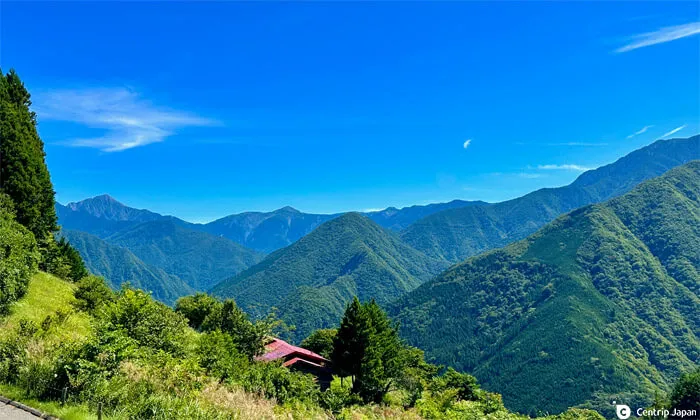 Shirabiso Plateau
While you can stay in guesthouses and lodges within Shimoguri no Sato, Shirabiso Plateau, a little further away, is another popular lodging destination with plenty of activities. It's about a 20-30 minute drive from Shimoguri no Sato.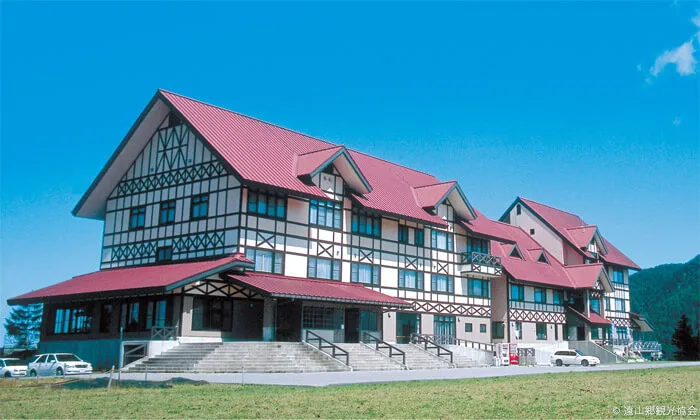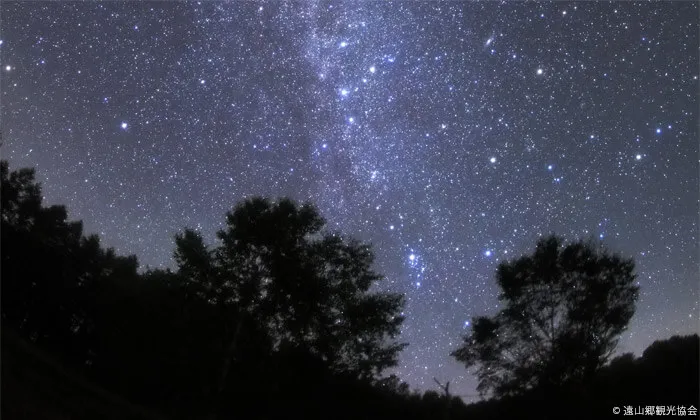 At an elevation of 1,900 meters, you'll find the accommodation Amanogawa, which offers breathtaking views of Japan's prominent 3,000-meter peaks from its rooms. It's also known as one of Japan's top stargazing spots, allowing you to enjoy a sky full of stars.
Wrap-up
Visiting Shimoguri no Sato requires access by car. If you're traveling from Nagoya, it's about a 1 hour and 30-minute drive to Iida IC on the Chuo Expressway, followed by another 1 hour and 10-minute drive on local roads.
While it's not the easiest place to reach, Shimoguri no Sato is far from the typical tourist destination. It's a special place where you can experience a different side of Japan. So, rather than just admiring the view from the observation deck, take a leisurely stroll through the village to truly appreciate the charm of Shimoguri.
Shimoguri no Sato is not your typical tourist spot; it's a rural community where people go about their daily lives. Please drive safely and be considerate of the residents, as you explore this remarkable corner of Japan.